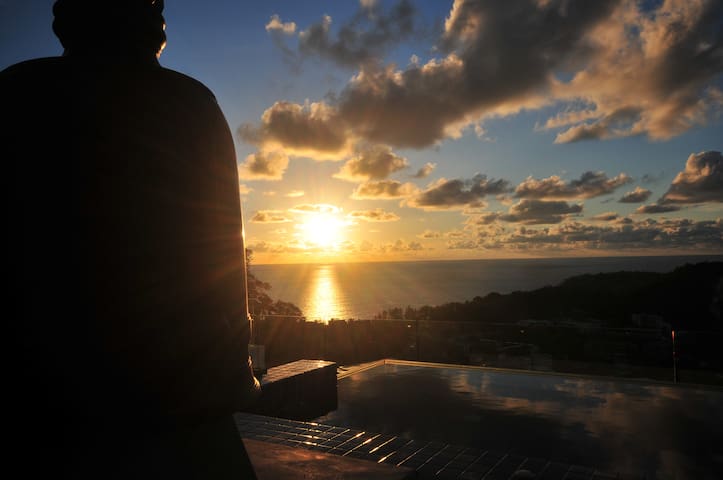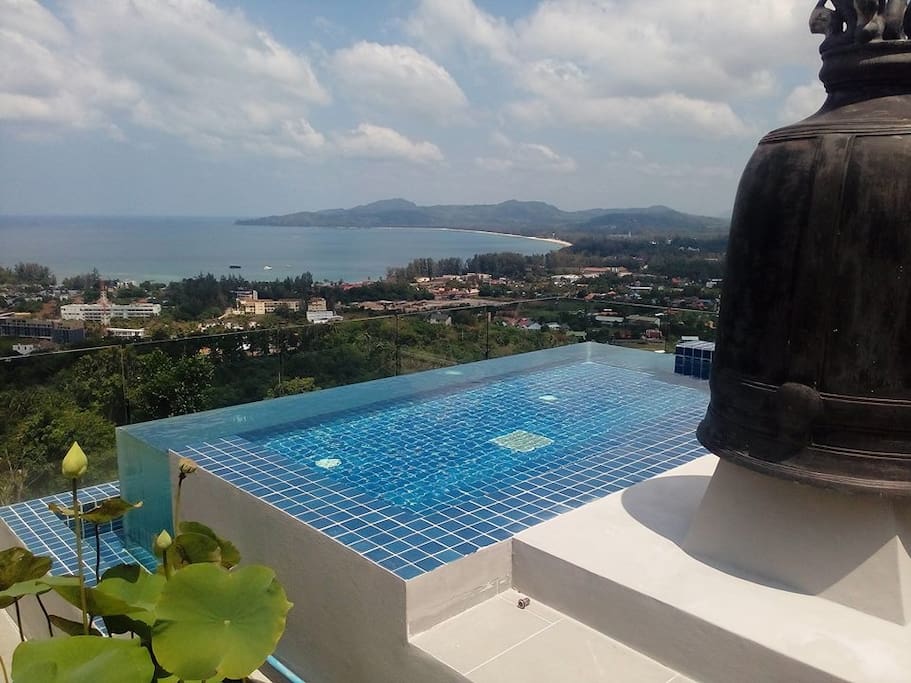 Diese prächtige, moderne, voll besetzte (Chef und Fahrer) private Villa hat einige der besten Blick auf den Ozean auf Phuket. Unsere 8 Hauptschlafzimmer mit Kingsize-Betten haben eine herrliche Aussicht, schöne en-suite Badezimmer mit Jacuzzis (7 von 8), große Flachbild-TVs und Einbauschränke. Die Villa verfügt über mehrere Salas, einen Filmraum, einen Billardtisch, ein Fitnesscenter, ein Spa und einen kommandierenden Jacuzzi auf dem Dach. Essen ist im 4. Stock Infinity Pool. Ideal für bis zu 8 erwachsene Paare und 5 Kinder.
This magnificent, modern, fully staffed (chef and driver) private villa has some of the best ocean views on Phuket. Our 8 main bedrooms with king size beds have magnificent views, beautiful en-suite bathrooms with jacuzzis (7 out of 8), large flat screen TVs, and built in closets. The villa features an several salas, a movie room, a pool table, a fitness centre, a spa, and a commanding rooftop jacuzzi. Dining is by the 4th floor infinity pool.
Ideal for up to 8 adult couples and 5 children.
Der Wohnraum
Art der Unterkunft: Villa Platz für 16 Erwachsene (8 Paare) und 5 Kinder. Für zusätzliche Gäste gelten zusätzliche Gebühren. Schlafzimmer: 8 + 2 Badezimmer: 11 Betten: 8 König, 1 Queen und 2 Etagenbetten (4 Einzelbetten für Kinder) Check In: 15:00 (15 Uhr) Check Out: 12:00 Uhr (mittags)
Property type: Villa
Accommodates: 16 adults (8 couples) and 5 children. Additional charges apply for additional guests.
Bedrooms: 8+2
Bathrooms: 11
Beds: 8 king, 1 queen, and 2 bunk beds (4 singles for children only)
Check In: 15:00 (3 PM)
Check Out: 12:00 (noon)
Zugang für Gäste
EINFÜHRUNG In herrlicher Lage auf einem Hügel mit Blick auf Bangtao und Surin Strände (die letzteren von Bäumen versteckt), Villa Amonteera hat einige der besten Aussichten auf Phuket und strahlt modernen Luxus und Opulenz an jeder Ecke. Die Architektur der Villa Amonteera macht das Beste aus den herausragenden Aussichten, die auch auf Phuket schwer zu finden sind. Die 8-Kingsize-Bett-Zimmer sind in modernem Stil mit Einbauschränken, 46-55 Zoll Flachbildfernseher mit Sat-TV und DVD-Player, Klimaanlage, Balkon und en-suite Badezimmer mit Duschen und Whirlpools (alle außer einem) dekoriert. Die Master-Schlafzimmer-Suite besteht aus einem der King-Size-Zimmer, an der Ecke mit großen Fenstern, und das Zimmer mit einem Queen-Size-Bett. Die beiden Räume teilen sich ein Badezimmer, das zwei Duschen hat, anstatt eine Dusche und einen Whirlpool. Die 4. Etage und Dachterrassen oben bieten die schönsten Ansichten während des Tages und in der Nacht Gäste haben uns gesagt, dass es sich anfühlt, als ob Sie die Sterne berühren können. Wenn man die Sonne über das Meer schaut, ob aus dem Infinity-Pool, dem Jacuzzi, oder mit einem Drink nach dem Abendessen auftauchen, ist es nicht überrascht, dass man sich ziellos in die Ferne schaut. Es gibt keine Notwendigkeit für Worte als die volle Erkenntnis, dass Sie in einem tropischen Paradies trifft Sie. EINRICHTUNGEN ÜBERBLICK Die Villa verfügt über 1 800 qm Wohnfläche mit 10 Schlafzimmern und 11 Bädern. Es ist ideal für bis zu 8 Paare und bietet Platz für bis zu 16 Erwachsene und 5 Kinder. Es gibt viele Räume für Geselligkeit und private Entspannung inklusive unserer Bibliothek, den Speisesaal am Pool, den Billardtisch, mehrere Dächerflächen, einen Filmraum und unseren Wellnessbereich. Die Zimmer mit Kingsize-Betten haben alle einen herrlichen Meerblick und en-suite Badezimmer. Die Master-Schlafzimmer-Suite teilt sich das Bad mit dem angrenzenden Queen-Size-Schlafzimmer und hat 2 Duschen statt separater Dusche und Jacuzzi. HANDICAP ZUGANG Die Villa verfügt über Behindertenzugang zu allen Gästebereichen mit Ausnahme der 3 Schlafzimmer 'zwischen den Ebenen' (siehe unten), dem Fitnesscenter und den Dachterrassen. Wenn Sie den Aufzug in den vierten Stock nehmen, werden Sie von einem der besten Panoramablicke auf Phuket begrüßt. Die meisten Gäste wählen dies für entspannende Abende mit Musik und Essen mit Blick auf die herrliche Phuket Westküste, wie die Sonne untergeht und in die Nacht. Auf der absoluten Dachterrasse, auf der 5. Etage, sitzt der einsame Dach Jacuzzi mit seiner Glasfront bietet die Möglichkeit für einen erholsamen und vielleicht romantischen Moment mit einem Blick auf Befehl wie jeder auf Phuket. FLOOR BY BODEN TOUR: 1. Das Erdgeschoss beherbergt unsere Mitarbeiterquartiere, Lebensmittel- und Getränkehäuser und die Küche, die eine Vielzahl von thailändischen, westlichen und indischen Menüs bietet. Sagen Sie einfach unserem Küchenchef, welches Menü für Ihre Gruppe am besten geeignet ist und genießen Sie die Vielfalt der Gerichte, die mit Ihren Freunden serviert werden. Obwohl wir Zigarren verkaufen, beachten Sie bitte, dass Tabak nicht drinnen geraucht werden kann und dass Medikamente, die sich von Alkohol und Tabak unterscheiden, in unserem Haus streng verboten sind. Das Erdgeschoss ist auch, wo wir bitte bitten, dass Gäste ihre Schuhe verlassen. Zwischen der 1. und 2. Etage liegt unser komplett ausgestattetes Fitnessstudio mit Krafttrainingsmaschinen, einer Vielzahl von Laufflächenmühlen, freien Gewichten und anderen Fitnessgeräten. 2. Im 2. Stock befindet sich das Kinderzimmer, eines der King-Size-Zimmer mit Meerblick und en-suite Badezimmer mit Jacuzzi, unser Heimkino-Zimmer mit 11 Plüsch-Filmsitzen und einem 120-Zoll-Bildschirm, der Pool Tisch und der Wellnessbereich. Der Pooltisch liegt nur aus dem Kino. Wenn man nach draußen kommt, wo wir unseren Billardtisch haben, gelangt man in den Wellnessbereich, der sowohl draußen als auch innen Massagebetten hat und von professionellen Kurfürsten mit Voranmeldung bedient wird. Für alle Gäste, die im Kinderzimmer wohnen (das nicht über ein en-suite Badezimmer verfügt), sind die Bäder an der Treppe, im Kingsize-Schlafzimmer und im Spa-Bereich vorhanden. Zwischen der 2. und 3. Etage, zwischen der 4. und 4. Etage und über dem 4. Stock befinden sich die drei Kingsize-Schlafzimmer ohne Aufzug. Diese Zimmer verfügen über Whirlpools für 2 Personen im en-suite Badezimmer. Der Raum über dem 4. Stock ist der mit einer Buddha-Statue auf dem Balkon außerhalb des Raumes, der oft in den Bildern von Amonteera gesehen wurde und die Schlafzimmeransicht schön umrahmt. Dieses Top-Zimmer hat auch eine Treppe, die vom Balkon direkt hinunter zum Infinity-Pool für den besten Pool-Zugang im Haus führt. Besonders für diejenigen von unseren Gästen, die einen frühen Morgen eintauchen, bevor die anderen aufwachen, ist dieses Schlafzimmer einfach großartig. 3. Auf der 3. Etage befindet sich unsere Bibliothek Sala, 3 Kingsize-Schlafzimmer mit Meerblick und die Master-Schlafzimmer-Suite, die aus dem größten Kingsize-Schlafzimmer und einem angrenzenden Raum mit einer Königin besteht Größe Bett und kleinen Arbeitsbereich. Das Badezimmer der Master-Schlafzimmer-Suite ist das einzige, das an ein Kingsize-Schlafzimmer ohne Jacuzzi angrenzt; stattdessen hat es 2 Duschen, um mehr Leute zu teilen, die das gleiche Badezimmer teilen. 4. Die 4. Etage beherbergt den Hauptrestaurant, den Infinity-Pool und mehrere soziale Räume. Hier finden Sie auch die Kaffeemaschine. Die 4. und 2. Etage sind beide mit Lautsprechern ausgestattet und das Soundsystem kann mit der Handy-App Phonos verwaltet werden. 5. Auf dem Dach über dem 4. Stock, nur durch Treppenhaus zugänglich, sind mehrere Sonnenliegen, ein schattiger sozialer Bereich und der unglaublich kommandierende Dachterrasse Jacuzzi. Hier können Sie auch unsere Sonnenkollektoren sehen, die uns helfen, den Carbon Footprint der Villa zu reduzieren. ALLGEMEINE HINWEISE Während die Gäste aufgefordert werden, die Klimaanlage zu benutzen und so komfortabel wie möglich zu sein, ist es erwähnenswert, dass die Villa Amonteera gut belüftet ist und die natürliche Kreuzbrise ermutigt, die überraschend erfrischend sind, vor allem wegen der relativ hohen Höhe der Villa in der grüne Hügel von Nordwest-Phuket. Obwohl die Villa fast 100 Quadratmeter Sonnenkollektoren hat, die den Großteil der Strom- und Warmwasser für die Villa bieten, wird jede zusätzliche Energie nicht umweltschonend erzeugt. Die Erhebung und die natürliche Kreuzbrise macht die Villa fast völlig frei von Mücken. Das ist bemerkenswert, da viele andere Villen in Thailand vor allem während der Sommersaison mit Mücken geplagt sind. IN DER NÄHE Einige von Phukets besten Nachtleben, Restaurants und Strände sind nur wenige Minuten von der Villa entfernt. Es gibt mehrere fantastische Restaurants und Beach Clubs von Surin Beach. Außerdem sind Sie nur wenige Minuten von Bangtao / Layan Strand, Phukets feinsten. TRANSPORT Die Villa verfügt über einen Chauffeur und einen Toyota-Fünfzehn-Sitzer-Minibus (Platz für maximal 11 Gäste nach neuen Phuket-Vorschriften 2017) oder ein 7-stelliger Toyota-SUV zur Verfügung 08: 00-17: 00 täglich (außer für Flughafentransfers, sind separat angeordnet). Es gibt vier Parkplätze und vier Außenräume, wenn Sie Ihr eigenes Fahrzeug mieten möchten oder Freunde für einen Besuch haben. Bitte beachten Sie, dass nur ein Fahrzeug zu einem Zeitpunkt als Gäste oder sonstiges Personal zur Verfügung steht, als der Fahrer die Autos mit den Gästen nicht nach den örtlichen Gesetzen fahren kann. HAUSMEISTERSERVICE Villa Amonteera ist voll mit Managern, Dienstmädchen, einem Koch und einem Chauffeur bedient. -Split Ebenen 1 800 Quadratmeter moderne Luxusvilla mit den schönsten Aussichten, zeitgenössischen Designmöbeln und Kunstwerken. -20 Meter langer Infinity-Pool mit Süßwassersystem und Jacuzzi. -Roof Tauchbecken / Jacuzzi mit Millionen-Dollar-Ansichten. -Klimatisiert. -10 Schlafzimmer (darunter ein Kinderzimmer mit 2 Etagenbetten und einem angrenzenden Schlafzimmer in der Master-Schlafzimmer-Suite) und 11 Bäder. -In-Haus Küche mit Koch. -Full Größe professionelle Turnhalle. -Aufzug. -24/7 Sicherheit. - Integrierte Sonos Soundsysteme im oberen und unteren Loungebereich, Pool und in Salas,. -300 Mbps kostenloses Wi-Fi in der gesamten Villa. -Spa Zimmer, Behandlungen können in der Villa arrangiert werden (zu Gastkosten). -Billardtisch. -Outdoor Bar. -In-Haus Wäscherei (Wäscherei zu Gastkosten). -Innengarage für 4 Autos und Außenparkplatz für 4 Autos. -Toyota Minibus mit Chauffeur. Der Lieferwagen ist täglich erreichbar 08: 00-17: 00. Obwohl es 15 Sitze hat, kann es nicht mehr als 11 Passagiere zu einer Zeit wie vor kürzlich geänderten Phuket Vorschriften tragen. Der Lieferwagen ist mit einem TV- und Soundsystem ausgestattet. Die Gäste zahlen nur den Kraftstoffpreis und freiwillige Tipps. Zusätzliche Stunden bei 500 THB pro Stunde ohne Kraftstoff). Flughafentransfers THB 1500 pro Fahrt. - Neuer Toyota SUV - 7 Sitze, (mit Chauffeur 500 THB pro Stunde ohne Kraftstoff). DAS PERSONAL Die Villa Amonteera ist eine erstklassige Unterkunft mit einem starken Engagement für den höchsten Kundenservice. Unsere Mitarbeiter wurden sorgfältig ausgewählt und sind alle in ihrem Arbeitsbereich erlebt. Das Personal besteht aus Kellnerinnen, Barkeepern, Köchen, Hausbewohnern, einem handlichen Mann und einem Chauffeur. Zwischen unserem Villa Manager und dem stellvertretenden Villa Manager haben wir mehrere Jahre Erfahrung in nationaler und internationaler Gastfreundschaft. Beide Führungskräfte werden unser Team führen und die Hauptverantwortung für Ihren Besuch haben. Das Personal sorgt dafür, dass Ihr Besuch so entspannend und angenehm wie möglich ist. Wenn Sie spezielle Wünsche oder Bedürfnisse haben, zögern Sie bitte nicht, uns mitzuteilen, damit wir Ihnen nach besten Kräften helfen können. MAHLZEITEN Der Mietpreis beinhaltet Frühstück jeden Morgen serviert 0
INTRODUCTION
Majestically located on a hill overlooking Bangtao and Surin beaches (the latter hidden by trees), Villa Amonteera has some of the best views on Phuket and exudes modern luxury and opulence at every turn. The architecture of Villa Amonteera makes the most of the outstanding views, which are hard to match even on Phuket.
The 8 king size bed rooms are decorated in modern fashion with built in closets, 46-55 inch flat screen TVs with satellite TV and DVD players, airconditioning, balconies, and en-suite bathrooms with showers and jacuzzis (all but one). The Master Bedroom Suite consists of one of the king size rooms, located on the corner with large windows, and the room with a queen sized bed. The two spaces share a bathroom which has two showers rather than a shower and a jacuzzi.
The 4th floor and roof terraces above provide the most magnificent views during the day and at night guests have told us that it feels as if you can touch the stars. As you watch the sun set over the sea, whether from the infinity pool, the jacuzzi, or lounging with a drink after dinner, don't be surprised to find yourself gazing aimlessly into the distance. There is no need for words as the full realization that you are in a tropical paradise hits you.

FACILITIES OVERVIEW
The villa has 1 800 square meters of living space with 10 bedrooms and 11 bathrooms. It is ideal for up to 8 couples and accommodates up to 16 adults and 5 children. There are plenty of spaces for socializing and private relaxation including our library, the dining area by the swimming pool, the pool table, several rooftop areas, a movie room, and our spa area. The rooms with king size beds all have magnificent ocean views and en-suite bathrooms. The Master Bedroom Suite shares its bathroom with the adjoining queen size bedroom and has 2 showers instead of separate shower and jacuzzi.

HANDICAP ACCESS
The villa has handicap access to all guest areas except for the 3 bedrooms 'between levels' (see below), the fitness centre, and the rooftop terraces. If you take the elevator to the fourth floor, you will be greeted by one of the best panoramic views on Phuket. Most guests choose this are for relaxing evenings with music and food overlooking the magnificent Phuket west coast as the sun sets and on into the night. On the absolute rooftop, on the 5th floor, sits the lone rooftop jacuzzi with its glass front offering the opportunity for a relaxing and possibly romantic moment with a view as commanding as any on Phuket.

FLOOR BY FLOOR TOUR:
1. The ground floor houses our staff quarters, food and beverage stores, and the kitchen, which provides a variety of Thai, Western, and Indian menus. Just tell our chef which menu will suit your group best in advance and enjoy experiencing the variety of dishes served with your friends. Though we do sell cigars, please note that tobacco may not be smoked indoors and that any drugs apart from alcohol and tobacco are strictly prohibited on our premises. The ground floor is also where we kindly request that guests leave their shoes.
Between the 1st and 2nd floors lies our fully equipped gym with strength training machines, a variety of tread mills, free weights, and other gym equipment.
2. The 2nd floor is where you can find the Kids' Room, one of the king size bedrooms with ocean view and en-suite bathroom with jacuzzi, our home theatre room with 11 plush movie seats and a 120-inch screen, the pool table, and the spa area. The pool table lies just down the hall from the movie room. If one steps outside from where we have our pool table, one reaches the spa area, which has massage cots both outside and inside and is serviced by professional spa therapists with advance bookings. For any guests staying in the Kids' Room (which does not have an en-suite bathroom), bathrooms are available by the stairs, in the king size bedroom, and in the spa area.
Between the 2nd and 3rd floor, between the 4rd and 4th floors, and above the 4th floor are the three king size bedrooms without elevator access. These rooms all have jacuzzis designed for 2 people in the en-suite bathrooms. The room above the 4th floor is the one with a Buddha statue on the balcony outside the room often seen in pictures of Amonteera and beautifully framing the bedroom view. This top room also has a staircase leading from the balcony directly down to the infinity pool for the best pool access in the house. Especially for those of our guests who enjoy an early morning dip before the others wake up, this bedroom is simply magnificent.
3. On the 3rd floor is our library sala, 3 king size bedrooms with ocean views, and the Master Bedroom Suite, which is composed of the largest king size bedroom and an adjoining space with a queen size bed and small study area. The bathroom of the Master Bedroom Suite is the only one adjoining a king size bedroom without a jacuzzi; instead, it has 2 showers to accommodate more people sharing the same bathroom.
4. The 4th floor houses the main dining area, the infinity pool, and several social spaces. This is also where you will find the coffee machine. The 4th and 2nd floors are both equipped with speakers and the sound system can be managed with the mobile phone app Phonos.
5. On the roof above the 4th floor, accessible only by stairway, are several sun chairs, a shaded social area, and the incredibly commanding rooftop jacuzzi. This is also where you will be able to see our solar panels, which help us reduce the villa's carbon footprint.

GENERAL NOTES
Whilst guests are encouraged to use the air conditioning and to be as comfortable as possible, it is worth noting that Villa Amonteera is well ventilated, encouraging natural cross breezes, which are surprisingly refreshing, mainly due to the relatively high elevation of the villa in the green hills of Northwestern Phuket. Though the villa has nearly 100 square meters of solar panels that provide the bulk of the electricity and hot water for the villa, any additional energy used will not have been generated in an environmentally sound way. The elevation and the natural cross breezes makes the villa almost completely free of mosquitoes. This is worth noticing since many other villas in Thailand are plagued with mosquitoes especially during the summer season.

NEARBY
Some of Phuket's best nightlife, restaurants, and beaches, are just a few minutes from the villa. There are several fantastic restaurants and beach clubs by Surin Beach. Furthermore, you are only a few minutes from Bangtao/Layan beach, Phuket's finest.

TRANSPORTATION
The villa has one chauffeur and a Toyota fifteen-seater mini-bus (seating maximum 11 guests as per new Phuket regulations 2017) or a seven seat Toyota SUV at their disposal 08:00-17:00 daily (except for airport transfers, which are arranged separately). There are four indoor parking spaces and four outdoor spaces should you wish to rent your own vehicle or have friends over for a visit. Please note that only one vehicle is available at a time as guests or other staff than the driver may not drive the cars with guests in them according to local law.

FACILITIES & SERVICES
Villa Amonteera is fully serviced with managers, maids, a chef, and a chauffeur.
-Split levels 1 800 square meter modern luxury villa with the most amazing views, contemporary design furniture and art work.
-20 meters long infinity pool with freshwater system and Jacuzzi.
-Roof plunge pool/Jacuzzi with million dollar views.
-Air-conditioned.
-10 bedrooms (including one Kids' Room with 2 bunk beds and one adjoining bedroom in the Master Bedroom Suite) and 11 bathrooms.
-In-house kitchen with chef.
-Full size professional gym.
-Elevator.
-24/7 security.
-Integrated Sonos sound systems at upper and lower Lounge area, pool and in Salas, .
-300 Mbps free Wi-Fi throughout the entire villa.
-Spa room, treatments can be arranged in the villa (at guest cost).
-Pool table.
-Outdoor bar.
-In-house laundry facilities (laundry at guest cost).
-Indoor garage for 4 cars and outdoor parking for 4 cars.
-Toyota Minibus with chauffeur. The van is available daily 08:00-17:00. Though it has 15 seats, it can carry no more than 11 passengers at a time as per recently changed Phuket regulations. The van is equipped with a TV and sound system. Guests pay only the price of fuel and voluntary tips. Extra hours charged at 500 THB per hour excluding fuel). Airport transfers THB 1500 per trip.
-New Toyota SUV – 7 seats, (with chauffeur 500 THB per hour excluding fuel).

THE STAFF
Villa Amonteera is a premier class accommodation with a strong commitment to the highest of customer service standards. Our staff members have been carefully chosen and are all experienced in their field of work.
The staff consists of waitresses, bartenders, chefs, house keepers, a handy man and a chauffeur. Between our Villa manager and Deputy Villa manager, we have several years of experience in national and international hospitality. Both managers will be leading our team as well as having the general responsibility for your visit.
The staff will ensure that your visit is as relaxing and enjoyable as possible. If you have any special requests or needs, please do not hesitate to let us know so that we may help you to the best of our ability.

MEALS
The rental price includes breakfasts served every morning 08:00-10:00.

For all meals, guests choose one of our varied set menus per meal (menus are themed and feature several regional types of Thai cuisine, Western food, Indian food, BBQ, and our exclusive Andaman Sea Harvest). We greatly appreciate that a single multiple choice choice menu is selected for the entire group so as to optimize food quality and timeliness. If there is need for menu alterations, these must be approved by the chef and manager so as to make sure the food can be prepared well. The kitchen is small and equipped with gas stoves and sharp objects, wherefore it may be used by our kitchen staff only.
The 4th floor dining area has a table seating 16 people and the adjacent bar can seat another 8 people. At the short end of the pool, there is another dining table for 6-8 people. On the next level (level 5, the roof) offers open-air dining and can accommodate up to 16 people at the dining table (not including the seats in the three Salas).
***
Villa Amonteera offers full service for weddings, private parties and other events for 50+ people. Please let us know your wishes and we will do our very best to make them come true.
We can seat 30 for meals and stand 120 people for larger events using all the villa's common areas, inside and outside.
Interaktion mit Gästen
Während Ihres Aufenthaltes werden Reinigungs- / Kellner und / oder ein Manager vor Ort 08: 00-22: 00 täglich. Der Fahrer wird täglich auch 08: 00-17: 00 verfügbar sein. Falls die Angestellten außerhalb dieser Zeiten benötigt werden (bei verspäteten Mahlzeiten, Parteien usw.) können besondere Vorkehrungen getroffen werden.
During your stay, cleaning/waiting staff and/or a manager will be on site 08:00-22:00 daily. The driver will be available daily 08:00-17:00 as well. In case staff are needed outside those hours (in case of late meals, parties, and so on), special arrangements can be made.
Weitere wichtige Infos
* Bitte beachten Sie, dass diese Preise für maximal 16 Erwachsene und 5 Kinder (8 + 2 Schlafzimmer inklusive Kinderzimmer mit 2 Etagenbetten) sind. Dies geht davon aus, dass die Erwachsenen alle Paare sind, die unsere Kingsize-Betten teilen können und dass 2 Kinder das Queen-Size-Bett teilen können. Zusätzliche Kosten gelten, wenn das Maximum überschritten wird und es ohne unsere ausdrückliche Erlaubnis nicht überschritten werden darf. Die Gäste dürfen nicht in größerer Zahl ankommen, als sie zuvor genehmigt wurden. * Es gibt einen Mindestaufenthalt von 4 Nächten für Buchungen, die einen Aufenthalt während Weihnachten, Neujahr, Songkran und das Chinesische Neujahr beinhalten. * Tipping - Preise beinhalten keine Tipps für das Personal, bitte Trinkgeld nach Ihrem Ermessen, wenn Sie guten Service erhalten haben. * Essen - wir bitten unsere Gäste, vom selben Menü während eines Mittagessens oder eines Abendessens zu bestellen und um zu bemerken, welches Set-Menü 24 Stunden im Voraus genommen wird. Terms & amp; Bedingungen Zahlungspolitik* Sobald die Mieter reservieren die Villa eine Anzahlung von 50% der Villa Mietpreis ist innerhalb von 7 Tagen nach der Buchung zu bestätigen. Nichtbeachtung dieser Zahlung unterbreitet Ihrer Reservierung eine automatische Stornierung ohne vorherige Ankündigung. Der Restbetrag der Miete und Kaution muss mindestens 30 Tage vor Anreise und 60 Tage vor der Ankunft von Lessees während der Hauptsaison in voller Höhe bezahlt werden. Wenn der Mieter die Möglichkeit hat, zusätzliche Nächte kurz vor der Anreise zu buchen, wird die Miete für diese Nächte spätestens beim Check-in bezahlt. Stornierungsbedingungen* Airbnb-Bedingungen gelten für Zahlung und Stornierung. Reiseversicherung Für Seelenfrieden empfehlen wir Reise- und Reiseversicherung inklusive Flugverspätungen, Stornierung, Haftung, Gesundheit und Verlust und Beschädigung von persönlichen Gegenständen. Kaution Eine $ 1000 Kaution sollte bei der Ankunft gemacht werden. Die Kaution wird innerhalb von 15 Tagen nach der Abreise vollständig zurückerstattet, sofern keine Schäden, fehlende Gegenstände, abnorme Reinigung oder andere besondere Umstände vorliegen. Wenn es in bar bezahlt wird, kann es in jeder Währung bezahlt werden und wird Ihnen bei der Abreise zurückerstattet. Sie als der Gast, zustimmen, um alle angemessenen Schritte zu ergreifen, um sicherzustellen, dass Ihre Gäste oder Familien sich an die Regeln und Vorschriften, die Ihre Villa. Die Villa ist voll möbliert, inklusive einer reichlichen Versorgung mit Bettwäsche und Handtücher für die Gäste. Das Umrüsten der Möbel oder das Entfernen von Gegenständen aus der Villa ist streng verboten. Ankunft Wenn Sie den Transport vom Flughafen zur Villa wünschen, müssen wir Ihre Ankunftszeit (Fluggesellschaft, Flugnummer, Ankunftszeit, Abfahrtszeit, Abflugnummer) mindestens zwei Wochen vor Ihrer Ankunft kennen. Sie können diese Informationen in unserem Concierge-Formular ausfüllen, die wir Ihnen nach der Bestätigung per E-Mail schicken werden. Es wird geschätzt, wenn Sie uns über irgendwelche Flugverspätungen informieren, damit wir den Mitarbeitern irgendwelche Änderungen im Zeitplan benachrichtigen können. Check-in und Check-out Zeiten. Der Check-In ist 15:00 Uhr (15:00 Uhr) und der Check-out um 12:00 Uhr (12.00 Uhr). Es kann möglich sein, einen frühen Check-in oder einen späten Check-out zu arrangieren, von dem wir gerne versuchen werden, Sie zu unterbringen, aber da können wir auch andere Gäste am selben Tag verlassen oder ankommen, ist es nicht immer möglich . Der frühe Check-in oder die späte Checkout-Gebühr (wenn möglich) beträgt US $ 350. Wenn Ihre Flüge nicht passen unsere Check-in und Check-out Zeiten und wir haben andere Gäste bei uns bleiben, werden wir natürlich versuchen, Vorkehrungen für Sie zu machen, um Ihre ersten oder letzten Stunden auf der Insel außerhalb der Villa zu genießen. Haftung Die Villa übernimmt keine Haftung für Unterbrechungen bei der Lieferung von Strom oder Wasser, Internet oder Poolfiltration. Wir übernehmen auch keine Haftung für persönliche oder Sachschäden, Schäden oder Verletzungen während Ihres Aufenthalts. Die Villaverwaltung behält sich auch das Recht vor, nach eigenem Ermessen Dienstleistung oder Vermietungen zu verweigern. Die Gäste haften für ihre eigene Sicherheit und sollten ihre Kinder jederzeit von Erwachsenen betreuen, besonders wenn Kleinkinder um die Poolbereiche herumspielen und die Schienen Stürze aus den oberen Etagen verhindern. Kapazität der Villa Die Gesamtzahl der Personen, die in der Villa zu einem beliebigen Zeitpunkt erlaubt sind, beschränkt sich auf die Anzahl der geplanten und bezahlten Personen (im Concierge-Formular aufgeführt). Die maximale Belegung von 16 Erwachsenen basiert auf zwei Personen pro Kingsize-Schlafzimmer. Sollte eine Gruppe sich selbst verständigen und in Zahlen über die Kapazitäten der Villa hinauskommen, so können sie sofort bezahlen, um überschüssige Gäste sofort zu bezahlen oder (im Falle einer Villa, die das grobe Fehlverhalten oder die falsche Darstellung kennzeichnet) das Recht, in der Villa insgesamt ohne Rückerstattung zu bleiben . Handtücher und Bettwäsche Handtücher werden einmal pro Tag gewechselt (wenn nicht verschmutzt). Bettwäsche wird jeden dritten Tag gewechselt (wenn nicht verschmutzt). Transport Eins Toyota Minibus mit Chauffeur steht für den Transport auf Phuket zur Verfügung. Aufgrund der jüngsten (2017) Änderungen in den Vorschriften ist die maximale Kapazität des Van (strenge Phuket-Vorschriften) 11 Gäste, die etwas mehr Platz für Taschen verlässt, da der Van entworfen wurde, um zu halten 15. Der Preis ist auf die Kosten des Kraftstoffs beschränkt während der regulären Arbeitszeit (08: 00-17: 00). Wenn die Gäste außerhalb dieser Zeiten Transport benötigen, sind die Kosten 500 THB pro Stunde + der Kraftstoffpreis. Flughafentransfers sind je nach Größe des Fahrzeugs THB 1.500 oder THB 1.000. Arbeitszeit der Mitarbeiter Die Arbeitszeit des Personals beträgt zwischen 8 und 18 Uhr. Ein Mitarbeiter wird bis 22 Uhr arbeiten. Wenn ein Gast will, dass die Mitarbeiter länger arbeiten, muss er den Villamanager im Voraus wissen lassen und für Überstunden bezahlen. Haustiere Haustiere jeglicher Art sind NICHT in oder auf dem Gelände der Villa erlaubt. Ein Haustier oder ein Beweis für ein Haustier, das auf Räumlichkeiten gefunden wird, wird sofortige Räumung verursachen, und die Miete und die Kaution des Gastes wird verfallen. Schuhe Outdoor Schuhe sind in der Villa nicht erlaubt. Bei Bedarf stellen wir Ihnen Hausschuhe zur Verfügung. Beschwerden und Instandhaltung Für unvorhergesehene mechanische Ausfälle wie die Lieferung von Strom, Telefondienst, Wasser, Poolfiltrationssystemen, Wannen, Klimaanlagen, Fernseh- oder Kabelservice, Geräten usw. ist keine Erstattung oder Tarifanpassung vorzunehmen. Haus Parteien & Funktionen Der Vermieter möchte eine familiäre Atmosphäre für den ruhigen Genuss der Gäste pflegen. Wir vermieten an Familiengruppen und verantwortliche Erwachsene nur! Absolut keine Hausparteien oder Funktionen wie Hochzeiten sind ohne vorherige schriftliche Erlaubnis des Vermieters erlaubt. Die Gäste müssen respektvoll friedlich sein, um andere Bewohner in der unmittelbaren Umgebung nicht zu stören. Der Mieter erkennt, dass das Personal buddhistisch ist und das Personal mit Respekt behandeln wird. Arzneimittel und Gefahrstoffe Gast und Angehörige seiner Partei dürfen keine illegalen Stoffe, brennbaren Flüssigkeiten oder andere Sprengstoffe oder Gegenstände, die für Lebens-, Gliedmaßen oder Eigentum gefährlich sind, in jede Villa bringen oder zulassen. Auswechslung Sollte die Villa nicht in Ordnung sein oder vor Ihrer Ankunft als minderwertig angesehen werden, behält sich der Vermieter das Recht vor, vergleichbare oder bessere Unterkünfte ohne Haftung zu ersetzen. Wenn vergleichbare Unterkünfte nicht verfügbar sind, können die Gäste eine komplette Rückerstattung der Miete erhalten. Haftungsausschluss Der Vermieter ist nicht verantwortlich für unbeabsichtigte Fehler auf unserer Website. Alle Preise und Details der Villa können ohne vorherige Ankündigung geändert werden. Chef Dienstleistungen Die Dienste des Küchenchefs, die für eine, zwei oder drei Mahlzeiten pro Tag für die Dauer Ihres Villaaufenthalts zur Verfügung stehen. Hochzeiten & Große Veranstaltungen Wir laden keinen Platz ein, wir laden Sie ein, unsere Chef-Team-Barkeeper-Kellner-Manager-Fahrer und Event-Planungspersonal für alle Artikel einschließlich Zubehör zu verwenden. Blumenausrüstungsverleih usw Wir bieten alle an Großhandel Kosten + 10% Wenn Sie außerhalb von Planner-Firmen oder Event-Firmen verwenden Das ist ein BYO-Gebühr für alle Lebensmittel-und Getränkeindustrie und Rechnungen Dienstleistungen von 10% Gebühr für diejenigen externen Unternehmen, die die Dienste alle Kategorien. Behinderte Gäste Die Villa liegt auf einem steilen Hang, der einen atemberaubenden Meerblick bietet, aber das bedeutet auch, dass die Villa einige Bereiche nur über eine Treppe erreichbar (nicht erreichbar durch den Aufzug). Höhere Gewalt. Der Vermieter haftet nicht für ein Versäumnis oder eine Verzögerung bei der Erfüllung dieses Vertrages für den Zeitraum, in dem ein solches Versäumnis oder eine Verzögerung auf Ursachen zurückzuführen ist, die außerhalb seiner angemessenen Kontrolle liegen, einschließlich, aber nicht beschränkt auf Handlungen von Gott, Krieg, Streiks oder Arbeitsstreitigkeiten , Embargos, Regierungsbeschlüsse oder andere Fälle höherer Gewalt.
*Please note that these prices are for a maximum of 16 adults and 5 children (8+2 bedrooms use including children's room with 2 double bunk beds). This assumes the adults are all couples who can share our king size beds and that 2 children can share the queen size bed. Additional charges apply if the maximum is exceeded and it may not be exceeded without our express permission. Guests may not arrive in greater numbers than have previously been approved.
*There is a 4-night minimum stay for bookings that include a stay during Christmas, New Year, Songkran, and the Chinese New Year.
*Tipping – prices do not include tips for staff, please tip at your discretion when you have received good service.
*Food –we kindly ask our guests to order from the same set menu during any one lunch or dinner and to give notice of which set menu will be taken 24 hours in advance.
Terms & Conditions
Payment Policy*
Once the Lessee reserve the villa a deposit of 50% of the villa rental rate is due within 7 days of booking to confirm. Failure to make this payment subjects your reservation to automatic cancellation without notice to you. The balance due of rent and damage deposit must be paid in full at least 30 days prior to arrival and 60 days prior to the Lessees arrival during peak season. If the Lessee choose to book extra nights just prior to arrival the rent for these nights shall be paid latest when check-in.
Cancellation Policy*
Airbnb terms and conditions apply regarding Payment and Cancellation.
Travel Insurance
For peace of mind we recommend travel and trip insurance including flight delays, cancellation, liability, health and loss and damage to personal items.
Damage Deposit
A $ 1000 safety deposit should be made upon arrival. The deposit will be fully refunded within 15 days of departure provided there is no damage, missing items, abnormal cleaning, or other special circumstances. If it is paid in cash, it can be paid in any currency and will be refunded to you upon departure. You, as the guest, agree to take all reasonable steps to ensure that your guests or families adhere to the rules and regulations affecting your villa. The villa is fully furnished, including a plentiful supply of bed linens and towels for guests' use. Rearranging the furniture or removing any items from the villa is strictly prohibited.
Arrival
If you desire transportation from the airport to the villa, we need to know your arrival information (airline, flight number, arrival time, departure time, departure flight number) at least two weeks prior to your arrival. You will be able to fill in this information on our concierge form, which we will send to you by e-mail after the booking has been confirmed. It will appreciated if you notify us of any flight delays so we can notify the staff of any changes in schedule.
Check-in and Check-out Times. Your check-in is 15:00 (3 PM) and check-out is at 12:00 (noon). It may be possible to arrange an early check-in or late check-out, of which we'd be happy to try and accommodate you, but since we may have other guests leaving or arriving on the same day, it is not always possible. The early check-in or late checkout fee (if possible) is US$350. If your flights do not fit our check in and check out times and we have other guests staying with us, we will of course try to help make arrangements for you to enjoy your first or last few hours on the island outside the villa.
Liability
The villa does not assume any liability for interruptions in the supply of electricity or water, internet, or pool filtration. We also do not assume any liability for personal or property loss, damage, or injury during your stay. The villa management also reserves the right to refuse service or rentals to anyone at their discretion.
The guests are liable for their own safety and should have their children supervised by adults at all times, especially when young children are playing around the pool areas and the rails preventing falls from the upper floors.
Capacity of Villa
The total number of persons allowed in the villa at any one time is restricted to the number of persons scheduled and paid for (listed in the concierge form). The maximum occupancy of 16 adults is based on two persons per king size bedroom.
Should a group misrepresent themselves and arrive in numbers beyond the villa's capacity, they may be required to pay for excess guests immediately or (in case of what the villa would label gross misconduct or misrepresentation) denied the right to stay in the villa altogether without refund.
Towels and bed linen
Towels are changed once per day (if not dirty). Bed linen are changed every third day (if not dirty).
Transportation
One Toyota Minibus with chauffeur is available for transport on Phuket. Due to recent (2017) changes in regulations, the maximum capacity of the van (strict Phuket regulations) is 11 guests, which leaves some extra space for bags since the van was designed to hold 15. The price is restricted to the cost of fuel during regular working hours (08:00-17:00). If guests require transportation outside those hours, the cost is THB 500 per hour + the price of fuel. Airport transfers are THB 1,500 or THB 1,000 depending on the size of the vehicle used.
Staff working hours
The staff general working hours are between 8 am to 6 pm. One staff will work until 10 pm. If a guest wants staff to work longer hours, he/she must let the villa manager know in advance and pay for staff overtime.
Pets
Pets of any kind are NOT allowed in or on the villa's premises. A pet, or evidence of a pet, found on premises will cause immediate eviction, and the guest's rent and deposit will be forfeited.
Shoes
Outdoor shoes are NOT allowed in the villa. We provide indoor slippers if required.
Complaints & Maintenance
No refund or rate adjustment shall be made for unforeseen mechanical failures such as the supply of electricity, telephone service, water, pool filtration systems, tubs, air conditioning, television or cable service, appliances, etc.
House Parties & Functions
The Lessor wishes to maintain a family atmosphere for the quiet enjoyment of guests. We rent to family groups and responsible adults only! Absolutely no house parties or functions such as weddings are allowed without advance written permission from the Lessor. Guests shall be respectfully peaceful, so as not to disturb other residents in the immediate area. The Lessee recognizes that the staff are Buddhist and shall treat the staff with respect.
Drugs & Hazardous Materials
Guest and members of his party shall not use or permit to be brought into any villa any illegal substances, inflammable fluids or other explosives or articles deemed hazardous to life, limb or property.
Substitution
Should the villa be out of order or deemed substandard prior to your arrival, the Lessor reserves the right to substitute comparable or better accommodations without liability. If comparable accommodations are not available, guests may receive a complete refund of the rental.
Disclaimer
The Lessor is not responsible for inadvertent errors on our website. All rates and villa details are subject to change without prior notice.
Chef Services
The services of the chef who are available for one, two, or three meals a day for the duration of your villa stay.
Weddings & Large Events
We do not Charge a Venue extra Fee, We invite you to use our Chef Team Bartenders Waiters manager drivers and Event planning staff for all items including accessories. Flowers Equipment rental etc
We Provide all at Wholesale Cost + 10%
If you use outside Planner Caters or Event Companies
The is a BYO Charge on all Food and Beverage and invoices services of 10% charge to those outside companies providing the services any all categories.
Disabled Guests
The villa is located on a steep hillside, which offer stunning ocean views, but this also means that the villa has some areas reachable only by stairs (not reachable by the elevator).
Force Majeure.
The Lessor shall not be liable for any failure of or delay in the performance of this Agreement for the period that such failure or delay is due to causes beyond its reasonable control, including but not limited to acts of God, war, strikes or labor disputes, embargoes, government orders or any other force majeure event.
Familien- / kinderfreundlich
Zusätzliche Personen Keine Gebühr
Kommuniziere immer über Airbnb
Um deine Zahlung zu schützen, solltest du niemals ausserhalb der Airbnb-Website oder -App kommunizieren oder Geld überweisen.
Schlafzimmer 1
1 Doppelbett (1,80 × 2 m)
Schlafzimmer 2
1 Doppelbett (1,80 × 2 m)
Schlafzimmer 3
1 Doppelbett (1,80 × 2 m)
Schlafzimmer 4
1 Doppelbett (1,80 × 2 m)
Schlafzimmer 5
1 Doppelbett (1,80 × 2 m)
Schlafzimmer 6
1 Doppelbett (1,80 × 2 m)
Schlafzimmer 7
1 Doppelbett (1,80 × 2 m)
Schlafzimmer 8
1 Doppelbett (1,80 × 2 m)
Schlafzimmer 9
1 Doppelbett (mind. 1,50 x 2 m)
Schlafzimmer 10
2 Etagenbetten
Nicht für Haustiere geeignet
Der Check-in ist jederzeit nach 15:00
• Capacity (number of guests)
• Check-In and Check-Out Times
• The 'Concierge Form'
• General House Rules
• Handicap Access
• Staff Hours
• Kitchen
• Transportation Services
• Parties and Special Events
• Payments
• Security Deposit
• Reservation Changes and Cancellations
• Substitution
• Security Deposit
• Insurance
• Host Liability
• Disclaimer
• Force Majeure

Capacity
The total number of persons allowed in the villa at any one time is restricted to the number of persons scheduled and paid for, based on two persons per bedroom, the villa can accommodate a maximum 16 adults and 6 children. Should a group misrepresent themselves, they will be required to pay for all excess persons immediately, or shall vacate the villa without refund.

Check-In and Check-Out Times
The check-in time is after 15:00 (3PM) and the check-out time is no later than 12:00 (noon). It may be possible to arrange an early check-in or late check-out, depending on surrounding bookings. The price for extra time spent at the villa will be decided on a case by case basis.

The Concierge Form
After confirming your reservation, you will be asked to fill in a Concierge Form with the names of the guests, arrival and departure times, and details on your first meals. This is to make sure that your airport pick-up (if arranged through us) is optimal and your first meal can be prepared at the villa. If you book far in advance, of course you may make alterations to the concierge form and we will work with you to make sure the arrangements are optimal. If additional guests are added beyond the capacity of the villa, we may make special arrangements and add extra charges or suggest additional lodgings. If special arrangements are agreed upon to exceed the villa's stated maximum capacity, please be aware that you may not have the personal space that is a part of our desired 5-star rating.

General House Rules
No outdoor shoes should be worn indoors. We will provide indoor slippers if required.
Towels are changed daily. Bed linen are changed every third day. Floors are cleaned daily. Extra cleaning will be done upon request or if there is apparent need for it.
To minimize our carbon footprint, please keep doors closed when running the air-conditioning and turn the air conditioning off when leaving your rooms.
Smoking is allowed on balconies, by the cocktail bar terrace, on the pool and roof terraces, but not indoors. If smoking is done close to an entrance to the house, please close the doors as some guests are very sensitive to the smell of tobacco. Thank you.
Pets are not allowed in the villa or on the villa's premises for a variety of reasons, most importantly potential guest allergies.
Guests may not bring into the villa any illegal substances, explosives, or articles deemed hazardous to life, limb, or property.

Handicap Access
The villa is located on a steep hillside which offers stunning ocean views. This also means that people in wheelchairs or with impaired movement function must be mindful around the villa. Please also be aware that even though we do have an elevator (90x110cm), the villa does have some areas accessible only by stairs.

Staff Hours
The staff general working hours are 08:00-17:00 (8AM to 5PM) with the first staff typically arriving at 07:00. Between 17:00 and 22:00 (5PM-10PM), the villa will be staffed by one manager and one maid/waitress. The kitchen staff will of course be there for pre-ordered dinners in the villa (see Kitchen, below). In cases when parties running until late at night are arranged, staff overtime will be charged.
Tipping is of course at the discretion of the guest. Tips will be shared amongst all staff unless otherwise is specified by the guest.

Kitchen
The villa offers a variety of set multiple choice menus for breakfast, lunch, and dinner. Breakfasts are included in the price of your stay. If meals continue until after 22:00 (10PM), staff overtime must be charged. Guests may visit the kitchen but may not prepare meals for safety reasons. Meals in the villa are currently restricted to our set menus, which include Thai food, Western food, Indian food, BBQ, fresh seafood, and more. The detailed menus can be communicated by private messages, but the links to our full menus and website cannot be sent until bookings are confirmed as per Airbnb policy. Since shopping for fresh ingredients is done on a daily basis, meals should be ordered at least 24 hours in advance.

Transportation
One 15-seat Toyota Minibus with chauffeur is available for our guests between 08:00 and 17:00 (8AM-5PM) for transportation on Phuket. The price for such transportation is the price of the fuel used and any tips you feel may be appropriate. Longer trips may also be arranged but will entail additional costs besides the fuel. If the Lessee requires transportation on Phuket during other hours the additional cost is THB 500 THB per hour for transport on Phuket.
Airport pick-ups and drop-offs outside normal working hours are THB 1500 per vehicle.

Parties & Special Events
We at Villa Amonteera always wish to maintain a family atmosphere for the quiet enjoyment of our guests. We rent to family groups and responsible adults only. Parties and special events such as weddings require advance written permission. Guests shall be respectfully peaceful, so as not to disturb other residents in the immediate area. The guests should also recognize that the staff are Buddhist and treat them with respect. Additional guests may not be brought to the villa for overnight stays without prior request and the express permission of the villa management.

Rental Payments
Once the guests reserve the villa, a deposit of 50% is due within 7 days to confirm the reservation. If payment is not received, the reservation will be cancelled. The total amount must be received at least 30 days prior to arrival and 60 days prior to arrival during peak season. If the guest chooses to book extra nights (if the villa is available) immediately prior to arrival, the rent for these nights shall be paid upon arrival. A fully refundable security deposit of USD 1,000 will also be required upon arrival (see Security Deposit, below). If booked via airbnb.com, the airbnb terms and conditions for payments apply. The security deposit is not handled through Airbnb.

Security Deposit
A US$ 1000 deposit is required upon checking in. The deposit will be fully refunded provided there is no facilities damage, missing items, additional cleaning or other extraordinary circumstances. You, as the guest, agree to take all reasonable steps to ensure that all members of your party adhere to the rules and regulations of the villa.

Reservation Changes and Cancellations
All cancellations and requests for changes to your reservation (such as date changes or changes in the number of guests) must be made by e-mail. For cancellations received 30 days or more prior to arrival 50% of the rental amount will be refunded. During peak season, cancellations must be processed 60 days in advance. If booked on Airbnb.com, the Airbnb terms and conditions for cancellations apply.

Substitution
Should the villa be out of order or deemed substandard prior to your arrival, the Lessor reserves the right to substitute comparable or better accommodations without liability. If comparable accommodations are not available, guests may receive a complete refund of the rental.

Insurance
For peace of mind we recommend travel and trip insurance including flight delays, cancellation, liability, health and loss and damage to personal items. Please also keep track of any young children at all times. For safety reasons, we also advocate that guests stay outside the kitchen area.

Host Liability
Villa Amonteera does not assume any liability for interruptions in the supply of electricity or water, internet services, or pool filtration and shall make best effort to solve any such interruptions as quickly as possible.
Villa Amonteera does not assume any liability for personal or property loss and damage or injury during guests' occupancy of the villa and reserves the right to refuse service or rentals to anyone at their discretion.
Villa Amonteera is not liable for the safety of the guests, who shall have their children under supervision of an adult at all times, especially when children are playing around the pool areas.

Disclaimer
Villa Amonteera relies on the help of many separate individuals and even though we do our best to make sure that all information is correct, there may be errors on our website. If there are any such errors, we ask your kind understanding and reserve the right to amend such mistakes without prior notice even as they may affect your own arrangements. For this reason, we rely very much on the information in your Concierge Form and the written communications between ourselves and the guests. If you find any inconsistencies at all in any of our services or the impression that has been given and the reality you have found, we also ask kindly that you may inform us so that we may rectify any errors. Thank you.

Force Majeure.
The Lessor shall not be liable for any failure of or delay in the performance of this Agreement for the period that such failure or delay is due to causes beyond its reasonable control, including but not limited to acts of God, war, strikes or labor disputes, embargoes, government orders or any other force majeure event.
2 Nächte Mindestaufenthalt.
Preis-Leistungs-Verhältnis
We stayed 6 nights as a big family with infants & elders and all rooms were occupied. Everyone was very happy and satisfied with all the arrangement from facilities, daily services and meals. Basically there's everything you need in the villa, so just sit back and relax. The only thing we needed to do was to communicate with the Villa Manager -Khun Mem in advance, then you would have a smooth and easy holiday. We did have special requests like extra beds, cots, pool side party meal and cocktails, kids and diet meals, in-house massage etc. We really appreciated the effort of the team! Originally we didn't plan to dine in so many times and turned out we only had two meals outside throughout the week, because the food in the villa was so delicious and worth every dollar! It's a must to try their menu. Highly recommend this place, spacious, airy and clean, staff were attentive, everyone of us just felt like at home. Thanks again to the team of Amonteera, we do have a memorable family trip. And also the sweet decor in my room for our anniversary!
---
关于房间:我们的商务定制活动,因为是客户,不像家庭都能用大床房,且有很多男士不能睡一张床,所以分房是个大问题。除了儿童房的高低床,其他房间都是大床,最后加了3张床,才搞定。强烈建议增加双人房。可以满足更多需求。 关于景色和位置:别墅景色很美,配套设施也完善,就是位置在半山腰,定的一日游的车都不愿上山接,因为路很陡不是很好走。到别墅的工作人员还是非常友善,每次都把我们送到山下。特别表扬司机Bao 技术一流。 关于卫生和服务:基本上每天打扫两次房间,偶尔墙壁能看到壁虎,无关大雅。前期和Nils 邮件沟通很多次,帮我解决了很多问题,特别感谢。还有到达后,别墅经理Men ,Tai 和Nucha 也都非常友善,热心,寻求帮助时反馈很及时,服务真的很周到。虽然我们住了4天,3天下午或阴天,但还是很开心。 关于要自备的东西:之前看评价说酒店直插很少,于是我带了很多转换插头,都没用上,正常充电完全够了。另外没有小梳子,其他都有不用特别准备。 关于性价比:我定的比较早,大概提前了2个月左右,其实临近出发,也就是9月中,错开了暑假和国庆,算小淡季,价格比原来低了3分之一,肉疼啊,损失3000美金左右,大家预定的时候看运气吧,如果能8-9千订上就算是赚了。 再次感谢Nils. Men. Tai. Nucha 的服务和付出。
---
We had a wonderful time in villa. We went there as birthday trip for my husband with family and friend family including small baby and infant. Everything was great! Mem and Thai, also every staff was friendly and nice. Dinner was good and plenty, BBQ was good, too. About breakfast, I prefer asian dish than western. If I advice coming next guest about stay, sometimes using (SENSITIVE CONTENTS HIDDEN) translate service English to Thai language. Thank you very much and we will be back in the near future!
---
We have large group for 15 adults,4 childrens and 4 babies. Nils is a kind and helpful people that who always answers my question in the first time. In addition to these, I have to thanks to the all the staff of amonteera villa. Especially, Khun Mem, Moon, Tai and Bao! They are really friendly and work hardly. Chidrens also enjoy here! They even did not want to go home. Even though the place is a little bit far away from patong. However, we can play a full in the villa. In all, Our family had an wonderful and unforgettable holiday in Phuket! Also, the perfect first birthday for my son.
---
I am not the villa owner but have been hired to assist with guest communications and look forward to helping you and the staff prepare to make your stay with us a truly wonderful experience.
Sprachen:
Dansk, English, Español, Français, Norsk, Svenska
Antwortrate:
100%
Antwortzeit:
innerhalb einer Stunde
Entdecke weitere Optionen in und um Choeng Thale
Noch mehr Unterkünfte in Choeng Thale: