Das ist privat, ruhig, schöne, neue Zimmer mit modernen Möbeln und Panoramafenster kann geöffnet als einen kleinen Balkon auf dem Dach von Hanoi Old Street Viertel zu sehen. Ein Kingsize-Bett, 32 "LCD-TV mit internationalen Kanälen. Genießen Sie einfach, wie bei Ihnen zu Hause zu bleiben.
Especen Hotel ist eines der ersten Mini-Hotels in Hanoi seit den 1990er Jahren im Herzen der Altstadt gelegen. Es ist nur einen Steinwurf von St. Joseph-Kirche (Dom). Diese günstige Lage ermöglicht es Ihnen, in nur 5 Minuten zu Fuß vom Hoan Kiem See, Ngoc Son Tempel und dem Wasserpuppentheater zu sein. Sie können an allen bekannten Reise Punkte, Restaurants, Läden, Pubs und Kunstgalerien, ..., sobald Sie auf die Hauptstraße treten auf. Especen Hotel bietet günstige, saubere Unterkunft in einer authentischen vietnamesischen Nachbarschaft. Privatzimmer mit eigenem Bad, Haartrockner, großen Flachbild-Kabel-TV. Wifi Internet und lokale Telefonanruf kostenlos. Hoteldienstleistungen: Geldwechsel, Wäscherei, tickt Schreibtisch und Sportevents. Especen Hotel von vielen Reiseführern als Lonely Planet, Petit Futé, Rough Guide, Michellin, Footh Drucken ... Das Petit Futé Führer beschreibt unser Hotel als abgeholt wurde: ein kleines Hotel mitten im Labyrinth der Straßen, die die Kathedrale umgeben. Aufwachen mit dem Klang der Glocken und einem Panoramablick auf Hanoi Dächer Ocker (Petit Hotel Niche dans le lacis des ruelles qui enserrent la Cathédrale. Réveil au Sohn des cloches et vue panoramique sur les toits de ocker Hanoi). In einem Abenteuerbuch Namen "Das Haus in der Dream Street: Memoir einer amerikanischen Frau in Vietnam", sagte der Schriftsteller, dass: Green Bamboo "... ich die vertrauten Klänge von gefangen", "" Especen "und" Liebling Café; " Hanoi bekanntesten Hubs für Low-Budget-Reisende ... "
Mein Hotel liegt im Herzen von Hanoi Old Street Quarter. Sobald Reise nach Hanoi, müssen Sie dort leben.
Mein Aufenthalt im Especen war sehr gut. Das Double Superior Zimmer war wie beschrieben. Die Lage ist sehr gut, da man direkt am Hoan Kiem Lake ist und somit mitten im Geschehen. Auch die Jungs an der Rezeption sind sehr nett. Sie bieten auch Touren nach Sapa bzw. Halong Bay an. Halong Bay war ne klare 1 mit Sternchen. Sapa war ne 2, da mir der "traditionelle" Markt in Bac Ha nicht gefallen hat, weil zu touristisch. Aber die Landschaft um Sapa ist ein Besuch allemal wert. Ich habe meinen Aufenthalt sogar um eine Nacht verlängert. Also nochmal danke Especen-Team!
Robert
2014-08-30T00:00:00Z
Die Unterkunft war eigentlich sehr schön, doch leider hatten wir unsere Probleme mit unserem Badezimmer, wo immer wieder Wasser auf dem Boden war, da entweder das Klo oder Waschbecken undicht waren. Trotz Hinweis an die Rezeption, wurde das Problem selbst beim 2. Anlauf nicht behoben. Mangelnde Informationen haben dazu geführt das wir eines nachts um 12 Uhr vor verschlossener Eingangstür standen und warten musst bis jemand auf unser klopfen reagierte. Insgesamt hat es leider etwas an der Kommunikation gemangelt, ansonsten für Hanoi sehr ruhig gelegen und mitten im Zentrum.
Joshua
2017-01-16T00:00:00Z
This is the perfect place to stay when you land in Hanoi! We had an amazing host who kept in constant contact and answered all my questions very quickly. Everyone in Especen went out of their way to help us and we couldn't rate them highly enough. The staff booked even booked us train tickets, arranged a cab and offered to help us with a tour to halong bay. The rooms were clean and comfortable and the showers were very powerful. The hotel itself is in a lovely ild quarter setting, a close walk to everything in Hanoi. You would definitely have a comfortable, helpful and wonderful time here! Thank you Especen hotel :)
Shakti
2014-07-23T00:00:00Z
The room was so clean, and the location was central to a lot of the museums, sites, and attractions in Hanoi. I definitely recommend this place to anyone who is staying in Hanoi. They also provide laundry service for a minimal fee, which was great since we were traveling for an extended period of time.
Vincent
2015-06-18T00:00:00Z
It was in a good location, walking distance to everything. I stored my luggage though when I went on a day trip and they left all my stuff out in the open and it got crushed by other people's stuff.
Geneve
2016-08-22T00:00:00Z
Great location, really nice and modern rooms.
Alex
2015-04-02T00:00:00Z
Hotel was good, everything as described online. I would recommend it for the budget traveller.
Nicholas
2015-08-05T00:00:00Z
Thank you for bring up our bags to the room and getting us the hair dryer so quickly, within a minute of us sending you the message!
Lih Yuan
2016-12-01T00:00:00Z
Art der Unterkunft
Privatzimmer
---
Objekttyp
Haus
---
Unterkunft für
2
---
Schlafzimmer
Hanoi, Hanoi, Vietnam
如果你正在寻找一个地方我的房间是适合你: 1.是市中心,但安静 2.具有空间工作 3.具有良好的安全性,但灵活进去/走出家门 这房子是由捷克公司租,当我的老板只访问越南使用这个房间,所以我们相对于酒店的质量和位置,因为我们只是希望,当没有人在那里停留使用它提供了良好的价格。
객실 내 상사이기 때문에, 우리는 항상 청결을 유지합니다. 그것은 완전히 멋진 목재 가구 새로운 방입니다. 방에서있다 : 1 퀸 사이즈 침대 1 사무실 테이블과 의자 큰 일 1 작은 옷장 영어 채널 1 TV 1 큰 욕실 에어컨 및 히터 1 발코니 :) 뜨거운 물은 항상 사용할 수 있으며 여름에 머물 경우 감기 나 에어컨 느끼는 경우 가열 표시등이 있습니다. 집에 대해서는, 4 개 층으로 구성되어 있습니다. 1 층 유 자유롭게 사용할 수 있습니다 하나의 옷 가게와 큰 부엌이다. 2 층 우리 회사의 사무실입니다. 3 층은 u는 더 큰 하나에 남아있을 것입니다 2 개의 침실이다. 그리고 4 층은 세탁 및 보관입니다. 심지어 우리는 1 층에서 옷 가게를 가지고 있으며, 2 층에 사무실이 집은 완전히 안전하고 조용합니다. 내 에어 비앤비 손님은 항상 우리가 친절하고 당신에게 최대한 도움이 될 것입니다 때문에 그들이 떠날 후 집에있는 모든 사람들과 연락을 유지하려는 :)
이 곳은 도심 그러나 하노이의 조용한 지역에 있습니다. 그것은 두 개의 호수와 하나의 큰 공원 근처이기 때문에 공기가 깨끗하고 교통이 훨씬 이전 분기에로 붐비는되지 않습니다. 내 집은 하나의 군 병영 많은 대사관 사무실이 바 딘 구에있는, 그래서 u는 늦게 집에 와서해야하는 경우 유 전적으로 안전 느낄 수 있습니다 만 조용하지만 또한 매우 보안이 없습니다.
Chi was very helpful and a nice host. The room is very comfy and perfect for a long stay. Especially if you want some space to work. The room has a very nice bathroom. The communication with Chi was very easy going (by (SENSITIVE CONTENTS HIDDEN)). The staff of the clothes shop (ground floor of the house) is as well very nice and cool. I higly recommand this room for the price :)
Adrien
2017-02-22T00:00:00Z
Chi's place is exactly as described/pictured. The bed is soft, which apparently is not so common around these parts. She took me to get a simcard for my phone and showed me how to split traffic while crossing the street. I start for a week, with motorbike, and the people on the ground floor were great about watching my bike and even bringing it in at night. There is a market 20 meters away for water/snack needs. An outdoor Highland Coffee is a two minute walk away. Very Convenient location tucked away in an alley. Highly recommended.
Orion
2017-04-05T00:00:00Z
The room is very spacious and comfy. It was very nice to stay few days in this place which is quiet because not in the old quarters. Everything was easy going with Chi. We communicate by (SENSITIVE CONTENTS HIDDEN) very easily. And the staff of the clothes shop (1st floor of the building) is very cool too. Cool place if you want a long stay or a quiet place. I highly recommand it.
Adrien
2017-02-20T00:00:00Z
Had a great time staying here! The place is in walking distance to several cultural sites (Ho Chi Minh mausoleum, Temple of Literature, Imperial Citadel of Thang Long). I was looking for something that isn't in the old quarter and was quiet at night - and found it! The place looks like the photos. Chi was extremely helpful with a variety of questions and challenges I had during my stay and was extremely helpful and responsive! She even got me a local SIM card to get my trip started!
Michael
2017-03-22T00:00:00Z
Everything so good Chi and Yen (housemate) so friendly //// this is the best place and cheap ever that Im stay With love Pete
Pete
2017-03-27T00:00:00Z
Art der Unterkunft
Privatzimmer
---
Objekttyp
Haus
---
Unterkunft für
2
---
Schlafzimmer
VN, Vietnam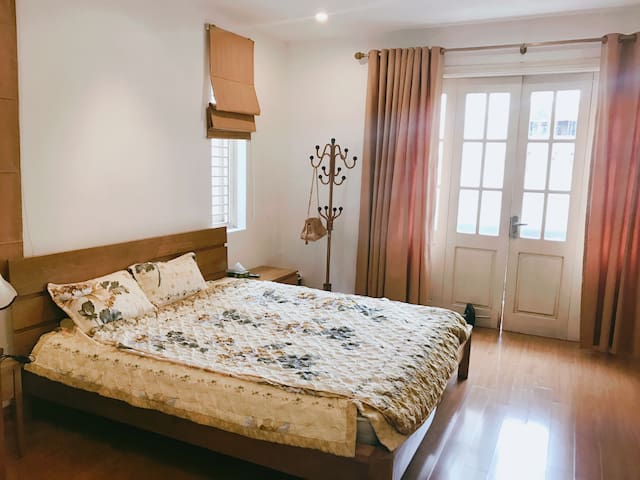 1 bed room, 1 living room, 1 kitchen, 1 bathroom, private balcony with flowers. Quiet place in the center of Ba Dinh district, 200m from Lotte Building, Daewoo hotel. 500m to the West lake, Athnology museum. Many Japanese & local restaurants around.
Art der Unterkunft
Ganze Unterkunft
---
Objekttyp
Wohnung
---
Unterkunft für
2
---
Schlafzimmer
Liễu Giai, Hà Nội, Vietnam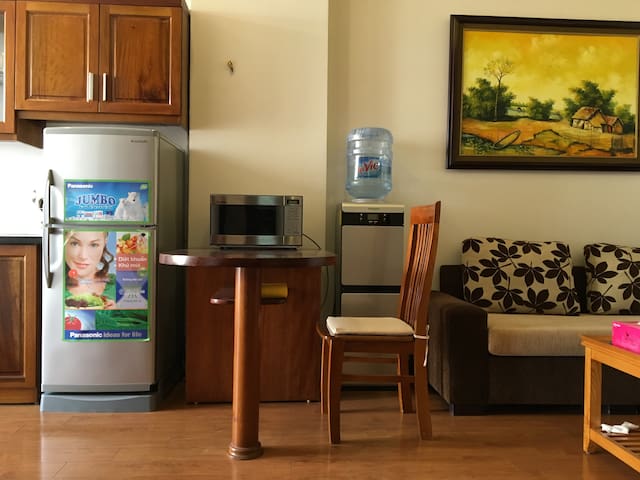 Eden Studio A place for Family, Reflection and Relax from the bustle and hustle of life. The experience is uniquely Eden when you wake up in the morning, greeted by sunshine and fresh air from our garden terrace. Read a book, have a coffee, write down some reflection and the enjoy the local scenery. You will see how wonderful life is. About Our Family Our family is literally in the central of Hanoi, so you can visit the Old Quarters or any historical relics just 500 meters away, while still enjoying the convenience offered by a modern city just within walking distance from our property. English is the most popularly spoken in the house, thanks to my dad who is a professional interpreter and a community of international friends. We can help you adjust to the lifestyle in Hanoi city, introduce you to the neighborhood, give you good safety tips, and offer you clean, private and quiet accommodation during you stay in Hanoi. About Eden Studio Eden Studio is a two-storey apartment located on the 6th and 7th floor in a building owned by my family. With lift access, the studio is perfect for family with children and senior citizens. This studio apartment was designed with your comfort and safety in mind and is safe, clean and well-appointed with environmental friendly and inspired by Tuscan interior design. Once inside you'll find a high quality and very comfortable king size spring bed overlooking a plant covered balcony. And if you are traveling in a pack of 3 or 4, fret not because we have an additional bed ready for you. Unlimited WiFi internet is provided throughout at no additional cost. A brand new air conditioning unit and a heater were installed for your comfort. A new water heater and pump were installed in the shower. A refrigerator, water cooler machine and water kettle are provided along with dishes, glasses and utensils for your usage and enjoyment. We provide the following for your stay: - bath towels - winter blankets - summer blankets - pillows and cases - bed sheet - duvet and duvet cover - wine glasses - drinking glasses - plates, forks, knives, spoons, chopsticks etc Everything in the studio is new, clean, and functioning. If you require any assistance, do not hesitate to tell us. We will do our best to make sure you enjoy your stay thoroughly. Your security is our top concern, which is why we have a butler for security and a CCTV system constantly monitored for your safety. If you need airport pick up, feel free to ask me so that our family can arrange pick-up car. Some helpful Q&As Is the studio near transportation? Bus stop is in front of the house. 10 minutes taxi to Hanoi Railway Station, NoiBai National Airport Pick-up Car Pool, and two Coach Terminals (coaches leave Luong Yen for northern provinces and from Giap Bat for southern provinces). We will assist you with information/map and show residents first time in Hanoi how to travel around the city especially on the first week after arrival. Any other questions, feel free to ask me :D
There are lots of lovely restaurants, cafes and shops in the neighbourhood. It's only a short walk to Hoan Kiem Lake, the Old Quarters and many other attractions.
Eine ideale Unterkunft, wenn man einige Tage in Hanoi ist! Zentral im French Quarter gelegen, mit vielen Essgelegenheiten rundum - und die Wohnung selbst ist sehr geräumig. Zudem ist Bruce's Vater als Gastgeber ständig einsatzbereit. Wir können die Wohnung uneingeschränkt empfehlen!
Matt
2015-10-06T00:00:00Z
Séjour très agréable, bon accueil de Tam. L'appartement est propre est grand donc on s'y sent bien.!
Annabelle
2014-12-02T00:00:00Z
Eden Studio was a great base for our 2 days exploring Hanoi. It's a very residential area but on a main road so hard to get lost. It was very easy to walk to all the main tourist sights of the city from here & we enjoyed coming back to the spacious apartment in the evenings. It's in a safe building with a lift & the apartment was clean & tidy. While quite simple, our only real issue was that the bed was a little hard for us - but that's just personal preference. Bruce was really really nice & welcoming & anyone staying here absolutely has to try out the breakfast places he suggests. We ate the best Pho ever!
Liz
2015-01-01T00:00:00Z
Verz nice hosts perfectly English speaking. Apartment is large and verz green. Verz recommendable!
Torsten
2013-05-03T00:00:00Z
This is a great apartment with everything you need and Bruce was very helpful in arranging airport pick up. Bruce's dad met us upon arrival and provided information on the apartment and also a map showing local eateries etc.. Only 10/15 minute walk to the big lake and old quarter
bryce
2015-04-06T00:00:00Z
we stayed at Bruce's apartment in Hanoi for 3 nights. We were welcomed by his father, Mr Tam, who looked after us during our stay advising us on where to eat and ordering a taxi etc. He was very helpful and always on hand to help us. The apartment is private and spacious with very facility and very comfortable for three of us. It is perfectly located, and within walking distance of the lake and the old quarter. The map provided proved was very helpful with everything we could need, marked. We would definitely recommend a stay at this apartment.
Sally
2015-12-01T00:00:00Z
Eden Studio is such a nice flat in the center of Hanoi... Hanoi is great and hectic - so staying in a calm, beautiful place with a lovely balcony... was such a nice experience. Bruce's father who received us speaks perfect English and is very helpful. If you are going to Hanoi then I would highly recommend stay at Eden Studio.
Kristian
2015-04-10T00:00:00Z
We spent 3 nights at Eden studio in December with my husband and 2 teen agers aged 15 (boy) and 17 (girl). Although I specified that we needed a mattress because my 2 children cannot sleep together in a rather small bed, there was no bed/mattress prepared so we had to ask when we arrived. I don't recommend this place for families and in the winter for the following reasons : - my children were sleeping directly on the mattress (no fitted sheet) - the bedroom upstairs was very cold - the kitchen is under equipped if you want to cook a basic meal - the toilet/bathroom is always wet because the shower is in the middle with no curtain, separation On the other hand, Bruce's father has been extremely nice and tried to help as much as he could. The location of the flat is also perfect with key locations at a walking distance.
Cecile
2013-12-28T00:00:00Z
Art der Unterkunft
Ganze Unterkunft
---
Objekttyp
Wohnung
---
Unterkunft für
4
---
Schlafzimmer
Hang Bai ward, Hanoi, Vietnam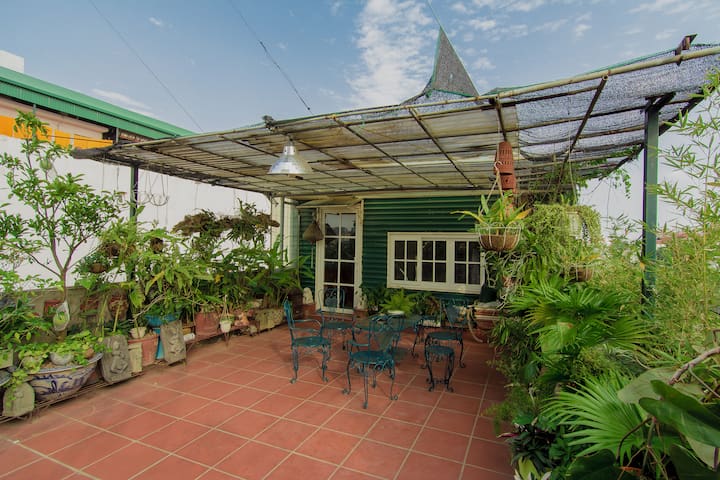 Mein Platz befindet sich direkt neben dem Truc Bach See und nur zwischen der West Lake und der Altstadt von Hanoi, voll von Restaurants traditionelle vietnamesische Küche serviert, Nachtleben, und die öffentlichen Verkehrsmittel zu allen rund um die Städte. Es ist gut für Paare, Solo-Abenteurer, Geschäftsreisende, Familien (mit Kindern) und große Gruppen. Es wurde mit modernen und freundlichen Benutzer Familie Gerät und einem großen Wohnraum gut eingerichtet.
Die ganze schöne Studio-Apartments werden alle gehören zu Ihnen während Ihres Aufenthaltes. Sie können Sie sich wie nur etwas brauchen finden, wenn Sie zu Hause sind: Flachbild-TV, Sofa, Haushaltswaren, Esstisch, Schreibtisch, bookself, Kingsize-Bett ... Das Gebäude eine große Terrasse im 9. Stock hat, 10. Boden und 11. Etage. Von hier aus kann man einen schönen Blick auf Truc Bach See, West Lake und der Stadt zu sehen. Perfekt nach einem langen Tag in Hanoi kühlen. Wir haben auch Reinigung 1 Mal / Woche. Die Lage selbst ist schon sicher, aber die Sicherheit der Wohnung ist noch 24/7 so Ihre absolut sicher gesetzt während Sie Ihren Aufenthalt hier.
Der ideale Ort in Hanoi zu leben, ist überall in der Nähe Ho Tay (West Lake). Sie werden dort leben, eine große Gemeinschaft von Expats finden. Der Ort ist wie eine Insel direkt im Zentrum der Stadt, die Luft perfekt ist, wird der Verkehr wie an anderen Orten nicht überlastet. Es gibt eine Menge von Restaurants, Bars, Cafés, Hotels umgeben. Und ein Nguyen Building ist eines der Gebäude in dieser perfekten Nachbarschaft.
Great little apt in Tru Bach area. Very central and just a short motorbike away to Westlake and old quarter. Lovely neighborhood where you can escape the tourist scene. Yen is so helpful and responds promptly to any questions. The doormen in the building are so kind!
Rebecca
2017-04-07T00:00:00Z
Appartement conforme aux photos, quartier assez calme par rapport au vieux quartier proche de hoan kiem, proche du lac ouest.
clemence
2017-02-15T00:00:00Z
Fantastic apt in a great location in Truc Bach. Very clean, comfortable, and communication/check in was very easy. Highly recommend.
Tara
2017-03-06T00:00:00Z
Appartement neuf, clair, grand. Yen est toujours disponible par email. Rue et quartier calme. Proche du centre. Très bon et tres grand lit.
Pierre
2016-12-06T00:00:00Z
Sweet central studio in my favorite part of Hanoi! Street food everywhere, right next to Truc Bach lake. 24 hour security guard, motorbike parking, and a great view from the rooftop terrace. I had made a move across continents with my dog who was a bit on edge the first couple days and Yen was very understanding and accommodating.
Rio Roxanne
2016-09-22T00:00:00Z
Very nice apartment with the most important equipment, quiet and good location (about 20 minutes on foot) to the center. The communication was excellent and very fast. Yen and the doorman were very helpful. Wlan was top. We would come back at any time!
Jenny
2017-02-13T00:00:00Z
Yen was awesome! We had trouble at the airport and she managed to get a hold of us and send the taxi back to fetch us. The security guys of the building was great, kind and helpful. The location was also very convenient... close to West Lake and Old Town. My only complaint was about the kitchen. There were a few dishes stocked in the kitchen, but you will need to find your own dish soap and sponge and towels to dry them. Other than that, it was an incredible stay at the An Nguyen Building and we wish Yen and her family many years of happiness!
Jessica
2016-08-13T00:00:00Z
Really great few days. Clean apartment, modern and comfortable. It's a stone's throw away from the old quarter which is a hotspot for nightlife. It's near points of interest for culture. Really glad to have stayed here.
Jake
2017-02-06T00:00:00Z
Art der Unterkunft
Ganze Unterkunft
---
Objekttyp
Wohnung
---
Unterkunft für
2
---
Schlafzimmer
Trúc Bạch, Hà Nội, Vietnam
Nested in The Hanoi Old Quarter, Aquarius Hanoi Hotel is ideally located in a small and quiet Au Trieu street and just 100 meters from the Saint Joseph Cathedral.
The Saint Joseph Cathedral few steps away. Hoan Kiem lake and city centre is 3 minutes away You are in the heart of the city in our hotel
Very nice place. In the heart of Old Quarter. Everything worth seeing in Hanoi in distance of max 3 km. Only 5 min walk to the Hoan Kiem lake. The only minus was the pressure in the shower. Also the stuff was very helpful. Thanks for the stay :)
maria
2016-12-05T00:00:00Z
nice, clean rooms, friendly staff.
Maria
2016-02-13T00:00:00Z
Was very nice staying here and they even upgraded me to a suite for one night
Michael
2016-04-03T00:00:00Z
The host canceled this reservation the day before arrival. This is an automated posting.
Ashley
2016-03-18T00:00:00Z
Cant beat the location. I told them I am a digital nomad in my initial email request so i need strong internet wifi so they gave me a room with router in the room. Worked perfect.
Daniel
2017-01-29T00:00:00Z
Hotel in the hearth of Hanoi, Very helpful staff
Matthieu
2017-01-13T00:00:00Z
The room is very nice and location is perfect.They clean the room everyday,and offer nice breakfast.We have a very good time at Hanoi!Thanks
Fernando
2017-02-10T00:00:00Z
Hotel au centre de la vieille ville d'Hanoï à l'écart des rues passantes. Petits restos à proximité. Chambre convenable pour séjour de passage. Les hôtes sont là pour vous aider.
Sophie
2017-03-08T00:00:00Z
Art der Unterkunft
Privatzimmer
---
Objekttyp
Boutique-Hotel
---
Unterkunft für
2
---
Schlafzimmer
Hàng Trống, Hà Nội, Vietnam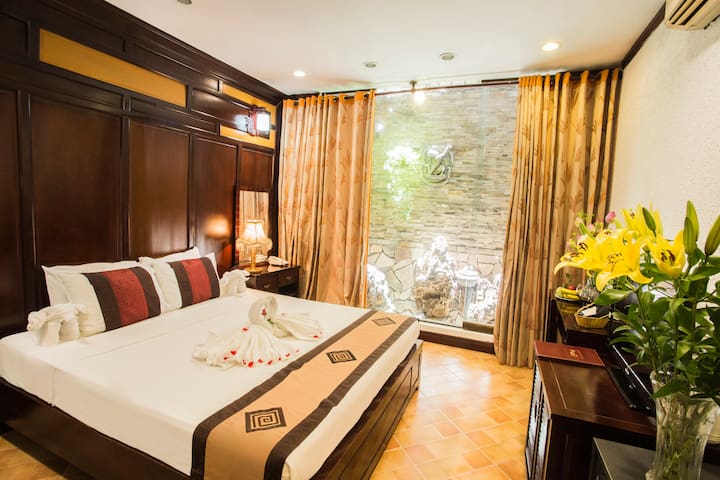 This cozy apartment in hanoi french quater. It is 30 Sq meter. The Tuti Thang Long Apt was renovated from an old apartment which build since 1973. We still keep the original structure that style of Hanoian with vintage furniture which created raw aesthetic to hotel asmosphere.
We are on 5th floor, Room number 504 . Add 6A Tong Dan, Hoan Kiem, Hanoi
Art der Unterkunft
Ganze Unterkunft
---
Objekttyp
Wohnung
---
Unterkunft für
2
---
Schlafzimmer
Lý Thái Tổ, Hà Nội, Vietnam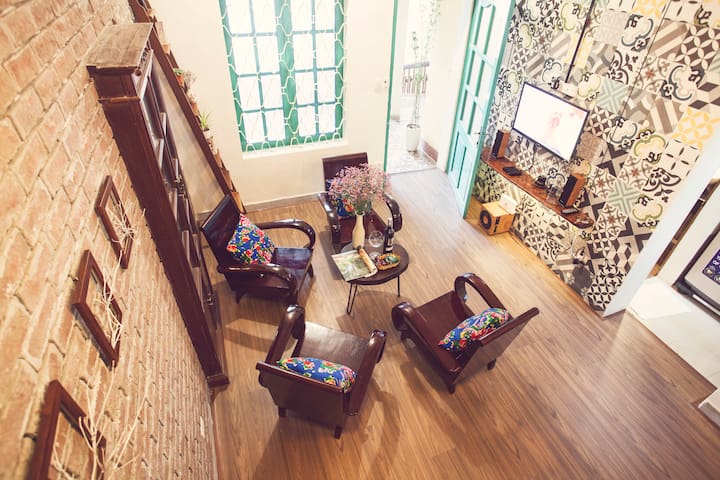 Welcome to Chezlinhlinh House, the House of Love Welcome to Chezlinhlinh House, the House of Love, in the city center of Hanoi, Vietnam. With nicely decorated rooms and air conditioning you can expect a cozy and comfortable place to stay as well as being treated as a member of our family. My family has been living in Hanoi for 300 years passing down through 14 generations, witnessing the history as well as modern period so we are positioned to share with you our lovely historical Hanoi. Spend a few days with us, going to buy food in the local market, prepare Nem (noodles with various ingredients) and enjoy the local cuisine, drink a cup of lotus tea or Vietnamese coffee. You will enjoy and learn more about our Hanoi than staying in a standard guest house or hotel. We work in the Vietnam tourism industry over 12 years and as a division of Amo Vietnam Travel, we can assist you in the perfect itinerary in the North of Vietnam as well as in other part of the Country, Cambodia and Laos.
Located in the former Ngoc Ha flower village, near the botanical park of Hanoi you can enjoy (a great central location near all the sights and sounds of Hanoi) healthy living environment and just a few minutes you could access to Ho Chi Minh's Mausoleum, One Pillar Pagoda, West Lake and Temple of Literature.
Alles Bestens. Das Zimmer war ok und wir bekamen Hilfestellung in allen Fragen die wir hatten.
Rolf
2015-12-31T00:00:00Z
Die Gastgeberin Thuy ist unvergleichlich: sie macht alles unmoegliche moeglich. Ausfluege, Stadtplaene, Infos etc. werden von ihr hilfreich mitgeteilt. Die Zimmer sind sehr sauber, es stehen Fahrraeder zur freien Benutzung bereit. Wenn wir wieder nach Hanoi kommen, werden wir auf alle Faelle bei Thuy versuchen, unterzukommen. Eine absolut empfehlenswerte Unterkunft.
Christina
2013-08-08T00:00:00Z
Meine Vermieter haben mir schnell und unkompliziert einen Transfer vom Flughafen organisiert und mir bei meiner Ankunft sogar ein Essen angeboten. Meine Zimmer waren sogar 2 Zimmer, sehr geräumig und für die Lage ganz überraschend ruhig. Es gibt einen sehr grossen Schrank in den man seinen gesammten Kofferinhalt spielend leicht unterbringt. Die gegend ist sehr schön und unglaublich spannend wenn man Hanoi mal in einem sehr "privatem" Stadtteil erleben will. Mit dem Bus ist man für ca. 30 Eurocent in 20 Minuten im Stadtzentrum. Das Bad ist Sauber und groß. Das Haus hat im 3. Stock mehrere Waschmaschinen die man ohne Gebür mitbenutzen darf. Infprmationen zu Hanoi und Buchbaren Touren gibt es von Thuy immer sehr unkompliziert. Das Gästepublikum ist bunt gemischt. Die Familie spricht Französisch Italienisch Englisch und Vietnamesisch ;-) Ich habe mich so wohl gefühlt das ich gerne wieder hier wohnen werde! Holger
Holger
2015-03-06T00:00:00Z
wir wurden sehr herzlich empfangen und aufgenommen. Uns wurde von thuy gut geholfen. Die Zimmer waren sehr sauber. In der Nachbarschaft wird man selten auf Touristen treffen. Die busanbindung ist einfach. es war einer der besten ersten Eindrücke die man von einem Land bekommen kann. Außerdem: thuy besitzt viel Humor. Alles perfekt.
Jan
2015-05-09T00:00:00Z
My girlfriend and I stayed with Thuy and her family for two nights, and it was one of the best experiences of our Vietnam trip. The room was very spacious, and clean. The location was a little far from the Old Town, but for us that was actually a plus, as the neighborhood wasn't filled with tourists. We loved staying so much, that we tried to extend our stay. Unfortunately, Thuy's homestay was fully booked. However, she went out of her way to reserve another hotel for us. Staying with Thuy and her family was truly one of our best AirBnB experiences. We highly recommend staying there if you are in Hanoi. I hope we can return soon!
Stephen
2014-12-02T00:00:00Z
All the positives that you read from the other reviews are true! Lam and Thuy are excellent and gracious hosts. They were very accommodating, helping us book air tickets and manage a Halong Bay trip that ended up getting cancelled because of a typhoon. Making spring rolls with them and the hidden bike tour were the highlights. The rooms themselves are well appointed given the price that you pay. The only downside could be the location. It's tucked in a neighborhood 10-15 minutes (By walking and taxi) from the Old Quarter. If you're in Hanoi for a night and trying to see as much as you can, this might not be for you, but if you're looking for a little charm and a quieter experience, this is the place!
Chung-Yin
2012-08-19T00:00:00Z
Our stay at Chezlinhlinh was lovely, a great introduction to Vietnam. Thuy and Lam made us feel very welcome in their home. We shared family meals together, they even gave a phone to use whilst in the north of Vietnam. With their combined years of travel industry knowledge Thuy booked a great tour, that went down without a hitch and was very suited to our needs and budget. Our room was spacious, comfortable, secure, and very clean. We look forward to visiting again and spending some more time with Chezlinhlinh family.
Josie
2013-01-10T00:00:00Z
Thuy and his family were very warmhearted and helpful hosts. The room including bathroom was very clean and comfortable. Thanks to them we got a view to another quarter of Hanoi, besides the old quarter, with very small and interesting streets full of life. To sum up: we would definetly book the Chezlinhlinh homestay again :)
Björn
2014-11-29T00:00:00Z
Art der Unterkunft
Privatzimmer
---
Objekttyp
Bed & Breakfast
---
Unterkunft für
6
---
Schlafzimmer
Ngọc Hà, Hanoi, Vietnam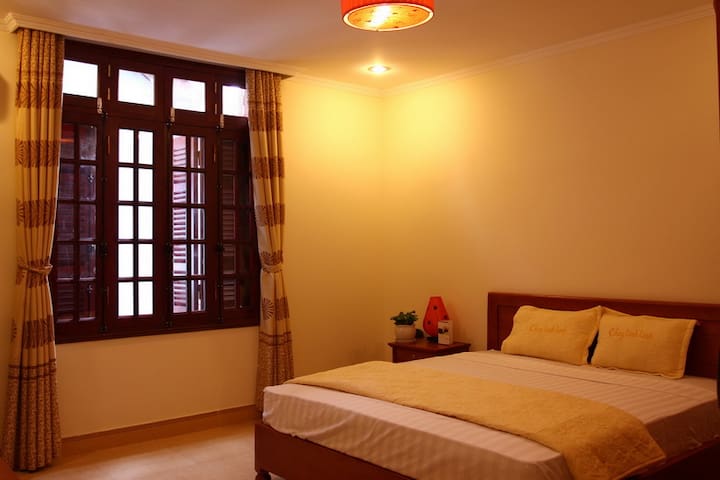 Mi lugar está cerca de complejo de Ho Chi Minh, el casco antiguo, Embajadas, Naciones Unidas, escuela internacional, gimnasio y fitness y otras utilidades .. Esta unidad con encanto recientemente remodelado es bueno para parejas, aventureros en solitario, viajeros de negocios y familias (con niños) . También ofrecemos café, leche fresca, tostadas, huevos para el desayuno. Por cierto, estaremos encantados de ayudarle a planear el resto de su viaje en Hanoi o ayuda de libros de aventuras en los alrededores, como la bahía Ha Long, Sapa, Mai Chau, etc ...
Una habitación bien iluminada privada en una casa escondido en una calle tranquila, justo en el medio de la ciudad. Cuando se aloje aquí, es una buena oportunidad para aprender cómo iniciar un día como un verdadero vietnamita. Las primeras horas del día es a menudo pasado por alto, pero muy gratificante oportunidad de experimentar la cultura y las tradiciones auténtico y encantador de la región. Vietnamita menudo se despierta a las 6, tendrán desayuno al aire libre y disfrutar de "tra đá". Si dispuestos a levantarse tan pronto como la gente del lugar en Hanoi, se le proporcionará la oportunidad de comprar en uno de los muchos mercados locales llenas de vida. Estos mercados primeras horas venden todos los alimentos frescos que cabría esperar y mucho más. Es el mejor lugar para la fruta fresca en la ciudad - los precios están seguros de ser inferior a la de los vendedores ambulantes.
Elis (Duong) made us feel right at home. She was warm and friendly and had a great sense of humour. Best of all our suite was more like a one bedroom apartment tucked away from the hustle and bustle of Hanoi , making this an ideal place to chill out and experience authentic Hanoi. She even left us some food and waters in our place, as well as a TV with internet.
Ingrid
2017-03-23T00:00:00Z
Elis is an incredible host. She is nice and did a lot of things for us to feel comfortable. She invited us to go to Perfume Pagoda with her and her relatives. It was a nice experience. There is a washing machine a beautiful view at the top of the building. There are lots of good street food around. I totally recommend her!
Clement
2017-02-02T00:00:00Z
Art der Unterkunft
Ganze Unterkunft
---
Objekttyp
Wohnung
---
Unterkunft für
2
---
Schlafzimmer
Hanoi, Hà Nội, Vietnam
装饰精美的63平方米的公寓有2床房,2浴房,1个厨房,1个起居室和阳台。 我的公寓是在农业大学Giay Distric,为游客最佳位置。舒适的床上用品和高品质的家具会让你的旅途舒适喜欢你的家。
客厅 : -55'索尼与索尼4K回音璧电视 -沙发 -咖啡桌 -冷气机 -笔记本电脑 -28 Mbps的互联网wifi 厨房: - 完全齐全的厨房 - 微波炉,烤箱,电磁炉,电饭煲,水壶 -600L东芝冰箱 -洗衣机 - 即时面条,咖啡,茶,饼干 浴室: - 面部毛巾 -Bath毛巾 -吹风机 -铁 卧室: -1m8 x 2米的床垫 -冷气机 -咖啡桌
Art der Unterkunft
Privatzimmer
---
Objekttyp
Wohnung
---
Unterkunft für
2
---
Schlafzimmer
Hanoi, Hà Nội, Vietnam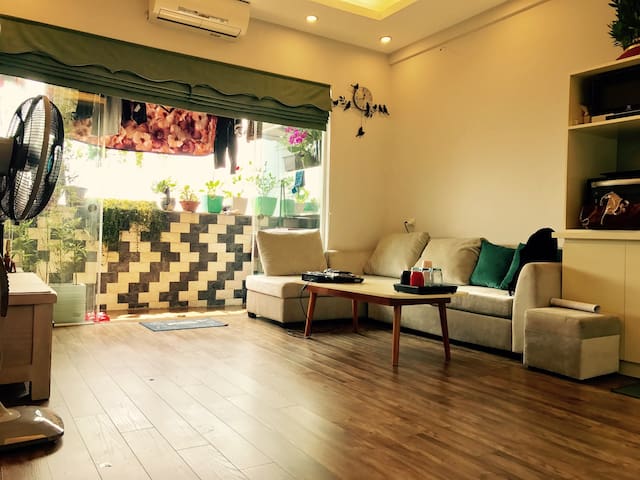 Unsere Wohnung (6) am Louis- 25 Truc Bach Straße, wo Sie tolle Aussicht und Service (Frischluft, Interieur, Sicherheit, Ausländer Gemeinschaft, Restaurants, .. Und schweigen, wenn Sie kommen, um meine Wohnungen) zu sehen Vielen Dank! Und willkommen
Alle banconies (6,5m) mit großen Fenstern bringen die natürliche Klimaanlage zu unserer Wohnung Tolle Aussicht 2 Seen (Westsee, trucbach See) Stille Luft in der Wohnung Aktive Luft, wenn Sie gehen Foreigner-Community ist sehr groß um
Sie sind freundlich und gut
Louise war sehr freundlich und hilfbereit. Die Aussicht aus seinem Apartment ist herrlich!
Renate
2017-01-05T00:00:00Z
Louis was a fantastic host, ask about anything and he will do it for you or tell you the best way to get to it. He speaks english and knows about anywhere of Hanoi ! The flat was awesome, with a breathtaking view of Hanoi. Thank you Louis, we will definitly come back :-)
GERMAIN
2016-11-30T00:00:00Z
We had a great stay at Louis Apartment. The lake view is very enjoyable and the Apartment itself was spacious, very comfortable and clean. The buzzing from the street outside can sometimes be loud but that didn't disturb us at all. We can definitively recommend Louis as a host and wouldn't hesitate to book the Apartment again!
Jan
2016-11-24T00:00:00Z
Absolutely stunning apartment with a great view! Not too far to walk to the Old Quarter, but still with plenty around to pick from. Louis and his brother were very helpful, highly recommended!
Mitch
2016-03-09T00:00:00Z
Great location and great view but we noticed a few details lacking. When we arrived, there was only 1 bath towel, no mattress pad on the bed, a half-open tin foil packet of bath soap and only 4 drinking vessels (2 highball glasses and 2 coffee mugs). The apartment itself is exceptional in its layout and view - it occupies the entire top floor with sweeping views of the lake. A little attention to detail would make this an outstanding home stay in Hanoi.
Joe
2017-02-24T00:00:00Z
Louis has a great property in best part of the city. He was there to help us whenever we needed him. The view from the balcony is absolutely stunning. I dint face any problems as such. Boeing Coffee house next door serve really good ice latte. I would definitely stay at Louis 25 when I am in Hanoi.
Karan
2016-10-03T00:00:00Z
Wonderful stay and nice hospitality
SHANG-HSUN
2016-08-22T00:00:00Z
Louis was a great host. His apartment is great in a perfect location and a stunning view over the lac. Higly recommended
benjamin
2016-10-13T00:00:00Z
Art der Unterkunft
Ganze Unterkunft
---
Objekttyp
Wohnung
---
Unterkunft für
2
---
Schlafzimmer
Hanoi, Hanoi, Vietnam
-20m2 Zimmer mit Balkon. -Hat Klimaanlage, Ventilator / Heizung, Kühlschrank, Schreibtisch, Wi-Fi, Queen-Size-Bett und großen Spiegel. -shared Bad, Waschmaschine und ein Wohnzimmer. Im Stadtzentrum, in der Nähe: die alten Viertel, Flagge Turm, Zitadelle Hanoi, Museum für Militärgeschichte, Mausoleum von Ho Chi Minh, Tempel der Literatur, Museum der schönen Künste, Hoa Lo Gefängnis, usw. -hosts Fließend in Englisch und Französisch.
Das Zimmer ist ca. 20m2. Es ist eingerichtet, ruhig und gemütlich. Es gibt einen Balkon, so dass Sie nur die Tür öffnen und die frische Luft genießen :) Es gibt eine gemeinsame Küche, eine Waschmaschine, ein Wohnzimmer im 1. Stock, so können Sie zu Hause fühlen. Dies ist ein typisches Haus von Hanoian Menschen nach der Doi Moi Zeit, kleines Haus und mehrere Geschichten genug Platz für alle Familienmitglieder zu halten.
Ly Nam De Straße ein Militärgebiet, verwendet werden und hat jetzt einen anderen Namen, die "Computer-Straße" ist. Aus diesem Grund, ist es ruhig und gesichert (Sie können Soldaten auf den Straßen zu sehen) Darüber hinaus ist es in der Mitte befindet und man kann fast alles, was Sie wollen, wie die lokalen Märkte, Mini-Marts, Supermärkten, Friseursalons, Spas, Nagelsalons, Bars, Clubs, Cafés, Restaurants, Parks, usw. finden
Alles super. Sauber, Zentral und unkompliziert. Gerne wieder!
Richard
2017-01-29T00:00:00Z
Dzung und seine Schwester haben uns in allen Phasen unseres Aufenthalts bei Ihnen bestens informiert, und waren äußerst hilfsbereit. Die Zimmer sind geräumig und sauber. Alles was es braucht war vorhanden. Die Lage der Unterkunft ist toll und relativ ruhig, alles in fußläufiger Nähe, aber nicht mitten im Backpacker - Getümmel. Alles in Allem, für dieses Preis/Leistungsverhältnis sehr zu empfehlen.
Frank
2016-12-11T00:00:00Z
Nous n'avons rien à reprocher à Dzung et à sa maison ! Nous avons été super bien accueillis, sa soeur et lui nous ont beaucoup aidé dans la réservation pour notre trajet à Sapa. La chambre est confortable et la salle de bain aussi. La maison se situe dans une petite impasse, ce qui fait qu'il n'y a pratiquement aucun bruit venant de la rue où passent les voitures et les scooters. Je recommande vivement ce logement !
Lucie
2017-02-03T00:00:00Z
Dzung and his sister are the best!! They go above and beyond as hosts and were super accommodating to my requests. My flight landed late and I couldn't contact Dzung to let him know but he was waiting and was super nice about it. They also upgraded me to a nicer room since it was available and let me stay long past check out time since my departing flight was so late at night. Everything was clean and the location is great, walking distance to everything I needed and wanted to see. I would highly highly recommend staying with them, it'd be hard to find such a great deal or better hosts!!
Heidi
2016-11-24T00:00:00Z
Dzung and Thao are two lovely hosts! They were very helpful, warmful and funny. If you need anything else, they're here! We loved our stay at their place! Plus the place is very clean, central to the centre of interest of Hanoi. Highly recommended! Thanks so much!
Charlotte
2016-12-18T00:00:00Z
La posizione dell'appartamento é davvero comodo sia per raggiungere un attimo il centro vivo della cittá, che per arrivare alla stazione! E Dzung é una persona davvero gentile e molto disponibile.. io lo straconsiglio!
Chiara
2017-02-18T00:00:00Z
Thanks for welcome us That place is amazing and good to have convenient stuff nearby Information paper about nearby is very useful which is in first floor And air conditioner in the room work perfectly and also room was very good If I come to Vietnam again , I will book this accommodation once again
SH David
2016-12-24T00:00:00Z
Nice room with good location. Not as silent as expected and somewhat not perfectly clean in the bathroom. Everything else was very good. Super easy checkin and out, nice host. Slightly on the expensive side for the value offered, but still absolutely recomended.
Kai
2017-03-16T00:00:00Z
Art der Unterkunft
Privatzimmer
---
Objekttyp
Haus
---
Unterkunft für
2
---
Schlafzimmer
Hanoi, Hà Nội, Vietnam
Enjoy the peaceful surroundings of my home which feels like a condo by the sea but is in the middle of a busy city. It is just 3kms from the centre of Hanoi and is very close to many cultural places, such as: Literature Temple, President Ho Chi Minh
Fully FurnishedFully Equipped 75m2/ 3FBuilt in 2009 1 Bedrooms, 1 BathroomsBathtub & Shower Free ServicesInternet | Water | TV Cable | House keeping | Cleaning2 times / week | Property Maintenance |24/24 Security | Motobike parking | Bedding linen change | Pay Servic EnvironmentQuiet & safe | City view | Open view | Near Supermarket | Convenient Eating Out | Near Japanese Restaurant | Mixed neighborhood FurnitureShoes Cabinet | TV Cabinet | Dining table & chairs | Sofa Set | Bed | Wardrobe | Dressing table | Desk & chair | Curtains KitchenGas cook | Electric Oven | Refrigerator | Microwave Oven | Water dispencer | Rice Cooker | Electric Kettle | Cooking set | Dining set | Cutlery Dryer | ACs (Cool & heat) | LCD TV PropertyCar Access | Elevator | Bright windows | Large living room | Separated kitchen We are the owner of this appt with 1 bedrooms, 1 bathrooms is modern, light and clean. With luxury design and moder furnish, you will feel as you are living at your home. It is AVAILABLE now. Welcome you to call us. Enjoy the peaceful surroundings of my home which feels like a condo by the sea but is in the middle of a busy city. It is just 3kms from the centre of Hanoi and is very close to many cultural places, such as: Literature Temple, President Ho Chi Minh Mausoleum.... Otherwhile , my house is also close to bus stop, restaurants, cafes, shopping centres, supermarkets, outdoor markets, clinics, an international Hospital . The home is suitable for a big family on holiday, or some couple on thier honeymoon, or for travellers wanting comfortable accommodation in which to relax in peaceful surrounding during their time in Vietnam. The modern design of the house aims to bring a touch of nature and to feel like your home away from home. Guests will be worry free as it in a quiet, friendly area with helpful neighbours and has good security. It also includes wifi and cable tivi, as well as parking space for motorbikes . There is a washing machine and kitchen for you to use. Nightly rental price includes water, electricity and weekly cleaning. Incase of long term leasing we will discuss about the electricity and water
My neighbor is very friendly. In the ward is quite quite but it is an old village. So You can visit Lotte Centre, walk around the Thu Le Lake to listen to the music of the nightingale in every morning . Close my place, there are Autralia , Japanese embasador , many Japanese Restaurance ...... Dont wait anymore, come ....hurry
Ms. Mai is very friendly host. the apartment is located the place difficult to find. She came to get me and take me there. The apartment room has two room, large dining room and comfortable bed room. Many dishes, water server were stocked. My staying was very comfortable. Thank you
Akito
2016-10-01T00:00:00Z
広くてとても清潔です。アパート自体はそう新しくないのですが、コスパは最高です。
Akito
2017-02-19T00:00:00Z
いつもながら、とても感じの良いホストです。
Akito
2017-01-28T00:00:00Z
Linh Lang というとても便利な場所です。通りからすこし入った場所なので、静かで環境はとても良いです。 Maiは気さくで、とても親切なオーナーです。 また利用したいと思っています。
Akito
2017-03-31T00:00:00Z
いつも利用させていただいています。日本人にとっては、とてもよいロケーションだと思います。
Akito
2017-03-15T00:00:00Z
롯데하노이에서 0.5km 하노이주요 관광지로의 접근이 용이합니다 Mai 매우 친절합니다 영어, 베트남어 가능합니다 24시간 출입이 가능하며, 1층에 관리인이 상주해서 더욱더 안전한 느낌이며, 체크아웃하고 짐을 맡길 수 있습니다 냉온수기 있어서 컵라면 먹어줬습니다ㅎ
태
2017-02-02T00:00:00Z
An apartment in LinhLang St. was very good. The room is wide, clean and with good home electric appliance. The apartment keeper is nice family. Very polite, having application and always smile. When the door had a little problem, they repair quickly. Owner Ms. Mai is very friendly lady. I am looking forward to staying there again.
Akito
2016-11-05T00:00:00Z
通りから少し入った場所にあり、とても静かな環境です。
Akito
2016-12-30T00:00:00Z
Art der Unterkunft
Ganze Unterkunft
---
Objekttyp
Wohnung
---
Unterkunft für
3
---
Schlafzimmer
Cống Vị, Hà Nội, Vietnam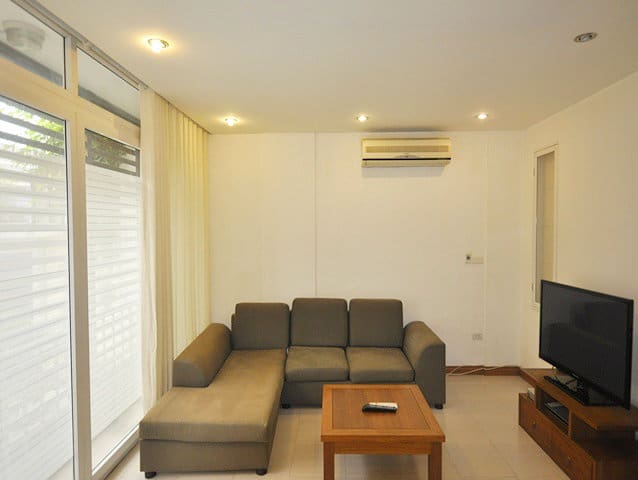 Das Hotel liegt in der Nähe von Lotte-Gebäude, das mit einem Schlafzimmer ist die beste Option für 2 Personen in einem Haushalt zu reisen. Das Haus verfügt über ein gemeinsames Wohnzimmer und eine Gemeinschaftsküche. Sie werden 1 Schlafzimmer mit eigenem Bad von 35m2 haben (viel größer als Hotel). Ich lebe im 5. Stock, so können Sie mich jederzeit kontaktieren, aber das Gefühl, zu Hause, und ich hoffe, dass Sie bei mir begrüßen zu dürfen :)
pretty nice
福辉
2017-03-28T00:00:00Z
Art der Unterkunft
Privatzimmer
---
Objekttyp
Haus
---
Unterkunft für
2
---
Schlafzimmer
Hanoi, Hà Nội, Vietnam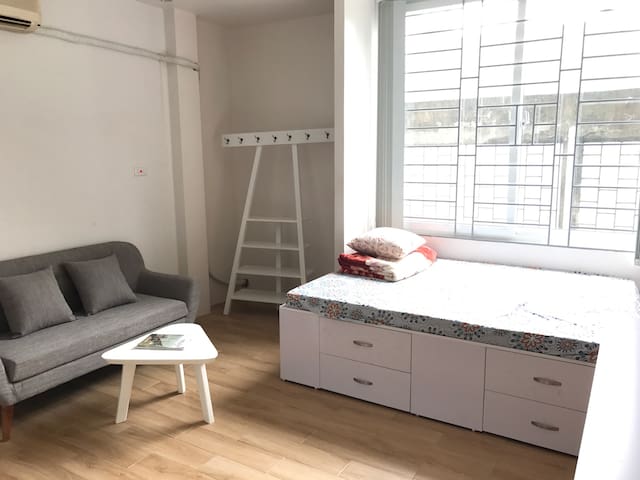 Bygningen er tegnet af en Havard graduate arkitekt ligger i hjertet af Hanoi, 3 blokke til West Lake, 15mins gå til den gamle Quater, mange supermarkeder, restauranter, massage kurbade rundt. 24/7 sikkerhed, fuldt møbleret, roomservice.
Manhattan Hanoi er en moderne 9 etager høje bygning, fuldt møbleret, designet af en Havard kandidat arkitekt Mr. Le Cuong. Vi har mange gentagne gæster som Executive Assistant til ambassadør Australien, Tjekkiet og mange høje stilling stabe som General manager Nokia, Canon og mange rejsende fra hele verden. Vi tilbyder også en bred vifte af ture, såsom Sapa, Halong cruise, Street Food Tours ... Der er mange supermarkeder, købmand markeder i nabolaget. En fantastisk Pho (oksekød noodle) sted og den berømte Cha Ca La Vong restaurant (grillet fisk) er på tværs af gaden. En massage spa ved siden af. Stedet er bekvemt beliggende i gåafstand til West søen, Truc Bach sø og Ho Chi Minh mausoleum. Det er kun en 15 minutters gang til de gamle kvarterer. Gratis trådløs internet. Rummelig stue med LCD kabel-tv. Fuldt møbleret køkken med redskaber og vaskemaskine / tørretumbler. Bedding Konfiguration: Soveværelse: 1 x Dronning Stue: 1 x Dronning
Wir kamen sehr spät von Luang Prabang in Hanoi an - kein Problem für Vu, er hatte alles inkl Taxi perfekt vorbereitet. Die Lage ist perfekt für die Sehenswürdigkeiten in Hanoi, das Appartment ist riesig. Etwas ungewohnt für uns war, dass Putzfrauen jeden Tag kommen sollten, jedoch kein Problem für Vu, er hat sie abbestellt;-). Jamie hat uns eine gute Einführung zu Hanoi gegeben, besonders ihre Gastronomietips waren sehr hilfreich. Wir können ohne jede Einschränkung Vu's Appartment weiterempfehlen.
Markus
2017-01-05T00:00:00Z
We had an excellent experience! Vu was quick to respond and booking was very smooth. The modern, exceptionally clean condo was perfectly located between the Old Quarter and the West Lake. Comfortable beds too. We walked everywhere easily. No need to use taxis - just needed to get used to the adventure to cross the road with all the motor bikes and cars. Yes - there was a bit of construction but any experienced traveler will have ear plugs and did not cause us any difficulty. Best of all was how Vu helped us set up a tour of Ha Long Bay and made many recommendations about what we could see and do. He even met with us and went over some maps. He assisted in airport transport which worked well. We would highly recommend this great place. Thanks!
Ed
2016-01-18T00:00:00Z
We received a very warm-welcome from Vu. He's very detailed. When we arrived, a house keeper brought a vase with pretty flowers, which was impressive. The apartment was clean and comfortable. Wifi worked stable and fast.
Giff
2016-05-04T00:00:00Z
This place was exactly like the pictures. I booked this room for my first two days in Asia just to get my bearings. Was super clean and Vu was a big help.
timothy
2016-02-25T00:00:00Z
Very nice place located in the unique area in Hanoi. The entrace is perfect with 24hrs convenient mart and doorman in the lobby. The room area and decoration is more than perfect, even nicer than its shown on the website !!! Internet with WIFI is also stable and high speed. Another thing that exceed my expectation is that it has been provided with cleaning server (free of charge) everyday !! Vu is also a nice and informative person, very quick response on my queries. I will defenitely stay here again if I have another chance in Hanoi. Highly recommended !!!
Korawin
2016-06-13T00:00:00Z
The apartment is very spacious and comfortable. Being outside of the old center makes it quite calmer. You do not here the street noises much, which in Hanoi is a plus. The entrance is through the Kmart which is really convenient. In general everything was really good and the staff was extremely friendly!!
Cathy
2016-09-05T00:00:00Z
Vu's apartment is new, comfortable, very nice, with all of the amenities a traveler needs. The apartment is a short walk to the Old Quarter, it is close to most of the museums and the botanical garden, and it very close to West Lake. The best part of the stay is the help of Vu. He is quick to respond to emails and phone calls, he can help with providing travel advice, guides, private cars, and tours, and he speaks English fluently.
eric
2016-03-24T00:00:00Z
Great location, close to old quarter. Clean and spacious appartement as described. Vu was very helpful in arranging pick up from the airport. Would definitely recommend it.
Verena
2016-11-15T00:00:00Z
Art der Unterkunft
Ganze Unterkunft
---
Objekttyp
Wohnung
---
Unterkunft für
4
---
Schlafzimmer
Hanoi (Ha Noi), Hà Nội, Vietnam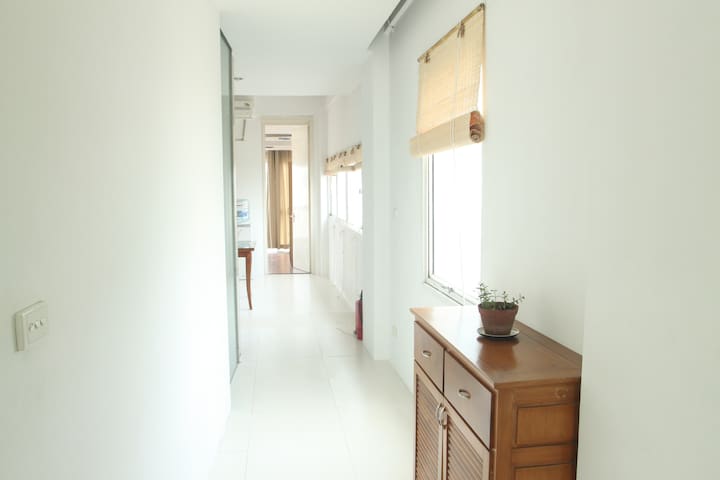 Vollständig möbliert 20m2 ein Schlafzimmer, ein Badezimmer und schöne Küche Wohnung in einem modernen Design privaten Gebäude im Zentrum von Hanoi in einer ruhigen und schönen Gegend, die vielen historischen Stätten geschlossen, Museen, Einkaufszentren usw.
Das ist meine Familie privaten Gebäude, das aus der ganzen Welt kommen Wohnungen zur Miete für die lokalen Mietern als auch ausländische Gäste. Das Gebäude befindet sich auf einem großen Grundstück in einer ruhigen und schönen Gegend von Hanoi errichtet. Jede Wohnung ist voll möbliert.
Da ist das Gebäude auf einem großen Privatgrundstück gebaut, sind die Nachbarn nicht geschlossen. Aber sie sind so nett und freundlich.
Enjoyed the stay here. A big supermarket and several restaurants nearby. Suitable for single traveller. It costs about 1$ to get to the old quarter with grabbike. Clean place with everything you need, however there are ants in the room, which seems to be normal here in vietnam, not just at trang' place.
Tan
2017-03-23T00:00:00Z
Trang's room was so amazing. I love that the room has a small kitchen so you can cook something when you're staying there. Trang helped me with the laundry (she even let me use the machine in the apartment) and booked the taxi to the airport. So surely she is a great host. I would recommend my friends to stay at hers :)
Chiratchaya
2017-03-07T00:00:00Z
Trang was always available to reach, day or night, the moment you contact her. The room is just as it shows in the photo, clean! Also, I couldn't have stayed at a better location! According to my Vietnamese friend whom I met there during my stay, she told me for that location and room size, it's a bang for your buck!! I will definitely stay here again next time I come. Thanks so much Trang!!
Miso
2016-10-18T00:00:00Z
This is my fourth time to stay at Trang's place and it was a great experience as always. I stayed all of her rooms and finally i think i like Orchid room most. It's most suitable for a lone traveler like myself, not too small, not too spacious.
ken
2017-01-25T00:00:00Z
Very cute, comfortable and clean apartment. Highly recommended!!
Ngoc Tuyet Anh
2017-03-09T00:00:00Z
I spent 8 hours at work, and I actually did spent the rest of the day just stay around the house. It was really nice and comfy, promise you will get a whole lot for the price! I booked the Orchid studio but somehow it has been taken already by someone else, so MsTrang - the host, gave me another studio which was wayyyy better. The room may not be too spacious, but it DOES have everything you will need, a fridge, a kitchen, a sofa, a hair dryer, even a vacuum cleaner! Lots of lights, really clean and quiet too. The place has it own parking space and a security booth!!! (24/7 i think...i'm not sure cuz I never leave the house after coming back from work haha...). Felt like a condo hotel, but for $15 only. The host is nice, the guard is nice, check-in is super easy, and the staying would be a great experience. Come and see by yourself!
Minh
2017-02-24T00:00:00Z
Very nice place to stay, clean, well equipped, security man included. The room is smaller than it looks on the photo but the description says its 20m2 only and it really is. Location is not that good if you want to see the highlights of Hanoi, its quite on the west of Hanoi and it takes time to get to the old town. On the other hand, youre like 2 mins walk from Lotte Skywalk. Highly recommended if you are fine with the location.
Eduard
2017-04-05T00:00:00Z
Trang's place is nice and clean. Everything is new and modern. It is a good place to explore town or relaxing after a day at work. Though I've only seen Trang once- the communication was very good and easy. Also she helped me with my laundry, which is very nice of her. I can definitely recommend this place and would come back myself.
Denise
2017-03-19T00:00:00Z
Art der Unterkunft
Privatzimmer
---
Objekttyp
Wohnung
---
Unterkunft für
2
---
Schlafzimmer
Hanoi, Hanoi, Vietnam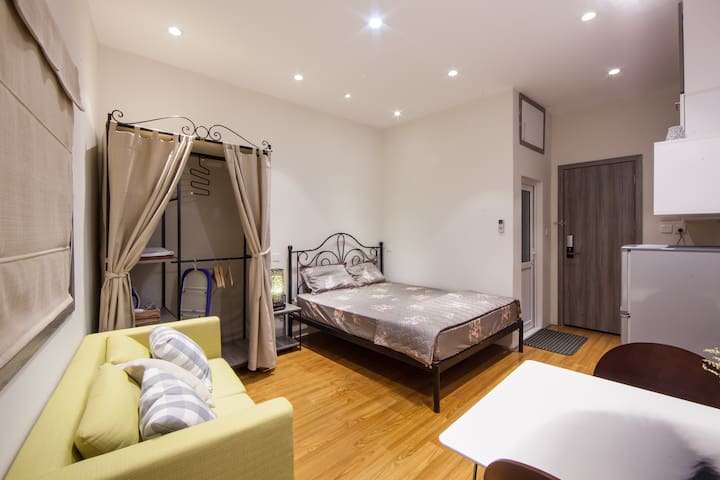 Ein gemütliches Gastfamilie in der Nähe von West Lake (dem größten See in Hanoi) und in der Nähe der Altstadt. Ich bin ein Führer freier Tour und ich kann rumhängen Sie die echte Hanoi zeigen, wenn wir die Zeit passen könnte. Ich bin glücklich, Ihnen einen Rat geben Hanoi zu entdecken. Von hier aus können Sie leicht um einige touristische Orte zu besuchen gehen: Ho-Chi-Minh-Komplex (Ho Chi Minh Mosolium, Einsäulenpagode, Museum, Ho-Chi-Minh-Haus) Quan Thanh Tempel, Tran Quoc Pagode, Tempel der Literatur ...
Fiona or Nynguyen ?! :) by the way here you'll find a lovely person who will welcome you and give you help in any need. I've been here 4 nights but I was really sick I didn't got the chance to follow the tips of Fiona . She was really warmly and bring us to dinner in a very local place with super good food. The room is ok got everything you need maybe the bathroom should need a better accurate cleaning. The accommodation is located in a small alley so in a not traffic area . The quarter is close to the lake side so just few minutes walking and you'll be in a nice areas by the lake with cafes and restaurants. The building is ok there is a common kitchen but since is shared with other people do not look for the perfect cleaning .you got free parking for your motorbike and on the roof top beside a very nice view there is a washing machine that you can use for free. Thank you so much again Nynguyen .
Gigi
2016-12-13T00:00:00Z
Good room with everything you need for staying a few days in Hanoi. The bed was really comfy and bulding quiet to have good night sleep. I had my motorbike, so i could get around easily but you might find yourself a bit far from the center if you don't know how to get around the city. For less than 15€/night I higly recommend it.
Michael
2017-01-03T00:00:00Z
The host canceled this reservation the day before arrival. This is an automated posting.
수진
2017-03-24T00:00:00Z
Room is so-so but Fiona is very kind and helpful host.
Katsusuke
2017-03-30T00:00:00Z
The host canceled this reservation the day before arrival. This is an automated posting.
Anastasia
2017-02-06T00:00:00Z
Fiona is a great host. She made us feel welcome straight away and was easily contactable during our stay. The room was spacious and comfortable and in a good neighborhood near plenty of restaurants and not too far from the city center. Thanks again for hosting us
christopher
2017-01-24T00:00:00Z
Art der Unterkunft
Privatzimmer
---
Objekttyp
Haus
---
Unterkunft für
2
---
Schlafzimmer
Hanoi (Ha Noi), Hà Nội, Vietnam