Lovely and comfy room in the historic center of Igualada, near the city center but in a quiet and peaceful street. From the window you can see a little hill and wheat fields. The room is for 1 or 2 guests. Come here, relax and enjoy!
A quiet room in a bright apartment. Coffee and tea included!
This apartment is located right in the city center but in a peaceful zone.
Irene es encantadora! facilidad al máximo, para llegar, para salir, en todo momento lo puso mas que fácil! y eso que viajamos con dos peques, una niña de 2,5 años y un bebe de 9 meses. Y a las 7,30 de la mañana ya estaban de pie! Irene, se levanto con una sonrisa de oreja a oreja! os lo recomendamos, nosotros repetiremos seguro! Muchas gracias
Marta
2016-09-25T00:00:00Z
Irena nos hizo sentir como en casa. Fue muy hospitalaria y estuvimos muy comodas.
NEUS
2016-10-31T00:00:00Z
La casa es ideal, mejor incluso que en las fotos. Irene es un cielo. Repetiré 100%.
Lucía
2016-08-18T00:00:00Z
Irene è una Hospitalera straordinaria, non ci ha fatto mancare nulla di quanto potesse occorrerci, ci ha lasciato molta privacy e libertà di movimento. La sua casa è luminosissima ed accogliente. E' stato un piacevole soggiorno ed una soluzione ideale per le nostre esigenze. Non comoda per chi decide di visitare Barcellona ma fantastica per chi volesse raggiungere Montserrat. Il nostro parere è più che favorevole Un grazie a Irene
Ilaria
2016-03-29T00:00:00Z
Me encanto fui con mi madre , buena limpieza , tranquilo , y muy amable , nos sentimos como en casa. Gracias por todo !!!!️️️ es una persona 10, confíen en ella no os arrepentís.
Silveria
2017-01-06T00:00:00Z
Necessitavem un pis per la meva parella i jo per estar tranquils el cap de setmana, l'Irene es va adaptar a les nostres necessitats molt facil i rapidament. Molt bona comunicacio, i coordialitat. Te un pos perfecte per l'experiencia AirBnB
Marc
2015-07-19T00:00:00Z
Estuvimos muy cómodos en todo momento. Mucha facilidad en entrada y salida de l habitación. La anfitriona super atenta!
Vane
2016-08-29T00:00:00Z
Irene es supermaja, muy atenta y detallista. La decoración de la casa me encanta y las vistas son una pasada. Estuvo muy pendiente de mí en todo momento y me hizo sentir como si estuviera en mi casa.
Mon
2016-08-04T00:00:00Z
Art der Unterkunft
Privatzimmer
---
Objekttyp
Haus
---
Unterkunft für
2
---
Schlafzimmer
Igualada, Catalunya, Spanien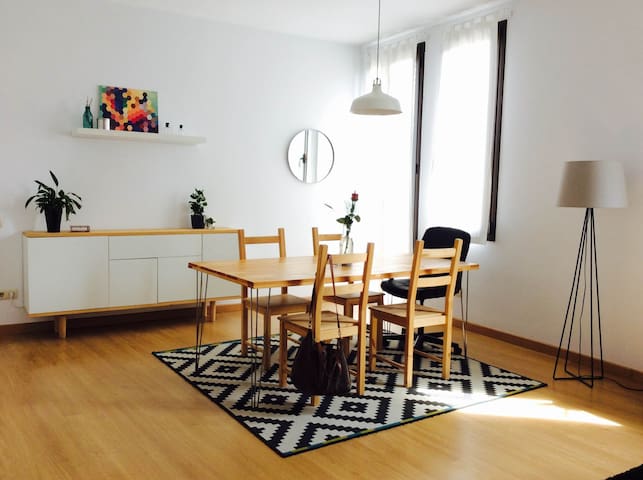 Esta habitacion esta en Barcelona no en Vilanova del Cami, una habitacion es amplia para dos personas, con balcon y muy soleada, la otra habitacion es individual, pequeña e interior, se puede arreglar el precio, esta bien situada, en zona muy tranquila y bien comunicada.
la zona es muy tranquila, el piso es viejo, y parece mas de un pueblo que de ciudad, el barrio es bien comunicado y con todo lo necesario para ir de compras.
si paseais por el barrio os parecera como si estuvierais en cualquier pueblo de catalunya.
Art der Unterkunft
Privatzimmer
---
Objekttyp
Haus
---
Unterkunft für
2
---
Schlafzimmer
Barcelona, Catalunya, Spanien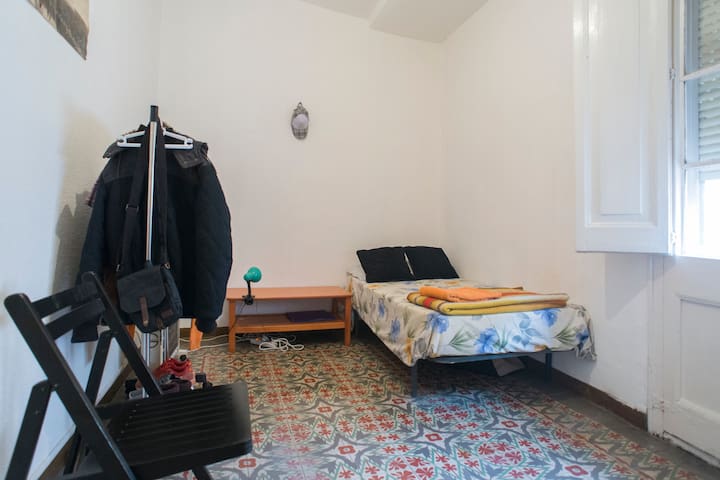 Bleiben Sie in einem Privatzimmer (Doppelbett) mit großem Balkon + atemberaubende Aussicht auf die magischen Berg Montserrat (in dem Dorf El Bruc) Unser Haus verfügt über eine voll ausgestattete Küche, gemütliche Kamin, große Terrasse und in nur 5 Minuten zu Fuß youre im Wald (natürliche pa
Unser Haus im schönen kleinen Dorf El Bruc ubicated ist, haben wir den nötigen Komfort Around-Bäckerei 2walking Minuten entfernt, eine kleine, aber sehr gut ausgestattet Supermarkt (sie haben Bio-Produkte zu guten Preisen) nur 1 Minute zu Fuß, 5 Bars (1 von ihnen hat einen schönen Garten) und 4 Restaurants jeweils nur wenige Minuten entfernt ... es ist ruhig, aber in der gleichen Zeit Sie eine Menge Umgebungs finden kann, gibt es eine künstlerische Ort mit Englisch-sprachigen im gleichen Dorf und viele interessante Leute gelegen Leute vorbei, auch eine Menge Kletter Kultur
El Bruc ist ein sehr ruhiges und unscheinbares Dörfchen. Ein guter Ausgangspunkt für Wanderungen. Wer aber Abends dann was zu Essen haben möchte muss sich auf Couscous (sehr fein) oder Tapas beschränken oder selber kochen. Das Zimmer hat eine eigene Terrasse mit Blick auf Montserrats Gebirge. Es ist jedoch sehr klein und nicht wirklich für 2 Personen gemacht ( wenn dann für Pärchen.) Joumen (?) – war so nett und hat uns noch einen Matratze gegeben, so dass ich draußen schlafen konnte. Das Haus ist ein gastfreundliches offenes Haus mit guter Energie aber leider auch nicht wirklich sauber. Aber wir haben dann beschlossen, dass es besser ist nette Gastgeber zu haben. Aber zur Verteidigung Alina war nicht da und Joume musste viel arbeiten…. :-) Für junge Leute und Paare kann ich die Unterkunft weiterempfehlen. Danke auch nochmal für die guten Tipps zum Wandern und die Rosen zum Abschied :-)
inge
2016-05-30T00:00:00Z
No tuvimos suerte esta vez. La casa promete, y es muy bonita, pero la habitación anunciada estaba ocupada y, aunque Jaume nos ofreció una habitación interior, pensábamos que tendría al menos una ventana al exterior. En vez de eso, la única ventana daba al pasillo. Ojo si vais parejas a esta habitación, pues el la cama es bastante incómoda (tuvimos que echar el colchón al suelo el último día para poder descansar un poco), y las mantas que nos proporcionó son de cama pequeña. La casa está limpia, pero el segundo baño y la cocina están algo descuidados. Por último, mencionar que parece que Alina ya no está en casa, y Jaume, aunque fue muy atento con nosotros el día de llegada, tampoco volvimos a coincidir con él. Una lástima, porque nos habría gustado compartir la experiencia con esa familia.
David
2016-11-01T00:00:00Z
We did not meet Alina, but Jaume and Joan were super helpful and nice people. They made us feel very welcome. We could use the kitchen and had our own small terrace. The location is great, with the access to Montserrat just behind the house. The flat has everything one needs to feel comfortable.
Kadri
2016-04-11T00:00:00Z
It was fantastic to wake up with the mountain view. Alina and her family were very welcoming. We definitely had a great stay!
Alexandra
2015-08-12T00:00:00Z
Alina was a very welcoming and sweet host, and this is a beautiful house in a lovely and calm town. We especially liked the terrace and seeing the view of the mountains every morning. Thanks Alina!
molly
2016-07-14T00:00:00Z
Alina and Jaunme were a great hosts. Their place is very nice and cozy, and the views from the terrace is realky amazing. You cane get to Barca in 30 minutes by car or by bus, enjoy the local swimming pool which ich 5 mins by walk and walks in Monserrat. For a couple of days you can become a part of the small village El Bruc ;)
Ján
2015-08-23T00:00:00Z
We loved staying here in this relaxed and happy family home. The hosts were extremely welcoming and helpful. The house is well located just a short walk from the mountains. El Bruc is a traditional and quiet town and far less touristy than Monseratt. We were there to climb and hike and couldn't have chosen a better place. We didn't want to leave because we will miss the the mountains and our new friends. We will be back.
Cheryl
2015-03-08T00:00:00Z
Alina was wonderful. She was very welcoming, when I entered her house it was like visiting old friends. Her house was clean and the bed was quite comfortable. I look forward to one day staying with her again.
Adri
2014-11-19T00:00:00Z
Art der Unterkunft
Privatzimmer
---
Objekttyp
Haus
---
Unterkunft für
2
---
Schlafzimmer
El Bruc, Katalonien, Spanien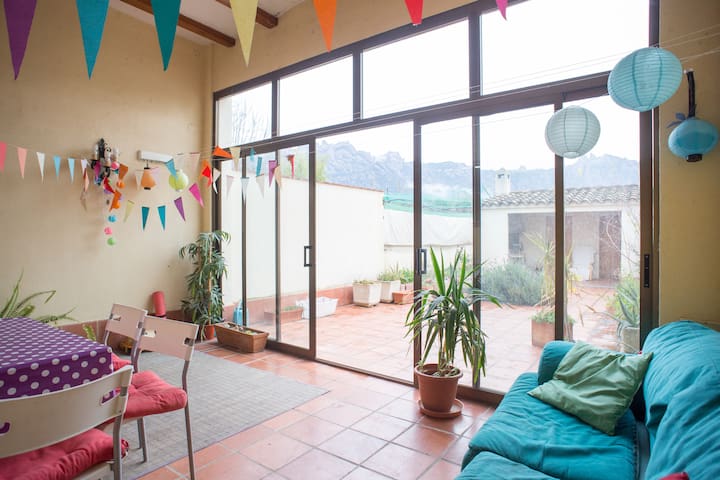 Stay in a nice habit.con double bed in our home village on foot of the mountain of Montserrat. The house is a typical Catalan house recently renovated with everything needed to be -terrace taste, fireplace, barbecue, sofas, ... :)
We live in a typical Catalan two-storey house on the sunny side of the magic mountain of Montserrat, in the village of El Bruc. We all benificios offered by the town (2 bakeries to 3 and 5 min, 2min supermarket, several bars and restaurants, ...) but also is the forest with his silence only 5 min walk. You can reach easily and climb the mountain in about 15-20min walk too. The entrance of Barcelona is just 35min approx. thanks to the good connection via the A2. if you do not have a car no problem as none at all Public transport is reached easily and comfortably. (Every 30 minutes leaves a bus des Diagonal and leaves you in the same street where our street, about 7min.
We are the two town but El Bruc we love for its two sides-the movement of people and nature so close.
La pasamos muy bien zona alejada del ruido del centro paisajes muy lindos ya que las montañas están a la vista a poca distancia de la casa. A una hora del centro en micro.
Sergio
2016-10-27T00:00:00Z
Very accessible from Barcelona. It takes just about 40 min and the bus literally drops you off on the street of the house and picks you up from across the street of the house. Perfect for travelers without cars but still wanting to hike! The view from the balcony is stunning and there's even a swing to enjoy the view with. Jaume also was a very warm host and made sure we had everything we needed (hiking map, laundry, even acupuncture!) :)
Natalia
2016-08-21T00:00:00Z
Me encantó pasar unos días en casa de Alina. El lugar y las vistas son un privilegio, la casa muy bonita y me sentí muy agusto con su familia tan linda. Es un lugar realmente especial, y lleno de sorpresas! Gracias por todo :-)!
Isa
2015-09-16T00:00:00Z
Alina and her family are very kind and welcoming. Their place is very beautiful and conveniently located in El Bruc. We had a wonderful time. They made our stay very comfortable and enjoyable. Thank you for being so good to us! We will miss you!
Kim
2015-07-11T00:00:00Z
I loved every minute of my time at Alina's home! The house is located in a super-sweet little village minutes from gorgeous hiking trails in the Montserray mountains, with a wonderful bakery and grocery store less than a minutes walk from their front door. My bed was incredibly comfortable- I slept very well! And my room had a gorgeous balcony overlooking the mountains! But best of all was Alina's family: I felt like I was visiting beloved friends. They told me where to find the best hikes, shared their wine with me, invited me into their dinner with friends, and I was. Fortunate enough to receive a beautiful acupuncture treatment from Jaume! I left their home filled up with their generous love and care! Thank you!
Rachael
2016-09-15T00:00:00Z
My husband and I thoroughly enjoyed our stay at Alina's place. The whole family is beyond words welcoming. Jaume took my husband out climbing because I was sick for a few days and Alina gave me some supplements and good company while getting better. The location is IDEAL for outdoor activists especially climbers. There are many trails and easy access to the mountains just right behind the backyard. There is a bakery and grocery store steps from the house. The neighborhood is friendly. The house is clean and accessible. It was a bit loud inside with the echos if the door slammed but that's just how the houses were built. We didn't stay in the room with the view and balcony but we had access to the entire house including kitchen and the backyard and that's really mostly where we stayed when we weren't outside. El Bruch is beautiful. Alina and her family are naturally great people who accommodate to your needs and are pretty laidback. We had a fun time getting to know the family and staying at their beautiful home. There really aren't enough people in the world like them. Can't wait to be back
Katrina
2017-03-12T00:00:00Z
Alina and her family are absolutely lovely. Very kind and generous with their home. You feel very welcome. El Bruc is stunning! And I have a feeling it is much less touristy than Montserrat, which we enjoyed. You can do some great hikes from their house and if you climb, even better! Many thanks Alina!!
Megan and Nicholas
2017-02-26T00:00:00Z
I like so much hiking in the montain. It's very good view there and the whole house is a villa and we 2 have got a very big room. When you come there you could also enjoy playing with there lovely kids. The hosts are really really very nice persons and helped us a lot. It's a pleasure living there!
XING
2015-07-04T00:00:00Z
Art der Unterkunft
Privatzimmer
---
Objekttyp
Haus
---
Unterkunft für
2
---
Schlafzimmer
El Bruc, Catalunya, Spanien
Masía con encanto, 7 habitaciones, cada una con baño completo!! con capacidad hasta 22 personas, acogedor y tranquilo. 45km al aeropuerto de Bcn y a Sitges. Restaurado en diciembre con un toque muy personal en cada una de las estancias. Estilo moderno, minimalista y con muchos detalles, respetando los cánones de confort. Amplios espacios comunes interiores y grandes jardines y piscina. Acceso a la cocina totalmente equipada y BBQ. Opción de servicio de media pensión o pensión completa.
Wifi en toda la casa Trato atento, amable y distendido Habitaciones con estilo y confortables Detalles pensados para que te sientas como en casa Amplias zonas comunes Un espacio para cada cliente A pocos kilómetros de Barcelona y bien comunicado A los pies de la montaña de Montserrat y entre viñedos Descuentos en actividades turíticas Y muchas propuestas para disfrutar Precios de tu medida Y momentos para compartir y recordar
Situada en Capellades, un pueblo muy acogedor. Estamos en las afueras, donde poder disfrutar de la tranquilidad y del entorno todo verde! Estamos en el Camino Real, un camino donde pasear
La casa es muy bonita y todas y cada una de las habitaciones son increíbles y tienen su baño privados. Fuimos 20 personas y nos sentimos muy a gusto con espacio suficiente en el comedor y la cocina totalmente equipada. Además Thais siempre se mostró dispuesta a ayudar y muy comunicativa resolviendo todas las dudas. Aconsejo mucho la estancia en esta casa, ¡repetiremos sin duda!
Emma
2016-10-09T00:00:00Z
Art der Unterkunft
Ganze Unterkunft
---
Objekttyp
Haus
---
Unterkunft für
16
---
Schlafzimmer
Capellades, Katalonien, Spanien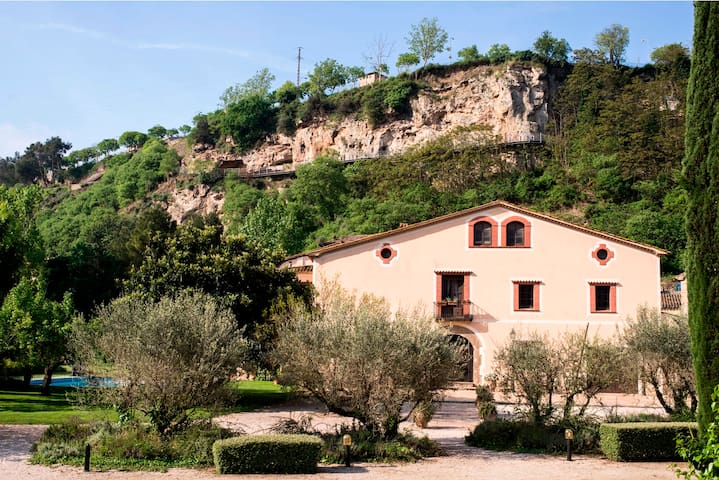 1

–

5

von

5 Ferienhausvermietungen
Gib deine Reisedaten ein, um den aktuellen Preis zu sehen. Es können zusätzliche Gebühren und Steuern anfallen.