**POOL CLOSED BETWEEN OCTOBER 1- MID MAY 2017** The Space This astonishing, COMPLETELY REMODELED 4 BR home has it all! A kitchen with stainless steel appliances, granite counter tops, maple cabinets, and upgraded fixtures, 2 Car-Garage, Full Basement ,Sunroom and huge pool
Amenities Cable TV and High Speed WiFi Washer/Dryer Huge swimming pool ******-open during the season only Mid May- September 30 POOL IS CLOSED FROM OCTOBER 1- MAY (reopens on Memorial Day Weekend) Sunroom 2 Car Garage ***NO PARTIES ARE ALLOWED ON PREMISES*** ***Please read the House Rules thoroughly before booking Services provided We are available 24/7, but prefer to let our guests enjoy their stay without feel "watched." Daily cleaning service available for an extra charge Airport pickup on request We welcome special requests from our guests!
Located in Conyers , just east of Atlanta 25 minute drive .This property is perfectly situated for getting around to the city. Both I-285 and I-20 International Airport is approximately 20 minutes away, while the Buckhead and Midtown business districts are just 10-20 minutes away. Other points of interest including the Georgia Dome, Philips Arena, Georgia World Congress Center, CNN, World of Coca-Cola, Georgia Aquarium, Centennial Olympic Park, AmericasMart, Underground Atlanta and Piedmont Park are also within 10-15 minutes. Rest assured, you've got ideal access to the great shopping, tourist/historical sites, nightlife and restaurants that Atlanta is known for!
It was a great experience. The lights in the living room and A/C was not working the day we came, but as soon as we called them, there was someone by the door in few minutes and fixed it in no time. Overall a pleasant experience. Target is really close by. So if you forget anything you can get it there. 25- 30 mins from downtown. Beautiful place. Wr had a good time.
Farhana
2016-08-03T00:00:00Z
The property was Amazing. The neighborhood was quiet. The pool was very nice. I am at a loss for words when it comes to describing the property. We had an early flight but Amir allowed us to check-in a little early which was very considerate. I'm staying here again!
Raul
2016-07-13T00:00:00Z
We love our stay at this amazing place! If you want to have a experience in a beautiful huge cozy home that's the right place! Clean, cozy, fancy!!! Definitely coming back...
Helmer
2016-11-07T00:00:00Z
Overall experience was good and house was very comfortable and well suited to our needs. Any questions or issues we had were addressed right away by the management team.
Justin
2014-09-01T00:00:00Z
What a fantastic stay I had! Amir is a great host, I booked last minute, and he was able to accept my booking and has sent me all check in instructions within minutes. The house was just as depicted in the pictures, it couldnt have been any better! The pool was ready for use and clean as well! I would absolutely stay again with Amir. No doubts!
Evy
2015-04-18T00:00:00Z
My daughter is attending Spelman College and this is her first year. I would definitely choose to stay here again and again everytime I'll visit Atlanta. Whenever we needed anything, they were at a quick attendance! We decided to have a BBQ on our last day of staying. The grill and a pool side view was exactly what my family needed!
Shakina
2016-08-14T00:00:00Z
I enjoyed my stay.
virsie
2016-04-12T00:00:00Z
Perrrrfect place !!! Beautiful home and was spick and span clean ! We decided to extend for a few more days around our family and because of the convince. Amir was prompt and helpful when it came to a question or anything else. I would definitely stay here every time I'm in town. If it's available !
Katrina
2015-12-07T00:00:00Z
Art der Unterkunft
Ganze Unterkunft
---
Objekttyp
Haus
---
Unterkunft für
8
---
Schlafzimmer
Conyers, Georgia, Vereinigte Staaten
My place is close to restaurants and dining, stone mountain park and mall. You'll love my place because of the panoramic view and relaxing atmosphere. My place is good for couples, solo adventurers, and business travelers.
I stayed for 5 days and everything was great. They have a huge driveway and plenty of parking. The room is a nice studio apartment size and the bathroom attached to the room is really clean. The only negative thing is that I did hear the tenants above me but it wasn't that bad. I slept well at night. Overall a great place to stay.
Matt
2017-03-24T00:00:00Z
Vivienne and her husband were kind and wonderful hosts! Neither the description or photos were misleading like other places we've stayed. The studio apt was clean with an updated bathroom, mini fridge, microwave, tv and wifi. If we HAD to name one negative thing, it would be that the walls are a little thin. So we could hear the resident upstairs, but it wasn't too disturbing or anything we couldn't sleep through. Overall, we had a very pleasant experience, would recommend this spot to anyone and definitely got a deal!
Mary Anne
2017-03-10T00:00:00Z
Vivienne was a great host. She was very friendly and accommodating. The room was very comfortable and clean. Stayed here for 2 1/2 weeks and the entire experience was great from check-in to check-out. I will absolutely stay here again if I'm in the area.
Kim
2016-10-16T00:00:00Z
Vivienne was a superb host, made me feel so welcome. Definitely recommend her place to anyone wanting a restful stay.
Franco
2016-09-03T00:00:00Z
If you're looking for a safe and secure place with exceptional accommodations, then look no further. The Douglas home is the prime spot and i'd be shocked if you could find any better amenities. I'll definitely be back!
Alvin
2017-03-05T00:00:00Z
Every aspect of our stay at Edenic Ambiance was perfect ... great place and quiet. Vivienne and her husband are so nice and great hosts. We'd definitely stay again.
Richard
2017-02-23T00:00:00Z
Vivienne was a great hostess. I had some trouble with my flight that delayed my check in until way after the normal hours - Vivienne was extremely understanding and accommodating. I would definitely stay here again.
Michael
2017-03-19T00:00:00Z
Everythibg was great, private room and bathroom, with microwave, fridge, and tv. Side note there isn't a coffee pot which was fine we brought a coffee press and heated the water in the microwave. The hosts were very sweet and were always there if we needed anything. The room and bathroom are very clean .
Patrice
2017-03-26T00:00:00Z
Art der Unterkunft
Privatzimmer
---
Objekttyp
Haus
---
Unterkunft für
2
---
Schlafzimmer
Conyers, Georgia, Vereinigte Staaten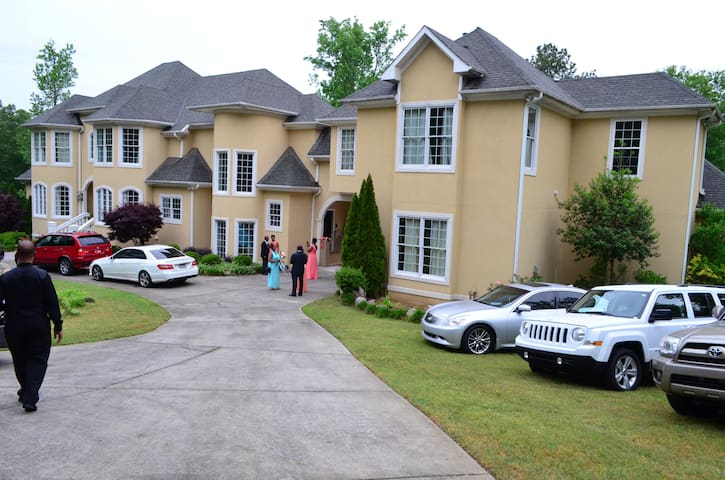 Luxurious and spacious 4 bedroom 4 bath home located a few miles from Atlanta. Wake up to the soothing sounds of nature and beautiful sunrise in every room. If you are yearning for quiet, comfort, and privacy, this is the place to be!
The home is located in a quiet, well kept, peaceful subdivision in Conyers, Georgia. The home is fully furnished with spacious rooms. There are several shopping plazas, restaurants, and a mall within close proximity.
The home is located in a quiet and clean subdivision. Guests will be able to have privacy.
The host was great in communicating and responding to my calls. Loved this home. For allergy sufferers( most of the home is carpeted), but everything was clean and nice. Love the neighborhood. There is a Publix supermarket just few miles down the road. I have no complaints. Would definitely recommend to others and stay here again
Winston
2016-08-14T00:00:00Z
The house was as described. We had plenty of room to spread out. The neighborhood was lovely. Unfortunately, we had a big issue with bugs. We killed 10 bugs in 2 days and we were hardly in the house. It was unsettling and I let Caroline know. Her response was to tell me that she had never had that issue before and asked if we had left the windows or doors open. It was 90+ degrees outside. There was no reason to open windows. She didn't take responsibility at all and never offered to make it right. I understand that all homes have bugs, especially in the summer, but when you have pest control you don't have as many as we encountered. My dad had one on his robe and we killed one in our bed. It was very unsettling. I didn't sleep at all the last night. But the worst part was Caroline's response asking what we did wrong. Hopefully she will get the house professionally taken care of so future guest will not share our experience.
Shannon & Julian
2016-06-27T00:00:00Z
The host canceled this reservation 10 days before arrival. This is an automated posting.
琦
2016-10-25T00:00:00Z
House is very spacious more than enough room for my party of 4. All bedrooms have their own bathrooms which was very convenient. Only negative thing is there were lock boxes on the thermostats. The house was warm when we arrived and we had to sweat out a few hour before someone came to unlock them. Not ok. After that was sorted it was comfortable.
Eric
2016-10-17T00:00:00Z
Elegant, Refined, Welcoming and Comfortable are words I would use to describe such a beautiful home and host. Caroline, made sure I arrived ok in Atalanta and was accommodating to my family and I. Amazing experience and beautiful home.
Darius
2016-05-31T00:00:00Z
Our host was very receptive and responsive. She had a nice home and I would recommend her to others. Just suggest she add a few things to make the cost more worth it.
Rowhan
2016-09-12T00:00:00Z
Wow, wow, wow! What a beautiful home! My husband and father were so beyond impressed and would definitely stay there again! Everyone had their own bathroom, the house was clean and comfortable and the location was great! Thanks Caroline for a great place!
Alanna
2016-04-06T00:00:00Z
In short word is WOW...the house is stunning...very very spacious.....quiet and lovely neighborhood, very well equipped if you want a peaceful and country side living this is definitely it....Mrs. Caroline was very attentive made sure we made and checked up on us while on stay as well as when checking out....
Cathy
2016-07-24T00:00:00Z
Art der Unterkunft
Ganze Unterkunft
---
Objekttyp
Haus
---
Unterkunft für
8
---
Schlafzimmer
Conyers, Georgia, Vereinigte Staaten
Large Clean Suite in Conyers Lake Community - (Less than an hour from Atlanta airport) Private Entrance, Queen Size Bed, Private Bath, Huge Closets, Wifi, Off Street Parking.
$ave on Monthly Special. Tub and Shower. Near Hospital and 24hour Shopping. Computer Desk, Flat Screen with Almost 3,000 TV Channels, Refrigerator & Microwave
Tranquil with singing birds, lake, joggers.
The place was perfect. Private entry, private bath, nice size bedroom, parking and close to shopping. It was perfect for me ! Roy was a great host -very hospitable and attentive. If I'm ever in Conyers his place will be the only one on my list of places to stay.
Gilda
2017-03-14T00:00:00Z
Art der Unterkunft
Privatzimmer
---
Objekttyp
Haus
---
Unterkunft für
1
---
Schlafzimmer
Conyers, Georgia, Vereinigte Staaten
Our beautiful 6BD/3.5 home sleeps up to 20 guests
New Carpet in 2017! Our 6BR/3.5 BA house sits on our beautiful 1.38 acre property. We are located in an extremely safe neighborhood with lots to do in the nearby area! The Master Suite has a king bed for luxury and comfort, as well as a 48-inch flat-screen TV complete with cable. The Master Bath has a bath tub with jets, a separate shower, and an amazing walk-in closet. Our living room comes with a 46-inch flat-screen, a blue ray, and with large section sofa to lounge on. Our kitchen is fully-equipped with everything you may need to make a great meal for your group. All linens are freshly laundered and folded in linen closet and all beds are freshly made for each guest. Shampoo and soap are also provided along with tissue and towels. We have a new state-of-the-art alarm system with smart lock and security camera for our guests' safety. Bedroom 1 comes with a King size bed and a 48 inch flat TV/DVD. Bedroom 2 comes with a full bed and a 48 inch flat TV/DVD Bedroom 3 comes with a queen bed and a 48" Flat TV. Bedroom 4 has a full size bed, a twin bed, and a bunker bed (twin on top and full on bottom, good for kids) There are 2 more bedrooms with queen beds and 2 large HDTVs and a queen sofa sleeper in the basement apartment, which make this home sleep Large deck features a charcoal grill and a 4 burner propane outdoor grill (bought on 11/14/16), 4 chair dinette set. If you have any questions, feel free to contact us!
We are about a 30-minute drive from downtown Atlanta, with easy access to all highways. A traffic-free drive to the airport is only 25-30 minutes. We are also located a 15- minute drive from Stone Mountain Park. During winter months, you can go skiing or tubing, and during the summer months, there are many festivals and other summer attractions. The mountain also provides an enjoyable hike. We are a 5-minutes drive from two public golf courses. Our neighborhood is extremely safe and features a keyless entry system for additional security.
Kate was the best! The accommodations were perfect. We brought 16 people and it was very comfortable. We came down for Passion Conference, which was downtown Atlanta at the Georgia dome. It's only a 30 minute drive to downtown. This rental is cozy, homie, and perfect for anyone looking to stay near Atlanta! Also, Kate was great to communicate with. She was a phone call away if we needed anything and she even offered to go out and get us another air mattress. This is a great place to stay and you would be missing out if you didn't stay here :)
Sam
2017-01-04T00:00:00Z
My family and I recently stayed at Kate's place over the Memorial Day holiday weekend. Kate's three level home was beautiful and spacious. ~25 minutes from downtown Atlanta and ~10 minutes from Stonecrest Mall. Loved the fact that entry/exit is set up with a coded lock system so that no key was needed. Overall, an enjoyable stay!
Jakeema
2016-05-31T00:00:00Z
Kate was prompt responding and the home was perfect!
Shannon
2017-02-20T00:00:00Z
Kate was a great hostess. The house was as described. Very roomy and spacious. Anything we needed Kate was always just a text away. Enjoyed our stay
Mike
2016-12-05T00:00:00Z
Upon arrival Kate was at the house along with her daughter. My family and I received a great welcome and a tour of the house. We immediately fell in love with her hospitality and she was greated by all of the family members. The enviroment was very quiet and the neighbours we saw greated us warmly. The house and its contents were great for enjoyment. As a mater of fact the entire family members fell in love with the house and it set up. The family had a great time at the home and the welcome book gave out all the information needed to enjoy the home and shopping area. We had a great time visiting and walking on Stone Mountain. The people in the entire area of Atlanta and Georgia were very friendly. As part of the vaation those family members had the opportunity to visit the Martin Luther king's Memorial and they were overwhelmed of the struggle which had been done to overcome racial barriers. I am certain that once the opportunity presents itself, the family and others who had not had the opportunity will indeed return. The weather was challenging, but we have no control over God's design for mankind, but dispite the challenges of the weather, we did not allow same to hamper our vacation including enjoying the grill pitt on thursday evening. I shared with my family that the song "rainny night in Georgia" but it did not say "rainny day in Georgia" LOL. The vacation was the second in Atlanta within 3 years and as before it was enjoyable, buit this time it was much more exciting as we got to reside in a wonderful dwelling and prepare meals to our liking and visit the various resturants. Thank God for the opportunity and we pray God's continuous blessings upon Kate and her family as she continues to afford the opportunity for others to enjoy the beautiful home in Conyers.
Olive
2015-08-24T00:00:00Z
Kate, thank you for allowing my family to experience a wonderful time in your home it was so relaxing and clean and very comfortable for a large family.
Rachel
2016-09-25T00:00:00Z
The host made sure we had everything we needed. The home was just as beautiful in person as it was in the ad. The neighborhood was very remote and quiet.
LaRita
2016-03-29T00:00:00Z
Our plans to visit the Atlanta area was very last minute due to an unexpected invite for our daughter to compete in a horse archery competition in Conyers. Kate's house was the perfect match for our needs. The home and location was very nice and our family enjoyed it very much. The kids were very excited that every room had a TV :) We felt very much at home. The check-in process was seamless and we received the directions for arriving/leaving immediately after booking. Thanks Kate!
Matthew
2016-11-07T00:00:00Z
Art der Unterkunft
Ganze Unterkunft
---
Objekttyp
Haus
---
Unterkunft für
16
---
Schlafzimmer
Conyers, Georgia, Vereinigte Staaten
Our Totally Luxurious Private Suite is 900 square feet of splendor & comfort with a totally separate entrance from the host. Enjoy your very own, upscale kitchen, sleek bath and plush pillow top bedding during your stay with us. The suite can accommodate two guests comfortably and is just 1 mile from The Georgia International Horse Park. Experience easy access to Atlanta via (I) 20.
Our Totally Luxurious Private Suite offers bedding options for (2) twin beds or (1) pillow top king bed. Please let us know in advance and we would be happy to set up the bedding arrangement that best suits your parties needs . The bathroom hosts a 5'X7' walk-in marble shower and double vanity. The kitchen is cozy and modern with an electric stove, refrigerator, microwave oven, dishwasher and storage cabinetry. We have provided a coffee maker, cooking ware and dishes for general use. The living room area rests in front of the kitchen island that allows for casual eating or lounging while watching television. There is also a separate dining area. The bedroom expanse has a nooked dresser, closet, desk and there is ample storage for gear in the suite during your stay... The Totally Luxurious Private Suite has singularly dedicated wi-fi and cable television available for your enjoyment. Pay for view movies is available for an addtional fee. Please use the suites designated front door and staircase to access your vehicle. We would prefer our guests not to enter the family garage unless there is a need for an additional emergency exit . We are available during our guests stay or there will be an alternate responsible party for you to contact. We look forward to being your host. Our neighborhood is quiet, hosts spacious family lots and is on a road that is generally used only by peolpe who live in the immediate area. Our neighbors own horses and from time to time you will see horse and owner out and about. We are located an easy and straight forward drive, approximately 30 miles from the Hartsfield Internatonal Airport. We reside east of Atlanta off of Interstate 20 (East) exit 82. We are more of a surburban community, approximatley 7 miles east of the Stonecrest Mall which is located in Lithonia GA. We have been residents of Conyers (Rockdale County) for several years now and we travel frequently to events in the greater Atlanta area. We would be happy to share our entertainment and dining experiences with you if asked!
Our neighborhood is quiet, hosting spacious family lots and is on a road that is generally used only by peolpe who live in the immediate area. Many of our neighbors own horses and from time to time you will see horse and owner out and about enjoying a beautiful day!
Another fantastic airbnb experience. Donna is a wonderful host, extremely accommodating, even preparing homemade food for our arrival! The space itself is as good as it looks.
George
2015-01-18T00:00:00Z
My wife and I loved everything about our stay!!!!!! Mrs. Donna was so nice and provided us with everything we needed and more. The studio was even better then the pictures, and we were extremely happy and comfortable the entirety of our stay! What an awesome AIRBNB experience, thanks Mrs. Donna!!
Brian
2015-05-31T00:00:00Z
Donna was a wonderful host and made us feel very welcome! The suite was perfect for our needs and we will definitely be staying there again in the future!
Glenn
2015-06-22T00:00:00Z
I could write a book about my incredible experience staying in Donna's bonus suite. It was, hands down, THE best Airbnb experience yet. I was honored to be the first guest in Donna's brand new suite, which had EVERYTHING this weary traveler could have wanted; cozy couch, fully functional kitchen, gorgeous bathroom with a walk in shower the size of my first NYC apartment! It was easy to control the thermostats with the remote control and I was able to keep the suite at my perfect comfort level at all times. I was craving a quiet safe place and this was better than I could ever have imagined; secluded above the home's garage with a separate entrance, I could come and go as I pleased without worrying that I was disturbing the household. The bed is so cozy with it's memory foam topper. I could have slept for hours more. Donna was extraordinarily thoughtful in providing snacks and food to nosh on after a long day of travel, I din't have to drop my bags and go back out to find dinner. I was so very grateful. Donna has, literally, thought of everything. Book this reservation now, you will be thrilled beyond belief!
Sandy
2014-12-07T00:00:00Z
Wow! This place was terrific! So clean and comfortable. A bottle of wine waiting for us at check-in. Excellent attention to detail. The bed was the best bed we have slept in during all of our Airbnb stays. We didn't want to get out of it. The shower was huge and it, along with everything else in the apartment, felt like described- a luxury apartment. This would absolutely be the first place we'd try to book when back in the area.
Emily
2016-05-17T00:00:00Z
Staying here was a great experience. My husband and I could not have asked for a better introduction into the world of Air BnB. Ms. Donna's place was better than any hotel experience we've ever had. When we first arrived, we were blown away by the design of the place. The bathroom was AMAZING! There was a kitchen in case we wanted to cook. Also, Ms. Donna had a snack and the BEST mint tea ever upon our arrival. She even supplied refills of the tea because my husband became obsessed with it. The bed and couch were extremely comfortable. The accommodations were amazing and were far better than any hotel. Ms. Donna was personable and she made the stay even better. I definitely recommend staying here, and I look forward to returning the next time we're in town!
Jessica
2016-05-08T00:00:00Z
My husband and I can't say enough about what a welcoming and caring host we had in Donna. Outstanding communication about check in details, the suite itself and information about the area. Then there were the beyond expected touches (a bottle of wine, warm baked goods and coffee...YUM!). We found the suite to be exactly as described...LUXURIOUS! Spotlessly clean, beautifully appointed and located in a quiet peaceful country setting, yet literally just minutes from attractions and eateries. Do not hesitate to stay here. It represents Airbnb's finest!
Andrea
2016-06-09T00:00:00Z
When we arrived we were met by Mateo the "GUARD CAT" who welcomed us with a sovereign nod. LOL We opened the door and everything was perfect. Donna has definitely put time, thought and investment into this space. A private entrance with pin-coded door. Beautiful modern kitchen with everything you need to cook a gourmet meal. A big cushy sofa to watch the game from. A big, comfortable pillowtop bed. The closet was ingenius. The real highlight is the bathroom. All modern, roomy, glass shower, twin vanity. Above all, our hostess with the mostest was graceous, friendly, and involved. This was a great experience, hard for even hotels to match. Will be booking again in the near future for certain.
Cylais
2016-06-14T00:00:00Z
Art der Unterkunft
Ganze Unterkunft
---
Objekttyp
Haus
---
Unterkunft für
2
---
Schlafzimmer
Conyers, Georgia, Vereinigte Staaten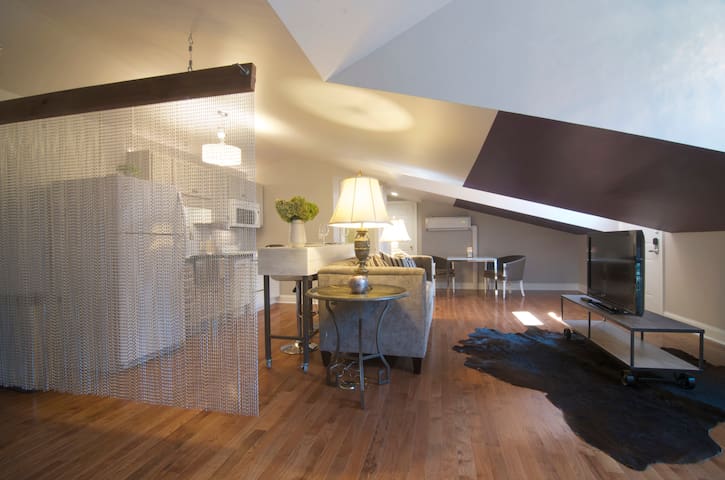 2 bedroom manufactured home with modern cozy decor in a quiet safe community. Home includes cable. Wifi. Coffee and cappuccino machines..minibar..fireplace..wine chiller in bedroom 1.. 2 miles away from large shopping mall with movie theater and tons of eateries and big box stores.. people from all backgrounds are welcome to enjoy my home.
Art der Unterkunft
Ganze Unterkunft
---
Objekttyp
Haus
---
Unterkunft für
4
---
Schlafzimmer
Conyers, Georgia, Vereinigte Staaten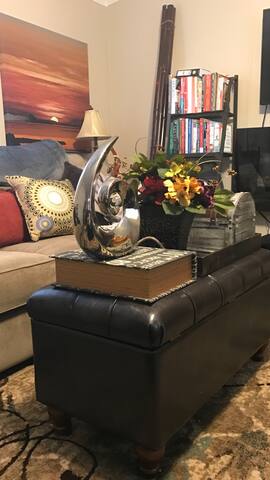 Beautiful Classic English Tudor Southeast of Atlanta. Safe and inviting this home is on a 1 acre lot with an expansive deck and private back yard, perfect for entertaining! Beautiful dark walnut floors throughout with a Master on the main level.
4 additional Bedrooms including a bonus room which is used for a teen suite or in-law suite that has its own separate entrance through the garage. upstairs. This space allows for 4 additional guest.
One of the nicest neighborhoods in Conyers Southeast of Atlanta, neighbors are active, walking and biking throughout the serene neighborhood with pets.
The host canceled this reservation 17 days before arrival. This is an automated posting.
Shivaprakash
2016-10-20T00:00:00Z
Beautiful home and wonderful hosts! Thank you so much! You made our stay great.
Lauren
2017-04-02T00:00:00Z
Art der Unterkunft
Ganze Unterkunft
---
Objekttyp
Haus
---
Unterkunft für
12
---
Schlafzimmer
Conyers, Georgia, Vereinigte Staaten
1 bedroom, 1 bath guest house in peaceful residential neighborhood. Plenty of parking, fully furnished kitchen, living room with satellite TV. Less than 40 minutes from Atlanta and minutes from the Monastery and the International Horse Park.
Matt and Julie are friendly and kind people. The guest house is adorable. It is a great place to unplug and spend some time together or go explore the surrounding woods. Internet and cell phone service (T-Mobile) can be tricky though. We got dropped from the WiFi quite a few times and had to reconnect. No cell service inside but got it outside by the street. They have a really sweet dog that was happy to lead through the woods - so sweet! The beds were really comfortable and the guest is pretty comfortable. All in all we enjoyed our stay and would recommend!
Sybile
2016-07-15T00:00:00Z
The guest house was absolutely wonderful and we wished we had time to stay and relax rather than just pop in for the night! Julie and Matt were very friendly and hospitable. Beautiful area and gorgeous home.
Carina
2016-08-04T00:00:00Z
Great place to stay. The location is great and Julie was very accommodating.
Joshua
2016-10-10T00:00:00Z
The stay here was perfect! Quiet, pleasant, and beautiful neighborhood. Everything was exactly how it was in the description. Ms. Julie and Mr. Matt were extremely nice and helpful throughout our stay and was sure to answer any questions we had. I will definitely recommend this to anyone visiting the Conyers area. Thanks again :)
Maleka
2016-05-30T00:00:00Z
Julie and Matt were incredible hosts! The guest house was incredible and fit our needs perfectly. I'm not one to take my family just anywhere, but I felt comfortable with this listing from the begining. The house was super clean and in a perfect location...they even put apple juice and orange juice in the fridge for my little girl:). Just a short drive to whatever we wanted in atlanta. I will absolutely request to stay there if we travel to Atlanta again. Thanks again matt and Julie!
Frank
2016-02-29T00:00:00Z
Julie was a very gracious host and made sure we had everything we needed. The space is very comfortable and a great getaway. Would love to stay here again.
Katie & Dan
2016-03-25T00:00:00Z
Just one word EXCELLENT! Beautiful house, spacious, comfortable . Julie makes you fell "at home"
Maria
2016-08-20T00:00:00Z
Julie and Matt are gracious hosts. Very easy to access, easy to find the place and it was perfect for our weekend hunting trip.
Jeff
2017-01-08T00:00:00Z
Art der Unterkunft
Ganze Unterkunft
---
Objekttyp
Haus
---
Unterkunft für
4
---
Schlafzimmer
Conyers, Georgia, Vereinigte Staaten
This beautiful ranch with 4 bedroom and 2 bath has hardwood floor through out main level except bed rooms. It is located on a large 0.61 acre lot. This place is close to the city center, art and culture, parks, great views, and restaurants and dining. It is good for couples, solo adventurers, business travelers, and families (with kids).
The home was great and just as pictured. The availability of the owner was wonderful. The owner made sure there were enough linens, towels, and other necessities to make our stay enjoyable. Would definitely recommend staying at this home.
Angele
2017-01-15T00:00:00Z
One word to describe would be perfect! I enjoyed my stay and will definitely return. Thanks
J.
2017-02-19T00:00:00Z
Art der Unterkunft
Ganze Unterkunft
---
Objekttyp
Haus
---
Unterkunft für
9
---
Schlafzimmer
Conyers, Georgia, Vereinigte Staaten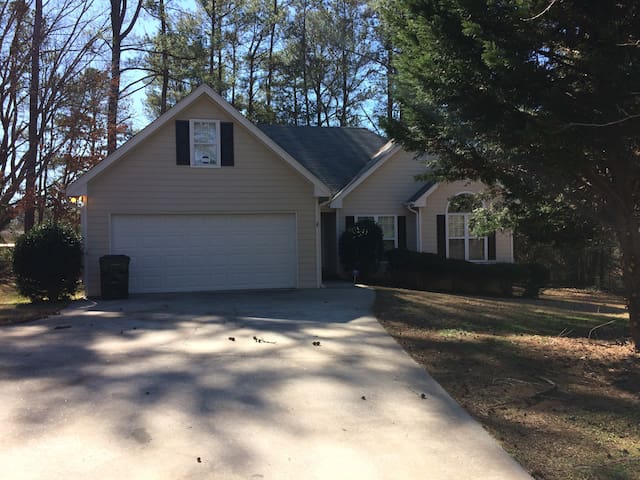 Your Home away from Home. Beautiful large master bedroom with private walk out deck. Located just 38 minutes from Downtown Atlanta and 36 minute drive to Hartsfield International Airport, 4 bedroom 4 private baths. City of Conyers, Arabia Mountain Trail, Conyers International Horse Park, Stone Mountain Park, Shopping Malls, Grocery Stores, Nightlife, Nature trails, ect. all await you when you become a guest in this centrally located private get-a-way. Enjoy best of both worlds!
Art der Unterkunft
Ganze Unterkunft
---
Objekttyp
Haus
---
Unterkunft für
6
---
Schlafzimmer
Conyers, Georgia, Vereinigte Staaten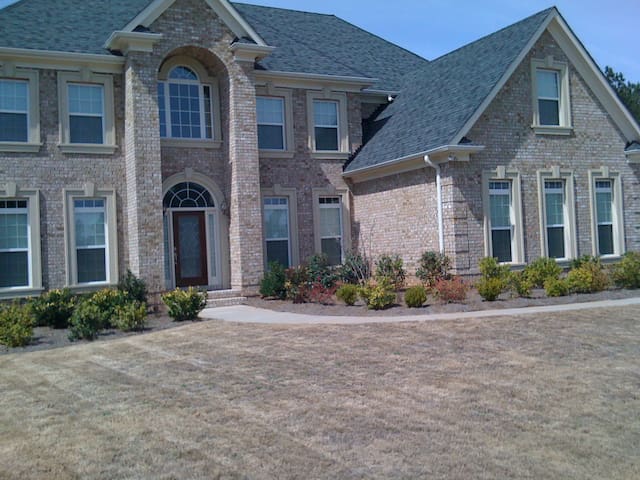 Amazing Estate on 7 Acres, Gated , TOTALLY SECLUDED ,Nature at its best !!! Perfect Location You will ABSOLUTELY fall in love with this GORGEOUS 4 BEDROOMS 3 BATH Estate Conyers !! Minutes to Stone Crest Mall, and all Restaurants.
The Estate Offers 4 Bedrooms 2 Master Suites Large Sunroom There is enough space accommodate up to 16 guests (extra guests with an additional charge) Pet Fee $100 Beds: 3 Queens 2 Full Optional 4 rollaway beds *You may also bring your own air mattresses if you have more guests , as the house can sleep even 16 guests. Lake adjacent to the property, it is about 5 minutes walking distance, great for fishing!! Please note that the property is in a secluded area. Just Off I-20 20 Minutes to downtown Decatur,Midtown and Downtown Atlanta CENTRALLY LOCATED WASHER & DRYER is Included Cable and WIFI are included A fully Equipped Kitchen PARKING for 20 Cars Outside Only outside parking available- not covered! Pets are welcome- with an added pet fee Amazing Deck Overlooking Nature **Events** You may hold an event at the house, but please note that there will be an event fee added, depending on the type of event and amount of guests You may NOT have an event at the house without my approval. If you do so, you will be subjected to leave the house, and your security deposit will be withheld. 25 minutes from the Atlanta Airport with great freeway access to all Atlanta points of interest. 25 Minutes away from The Georgia Dome, Phillips Arena, Georgia World Congress Center, CNN, World of Coca-Cola, Georgia Aquarium, Centennial Olympic Park, Americas Mart, Underground Atlanta & Piedmont Park with access to the great shopping, tourist/historical sites, nightlife & restaurants that Atlanta is known for! Only 25 minutes away from Buckhead and 25 Min away from downtown Atlanta, this great location gives you close access to all the tourist attractions Atlanta is known for. CHECKOUT OUR OTHER LISTINGS - Go To My Profile !!!
I, along with 15 friends, took part in the Ragnar Atlanta Trail Race this past weekend at the Georgia International Horse Park. We needed a place to stay after the race that would accommodate us all and be close to the race site. This home was perfect! It easily slept all of our guests and provided living spaces large enough for us all to gather to eat and enjoy each others company. The upgraded bathrooms were a wonderful feature, along with the screened porch. The tranquil environment definitely aided in our recovery and relaxation! The host was very responsive and accommodating! He generously provided twin cots to three of our additional guests. I very much appreciated his communication, as it can be a challenge to travel and accommodate such a large group! We will definitely be back next year!
Katie
2016-04-17T00:00:00Z
This property was the perfect place for our family stay in the Atlanta area. We had a great time cooking together in the kitchen and the dining room table was large enough that we could all sit down for dinner together. The home was situated away from other homes which made it very quiet and peaceful. The property has a country feel, but it's within a comfortable driving distance to Atlanta's main attractions. If the opportunity arises again to stay at this property, we will rent it for sure.
Randy
2016-07-20T00:00:00Z
Great house. Owners were great. Very clean.
Ward
2016-09-06T00:00:00Z
Amir, and his assistants were very helpful to us in our check in when I had issues accessing my airbnb account to retrieve my itinerary. the home was lovely, and spacious! We didn't want to leave once our stay was done. We had was with the grill. I called prior to, to be certain it was available for use, and I was assured it was. However, the propane tank was empty, and we had to find a store to have it filled. I also had an issue with the shower in the back. I let the water run for ten minutes, and it never warmed up. I did not contact Amir about these things because it didn't seem a huge deal to have someone come out to fill a propane tank, or check a shower. It was a delightful visit none the less, and I would certainly visit with them again.
rebecca
2016-05-22T00:00:00Z
Everything was great thank you for everything
Toib
2016-07-26T00:00:00Z
Nice, peaceful space. It should be noted that GPS leads to the seemingly dilapidated home across the road. The kitchen was stocked for minimal cooking. Close enough to stores to replenish groceries and other needs. Recommended for a quiet family getaway.
Melba
2016-12-28T00:00:00Z
This plac is great if you want to be secluded from the hustle and bustle of the city and/or a private gathering. I loved the scenic view of the trees
Uguanda
2017-01-15T00:00:00Z
Very large home meant to accommodate many, lots of beds. There is versatility too because there are roll always that can be moved. Small pond behind house some members of our group fished. 3 upstairs bedrooms very nice. Basement just ok but fine for sleeping. All bathrooms updated and nice. Plenty of parking. Very private and quiet. Close to mall and movie theaters, etc but with a country feel.
Suzanne
2017-01-01T00:00:00Z
Art der Unterkunft
Ganze Unterkunft
---
Objekttyp
Haus
---
Unterkunft für
16
---
Schlafzimmer
Conyers, Georgia, Vereinigte Staaten
My home is perfect for couples and single adventurers. It is close to restaurants, parks (Stone Mountain), malls and just 30 minutes or less outside of Atlanta. On warm starry nights you can sit on the patio and sip on your favorite evening beverage
What makes my development unique is its feeling of community.
Stayed with letitia one night. Had a Spartan race next morning. The room was clean and spacious. Bathroom spotless. Quiet neighborhood, really enjoyed my stay.
Marco
2017-03-18T00:00:00Z
Letitia was very hospitable from the moment she welcomed us. House was beautiful, spacious and clean. She was very accommodating and even had the refrigerator with items for us like a fruit salad. We look forward to staying there again.
Neenah
2016-11-13T00:00:00Z
The host canceled this reservation 4 days before arrival. This is an automated posting.
Michael
2016-06-30T00:00:00Z
Art der Unterkunft
Privatzimmer
---
Objekttyp
Haus
---
Unterkunft für
2
---
Schlafzimmer
Conyers, Georgia, Vereinigte Staaten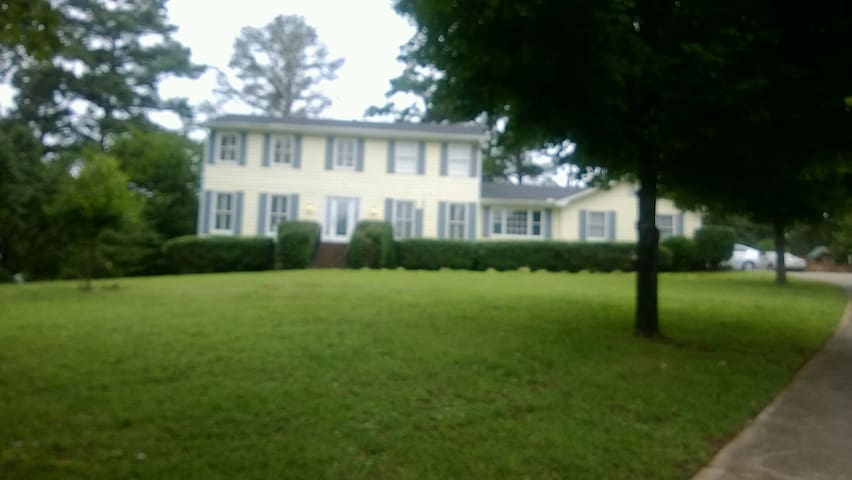 The Space This astonishing, COMPLETELY REMODELED 4 BR home has it all! A kitchen with stainless steel appliances, granite counter tops, maple cabinets, and upgraded fixtures, 2 Car-Garage, Full Basement ,Sunroom and huge pool NO PARTIES ARE ALLOWED ON PREMISES. Please read the house rules carefully, and the Rental Agreement before you book.
Art der Unterkunft
Ganze Unterkunft
---
Objekttyp
Haus
---
Unterkunft für
1
---
Schlafzimmer
Conyers, Georgia, Vereinigte Staaten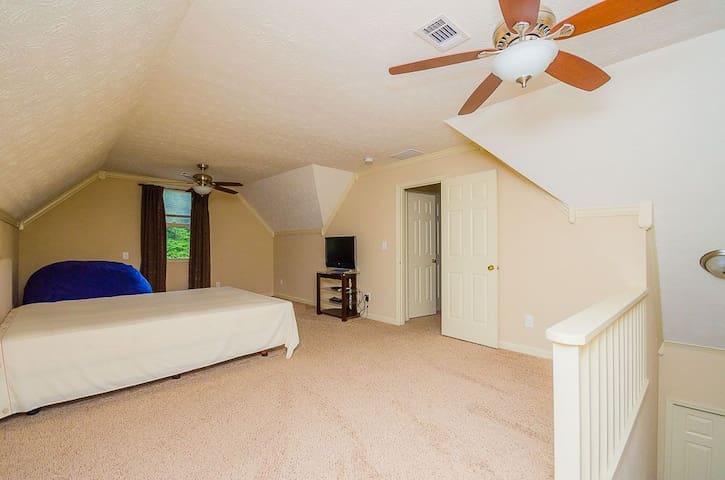 Imagine a wedding in historic conyers!! Are a weekend stay RELAX here at SOUTHERN COMFORT Afeelingof HOME (MESSAGE ME FOR EXTRA DETAILS )Thank You
There is plenty of room open space will comfortably sleep 4_5guests Large family room scenic front porch see you soon! Washer dryer television wifi avail.
Tree lined streets walk to eats in downtown Historic Conyers
Michelle's home is the best experience! It was very clean and tidy, but also felt cozy and inviting! She truly thought of everything a guest could need or want during their stay! I hope to book her home again in the future!
Brandie
2017-03-12T00:00:00Z
The house is beautifully appointed, a wonderful space near Olde Town in Conyers. The host is marvelous, quickly responding to text/phone queries but otherwise unintrusive. For my stay over Christmas week, I found that she had anticipated a traveler's needs with the "little" touches, from breakfast fixings to toiletries to festive holiday decorations.
ER
2016-12-26T00:00:00Z
Our stay here was very enjoyable. We had only stayed for one night but this home exceeded our expectations. The home was clean and very comfortable. It has a warm and cozy feel to it. The décor provided the home with an abundance of character. Michelle was very kind and prompt with her responses. I would recommend this home to my family and friends.
Reuben
2016-08-15T00:00:00Z
Art der Unterkunft
Ganze Unterkunft
---
Objekttyp
Haus
---
Unterkunft für
4
---
Schlafzimmer
Conyers, Georgia, Vereinigte Staaten
Private nice home away from home.
Very quiet! very friendly!
Art der Unterkunft
Privatzimmer
---
Objekttyp
Haus
---
Unterkunft für
1
---
Schlafzimmer
Conyers, Georgia, Vereinigte Staaten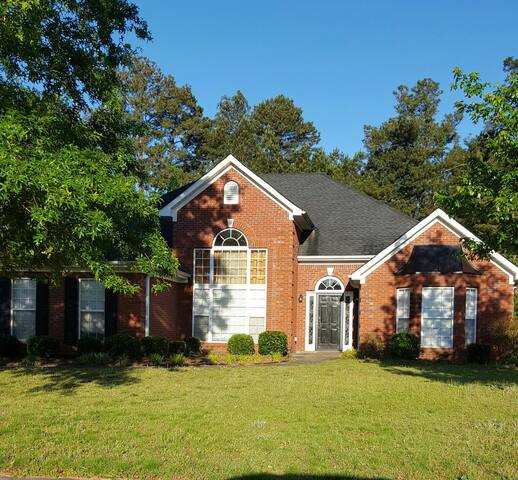 My place is close to Rockdale Hospital. • Stonecrest mall and Restaurant 15 mins. away. • Stone Mtn park 20 min. You'll love my place because of Easy access to town. Electronically gated property with long drive way. Self-contained space with private entrance (upstairs) overlooking circular drive way, spacious enough to house a couple and children, also business travelers.
Art der Unterkunft
Privatzimmer
---
Objekttyp
Haus
---
Unterkunft für
2
---
Schlafzimmer
Conyers, Georgia, Vereinigte Staaten
This is one of two rooms available for rent in a private home. This room holds 1 queen size bed, a flat screen tv, closet and is located next to a shared full bath. (Shared only if there is another guest, homeowners have separate bath). Breakfast can be provided upon request.
This is a peaceful area where anyone who wants a vacation away from the hustle and bustle can come to relax and be rejuvenated. Yet still not be too far away from the city and its attractions. Cable and internet service is available. Breakfast if required, will be served in the dining room.
This area is very quiet. It is unique in that although it is 30 miles from the city, in 15 minutes you can get to several restaurants and shops.
Art der Unterkunft
Privatzimmer
---
Objekttyp
Haus
---
Unterkunft für
1
---
Schlafzimmer
Conyers, Georgia, Vereinigte Staaten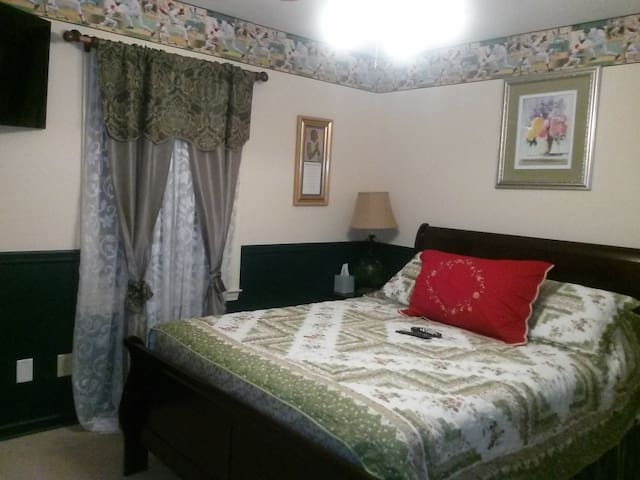 1

–

18

von

+ 300 Häuser zur Miete
Gib deine Reisedaten ein, um den aktuellen Preis zu sehen. Es können zusätzliche Gebühren und Steuern anfallen.