Gib deine Reisedaten ein, um den aktuellen Preis zu sehen. Es können zusätzliche Gebühren und Steuern anfallen.
10 Unterkünfte
· Derwent Bridge
10 Unterkünfte
· Derwent Bridge
Diesen Juli und August kannst du eine dieser 100 hervorragend bewerteten Unterkünfte aus jeder Preiskategorie ausprobieren, um Sonoma aus der Sicht eines Einheimischen kennenzulernen. Dank 24-Stunden-Check-in, Sofortbuchung sowie einheimischen Weinen und Snacks kannst du dich einfach zurücklehnen und deine Reise geniessen.
Imagine fishing the Lakes of Canada - closer to home in the exact centre of Tasmania is this cosy cottage . Bring the wife , kids , books , board games and rods and relax .If you come home without a catch have dinner and a drink at The Chalet across the road .Step back in time in this old Hydro workers cabin .
The Cottages at Bronte Park Highland Village were once home to the workers of the Hydro Electricity Scheme. Immigrants came from all over Europe with their families. At one stage Bronte Park was a buzzing metropolis of 3,000 workers. There was even a school , shop and hospital. By day the women chatted , learning each others languages and English. Children communicated easily through play in the wide open spaces. Today the history is obvious and a new culture has developed. Though the cottages are humble, many people return year after year for family holidays. They reminisce of childhood trips to Bronte and attempt to recreate a simple holiday lifestyle for their families. Hardly an ipad or iphone is seen in the hands of child. Rather they are running around, riding bikes, climbing trees and playing board games ona rainy day. Each cottage is completely self contained including a fully functional kitchen and laundry. Nearby is The Chalet for a drink, coffee or scrumptious meal if you would like a night off cooking. Bring your own groceries and there is a shop across the road for that missing ingredient you forgot to bring. We are just a phonecall away on 0409826524 if you have any concerns.
Many of the cottages are now privately owned . They are people who truly appreciate all that the Central Highlands has to offer. They will happily stop for a chat to tell you about the one that got away. They MAY tell you of their secret fishing spots if you are lucky. Once again Bronte Park is growing to be a community of people who share a common vision for the area. The vision was once based on work and now it is all about rest and relaxation. Buses run to the corner of the Marlborough Hwy a few kms away You simply must visit THE WALL just up the road at Derwent Park when you are staying with us. As the sunsets wander outside your cottage to see the wallabies grazing on the Village Green
Art des Zimmers
Ganze Unterkunft
---
Art der Unterkunft
---
Unterkunft für
6
---
Schlafzimmer
3
Bronte Park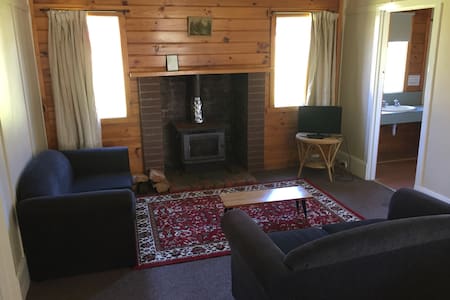 Beautiful cottage surrounded by nature. Great fishing in the highland lakes. Stones throw from lake St Claire, with stunning walking trails at the conclusion of the overland track. Close to cradle mountain and surrounding wilderness tourist attractions. Large grassy play area for kids. Nearby fishing lodge/bar with great food and activities. Wood fire. BBQ. Plenty of native wildlife to admire. 3 bedrooms, with 1 queen and 4 singles. Great spot to unwind, read a book, and take in some of tassie's natural beauty.
There is also free wifi 100 m walking distance at the lodge
Art des Zimmers
Ganze Unterkunft
---
Art der Unterkunft
---
Unterkunft für
6
---
Schlafzimmer
2
Bronte Park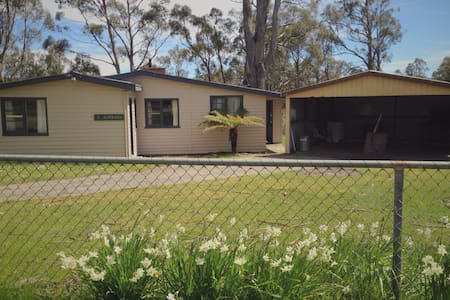 Just 20 minutes from Lake St Clair the Finnish of the famous Overland walk. Step back in time to the cosiness of the original Bronte Park farmhouse warmed by a wood heater. The kitchen and bathroom are adequate and have been freshly painted . " Oh the Serenity ...." listen to the absolute peace and quiet of the bush setting , occasionally interrupted by the tweet of a bird , a moo , a baa or even a neigh !!! The area is world renowned as a Trout Fly Fishing destination.
Bronte Park is one of the most convenient destinations for you to explore the Central Highlands of Tasmania. There is over 3000 fishing lakes, a short distance to the famous Lake St Clair (end of the overland walk), half way between Strahan and Hobart and 20 minutes from "The wall" You can cook you own meal or wander to The Lodge for a hearty country meal prepared by Shane. There is a small shop where you can purchase supplies within a short distance. Keys can be accessed by a key lock at the front door and have access to the whole house.
This is a great location to explore the Central highlands of Tasmania.
Excellent place to live.
Rajeshwar Reddy
January 2017
Art des Zimmers
Ganze Unterkunft
---
Art der Unterkunft
---
Unterkunft für
9
---
Schlafzimmer
4
Bronte Park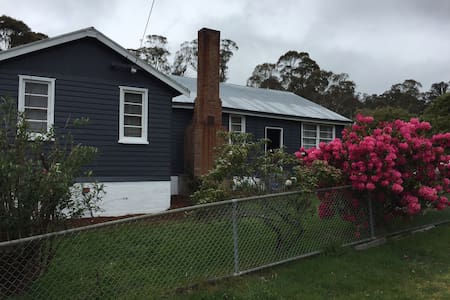 My place is good for couples and solo adventurers. This little cabin is has lake views. A beautiful environment, with lots of wildlife. 25 minutes to Lake St Clair.
The host canceled this reservation 137 days before arrival. This is an automated posting.
Ian
Great cabin stay with beautiful lakeside views. The place was as described - tidy, cosy and peaceful. Would definitely stay again!
Bethany
December 2016
There was so much room and such lovely views across the lake. Every possible convenience came in the kitchen from a 5 burner stove to a large frig. A fire roaring the fireplace and and rainbows across the lake. Beautiful!
John
November 2016
Art des Zimmers
Ganze Unterkunft
---
Art der Unterkunft
---
Unterkunft für
2
---
Schlafzimmer
2
Bradys Lake
With over 3000 Trout Fishing Lakes this is fishermans paradise .Bring a book , a rod , wife , kids and plenty of time to relax !Eat , drink and tell stories at the family friendly chalet . Situated only 2 hours drive from Hobart in the exact centre of Tasmania is a great base from which to explore the island .
Art des Zimmers
Ganze Unterkunft
---
Art der Unterkunft
---
Unterkunft für
6
---
Schlafzimmer
2
Bronte Park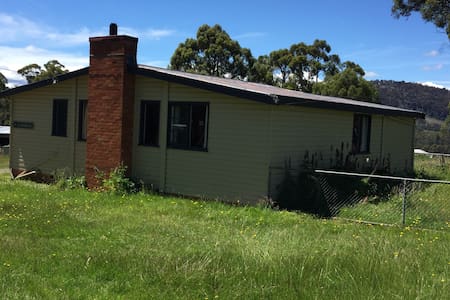 Located only 50 meters from the waters edge of Little Pine Lagoon Little Pine Shack is the best and most comfortable accomodation in the area. The view through the panoramic north facing window of the living room allow for uninterrupted views of the lagoon. Watch the ever changing weather patterns, the fish rising, the birdlife and if you are very lucky a platypus quietly simming by. There is no better place to rejuvenate and invigorate your spirit and energy. If you are not into fly fishing - learn - or alternatively use the Shack as you base to explore the highlands. Visit Liffey Falls, Lake St Clair, Deloraine and many other wonderful places. For photos search on line. www.littlepineshack.com.au Minimum 2 nights for 2. $50 for each extra person
Die Unterkunft war sehr gemütlich und toll gelegen. Wir haben uns mitten in der Natur sehr wohlgefühlt und konnten sogar eine leckere Forelle aus dem See fischen :-). Vielen Dank für den schönen Ort Erde.
Nadja
November 2015
We had a fantastic stay at Little Pine Shack - it was everything we expected and more. The attention to detail is superb and the house is extremely easy to live in, a great outcome for somewhere so remote and private. Such a beautiful place to unwind and experience the wilderness of the Tassie highlands. Thanks for sharing Nicholas!!
Dale
December 2016
We spent two nights here for the Christmas holiday. It was relaxing but not much to do other than fishing. We enjoyed the binoculars. The house gets very hot and the screens are not great for keeping the bugs out.
Mui Anne
December 2016
We stayed here for 2 nights whilst on our honeymoon. I was looking for somewhere a bit more secluded, and we definitely found that!!!! Location was freezing cold but there's a fire that heats up the whole house well and plenty of fire wood. Peaceful location with beautiful views overlooking the lagoon. Cheers!
Jessica
September 2016
Clear instructions for the house and fantastic views across the ever-changing lake. Had a good stay - thanks.
Luke
March 2016
We had a wonderful stay over Christmas. Little Pine Shack is a great spot for fishing, or just for a relaxing holiday. Nicholas was extremely kind and thoughtful; and communicated with us by email and phone to ensure we had the best possible time at Little Pine Shack. The accommodation is very comfortable, with good furnishings, modern bathroom & kitchen and surround sound speakers for music. The location took us around 90 minutes to reach from Launceston. We also visited Hobart, which took less than two hours - making day trips achievable. I'd recommend this place to anyone - it is the most peaceful holiday I have had in a long time.
James
January 2013
A wonderful 'shack' in a very beautiful location. Nic was a great host and made sure we had all the information we needed before we arrived as well as offering information on the surrounding areas . Shack had a well stocked kitchen to prepare a beautiful meal and the fire place kept the place warm and cosy. We will definitely visit again if we get back to Tasmania.
Zara
September 2015
Art des Zimmers
Ganze Unterkunft
---
Art der Unterkunft
---
Unterkunft für
5
---
Schlafzimmer
3
Little Pine Lagoon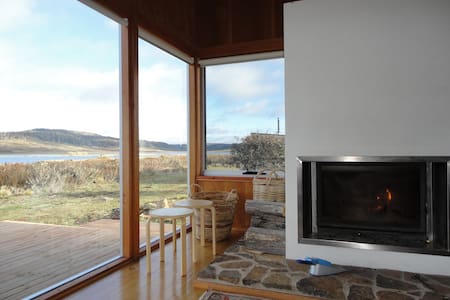 Our place is in the prime spot to explore the famous Highland Lakes. Great Lake is on your doorstep, Little Pine within 10 minutes, Penstock 20 minutes, Arthurs 30 minutes. The Stone Shack is ideally situated between the Lodge and Great Lake Hotel. General supplies can be purchased from the Great Lake Shop. Comfortable sleeping arrangements, I bedroom with a queen size bed downstairs, upstairs there is 1 bedroom with a double bed and single bed and 1 bedroom with a bunk and 1 single bed.
There is also a full sized slate top 8 ball table upstairs. basic fly tying materials and vice are set up upstairs in case you need to tie that one special fly! Super comfortable leather couches and full kitchen with all the bits you need to cook up a storm. There's even a coffee machine. It's an Expressotoria Capina capsule machine, you can get the Vittoria capsules, from Coles and Woolies on your way up the mountain, makes a good drop to start the day. From the balcony you see Swan Bay through the trees, that's how close you are to the water. Plenty of opportunities enjoy a brisk walk around the area to explore. Take a walk in the evening and see how much wildlife you can spot. Our place is good for small groups, couples and families (with kids). The house is not infant proof, if you have little ones you will need to use your own judgement as to what needs to be put away from inquisitive hands. The whole house Call me on the mobile provided if you have an issues. I know most of the locals there so if anything happens we can get it sorted.
Launceston is about 1hr and 15 minutes away, Hobart about 1hr and 30 minutes. Your closest supermarket is IGA in Longford, about 1hr away, or as mentioned the local store at the Great Lake Hotel has most basics. You will need your own car. Great Lake is an awesome place to explore, walk around the place and discover all that is around you. You'll find the locals are always up for a chat at the bar. The Lodge and the Great Lake Hotel are comfortable and warm and provide full hearty meals. Our kids love climbing rocks around area, visit the dam wall and walk to the tomb of the first surveyor of the area.
Initial information about the Shack was provided which gave us a good idea what to expect. This info was accurate and helpful as it was our first visit to the area. The Shack is located in a very quiet area with lots of wildlife around and plenty of fishing opportunities.
Wayne
November 2016
The stone shack is much more than a shack, it is a lovely home with everything you could possible want or need for the comforts of home, away from home. The fire was lit for us when we arrived with plenty of wood stockpiled at the door for the weekend. The place was clean and beautifully presented, board games, dvds and ps3 games were well stocked along with instructions on how to use everything. Pool table upstairs and the pantry full of things that you might forget or wish not to pack along with two drawers full of spices for cooking, everything that we could want or think of was provided. And in a beautiful quiet part of Tasmania. We even woke up to a full blamket of snow. Would highly recommened the stone shack, vince was so easy to communicate with always responding very quickly to any questions i found him very accommodating and would definetly return, probably one of the best places to stay if your visiting the great lakes.
Halina
August 2016
"Stone Shack" is everything but a shack. Very comfortable, warm and cosy home equipt with everthing you could possible need. Vince and Lynda, with their personal touches, have made this place feel like a home away from home. A welcoming glow of the woodheater when we arrived late afternoon on a snowy winters day set the mood for a most enjoyable stay. We had excellent communication with Vince right from the beginning. A very careing host. We are already looking forward to our next stay(URL HIDDEN)
Inga
July 2016
Top location and top accommodation. Highly recommend.
David
November 2016
Found everything to be in excellent order and the host was immediate in all their responses. Perfect abode for the weekend fishos and for the working crew. Love to drag this place around Tasmania with us.
Steven
August 2016
Thanks Vince and Lynda for making your lovely place in the highlands available. Our fishing trip coincided with cold weather (even woke up to a bit of snow one morning) so to able to come back to such a lovely warm and well appointed home with great facilities and comfortable beds was fantastic. Would highly recommend The Stone Shack
David
October 2016
Art des Zimmers
Ganze Unterkunft
---
Art der Unterkunft
---
Unterkunft für
8
---
Schlafzimmer
3
Miena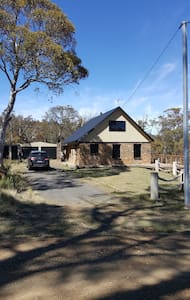 My place is close to Great Lake . You'll love my place because of the views, the ambiance, and the location. My place is good for couples, solo adventurers, families (with kids), and big groups.
Art des Zimmers
Ganze Unterkunft
---
Art der Unterkunft
---
Unterkunft für
6
---
Schlafzimmer
3
Miena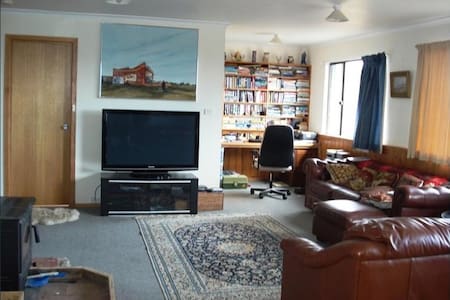 Hand made from native timber, our shack is a cosy fisherman's retreat fitted out with all the necessities and extra luxuries. The shack overlooks the Great Lake and isn't a far walk to The Lodge. The shack has 2 bathrooms and 3 bedrooms: 2 x queen, 1 x double. The kitchen is well equipped and well stocked with the kitchen basics to cook up a feast.
Our Central Highlands shack at Miena is a quality solid timber build by a local builder. It sits at the top of the block with glimpses of the Great Lake. The drive to Miena is about 1:30hr from Launceston and about 1:45hr from Hobart. It's perfectly located for trout fishing or just to sit back with the cosy fire and hopefully catch a glimpse at the local deer and wallabies grazing around the shack. Enjoy fishing at the many lakes during the day and wander down to the Central Highlands Lodge for an evening drink or dinner. If you enjoy cooking as much we we do, you will find the kitchen very well equipped. We offer 3 bedrooms: 2 with queen beds and 1 with a double bed, all with electric blankets, high thread count sheets and 100% goose down quilts. There are two bathrooms, one of which is an ensuite. We have a single floor mattress that can go in the double room. The shack has ample parking for at least 6 vehicles as well as a boat turning bay. Late check out is usually available by request at no extra cost in the off peak seasons, depending on when our next booking is. There is no public transport, so you'll need a car. Guests will have exclusive access to the shack. Guests will be left in privacy to enjoy the serenity. We will of course provide swift responses to your questions on airbnb and if you need help onsite, our housekeeper can be there to help out.
Miena is a small fishing town and has a general store with a petrol pump and payphone, The Great Lake Hotel and The Central Highlands Lodge, both of which provide dinner and drinks. The Lodge is within walking distance but you'll need to drive to the pub. Groceries must be done prior to driving up to the central highlands. You'll need your own car to get there. Miena is an isolated fishing town in the Central Highlands of Tasmania. Whilst there are nearby attractions within a 1 hour drive, Miena's main activities include fishing, cooking/eating and embracing serenity. Due to snowfall, a four wheel drive with chains is necessary in the months of June to August. The nearest supermarket is in Deloraine, which is about an hour's drive. The average temperatures for Miena are: - Dec to Feb (summer) 4°C to 16°C - Mar to May (autumn) 0°C to 14°C - Jun to Aug (winter) -2°C to 5°C (snow) - Sep to Nov (spring) 0°C to 12°C The fishing season is open from 6 August 2016 to 30 April 2017 (most waters).
Das Haus ist sehr modern eingerichtet, ausgestattet mit allem das man braucht. Es ist umgeben von viel Natur und Wildlife. Dank des Holzofens ist es auch bei kühlen Aussentemperaturen sehr gemütlich. Sehr zu empfehlen!
Simon
November 2016
My friends and I spent the last 2 nights of a 10 day motorcycle tour of Tasmania at this amazing fishing shack in Miena....and what a perfect way to end our tour. We were greeted and shown around the property and instantly loved the place. Everything you would need is there and the surrounds are beautiful ... Our hosts even organised a family of 4 deer to visit our cabin and say hello, along with occasional visits by wallabys and kangaroos. The shack is very comfortable and felt like a home away from home. All 5 of us had our expectations well and truly exceeded. Before, during and after our stay the communication was always prompt and proactive and very clear .... Thank you for making our stay an experience to remember.
Murat
January 2016
Tom's cabin really exceeded my expectations. When we arrived, Helen had a fire going for us, such a nice way to start! The cabin itself is really beautiful with everything you could possibly need and all really great quality. The furnishings and finishing touches made the place really cosy. My only regret is that we only stayed one night - I would happily book for a week and curl up in front of that fire with a stack of books and some hot chocolate for a lot longer.
Rachelle
April 2016
Tom's place was fantastic. We arrived to a cosy fire already made for us. The kitchen was great for a big cook up - everything we needed was there. The bed was incredibly comfortable. We had a great time and didn't want to leave. We took a day trip to Lake St Clair at Tom's suggestion and had a great day out. We would definitely stay here again when we visit Tassie.
Kirsty
April 2016
On the photo the place looks somewhat small, but it is of good size. The combined living, eating and kitchen area is spacious and comfortable to use. Tom maintains a pantry well stocked with a generous selection of spices and condiments, and it allowed us to produce some pretty good dishes with ease. The slow-combustion fireplace heats the area well. The bedrooms are good size and comfortable, and the showers etc are all in good condition.
Heinrich
April 2016
We arrived in total darkness, Our host had organised for the front light to be on and a warm fire awaiting. The property was immaculate and offered plenty of room for 4 people in our group including 3 well proportioned sizeable bedrooms. The ammenities are of a high standard and the kitchen offers everything you would need for your stay. Overall a very comfortable place to stay. We would definitely stay here again.
John
September 2016
Great place to stay if you would like to be tucked away somewhere private. We enjoyed our stay here as it was warm, clean and has all the amenities that you would need for your stay.
Kate
September 2016
Wow! Really nice place to stay. If you're wanting to comfort in isolation (we stayed during the fishing off-season) then you can't go wrong with Tom's cabin. Well equipped kitchen, warm fire, great view of the lake and a nice pub down the road. Makes me want to have a crack at fly fishing to soak up the atmosphere when the trout season is in full swing. Reindeer walking across the front drive were a nice bonus too. Highly recommended.
Aidan
June 2016
Art des Zimmers
Ganze Unterkunft
---
Art der Unterkunft
---
Unterkunft für
7
---
Schlafzimmer
3
Miena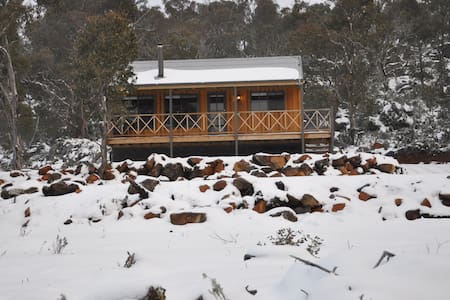 In the heart of the Central Highlands lake country, right on the edge of Great Lake is some of Tasmania's best trout fishing only 50m from your door. It's an exciting private residence, which features a huge integrated lounge/kitchen area (13m x 8m) with exposed timber trusses and full length double glazed windows opening onto a deck, which skirts the entire front of the residence and overlooks Swan Bay, Beehives towards the Western Tiers. With polished timber floors there are natural rock firep
The gourmet kitchen, features lightly chequered stainless steel bench tops, Miele induction cook top, AEG multi-function oven, conventional and steam, AEG microwave with grill, a separate gas wok and a walk in pantry. The house has fully double glazed windows and is fully insulated. There are three bedrooms all facing the lake shore (two have sliding doors opening onto the deck). The main bedroom has a large en-suite, with a convenient large bathroom servicing the other two bedrooms. The hallway/wet area on entry is a must in all highland homes, with laundry, coat space and a walk in wine cellar. Outside a large double garage can accommodate a vehicle, large boat, quad bike and workshop if required. It is secured by a roller door which opens off the double car port which is enclosed on one side, but opens directly to the house. The hallway/wet area on entry is a must in all highland homes, with laundry, coat space and a walk in wine cellar. Outside a large double garage can accommodate a vehicle, large boat, quad bike and workshop if required. It is secured by a roller door which opens off the double car port which is enclosed on one side, but opens directly to the house. Two tanks - one 23,500 litres, the other 10,000 litres. Also two hot water systems - one gas, servicing the kitchen and second bathroom, the other is an electric 160 litre Rheem hot water cylinder servicing the laundry and en-suite. General Features Property Type:House Bedrooms:3 Bathrooms:2 Indoor Features Toilets:2 Outdoor Features Carport Spaces:2 Garage Spaces:2 Other Features Waterfront Property, Large Entertainment Deck
Miena is a small lakeside town with excellent fishing, stunning scenery and lakeside rest and play. Located in the heart of Tasmania's central highlands, Miena is a popular shack village for holiday-makers and keen fishers with Great Lake the main attraction. This is Australia's second largest freshwater lake. It sits one kilometre above sea level and supplies hydroelectricity as well as a bounty of fresh fish for keen anglers. It's also one of the coldest places in Tasmania, swelling in population in the warmer months and providing a stunning snow-covered landscape in winter that's best enjoyed by a log fire. Activities in Miena are many and varied, from trout fishing and bushwalking to bird-watching and lakeside relaxation. The nearby Central Plateau Conservation Area is known as the Land of a Thousand Lakes and contains a stunning glacial and alpine landscape that forms part of the Tasmanian World Heritage Wilderness Area. Miena is a 1 hr 30-min drive (110 km) south from Launceston and a 1 hr 40-min drive (132 km) north from Hobart.
Art des Zimmers
Ganze Unterkunft
---
Art der Unterkunft
---
Unterkunft für
5
---
Schlafzimmer
3
Miena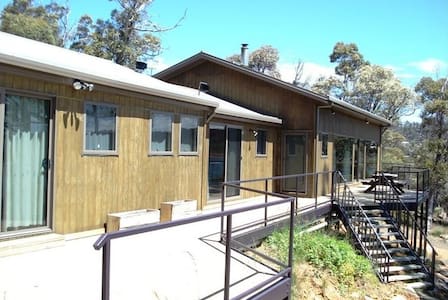 1

–

10

von

10 Unterkünfte