Art der Unterkunft
Ganze Unterkunft
---
Objekttyp
Haus
---
Unterkunft für
6
---
Schlafzimmer
Dublin, Virginia, Vereinigte Staaten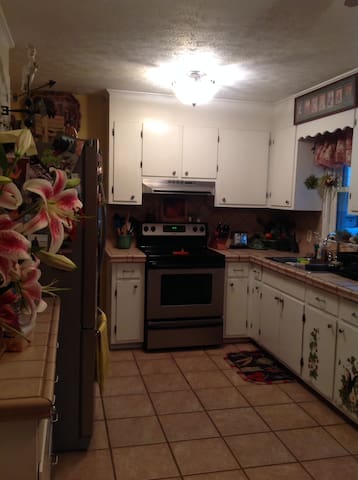 What a wonderful time at this amazing farm! Christine is the best host.
Steven
2016-05-17T00:00:00Z
Wonderful experience with Christine....we were made to feel so welcome and her home was clean, inviting and comfortable!
Debbie
2015-10-25T00:00:00Z
The host canceled this reservation 2 days before arrival. This is an automated posting.
Fred
2015-05-12T00:00:00Z
Art der Unterkunft
Privatzimmer
---
Objekttyp
Loft
---
Unterkunft für
4
---
Schlafzimmer
Dublin, Virginia, Vereinigte Staaten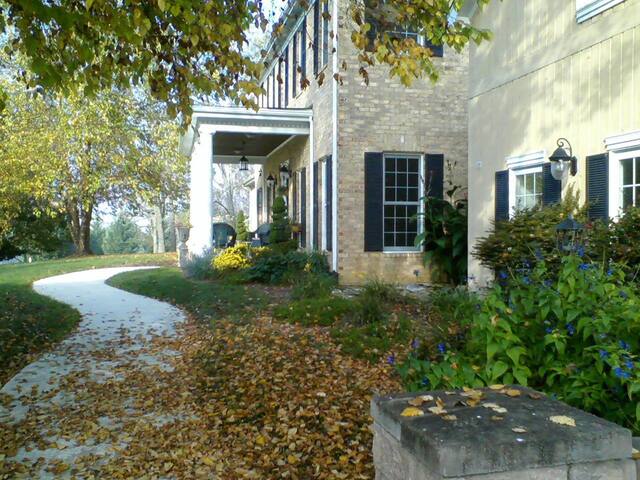 Come and experience the joy of vacationing in my home. Beautiful cape cod home with wrap around porch, large deck, hot tub, 2 gas grills and a large fenced yard. The property sits on 1.5 acres with vineyard views and mountain sunsets.
A picturesque, cozy, and super clean house--a perfect home away from home getaway! Lauri is a wonderful and gracious host, who provided us with privacy and made us feel welcome as soon as we arrived. Every room was spacious, immaculate, yet warm and inviting as well. Whether you're on a weekend getaway or in town to visit your kid in college - you will make plenty of memories here! My husband, who is very particular about mattresses (he has back issues), woke up with no back pain and slept like a baby all weekend. The cookware were all in excellent condition, and her kitchen has every appliance you need. My family enjoyed gathering in the back porch/deck, where we sat around and drank coffee while soaking up the pretty scenery outside. If you bring your pet, there are gates installed so you don't have to worry about accidents upstairs where there is carpeting. Even my dog appeared as if he was on vacation! He loved it! Please note that the photos in her listing do her home no justice. You need to book this now!
Desiree
2016-09-18T00:00:00Z
Made us feel very welcome!
Chris
2016-10-09T00:00:00Z
Lauri's AirBNB was exactly as described. Very nice and quiet location about 20-25 minutes from Virginia Tech. Lauri communicated very effectively and even provided a Guest Book with detailed instructions. Every room was spotless. Wi-Fi, hot tub, grill, fire pit, Netflix - all worked flawlessly. Location was great and ee had no problems driving to Blacksburg for the Football game or to Roanoke for dinner. I would highly recommend it to any family and friends looking to spend a nice weekend in the area.
Vadim
2016-11-27T00:00:00Z
We had a lovely stay at Lauri's home. The kitchen is fully stocked of cooking utensils, pots, pans, etc. The bed is comfortable. Sadly, we didn't get to use the hot tub, though it looked perfectly comfortable. When we had a question, Lauri was very quick to respond, which was helpful. Wish we had found this home earlier in our kids' college careers.
Sandi & Gary
2016-05-16T00:00:00Z
Lauri was amazing! She reached out ahead of time to make sure we had all necessary information for our stay. Upon arrival she had a welcome packet with everything we needed to know about the house. Her home was beautiful and spacious, also VERY dog friendly. Everything was as described, and even better than expected.
Sarah
2016-11-13T00:00:00Z
Art der Unterkunft
Ganze Unterkunft
---
Objekttyp
Haus
---
Unterkunft für
6
---
Schlafzimmer
Christiansburg, Virginia, Vereinigte Staaten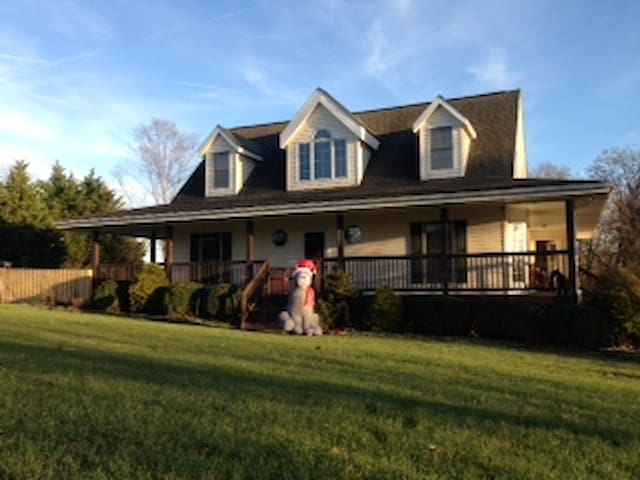 Der Raum ist klein, aber sehr komfortabel und vollständig sind. Bitte beachten Sie, dass ich habe zwei Katzen in meinem Haus. Sie sind nicht zu betreten oder Verweilen in der Wohnung nicht gestattet, aber wenn Sie schwere Allergien haben, würde diese Wohnung wohl am besten nicht für Sie sein.
Rural ... Bach Aussicht und ruhig.
The host canceled this reservation 25 days before arrival. This is an automated posting.
Chris
2016-10-17T00:00:00Z
Julie is a sweet and gracious host, and the apartment is perfectly sized for a getaway. It is in a lovely rural setting, within an easy drive to Blacksburg or any of the many hiking trails and outdoor recreation areas in the area.
Amy
2017-03-12T00:00:00Z
Julie and her daughter met me when I arrived and showed me the unit. I found it to be more than described. The unit is clean and neat and well decorated, the bed was excellent. Julie had some treats which I didn't expect that included local honey. Prior to my arrival they called to confirm my arrival time and to check if I needed anything. It's a great setting along a little stream. I felt very welcome there.
Terry
2016-11-03T00:00:00Z
Julie's place was cozy and comfortable. Julie left us home-made honey for tea & fresh eggs for breakfast, and made sure we took time to enjoy the sights and sounds of nature around her place. It was the perfect place for my boyfriend, my dog and I to spend the night. Thanks!
Lena
2016-12-28T00:00:00Z
This is a beautiful spot 15 minutes drive from downtown Blacksburg. Julie was incredibly nice and helpful, and there's a great little outdoor seating area/patio where you can enjoy a cup of coffee and some traquility in the morning. Highly recommended, and will definitely come again!
Simon
2017-02-18T00:00:00Z
Lovely home - better than the pictures. Julie was easy to communicate with and the place was easy to find. When we arrived, she showed us the place and then we had our privacy. Julie even made homemade muffins and left them for us. It was close enough to town that we were able to take an uber to a tech game - about 20 minutes away.
Kristin
2016-11-27T00:00:00Z
Just spent the night at Julie's lovely apartment. It was just as advertised. A great space in a beautiful location. Particularly loved the steam behind the house. I am traveling on business and this definitely beats (EMAIL HIDDEN)fortable bed, easy to find and with a fully stocked frig. Farm fresh eggs for breakfast!!! She even loaded the coffee machine so all I had to do was push the button. If you get a chance ask Julie about her family and how they came to VA. Great story, lovely woman and a definite find. Great place to stay. I'd love to come back and stay here and spend some time exploring the area. Cannot recommend Julie and her house enough.
Howard
2017-02-24T00:00:00Z
Julie's place is very comfortable and has all amenities that I needed. Bonus was a memory foam topper on the bed. It was quite comfortable. Julie provided breakfast food items, local free range eggs, and farm milk. Breads, jams, tea. and local honey. Julie is the sweetest host and I highly recommend staying with her.
Lea Ann
2017-04-02T00:00:00Z
Art der Unterkunft
Privatzimmer
---
Objekttyp
Haus
---
Unterkunft für
2
---
Schlafzimmer
Blacksburg, Virginia, Vereinigte Staaten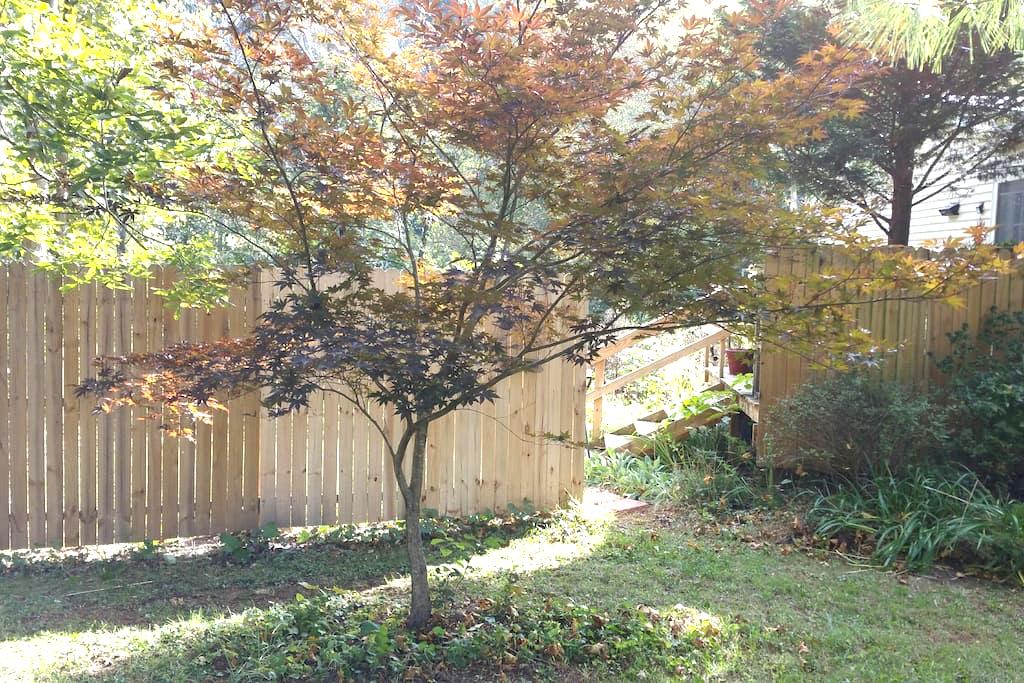 Spring is here, a perfect time to rent a bike for a ride on the New River Trail State Park, or adventure on black diamond mountain bike trails! Gatewood is open for fishing and boating (electric motors or paddles only). The Dora Trail is a designated birding and wildlife trail. Peak Creek is a stocked, delayed harvest trout stream. The Jefferson National Forest is practically next door and has hiking trails galore. After your fun, enjoy a long hot soak in the slipper tub.
Originally a two room house built in 1905, Peak View now has 7 rooms plus two baths. The Master Suite has views of Peak Knob as well as a stunning specimen Virginia Dogwood in spring, and adjoins the full bath with slipper tub. The Sitting Suite has a private sitting room bathed in sunshine for reading, relaxing, or open the door to listen to the maple leaves whisper in the breeze. Books are available for you to read; you may take one if you haven't finished it by the end of your trip. Board games for rainy day fun are in the dining room. Artwork by local artists adorns the walls, and some is even available for purchase. Please note that there are still some minor cosmetic items (baseboards, crown molding) that are in the process of completion, but everything is furnished, functional and decorated to make your stay as pleasant as possible!
Recently voted among the top 10 Quietest Towns in Virginia, Pulaski offers spectacular mountain views, star gazing at night, and peace and quiet only interrupted by birdsong or crickets, with the occasional train whistle passing through town. Rainy days can be spent at the Wilderness Road Museum, The Ratcliffe Museum, the Fine Arts Center and the Courthouse Museum. The Dora Trail is a designated birding and wildlife trail. Peak Creek is a stocked, delayed harvest trout stream. Gatewood Park has mountain views and peace and quiet and miles of hiking trails, all in the middle of the Jefferson National Forest. The New River Trail begins at the Pulaski Train Depot, also known as the Grand Old Lady of Pulaski, a historic restored depot from the 1800's. Dining includes Compadres Mexican with a great margarita! Kimono Japanese has fresh sushi as well as hibachi style cooking. Miss Robin's Harmony cafe makes a great pre-ride breakfast or lunch to go or eat in. Chang Hua delivers piping hot Chinese to your doorstep. Bella's will deliver Italian or their super 28" pizza, or dine in. A fudge shop, Gelato Bar, or Yogurt automat provide varied desserts.
The place is easy to pass up in the driveway as there are a few houses pretty close by, its comfortable very relaxing quiet and definitely worth the money.
Chris
2017-03-19T00:00:00Z
Very peaceful and quiet location only 6 minutes from the start of the New River Trail State Park. Abram and Judith were warm and accommodating, and the sunrises from the front porch are truly a sight. I highly recommend it if you plan to go on the trail. (P.S. The tub is positively magical after exercising!)
Andrea
2016-11-07T00:00:00Z
The hosts were lovely people . They are remodeling and have hit a few "bumps" in the road. They were very easy to get a hold of and very communicative .
Julie
2016-09-17T00:00:00Z
Everything was great. Very nice to sit on the porch and look over at the mountains. We had a small child and Judith and Abram were so kind to baby proof for us. Thank you so much, wonderful stay.
John
2016-10-23T00:00:00Z
Very comfortable and relaxing place - just was I was looking for. The location is in the country, but just a short drive from town. As described in the listing, the home is a work in progress. i think it's worth noting that there's no door between the bathroom and the bedroom. The host offered helpful advice on local restaurants and was very quick to respond to any questions that came up. I hope to see it again when it's complete!
Virginia
2016-10-30T00:00:00Z
Beautiful spot over looking Mountain and a horse farm. We had a great stay here! Don't forget to look up at the stars at night...they're dreamy.
Miranda
2016-10-18T00:00:00Z
Abram and Judith were very communicative leading up to our arrival, and the place itself was wonderful! It was clean, had all the required amenities, and was even more charming than in the pictures. We would stay here again in a heartbeat.
Anna
2016-10-09T00:00:00Z
We went down for the Tech vs UVA game and decided we'd beat the crowds by going farther South for a place to stay. Pulaski was a great location for for a visit to the New River Valley-you're not that far a drive to Fairlawn, Radford, Christiansburg, and Blacksburg. Judith and Abram's home was awesome for my husband, daughter, and me. We got in real late but it wasn't an issue because there was a dusk to dawn light and a lock box For the key that I'd received the code for from Judith earlier in the day. The home is well appointed, though you can see that they are still working on the finishes but nothing that impedes a comfortable, enjoyable, and relaxing stay. Judith even had the divan made up for my daughter and asked her preference for the design of sheets and the comforter. Now, let's talk about the tub. Make sure you bring some bubble bath and a bath bomb! All three of us enjoyed baths after a long cold day standing at the game and walking around Blacksburg. It was a great way to unwind. We also picked up a movie from the Walgreens red box and had the DVD player already there. Sunday was relaxing with the pre-prepped coffee maker and a family board game. I can't recommend the beautiful views, comfy home, and excellent hosts more. We look forward to staying again during our next visit.
Tessica
2016-11-27T00:00:00Z
Art der Unterkunft
Ganze Unterkunft
---
Objekttyp
Haus
---
Unterkunft für
6
---
Schlafzimmer
Pulaski, Virginia, Vereinigte Staaten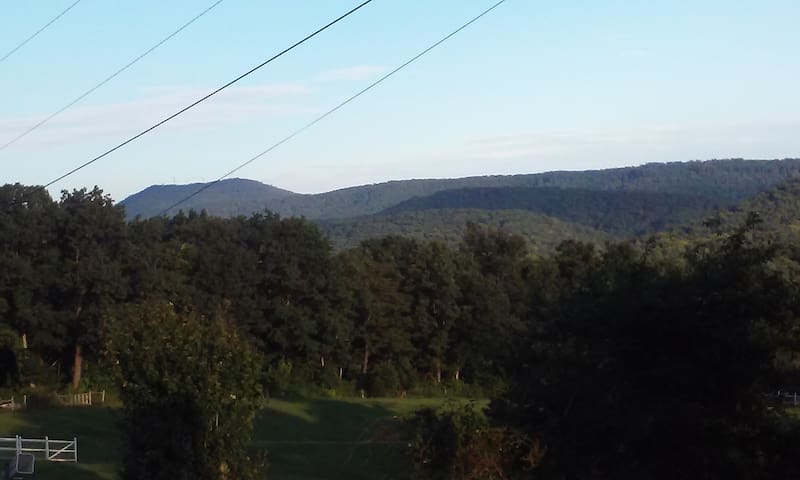 Beautiful Spacious home with amazing views. Enjoy the huge front porch in the mornings for coffee or evenings for nightcap. Huge yard and very nice neighborhood. Home has three bedrooms and two full baths. Master suite has garden tub.
The location is close to Blacksburg. It is located in a nice quiet neighborhood.
The neighborhood is very safe and beautiful. All the homes have manicured lawns.
Art der Unterkunft
Ganze Unterkunft
---
Objekttyp
Haus
---
Unterkunft für
6
---
Schlafzimmer
Pulaski, Virginia, Vereinigte Staaten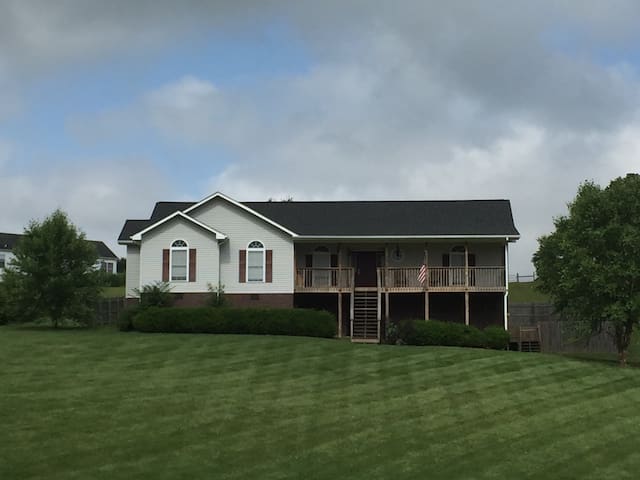 Le grand appartement (environ 1200 sq. Ft.) Dispose de 3 entrées privées sur le niveau du sol, une salle de bain complète, un mini-cuisine bien équipée, 4 grandes chambres et 2 chambres à coucher et beaucoup de grandes fenêtres partout, et un parking privé. Il est proche de I-81, l'Université Radford, Virginia Tech (20min), Bisset Park, sur la New River, Christiansburg Centre aquatique (20 min), Claytor Lake State Park, et un hôpital. Un endroit idéal pour les couples, les aventuriers solo, les voyageurs d'affaires, et les familles avec un chien et beaucoup d'enfants!
Vous aurez votre propre espace de vie au premier niveau d'une maison à trois niveaux, tout cela est au dessus du sol. Il y a des placards dans la mini-cuisine entièrement équipée avec beaucoup de plats, verres, et beaucoup d'argenterie. L'appartement dispose d'une cheminée (bois de feu inclus), un téléviseur à écran large avec le service Internet, un lecteur DVD, WiFi rapide, l'équipement d'exercice, un barbecue et un foyer. La maison est dans une zone très boisée qui vous donnera le sentiment d'être dans le pays, mais encore nous sommes dans la ville de Radford.
La maison est dans un quartier calme d'une maison de famille avec une abondance d'arbres matures et collines. La maison est sur un cul de sac avec très peu de trafic. Nous sommes à proximité du centre-ville Radford avec de nombreux magasins et restaurants.
Kay and Ken are wonderful hosts! They provided excellent local recommendations on dining and activities and were available for any questions. Too bad we arrived too late to experience the best coffee shop in Radford but the coffee in the room was better than ours at home! Their dog Sophie is so sweet and our dog enjoyed playing with her. The space is larger than we expected but still cozy for the two of us and our pup. Our dog has been relegated to leash life now that we're back in the city. They provided a very relaxing get away from city life and was just what we needed. We didn't have to worry about a thing. We will be checking this listing in the future for a weekend away, perhaps bringing our bikes this time to take Ken on a distance ride :) Thank you for everything.
Allen
2016-08-14T00:00:00Z
From the very beginning Ken and Kay were wonderful hosts. They helped carry out luggage, showed us around the house, and made sure we had everything that we needed. The location and furnishings were beyond our expectations. We would highly recommend this to other Airbnb users and definitely strive to return in the future.
Georgia
2016-09-18T00:00:00Z
Very quiet, pretty neighborhood. Ken met us outside, as we were getting there late and it was dark. He helped us carry our bags in and showed us around. Our dog was very comfortable and so were the kids. Enjoyed the breakfast that was available in the refrigerator. Very convenient to Radford University to visit with son. Ken and Kay are very nice and friendly and had a notebook set up with many menus for local restaurants and things to do in the area. My daughter loved the games that were available to play.
Tracy
2016-10-02T00:00:00Z
Kay was such a kind host and was waiting on us when we arrived. The place was clean and spacious. They accommodated our early arrival. Great quiet neighborhood. Highly recommend this place for someone needing a 2 bedroom in Radford.
Greg
2016-09-11T00:00:00Z
This is a very large space-two living areas, 2 eating tables, 3 couches, 2 bedrooms and outdoor space too! Great location to Radford campus, hiking and quiet wooded neighborhood. We were welcomed warmly, enjoyed breakfast food, good size bathroom and very clean. I would recommend to anyone, especially with pets and/or children.
Caitie
2017-03-21T00:00:00Z
My sister, aunt and I stayed here for a weekend and had a wonderful time. Ken was incredibly welcoming! They allowed us to check in early and were flexible with check out. The place was perfect! It was much bigger than I expected and very private. I would highly recommend staying here!
Brandeanna
2016-10-10T00:00:00Z
Our family spent most of the time outside on the back porch. We had all of our meals out there. We loved the wooded views. Plenty of room to spread out which was nice with the kids. While there we had use of the kyaks and spent 2 full days on the River!!!
Heather
2016-09-06T00:00:00Z
Ken was an extremely hospitable host. We arrived rather late in the day and he was there to greet us, help us with our luggage and show us around the house. The accommodations fit our needs perfectly. There is plenty of space to spread out with multiple bedrooms and living spaces. The kids loved the smart TV with YouTube and Netflix on the ready. We, the adults, loved the wood fireplace in the other living space for some peace and quiet. I would gladly stay there again.
will
2016-11-27T00:00:00Z
Art der Unterkunft
Ganze Unterkunft
---
Objekttyp
Wohnung
---
Unterkunft für
4
---
Schlafzimmer
Radford, Virginia, Vereinigte Staaten
在Claytor湖海濱酒店,提供3間臥室和2個整體衛浴。 W / D ..full廚房。 。家庭room..fireplace。客人可以充分利用碼頭。
Tamara's lakeside retreat was absolutely perfect for me and my friends to have a few days away to relax! The house was clean and cosy and perfectly situated by the water with tons of room for everyone to have their own space. We had all the amenities we needed for a great weekend away!
Ryan
2014-10-04T00:00:00Z
Tamara has a wonderful lake home. We rented it for our daughter and three grandchildren for a week in August. They absolutely loved their lake vacation and want to return ASAP. Everything was clean, comfortable, and just-modern-enough. Meaning: there were good kitchen appliances, TV/DVD, laundry, etc. And thank god there was no wifi. Our grandchildren thought they would die when they first arrived, but by the end of the week all agreed they had lots more fun without using their iPads. Do bring groceries because the nearest large grocery store is about 30 minutes away. Have a dog? Well, there is a doggie ramp going into the lake which our family really appreciated. The only problem occurred during summer thunderstorms. Every time there was a storm the power went out. It would come back on and then go off again several times during the night. Kids really thought it was exciting using candles and flashlights. However, every time the power would come back on the fire alarm would go off. Exciting for kids, but a pain for their mom. Again, this a wonderful home to have a lake vacation is beautiful Virginia.
Clayland
2015-08-09T00:00:00Z
We had a great experience on the lake. The place was just as advertised!
Cathy
2015-07-22T00:00:00Z
Visited with my husband and two toddlers and we loved it. Played in the huge backyard and enjoyed the "beach" sandbox. Had a great time grilling with the river in the background. Also really enjoyed a day at Claytor Lake Beach, which was 30 min away. Peaceful, fun, and lovely! Tamara was super helpful and responsive. Highly recommend!
Robin
2015-06-15T00:00:00Z
Really enjoyed Riverfront Reflections, everything was well stocked, and plenty of room for everyone. Everything that you could think of to enjoy the lake was provided. The outdoor space/backyard was awesome and well thought out. You can't beat the view. A few things that I noticed that comes to mind for improvement would to shore up some of the deck railing, some of it seems to be weak in areas. Also the grill has quite a lot of grease build-up and could possibly be a fire hazard down the road. The airbnb web site did not list a street address, at least one that I saw. Although the price per day was in my opinion a fair price, the web site listed $175/day, not the $195 that was charged. Maybe this was an oversight and has not been updated. All in all, we had a great time and really love your place. I would recommend it to anyone and would love to visit again.
Mark
2015-07-26T00:00:00Z
A great location with spectacular view. The home was very comfortable with plenty of room inside and out for 6 adults. Tamara responded immediately to any questions that we had. The fire pit was a delightful way to enjoy the view and the evening and it was lovely to eat on the deck. Hoping to return !!!
Hillary
2016-10-18T00:00:00Z
The house was very clean, and the location was great! My group of friends and I had a great time, and there is plenty of room for 8 or so people to sleep. Plus the dock is nice and you can easily fish off of it.
Ian
2016-10-23T00:00:00Z
Lovely, cozy, lake home provided perfect relaxation for the weekend! Very quiet and peaceful, and we loved the ride to the house with all of the rolling hills, horses, cows, and goats.
Paula
2014-09-14T00:00:00Z
Art der Unterkunft
Ganze Unterkunft
---
Objekttyp
Haus
---
Unterkunft für
8
---
Schlafzimmer
Radford, Virginia, Vereinigte Staaten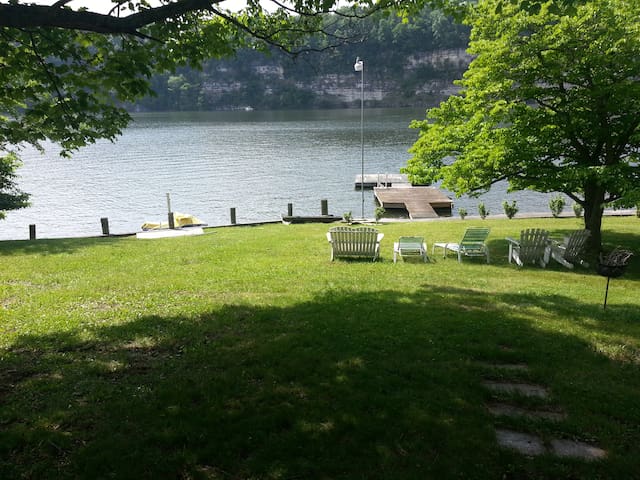 Great rental. Host is super communicative and cooperative. Lots of little touches in the cabin are nice (lots of outlets, fresh eggs, flashlight, new gas grill). Internet speed was faster than I expected given the location. Having access to the river for tubing was really cool, and Chase gave lots of specific recommendations and provided tubes. Cabin is definitely "cozy" with an older feel, which we enjoyed.
Jessica
2016-09-12T00:00:00Z
Our host, Chase, was most delightful! Chase was extremely helpful in providing area attractions, restaurant ideas, etc. We greatly appreciated your kindness!
Cindy
2015-08-10T00:00:00Z
A little slice of heaven. Beautiful views, hot tub, tubes for the river and an option of the outdoor shower all made this a wonderful experience. Chase is a gracious host. I highly recommend this place!
Walt
2016-08-03T00:00:00Z
Pros- Chase responded quickly to questions and was accommodating when I needed to bring my dogs at the last second. The home has a great view, large deck, and is close to Blacksburg. Cons- The photos are somewhat misleading and a lot of the reviews describe the home as "quirky". I would describe this home as a small one bedroom home that is cluttered with furniture and nick-nacks. The "2nd" bedroom lacks privacy as it is separated from the kitchen with paper window blinds. The photo of the master bedroom accurately shows the great view from the window but not shown is how small the room is and all the oversized furniture that clutters the space. Chase charges a $75 cleaning fee, but it appears the only thing that gets cleaned is the sheets and towels. The house was dusty and unkept, had a lot of spider webs and spiders inside the home. The deck has dry rot under the hot tub which looks like a safety hazard. If you're in a pinch this house will work, but there are much nicer homes/hotels for the same price or less.
Naz
2016-08-14T00:00:00Z
Beautiful place ! The cabin is located pretty close to the river. It accommodates 4 comfortably, and chase was very kind full to explain in detail.
annamalai
2016-05-31T00:00:00Z
Chase's cabin was just wonderful, and we thoroughly enjoyed getting to know Chase as well. The cabin is in a beautiful location, just a short walk to the river. The cabin itself is quirky and fun, really a delightful place to stay. Chase was a terrific host, communicating quickly and thoroughly in response to our questions. We definitely enjoyed the many amenities of the cabin, including the breathtaking view. We definitely plan to return.
Jonathan
2016-08-06T00:00:00Z
The place is an awesome location- in a beautiful part of Virginia and being 30 mins away from downtown Blacksburg. We had a great graduation week! Chase was super helpful throughout the whole process and stay. He was very flexible and accommodating. Worth every penny!
Marla
2016-05-07T00:00:00Z
Chase was very accessible and helpful from pre-arrival until the end of our stay. The Palisades Restaurant (15 minutes away) which he recommended was a highlight of our trip. The house is cozy and has everything you need, with a beautiful view of the river. A few glitches: ignore prior reviews that mention a hot tub, as we learned after our arrival that the tub is broken; you have to be careful with the electrical system--we tripped a breaker running a hair dryer in the bedroom; the train noise throughout the night takes some getting used to. Apart from that, a good time and a fair value. Chase really does try hard to provide a great experience. We would stay here again.
Mike
2016-11-14T00:00:00Z
Art der Unterkunft
Ganze Unterkunft
---
Objekttyp
Haus
---
Unterkunft für
5
---
Schlafzimmer
Blacksburg, Virginia, Vereinigte Staaten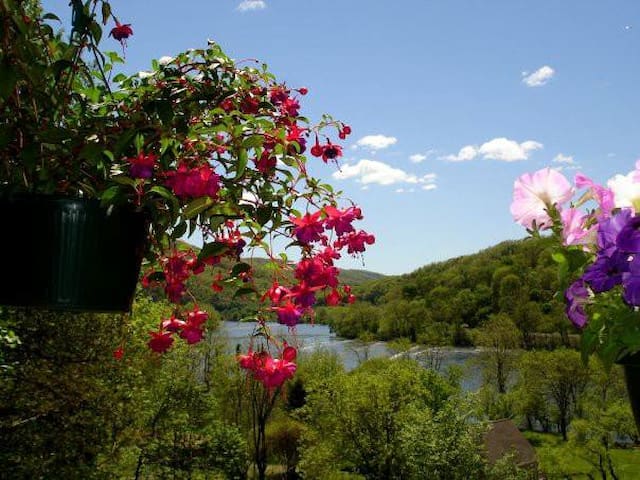 ***Limited availability through the end of 2015 due to changes in my schedule*** Lovely private room on second floor of newly renovated 1930s American Foursquare home. See separate listings for Rooms #1, #2, and #4.
Spacious room with king bed. Private en suite bath. View of historic downtown Pulaski from your window.
Downtown Pulaski is a beautiful classic American factory town undergoing a transformation. From the house it is: 1 block to Main Street. 4 blocks to the start of the Dora Trail, which connects to the New River Trail. 1 mile to Calfee Park - home of the Pulaski Yankees baseball team. 30 miles to Virginia Tech. 15 miles to Radford. 10 miles to Claytor Lake. 60 Miles to Roanoke.
To stay at Cathy´s place was a great pleasure. We got the nicest room in the house and felt immediatly comfortable. Cathy is a very nice person, though we met just brievly as we had to leave the next day. Very special thanks for your recommending us Merchandise Inc. in Draper. We had a great lunch and rent us some bicycles next door and had a wonderful day in the Little River Valley. We would have never went there without you! Thank you very much!
Tobias
2015-05-26T00:00:00Z
On our trip from Asheville to Charlottesville we've stayed one night at Cathys wonderful house. We've made a lot of airbnb stops, but this accomodation is absolutly "High standard". The house is fresh renovated and wonderful decorated, everything is clean and nice. We've met Cathy at the next morning, she's a very friendly, commuicative host. Thanks a lot for the confidence. Christa & Heinz
Heinz Gerd
2014-09-28T00:00:00Z
Host communicated very well even though she was out of town at the time of our visit. Great communication. The house was beautifully decorated and our # 3 room was very roomy and very comfortable . We loved it and our private bath. Could not operate the great room TV for TV use (common for us) but used DVD player and enjoyed that. This was our first airbnb stay with the host not home with us but we had no concerns and all went very well. Neighborhood was fine. Loved it would return there again.
Martha Ray
2015-07-18T00:00:00Z
Cathy's home is an easy trip to / from Virginia Tech. We took the backroads and avoided the pre-game traffic. Her home is beautifully restored, comfortable and spotless.
Lisa
2015-09-08T00:00:00Z
132 Guesthouse is wonderful, and a steal! The host, Cathy, was away, but left instructions for us to locate the key. The house is beautiful, immaculately clean, tastefully decorated, and has the perfect balance of historic charm and modern amenities. The big second floor back porch is an added bonus, and the neighborhood, while part of downtown, was quiet. Overall, 132 Guesthouse is at least mid-level B&B quality (without the breakfast) at a Super 8 price. While we live nearby, we we will come back whenever we need a short local getaway.
Allan
2014-10-18T00:00:00Z
I cannot say enough positive things about this wonderful home. This was third stay here, and it is an incredibly delightful, beautiful, and peaceful place to stay. Cathy has left no detail unattended in the furnishings, the cleanliness, and the overall caliber of the experience. It is the Airbnb equivalent of staying in a boutique hotel. Take our device, if you find yourself in Pulaski, make sure to schedule an overnight at this impeccable home!
Ann
2015-09-24T00:00:00Z
We are familiar with Cathy's place, having stayed there last year. As before, Cathy was quick to communicate and we arrived confident that we had a great place to stay. Her home was in perfect order, and the room was sparkling clean. It was a welcome resting point on our journey, and very convenient from I-81.
Brian
2015-04-13T00:00:00Z
Our visit to 132 was fantastic. The Guesthouse is wonderfully renovated, portraying the charm of the small town. Host communication was very timely and all went as expected. All in all, exactly the relaxing, quiet night we needed. Would definitely stay again.
Nick
2015-08-21T00:00:00Z
Art der Unterkunft
Privatzimmer
---
Objekttyp
Haus
---
Unterkunft für
2
---
Schlafzimmer
Pulaski, Virginia, Vereinigte Staaten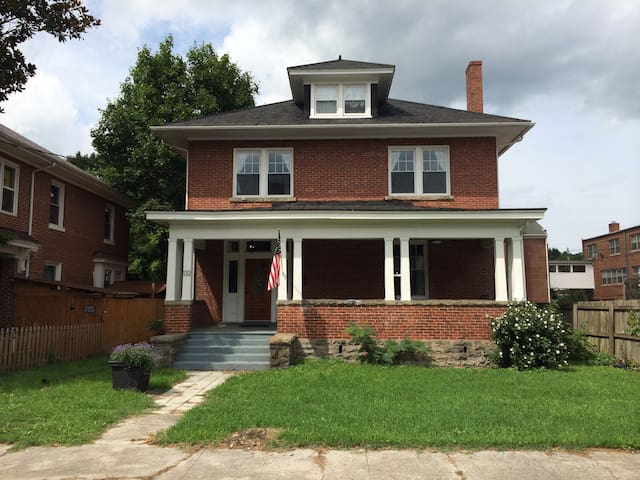 I had a very special stay at this waterfront home on Claytor Lake. The home was modern and spacious, and everything was clean and well maintained. Jen, the host, was very helpful and always responsive to any questions before and after arrival. I rented a boat from Claytor Lake Water Sports, across the lake, and had a wonderful time on the water. (They even came over to the lake house and picked me in the boat!) I look forward to another stay in the future.
Clayland
2016-07-19T00:00:00Z
The house was beautiful and a great place for my family. The dock was a great place for my kids to hang out and fish.
Lisa
2016-05-09T00:00:00Z
We enjoyed our stay in your home. The setting was beautiful and quite peaceful. I would definitely recommend this listing to others looking for a quiet waterfront locations.
Lorrie
2016-05-16T00:00:00Z
Art der Unterkunft
Ganze Unterkunft
---
Objekttyp
Haus
---
Unterkunft für
6
---
Schlafzimmer
Radford, Virginia, Vereinigte Staaten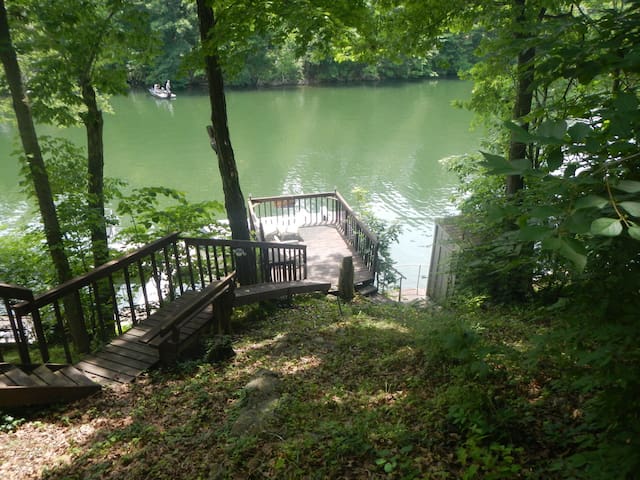 Lost Horizon Log Cabin Vacation Rental is a spacious, luxurious, romantic hideaway nestled on 15 acres in the Blue Ridge Mountains... with large wrap-around deck overlooking Claytor Lake, surrounded by nature. Brilliant starry skies, sunsets, breath-taking views & fresh mountain air await your arrival.
Here is what you'll find provided for you at Lost Horizon: Two Bedrooms with sheets, pillows, blankets & bedspreads - One Bedroom on main floor with queen bed & 31" TV - One Bedroom on top floor with king bed, TV and private balcony - Additional sleeper sofa in top floor bedroom - Downstairs sleeper sofa by fireplace Two Full baths with towels, wash cloths & hand towels 1 old-fashioned soaker tub 1 large lounging shower/steam room Fully equipped kitchen with dishware, pots, pans, coffee maker, bean grinder, etc. Washer/Dryer, iron & ironing board 3 Satellite TV(s) including 46" Large Screen with DVD/VCR & surround sound Downstairs bar w/ cocktail glasses, stemware, Ice/ beverage buckets and wine refrigerator Charcoal Grills & outside dining tables 1,100 sq ft. surround deck overlooking the lake & mountains 58 mile State Park hiking/biking/horseback riding trail within walking distance ( ½ mi) Private deck and dock on the water for boating & fishing "Flamingo Cantina" rustic little dock house w/window bar, furniture & grill on private dock Two Canoes, oars & 6 lifejackets (includes 2 small child size jackets) Fire Pit by the lake with wood to burn Horseshoes & horseshoe pit down at the lake Porch Swing overlooking the lake Flower garden with bog and lighted fountain fish pond Secret Garden with sing & solitude Board Games, DVDs, CDs, radios, shelves of books Compost bin & recycle bins for earth-friendly people like us Central heat & air Gas & wood fireplaces – chopped wood provided for you too!
Lost Horizon Cabin sits on top of 15 acres with breath-taking views overlooking the lake. Easy access to your private dock on the lake - walk or drive down to the dock. Within walking distance to New River Trail, a 58 mile hiking, biking, horseback riding trail.
Art der Unterkunft
Ganze Unterkunft
---
Objekttyp
Blockhütte
---
Unterkunft für
8
---
Schlafzimmer
Hiwassee, Virginia, Vereinigte Staaten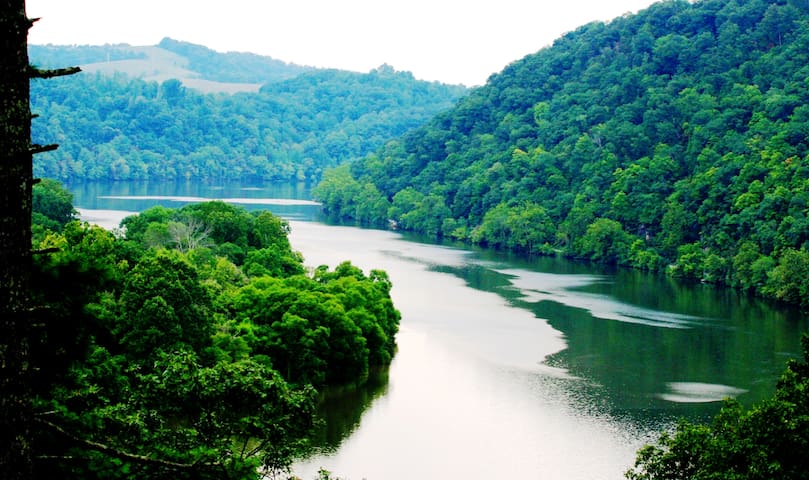 This wonderful home is very close to Radford University about 7 miles much closer than staying in Blacksburg or Christiansburg. It is in the country so be prepared. It is easily accessible from 81 but the roads are country roads. We found this to be a perfect place for our family. Eppy was a wonderful hostess. The house is clean and well equipped. The host stays on the property so they are available if you need anything- but we had everything we need. They even stocked the refrigerator for us so we didn't have to go out for breakfast on the first day. The main bedroom has a very large bed and bathroom. There is another small room with a twin bed and another bath. We found this to be a perfect place for us to visit our son for the weekend.
Susan
2016-10-16T00:00:00Z
Everything was perfect, my girls and I loved stayed here. Would Definitely stay here again.
Ryan
2016-08-28T00:00:00Z
Judy and her daughter Wendy couldn't have been more welcoming, friendly and helpful. We had a very restful stay, which we really needed after the drama of evacuation from Hilton Head because of Hurricane Matthew. We had the whole house to ourselves - two bedrooms, two bathrooms, big well-equipped kitchen, big living room, all very light and airy and comfortable, particularly the huge bed. The house shares 22 acres of garden, including a stream at the bottom with Wendy's home at the top of the drive. It is very quiet and peaceful. We explored the area, which is beautiful; a car is essential, as restaurants, supermarkets etc are a drive away. SATNAV we found to be patchy in the area. We loved it there.
Robert
2016-10-11T00:00:00Z
The house is beautiful, very spacious and clean. Judy's daughter, Wendy, was very friendly and offered us an extra bedroom even though it was not listed. It's surrounded by greenery, and the area is quite beautiful. Would definitely recommend staying here!
Joanne
2016-05-16T00:00:00Z
The home was very clean and Judy and Wendy were terrific host. Would stay there again on my next visit to Radford.
Bill
2016-11-28T00:00:00Z
Wendy was quick to respond to any questions that we had. Check in and check out were extremely easy! The house is very secluded but it's absolutely beautiful. I would love to come back during the spring or summer. The creek running through the property is so gorgeous! The house was very clean and I can't stress enough how comfortable that king sized bed was!!!!!! We had a great stay.
Megan
2017-01-16T00:00:00Z
Lovely spot with an easy late check-in while we were road tripping over the Christmas holidays. The house was clean, comfortable and beautifully presented with lots of nice homey touches to make us feel welcome.
Michael & Viviane
2015-12-24T00:00:00Z
Judy's house is a welcome quiet retreat in a rural setting. The beds were very comfortable and the house was perfectly suited for our purpose. Our host was very accommodating, including working with us to allow our two small dogs in her charming home. I would highly recommend this home to anyone needing clean, comfy accommodations in the area.
Christa
2016-09-14T00:00:00Z
Art der Unterkunft
Ganze Unterkunft
---
Objekttyp
Haus
---
Unterkunft für
4
---
Schlafzimmer
Radford, Virginia, Vereinigte Staaten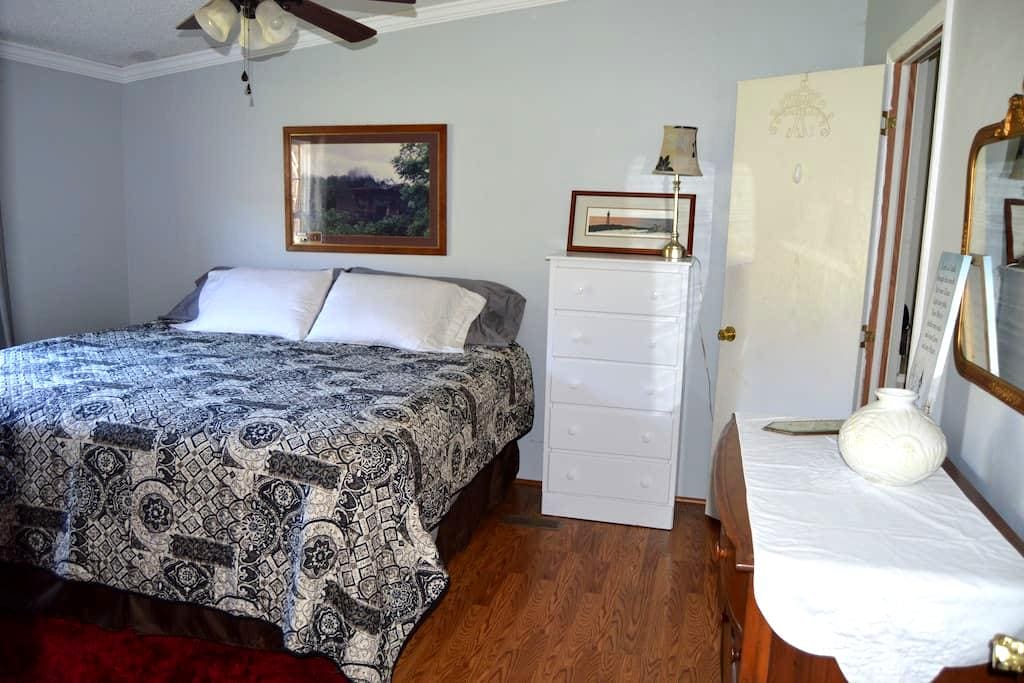 Ruim 4000 sq ft huis, met 5 slaapkamers 2,5 badkamers. Slechts 15 minuten van Virginia Tech en 10 minuten van Radford University. Thuis is prive en het land verbindt met de nieuwe rivier. 5 minuten van Walmart en diverse restaurants erg handig. 2 nachten minimum verblijf.
Groot en ruim, met uitzicht op de rivier. Afgelegen op 7 acres klaar voor al uw games. In de buurt van Virginia Tech en Radford University.
Zeer rustig en afgelegen, maar dicht bij alles.
This stay was very nice. Michael & Latasha made the arrival process so easy. Their place is well equipped and it is nice to both explore nearby, or have a nice gathering. They welcomed us by snacks and were very kind in letting us use some of their own things as we might run a bit short on some groceries too. They communicated to us very well and were very hospitable.
Alborz
2016-09-06T00:00:00Z
We had an amazing time. Latasha was so welcoming and even had good bags waiting for us when we arrived. I couldn't say enough about how thoughtful they were in treating us guests like guests. The house looked exactly like the photos and was extremely clean. Leading up to the booking I had a few questions and latasha answered almost immediately. I would recommend this place to anyone. We rented the house for a large group on a VT game day weekend. The house was the perfect size, just large enough that everyone had their own space. Travel into Blacksburg was easy with uber. I was lucky and happened to get rides at off times (2 hours after game end and 1.5 hours before bars close) which cost about $25. At peak times like right after the game, it can go up to $100 per way. Just something to keep in mind but wasn't an issue for us because we were out and about all day. hopefully we'll be back next year! Thanks guys!
Lauren
2016-11-13T00:00:00Z
Michael & Latasha went out of their way to make sure we felt at home. Every room had a personalized gift basket. The place was extremely clean and looked just like the photos in the listing. It was right next door to a restaurant (another other stores) and 15 minutes from downtown Blacksburg. I would not hesitate to recommend this location for any future visits to the area.
Steve
2015-09-08T00:00:00Z
We would highly recommend this home for anyone visiting the Blacksburg/Radford area. We had a group of 8 for our son's graduation and had a great long weekend. Latasha was a very welcoming host, the house was beautiful and comfortable, with lots of little extras thrown in to make the stay special. It's only about 20 minutes from Blacksburg, and 10 from shopping and restaurants, yet in a quiet, wooded area with lots of privacy. In short, it's an ideal place for a family gathering for any occasion, or just to get away from it all.
Sandra
2016-05-15T00:00:00Z
Excellent hosts. They we're very welcoming.
Doug
2016-05-10T00:00:00Z
Art der Unterkunft
Ganze Unterkunft
---
Objekttyp
Haus
---
Unterkunft für
14
---
Schlafzimmer
Radford, Virginia, Vereinigte Staaten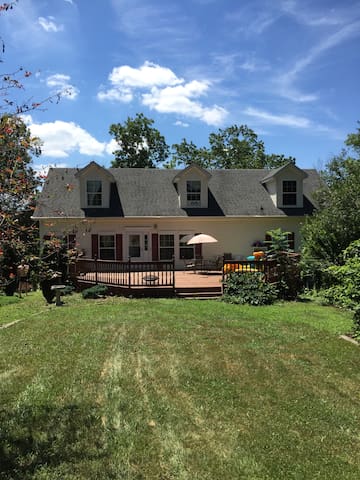 Art der Unterkunft
Ganze Unterkunft
---
Objekttyp
Haus
---
Unterkunft für
6
---
Schlafzimmer
Pembroke, Virginia, Vereinigte Staaten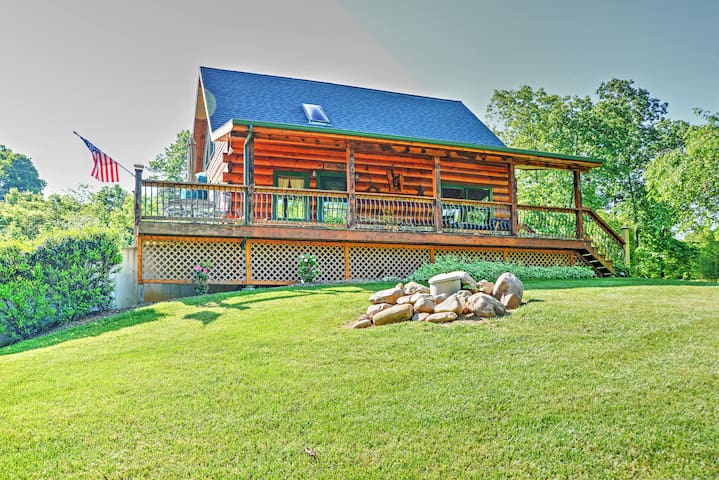 Experience a memorable retreat when you stay at this 4-bed, 2-bath house! Featuring views of Claytor Lake and accommodations for 8, 'Lake Vista Lakefront Retreat' offers immense comfort, endless Hiwassee area excitement and direct access to lake activities.
Discover your own personal oasis when you stay in this beautiful vacation home. Nestled away in a quiet residential area of the southwest Appalachian Mountains of Virginia, 'Lake Vista' boasts breathtaking water views of Claytor Lake and fantastic amenities - truly offering the quintessential lakefront retreat! This unit is the ideal lodging choice for quiet families or groups of friends traveling together, and centrally located for those attending nearby events at Virginia Tech or Radford University. Inside, you'll discover a warm and welcoming space, comprised of 1,900 square feet of stylishly appointed living space and all the necessary comforts of home including wireless internet access, air conditioning and in-unit washing machines. Early risers will love to sip their morning coffee on the breezy private porch, overlooking the pristine lake waters as the warm Virginia sun scatters golden hues across its sparkling surface. Curl up with your favorite book by the cozy gas fireplace in the living room, or kick back on the plush couch to watch your favorite movie on the flat screen TV. After a long day of splashing around in the lake, come home to refuel with a tasty meal prepared in the fully equipped kitchen - stocked with everything necessary to create your culinary masterpieces. Head outside to dine with your loved ones in one of the marvelous exterior spaces this property offers, ranging from the serene covered breezeway to the peaceful backyard patio and pergola. Everybody in your group will love to indulge in a sweet treat by the water, as you gather to roast marshmallows around the lakeside firepit. When you're ready to call it a night, retreat to one of the 4 inviting bedrooms to rest up for the next day of Claytor Lake adventures!
Perhaps the best feature of this home is it's phenomenal location! From here, you will be merely steps from the property's private dock on Claytor Lake, where you can spend hours boating, kayaking, swimming and splashing through the refreshing water. The private dock features a ceiling fan, full seating area, boat lift and extra fishing dock for your convenience. Spend leisurely evenings unwinding on the dock's covered deck, watching the boats float by right before your eyes. The fishermen of the group will be delighted to spend peaceful mornings casting a line off the separate fishing dock, ideally located directly next to the main dock. Other outdoor activities include hiking and biking through New River Valley State Park, horseback riding, or playing golf at one of the several courses just 20 minutes away. The whole family will love exploring the popular water park and frisbee golf course at Randolph Park in Dublin, or learning about the local culture at Ratcliff Transportation Museum and Train Station in Pulaski. When you're feeling adventurous, make the drive to local wineries - White Barrel or Chateau Morrisette - for an afternoon tasting before enjoying dinner at the Blue Door Cafe. Whether this is your first time visiting Claytor Lake, or the continuation of an annual tradition, this marvelous Hiwassee area vacation rental house will quickly become a home-away-from-home you wish to return to year after year.
Art der Unterkunft
Ganze Unterkunft
---
Objekttyp
Haus
---
Unterkunft für
8
---
Schlafzimmer
Hiwassee, Virginia, Vereinigte Staaten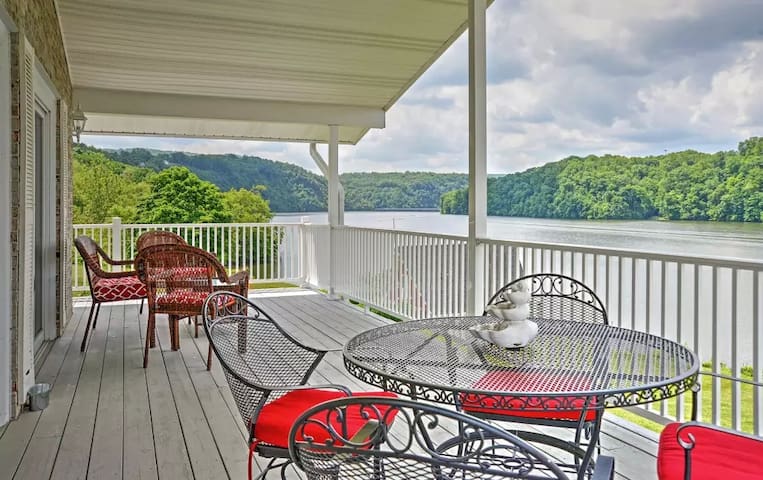 Art der Unterkunft
Ganze Unterkunft
---
Objekttyp
Haus
---
Unterkunft für
10
---
Schlafzimmer
Radford, Virginia, Vereinigte Staaten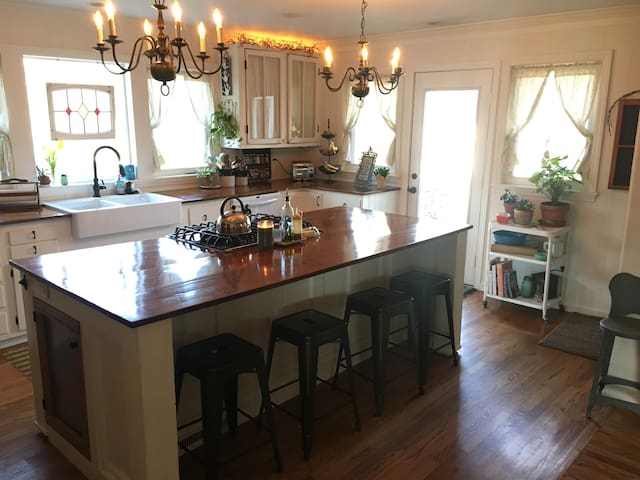 The house is lovely and the views/location are lovely. The driveway defeated us so we had to hike up the last steep hill but that wasn't too bad. Julie's house sitter was terrific and helped transport our stuff up the last stretch of the drive. Definitely consider having 4 wheel drive if you stay here. My daughter and I had a ball looking after the goats and hens. Be prepared for the rooster to wake you up before sunrise with his crowing! We thought that was great but others might not like such an early alarm clock. The cat is a sweetie. Our dog had a ball running around. The satellite internet/tv struggled to stream on cloudy days but we weren't there to watch tv so it didn't really bother us. A very memorable experience and Julie is very helpful.
Lynnea
2017-01-01T00:00:00Z
The house and the view were amazing! We really enjoyed our stay there. The house is off the beaten path enabling you to really take in the scenery. This was our first time using Airbnb and really did not know what to expect. The hosts were very kind and helpful. We could not have asked for a better experience.
Michael
2016-05-16T00:00:00Z
We so enjoyed our Thanksgiving holiday at Badgers Run. This is a great home for getting away from it all. The pictures do not do it justice! It is spacious with wonderful views and convenient to Blacksburg and VT. The animals are an added bonus: goats, chickens and Toby the most lovable house kitty.
Martina
2016-11-26T00:00:00Z
Art der Unterkunft
Ganze Unterkunft
---
Objekttyp
Blockhütte
---
Unterkunft für
8
---
Schlafzimmer
Blacksburg, Virginia, Vereinigte Staaten

1

–

18

von

25 Unterkünfte
Gib deine Reisedaten ein, um den aktuellen Preis zu sehen. Es können zusätzliche Gebühren und Steuern anfallen.