Eine kleine schöne ruhige Selbstversorger privaten Charakter Wohnung in einem Teil des Hauses mit Kochgelegenheit usw. 3 ARCES FÜR PFERD Zwischenstopp auch! Holzofen mit einem Korb geliefert! Es war das Geschäft des Old Taylor zurück in den Tagen Kleidung aus Stoff in der nächsten Türen Old Mill gemacht zu machen! Im Obergeschoss Leiter Stil Treppe Crog Loft-Stil DB Schlafzimmer / eigenes Bad. Mit Blick auf Fluss und Gärten in Künstlerhaus in einem kleinen Dorf von Glandwr neben Lammas Eco Village!
Es ist eine einzigartige gemütliche ruhigen Rückzugsort und Künstler Residenz! Shabby chic voller Charakter. Sian hat ihren magischen künstlerische Elemente in ihrer 35 Jahre hinzugefügt, hier zu leben und ihre Bilder sind übersät rund um den Ort! Auch erhältlich Drucke und Karten und Provisionen! Die Südlage sonnigen Garten blickt über einen großen reißenden Fluss unten, und Sie können mit den Klängen von Wasser in den Schlaf gewiegt werden! Wenn Sie Glück können Sie einen Reiher, Wildenten zu fangen oder zu sehen Otters und Fisch! Das Dorf ist klein und freundlich und hat eine Community-Shop geöffnet mittwochs, freitags und samstags für den Grundbedarf und frische, hausgemachte Kuchen und Eis einen kurzen 5 Minuten zu Fuß! Es ist mein 3-Morgen-Feld zu gehen und mit einem Schwung in alte Eiche spielen in. Sitze unter Eiche und Feuerstellen, wenn Sie wollen, um Holz zu beschaffen und ein Lagerfeuer haben! Ich kann ein Pferd in 2 Paddocks unterzubringen, wenn ein Pferd Urlaub an den Extrakosten zu wollen! Ein kleiner Wald Rundweg mit Feder Pool und wenig Plätze für Kontemplation, blauen Glocken im Frühjahr und Bärlauch! Der Unterricht kann in der Malerei, die Kartenherstellung und Schmuck arrangiert werden, wenn im Voraus gebucht! Auch lokale alternative Behandlungen können wie Massage, Reflexzonenmassage für die Füße und Gesicht angeordnet sein, Sacrocranial etc und Sian selbst hat Diplom in Indian Head Massage !! Oder besuchen Sie die lokalen Spar im Cliff Hotel Gwbert, Cardigan 20 Minuten entfernt für £ 10 für zwei Stunden für eine Sauna, Jacuzzi, Schwimmen usw. Sie können dort das Mittagessen mit Blick auf einen Panoramablick auf das Meer in neu renovierten Restaurant. Wir sind 20 Minuten von der unberührten Küste von Pembrokeshire und der berühmten Küste Pfade und spektakuläre Landschaften. 10 Minuten von den berühmten mystischen Bluestone Preseli Mountains, wo die Bluestone von Stonehenge stammte aus! Es ist eine wirklich beeindruckende und schöne Gegend mit dem Auto und Fuß viel zu entdecken von Reiten, großen Kinos, Theater, Musik, coasteering, Kanufahren, Surfen, Radfahren, Trekking, Bootsfahrten, Delfine und Inselbesuche etc etc zu sehen und zu tun! Es gibt viele Broschüren und Bücher über die Region für Ausflüge zur Verfügung gestellt und Wanderungen in der alten Taylors Geschäft, wo Sie bei Danderi Retreat bleiben! Zwei taylors arbeitete dort Kleidung aus Stoff auf, der Woollen Mill gewebt 2 Türen und die Schafe, die in Flussbad unten Haus gewaschen werden! Der alte Herd bleibt hinter dem Holzofen Zugabe Charakter und Charme! Der Raum ist hell und hell und freundlich und neu eingerichtet mit großen Fenster mit Blick auf Fluss und den Garten! Ein herzlicher Empfang erwartet Sie mit kostenlosen traditionellen walisischen Kuchen und einem pfeifenden Kessel auf dem Herd! "Theres ein Empfang in den Hügeln", wie sie in Wales sagen! Haben Sie jetzt die Art Studio eingerichtet und ist als ein zusätzlicher Raum für den Gebrauch zu schreiben, zu malen, treffpunkt mit Balkon mit Blick auf Garten !! Es wird zusätzliche Preis oben auf £ 25 pro Tag der Verwendung! Auch wenn Sie ein Pferd haben und wollen es bringen gibt es ein 3-Morgen-Feld für sie zu durchstreifen und frisches Quellstrom mit einem zusätzlichen Aufpreis von £ 10 pro Nacht und Zimmer ein kleines Pferd Box zu parken! Bitte meine Heimat respektieren und lassen Sie es, wie Sie es so viel wie möglich gefunden, die ich viel Mühe gegeben es so schön zu machen, wie ich kann für die Gäste! Jeder Bruch bezahlt werden!
Sehr schönes, kleines, freundliches Dorf mit Gemeinschaftslauf-Shop mittwochs Freitag und Samstag und einem organischen Gemüseladen außerhalb des Dorfes selbst dienen! Wir sind 10 Minuten vom neuen Lammas Eco Village entfernt, wo am Samstag von April bis Oktober können Sie für eine Tour gehen! Siehe erster Hand nachhaltiges Leben ein, wie sie für £ 4,00 um 11 Uhr leben! Sie haben auch einen kleinen Laden mit Grund ganze Lebensmittel, Schokolade usw. Sie selbst helfen und zahlen in Ehrlichkeit Box. Wir haben auch das gleiche mit einem lokalen Bio-Gemüseladen, die Käse und Konserven sowie eine Reihe von Obst und Gemüse eine 10-minütige Fahrt oder halbe Stunde zu Fuß immer offen mit Ehrlichkeit Box hat!
We really enjoyed our time at Danderi. It was medicine for the soul. Lush surroundings, compact living at its best. I loved the cat, he sat on my lap a few times....I highly recommend a stay if you like country life and artistic cottages :-)
Lani
2015-05-22T00:00:00Z
We returned to Sian's lovely accommodation and had another fantastic, relaxing stay. All the little touches that she does for her guests make the Danderi Retreat a really special place to escape to.
Will
2016-02-22T00:00:00Z
We had a lovely time at Sian's. Its a tranquil location so quiet and peaceful. The flat is so cosy and warm, we really loved staying here and would love to come back sometime Wendy and Andy Conner
Wendy
2015-04-06T00:00:00Z
Amazing peaceful location , amazing house and great host! We absolutely loved our weekend at Sian's, she's lucky we actually left as it was so difficult to!
Katherine
2015-07-06T00:00:00Z
Sian's little cottage is a gem! We stayed there for valentines day and we couldn't have asked for a better experience. We were welcomed into the house with candles, fairy lights and a perfect valentines weekend getaway setting. Sian is an absolute sweetheart, and the views right outside the cottage was one out of a movie setting. We will definitely be coming back again one day. Thankyou Sian
Adam
2015-02-16T00:00:00Z
Sians place is amazing! Cosy and set in the middle of beautiful nature. Recommended for a romantic get-away.
Maa
2016-07-17T00:00:00Z
A genuinely amazing flat and the same for the surrounding area. Very well equipped kitchen and the log burner warmed the place a treat! Would love to visit again. Sian made us feel very welcome (welsh cakes and a pre-made fire on arrival!) and had some useful tips on interesting places to visit nearby.
Eddy
2015-03-02T00:00:00Z
A lovely secluded hideaway. Perfect for a romantic break. The house is beautiful and well equipped. The log burner made it cosy at night. Sian was extremely helpful and a pleasure to deal with. Highly recommended!
Oliver
2016-06-19T00:00:00Z
Art der Unterkunft
Ganze Unterkunft
---
Objekttyp
Wohnung
---
Unterkunft für
2
---
Schlafzimmer
Whitland, Pembrokeshire, Vereinigtes Königreich
This was our second visit to the Holiday Cottage, this being over Christmas. Our hosts were as gracious as ever, festively decorating for us. Thank you for the Christmas tree! We can't recommend this cottage enough. Everything you need is to hand.
Damien
2015-12-28T00:00:00Z
We received a warm welcome from Chris who showed us around the bungalow, which was very clean with good matching sheets and towels. It also had a good heating system, which we needed although it was July! Chris is very friendly and I felt he would have helped us if we had had any queries or problems. The only critism we have is minor. We could have done with more crockery as there were only four of everything.
Anne
2016-07-12T00:00:00Z
We had a fantastic time. Chris went out of his way to make our stay most enjoyable.The house was perfectly clean and quiet. It offered absolutely enough space for 4 adults. We highly recommend it.
Renate
2016-08-01T00:00:00Z
Excellent accommodation in a very beautiful area, excellent for walking, historical sites, and beaches. Chris is a very friendly, helpful and welcoming host.
john
2015-08-07T00:00:00Z
We have been travelling for 6 months & this would be one of the best Air BnB's we have used. It was spotless, had all the mod cons, & was super comfortable. Chris was the friendliest host, who was super helpful. We will definitely be going back.
Sharyn
2016-03-25T00:00:00Z
we have found a perfect host. He has helped us in everything. the house has a quiet, perfect for what we seek location. chris was available to help in cleaning clothes, something I appreciate a lot- I hope all is well in your life because it is a good host and people
J Antonio
2016-02-25T00:00:00Z
The cottage was pretty new, clean and confortable. We did not meet Chris but his friend Paul was very friendly and helpful. We would reccomend to all the people who like peace and lovely nature
Marina
2016-03-29T00:00:00Z
Very friendly and helpfull Nice house warm and clean We enjoy our stay lovely To walk and drive trough all THE small places
Hans
2015-07-25T00:00:00Z
Art der Unterkunft
Ganze Unterkunft
---
Objekttyp
Haus
---
Unterkunft für
4
---
Schlafzimmer
Whitland, Wales, Vereinigtes Königreich
A wonderful welcome from Natasha and baby Barnaby, who met us as our car pulled into the drive. The yurts are fabulous and look out over lovely fields. Interesting ruined Church just up the road. Very interesting to chat with Guy about the design and build of the yurts which are made on the farm.
Eamon
2014-08-16T00:00:00Z
Beautiful location and friendly hosts who were very helpful, great place to stay. Diolch yn fawr.
Garmon
2014-08-30T00:00:00Z
We had a fab time at Natasha and Guy's lovely farm. We were made to feel very welcome, Natasha showed us around and considering they have only been 'glamping' for a few weeks I think they had pretty much everything covered! The Yurt is beautifully made, it was a little cold but only because of our British summertime! We had lots of blankets to keep us cosy, just a shame it rained so we couldn't enjoy our little decking area or campfire under the stars. We will be back for sure! But probably once our 7 month old is a little older so she can enjoy the experience too!
Emily
2014-08-19T00:00:00Z
We really enjoyed our 2 nights at Fron Farm. The yurt was great and the roundhouse particularly impressive, all true to the detailed description and photos here.
David
2015-07-31T00:00:00Z
For my first stay in a yurt it was a fantastic experience. There's nothing better than sitting around a camp fire watching the stars.
Adam
2014-08-18T00:00:00Z
Natasha is a welcoming host since we arrived the yurt. It was our first time to live in a yurt and experience the nature and accompanied with a flock of sheep. We enjoyed it very much.
POHUNG
2015-07-05T00:00:00Z
Just returned from a lovely stay in Natasha and Guy's yurt. The yurt was beautifully made by Guy, and all was really clean, comfy and welcoming. We had a mix of fine clear nights, and one where it hurled with rain- both really enjoyable and cosy. On the clear night, we watched the stars from the campfire; when it rained we settled down to draughts in the caravan (genius move as an extra space, and for cooking, showering and hanging out). The site is great and the family are super friendly. Being on a farm really worked for us- my little girls found their own eggs in the morning, we watched the shepherd bringing in his sheep in rain and shine, and we loved 'helping' (maybe not) with the goats and meeting Natasha's dad. There's loads to do without leaving From Farm, but we also squeezed in amazing beaches nearby and in Pembrokeshire and a trip to Langharne to Dylan Thomas' Boathouse. Loved it- and great value too.
Janey
2014-08-28T00:00:00Z
Our first yurt experience! Wonderful place and welcoming thoughtful hosts. Thankyou!! We will be recommending to our friends and family
LJ
2016-05-14T00:00:00Z
Art der Unterkunft
Privatzimmer
---
Objekttyp
Rundzelt
---
Unterkunft für
4
---
Schlafzimmer
Llanboidy, Vereinigtes Königreich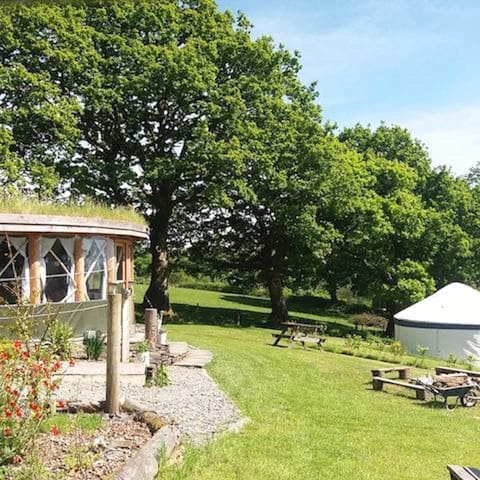 Cottage rustique ancienne ferme de 300 ans en maison de campagne victorienne privée à distance, Carmarthenshire, au sud-ouest du Pays de Galles. Grande cuisine, salon avec véranda, jardin, salle de bains haut et en bas WC et lavabo, deux grandes chambres, la réception.
Il y a une grande cuisine ferme avec une table ovale et cinq chaises à l'étage. Cuisinière électrique avec four et frigo avec congélateur, avec micro-ondes etc La cuisine porte de l'écurie s'ouvre sur le jardin. La chambre principale est le long de l'atterrissage d'un lit king size et un grand espace de rangement ainsi que des volets en chêne; suivant est le long de la salle de bains principale avec lavabo, WC et douche / baignoire et Placard aération Le salon dispose d'un canapé-lit qui peut accueillir deux personnes, une télévision et un canapé, des chaises, et l'entrée conservatoire. Il dispose de volets originaux et plusieurs vitraux anciens. Le jardin d'hiver est assis le long des deux côtés et ouvert sur le jardin à l'arrière, qui à son tour est entourée par des champs avec des moutons occasionnels errer. Au rez-de-chaussée est la deuxième chambre qui a un lit double et un lit simple et un petit WC / lavabo à côté. Il y a du chauffage central tout au long de l'huile tiré. Il y a aussi une grande salle de réception avec des sièges au rez-de-chaussée qui pourrait être utilisé pour accueillir des personnes supplémentaires. Je serais heureux de fournir des matelas à cet effet pour une taxe supplémentaire. La ferme donne sur la succession Dolwilym située dans la vallée de la rivière Taf. La maison ainsi que les différents bâtiments convertis sont les propriétés que dans cette vallée isolée splendidement. Nos seuls voisins sont les chauves-souris, des hiboux, des hérons, des renards, des blaireaux, etc. Il y a beaucoup de vieux et beaux arbres. . chêne, frêne, hêtre, etc ainsi que de nombreux rhododendrons, azalées, jacinthes et jonquilles. Étant donné qu'il n'y a pas de pollution lumineuse ou son ici, une nuit claire, les étoiles filantes sont monnaie courante, visible au milieu des multiples couches d'étoiles et cela peut être vraiment magique, surtout quand les seuls sons sont chouettes huées parmi les arbres. Dolwilym était la maison de la famille agissant Garrick unique qui fait référence à elle comme « Happy Valley ». Il a été chez moi depuis plus de 30 ans.
La chose la plus extraordinaire à propos de la succession Dolwilym est son emplacement. Il n'y a pas de villages à proximité, et le hameau le plus proche se trouve à 12 mindute le long de la berge de la rivière. Dolwilym Farm est au sommet de la succession, et a été converti de 300 + année anciennes dépendances en plusieurs espaces de vie magnifiques. Un peu plus loin sur la piste est un studio d'enregistrement couplé avec une cabane en rondins qui est utilisé comme studio commercial résidentiel. Plus loin sur la piste sont encore les maisons principales, composé de deux dépendances aménagées, la cuisine maison originale (l'hôtel lui-même a été renversé), une maison d'entraîneur, une écurie, un hangar de poulet, une porcherie et une piscine extérieure et jardin. À la suite de la piste autour de vous verrez le jardin clos d'origine, cela est également visible à partir du chalet. La piste des boucles puis autour et remonte jusqu'au sommet où l'église St Cledwyn est situé. Toutes ces terres sont privées et toutes les propriétés face cachée vallée Dolwilym vers la rivière Taf, où l'ancienne ligne de chemin de fer désaffectée longe indentifier. Vous pouvez vous promener le long de la voie ferrée pour profiter des rives de la rivière et d'explorer la jolie région boisée surronding la propriété: bottes en caoutchouc sont un must! Il y a Tescos dans les deux Haverfordwest et Carmarthen 30mn à propos de loin. Tescos délivrera aussi. Il y a un magasin local et un garage qui sert du poisson et frites environ 5 minutes en voiture. Le pub le plus proche (Peny Bont) est 12mins promenade dans Llanglydwen. Le bourg de Narberth est de 15 minutes sur la route avec de nombreux restaurants branchés et des boutiques et des pubs. Tenby, Saundersfoot, Pembroke et Manorbier ne sont que quelques sites touristiques magnifiques à visiter des châteaux et des plages une abondance sur la côte Pembrokeshre. Intitulé jusqu'à Cardiganshire il y a Cardigan, Mwnt, St Dogmaels, Newport, Fishguard encore des châteaux avec des plages, des églises, des chapelles, des promenades côtières, et une pléthore d'autres superbes lieux de beauté naturelle et de la faune. La plupart des villes de la région ont une vie nocturne animée, avec des pubs, salles de concert, restaurants, hôtels et clubs tous les approvisionnant aux touristes en profiter de la culture locale. Pour tout public la région est bon pour: pêche, canoë, natation, plongée, plongée en apnée, l'équitation, le surf, le golf, l'automobile hors route, vélo, course, randonnée, voile, etc. Les montagnes Preseli sont aussi ancré dans l'histoire locale comme la succession Dolwilym, et sont seulement deux pas. Il y a une foule de forts âge de fer à travers les montagnes, y compris Foel Drigarn juste à l'extérieur Crymych et Castell Henllys à Newport, qui est un site convivial touristique. Juste à l'extérieur de Pembroke, vous trouverez aussi des lieux insolites tels que les étangs de lys Bosherston, donnant sur la plage Barafundle, ce qui est une belle promenade à travers les étangs à cette belle plage de sable, classée comme l'une des dix meilleures plages du Royaume-Uni. De plus le long de la côte est le château de Manorbier, qui est l'endroit utilisé pour filmer la série télévisée originale de Narnia (Le Lion la sorcière et l'armoire magique), aussi populaire auprès des surfeurs! Tenby (petite Angleterre au Pays de Galles) est une ville pittoresque de la période de 18 miles de Dolwilym, avec des plages magnifiques, un château, des attractions touristiques sans fin, des pubs, des restaurants, des excursions en bateau vers l'île Caldey voir le monastère, et bien plus encore. se trouve Cauldron la sorcière Cardiganshire dans l'autre sens, accassible via le sentier côtier du Pembrokeshire, il est un trou de coup axtra ordinaire dans la falaise fréquentée par les phoques et les marsouins de temps en temps ... Newport est une courte distance de Dolwilym et est une autre ville balnéaire période attrayante avec des pubs et des restaurants, un petit château, un club de golf et promenades fantastiques.
A gorgeous cottage in an absolutely stunning location - we will definitely be back, cannot recommend enough. Brilliant communication and host. Perfect break in every sense!
Louise and Ewen
2017-01-29T00:00:00Z
We loved Pam's spacious house and its beautiful setting. Unfortunately we were only there two nights, and didn't have as much time as we would have liked to explore the property and the surroundings. Pam lives just next door and was very helpful, even lending us some cooking ingredients. Thanks for the wonderful stay!
Tara
2016-07-06T00:00:00Z
Pamela was very friendly and very helpful. We had only one night in her big, nice house in a great landscape. Everything what we need for a lovely time was available. Very much recommended.
Michael
2016-07-13T00:00:00Z
My mother and I enjoyed staying at Pamela's, the location was both private and beautiful. The house had great character, and Pamela was a fun and friendly host. There was plenty of space in the house to rest and relax, and it's a lovely place to stay at if you feel like going for a stroll through beautiful woodland. Pamela was on hand at all stages to answer any queries and she gave us good advice on what roads and routes to take to get from A to B. She also gave us great advice on what to see and do whilst in Hebron, that made our stay very enjoyable.
Hana
2016-07-04T00:00:00Z
We had a wonderful stay, perfect location for a weekend with friends or a romantic getaway: beautiful surroundings, peaceful and quiet, lovely rooms, great kitchen. We only stayed for one night, but we would love to come back for longer. Pamela was very helpful, and very friendly. Would recommend this place!
Marjolein
2016-11-27T00:00:00Z
Great stay in a lovely location! Really enjoyed the barn and had a really nice walk through the forest as well. Thanks Pam!
Dan
2016-09-09T00:00:00Z
Pamela was really nice with our family. The farm is as in the photos and was really good to enjoy one night in a real welsh farm.
Rocio
2016-09-01T00:00:00Z
Lovely stay. Great old farmhouse cottage set in great surroundings with clean and comfortable rooms. The bed was very comfortable and the sheets were fine quality. We slept well. Great for a romantic weekend, and also planning to return with the kids! Very private and tucked away, a magical find!
Frances
2016-01-31T00:00:00Z
Art der Unterkunft
Ganze Unterkunft
---
Objekttyp
Haus
---
Unterkunft für
6
---
Schlafzimmer
Hebron, Vereinigtes Königreich
Cosy and natural space for one or two people, perfect for friends or a parent & child, this little straw bale & lime plaster building with earth floor is a totally unique experience in a very special setting. The little 'eco-pod' building adjoining our earth greenhouse is sited in a tranquil spot on our smallholding at the Lammas Eco-village. Enjoy lots of green space, get to know our animals, use renewable energy & compost loos, for the adventurous and curious there is no place like this!
Land based livelihood, low impact living, and the good life! All are part of our eco-smallholding where we make our living from the land. We have geese, chickens, dog, cats, sheep & ponies, hundreds of trees and lots of lovely walks and space to explore. We have built 3 roundhouses, a truck frame barn and two cob greenhouses, as well as the eco-pod.
The Lammas Eco-village offers courses & tours in the summer months, so our pod is perfect for visiting this unique place. I also offer workshop in willow sculpture & basketry, so you can book this if you wish to come on one of my courses too.
Art der Unterkunft
Privatzimmer
---
Objekttyp
Erdhaus
---
Unterkunft für
2
---
Schlafzimmer
Glandwr, Wales, Vereinigtes Königreich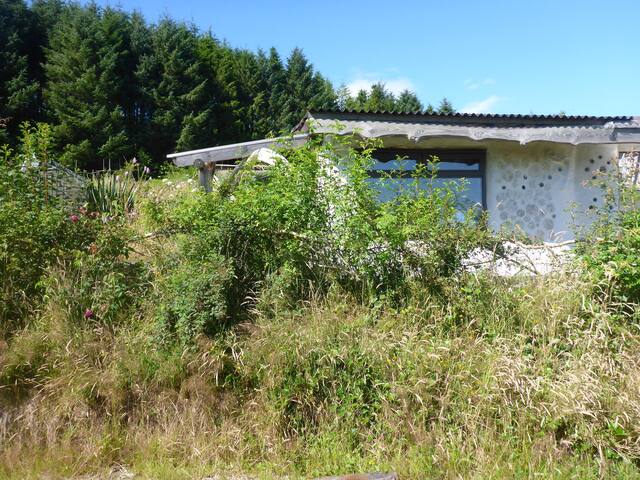 Bleiben Sie in unserem modernen gemütlichen Ferienhaus mit doppeltem Höhe Wohnbereich und galleried Schlafzimmer. Aufwachen mit dem Klang eines Baches plätschernden sanft hinter dem Fenster. Gehen Sie in der freien Natur und herrlichen Preseli Hills, Sehen Rotmilane Aufwind hoch. Genießen Sie auf der herrlichen Pembrokeshire Coastal Path wandern. Entdecken Sie versteckte Steinzeit Stätten und alte Burgen.
Modernes doppelte Höhe offenes Layout mit bequemen Sofa, ein großen Flachbild-TV und galleried Schlafzimmer im Obergeschoss. Es ist ein schönes, modernes Bad mit leistungsstarken begehbare Dusche. Die Beheizung erfolgt über einen großen effizienten Holzofen, die das ganze Haus komfortabel und gemütlich macht. Es gibt auch mit Heizkörpern im Bad und Wohnbereich Heizung Hintergrund. Das ganze Haus ist seit 2017 gerade frisch gestrichen. Es gibt kostenlosen Wi-Fi, eine Waschmaschine und eine gut ausgestattete Küche. Draußen gibt es einen großen Garten mit Gartenmöbeln zur alleinigen Nutzung Gäste und eine Straße Parkplatz ab. Es können maximal zwei Hunde sind willkommen für einen kleinen Aufpreis von £ 10 pro Hund pro Buchung.
Bluestone Cottage liegt in einer schönen Lage am Rande der Preseli Hills. Es ist eine ideale Basis, um die schöne Küste von Pembrokeshire und Innen Landschaft zu erkunden. Nirgends ist mehr als eine Stunde Fahrt entfernt. Das Haus befindet sich in der Nähe der Ortschaft Hebron, nur unter einer Meile von der A478 Narberth zu Cardigan Straße, so dass Sie keinen Verkehrslärm hören. Cardigan ist etwa 12 Meilen und 20 Minuten mit dem Auto, und Narberth ist etwa 10 Meilen und 15 Minuten mit dem Auto. Wir sind in der Nähe der schönen Strände von Newport und Poppit Sand und Tenby ist etwa 45 Minuten entfernt. Wir sind am Fuße des Preseli Hills, um die Bluestone kam, der verwendet wurde Stonehenge zu bauen und gab auch seinen Namen in unserer Hütte. Es gibt viele Erinnerungen an die alten Kulturen, die einst in der Gegend, Steinkreise lebte, Grabkammern und Reste der alten Handelswege schmücken die Landschaft. Geschichte und Legende zur Seite, macht von der atemberaubenden Küste von Pembrokeshire ein erfrischendes Intermezzo in der Preseli Hills zu Fuß. Die Aussicht von den Spitzen scheint kein Ende zu nehmen und an einem klaren Tag kann man so weit wie Irland.
Dear Brendan and Ludka, we enjoyed our stay in your blue cottage. It's located in a nice and peaceful area. Kind regards Rogier and Marije
Marije
2016-07-31T00:00:00Z
We enjoyed a wonderful stay at Brendan and Ludna's tranquil cottage. The directions were clear and on arrival we were welcomed with a warm smile and scones with jam (my favourite!). The cottage was very comfortable and thoughtfully prepared for guests - there was not anything we needed that was not there. Although it was glorious weather when we visited we enjoyed the cosy atmosphere of the wood burner in the evenings. The area of Hebron is very beautiful countryside although you will certainly need a car or at least be a very keen cyclist as it is quite remote. The location is very central in Pembrokeshire so it is a great base to get to various attractions such as St Davids or Newport (lovely beach!). The bed was very comfortable and we slept very well as it is so peaceful and quiet there. We enjoyed having the use of the secluded garden too. Throughout the stay Brendan and Ludna were available, friendly and welcoming - great hosts! We had a great stay and would recommend the cottage to anyone. We would definately come again as there is lots to do in the area.
Naomi
2016-06-04T00:00:00Z
We had a fantastic time staying here! It's a beautiful cottage in wonderful surroundings with lots to do in the local area. We would highly recommend it.
Meg
2016-08-31T00:00:00Z
From arrival, our stay at Bluestone Lodge was fantastic. Arriving to a roaring wood burning stove and Welsh cakes made for the perfect start to our weekend. The cottage was cosy and comfortable and perfectly placed for a glorious weekend exploring the Pembrokeshire Coast National Park. On our second morning Brendan arrived with his adorable daughter to bring us fresh farm eggs for breakfast which was a lovely touch. I couldn't recommend staying here enough. We hope to return soon.
Kayleigh
2016-05-31T00:00:00Z
A lovely house in a lovely garden. And a very quiet location perfect for a relaxed vacation.
Per
2016-07-24T00:00:00Z
We loved our stay at the Bluestone Cottage. It's a very beautiful place with rustic feel, yet very modern and comfortable. Stunning high ceiling and fireplace. The kitchen was very well equipped and had everything (and more) than we needed; very comfortable bed too. It's wonderful to be in such a quite place, surrounded by the lovely garden. Ludka and Brendan were very helpful hosts, they gave us good tips where to visit and recommended nice walking routes. Highly recommended for nature lovers!
Evva & Peppe
2016-02-09T00:00:00Z
Art der Unterkunft
Ganze Unterkunft
---
Objekttyp
Haus
---
Unterkunft für
2
---
Schlafzimmer
Hebron, Pembrokeshire Wales, Vereinigtes Königreich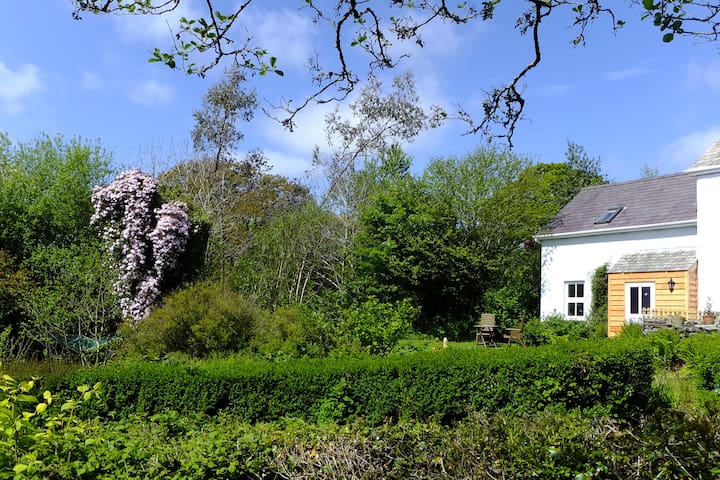 Secluded luxe cabane en rondins sur pilotis avec un grand balcon donnant sur la vallée magique de la rivière Taf. Lieu de bois Superbe convenant types créatifs à la recherche d'une escapade de luxe dans l'un des endroits les plus idylliques de l'Ouest du Pays de Galles.
Grand mais confortable cabane chauffée avec un poêle à bois. Immense terrasse couverte pour se détendre sur tous les temps. Un cadre magnifique avec des promenades boisées. Costumes types créatifs qui aiment explorer. Toute la literie et les serviettes sont fournis.
La cabine est sur le domaine Dolwilym en bas d'une longue piste. Il existe plusieurs voisins pour ne se rendre compte quand vous explorez.
It is a lovely place in a beautiful location. Very quiet, pure nature and lots of birds. We loved it!
Nadine
2015-05-31T00:00:00Z
Totally idyllic stay in the log cabin! Jethro was extremely helpful in advance with comms and also on arrival. We had everything we needed and it was perfect for our group of five. Great sound system too and we loved the quirky setting and surrounds on the walk to the river. Many thanks and hope we'll be back again one day :)
Fran
2015-08-15T00:00:00Z
My stay here was outstanding the host was warm and welcoming and ensured we had everything we needed. The cabin is beautiful and full of all mod cons. It is located in a naturally charming area. Great place to spend a weekend or week relaxing.
Kelly
2015-12-08T00:00:00Z
We had a fantastic stay in the cabin, what a beautiful place. Jethro was on hand if anything was needed ( not that it was ) the cabin was great, comfortable and in an amazing setting. we will be back.
phill
2014-10-22T00:00:00Z
Great for a family group. Anyone with kids know they have unlimited energy. Cardiff may have things to do, but all squashed in a Travelodge is no fun at all. The unique open space is what attracted me and I was so right. Getting breakfast ready on the balcony while the kids ran up and down the hill, cycled and played in the stream. Your accommodation should be a fun part of the holiday, not just a place to sleep.
stephen
2016-06-05T00:00:00Z
Had a great stay at the cabin - the location was perfect for chilling out and relaxing as a family, spacey, clean and just fun! The grounds are beautiful, Jethro is v easygoing and helpful and it's not far to any beach. Would highly recommend it - Thanks again :)
Olenka
2015-08-28T00:00:00Z
Jethro greeted us on arrival and showed us how to use the wifi, log burner and other appliances. The description was accurate. The surrounding area was quiet and tranquil. The road down to the log cabin was full of deep potholes, so drivers of low cars need to be very careful.
Barbara
2015-05-05T00:00:00Z
We all absolutely loved stayed here. We arrived with four kids who spent a lot of time exploring outside. The area is stunning as is the house. Jethro met us on arrival and communicated with us very well. The house is well equipped and we found everything we needed. It's incredibly cosy and really felt like a home from home. We stayed six nights and thoroughly recommend it. Having travelled from Newcastle on Tyne area it was a long journey, but totally worth it. You can't go wrong by staying here. Thanks Jethro!!!
Rebecca
2016-08-13T00:00:00Z
Art der Unterkunft
Ganze Unterkunft
---
Objekttyp
Blockhütte
---
Unterkunft für
6
---
Schlafzimmer
Hebron, Vereinigtes Königreich
12 Meilen von Cardigan, ist eine typische alte Welsh Farmhaus in den Preseli Hügel (wo die blauen Steine für Steinhenge wurden abgebaut) Groesffordd. Ein Teil unserer Milchviehbetrieb ist es auf der gegenüberliegenden Seite der Hauptstraße. Es gibt genügend Parkplätze hinter dem Grundstück. Es wurde im vergangenen Jahr aber alte Schieferboden Renoviert gelassen worden ist, so geben Sie bitte Ihre Pantoffeln bringen! Dennoch ist dies ein sehr gemütliches Ferienhaus mit Holzbalken, ein Holzofen, elektrische Heizkörper und ein modernes Duschbad.
Art der Unterkunft
Ganze Unterkunft
---
Objekttyp
Haus
---
Unterkunft für
4
---
Schlafzimmer
Hebron, Wales, Vereinigtes Königreich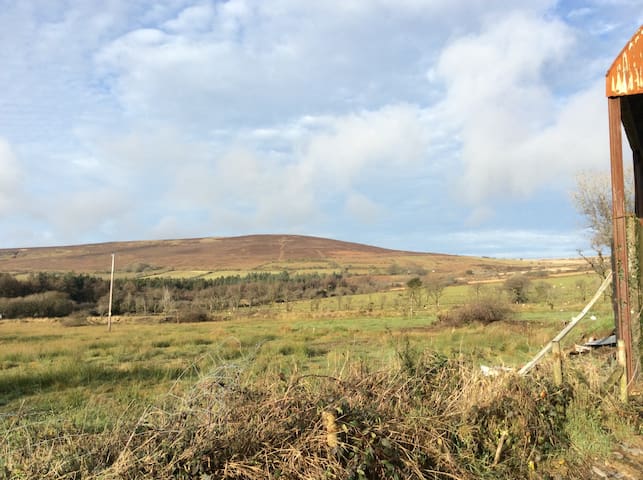 My place is close to the Preseli Hills, Pembrokeshire also 12miles from the coast. You'll love my place because of the cosiness, the views, and the location. My place is good for couples and solo adventurers as a base for visiting this lovely part of Wales, whether you want beaches, walking or touring. Nearby are the towns of Narberth and Cardigan both with a history and plenty of restaurants and cafes. We are in a pretty, tranquil village with nearby streams.
There are two bedrooms available, one double and one single both with real beds, fully carpeted. Guests have private use of the bathroom. Guests are welcome in the kitchen for breakfast, a coffee machine is available for use 24/7. The lounge, conservatory and outdoor seating areas are also available on request. There is a large garden available with many seats and beautiful planting. The swimming pool is available on request (subject to guests being responsible for their own safety) during season. On site parking available for several vehicles.
We are in a small village in Pembrokeshire close to the beautiful Preseli Hills, beaches and coastal paths. Roads are quieter than towns apart from cows moving from field to milking sheds. Local amenities are available in Crymych (10 mins away) which include, shops, petrol station, leisure centre with pool, small supermarket, chemist, Doctors surgery, café and takeaway.
Absolutely wonderful hosts. Very hospitable and friendly. It was a pleasure getting to know them over breakfast and when returning back from our excursions. This might have been one of the nicest hosts we have had through this website and we have stayed in quite a few places between this account and my wife's AirBnB account. The room and house is lovely, very clean, with an amazing garden and views. We were also pleased with the location as it was a convenient hub to explore Pembrokeshire with our car. I would absolutely recommend this to anyone looking to explore Pembrokeshire by car.
Nicos
2016-08-29T00:00:00Z
Art der Unterkunft
Privatzimmer
---
Objekttyp
Haus
---
Unterkunft für
2
---
Schlafzimmer
Glandwr, Wales, Vereinigtes Königreich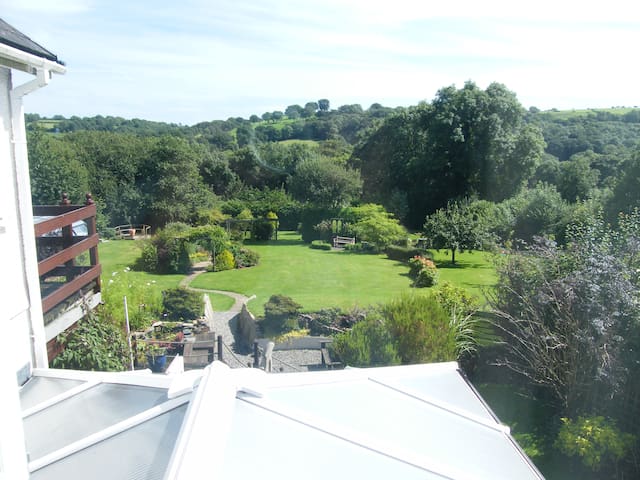 We arrived late at night and found the yurt beautifully a glow and awaiting us. The whole place is beautiful. Waking in the night to walk to the toilet is a pleasure, because you get to enjoy the star filled sky. Only stayed one night but wish it had been much longer. A very comfy special place to be. Natasha and Guy were a treat in themselves, really easy to get on with and Guy's craftsmanship is superb. A lovely stay. Hopefully on our return we will find an outdoor wood fired bath, hidden in the woodland.
Poppie
2014-08-14T00:00:00Z
Beautiful yurt and peaceful area of Wales. Easy distance to beaches. We loved every minute. The roundhouse kitchen and log fires are heaven.
Helen
2016-07-30T00:00:00Z
Having never been to Wales, not only did it not disappoint but as a family we fell in love!! When you enter the drive you are met with the most beautiful view, it is even better than described!, we instantly felt 'On Holiday' Yurts were clean, spacious and had everything that what described, plus a double plug,, great for the hairdryer! Beds were soft, Futon was brill for our 11yr old, we had plenty of bedding, fire was great , we did light it every night so we were very cosy when we all went to bed,, we slept very peacefully.
Kerry
2015-08-14T00:00:00Z
Amazing spot, amazing hosts highly recommended! wish I could have stay longer!!
Giovanni Matteo
2015-09-25T00:00:00Z
Brilliant stay and excellent hosts. Can't wait to stay again
Daneel
2014-09-12T00:00:00Z
Hi Natasha, we had a really wonderful time thank you for your warm hospitality . The site is magical & so peaceful.The Yurts are wonderful and are a credit to Guys great craftmanship & skill.
Angela & JJ
2014-08-17T00:00:00Z
We stayed in these lovely yurts over bank holiday weekend in August. The site had everything we needed to keep us comfortable away from home. Everywhere was kept very clean and the roundhouse had all amenities to cook a meal, especially when it rained! The area was ideal for visiting local attractions such as Tenby and there were lots of opportunities to go for walks.
Heather
2015-08-31T00:00:00Z
We arrived in blazing sunshine and to a cheery greeting from Guy and Natasha. Sadly a storm front moved in that threatened to wash most of Wales away. Happily, except for the odd drip - sorted immediately by Guy ( who builds the yurts here) - all went well. The yurt is furnished simply and prettily, comfie beds and futons, warm duvets and all the necessary bits and bobs in the communal kitchen. We and our two teenagers had a marvellous couple of days and look forward to getting back at some point. If travelling with active teens, don't miss the beach, surfing etc. at Roch.
Robbyn
2014-08-12T00:00:00Z
Art der Unterkunft
Privatzimmer
---
Objekttyp
Rundzelt
---
Unterkunft für
4
---
Schlafzimmer
Llanboidy, Carmarthenshire, Vereinigtes Königreich
We had a lovely time at The Barn. There was plenty of space for our family of 4. The kitchen was well equipped and the log fire in the living room kept it toasty warm. We spent the weekend exploring Tenby and Saundersfoot which were both under 30 minutes from The Barn. Looking forward to being able to sample the Welsh wine in the future!
Aimee
2015-06-30T00:00:00Z
Fantastic Welsh hideaway. Lovely barn conversion, very friendly & helpful hosts, close to the stunning Pembrokeshire coast. Well equipped kitchen. Highly recommended.
Greg
2016-04-11T00:00:00Z
We had a fantastic stay at The Barn at Hebron Vineyard and cannot recommend it highly enough. The hosts were very friendly, welcoming and helpful. The Barn has been renovated by them over a number of years and this shows in the attention to detail throughout the property. It is a spacious property with all of the rooms feeling airy and bright. It was also well appointed with a coffee machine, a wide range of cooking utensils, and very comfortable beds. The wood burning stoves and the freedom to explore the gardens and fields around the cottage made for a very memorable trip for our young children (and for us!) We enjoyed sitting in the kitchen eating breakfast at the large table with the kitchen door open and the sound of a stream bubbling past. The cottage is located a 5-10 minute drive from a main road down a lane with some nice views across the countryside. We appreciated the location as it was possible to easily reach a wide range of places along the west and southern Welsh coasts - in particular, we would recommend Pembroke Castle, St David's, Newport, and the Blue Lagoon waterpark which are all less than an hour's drive away. Overall, I would highly recommend The Barn at Hebron Vineyard (the photos on the website don't do it justice and you will not be disappointed). Thank you to Jemma and Paul for welcoming us to stay in your lovely cottage and for the happy memories we have of our time in Wales.
Cara
2015-08-30T00:00:00Z
Very welcoming and attentive hosts. Beautiful restored barn with wonderful gardens in a beautiful peaceful setting
Mary
2016-07-11T00:00:00Z
We had a lovely stay at Lletty B... The house had everything and was very comfortable and cosy... The garden was absolutely fantastic and our kids loved it also... The swings on the huge oak tree were brilliant... The enormous gunnera plant was also very special... Jemma and Paul were very welcoming and then left us to our own devices... Had we stayed for longer it would have been great to get to know them better... We enjoyed walking around the vineyards and wish them every success with their wine.. Many thanks from us all... Diolch yn fawr Iawn.
Billy
2015-09-22T00:00:00Z
We had a fantastic time in Paul's barn and really enjoyed our stay. The barn is lovely and a prefect base to explore South Wales. Everything was set up for us when we arrived. Barn was spotless, and has a lot of character. There is everything you need in the barn - Paul even left a cot for our friends' baby. I would definitely recommend this to anyone thinking about visiting the region as Paul was a great host.
(EMAIL HIDDEN)
2016-05-04T00:00:00Z
We had a great weekend in Hebron, Paul was a great host and gave all the info we required for our trip. The pictures don't do the cottage justice, beautifully presented rural cottage.
Kelda
2016-03-30T00:00:00Z
We spent a fantastic week at The Barn. Our 2 young children really enjoyed exploring around the huge garden. The stunning surrounding countryside and nearby majestic coves made the for an ideal location. Jemma and Tom were warm and welcoming and have sympathetically converted a lovely building. We will be back
Adam
2015-07-27T00:00:00Z
Art der Unterkunft
Ganze Unterkunft
---
Objekttyp
Haus
---
Unterkunft für
7
---
Schlafzimmer
Hebron, Vereinigtes Königreich
Beautiful, peaceful surroundings made the perfect setting for our getaway. Cottage was lovely, clean and bigger than the photos would suggest, with everything you'd need including little extras such as tea, coffee and Eirlys (the host) even baked us a delicious sweet loaf, which was waiting for us on arrival, as were her lovely sheep dogs Bess and Ben which only added more to the character of the Welsh farm experience. The cottage is only a stones throw away from the Pembrokeshire National Park and Fishguard which makes local sightseeing a breeze. At night there are virtually no surrounding lights other than from the farms themselves which makes for absolutely amazing stargazing if the weather permits it. I would highly recommend Y-Cartws cottage for anyone who wants a relaxing getaway in the countryside of beautiful Wales. Eirlys and Paul were very friendly and welcoming, we thank them very much for their hospitality, and we will definitely be returning on our Welsh adventures in the future.
Byron
2017-01-01T00:00:00Z
Art der Unterkunft
Ganze Unterkunft
---
Objekttyp
Haus
---
Unterkunft für
4
---
Schlafzimmer
Hebron, Wales, Vereinigtes Königreich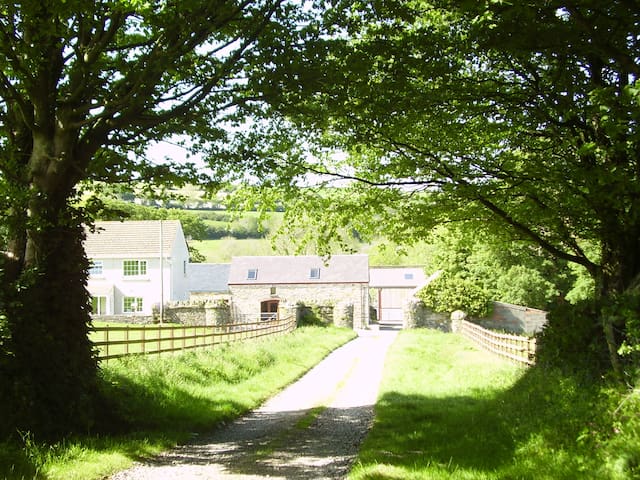 A quiet private and cosy space which is perfect for a romantic getaway set in a magical rural setting under the Preseli Mountains. High bed with views of sunset and stars. Log burner, large comfy sofa and private patio garden by the mill stream. PLEASE NOTE Airbnb have changed their pricing settings which means I can only set a standard weekly discount on the pricing calendar which then puts the prices either too high or too low. I do offer great weekly discounts so please message me
A beautiful romantic space for two with a sleeping platform a huge comfy sofa/bed, TV and DVD player, a woodburner and view over to the Preseli mountains. A beautiful hand-built kitchen with slate floor leads from the main living and sleeping space and then double stained glass doors open out onto the patio garden next to the mill race that flows down to the old cast-iron mill wheel below. There is also a bathroom with shower and bath. We provide a large basket of wood and a bag of coal. Extra is available to buy should you need it. Discounts are available for week long bookings or mid-week only bookings. Please contact me to find out more. This accommodation is part of a smallholding which used to be a thriving flour mill. It is a gorgeous place for a holiday. It is 10 miles from Narberth and 12 miles from Cardigan tucked away in its own little world close to the Preselli mountains and a short walk from little village of Mynachlogddu. You will find everything you need here to kick back and relax and explore magical Pembrokeshire. We are in a 16 acre smallholding and there are rivers, streams and waterfalls all around. The place is an oasis of escape. A lovely family of craftworkers live in the farmhouse with four older children and Dan the Shepherd who will show you everything you need to know during your stay. This whole place is steeped in history both ancient and recent, they say it has been in use since megalithic times as a sanctuary for healing, being the home of the famous bluestones which were transported (somehow!!) to Stonehenge. The mill has not been in use for 50 years but the old cast iron wheel still stands and the mill race flows behind the cottage. You will always be able to hear the faint murmur of flowing water as well as plenty of birdsong, the odd sheep bleating and no traffic except for a tractor making hay in the fields during the summer. You will be able to light a fire outside and sit under the starscapes, hang out on the river bank and get natural, wander amongst the trees and hills and let the rest of the world disappear if you want to. We do have wireless connection but due to its sheltered location we only have the odd patches of mobile reception but half a mile down the lane there is full reception.
Felindyrch is situated half a mile outside the tiny village of Mynachlogddu, home of the Preseli bluestones which made their way to stonehenge. (10 miles from the quirky market towns of Narberth to the south and Cardigan to the North) surrounded by stunning landscapes and with full starry skies. Centrally located in West Wales it is a wonderful location to explore the beaches of the North Coast (25 minutes drive) the South coast 30-40 minutes and the west coast 50 minutes. The nearest mini-supermarket/petrol station is just 2 miles down the lane and nearest village with shops is Crymych 4 miles. This is a traditional farming area. There are many great walks and footpaths up to the hills. In the village a mile away there is a lovely wooden playground. In the other direction Trefach caravan park welcomes guests from Felindyrch to swim in their swimming pool as long as refreshments are purchased from the restaurant or bar. Mention Felindyrch for a warmer welcome when you arrive as they are pretty hot on making sure they keep a safe space for their younger guests
Had a fantastic stay here. Was very relaxing, which is exactly what we were looking for. Made the most of the woodburner and comfy sofas. Didn't explore a huge amount of the local area but will definitely be coming to stay here again so we can. Would recommend a stay here.
Sally
2016-09-26T00:00:00Z
Amazing place. Stayed here as part of a larger honeymoon trip and it wax the perfect romantic getaway! The scenery was idyllic in what seemed to be our own corner of the world. We loved the waterfall outside! Oshi was a wonderful host, giving us a warm welcome and tips on getting the most out of the wood burner. We would both recommend this accommodation!
Peter
2016-05-06T00:00:00Z
We had a really nice stay at Oshi's. The space is really beautiful and peaceful and it's great to spend time in front of the fire chatting while listening to the sound of the water. Perfect to get away from the world for a few days and to explore some really beautiful spots in the coast. We didn't get to see Oshi but everything was ready when we got there (including the wood to start the fire) and we had no problem at all. Would totally recomend it.
Mireia
2017-02-27T00:00:00Z
We didn't actually meet Oshi, but her lovely friend helped us and showed us where to go. The mill is beautiful, we had such a relaxing, peaceful time-Thank you team Oshi! We did some great walking in the hills and enjoyed the fire in the evening. The constant flow of hot water was great for a lovely bath! We would love to come again x
Claire
2015-10-18T00:00:00Z
The mill was absolutely lovely, the surroundings are wonderful with the river running through the fields near the property and the mill race running around the outside seating area. The bed was wonderfully comfortable and the views from the loft were fantastic. The kitchen was very well equipped and we found everything we needed. We have recommended it to several of our friends and are hoping to visit again in the new year!
Frances
2014-10-10T00:00:00Z
The mill is amazing! The river running around the mill and outside seating area creates a unique atmosphere. The place is well equipped with everything we needed and the lovely fireplace was lit on our arrival. We hope to return soon!
Heloise
2014-11-16T00:00:00Z
Wonderful place to stay. We had everything we needed and more. Will definitely be heading back and recommending it to friends. Thank you very much :)
Gina
2014-02-27T00:00:00Z
We had a wonderful stay in the Studio, enjoying cosy nights by the wood burner and watching the sunset from the loft bed space. Oshi is a gracious and friendly host, even finding the time to show us round the cottage she is busily renovating. If being close to nature and total seclusion is your thing then you will fall in love with felindyrch as we did! So looking forward to a return visit next year and to explore beautiful Pembrokeshire all over again.
Josephine
2016-04-14T00:00:00Z
Art der Unterkunft
Ganze Unterkunft
---
Objekttyp
Wohnung
---
Unterkunft für
2
---
Schlafzimmer
Mynachlogddu, Wales, Vereinigtes Königreich
This is my Art Studio a great place to write , paint it can be rented with Danderi Retreat - Old Taylors Shop or seperatley as extra space for getting creative, art classes arranged with host or extra friends space as it has one double futon bed! It is basic with lovely verander and light it is my studio so some of my personal things are here not empty!
Extra Art Studio space to people renting The Old Taylors Shop !Or seperatley! There is a basic toilet and shower underneath in shared utility space with kettle tea and coffee, fridge,camping gas cooker ,washing machine ,dryer etc! The boiler is in studio so always warm it does fire up when hot water is being used! There is NO WIFI in studio!
Small friendly village ! Next to Lammas Eco Village which runs tours on Saturdays at 11 am form April to September! They also have a community shop at their hub with health foods and chocolate etc pay into a trust box and write down your purchases! We have an organic farm nearby also with trust box for vegetables and fruit and milk ,cheeses and wholefoods etc
cute, cosy place in a tranquil spot. highly recommended!
Megan
2017-02-17T00:00:00Z
The area was really quiet and kindly with beautiful nature around. Sian was really kind and reliable.
Michaela
2015-08-12T00:00:00Z
Art der Unterkunft
Privatzimmer
---
Objekttyp
Andere
---
Unterkunft für
2
---
Schlafzimmer
Glandwr, Pembrokeshire, Vereinigtes Königreich
Art der Unterkunft
Ganze Unterkunft
---
Objekttyp
Rundzelt
---
Unterkunft für
4
---
Schlafzimmer
Llanboidy, Wales, Vereinigtes Königreich
Hermosa casa de campo amplio de seis dormitorios en el suroeste de Gales. 12 plazas, además de cunas, situado en un precioso paisaje, con fácil acceso a las ciudades pequeñas, impresionante costa y las atracciones locales. Estudio cabina y bosques también pueden alquilar por separado.
, Casa acogedora caliente (Aga, fuego abierto) en el suroeste de Gales, lugar tranquilo del campo, campos abiertos, árboles maduros (cambios de cuerda!) Con jardín arbolado y estanque. Muy cerca de Pembrokeshire Ruta Costera Nacional votaron mejores costas de Europa por los lectores de National Geographic. Cerca de Welsh Wildlife Centre, montañas de Preseli, hermosas playas, buitres, milanos reales y mucho más. Capacidad de hasta 12 e ideal para la familia y amigos encuentros, despedidas de soltera, caminantes y ciclistas partes. Seis dormitorios, tres baños, amplia cocina con comedor para 12 y caminar en la despensa. sala de estar acogedora con sofás blandos y chimenea con salida a frente acristalado con la vid establecida al sur. patio exterior y zona de barbacoa que se abre a un gran jardín cerrado madura. cabina Woodland 3 plazas con estufa de leña / barbacoa.
Un campo magnífico oeste de Gales con vistas a las montañas Preseli y el Parque Nacional de Pembrokeshire. costas fabulosas a sur, oeste y norte. castillos celtas y casas señoriales para explorar. Abundancia de vida silvestre, parques naturales y variedad de interesantes jardines naturales.
We had an amazing week over new year at this beautiful home. We were a family of 8 adults, 3 children and 2 dogs. This was the perfect place for us. The farmhouse is very homely with absolutely everything you need and more. Very comfortable, clean and cosy. The farmhouse is surrounded by lovely gardens, woods and fields. The kids loved the three donkeys who were very friendly. There is a lovely indoor barbecue hut/area in the woods, which looked really cosy but we didn't have time to use it. There are lots of toys, swings and outdoor toys to keep the kids busy. Lorna is lovely and very helpful. Her home is in a beautiful area with lots to see and do. I would definitely recommend this place and would love to return.
Shan
2017-01-05T00:00:00Z
We stayed in Lorna's house for only 2 nights. Our stay was fantastic. The highlight of our weekend break was this house. The house was spacious and well-equipped. There was also plenty of activities to entertain ourselves indoor and outdoor. We didn't want to leave. Lorna was accomodating and made us felt very welcome. We loved feeding Tom, Dick and Harry. We will definitely comeback.
Arizza
2016-05-16T00:00:00Z
We had an amazing stay at Lorna's farmhouse. Lorna was very welcoming and accommodating from the first. We were a group of 3 couples with some young children (2 months - 2 years) and a dog. The house was very child friendly and had plenty of space, including a large, well kept garden. The only issue we had was with the aga which died overnight. Having grown up with an aga though I know that that's just how they are sometimes. Nevertheless Lorna was immediately on the case and sent a very helpful engineer round immediately and the aga was back up to temperature for dinner time that day. Lorna also very kindly waived the fee for the dog we had brought. We didn't get a good opportunity to make full use of the cabin but were amazed at it nonetheless. It is definately worth planning a barbeque down there (rain or shine as it is all indoors). I am almost certain that we will return to stay again and very much look forward to it!
Jamie
2016-04-11T00:00:00Z
Art der Unterkunft
Ganze Unterkunft
---
Objekttyp
Haus
---
Unterkunft für
12
---
Schlafzimmer
Hebron, Vereinigtes Königreich
Guest was very welcoming, waited outside her home for us, left us some amazing cakes in kitchen, the barn is lovely, great warm floor beautifull bed at end of hall amazing view from bedroom, fantastic fire in front room All in all awsome
Paul
2015-11-25T00:00:00Z
We arrived at the property for a weekend away and were welcomed by Ieuan (Jan's Husband) who let us into the property and showed us around. The bottle of raspberry wine and homemade cakes were an added bonus. The property photos and description don't do the cottage justice as it is an immaculate and stunning place to stay. The underfloor heating and log fire keep the place cosy and warm. A really lovely place to stay for a weekend but a definite to come back to stay longer. "The cottage in the middle of nowhere but also in the middle for everywhere!"
David
2016-01-25T00:00:00Z
A very warm welcome was given to us. Very friendly hosts. Jan and a Husband were really nice. Lovely cakes and a lovely bottle of wine. There was everything we needed. Good wi-fi connection. Tea-coffee and milk we didn't expect. A property in immaculate condition. Nice fireplace , warm cosy beds and heated floor kept us warm throughout. Thanks for showing us around your farm and lovely friendly dogs you have. There's more in the bungalow than you see in the pictures. We recommend anyone to go there without thinking twice and we will definitely return for a longer stay as the two days were not enough. Thank you once again for your lovely hospitality...!
Panduka
2016-03-07T00:00:00Z
A very friendly welcome. Excellent house with wonderful views... We all loved it! A high standard of accommodation - well appointed, stylish and comfortable with the luxury of under floor hearing. Great cake and wine! Delightful and helpful hosts.
Auriol
2016-01-10T00:00:00Z
We had the most wonderful time at Golygfa Preseli. The barn conversion is beautifully done and the views of the mountains are amazing! Jan was a superb host and made us feel very welcome during our stay. We were surprised to find welsh cakes on arrival and even a bottle of local wine and milk in the fridge. Oh and some lovely salted Welsh chocolate in the lounge! The cottage is equipped with everything you might need and we felt very at home. Cannot recommend highly enough! Thanks Jan, we will be back!
Pete
2015-07-04T00:00:00Z
We loved staying here. We only had the weekend but wished it could have been longer. It was a very cold windy weekend but the cottage was lovely, warm and cozy with log burner. It was very clean and welcoming and we had everything we needed. We will definitely return.
Jason
2016-02-01T00:00:00Z
Jan welcomed us when we arrived, there were some cakes, some chocolate and a delicious bottle of wine in the fridge, just for us to recover from hitting the road from France :) A very kind and appreciated attention. Jan and her family were just on the other side of the road, discrete but ready to help. The house is very nice, a very beautiful restoration. Quality, good taste, simply great. The area ? One word : beautiful, and QUIET. The cottage might seem lost in the middle of nowhere on a map, but that's not the case, it's close to most of the things to see in the area. We enjoyed and appreciated the time we spent at Golygfa Preseli holiday cottage, we were there with our 3 children (17, 14 and 4), everyone enjoyed !
Florence
2015-07-26T00:00:00Z
Absolutely loved it, the house is amazing, so cosy, warm and comfortable. The boys loved it playing around the house and garden and thankyou for the wine, cakes and chocolate. Would love to come back and visit more of south wales
Simon
2017-02-15T00:00:00Z
Art der Unterkunft
Ganze Unterkunft
---
Objekttyp
Andere
---
Unterkunft für
6
---
Schlafzimmer
Llanboidy, Carmarthenshire, Vereinigtes Königreich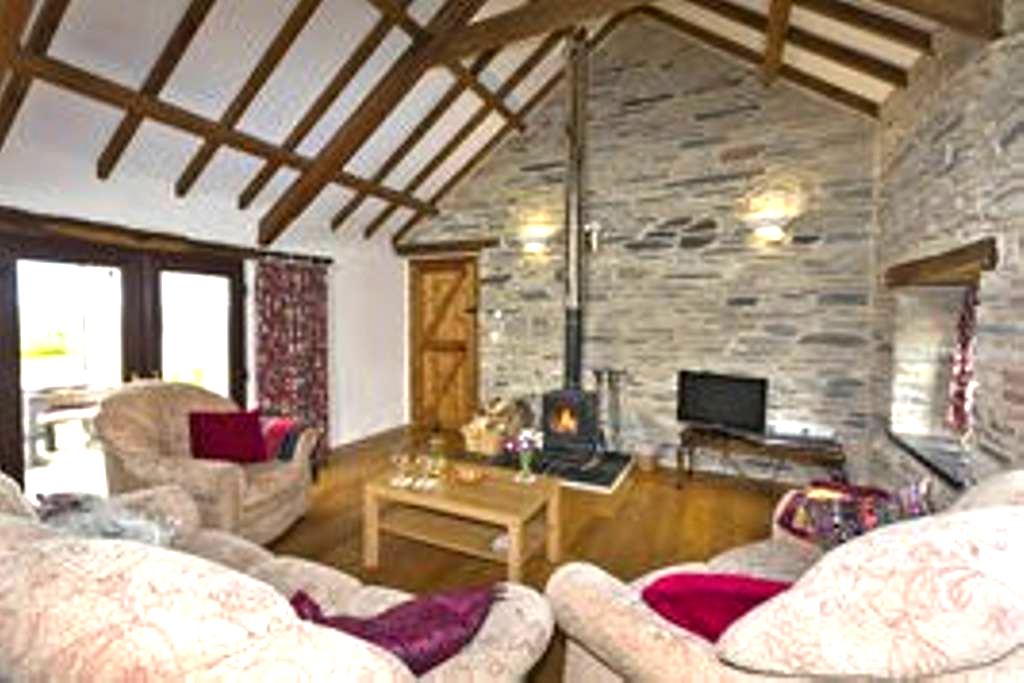 This is a spare double room in the cottage of Danderi Retreat as extra space should Old Taylors Shop be booked next door ! This is a shared space with owner and cat Ari and shared bathroom ! There is a shared kitchen/sitting room ! It is shabby chic more hippie/Arty than smart !
Its a lovely double room overlooking river and gardens its is a library room so many books to browse through, there is a kettle for making teas in bedroom and beautiful new bathroom right next door! The house is shabby chic and an old house so don't expect perfection its quirky and interesting and this part is my home so lived in! My cat Ari also lives here!
Lovely small friendly village sadly shop has shut recently! Fish man visits shop Fridays after 12 pm! We have an organic veg farm 5mins drive open all the time to help self and pay and weigh yourself they have tinned goods , rice cakes, milk and cheeses etc! We have Lammas Eco village on door step 10 mins walk and there is a public footpath through it so you can catch a glimpse of alternative lifestyles! They also have a shop with trust box and health foods and organic chocolate etc My neighbour does gets upset when people park on his land ! So be sure to park in designated area room for two cars with car park sign on wooden shed and gravel car park! My bright red tin shed is a marker you have arrived and car park at other end of house! Crymych is 4 miles up the A478 and has supermarket and a good Butcher, Chemist, Doctor , cafes and chip shop, health food shop and gift shops and petrol station everything including a swimming pool leisure centre!
Wonderful host. Our family felt super held and taken care of. Highly recommended.
A&K
2016-09-19T00:00:00Z
Art der Unterkunft
Privatzimmer
---
Objekttyp
Haus
---
Unterkunft für
2
---
Schlafzimmer
Glandwr, Vereinigtes Königreich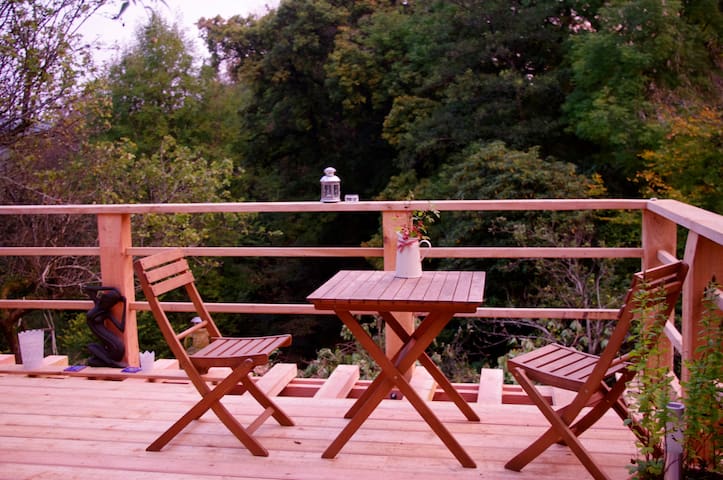 1

–

18

von

51 Unterkünfte
Gib deine Reisedaten ein, um den aktuellen Preis zu sehen. Es können zusätzliche Gebühren und Steuern anfallen.