The villa is located on top of Medewi, 2-3min with motorbike from the surf. This spacious room is located on our second floor. The room is equipped with everything you need for a comfortable stay; (Double bed, AC, computer desk, big wardrobe, private bathroom with hot shower and good WiFi) We have two rooms on the second floor who is sharing a big balcony with amazing view over the rise fields and Medewi. Downstairs we have a big terrace where breakfast and dinner is available.
With the amazing view over the rise fields and the mountains from our balconies its the perfect place for relaxing and enjoying this quiet small village life with amazing home cooked food and good company.
Medewi is a small surfing village 3 hours west of Kuta/Denpasar For surfers; Medewi point is a mellow 1,5 minute long left ride who is for all levels. With a 2-5 minutes motorbike ride there is a lot of other empty waves to explore. Medewi is a small village where you will get big smiles and hello from all locals. No nightclubs or bars make Medewi the perfect place for the dawn patrol surf watching the sunrise from the water.
Pink Barrel ist super! Einwandfrei! Mikael, Reza und Tikka waren sehr nett und zuvorkommend, das Essen super lecker und das Haus und die Aussicht sind klasse. Also wirklich sehr empfehlenswert!
Lea
2016-09-03T00:00:00Z
This place is absolutely awesome!! :) there is nothing to improve or add. Just go ahead like that, Mikael!! We totally enjoy the relaxed vibe at pink barrel, plus the house and the hosts provide everything you need! Next time in Bali this will be the only stop!
Verena
2017-03-24T00:00:00Z
We loved our stay here! We got a warm welcome and you immediately feel home at this place, the people are lovely, the vibe is good and the rooms are incredibly clean and spacious. The views from the balcony are spectaculair and also the vibe in the village is really good. I can absolutely recommended a stay at their place, and since I'm going back in a month I reckon that says enough! And Tika cooks delicious food, not to be forgotten... :)
Leanne
2016-05-23T00:00:00Z
Clean, spacious and friendly. Don't miss the opportunity to meet such gracious and kind hosts.
Kim
2016-11-28T00:00:00Z
Where do I start?! I guess firstly and most importantly for me, Mika, Reza, Tika and even little Riya were the best Airbnb hosts I've had. I was travelling solo and they made me feel super welcome and showed me a great time (and helped me out big time with surfing!). What they're doing here with the space is really something else, and I can't wait to come back when all the cool stuff they're planning is ready. The room itself is spacious, comfy, and clean. The views at sunrise and sunset are spectacular. Tika makes awesome and reasonably priced breakfast and dinner if you want it (better than any restaurant in the village!) The location is about 15 mins walk from the beach, but get a scooter and you'll be there in two minutes. In terms of surfing the waves here are quiet (vs canggu and kuta) and the lineup is super friendly. Overall this was the absolute highlight of my trip to Bali and I would recommend Medewi and Pink Barrel to absolutely anyone! Thanks a lot guys :)
James
2016-11-23T00:00:00Z
Staying at Pink Barrel was so good, I was slightly tempted to keep it our little secret but Mikael, Reza, Tika and little Rays are the most beautiful and deserving hosts for a glowing review! We enjoyed how social it was, the generosity of the host in knowledge and assistance, and just how at home we felt. Tika cooks beautiful dishes for breaky and dinner. We loved our stay and are already talking about our next visit (to get our surf practice a little better!).
Sara
2016-11-03T00:00:00Z
We had a fantastic stay at Pink Barrel for 6 nights. Great communication prior with Mikael arranging transport at reasonable price. Great room, comfy bed, AC and nice shower. Shared living space very comfortable. Mikael and Reza super helpful with surf knowledge. Great food. All round great place - will hopefully be back in not too distant a future!
rachel
2016-10-25T00:00:00Z
After travelling 2 months indo i was always to lazy to give reviews to the people were i stayed even when they deserved it. But this place is really something special. I will shortly mention that all the organizing things are 100% (transport, scooter etc..) This is home, very good vibes, it feels like friendship. You get in touch with the real life in a small village because Mika lives together with a small balinese family. For me it felt like im not a guest, iam part of that. We ate dinner together, we surfed together and had awesome chats about life;) it is the perfect place to surf all day and relax after that on the terrace by the view of rice fields and mountains. I stayed in the ocean view room and the lowrider. If you can get the ocean view room then take that. It cost you a little more but you get more space, more light and there is a good AC. Lowrider has a fan. Especially thank you Mika and Reza for the great time we shared. Im sure we will see each other again here . Take care guys :)
Felix
2016-12-01T00:00:00Z
Art der Unterkunft
Privatzimmer
---
Objekttyp
Villa
---
Unterkunft für
2
---
Schlafzimmer
Bali, Bali, Indonesien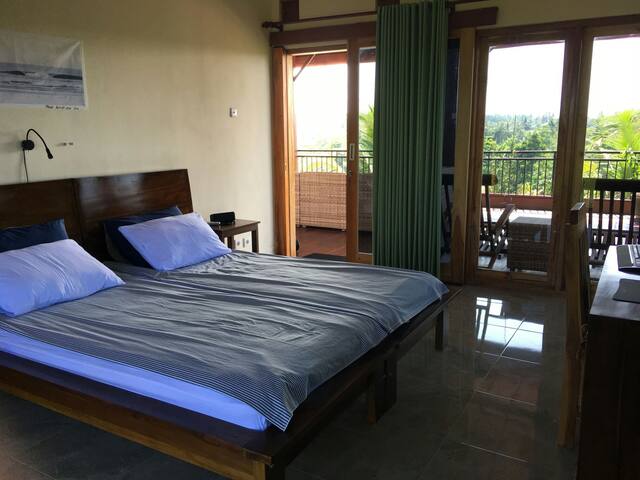 Villa Danison ist ein himmlischer frontbeach Villa, umgeben von Weinbergen, Reisfeld, üppige Gärten und einen atemberaubenden Infinity-Pool liegt an der authentischen Nordküste von Bali, in einer ruhigen und friedlichen Gegend, nur 20 Minuten von Lovina.
Villa am Strand, voll besetzt. Bei Betreten des Hauses, das erste, was Sie von der geräumigen Eingang sehen, ist das schöne Meer, die von den großen Wohnzimmer, Küche, Terrasse und Garten zu sehen ist. Die Villa verfügt über vier geräumige, klimatisierte-Schlafzimmer (zwei mit Doppelbetten, zwei mit zwei Einzelbetten). Jedes Zimmer hat ein eigenes Bad mit Dusche, Waschbecken und Toilette nach. Es ist eine fünfte Toilette auf dem Flur. Ein idealer Ort, die meisten erholsamen Urlaub zu haben, sagen Sie es Flitterwochen oder Familienurlaub. In der üppigen, tropischen Garten finden Sie: Ein schöner Infinity-Pool (12 x 6 m) mit entspannen Treppe. Großes Sonnendeck mit Liegestühlen und Sonnenschirmen. Balé benong (Pavillon) mit Matratzen und Kissen neben dem Swimming-Pool zu entspannen oder für die Masseuse Sie eine entspannende Massage zu geben. Überdachte Terrasse mit Essbereich und gemütlicher Sitzecke, ausgestattet mit Deckenventilatoren und romantische Beleuchtung. Die modernen und geräumigen Wohnzimmer mit Blick auf den Pool und Bali Meer ist mit Deckenventilatoren ausgestattet, einem Flachbild-LCD-TV und Musikanlage. Die voll ausgestattete Küche bietet einen Kühlschrank und einen Wasserspender (Kalt- und Warm Trinkwasser, komplementär). Die Villa ist mit Manager / Fahrer, Koch, Hauswirtschaft, Gärtner / Pool Mann und Sicherheit voll besetzt. Frühstück, Mittagessen, Abendessen und Snacks können nur von unserem schönen Koch im Zutat Preis hergestellt werden. Sie können ein Gericht aus unserer umfangreichen Speisekarte (mit meist authentischen indonesischen Gerichten, sondern auch einige westliche Gerichte und spezielle Optionen für Kinder) wählen zum Frühstück / Mittagessen / Abendessen, einige Voraus Geld für unser Koch liefern Shop (Eingang nach zur Verfügung gestellt werden würde). Andere Einrichtungen und Service: - Kostenfreies WLAN (WiFi) - Mobiltelefon (mit Kredit für Bali, zum Beispiel den Fahrer oder die Masseuse zu nennen) - Kinderbett und Hochstuhl - Wäsche-Service zu günstigen Preisen - Flughafen-Service (IDR 650.000) eine Möglichkeit, per Auto, basierend auf 4 Personen + Gepäck) - Frische Handtücher für das Bad sowie Pool- und Strandtücher sind vorhanden für - Beratungsstelle Unser Fahrer glücklich ist Ihre Ausflüge oder Ausflüge zu organisieren (IDR 650.000 pro Tag inkl. Treibstoff, bezogen auf max 6 Personen und maximal 8 Stunden kürzere Reisen sind natürlich auch möglich). In der Villa finden Sie ein Info-Buch mit Tipps für Ausflüge und wichtige Telefonnummern finden. Der Standort: Die mystische Nordküste von Bali ist wahrscheinlich das am besten erhaltene Teil der Insel mit seiner Reinheit und Authentizität. Am schönsten und magischen Ort von Bali, weit weg von der Hektik des Alltags, können Sie de-Stress, entspannen und genießen Sie die einzigartige Natur, die Bali zu bieten hat. Die Villa liegt inmitten der Weinberge, Reisfeldern gelegen und nur wenige Gehminuten von Tempeln, direkt am Fuße einer von Palmen und Bananenstauden bedeckten Berg. Villa Danison ist von tropischen, bunten Gärten, direkt am Puri Jati Beach auf Bali Meer, in der Nähe der Ortschaft Umeanyar umgeben. Im Alter von 15 bis 30 Minuten Fahrt werden Sie die Stadt Lovina finden, die für Delfine beobachten und Singaraja bekannt ist, die die Hauptstadt von Nord-Bali Viertel. Auch Delfine beobachten Abfahrt vom Strand vor der Villa zur Verfügung steht, durch ein Boot von den lokalen Fischern zu mieten. Es gibt mehrere Villen in der Nähe, eine neben der Villa Danison befindet. Um absolute Privatsphäre zu gewährleisten, werden die beiden Villen, die von einer Einfahrt mit exotischen Pflanzen und Bäumen getrennt. Es sind auch mehrere Orte zu Fuß zu erreichen, die Optionen für die Mahlzeit zu geben.
Die Villa liegt in einer abgelegenen Gegend in Nord-Bali, wo Sie das ursprüngliche Bali sehen können, weg vom hektischen, überfüllten touristischen Bereich. viele Aktivitäten von Delphin bei Sonnenaufgang Es gibt beobachten, Tauchen (Tauchzentrum ist nur wenige Gehminuten von der Villa und mehrere Orte im Umkreis von 1 km Angebot PADI Zertifizierung Kurs), Golf (Handara Golfplatz ist 1 Stunde entfernt), Wandern, Einkaufen , Radfahren, Sonnenuntergang beobachten, oder Sie können einfach nur entspannen und Massage im Pavillon genießen.
Das Haus und auch das Personal waren sensationell. Für uns war die Lage einfach nicht passend. Kann mir jedoch vorstellen, dass genau das von anderen Reisenden gerade geschätzt und als positiv gesehen wird. Ist somit ganz persönlich und in keinerlei negativ für die Villa Danish zu bewerten
Kristin
2017-03-19T00:00:00Z
Wir wurden sehr freundlich empfangen. Das Haus liegt ziemlich abgelegen an einem Strand, der jeden Morgen gesäubert wird. Entfernt man sich vom Strand vor dem Haus, liegt eine Menge Müll herum, der vom Meer angespült wird. Toll war das Frühstück jeden Morgen. Wir haben auch manchmal Mittags oder Abends im Haus gegessen, was okay war, aber nicht herausragend. Der Manager war sehr hilfsbereit und konnte uns eine Delfintour direkt vom Strand aus organisieren, was sehr schön war. Der Pool ist schön groß und es gibt täglich frische Handtücher.
Sven
2016-10-16T00:00:00Z
Ein Traum in jeder Beziehung! Essen Freundlichkeit und Sauber Franz aus Austria
Franz
2017-01-09T00:00:00Z
It's amazing place. Stuff are kinds, ask them cook for you, i love the foods and space. I am regret why I didn't stay whole of my trip there
ebrahim
2016-09-27T00:00:00Z
The house is absolutely beautiful. The staff is amazing. The ladies, Tutik, Ciri, and Yanti, go out of their way to make you feel welcome and enjoy your holiday. Roy, the house manager, goes above and beyond to ensure guests have a relaxing stay. The ladies are shy at first, but they opened up quickly and are definitely the sweetest ladies I have ever met. If you need something and it exists on the island, Roy and the ladies will do whatever it takes to get it for you. My family stayed at the villa for 10 days to celebrate my dad's 65th birthday. Roy and the ladies planned a wonderful beach party including Balinese dancers and Roy even performed with his band. We could not have asked for a better night. Roy also went out of his way to customize tours for our group. The food the ladies cook is amazing. We were sad to leave, but we are already looking into flights to return. The northern coast of Bali is beautiful and quiet. Nothing like the big cities in the south. The people walking by on the beach are friendly. Even the vendors are friendly and talk to you about your stay even after you tell them you are not interested in buying anything. We only ate one meal out and were not impressed. This was on our third day. After that, we decided to stick with the delicious meals prepared by the ladies. Kutuk the gardener is always around. He cleans the pool every morning and replaces the beach towels. Throughout the day he was willing to help run errands such as running to the store to get ice. We truly feel in the love with the villa and staff. We will return, and I highly recommend staying here.
Sara
2016-04-02T00:00:00Z
the house is really beatiful. our group really enjoyed our stay. staff is very accomodating and the manager is easy to talked with. he accompanied us wherever we want to go. foods prepared for us is so yummy. the pool is perfect. beds are big with clean bathrooms and comfortable bed. though quite isolated but we had a great here and hope to come back soon.
Reyna Marie
2017-02-25T00:00:00Z
Road journey from a airport to villa was long but well managed by the drivers. Spent most of our time in the Villa as all meals were prepared timely by the chef and her team. The Huge swimming pool was great for the kids. It is also less than a min walk to the beach from the villa. Good size of villa for a group of friends!
Mingchang
2016-06-20T00:00:00Z
Wat een villa! Na 2 weken Bali verkennen was dit de gedroomde plaats of te relaxen en bij te komen. Prachtig uitzicht, prima zwembad en andere voorzieningen maar vooral een fijne staff die er alles aan deed om het ons naar de zin te maken zonder opdringerig te zijn. Er wordt desgewenst heerlijk voor je gekookt, een driver geregeld, uitstapjes georganiseerd. We voelde ons thuis en gewaardeerde gast tegelijkertijd. Grote dank daarvoor!
Gert
2016-08-22T00:00:00Z
Art der Unterkunft
Ganze Unterkunft
---
Objekttyp
Haus
---
Unterkunft für
10
---
Schlafzimmer
Seririt, Bali, Indonesien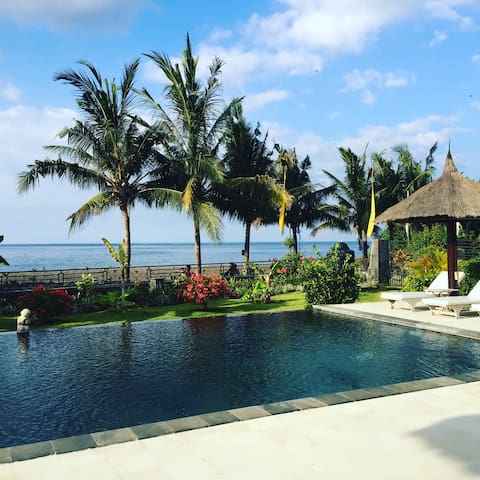 West Bali im Dorf Pemuteran - Unsere Villa befindet sich im schönen authentischen Norden. Diese unentdeckten Teil von Bali ist exklusiv und heiter. Wir bieten zwei Hektar erstaunlichen tropischen Garten Blick auf die Berge, das Meer und schöne Tauchplätze.
Über Jeda Villa Jeda Villa befindet sich im Dorf Pemuteran, einem bekannten Taucher Ort im Nordwesten von Bali, dreistündige Fahrt vom Ngurah-Rai Flughafen entfernt. Jeda Villa besteht aus drei schönen separaten Luxus-Villen auf zwei Hektar Land mit wunderschönen Meer, die Berge und Blick auf den Vulkan. Die Villen bieten geräumige in einem Wohnräume und werden von großen tropischen Gärten mit einem herrlichen Bergkulisse umgeben. Die privaten Gärten sind zwischen 6000 und 10.000 m2. Alle Jeda Villen verfügen über private Pools, Terrassen und traditionellen Pavillons. Am Fuße des Bergrückens am Rande des Nationalparks West Bali, mit Blick auf die Villen Pemuteran Dorf und das Meer 900 Meter entfernt (die Villen 90 Meter über dem Meeresspiegel befinden). Fünf ostjavanischen Vulkane in der Ferne zu sehen, vor allem während des Abends atemberaubende Sonnenuntergänge. Die reetgedeckte Villen wurden sowohl traditionelle balinesische und moderne architektonische Elemente zu verwenden entworfen und sie fügen sich perfekt in die natürliche Umgebung. Es gibt zwei 3 BR Villen und ein 2 BR Villa. Alle Villen verfügen über das gleiche Design. Eine 3 Zi-Villa ist ein wenig kompakter als die anderen, hat aber eine größere Terrasse (151m2). 'Jeda' ist das indonesisch Wort für "Zwischenspiel". Jeda Villa ist der perfekte Rückzugsort für einen ruhigen Urlaub.
Authentische Bali von den Massen in Süd-Bali entfernt. Nur ein Drittel der regen zu anderen Orten in Bali verglichen. Große Schnorcheln, Tauchen und Schwimmen in einem in der Regel sehr ruhigen Meer.
The Jeda Villa is absolutely great. We enjoyed every minute of our stay. The villa is secluded by a beautiful garden were we enjoyed watching all the colorful birds flying around the pond, the swimming pool and waking us in the morning. Also the staff is excellent, they cook delicious Indonesian food and will bring you to the beach every time you feel like. If you think of visiting Bali and your looking for tranquility and luxury this is certainly the right place to stay.
Remco
2016-05-01T00:00:00Z
Pemuteran is a sleepy town, near pristine beaches and some of the best snorkeling I've done in my life. The babi guling down the road is the best I've had in Bali and the meals at the villa were outstanding. Pretty much everything about the villa is outstanding. The staff is incredibly friendly and attentive, the bath products are locally sourced, the friendly dog Boris who wanders around is a joy to see and the overall attention to detail is inspiring. It's a beautiful space situated among lush gardens that is very astutely designed. I've traveled around the world extensively and this is the nicest villa I've ever stayed in, inclusive of aman resort villas and European chateaus. I wholeheartedly recommend this space to anyone who is in the area. You'll truly feel lucky to have stayed there. I do.
Christian
2014-07-22T00:00:00Z
We loved our stay at the villa! What a wonderful place...the photo's don't even do justice. Everything was very well organised by the manager and the staff and they were happy to assist with anything requested. I love the vision of the owners to make this villa a eco-friendly place and that it's supporting the local population. I can't think of any downsides to the villa or the service. One thing; keep in mind the villa is located about 4 hours drive from airport/Kuta area. Transport can be arranged for a reasonable price. If you're doubting to book; just do it! 100% worth it. I would come back if I'm around in the future for sure.
Daniel
2016-05-29T00:00:00Z
My girlfriend and I stayed in Jeda Villa for 2 nights for our 1 year anniversary. It is everything described in the photos, it's an amazing place to come to relax and escape from the world. Although the villa itself was beautiful, what really made it an enjoyable experience were the staff. Having breakfast and dinner cooked at the villa every morning by friendly, smiling people was a great way to start and end the day. The vast majority of the trip was highly enjoyable. The only downside was that there was no lock on our door, and an incredibly rude neighbour let herself into our villa (knowing it was occupied) to use our wifi. Although not directly their owners fault, this may have been avoided if locks were provided on the front door (there are locks for the bedroom, so there is some security) All in all it was a beautiful place and I would come here again.
Aron
2015-11-15T00:00:00Z
The host canceled this reservation 69 days before arrival. This is an automated posting.
Cindy
2016-07-31T00:00:00Z
Absolutely breathtaking! Our entire stay at Jeda Villa was amazing. Too beautiful for words. The location, grounds, villa & staff were all wonderful. We travelled with 4 kids under 6 - the trip to the villa itself was a mission (don't arrive mid afternoon!), but the trip back was enjoyable :) My husbands favourite aspect was viewing the mountains whilst showering in the outside rain shower (private) and mine was viewing the ocean whilst swimming in the pristine 10m x 5m pool. The villa was fenced off for us and the quality of fencing exceeded my expectations, it was very secure for my young children. We were so happy with the villa & immediate surrounds that we only ventured away from the villa once, for lunch at a local resort (Matahari), which was very nice - although the black sand the kids brought back was not easy to clean up! My only regret is not staying longer, we only stayed 5 days. I would love to have ventured out to more places, as well as spent more time relaxing at the villa. These villas are suitable for all age groups - from families with babies to couples looking for a romantic getaway. Thank you Nico, Butu, Selamat & all of the staff at Jeda Villa for a wonderul holiday!
Cassie
2012-12-24T00:00:00Z
I am not sure that words can properly describe how amazing this Villa is. From the pictures you can see it is so beautiful, but only when you are there will it literally take your breath away! Nothing about this Villa looks better in the pictures! All the staff are incredibly professional and helpful, nothing was too much trouble. The style and class of this Villa is something that my very well travelled friends & I had never before experienced. The town of Pemuteran, Gerokgak is great if you are after a nice quiet humbling experience. The locals are beautiful beautiful people! It was a really great way to end our holiday on a more peaceful note after spending a week near Seminyak. This Villa is incredible value for money. Fit for a King!! Not for one moment did we think it was overpriced. It's about a 3 hour taxi from the airport which costs approximately 60USD each way, however the scenery on the way is simply stunning and well worth the journey. The pool was out of this world, very private, and very deep. Please be careful if you have young children swimming. There is a Lounge/TV area upstairs although I'm not sure why you would want to look at a TV if you were there, perhaps only to entertain the kids. There is simply no fault to find in this Villa, put simply it was the most perfect spot my friends & I have ever encountered anywhere in the world! Think of the best Hotel you can think of, and then having it all private for you and your family/friends. Selamat, thank you so much for making us feel so welcome. Nothing was too much to ask for, we really appreciate it! Nico is very lucky to have you managing the property! Cannot thank you enough, and look forward to our next stay at your villa! xoxo
Daniel
2016-03-15T00:00:00Z
It was really amazing to stay in this nice villa. The View is amazing and the only thing you hear are animals. It is the perfect place to relax and calm down. The stuff is very nice and the villa is very clean.
Maximilian
2016-12-08T00:00:00Z
Art der Unterkunft
Ganze Unterkunft
---
Objekttyp
Villa
---
Unterkunft für
6
---
Schlafzimmer
Gerokgak, Bali, Indonesien
This luxury villa is situated at the beach in North Bali. The temerature on Bali is always around 30dgr.C Your nice private housekeeper will clean, do the shopping and cook if you wish. You can discuss with her what you like and there is a menu.
The large overflow pool is almost situated at the beach, while swimming you have a beautiful view over the ocean. The little resthouse beside te pool invites you to read a book ore get a lovely body massage.
A unique experience would be spotting the dolphins. You will be picked up in front of the house with little fishing boats and be amased :-) Nearby are several waterfalls, some of them you can climb on an slide down. The naturpark at the west point is very beautiful, also for snorkling and diving.
Anneke hat sich super mit uns in Verbindung gesetzt und es hat alles perfekt funktioniert. Die Villa selbst ist der absolute Traum und die sooo freundlichen Mitarbeiter machen es zum Paradies. Also vielen dank und grosses lob an alle, der Garten könnte nicht schöner sein und das Abendessen war so lecker, haben nirgends in bali je besser gegessen.
Laura
2014-12-11T00:00:00Z
The host canceled this reservation 70 days before arrival. This is an automated posting.
Luyanda
2016-07-12T00:00:00Z
Most relaxing five days by the beachfront, poolside in Seririt. Beach is not particularly clean (lots of trash from two nearby rivers) but the villa itself and its caretakers were terrific. It was so relaxing, we didn't venture out for the entire time, with the exception of a dolphin watching trip that you can board directly in front of the villa.
Ramanan
2015-01-11T00:00:00Z
How to describe Villa Mawar in only 500 words? After the long, but beautiful drive through Munduk, we arrived in Seririt to be warmly welcomed by the friendly staff at Villa Mawar. It's as beautiful as the pictures show, even better when you're swimming in that pool! previous trips to Bali were spent in upmarket hotels where you had to share in the 'human soup pool' - really warm and dirty. But the villa pool is clean and exactly the right temperature to cool off after a hot day shopping or sightseeing. All the rooms have air con, but its only necessary sometimes since the ocean keeps the place quite cool. Bedding is very comfortable, and I really love the way the rooms all have french doors opening out into a beautiful, tropical garden. The place is teeming with bird life, and a few bats at night to keep the insects down. We floated around in the pool at night under the starry sky, watching them flutter about chasing moths. The views are to die for! there's always a lightning show over the mountains, the warm tropical rain that comes and goes just adds to the beauty of it all. We woke up at 4.30 am on our first night, like kids on Christmas Eve, just soaking in the balmy ambiance of the villa, the view, the amazing pool, the pounding ocean and how alive it was. Ketut and Elu are masterchefs in the kitchen! they make it all from scratch, no cheating! and you are served like royalty, no dishes to wash and they even offer to do your laundry. The gardener was a sweet fellow and he really does an amazing job with keeping it looking like paradise. Everything can be arranged with ease - Elu, the helpdesk lady was brilliant and very informative, she organised the scooters for us. A word of caution though - have your international driver's license for motorbikes and ask the rental agency about insurance, if none is forthcoming, ask about their policy for damage - very important! if you're not an experienced bike rider, then best to ask for a driver to taxi you around. It's much safer than to attempt the traffic there. Bali is so much nicer away from the hustle and bustle of Kuta! you get to see the real Balinese people, step into the rhythm of their way of life which, once experienced, is to be envied. We thoroughly enjoyed the drives through the mountains, the lakes area and the unique architecture of the typical Balinese home. I want my own rice room now! This was my third time to this beautiful island, but the first time I really enjoyed it. We celebrated our son's 26th birthday there, it was his first time to the island and he cannot wait to go back again. We are home now, enjoying our last ginseng coffee, with the sweet scent of Bali lingering in our memory still. I miss it already...
Michelle
2014-02-26T00:00:00Z
Wonderful villa, great staff, good host. If I come back to Bali, I'd definitely come back to this villa.
Neil
2015-03-21T00:00:00Z
As the other reviews say, this place is beautiful! I've thought about that backyard everyday since we've been back. Suri was incredible! She took care of us as if we were her children. We felt very well taken care of by the staff. The food was amazing as well. Suri is a great cook! Just a heads up, the villa is pretty isolated. Yes, you're right on a beach(with an incurable view might I add) but it's not really a beach you would go play on, or layout on. You'll mostly just admire the water from the backyard, which was MORE than enough for us. We couldn't get enough of it. But yeah, the location. We found that anytime we wanted to leave the villa, we needed to either rent a scooter or pay for the driving service as most everything was not within walking distance. I say that not as a negative thing, but it's good to know when booking. This would be an incredible place to come to if you're not going to be doing many excursions, but just want to relax. The villa and backyard are SO relaxing and beautiful You seriously want for nothing! Well, except hi speed wifi.. haha but I'm pretty sure all of Bali is that way. Overall we had a great week there, and most of our pictures are of the villa and it's view. It's that good. So if you're looking to get away from everything, this'll be great for you!
Curtis
2016-11-29T00:00:00Z
We arrived after a long flight and were welcomed by Suri (the housekeeper) who put a flower in my hair and handed me a cold cloth which was delightful. Suri showed us around the house and made us feel instantly well cared for and welcome. This villa has spectacular views and is very comfortable to stay in. All this is supported by incredible staff. Suri is efficient and nurturing and really does try to do as much as possible to make your stay fantastic. As a fussy eater I was a little concerned about the food but was blown away by every meal we were given. Eddie (the groundskeeper) climbed the palms to bring us fresh coconuts with straws to enjoy fresh coconut water. Suri made all logistical arrangements for us, including tours and daily massages at the house with quiet efficiency. She gave fantastic local advice and was happy to sit and chat through any questions we had.
Karen
2016-03-29T00:00:00Z
On arrival we were greeted by Suri and Sri with a flower and cool face cloth. The villa was stunning. We could not fault it at all. Beautiful views. Suri was amazing. She cooked most of our meal, daily cleaning and washing when we needed it. Arranged for Scooters when we adventured out. One of our daughters was sick during our stay so Suri put on her nurse outfit and used her natural healing skills. Sri was beautiful as well in assisting Suri with the cooking and cleaning. We had Edy the gardener/pool boy who kept the Gardens and pool immaculate. We asked Edy if there was a ball to play water volley ball. In a flash he had gone to the shop and back with a ball. he also climbed the Palm Tree to retrieve coconuts so we cold drink the coconut water from them. Over night we had Nopa (Security) keeping us safe and a midnight wake-up knock on the door when we went to for a Sunrise hike . The villa driver Made was lovely and full of knowledge. We loved the villa. Perfect if you plan to go away and not do much. The villa is isolated . You need a driver or scooter to go anywhere. It was great to see and experience the real Bali and not the craziness of Kuta, Legain areas. Overall we absolutely loved our stay at Villa Mawar. Beautiful Villa and Beautiful staff. Thank you.
Tracey
2016-10-17T00:00:00Z
Art der Unterkunft
Ganze Unterkunft
---
Objekttyp
Villa
---
Unterkunft für
8
---
Schlafzimmer
Buleleng, Bali, Indonesien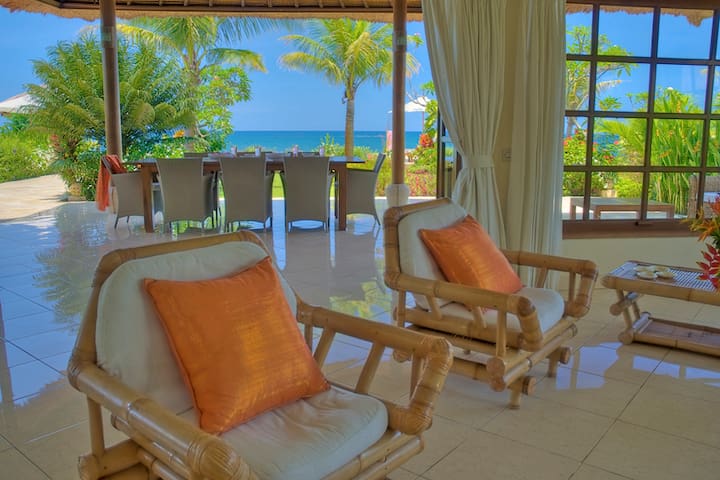 Kami akan menyoroti nilai jual yg unik bagi tamu & pilihan tempat tidur serta kebijakan yg anda miliki terkait anak-anak atau hewan peliharaan . 3 tipe kamar di Sea medewi resort : * Kamar Deluxe * Kamar Double * Kamar Double dengan teras
Ruang yang dapat melihat langsung ke pantai
Kami akan menyoroti nilai jual yg unik bagi tamu & pilihan tempat tidur serta kebijakan yg anda miliki terkait anak-anak atau hewan peliharaan . 3 tipe kamar di Sea medewi resort : * Kamar Deluxe * Kamar Double * Kamar Double dengan teras Kami memiliki fasilitas standar dan dilengkapi dengan fasilitas tambahan tersedia kamar tidur,lemari pakaian,laundry,tv,wi-fi,kolam renang,travel desk,pemandangan laut ,garden,surf school,yoga meditation,dan lainnya. For Your Information Website : (URL HIDDEN) Email : (EMAIL HIDDEN) (SENSITIVE CONTENTS HIDDEN) : sea medewi (SENSITIVE CONTENTS HIDDEN) : @medewisea Instagram : seamedewiresort (SENSITIVE CONTENTS HIDDEN) : seamedewi Contact Sea medewi resort Eddie Bukit (PHONE NUMBER HIDDEN) Berto Galung (PHONE NUMBER HIDDEN)
Art der Unterkunft
Privatzimmer
---
Objekttyp
Villa
---
Unterkunft für
16
---
Schlafzimmer
Denpasar,, Bali, Indonesien
Villa Tao draws a number of unique features together to make it a truly special place to stay. The owner designed the house focusing using only the best recycled timbers and with a focus on collecting and saving water. The 2 expansive upstairs bedrooms are 200year old Javanese Gladek houses which have been slightly modified to maximise the mesmerising views and increase comfort levels yet still give you that antique, old teak wood feel. King bed, AC, ceiling fans, TV, DVD, ipod dock sterio come standard. The en-suite bathrooms are all moulded black polished concrete complete with 2 showers (1inside, 1 outside), and a bath. In fact each bedroom has its own 20sqm private balcony and feels like your very own little house. 'Oh' and did I mention ocean views from every bedroom window? The expansive living and dinning area have been interestingly designed to fully capture the cool ocean breezes, take in the spectacular ocean vistas and integrate the 18m infinity pool so it feels like the pool and ocean are all part of the living space! There is a large Ulin hardwood table with luxurious cow hide leather arm chairs, easily seating 10 guests, a huge sunken lounge over looking the pool and ocean and there is also a massive media room equipped with the latest LED TV, BluRay DVD player, High speed WIFI and Satelite TV. Throughout the living area, pool area and rooftop there is an integrated sound system with 3 zones and ipod docking station for ease of use. The rooftop has been turned into a 170sqm 'greenroof' entertaining area. This really is the perfect place for a cocktail, take in the sunset and listen to some relaxing music through the rooftop sound system.
We had a really Nice stay at Villa Tao! the place is gorgeous with an amazing view and direct access to the beach which is quite unique. If you are looking for calm vacation, far form Kuta or Seminiak area to discover a different face of Bali, it is definitely the place. you can go for walks from the villa or rent surfboards! Francoise was very responsive and helped us organize our trip well...
Chris
2014-01-01T00:00:00Z
Villa Tao is easily the most beautiful home in the area. And much bigger and more gorgeous than it appears in the photos. The view is breathtaking. You constantly have an ocean view. The staff are incredibly kind and accommodating. The surf break in front of the house is mostly rocks so be prepared with footwear if you need it; same thing for crossing the river. We had a blast crossing the river and trekking up the hill to the house at night being guided by the fires on the beach.
Angie
2016-08-28T00:00:00Z
La villa Tao est un petit paradis à Bali. Très bien située, sur une magnifique plage de sable noire, elle est également très confortable. Le personnel est professionnel et souriant et Wayan, la cuisinière nous a régalés avec son muesli à la coco et ses spring rolls fait maison (petit bémol : les prix des repas étaient un peu élevés en comparaison aux bons restaurants du village). Nous avons passé 8 jours à deux familles (4 adultes et 6 jeunes entre 11 et 17 ans) et toute notre joyeuse bande à adoré les lieux : surf le matin, jeux dans les vagues, balade dans les rizières et couché de soleil au village de Balian. La vue sur l'océan depuis les chambres ou le salon reste pour moi la plus belle de tous mes voyages. Une adresse que je recommande à ceux qui recherchent l'authenticité des paysages, loin des spots touristiques. Enfin, Françoise a toujours été une interlocutrice disponible et efficace lors de nos nombreux échanges avant et pendant notre séjour.
nathalie
2013-08-19T00:00:00Z
this house is amazing!!!stuff was so kind and helpfull! I will come back to spend there more time!
Karolina
2016-03-25T00:00:00Z
The house and location are gorgeous - the house is a beautiful mixture of modern concrete minimalism and traditional Javanese wood bungalows. The staff was present and attentive but we felt that the service was weak, especially for this price level. In Bali, at this price, you expect to have really amazing service and amenities. The problem didn't seem to be with the staff but with the policies - there were extra charges for literally EVERYTHING other than breakfast (eggs, toast and tea/coffee, juice or meat were extra) and drinking water; there was no shampoo or soap in the rooms, towels weren't cleaned thoroughly (even after placing them on the floor they were coming back folded up but smelling of mold), and there is an issue with toilet paper - you can't flush it (presumably because the sewage goes straight into the ocean, which is common in Bali) but the trash cans aren't cleaned out regularly. When we arrived there was already dirty tissue in these bins, from a previous guest, which is really quite disgusting. Even with that, it wasn't emptied the next day until we spoke to the manager, after which it was emptied every day. All that said, the setting is remarkably beautiful and extremely peaceful, the house is very cool and the pool is very big by Balinese standards so you can actually swim laps. And the staff was very helpful and corrected a lot of the problems once we mentioned them. We just feel that more essentials and amenities - shampoo, conditioner, soaps, tea/coffee throughout the day, juices, etc - should be offered for a place that costs this much, in a place where actual 5-star villas are available for much less money, with the amenities and service you'd expect in a luxury accommodation.
Christine
2015-06-26T00:00:00Z
The host canceled this reservation 76 days before arrival. This is an automated posting.
Matthew
2016-03-13T00:00:00Z
Amazing amazing place to stay in Balian!! We loved the staff here and the chef was absolutely amazing :) everyone was so friendly and made our stay very comfortable. The pool wasn't working on the first day which was a shame however it was fixed the following day!
Charlotte
2015-10-17T00:00:00Z
nous avons passer une exellente semaine a villa tao moi et mon equipe de travail (10 personnes ) incroyable place que je recommande fortement si vous etes a la recherche de relaxation et superbe vacances . la villa est magnifique le personnel exellent les repas sont delicieux le personnel est au top niveau !!!! le coucher du soleil est magique . la villa a une merveilleuse architecture et un exellent confort !!!! villa tao fabuleuse place !!!
Salma
2014-11-06T00:00:00Z
Art der Unterkunft
Ganze Unterkunft
---
Objekttyp
Haus
---
Unterkunft für
10
---
Schlafzimmer
Tabanan, Bali, Indonesien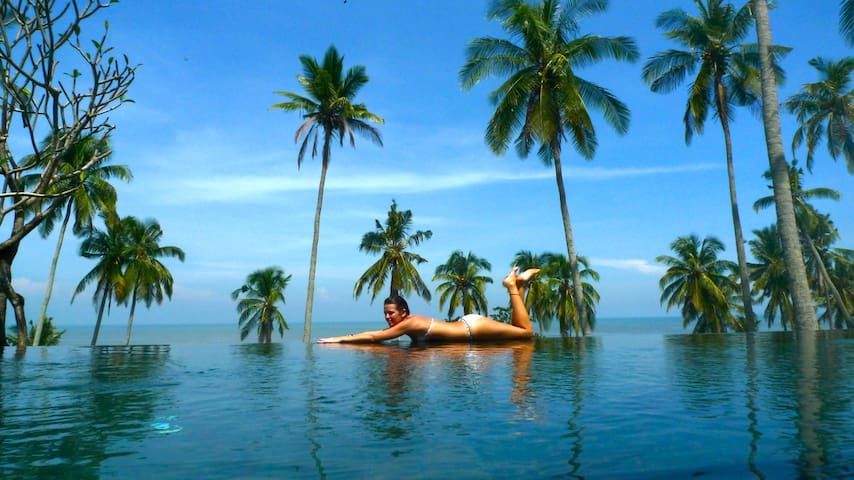 Unser Surfcamp ist in Medewi an der Westküste von Bali und ist umgeben von schönen ricefields.mountains, coconuthills und dem Indischen Ozean. Wir bieten Ihnen Surfen, Yoga, Traditionelle Kochkurs, Landwirtschaft, Body Soul Behandlung und kulturelle Aktivitäten
Dikaloha Medewi Surfcamp ist 2 Stunden entfernt von der belebten Süden von Kuta auf Bali, befindet Medewi in kleinen Fischerdorf im Westen von Bali - auf dem Weg Sie Medewi wird an einem traditionellen balinesischen Dorf und schönen Reisfeldern und Wonderlandstraße Dikaloha Surfcamp ist im alten Stil Bali Charme auf höchstem Niveau - der perfekte Ort für einen ruhigen Tag zu verbringen, neue Leute zu treffen und mit der besten Surf-Zeit oder beginnen zu lernen, wie man Basis zu surfen auch die Insel zu bekommen und zu erkunden. Dikaloha Surfcamp hat aus der ganzen Welt begrüßte die Gäste - viele, die wieder kommen jährlich für ein paar Wochen im Paradies an einem Ort, der sich wie zu Hause fühlt. Dikaloha Surfcamp hat ein paar der Zimmer Singles, Paare und Familien für einen erholsamen Urlaub oder längerfristigen Rückzug der Suche zu entsprechen. Unser Surfcamp haben eine beste Meerblick in Medewi, Ausstattung und Preise - benutzen Sie bitte unser Surfcamp Browse & zu finden, die richtige für Sie ist. Essen & Trinken Bisher haben sich unsere Surfcamp dienen nur Frühstück, aber in unserem Nachbarn gibt es nur wenige Meeresfrüchte Resta und westliche Küche als gut nur 100 Meter entfernt von unserem Surfcamp. in unserem Surfcamp verkaufen wir Bir. Kaffee oder Tee sind kostenlos bei uns für 24 Stunden wir heißes Wasser als gut liefern. Massagen Unsere Mitarbeiter können eine traditionelle balinesische Massage oder eine Behandlung in Ihrem Zimmer organisieren oder Garden-, wo Sie sich am wohlsten fühlen. Yoga Wir können einen Yoga-Lehrer organisieren, um Surfcamp täglich während Ihres Aufenthalts zu kommen und können Yoga-Matten und Requisiten bereit für Ihre Klasse bieten. Es gibt möglicherweise keinen besseren Ort, um Yoga zu üben, als über den Indischen Ozean. Abenteuer Bali hat so viele wunderbare Orte zu entdecken und Dikaloha Surfcamp ist ideal für alle von ihnen zu bekommen gelegt. Egal, ob Sie für eine Aktion oder wollen raus und Angeln, Rad fahren, Dirt Bike oder einfach nur sehen einige von Balis atemberaubende Landschaft sind hoch - bitte in unserem schönen Mitarbeiter sprechen, der ein Programm gestellt werden für Sie zusammengestellt Kulturelle Erlebnisse Bali ist eine reichhaltige Auswahl an Religion und Sitte - einfach, indem vor der Tür treten werden Sie balinesische Kultur feststellen, die in jedem Detail des täglichen Lebens gewebt ist. Wenn Sie mehr über balinesische Kultur zu lernen, wieder unsere sehr gut ausgebildetes Personal wird in der Lage sein, das Sie Tickets buchen traditionellen balinesischen Tanz zu sehen, oder erfahren Sie es selbst! Sie können auch unter balinesischem oder kochen balinesische Essen machen lernen. Medewi Medewi befindet sich westlich von Bali die beste und die längste Welle in Bali Spesially Kurve nach links, hat Medewi wenige Stelle arround Rechtshändern und Beach Break Surfers alle rund um die Welt kommen, um die Welle und Sonne, Medewi den richtigen Platz für Zwischen- oder begginer Surfer genießen. Bali Bali ist eine Insel, die Teil des indonesischen Archipels ist, die aus 17.000 Inseln besteht. Balinesischen Hinduismus ist die vorherrschende Religion mit reichen kulturellen Zeremonien und Angebote einen großen Teil des täglichen Lebens in Bali bilden. Die am häufigsten verwendeten Sprachen in Bali sind Bahasa Indonesia & Basa Bali gesprochen - wenn Sie einige der wichtigsten Sätze zu lernen, in beiden Sprachen vor Ihrer Ankunft finden Sie unter möchten. Englisch ist weit verbreitet in Bali gesprochen, so die Sprachen lernen, ist nicht unbedingt notwendig, sondern macht sicherlich einen Unterschied zu Ihrem Aufenthalt
Hier finden Sie sowohl an einer Stelle: First-Class-Surfspots und eine entspannende natürliche Atmosphäre. Innerhalb kurzer Entfernung unsere Surfguides können aus mehr als 15 verschiedenen Surfspots, geeignet für alle Arten von Surfer Stufen wählen. Es gibt Riff-und Beachbreaks, Rechts- und Linkshänder geeignet für Sie bereit. Vor dem Lager finden Sie die Sumbul Beachbreak mit mehreren A-Frame Wellen und direkt daneben Indos längste Linkshänder genannt Medewi Punkt bricht. Aufgrund der Entfernung zu beschäftigt Kuta (1,5h) unsere Flecken sind weniger überfüllt und weniger gefahrenen als die überladenen touristischen Gebiete von Balis Süden. Nach einem Vormittag können Sie auch Ihre Zeit um Medewi füllen durch das nahe gelegene Naturschutzgebiet von Bali zu besuchen, gehen auf Vulcanotours, Bullraces im nächsten Dorf, Hindu-Tempel in schönen clifflocations, Schnorcheln in Menjangan Insel und zurück nach Hause für eine Sunset Surf und Bintang Zeit in unserer Beach Bar.
It turned out I had accidentally booked the wrong dates at the airbnb! But Dika still had space for us thankfully and his employee Eddie was there to greet us and show us the room. The view is absolutely spectacular, all we wanted to do was sit in the hammock, drink a cold Bintang and take in our surroundings. We aren't surfers but we did enjoy the landscape and atmosphere of the property. The electricity failed a couple of times which also makes the water go off which was not great. Also the wifi would only load (SENSITIVE CONTENTS HIDDEN) app and nothing else so we had to go to Brown Sugar down the road and have a few drinks to use their wifi whilst there. One important thing to note is that the town of Medewi is a good 20 minute walk down the beach or even longer if you walk along the road so unless you buy food from the Dikaloha menu it is far from food. But we would recommend highly the lobster and fish dinner!!
Jennifer
2015-08-24T00:00:00Z
Amazing view of the sea and if you are into surfing a great spot to do so. Nice family of Dika which will take care of everything. Strongly recommend the fish plate. yummy.
Felix
2016-08-01T00:00:00Z
We very much enjoyed staying at Dika's Beachfront Beachhouse in Medewi! Upon arrival at the accommodation, we were welcomed by Eddy, showing us our room. The view from our room was amazing. During our stay we rented a surfboard and we booked surf lessons, with Dika as our surf guide. Dika makes an excellent surf guide, he knows all about the different breaks in the area. The village of Medewi is about 20 minutes by foot. The local people are very friendly. Be prepared for some electricity cuts and the usual geckos. The place is mainly great for surfing. If you are looking for a place to stay during your surf trip, we highly recommend Medewi Beachfront Beachouse!
Freke
2015-10-14T00:00:00Z
Ardika's place is beautiful and perched up amongst the rice fields looking out at the ocean. Medewi point break is close by and a beautiful left hander. This is a great place to relax and get into the rhythm of getting up early to surf with the help of the roosters in the morning.
kate
2016-11-25T00:00:00Z
Hello, thx for the nice chats! My husband surfed here for the first time. A sink in the bathroom would be nice ;) Greetings, Tim & Nele.
Nele
2016-07-22T00:00:00Z
Great host and absolutely beautiful location and the rooms are incredible, looking directly onto the ocean, waking up to the sound of the waves breaking. Nice semi outdoor bathroom with rain shower and western toilet. Must stay here!!
Nik
2015-11-04T00:00:00Z
Great host and great place to stay. If you want to hang out and surf west bali look no further house is right on the beach and there are plenty if places to go eat within walking distance
Augie
2016-04-15T00:00:00Z
Awesome host and has to be one of the best spots in mediwi for sure. Super accommodating to our requests, great food near by. Definitely going back!
Aj
2016-09-16T00:00:00Z
Art der Unterkunft
Privatzimmer
---
Objekttyp
Villa
---
Unterkunft für
2
---
Schlafzimmer
negara, Bali, Indonesien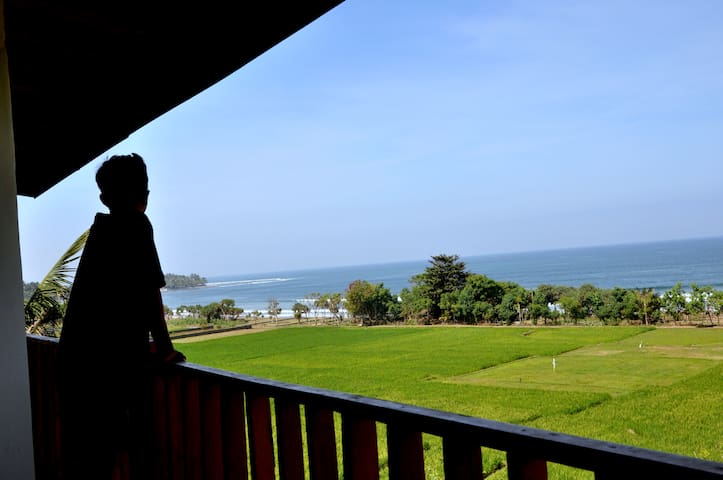 - Kapal Suite Luxury Glamping Tent - Suara Glamping is located in the beautiful area of Melaya, not yet discovered by many tourists. Your tent, just steps from the beach, has a luxurious attached bathroom, comfy double bed, themed decorations and a shady deck from which to enjoy the beautiful sunsets and views of the volcanoes of Java across the strait.
Our traditional boat inspired tent is within steps of the sea and offers a unique beachside glamping experience. With a colourful decor, your luxury tent includes a large bathroom accessible by sliding door from the bedroom and canvas that can be fully opened or closed at the front to experience a camping style link with the outdoors. We believe that travel should be about culture, great food and unforgettable experiences. And here, we'll help you find those! We offer: - Learn to cook real Balinese food with your host - Sunset or early morning trips in a local traditional boat for fishing or sunset drinks - Guided trip to nearby Menjangan Island for diving or snorkelling - Trecking in Bali Barat National Park - Guided trip to climb and see the blue flames of Kawah Ijen volcano on Java - Tour to the local Christian village which has a unique blend of Balinese and Christian Culture - A massage on the beach or on your deck - A visit to the local produce markets or the night markets to enjoy local food We enjoy great food and great flavours, and so should you. The breakfast, lunch and dinner menu's will offer a changing selection of fresh local produce depending on the seasons and you will have the opportunity to be as involved as you like in the market trips and preparation.
Thoroughly enjoyed the stay! A wonderful secluded place, which you basically get all to yourself! And you will be very well taken care of =) With a scooter you can easily get to the Taman park, or a spot from which the boat will take you to the Menjanagan island. Jol also helped with a trip to the Ijen volcano, which, as I see now, was a must - absolutely amazing experience
Maria
2017-01-20T00:00:00Z
A phenomenal location, views of Java and traditional boats sailing by - the tent is literally meters from the beach! Can listen to the waves from bed. A non-touristy area, close to a great small food market for balinese street food - I recommend the noodle stuffed fried tofu blocks Yumm! Our tent was super spacious and the bathroom was a real treat. Putu is very generous and will go out of his way to make you comfortable. It is clear how much he loves his property. My favourite diving in Bali, Menjangan island, is just a short drive from Putu's place, and he will help you get there. Also a good place to stop before heading to Java. Try the ginger beer!
Christine
2016-08-22T00:00:00Z
Putu's place is an amazing get away, it has such a relaxing and calming ambience. We were only foot steps away from the beach. We enjoyed relaxing at the bar drinking cold beers and cocktails while watching the most amazing sunsets. At night you can hear the waves rolling in and in the morning you will see the local fisherman going past in their traditional boats. We were surrounded by a tropical bliss with every colour of green. The gardens are so well kept and the tent is really impressive. So much thought and detail has gone into it to give it a special feel. I loved waking up to the sounds of the birds and Putu's delicous omelette. There is also so much to explore around the place, we took a ferry ride across to Java and climbed Kawa Ijen volcanoe. This was all organised for us by Jol and Putu. Definitely a place worth visiting, you will never want to leave!
Renata
2017-02-15T00:00:00Z
This was our best stay on our six-week round tour of Bali. It' much better than the description. Their hospitality is absolut super and Putu is a great cook. We give this 6 stars out of five :-)
Mogens
2017-01-18T00:00:00Z
The stay in the in this tent was awesome. It is better than what the pictures shows. Bed was super confortable and the tent decoration makes the stay a lovely experience. I would like to highlight more things, not only the place. Jol was helping us in all the process before to arrive to the place: guide, suggestions, tips... he was really helpful, good communication and friendly. In the place, Putu and Jogi were the best people I ever meet in any airbnb place. Together we fished, we cooked, we went to see Melaya... Summary: a perfect holidays! This is a experience I will suggest to my family and friends. If you're reading this review, do not hesitate. It worth it.
Juanse
2017-01-08T00:00:00Z
The tent was as great as it looked in the picture! Putu was a wonderful host, very welcoming, a great cook and builder, taking us to see wonderful places like the Ijen Volcano on Java and the local night market with delicious food. Heaps of great recommendations of things to do in the area and organising the diving trip to Menjenan island. The location was really peaceful, a great spot to relax and spend time between traveling around the area.
Sarah
2016-08-26T00:00:00Z
WOW! You have to stay here-an experience of a life time! Such an amazing glamping tent: homely, comfortable and right on the beach! Putu's hosts introduced us to the local market, cooked us meals and practiced cocktails on us (with which we were more than happy to oblige). They recommended somewhere for our first snorkle (also apparently great for diving!)... Such an amazing experince, we're now considering doing a diving course. Also, they organised a volcano tour for us. It was such a magical night- thoroughly recommended! Their knowledge of the local area most definitely made our trip! If you fancy exploring the local life, just have a wonder around the neighbouring streets, lots to explore. There's also many miles of beach where you're unlikely to see anyone else- it seems the tourists haven't discovered the area yet, so shhhh!! A thoroughly comfortable and enjoyable stay. A huge thanks for such a memorable first Bali experience- we'll most definitely be back!!!!
Scarlett
2016-08-10T00:00:00Z
This was easily the best place we stayed during our 3 week trip to Bali. The tent is amazing, the pictures don't do it justice. The hospitality received from the hosts was great, Putu and Jogi are super guys who will make you feel very welcome and will go out of there way to help you. Jol was in constant communication with us offering tips and organizing trips. He even helped us in our hour of need when we lost our money. You will basically have a private beach to yourself during your stay. We will greatly miss Putu's cooking. :)
Matthew
2017-02-05T00:00:00Z
Art der Unterkunft
Ganze Unterkunft
---
Objekttyp
Zelt
---
Unterkunft für
2
---
Schlafzimmer
Melaya, Bali, Indonesien
My place is close to The Point Break in Medewi. Its about 1 minute walk to the Beach and ready to jump. You'll love my place because of the people, the place, the feeling of the garden and of cours with good food from our restaurant. My place is good for couples, solo adventurers, and business travelers.
MedewiBeachInn is a Place for you easy to stay and have good Surf.
The place is only 1 minute walking to the main wave in Medewi. The breakfast in not included but you can order a "american coffee" for a affordable price. The staff are very friendly and helpful.
Bruno
2017-01-31T00:00:00Z
Super nice small resort with proper rooms and balcony! The stuff are very nice people! Very friendly and helpful in any belongings
Stefanie
2017-04-08T00:00:00Z
Wyan and his family are good people. Simple lifestyle and friendly. Just like the Medewi community.
Ron
2017-01-29T00:00:00Z
We felt very welcome at Medewi Beach Inn and the food in particular was very good! We'd definitely come back again.
Jonny
2016-08-22T00:00:00Z
Very nice people.. They were helpful and friendly.
Nathan
2016-10-13T00:00:00Z
Great place to stay. The restaurant on site is very good and a good price. Your located right at Medewi point for surfing (literally within a 2 minute walk of where you paddle out). The only downside was the wifi doesn't work very well and the shower in our room wasn't great. But these didn't bother us much as we were surfing all day anyway. Overall if your here to surf the location is perfect and you won't be disappointed!
Aoife
2016-09-22T00:00:00Z
Great view, chill people... Perfect if want to enjoy the calm
Aurel
2016-08-18T00:00:00Z
Great place, a few meters from the spot. Very easy! The room is nice and staff also. One negative point: Wifi works very slowly or not. (But it seems to be the same everywhere in medewi...) I'll come back one day!
anne
2016-09-16T00:00:00Z
Art der Unterkunft
Privatzimmer
---
Objekttyp
Wohnung
---
Unterkunft für
2
---
Schlafzimmer
Pekutatan, Bali, Indonesien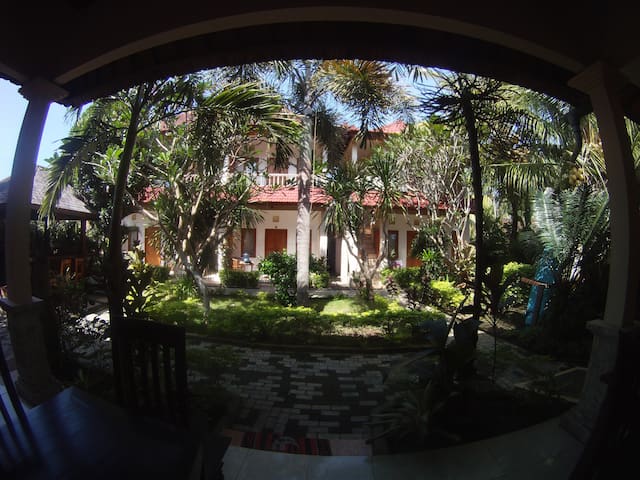 Located directly on the beach our brand new rooms offer quality. We let the pictures tell our story and our clients reviews.
This is a "brand new (2015)" Beach front boutique hotel that is ready to serve you and make your stay with us a pleasant one. WE ARE DISABLED FRIENDLY not a step insight.
We are direct beach front and all rooms have uninterrupted view directly across the pool and out to sea. The area is very much real Bali and not like the south which is high end shopping, disco's and busy traffic. We envisage people to stay with us who enjoy peace & tranquility.
Unbeschreiblich schöne Gegend, sehr ruhig und naturbelassen. Ein Traum für jedes Paar.
Daniel
2016-10-09T00:00:00Z
Nette Hotelanlage, die Lage eignet sich gut um den Nationalpark zu besichtigen, ansonsten ist allerdings nicht viel in unmittelbarer Nähe. Das Personal war stets freundlich, das Zimmer sauber bis auf das schlecht riechende Wasser. Das Abendessen hat uns leider gar nicht geschmeckt, sodass wir nur einmal dort gegessen haben. Frühstück war okay, die Pancakes waren leider meist noch nicht ganz durch, dafür gab es aber immer frisches Obst. Für einen ruhigen Strandaufenthalt auf jeden Fall eine gute Location, der Pool war ebenfalls gut!
Sophie
2017-01-26T00:00:00Z
Hola hemos paado unos días maravillosos. La casa es estupenda, el lugar un paraíso, y los anfitriones lo mejor. La comida buenísima . El lugar es tranquilo con posibidad de actividades. Lo recomendamos. Excelente!!!
Pilar
2014-10-16T00:00:00Z
We enjoyed our stay at Melaya Beach Resort very much. We had a rental car, which was really helpful to get around to different places nearby. The room was very comfortable, and strolls along the beach were quite pleasant. We enjoyed having dinner one night at a local restaurant just at the end of the beach nearby. Evening dips in the pool were lovely. The staff were very friendly and quite accommodating. We would definitely stay here again if we come back to this area of Bali.
Doug and Angie
2016-11-09T00:00:00Z
This place is great! Though we didn't get a chance to meet Colin in person, he was very very attentive. A really nice guy! The rooms are very clean, the view is amazing and the pool is wonderful! Komang couldn't be more friendly. She truly went out of her way to make us feel at home! The national park, which is about a 20 min drive away, is incredible! Overall, an amazing place to stay! Thank you! :)
Mauricio
2015-03-08T00:00:00Z
The place was real paradise! Quiet, wonderful view, nice staff, clean rooms, nice pool. We were looking for something to relax and it was perfect for that. If you want to eat outside you have to go by car or hire motorbike a for 50.000rp a day. Eating in the hotel is possible but not really an option. The night market, 10 min away with scooter, is lovely, and 5min walk on the beach you might find a fish restaurant. strange: there are 4 rooms a 2 persons, but there are only 2 tables in the whole area and 3 sunlougers.... maybe it would be a good thing to have some more, otherwise there will for sure be some fights in future between guests. Host wasn't there. This is a hotel,nothing private or personal. Be aware of that.
Merle
2015-07-24T00:00:00Z
Amazing place, very friendly and helpful staff. Clean and spacious room, good air conditioning.. Great pool and lovely to be so close to the beach..
Pauly & Andrea
2016-09-20T00:00:00Z
We had a lovely and relaxing stay at Melaya. The view and the pool are great. The rooms are clean and with airco. The breakfast, lunch and diner where great! The people where very Nice and arranged a ride to ubud for us.
Robert
2016-05-20T00:00:00Z
Art der Unterkunft
Privatzimmer
---
Objekttyp
Bed & Breakfast
---
Unterkunft für
2
---
Schlafzimmer
Negara, Bali, Indonesien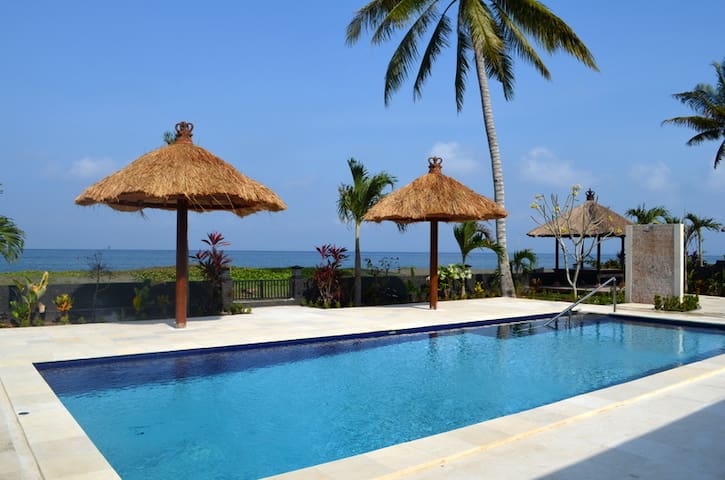 Unsere ruhige Inn liegt nur 4 min von Pemuteran Strand. Hören Sie weichen Meereswellen aus dem tropischen Garten, genießen Sie Ihr Zimmer ist kalt A / C und Ihr Open-Air-Bad, gehen Schnorcheln oder Tauchen auf der Insel Menjangan. Restaurants & Mini-Märkte zu Fuß erreichbar.
Mango Tree Inn befindet sich in einem Mangohain in der Nähe des Meeres und der Meeresrauschen von Ihrem Zimmer leise zu hören. Das Zimmer ist sehr sauber, in einem ruhigen Garten, mit Blick auf die Berge paranomic Hintergrund. Die Lage ist im Herzen von Pemuteran, da wir nur wenige Gehminuten von vielen Mini-Märkte und Restaurants (die beste Pizzeria in Bali? Es ist nur 2 Minuten zu Fuß vom Zimmer) und dem Strand (4 Minuten zu Fuß entfernt ) ist zum Schwimmen und Schnorcheln ausgezeichnet. Das Frühstück wird während Ihres Aufenthaltes zur Verfügung gestellt und ist meist mit Zutaten von lokalen Bauern gemacht. Und Sie sind willkommen in unserem Haus zu kommen, um Ihre Wasserflaschen mit gefiltertem Wasser aus dem lokalen Tempel zu füllen. Bitte beachten Sie, dass es einen Rp 10.000 pro Tag pro Person Gebühr für diese. Ihr Zimmer verfügt über eine Klimaanlage und warme Duschen. Die künstlerische eigenes Bad ist Open-Air mit einem Bambus-Dusche, Spülbecken aus Naturstein und Wände, Fliesenboden, Handtuchhaken, großzügigen Handtücher, Seife, Pflanzen entlang Innenwand und eine Außen Frangipanibaum Ansicht. Die Theke der Spüle wurde von einem unserer Mangobäume erstellt, die für die Inn Gebäude geopfert wurde. Und das Licht auf der Terrasse? Recycling-Holz aus einem Waldbaum, der das Leben ist wurde von Termiten genommen. Wir verwenden Low-Watt Glühbirnen und energieeffiziente Warmwasserbereiter. Wir sammeln Dosen und Flaschen und geben sie an eine lokale Person, die sie für Geld verkauft. Unser Dach wurde aus Kokosholz gebaut, nachhaltig und schnell wachsenden Material und unser Zaun ist aus dem sehr nachhaltige Bambus. Handtücher sind mit natürlichen, vor Ort gefertigten Waschseife gewaschen und mit der Sonne getrocknet, keine elektrischen Trockner. Das Bad Seife zu Ihnen geliefert wird vor Ort aus natürlichen Zutaten gefertigt und ist Mango parfümiert :) Und ... alle Lebensmittelreste zu Nachbars Hühner gegeben sind. Das Zimmer selbst mit Kingsize-Bett (oder 2 Einzelbetten) mit frischen Laken und Matratzenauflage / Beschützer (etwas, das viele kleine Orte haben hier nicht), 2 Nachttische, Moskitonetz, 2 lokal geschnitzt Leselampen, Schrank mit Kleiderbügel und Platz zum Aufhängen, bei Bedarf persönliche Safe, Klimaanlage, Schreibtisch / Tisch und Stühle, Wäscheständer, Regenschirm, und wunderschön mit Sand fertig Wände eine elegant natürlichen Look ... geben. Der tropische Garten hat verschiedene Pflanzen und Blumen, Bäume, Brunnen mit Fisch und Mango-Bäume natürlich! Kostenloses WLAN ist ebenfalls im Übernachtungspreis enthalten und wird in Ihrem Zimmer oder auf Ihrer eigenen Terrasse zur Verfügung. Kostenlose Parkplätze auf dem Gelände ist im Preis inbegriffen. Kinder sind auch willkommen! Ihre Gastgeber würden lieben, Sie auf lokale kulturelle Touren zu nehmen (gegen Gebühr Abdeckung Zeit zu helfen, Gas, etc.) Services ... Zimmerservice Autovermietung Fahrradverleih Motorradvermietung Der Shuttle-Service (gegen Gebühr) Flughafen-Shuttle (gegen Gebühr) Informationsschalter für Ausflüge Gepäcklagerung Wäschereiservice (gegen Gebühr) Tägliche Zimmerreinigung Safe auf dem Zimmer
Wir sind nur einen kurzen Spaziergang entfernt vom Strand, in der Nähe Biorock und Schildkröte Brüterei. Sie können zu Fuß, was Sie brauchen. Entlang der Hauptstraße sind preiswerte Restaurants sowie Mini-Märkte, Spas und Tauchschulen. Es gibt auch Bars (Live-Musik Freitagabend) und Geldautomaten. Am Strand gibt es weitere Restaurants. Am Samstagabend können Sie die gamalan spielen für traditionelle Tänzer hören ... fragen, ob Sie sehen möchten. Es ist in einem Restaurant am Strand und wir würden gerne den Weg zu führen. Genießen Sie die gemütliche traditionellen balinesischen Dorf Pemuteran, ohne fliegende Händler oder schikaniert Verkäufer stören Sie. Wenn Sie die Erfahrung der realen balinesischen Dorf lebenden wollen, ist dieser Ort für Sie.
Well maintained and clean room with a nice open air bathroom with Jasmine tree as a sealing. Also they serv breakfast right at your room. The mango tree inn is located close to the sea whee you can snorkeling and see the coral.
jacques
2017-02-07T00:00:00Z
What a great place. The rooms are very clean and peaceful and I loved the outdoor bathrooms, especially showering under the stars at night. Chok is the perfect host, he arranged my snorkeling trip to Menjangan island for a good price, helped me rent a bicycle for a day, and had plenty of suggestions for things to do around the area. Mango Tree is also just a few minutes walk from the beach and tons of places to eat, so it was very convenient since I didn't have my own transportation. Great place!
Briana
2016-07-04T00:00:00Z
What an amazing host!!! I got sick the day before arriving, so I spent the two days in bed. Luckily, the room was beautiful, the bed was extremely comfortable (I layed there for 48h haha) and the a/c works great. The bathroom was the best part for me, with a bamboo shower with both hot and cold water. I also loved their mango soap, wish i had brought one back home! Chok offered (and brought me) food to the room as I could barely get out if bed. I really appreciate the attention he gave me. I will for sure come back, this time ready to dive and explore the area a bit more!!
Elsa
2016-04-14T00:00:00Z
Mango Tree In is a very nice place to stay if you are going to Pemuteran. It's centrally located, with only a few minutes walk to the beach. I liked staying there. Chok is also very friendly. Since he was there so much of the time (in his own house) it became a very personal place to stay. I can truly recommend it!
Valinka
2016-07-25T00:00:00Z
Yes it's in Pemuteran ! But don't pass your way. You will be like in your own home. The host Chok, is accessible, attentive and always present for anythings. He organised for us a wonderfull program with a lot of différents activities ( trecking in Java in Kawah Ijen, visited the mangroove with the perfect guide, snorkeling...) The room is Perfect : clean, nice, quiet, amazing bathroom and confortable. And all of that with a hudge breakfast. We adopted the place and the owner. So sad to leave Pemuteran.
Weisse
2016-05-20T00:00:00Z
We had a great stay. This is a beautiful, newly built Inn with comfortable beds, nice decor and delicious breakfast. Very kind and friendly hosts. Thanks so much.
Christina
2016-02-11T00:00:00Z
We loooooved our stay at Chok's place! The room is wonderfull, the garden a piece of paradise and it's amazingly located. The beach and the mountains are right behind the house. We also had great time with Chok and the other guests together! The breakfast was also super good. What a great experience for our first time in Bali, hope we will come back one day!
Thomas & Cyrielle
2016-05-05T00:00:00Z
We had an amazing stay at the mango free inn for 4 nights. The advert and previous reviews were totally accurate. The rooms are lovely, very clean and comfortable. The bed was wonderful and aircon was very efficient. Loved the outdoor showers. Great breakfasts served on the terrace overlooking the beautiful garden. Good location a very short walk to the beach and near lots of restaurants and shops. Chok was a fantastic host with great communication before and during our stay. He arranged everything for us making things very easy. He was very welcoming and sociable opening his house for guests to hang out together. Amazing value for money would definitely recommend
Toby
2016-06-02T00:00:00Z
Art der Unterkunft
Privatzimmer
---
Objekttyp
Bed & Breakfast
---
Unterkunft für
2
---
Schlafzimmer
ID, Indonesien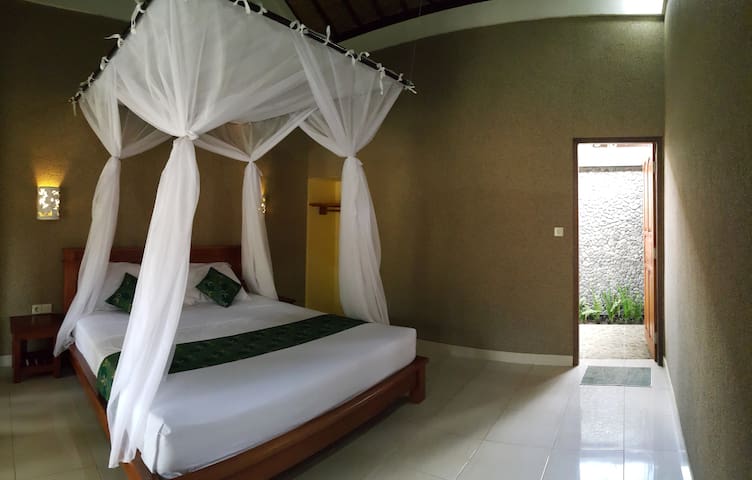 The villa is located at the outer edge of a small town named Medewi/Yeh Sumbul in West Bali, which is about 20 km from the city of Negara, Bali. From the living room you can enjoy a fascinating view over the Indian Ocean across to the island of java.
If you are looking for a vacation spot surrounded by a quiet natural scenery, empty beaches, breathtaking sunsets with a relaxed, romantic atmosphere, then this villa is just right for you. The villa has 3 Bedroom and space for up to 6 People. You can book each room separat or the whole villa. More Details you find here: 2-Single Bedroom https://www.airbnb.com/rooms/7151773 Doubleroom East https://www.airbnb.com/rooms/7549733 Doubleroom West https://www.airbnb.com/rooms/7553758 Whole villa: https://www.airbnb.com/rooms/7554039 To all Surfers: Only 80 meter walk from the Villa to the beach. When you sit in the living room or you are still lying in the bed of the Westbedroom, you can as soon as the sun has risen , check the waves. On this beach you can choose your favourite Peak from five different Beachbreaks. In only 1900 Meter distance you find Medewi Point - one of the most beautiful Lefthander of West Bali. Go just 20 minutes south by scooter you will find the surf Spot balean - another highlight on the West Coast. In between, there is of course the one or the other " Secret Spot " which have to explore on your own :-)
The neighborhood is very friendly. If you used to stay in Seminyak or other bigger town in Bali, you wont find this. It's amazing how a simple hello everyday would make you feel so special.
Einfach genial! Ruhige Lage inmitten von Reisfeldern, der Beachbreak in Sichtweite (keine 100m zu laufen), mit dem Auto oder Moped nur ein paar Minuten zum Medewi Point (sehr lang laufende Lefthander), Surfstation fast nebenan. Lediglich Party-Suchende werden hier ein wenig enttäuscht sein, aber das fanden wir gerade gut :-) Buchnung über AirBNB war easy, Unterstützung und Versorgung von Sofyan und seiner Frau vor Ort waren echt super. Frühstück war sehr lecker. Sehr gerne wieder!
Ursula
2016-09-11T00:00:00Z
Wir wurden nett empfangen, es gab auch eine Infomappe mit allen wichtigen Dingen. Man sieht vom Haus aus schon das Meer. Die Villa war genauso wie beschrieben, es gab auch einige DVDs. Man konnte jeden früh entscheiden was man essen mag das wurde einen dann frisch gemacht, sehr gut.
Jacqueline
2016-09-23T00:00:00Z
Super Unterkunft, reibungsloser und herzlicher Empfang und alles genauso wie beschrieben. Eine richtig schöne wohlfühl Oase , eine tolle Crew die sich um alles erdenkliche gekümmert hat , vom Roller leihen bis Ausflüge etc. Für Surfer ist auch alles so zu Fuß erreichbar und mann darf garnicht erzählen wie gut es hier ist und im Gegensatz zu anderen Orten auf der Insel ruhig und leer auf dem Wasser.....nur zu empfehlen!!!
Thorsten
2016-11-13T00:00:00Z
Begonnen hat es mit einem sehr netten Empfang der Haushälterin, die uns gleich die geräumigen, sehr gut bestückten Zimmer zeigte und anschließend die Küche, die alles hat was man braucht. Das Haus liegt in einer sehr ruhigen Lage. Das ganze Haus war absolut sauber wie es man von Bali leider nicht sehr oft kennt. Auch der Pool hatte Glas klares Wasser. Am nahen, ca. 1 km langen Strand ist ein schöner Surfspot und es gibt wunderschöne Sonnenuntergänge. Die Restaurnts in der Umgebung sind empfehlenswert und haben auch hervorragende Preise. Vielen Dank für den schönen Urlaub: R+S+B
Roland
2015-09-05T00:00:00Z
Die Snaffl Villa ist ein großartiger Ort um etwas Ruhe zu genießen und zu surfen. Die Villa ist einfach ein Traum. Eddy und Sitti haben sich gut um uns gekümmert und uns auch morgens mit dem Auto zum Point gebracht zum Surfen und Yoga. Man erreicht den Medewi Point aber auch nach einem gemütlichen Strandspaziergang von etwa 20 Minuten. Die Kommunikation mit Josef hat auch super geklappt. Wir hatten eine super Zeit hier.
Marcel
2015-09-16T00:00:00Z
Ein sehr schönes Haus an wunderbarer Lage. Wir konnten für uns selber kochen oder uns im gemütlichen brown shuger camp verköstigen. Wenn man zu fuss am strand entlang geht geht ist man ungefähr in einer viertelstunde am point, mit dem scooter, den wir von eddy gemietet haben, gings dann noch einiges schneller. Wir würden das haus unbedingt weiterempfehlen.
Simone
2016-05-16T00:00:00Z
Great location away from the main drag which gave us time to really relax, which was what we needed. The housekeeper Siti and her husband Eddy bent over backwards to make sure we had everything we needed including a tour of the local area with guidance as to safe restaurants to eat at. The wifi was a little sketchy at times but I think that is more the area. You do need to organise transport to the main area of Medewi and mopeds are very cheap.
Jeff
2015-10-07T00:00:00Z
Awsome little get away! Nice and quiet. House is beautiful and modern. The houses caretakers, Eddy and Siti were wonderful and helped us wherever they could
Aaron
2015-09-26T00:00:00Z
Art der Unterkunft
Privatzimmer
---
Objekttyp
Villa
---
Unterkunft für
2
---
Schlafzimmer
Pekutatan, Bali, Indonesien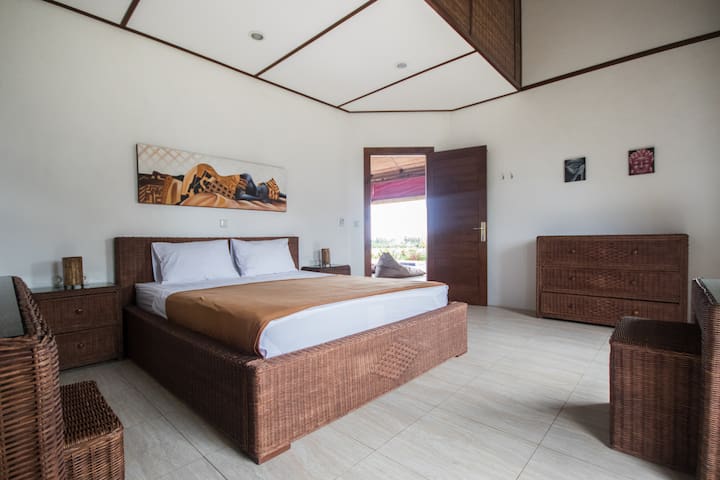 My place is close to Menjangan Island, Gilimanuk Harbour. My place is good for couples, solo adventurers, families (with kids), and big groups.
Art der Unterkunft
Privatzimmer
---
Objekttyp
Gästehaus
---
Unterkunft für
3
---
Schlafzimmer
Bali, Bali, Indonesien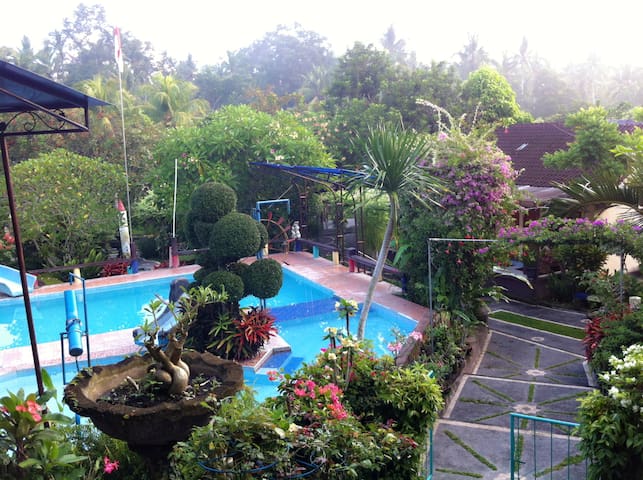 Villa Niyati breathes an atmosphere of peace and relaxation combining the unique Balinese spirit with the highest level of modern comfort. It's the perfect getaway for a relaxing luxury holiday.
There are 4 beedrooms, 3 bedrooms have a dressing, ensuite bathrooms, toilet and air-conditioning as well as a safety deposit box and a hair dryer. There is also a separate toilet on the ground floor.There are 2 bedrooms on the ground floor with king size beds and two bedroom on the first floor with two single beds and a sofabed and a magnificent view over the pool, the garden and the Bali sea. Flat screen TV, DVD player and DVD library with a wide selection of over 100 movies, including special collection of kid's movies and cartoons, iPad- / iPod-docking station, unlimited and free WiFi internet access from every part of the villa is at your disposition. A mobile phone is also provided for local calls. Toys, games and books are abundantly present. Little children and babies are welcome at villa Niyati. There is a foldable baby-bed, -chair and –bath, children plates, cutlery and toys. 8 seater dining table, 6 sun beds, sofa lounge, relaxing bale benong, 12 x 5 meters infinity swimming pool with access stairs and 3 depth levels, pool toys, outside shower, fish ponds, water wall. There is a carport near the staff house. 2 scooters are available for rent for the guests during their stay.
Banjar hot water springs are only 5 min. away. Seririt, where you can find ATM and shopping facilities is about 10 min. Lovina is around 20 min. from the villa. Renting a car with driver is very easy and at reasonable prices.
Wir wurden von Hendika und risma sehr freundlich empfangen und fühlten uns direkt wie zuhause. Die Ausstattung in der Villa ist super und alles entspricht genau den Bildern. Die Villa ist einfach nur ein Traum und der Abschied fiel uns schon nach den 4 Tagen schwer. Das Essen war super lecker und immer nach unseren wünschen. Die Villa ist sehr weiterzuempfehlen
Vanessa
2016-11-09T00:00:00Z
No tengo palabras para describir lo bien que estuvimos en Villa Niyati. El personal es maravilloso y te hacen sentir como si en el paraíso estuvieras. La casa es mucho mejor que lo que en las fotos se ven y las atenciones son máximas a un gran precio. Nosotros nos casábamos en Bali pero en el sur, e intentamos cambiarlo cuando estábamos allí pero ya no pudimos y nos prepararon de sorpresa una mini boda vestidos de balineses. Estuvimos con unos amigos y sólo nos acordamos del maravilloso personal y la villa. El norte ofrece muchas cosas que ver, comentarle a Hendika y que os lo organice el con gente del pueblo que conoce. Alguien en los comentarios que siempre me leo todos, comentó que faltaba azafrán, yo me encargué de llevarlo. Que buenas esas comidas de Risma, siempre con su sonrisa... Tenemos muchos buenos recuerdos... Os aseguro que no os arrepentiréis de ir!!. Os deseamos lo mejor Hendika, Risma, Sugi, Nendi y Riyasa!!. Gracias Rita por hacerlo realidad!!!
Gustavo
2015-09-13T00:00:00Z
The only bad thing about Villa Niyati is having to leave! The villa is stunning, away from the resort towns, on a beautiful coast and fitted out with everything you could need. Hendika, Rizma and the team look after your every need from start to finish. And when your 1 year old is having mealtime meltdowns (there were a few) Rizma whisked her away so we could have the first adult conversations at lunchtime for a long time. Rizma made us amazing meals every day - we chose what we wanted for lunch and dinner after breakfast, she did the rest! We completed some very relaxed, easy local dives one morning and relaxed at the villa the rest of the time. We were prepared for the drive, internet was fast and really can't complain about anything. We will definitely be back!
Corrie
2016-04-24T00:00:00Z
Perfect. The staff is amazing, really efficient and discrete at the same time. Treat them well, they deserve all your respect! The house is big, well decorated, modern, everything is on point. Clean all day, u can see urself in the floor. The pool is beautiful and clean as well. Safety is provided at night by a nice security guy. Its a perfect place for a peaceful, calm, luxurious retreat/break during your stay to Bali.
Wissem
2016-08-02T00:00:00Z
It took us roughly 4 hours to get to the villa from city area but the villa was truly worth the ride. It's spacious, clean and very well taken care of. Risma and Hendrika took very good care of me and my friends during our 3 nights stay and totally made us feel at home. The pool has a stunning view and the night sky was breathtaking. Host was extremely responsive and answered all my queries almost instantly! My friends and I enjoyed our stay very much and would definitely come back again. However, do note that the wifi signal inside the house isn't very strong and reliable so if you cannot live without data connection, it's probably best to get a SIM card. There was also 2 short blackouts but Risma and Hendrika handled it well. They gave us torch lights instantly and reassured us that electricity will be back up shortly. This is hands down, my best Airbnb experience :)
Shan
2016-03-06T00:00:00Z
What a wonderful place to relax and unwind. This is truely a haven away from bars and restaurants and all the other usual tourist traps. The staff here are excellent especially Hendika who meticulously cleans the house everyday. Risme (not sure if I spelt here name right) will cook you yummy meals and all you have to do is chill with the family. The infinity pool is outstanding with its views straight out to the ocean. The villa also comes with 2 scooters to use which we also found very useful. If we get the chance to come back we definitely will!!! Thanks to all for a wonderful holiday. If your considering this villa as a possible option Book It you will not be disappointed!!
Paddy
2017-01-12T00:00:00Z
This is only the second time we have used Airbnb and we have set an incredibly high bench mark. Villa Niyati is fantastic. It has exceeded our expectations in all regards. It is a huge luxurious villa with a beautifully sculpted garden, great aesthetic, spacious rooms, extremely comfortable furniture and blessed with the most generous and lovely team of staff. It is hard to find and I hope it stays that way.
Karen
2015-10-10T00:00:00Z
Villa Niyati was everything we could have hoped it would be and more! The villa itself was far more beautiful in person than the pictures show. Anik, Hendika, Risma and the rest of the staff were wonderful to us, and we will certainly be missing Risma's cooking in the next few days. They went above and beyond their duties to make sure we were comfortable, and even took us into town for shopping and sightseeing! One of our group members got a very bad sunburn at one point and Risma made a wonderful cucumber paste to help cool her down. We felt truly welcome and at home at Villa Niyati, and hope to come again in the future. It is a welcome retreat from the busier tourist areas of Ubud and Kuta, and exactly what we needed!
Jacklyn
2016-02-13T00:00:00Z
Art der Unterkunft
Ganze Unterkunft
---
Objekttyp
Villa
---
Unterkunft für
7
---
Schlafzimmer
Kalisada, Bali, Indonesien
We are 800 meters down the beach from Medewi Point (200 meter left world class cruisy point break) & 2.5 hours drive from the madness of Bali's tourist areas. Included: 2 bedroom A/C apartment, private pool, huge vid library, TV, HiFi, Xbox360 + games, office desk, PC, poolside pizza oven, 2 scooters, surfboards boogie boards, flippers, snorkeling gear. etc Yani will pick you up from the Airport & look after you. See our FAQ's. What are you waiting for message us now. Paul Sri and Yani.
Medewi Manor is 800 meters down the beach from Medewi Point which is a goofy foot surfboard rider's dream and is recognized as one of the best and most forgiving left point breaks in the world with a 200 plus meter ride. There is also quite often a great beach break wave out front at Sumbul Beach especially mid - tide on a low swell day. Situated 2.5 hours' drive from the madness of the Bali tourist areas. We have one downstairs 2 bedroom apartment (my wife Sri and I spend around 15 weeks per year in our private upstairs apartment). The 2 bedroom apartment is all decked out with marble floors, great kitchen, impressive bathrooms, Air Con, TV with connected big Hi Fi sound, Xbox and numerous games, extensive video library, Indian marble office desk with PC and $10AUD Yani will get you a phone / data package to hotspot our S3 to your laptop or our desk PC. Yani, our main man, will pick you up from the Airport (for $55AUD = 550,000Rp) and a 2.5 hour drive from Medewi Manor. He will look after you during your stay. The local restaurants are basic and cheap. There is little to no shopping for tourists in this area apart from a well stocked cheap souvenir / gift shop a 15 minute drive away. If you don't like Bintang you better BYO spirits. Wine is expensive in Bali so stock up on duty free spirits (more bang for buck) at the airport of your departure. You are allowed 1 litre per person (In Bali minimum price is $16 per bottle of Aga Red = bottom shelf red wine) If the swell is down or the tide is wrong you can (i) Go Snorkeling out front or in Coral Reefs of Mengagin Island (which is a 1.5 hour drive away) or (ii)Go fishing with the local outrigger canoe style fishermen or (iii)Just hang out at Medewi Manor poolside or at Gede Warung (Indonesian Café) at Medewi Point. (iv) Organise a day trip with Yani. (v) Have a massage. 1 hour $10AUD In Medewi you can live the old style Bali life (before the tourists over ran the place ). You can support the local economy in many ways including buying a Medewi tee shirt, eating at a local Warung, having a massage by the beach ($10 AUD per hour) or by appointment at Medewi Manor, taking a day trip to Mengagin Island to snorkel in the coral. This area is well away from the hustle and bustle of Kuta, Seminyak and Legian there are no bars or nightclubs here. There are 2 scooters available. We have a rack of Surfboards, Boogie Board and snorkelling gear. The temperature is around 30 degrees all year round and the pool is hard to get out of once you are in it. If Sri (my wife) and I are not visiting at the time you will have the place to yourself apart from our Indonesian speaking (no English) caretaker Sunimin who resides well away from your private space. The downstairs 2 bedroom apartment is fully air conditioned. There is an awesome traditional Italian wood fire Pizza oven poolside (BYO mozzarella, anchovies, salami, pizza sauce etc). Yani can set you up a pizza big screen concert / movie night by the pool. Don't forget to BYO your favorite USB / DVD music /movies or you will be stuck with our favs and get set to enjoy a concert / movie on the big screen by the pool. Enjoy great surf while residing in your own private luxury accommodation. Medewi Manor is ideal for surfboard riders who to bring their wives / girlfriends, children or friends to a private pad near the beach to enjoy a higher more comprehensive standard of accommodation. If you are a surfer or just a person who enjoys a lay back quiet cruisy holiday away from mainstream tourism Medewi Manor is for you. For Surfers it is best to time your arrival in a week where the high tides are occurring in the morning. (SENSITIVE CONTENTS HIDDEN) internet sites such as Bali Tides and Swell Net. (URL HIDDEN) Our maximum number of guests is 6 people, we recommended 2 to 4 people and our modest start up tariff is $80 per night plus $10 per person after 2 persons, minimum stay 2 nights (you need to stay at least 3 nights to fully enjoy Medewi Manor or you will kicking yourself you left so soon) 5% off a 7 day booking and 10% off a 30 day booking. Medewi Manor is amazing value for couples, friends and mates who want to get away from the tourist areas of Bali and surf Medewi Point while living a private life in paradise with all the trimmings. We have a comfortable soft top automatic blow up double bed that can be placed out of the way at the end lounge room adding a third double bed to the mix. By the Way: There is minimal potential to "pull a chick " in Medewi as it is a strictly Muslim/Hindu area and all the locals are happily married. It is best to bring your wife, husband, girlfriend or boyfriend. There are no bar girls in Medewi and please do not put the hard word on the local massage girls as you will not be popular. Organising a private massage in your bedroom with the door closed is NOT the way to go. We are currently building a new 6 bedroom accommodation block at the end of the land allotment well away from the apartment. This accommodation block will have a third floor Bali lounge restaurant / cinema with a great 360 degree view sky lounge. Apart from December and January we will cease work on the building if the downstairs apartment is occupied. So get 4 to 6 people together and enjoy the start up tariff offered only to airbnb. Experience the old style Bali while it lasts, we do, we love this place. Cheers Paul, Sri and Yani
Medewi Manor is located in the middle of a rice paddy area 60 metres away from the beach over looking Medewi Point which is 800 meters or so walk down the beach. Car (Yani will drive you) and Scooter transport to get to the wave at Medewi Point on time is provided. The village of Yehsumbul is a quiet Muslim Village located approximately 600 meters behind Medewi Manor in the hinterland.
Medewi is your own little slice of paradise. Secluded small village but with Yani you will feel like a local. He will show you everything and make your stay easy an incredibly enjoyable. We didn't get to meet Paul and Sri but Yani was an absolute legend and looked after everything we needed, from food, to surf, to setting up the projector so we could hang out in the pool and watch a movie and have a few beers - which was superb. I couldn't recommend this place highly enough, whether for a surf trip with mates to get out of the hustle of central Bali or as a family getaway or romantic retreat. Check it out, you won't regret it! Paul, Sri and Yani have fantastic communication so you don't ever need to worry about anything. Give Yani a high five for me when you see him!
Tim
2016-12-05T00:00:00Z
From Denmark to Denpassar. Yani picked us up from the AirPort, which is Well recommended to do. If you need to change money ask him for a good spot on the Way. Do your shopping as Well. Make sure to read to Hosts FAQ. You Can trust Yani in all matters during your stay, and is more than happy to help you out with sightseeing and the works. Thank u Yani.. Paul was here our whole stay (10 days), we went out to eat local, had a great pizza Night, with home made pizza, with the selektion of A Rammstein concert on the projektor by the pool. Paul took me surfing, and is happy to teach. The place is great if you want to get away from turist, but keep in mind that it Can be secluded, so use the scooters and Yani for trips to see the local scene. All in all a great stay/ Bali experience, and we will be back.
Bjørn
2017-02-05T00:00:00Z
This was the best Airbnb we have ever been in, and we have been in many across the world. Yani really helped us get settled in, showed us the good spots and helped us out with cooking pizza in the pizza oven. Will definitely be heading back for a longer trip in the future! Loved it.
Simon
2017-03-21T00:00:00Z
thanks paul and sri we had a fantastic stay at medewi manor great spot nice and quiet and yanni is a great guide for local food and surf we will be looking forward to coming back next year thanks so much kind regards thr kruger family
Brett
2016-09-11T00:00:00Z
Set amidst terraced rice paddies with stunning mountain and sea views, a short drive or 20 minute walk along the beach to the surf, this destination was perfect for me. My host Paul, went out of his way, from my first email enquiry right through to assisting with my departure, as well as everything in between. The time taken to communicate, inform and advise was outstanding and greatly appreciated. Paul went above and beyond the call to ensure my experience was enjoyable and comfortable. His local knowledge was invaluable and as a result I ate very cheaply and very well and hit the surf at optimal times. The downstairs accommodation currently available was classy. Private, comfortable and beautifully decorated, I was immediately at home. Certainly the provision of computer, excellent TV and amazing video library meant I had super entertainment when I wasn't surfing. Additionally, the stunning blue pool was right outside my room. Set in a beautifully tiled outdoor terrace area, it was perfect for my tai chi and yoga practice. The pizzas from the Italian designed outdoor pizza oven were simply superb. Paul's vision for development of this property by himself and his lovely wife Sri, with the assistance of his excellent Indonesian aide, Yani, suggests Medewi Manor will become an accommodation destination of choice in Medewi, particularly for older surfing professionals and their partners. This will definitely be a place to which I will return and I feel privileged indeed to have been the first person ever to stay at Medewi Manor(URL HIDDEN)
Mark
2016-07-16T00:00:00Z
We had a great time at Paul and Sri's villa. The communication was great and uncomplicated. Yanni is a great lad who always has a smile on his face. He took care of everything and made sure that things went smooth. Paul & Sris FAQ list was really helpful. Great tips and even a awesome recipe for Pauls very own special Pizza! We went for two surf sessions every day and enjoyed hanging out in the amazing pool with a sweet brew in our hands. Thanks a lot guys and hope to meet you in person. Rock on and whoop whoop! andre, heiko and philip
andre
2016-11-12T00:00:00Z
Nice Villa on a very nice location. The pool is beatiful and the rooms are clean. Yani is the superman, he is here for you 24/7. He can show you everything, he drove us every evening to a restaurant for dinner, if we had a problem he was here in 5 mins. He is a very cool guy! Very recommend!
Miroslav
2016-11-05T00:00:00Z
This was a great place to stay! Yanni is legendary, very helpful and resourceful! Perfect location, short distance to the river mouth and surf break. Home is clean, comfortable with great pool and view. Fantastic getaway from the hustle and bustle of south Bali.
Lucy
2016-08-05T00:00:00Z
Art der Unterkunft
Ganze Unterkunft
---
Objekttyp
Wohnung
---
Unterkunft für
4
---
Schlafzimmer
Bali, Bali, Indonesien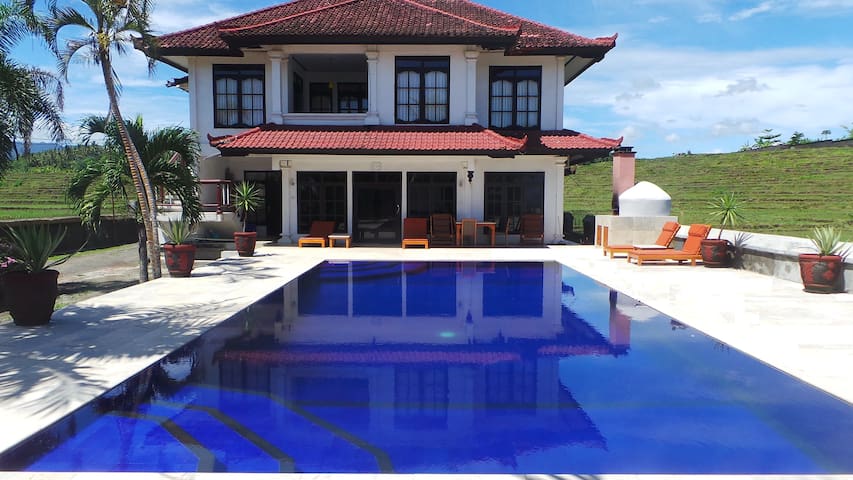 Villa Tunjung Sari is approx 30 mins from the surfing village of Medewi and 15 mins from the township of Negara. This beautiful spacious property offers 3 separate villa's ideal for couples, families or groups. Perancak is a picturesque fishing village situated on a spit bounded by the ocean with views to Java and a lagoon that harbors the traditional fishing boats.
Villa Tunjung Sari is an absolute secure villa complex situated on a spit bounded by an inlet hosting large traditional fishing boats and the ocean overlooking Java. This beautiful spacious property accommodates 3 separate villa's, ideal for couples, families or groups. The villas provide modern tropical accommodation in tree-filled gardens, relax in either our beach, front bale or the entertainment area with a cool drink and enjoy movies, music or just enjoy the surroundings. Our villas offer the perfect place to relax and re-fuel for the adventures that await outside your door. Services Daily laundry and cleaning On Request Tour service available to the nearby city of Negara Massage, facials, Pedicures and manicures in house can be arranged Fishing trips Bicycle hire Bike rental It is our pleasure to give our guests a warm welcome with excellent service. All villas are equipped with flat screen 39" TV DVD Free WI-FI internet connection Secure of street parking available
Perancak is a little fishing village, friendly neighborhood, Bounded by the beach and lagoon. Some food shops, cafes / warungs are in walking distances or add more adventure by roll into town, it is approximately 15 minutes to Negara city. Other sites to see are the turtle conservation program, buffalo racing, practice most Sundays, competition racing, please check the website for more information. (URL HIDDEN) BMX racing 2 times a year normally around Galungan and Kuningan celebrations. Please find attached the Trip Advisor comments on Perancak Beach at (URL HIDDEN)
Art der Unterkunft
Privatzimmer
---
Objekttyp
Villa
---
Unterkunft für
2
---
Schlafzimmer
Negara, Bali, Indonesien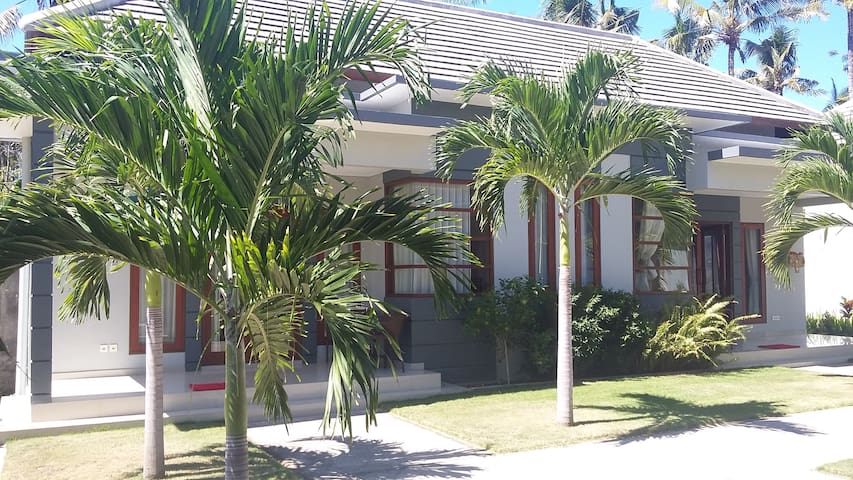 Our place located in a quite Blimbingsari village in West Bali. 30 minutes to Gilimanuk Harbour and Menjangan. It is a clean, relaxing and comfortable place to stay
Art der Unterkunft
Privatzimmer
---
Objekttyp
Gästehaus
---
Unterkunft für
2
---
Schlafzimmer
Melaya, Bali, Indonesien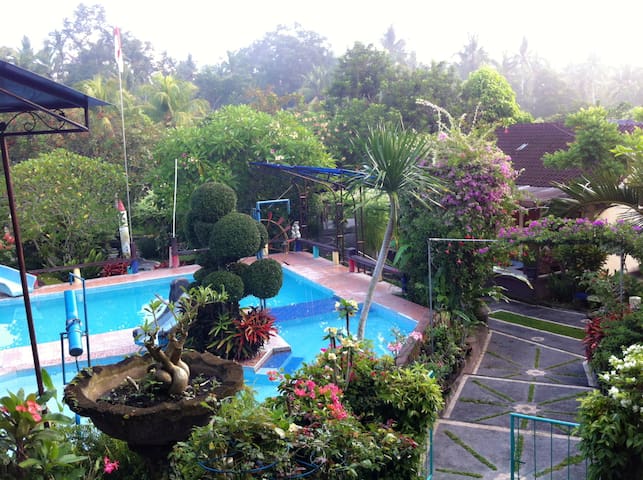 Great space away from the main streets but close enough to get to the beach easily. Quiet 3 bedroom villa with pool. We can provide or organise anything you need. All you need to do is ask. We're happy when you are happy.
The owner pays Eddie and his wife to manage the villa and the owner Mr Ono donates whatever is left to two local orphanages who receive no government support. Eddie and his wife are passionate about supporting their community and providing jobs for locals. This is not like the rich foreigners who make the money and give the locals a little. All of the money earned here stays here.
clean and comfortable
Had a great stay with Eddie at the Medewi Surf Villa. He was very accommodating from the very beginning with getting transport from the airport, places to eat, scooter and surfboard rental. Great setting in between rice fields, quiet and relaxing. Highly recommend staying here!
Samson
2016-08-23T00:00:00Z
It was a very comfortable house with great hosts. We enjoyed our time there.
Richard
2016-04-18T00:00:00Z
Eddie and his lovely wife are nice and helpful. Helped us on many things including surfing lessons and trip to Ijen ( ask for Rasta the driver :) ) The place is clean and comfy. Recommended!
Jakub
2016-01-26T00:00:00Z
That's the real Bali experience! Thanks to Eddie and his family and friends for the hospitality and the great welcome revived. We really enjoyed to stay at Medewi surf villa in contact with the nature and so close to a beautiful surf spot. Really recommended! Terima kasih Eddie!
Jacopo&Martina
2016-08-11T00:00:00Z
Me and 3 friends spent 5 nights at Eddies and Sitis place. The villa is located less than 5 minutes with the scooter from Medewi Surf Point and has a really awesome view on the fields and mountains. The rooms were spacious and clean and the pool is great to hang out. We can recommend that place and will for sure book it again when we are in Medewi next time! Thanks Eddie and Siti - we had a blast!
Nathalie
2015-10-25T00:00:00Z
Enjoyed staying at Eddies for five days. The villa is about a 5 minute drive by scooter to the Beach. Eddie got me a surf guide and a scooter rental which were both very helpful. Breakfast was also good.
Alex
2016-05-28T00:00:00Z
Eddie went over and above to help us with our stay. Very quick to respond to us and easy to communicate with. Our plane was delayed from Denpassar and it was very late when we arrived but Eddie and his wife made it easy for us to settle in and get comfortable. They provided us with lots of support with renting transport, surf guides, massage and restaurants that were safe to eat in. Highly recommended and we have changed our travel plans to go back and stay in Medewi. A very peaceful time.
Jeff
2016-09-04T00:00:00Z
We had a great stay here, nice clean rooms with use of the kitchen and lounge/tv. Really good having a pool too for when you are not surfing. Definitely would stay here again.
Grace
2015-08-02T00:00:00Z
Art der Unterkunft
Privatzimmer
---
Objekttyp
Villa
---
Unterkunft für
2
---
Schlafzimmer
Kecamatan Jembrana, Bali, Indonesien
1

–

18

von

188 Unterkünfte
Gib deine Reisedaten ein, um den aktuellen Preis zu sehen. Es können zusätzliche Gebühren und Steuern anfallen.