72 Ferienhausvermietungen
Welcome! In the quaint fishing village of Jonesport America, there lies one of the only white sandy beaches in Downeast Maine, Sandy River Beach. The Maine Rose Cottage is a 2 bedroom, 3/4 bath beachfront escape for a quiet family seeking the convenience of being on a private and rare white sandy beach. Bring your kayaks and hiking boots for your outdoor adventures in nature.
Art der Unterkunft
Ganze Unterkunft
---
Objekttyp
Haus
---
Unterkunft für
4
---
Schlafzimmer
Jonesport, Maine, Vereinigte Staaten
Newly and beautifully renovated ocean front cottage with spectacular views of Moosabec Reach from all rooms, in this truly one-of-a-kind home. In addition to the downstairs bedroom, there is a loft bedroom with views of nearby islands. Watch the lobster boats, along with the sailboats. This property is a mere fifteen feet from the shore so you can enjoy the changing tides, an array of shore birds -- eagles, ospreys, and blue herons. Surrounding sea roses infuse the air with their lovely scent.
Jonesport is a small fishing village on the down east coast of Maine. A small fleet of lobster boats and sailboats dot the harbor. Enjoy the fresh clams, and lobsters right off the boat. A bridge leads from Jonesport to neighboring Beals Island, where an array of nature trails await you. Bring your kayaks for water outings.
Jonesport is a beautiful fishing village with access to Beals and Great Wass Island across the bridge.
Das Haus war in dem beschrieben, hervorragendem Zustand, alles sehr gepflegt und neuwertig. Die Einrichtung ist geschmackvoll und vollständig, die Aussicht ist grandios. Man hat einen tollen Blick auf die Inseln und das Meer. Bei Flut reicht das Wasser bis auf wenige Meter ans Haus, der kleine Steg und das Lobstershed laden zum Entspannen ein. Schon früh, gegen 5:00, fahren die Fischer mit ihren kleinen Booten, die unmittelbar in der Bucht vor dem Haus liegen, aufs Meer. Thomas antwortet extrem schnell und hilfreich auf alle Anfragen und ist ein perfekter Gastgeber.
Stefan
2016-09-10T00:00:00Z
Where to begin? Everything was exactly as the listing describes. Directions fro access and usage were clear and uncomplicated and the place itself was exactly as the pictures portray, with a couple of exceptions: The bedrooms were even sweeter than they show here. My trip was a combination of difficult Family transitions and leisure time, afterward. I cannot adequately describe how the Rosehip Cottage catered to that much needed balance. While private to the neighbors, who wave as they pass, in the traditional Maine way, the view is so expansive and so serene I literally felt my stress taken out with the tide. Just plain magic. There was much consideration to the design of this space that nearly every detail is spot on. Communication was expedient and Thomas even helped with a very important item I'd left behind in record time. My only concern is that it might be completely booked when I want to return! What a treasure.
elizabeth
2016-08-03T00:00:00Z
From my first contact with Thomas as host, through our week-long stay at Rosehip Cottage, to our final farewells, everything was perfectly smooth. Thomas was extremely prompt and courteous in all of our communications, and although he was not physically present for our visit, he thoughtfully provided all necessary instructions (including easy access to keys for check-in and check-out) to make our stay simple and worry-free. On arrival, we were greeted by a vase of fresh cut flowers :-) The cottage itself was everything we hoped it would be - the online photos and written descriptions provide an accurate representation. We found our accommodation to be neat and clean; nearly everything is new and in good working order, and we had all the comforts of home. Despite all the windows for fantastic views, the cottage is quite private, and although we kept pretty much to ourselves (by choice), there were friendly waves and acknowledgment from neighbors if we had been inclined to say hello. Our week at Rosehip Cottage was a welcome respite from the stress of normal routines. We enjoyed early sunrises, observing life in a lobstering town, fog, hikes around coastal Maine, a visit from a local bald eagle (impressive), and more. Wishing all who stay at Rosehip Cottage in Jonesport a wonderful vacation!
Jean
2016-07-03T00:00:00Z
My husband and I were looking for a quiet week away to decompress and we sure found it at Rosehip Cottage. The cottage was so clean, comfortable and relaxing that we wished we'd booked more time there. It sits right on the water in a cove and there's a nice deck to watch the sea gulls, herons and fishing boats from. Thomas was always available via email or phone and both he and the neighbors were very welcoming and friendly.
Marge
2016-06-12T00:00:00Z
Art der Unterkunft
Ganze Unterkunft
---
Objekttyp
Haus
---
Unterkunft für
4
---
Schlafzimmer
Jonesport, Maine, Vereinigte Staaten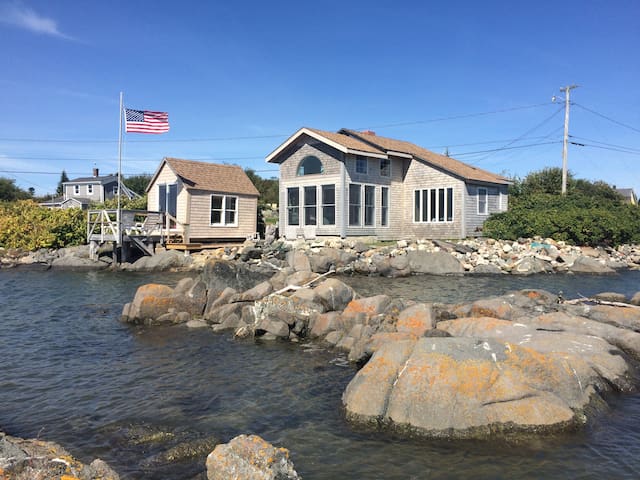 Our place is close to parks such as Acadia National Park, Canada's Campobellos Island and Lubec's West Quoddy Head offering hiking and amazing vista. The large porch is the perfect place to take in the ever-changing view of the cove, relax and read, enjoy nature and dine on lobsters. Nearby restaurants include Helen's (world famous pies) and Bay View Take Out (award winning lobster rolls.) Our place is perfect for couples, solo adventurers, business travelers, families with kids, and groups.
We had a wonderful time in Maine and our stay in Georgia's and Fred's home helped contribute to the memories. Their home is in a fairly secluded location so getting to local eateries does take a few minutes. The house is as pretty in real life as it is in this picture and all the amenities in the listing are as described. One of my favorite features of this home is one of the upstairs bedrooms. Two separate staircases lead upstairs, which are a delight in themselves. This bedroom with a view of the cove has several large windows, a unique round framed window, a bed, antique trunk, rocking chair, two armchairs, and a daybed. A jigsaw puzzle on the table in the sitting room downstairs helped make their home feel like our home. A stocked magazine rack with helpful maps, brochures, and an atlas of Maine with points of interest highlighted is also located in the sitting room. We took two of Georgia's recommended coastal hikes in hopes of glimpsing whales or seals and we saw three seals! Now that was a spectacular highlight! We spent a handful of early mornings sipping coffee on the deck on the back side of the house. This spacious deck, fronting the tranquil cove, has a table and chairs, sling swing, porch swing, and Adirondack chairs. We would definitely stay in this serene 100 year old home in Magical Maine again.
Vicki
2016-09-30T00:00:00Z
Art der Unterkunft
Ganze Unterkunft
---
Objekttyp
Haus
---
Unterkunft für
8
---
Schlafzimmer
Jonesport, Maine, Vereinigte Staaten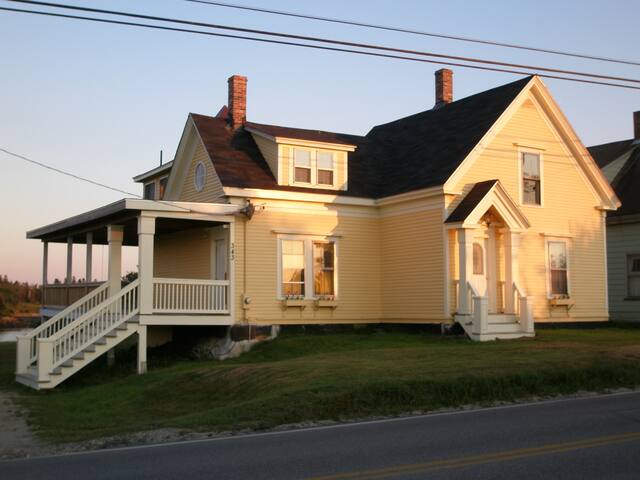 Beautiful views of Roque Island across the Bay. 6 miles to authentic working lobster villages - Jonesport & Beals Is. Setting is rural, private, peaceful. It is an ideal location if you are looking to get away from the crowds and traffic jams of so many summer tourist locations. It is like stepping back in time to a slower, unhurried pace. Stunning sunrises, amazing night sky w/o light pollution. Bald eagles, shorebirds, seals. Walk out on Great Bar at low tide, harvest your own fresh mussels.
Cottage is clean and well cared for. It is cozy, comfortable, and light with an open floor plan. We hope you will treat it with care if you stay with us. It is a special place. It was our vacation retreat until we built a retirement home nearby and moved here full time in 2007.
Wonderful place. Mary was very responsive to all communication.
Jessica
2016-10-04T00:00:00Z
Everything was perfect. We could not have enjoyed our stay more! The cottage is lovely, comfortable, and in a beautiful setting. We went to visit Acadia and ended up staying away from it altogether because we found so many less-visited places that were just as beautiful and easier to access. Mary was a wonderful host and gave us lots of helpful information, in addition to providing a terrific place to stay. We would love to come back!
Lisa
2015-08-09T00:00:00Z
Art der Unterkunft
Ganze Unterkunft
---
Objekttyp
Haus
---
Unterkunft für
6
---
Schlafzimmer
Jonesport, Maine, Vereinigte Staaten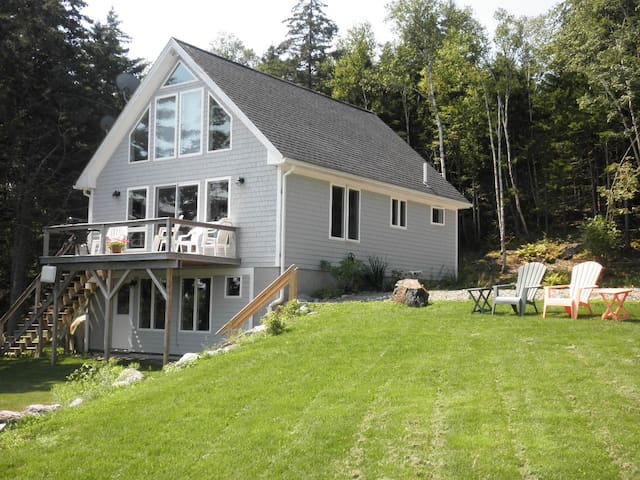 McCollum House is situated right on Moosabec Reach with spectacular views & beach access. This house is perfect for families. Relax on the deck, watch the lobster boats, buy some lobster right from the local fishermen. An easy drive to Bar Harbor, Acadia, and New Brunswick Canada. Enjoy the ocean breezes, blueberry pie, and cool weather while staying in this vintage, charming family home.
Whether you are looking for a place to relax and watch the working lobster boats or gearing up for a day of hiking, McCollum House is a comfortable haven full of vintage charm as well as modern conveniences. Built in the 1890's, McCollum House has been maintained and loved by the McCollum Clan since the 1950's. Three full bedrooms (one bedroom is a bunk room which easily holds five kids) and two full bathrooms easily allow for a large family trip or two families vacationing together. Fully furnished with all linens and kitchen wares provided. Full sized washer and dryer make longer stays comfortable. Stocked with a collection of books and games, and Internet connection is available. Easy walk to the quaint library across the street and the Historical Society Museum at the pier. Visit Beals Island for soft serve ice cream and haddock burgers or buy lobster right off the boat. Easy day trip to Bar Harbor, New Brunswick, Campobello, Quoddy Head Lighthouse, and Acadia Park. McCollum House is a lovely place to have tea and blueberry pie on the back deck while the kids hunt for sea glass on the sandy beach below. Right on the water, you can enjoy the lupines and roses growing up the bank as well as peaceful views across the Moosabec Reach to Beals Island, play croquette on the lawn or rent kayaks nearby. Perfect for photography, painting or just curling up with a good book.
Working fishing village where lobster boats sail in and out of the Moosabec Reach daily.
Art der Unterkunft
Ganze Unterkunft
---
Objekttyp
Haus
---
Unterkunft für
10
---
Schlafzimmer
Jonesport, Maine, Vereinigte Staaten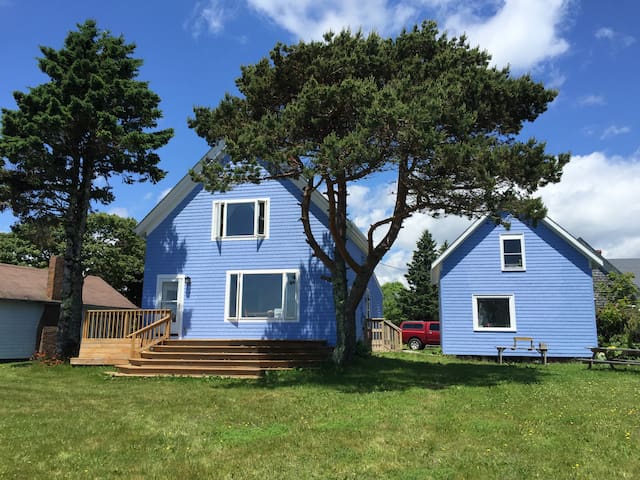 The Kelley Lodge is close to Great Wass Nature Conservancy and hiking trails,Backfield Park with beach access, Sandy River Beach and the Bayview Takeout, recently voted Best lobster roll in Maine and Massachusetts by USA Today. You'll love the Kelley Lodge because of the ocean front views where you can see all of Moosabec Reach and lobster boats. Guests will enjoy the friendly small town atmosphere. Great place for honeymooners, families, or solo adventurers.
This house belonged to my Great Aunt and Uncle and is 200 years old. It was floated over to its current location from near by Head Harbor Island. All or the rooms have been newly renovated, but still with the older rustic feel. There is a beautiful sun porch on the east side of the house overlooking Moosabec Reach and the other surrounding islands. The kitchen has a fully functioning gas stove, oven, coffee pot, and toaster which can accommodate to all your cooking needs. The house has a heat pump to warm you up on the cooler Maine nights, along with plenty of cozy blankets. The living room has a flat screen TV with over 100 DVD's and Blu-Ray movies to choose from. There is also a movie shop to rent movies just minutes from the house. There is Wi-Fi access at the house, but no cable or satellite. The master bedroom includes a full size bed, walk in closet and a dresser. The second bedroom has two twin beds, a closet, and dresser. The house is cozy, quiet, and perfect for couples, families, honeymooners, or even a solo adventurer.
The house is located on the quiet island of Beals, right in the heart of Downest Maine. The island offers the beautiful Great Wass hiking trails, kayaking, and a sandy beach located at the Backfield Park. For a great Maine experience guest need to visit the Bayview Takeout. With fresh local seafood, burgers, salads, ice cream, and so much more, this place ia a must!! The mainland of Jonesport also offers many things for guests. There is a grocery store, hardware store, and 2 convienence stores.
The sun porch was fabulous - we spent many hours watching the tides, boats and birds from our secluded spot, though a neighboring streetlight (which lights a lobstering dock) prevented us from seeing the stars at night. The house is charming, though rustic. The location was perfect for exploring the Downeast Coast. Highly recommend hiking in the Great Wass Preserve on the neighboring island.
Eliza
2016-08-12T00:00:00Z
We needed a place to stay after exploring Jasper Beach to break up the drive to Belfast and this was perfect. Frank came right over to say hello as soon as we pulled up amd offered some great exploring recommendations (we loved the nature reserve). House is very basic but clean and quiet and that worked for us.
Julie
2016-07-19T00:00:00Z
Wow! What a charming home, wonderfully situated right on the shore. Frank was aroud to see to our every need, although the place was so perfectly set up that we needed no further help. The location is wonderful, the perfect antidote to the hordes at Acadia - we walked the trails on the adjoining island, Great Wass, and didn't see a soul. And Frank's Bayview Takeout really does do the best lobster roll in Maine (and probably the world). We loved it.
Paul
2016-09-24T00:00:00Z
Great location with friendly and welcoming hosts. Wonderful hike on Wass Isle preserve. Quiet and peacful
mark
2016-09-08T00:00:00Z
This is exactly what we were looking for - simple, quiet and relaxing. Frank and his wife Sarah were gracious hosts. As a bonus, they own and operate a takeout stand within walking distance of the house that serves fantastic seafood and burgers.
Mark
2016-06-29T00:00:00Z
We had a wonderful time taking the kids out to explore during low tide just in front of the house. The house was nice and clean with everything we needed. Frank was just up the street and available when we had questions about the area. We ate at his take out restaurant and it was wonderful! The whole family had a great time!
Rebekah
2016-08-18T00:00:00Z
A nice weekend get away. Sarah and Frank are friendly and informative. Beautiful location
lisa
2016-08-30T00:00:00Z
My husband and I enjoyed our stay! The house was cozy and tidy. We hiked through the Great Wass nature preserve only a short drive away. Frank was very quick to respond to any questions we had. Overall a beautiful, peaceful location perfect to escape from the city.
Dominique
2016-08-14T00:00:00Z
Art der Unterkunft
Ganze Unterkunft
---
Objekttyp
Haus
---
Unterkunft für
6
---
Schlafzimmer
Beals, Maine, Vereinigte Staaten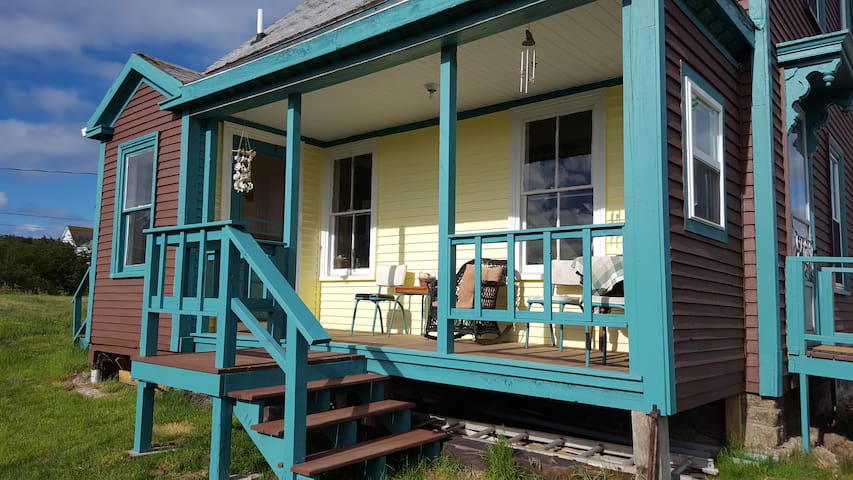 Frost Farm is a saltwater farm with open fields that lead from the house to a stunning, deep water, rocky shoreline. Frost Farm is located on a dead-end street in an authentic Downeast fishing village on an Beals Island. There is a bridge to the island from the mainland in Jonesport.
Art der Unterkunft
Privatzimmer
---
Objekttyp
Haus
---
Unterkunft für
3
---
Schlafzimmer
Beals, Maine, Vereinigte Staaten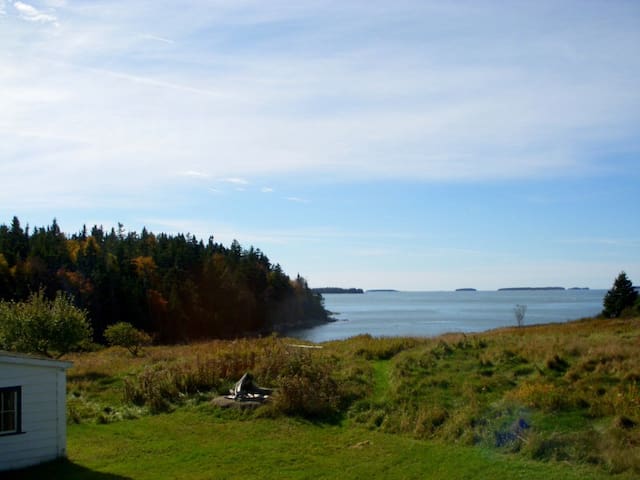 The Primrose Cottage is a rustic one bedroom oceanfront bungalow. Built in the early 1900's in the Craftsman style. Modern plumbing and filtered water added later. Situated on the bluff up from the beach. Easy walk to the local library, historic society and marina. Easy drive to many points of interest. Local hiking on Great Wass Island & Bar Island are within a 10 minute drive. A perfect spot to relax and take in the views or use as a launching point for Maine adventures.
New roof and fresh outdoor paint in 2016.
Art der Unterkunft
Ganze Unterkunft
---
Objekttyp
Haus
---
Unterkunft für
3
---
Schlafzimmer
Jonesport, Maine, Vereinigte Staaten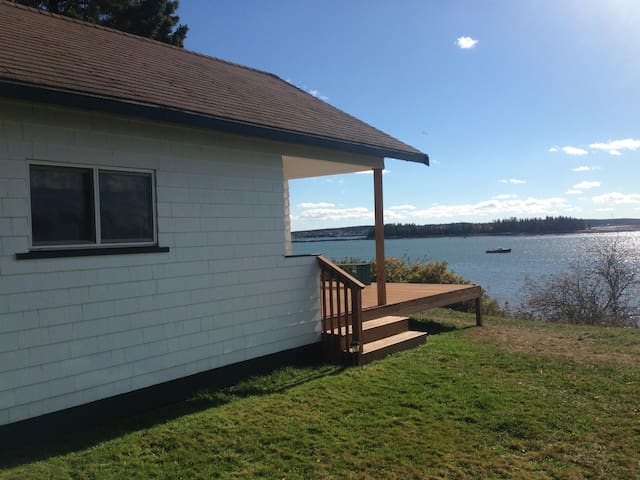 Situated in the heart of a small lobster fishing village, Bridge View is a stylish, 3 bedroom cottage with panoramic views of the ocean. The cottage is the perfect place to unwind and watch the lobster boats go by. It's also ideal for experiencing Downeast culture up close. Go for a stroll around the fishing village; buy fresh lobster from the docks; hike beautiful Great Wass nature preserve; or just use the house as a base to explore Bar Harbor, the bold coast, Eastport, Campobello and more.
Art der Unterkunft
Ganze Unterkunft
---
Objekttyp
Haus
---
Unterkunft für
5
---
Schlafzimmer
Beals, Maine, Vereinigte Staaten
Right on the water! Beautiful Ocean views from almost every window. 4 Bedroom completely modern house with banks of windows. Open floor plan downstairs, ADA handicap accessible. Located in the fishing village of Beals, many attractions close by.
The house was gorgeous and had everything we needed. Phillip thought of everything. We loved the week we spent and would highly recommend the house to anyone who wants to visit down east Maine!
Elyse
2016-08-21T00:00:00Z
Art der Unterkunft
Ganze Unterkunft
---
Objekttyp
Haus
---
Unterkunft für
8
---
Schlafzimmer
Beals, Maine, Vereinigte Staaten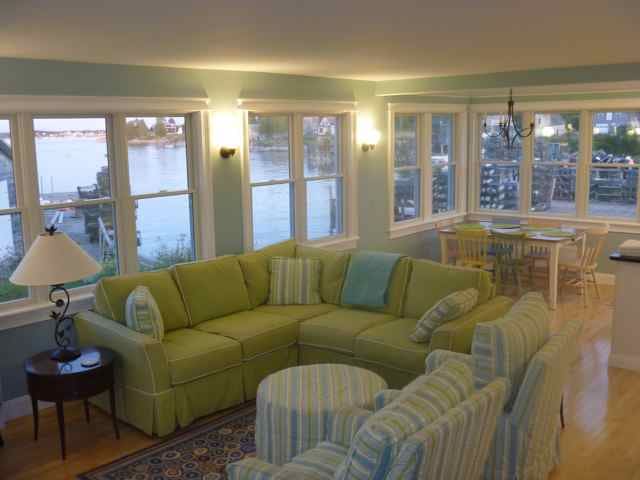 Pomp Island is a beautiful 37 acre island with a 3-bedroom log cabin where you can spend your vacation enjoying nature on the sea shore and in the woods. Come explore the shoreline and woods of Pomp. If you are quiet, you will see deer and a variety of birds including hawks and bald eagles. Greet the lobster men and women as they haul their traps around the island, and enjoy sunsets over Cadillac Mountain from the front porch. Bring your own (or rental) boat, kayak, or canoe and you can explore neighboring islands, each with their unique shoreline, beautiful coves, and small sandy beaches. You'll also see rocky outcroppings where harbor seals, cormorants, and gulls cluster. A mooring is available for a boat up to 18 feet in length; kayaks and canoes can be hauled on shore. Enjoy relaxing in the cozy cabin (please see pictures!) There are 2 bedrooms downstairs, each with a bunk bed, and 1 bedroom upstairs with a queen size bed. There is 1 bathroom downstairs with a toilet and shower. The kitchen, dining, and living areas are together in one open area with vaulted ceiling. The kitchen has a gas range, refrigerator, sink, and is furnished with cooking utensils and dinnerware. The dining area has a large dining table and chairs. In the living room you can keep warm with a nice fire in the wood stove and kick back with a book in a comfy chair or sofa. Pomp Island is off grid. Bottled gas provides energy for cooking, lights, and hot water. A cistern system is used to collect rain water for washing and showers but you will need to bring your own bottled water to drink! Cell phone reception is good. Pomp is not for everyone, but is truly a treasure for those who are looking to get away and enjoy the ocean, woods and island living of Down East Maine. Area Information: Pomp Island is about an hour north of Acadia National Park in Down East Maine. It is accessed from the mainland at Jonesport by bridge to Beals Island and then by a 10 minute boat ride. The Island is offshore about a half a mile and is surrounded by many other small islands. Each island is unique, many are uninhabited, and so are open for exploration. This area is a haven for kayakers, boaters, and nature lovers who enjoy some comforts but also the experience of living away from the hubbub of everyday life.
**"Next door" to Pomp Island is Norton's Island, home of the Eastern Frontier Educational Foundation and Norton Island Artist Residency Program. The artist residency program provides a place for artists to paint, write, sculpt and compose. (URL HIDDEN) **In addition to the many uninhabited small islands , is the Great Wass Island Preserve consisting of 1,540 acres of land with multiple trails which extend farther out to sea than any other land mass in eastern Maine. (URL HIDDEN)
I absolutely loved this place. Such a gem. The cabin was clean and comfortable. More comfortable than I was expecting, from bedding to kitchen and refrigerator. The work Ted and Susan have done here is hard to fathom. The remoteness of this area can be felt as you drive in and the feeling of the water and the air is spectacular We wandered the island perimeter, we rented kayaks and explored the neighboring islands. We saw seals and watched as a bald eagle snatched a fish out of the water. We dug for clams on the beach and spent an hour and half on a lobster boat. Great memories and well worth the drive. Susan was helpful leading up to the trip and Ted was amazing helping us get on and off the island.
Andrew
2016-08-13T00:00:00Z
The cabin at Pomp Island is a fabulous get away for those looking for quiet solitude and a little adventure. While off the grid, the cabin has plenty of amenities to make your stay relaxing and enjoyable. The island is located in the heart of one of Maine's biggest lobstering communities so you may frequently see lobstermen at work. While Ted will gladly ferry you out to the island, I'd strongly recommend bringing your own boat so you can explore the many islands and catch sights of seals and sea birds. We're a family of 6 with kids between the ages of 6 and 12. There was plenty of room in the cabin and on the island for everyone to explore and find their own favorite spot.
Sarah
2015-07-01T00:00:00Z
This is quintessential "off the grid" living! Expect to be Wowed by the frontier ingenuity. From the get go, Ted was gracious and helpful without being "doatering" (much appreciated). This is for those of independent spirit. If you get lucky, as we did, and get near tropical weather, you will be left breathless. I won't say more; you'll have to earn that on your own... I have traveled the world all of my 53 years of life and This is one of the truly most special places I have been blessed with the opportunity to visit.
Randy
2014-06-29T00:00:00Z
This was the most unique stay I have ever had. Being that you are in your own private island, only accessible by boat, there were additional questions and concerns I had prior to booking. Airbnb's aggressive censor filter in bi-directional communication complicated matters. After a quick (SENSITIVE CONTENTS HIDDEN) search, I was able to find a better means to communicate with Susan. Here are the big things you should know before going: this place is off grid. No electricity or well water. Only a cistern is available for washing and cleaning. There is a septic system, so the toilet flushes, an important item amongst some spouses. There is propane gas for lighting and cooking (stove top only, no oven) and a gas powered refrigerator. There is a car cigarette lighter style plug available to charge your tech. AT&T gave us 1 spotty bar inside the cabin and great coverage from where the boats are tied up. Be sure to research renting a boat, canoe or kayak for your stay. There are lots of ingesting things to see in the nearby area that would be missed without a boat. All that said, this was a great place to stay! I only spoke to Susan, but her husband Ted was a great host! He showed us to the island and was eager to help us with suggestions and arranging for lobster to be dropped off to us, fresh from the boat! Be sure to bring your own entertainment and a sense of adventure and you will have as great of a stay as we did. We look forward to our return!
Brian
2014-07-24T00:00:00Z
Beautiful quiet getaway!
Timbah
2016-08-29T00:00:00Z
We were so happy to honeymoon here. So isolated and beautiful. Having lobster delivered to us was such a unique experience. We loved the house, especially the gas lights. Only wish there were more trails around the island, but if you're willing to scramble on the rocks or if you grabbed kayaks (we did) you can't beat the views! We will definitely be coming back!
Kate
2016-08-07T00:00:00Z
We had a wonderful time at this amazing beautiful, exceedingly clean and special home. Highly recommended!!
Yael
2015-08-23T00:00:00Z
Everything about the visit was better then expected! A wonderful and helpful host, and a beautiful and bright cabin w incredible surroundings. We spent 5 nights at the cabin and did some sea kayaking in the area. It was a great opportunity to connect to nature and the local lobster fishing culture. We will definitely return for future visits.
Jonathan
2014-09-09T00:00:00Z
Art der Unterkunft
Ganze Unterkunft
---
Objekttyp
Haus
---
Unterkunft für
6
---
Schlafzimmer
Beals, Maine, Vereinigte Staaten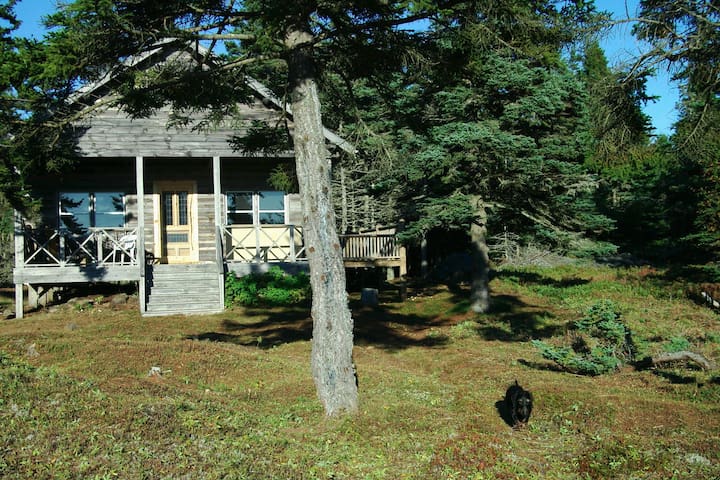 My place is close to the water. You'll love my place because of its peacefulness and beauty. My place is good for couples, solo adventurers, and families (with kids).
Brenda and Alan's place is a beautiful cottage by the waters. It is small, but well-equipped for a comfortable and relaxing stay. We had a very peaceful stay there for four days, and would love to return some day! From the start Brenda did everything to inform us about the area, and even sent us a CD by mail days after we booked. She was always prompt in her responses, and always went that extra mile in offering me information about everything from how to get seafood to how to cook lobster! She did not merely respond to my queries, but rather advised, suggested, and it was like I was speaking to someone I knew from before! That meant a lot to me. The most unique and amazing thing about this place is the ready and easy availability of fresh seafood. We could see the wharf from the beautiful backyard, and we drove down for a few minutes to get the lobster from the fishermen! Just the experience made our trip! There was also a place within a fifteen-minute drive that sold crabmeat in containers. It was as fresh as seafood can be, and we loved it! The garden at the back also has gigantic fresh vegetables, and the water is amazing too. The rise and fall of the tides is quite apparent, and it was a treat for our little boy! All in all, this place was the perfect setting for our end-of-summer getaway, and we hope to be back someday! Thanks Brenda and Alan!
Mrittika
2016-09-03T00:00:00Z
The host canceled this reservation 4 days before arrival. This is an automated posting.
Nikolaos
2016-12-24T00:00:00Z
Art der Unterkunft
Ganze Unterkunft
---
Objekttyp
Haus
---
Unterkunft für
5
---
Schlafzimmer
Addison, Maine, Vereinigte Staaten
Relax and enjoy A deck surrounds the house offering tranquil views Enjoy the privacy of the two and a half acre wooded lot. Or walk the forest surrounding with quiet roads and occasional homesites Beautiful Granite shoreline is mixed with pink granite Water Access for small boats or kayaks is less than 1/4 mile from the house.
World class view in serene private setting 20 minutes from Acadia national park and 40 minutes to bar harbor Enjoy exploring quaint and historic surrounding towns with unique shopping
Art der Unterkunft
Ganze Unterkunft
---
Objekttyp
Haus
---
Unterkunft für
6
---
Schlafzimmer
Milbridge , Maine, Vereinigte Staaten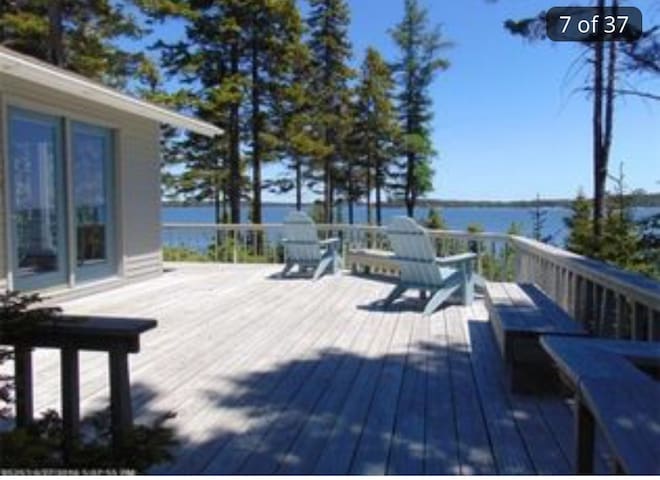 Welcome home to Spruce Cottage. Pop open the bubbly because it's time to celebrate! Every night here is a celebration with thousands of twinkling stars reflecting on the vast Atlantic ocean or the soft patter of raindrops on the cathedral ceiling.
Imagine your vacation enveloped in a canopy of trees surrounded by your loved ones and nothing but the sounds of the birds and the boats chugging by. Your vacation will be gloriously unplugged as there is no internet, no television and little cell reception at the cottage. Nothing to interrupt the little things that often get overlooked during everyday life. This sweet cottage is down a mile long private country grass road and features a spacious living area and eat in kitchen. A screened in porch is probably where the most time will be spent, watching the boats, sipping cocktails or just reading a good book. Trust us! The views are just amazing! Dip your toes in the chilly Atlantic at the end of your private rocky ledge or 'make like a lizard' and sunbathe on the warm rocks. You won't want to move either. The cottage has a small bedroom with a queen size bed and brand new mattress (2016) – Pictures will be coming with ALL NEW linens in spring of 2017. There is also a queen size futon in the gathering room. The bathroom, is 'rustic cottage' with the necessities – a shower, sink, and toilet. The kitchen is well equipped for up to 4 people with an apartment sized fridge and 24″ electric range. Outdoors there is a small charcoal kettle grill.
Art der Unterkunft
Ganze Unterkunft
---
Objekttyp
Haus
---
Unterkunft für
4
---
Schlafzimmer
Addison, Maine, Vereinigte Staaten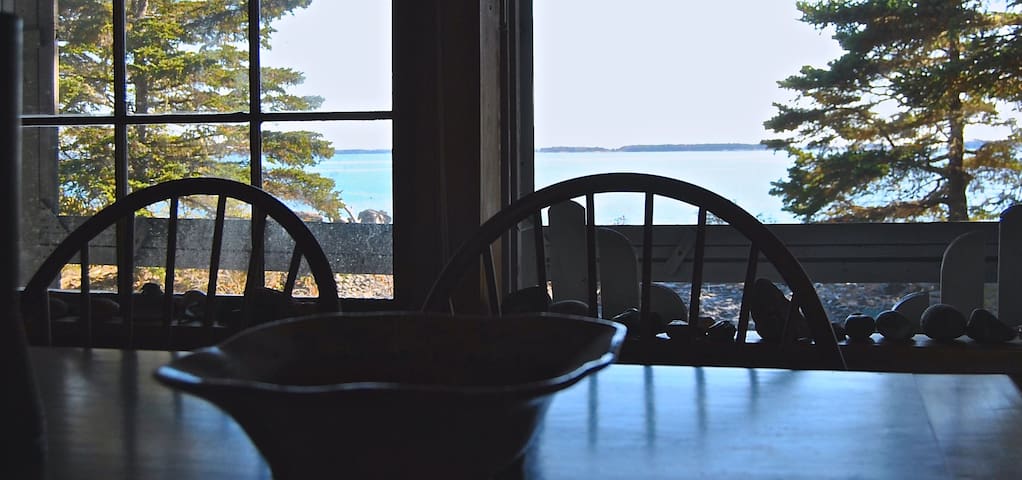 A sweet cottage right in the middle of Darthia Farm, raising organic mixed vegetables, sheep, pigs, chickens, turkeys, and working with Haflinger horses. The property is minutes from the Schoodic Section of Acadia and has its own salt water beach.
There are two bedrooms upstairs and a kitchen and living room downstairs. The beds upstairs have new memory foam mattresses. We just bought a new futon for the living room which could accommodate two more people but it might be a bit crowded. An in-house composting toilet and outside solar shower are primitive but convenient and there is also an outhouse. We do have an apprentice bathroom with a shower that is available in a pinch a few steps away. The kitchen is well equipped with refrigerator, gas stove, dishes, and cooking pots. We stock the shelves with staple items like sugar, spices, condiments. WE have outdoor furniture, a picnic table, and a gas grill.
Gouldsboro is made up of several small picturesque fishing villages. The farm is an icon in the community and has a busy farm store. Nearby are beautiful harbors, a vibrant arts organization, a busy pub with entertainment many nights, Schoodic Point which is part of Acadia National Park, many talented craftsmen and craftswomen as well as shops where you can purchase handmade pottery, jewelry, bells, yarn. The main branch of Acadia National Park is about an hour away and there may be heavy traffic, but the Schoodic section, which is wild and majestic and beautiful is only minutes away.
An incredibly warm welcome was extended to us from the very first moment we stepped on site. It was truly a wonderful experience. Everyone on the farm exuded genuine warmth and hospitality. The farm fresh eggs were the best we have ever tasted! The setting was relaxing and a nice jumping off point for Acadia. We will definitely be spreading the word to friends and hope to be back soon!
Kelly
2016-06-25T00:00:00Z
We spent three nights at Darthia Farm, and wished for three more, or maybe thirty more! The community of people that work the farm were genuinely happy to share their time & conversation, and we got to learn a little bit about harvest time, even joining in for a few hours. After leaving, we conversed about what our favorite things were, and we couldn't decide if it was the fresh Maine air slipping through the open windows in the early morning, the peaceful walk down a trail through the woods to the ocean, learning about composting toilets and solar showers, or the comfy memory foam mattresses on all the beds. We won't soon forget our time spent here and the memories we made together. We are so grateful to Bill & Cynthia and the other good folks that are lucky to call this place home.
Kimberly
2016-09-14T00:00:00Z
Great little farm-amazing views of the bay just 1,000 ft away.
Mark
2016-10-08T00:00:00Z
We really enjoyed our time at Darthia Farm. We were made to feel right at home. The cottage was beautiful and cozy. The location is convenient, whether you want to explore Acadia or spend time helping out on the farm. They also have a very friendly dog who is more than happy to accompany you on walks down to the water. Everyone on the farm made us feel extremely comfortable and welcomed. We would love to go back again!
Joe
2016-05-16T00:00:00Z
Wonderful place to stay in a very remote and relaxing setting. The cabin we stayed in was rustic in the best 2ay possible! We could walk to the ocean in less and 5 minutes down a scenic country trail. Highly recommend.
Brandon
2016-09-06T00:00:00Z
Darthia Farm is one of the most enchanting places I've ever seen. Cynthia and Bill were lovely hosts and made us feel at home right away. The cottage is beautiful in its simplicity and had everything thing we needed to make our meals, and we slept so well. Our kids were unplugged the whole time (yay!!), running around the farm and exploring the shore with Kelpie, the farm dog. Cynthia asked what they might do to improve, being first year Airbnb'ers, but I'm at a loss to come up with any ideas. You can't improve on heaven.
Jody
2016-08-02T00:00:00Z
Cynthia and Bill are gracious hosts, along with all their fellow helpers on the land, including the animals, plants, beauty and inherent thoughtfulness that went into creating this wonderful place to stay. The place is well built and loved, and has everything that is necessary. Whenever we needed something, we could turn, and find that there it was.. like towels, extra bedding, shell crackers and picks for lobster, etc. It was wonderful to live side by side with chickens and horses and cows. Lovely to meet some of the spinning group and be sent off with sweet good-byes that created a sense of wanting to return some day. Highly recommend.
Chris (and Rick)
2016-06-27T00:00:00Z
We had a relaxing and highly memorable stay at Darthia Farm, thanks to wonderful hosts Bill and Cynthia. The cottage has a lovely aesthetic and everything was just as it was described and pictured in the listing. The property is beautiful and our toddler enjoyed waking up to farm animals! We had a great time and hope to return in the future.
Susanna
2016-07-27T00:00:00Z
Art der Unterkunft
Ganze Unterkunft
---
Objekttyp
Haus
---
Unterkunft für
4
---
Schlafzimmer
Gouldsboro, Maine, Vereinigte Staaten
Graciously appointed bedroom, comfortably sleeps two. Available in historic, restored, three-story home built in 1840. . Within walking distance of Machias downtown, Grange Hall, the University of Maine at Machias, restaurants, shops and trails. Note: "The Bird's Eye view Room" is one of four private bedrooms available in the house.
Graciously appointed third floor "Bird's Eye View" bedroom available in historic, restored, three-story home built in 1840. Comfortably sleeps two.
Terry, made us to feel like family. I didnt feel like a stranger in her lovely home. The room was indentical to the picture posted. The bedding was fabulous and comfortable. The home spotless and not cluttered.
Janet Williams
2015-08-17T00:00:00Z
I had a wonderful stay at Terry's house, where I spent the night before watching the sunrise at Quoddy Head lighthouse the next morning! She was so welcoming and made sure I had everything I needed to be comfortable, plus she gave me advice on where to hike/visit nearby after I had seen the sunrise at Quoddy Head. Her house is beautiful and very cozy--I really wish I could have stayed longer. Thank you, Terry!
Christina
2016-10-15T00:00:00Z
What can I saw about this house! WOW!!!!!!!!!! This was definitely a treat to northern maine and Terry's hospitality was amazing. I had a little cell phone trouble when i first got there...but we made it work! (just a note to those with cell phones coming to northern maine) hehehe!!!! The neighborhood was great and the house is historic. I slept well every nite and had a fan to keep me cool. Now I'm sad I only stayed the 2 days! So I have to come back sometime! Great time and great peoples. Thanks!
Jen
2015-07-16T00:00:00Z
Terry's home was beautiful and inviting! We were sad to have only one night in her home, on our way to Eastport. The breakfast is phenomenal - I especially loved the fresh rhubarb muffins we got to pocket out on way out as a treat. We'd love to stay again. Highly, highly recommended!
Simone
2015-07-20T00:00:00Z
We spent two nights with Terry, on either end of a long camping trip and it was just what we needed. Her big house is lovely and she immediately made us feel welcomed. Each morning you wake up to homemade granola, Maine blueberries and the only espresso machine in town! what more can you ask for? Terry's house is also has the best location for walking into town or headed over the hill to Obadiah's. If you are new to the area, or not, Terry has a wealth of knowledge and information to help you plan your stay. Thanks Terry! See you next year!
Charly
2016-08-13T00:00:00Z
Terry was a fantastic host, welcoming and helpful from booking to departure. She gave me some great tips for my drive from Boston, things to do while I was in Maine and knows the region well. Her classic, beautifully restored New England home in the quaint town of Machias gives an authentic feel to your stay Downeast. Terry is a wonderful host - easy to talk to and quick to make her home feel like your own. She makes terrific espresso drinks and her breakfasts are perfect to get your day started. You'll love her luxurious clawfoot bathtub and the view from the top floor room. Like others have mentioned, I lacked cell reception more than I had it in Machias (and this is more true if you decide to venture further north), so your best bet would be to connect to wifi and send iMessages and such through that. Thanks Terry for such a wonderful experience!
Emma
2015-07-27T00:00:00Z
so I extended. And had no idea that I was going to catch up the biggest festival in the town of the year-Blueberry Festival. cuz everything just around the house(1 min walking), so I had a super time during staying here.
Star
2014-08-22T00:00:00Z
Merci votre condo est fantastique. Nous avons bien aimé l'ambiance du condo, du convent et du quartier. Mer i de votre réponse rapide dimanche après midi et de votre chaleureux accueil. On va retourner! Thank-you your condo was fantastic. We enjoyed the atmosphere of the condo, the old convent and neighbourhood. Thank-you for your quick response Sunday afternoon. We will return.
Tom
2015-08-10T00:00:00Z
Art der Unterkunft
Privatzimmer
---
Objekttyp
Haus
---
Unterkunft für
2
---
Schlafzimmer
Machias, Maine, Vereinigte Staaten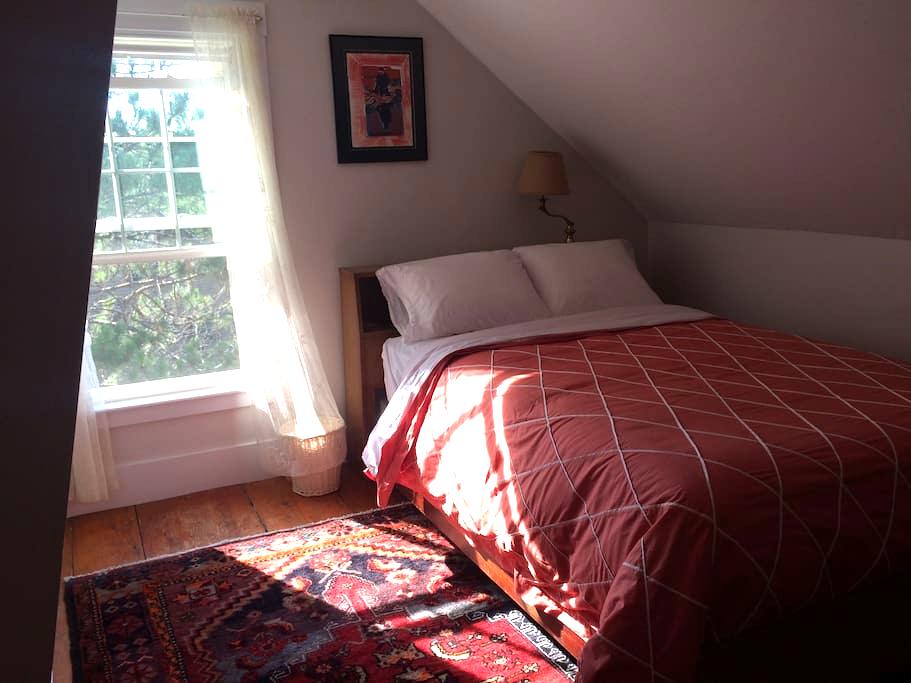 A pleasant home, with lovely sunroom, gardens, and amenities for your stay. Visiting wildlife, paths on property. 5 minute drive to Acadia National Park's Schoodic Section. Galleries, artist studios, & Restaurants in the area. Beautifully uncrowded hiking trails nearby of varying degrees of difficulty, several music venues ongoing through out the summer, pristine lakes for that refreshing swim - and so much more .
What you find here is a lovely home nestled within gardens and surrounded by many forested acres. The location is less then a half mile from the light house you see in the photos section. The home is also a six minute walk (less than a tenth of a mile drive) to one of the few sand beaches in this area if a brisk swim in the Atlantic Ocean is your cup of tea. Of course, a mere 5 minute drive (less than 5 miles) brings you to Acadia National Park's Schoodic Point Section, a truly beautiful gem of nearly four thousand acres. Schoodic Section of Acadia National Park is a spectacular peninsula jutting out into the Atlantic. Bold rocky coast, several miles of hiking trails, and 8 miles of beautifully maintained bike trails in this part of Acadia for you to explore. Ideal for a picnic on the rocks at the shore, to a day of hiking if that is your pleasure.
The Peninsula is made up of several smaller fishing villages where people have lived by the sea and their own efforts for many generations. It is also a haven for artists, craftspeople, and writers who chose this area for its unsurpassed beauty and relative peacefulness, away from the hubbub of more crowded areas.
This house is perfectly located for visiting the Schoodic area of Acadia national park. This area is beautiful and quiet, very different to Mt desert island portion. The hiking was wonderful. This house is very comfortable. The huge windows in the sun room provide a wonderful setting for breakfast. We had dinner at the Pickled Winkle near you, lots of fun and great food. The clam strips were delicious.
Margaret
2016-08-18T00:00:00Z
M and her home are both amazing! She made us feel comfortable in the house and gave us tons of tips on a variety of things near the area. Her home is cozy and quiet for a private weekend away, but also close enough to Acadia and Bar Harbor if you want to get out and explore, shop, and eat! You can tell she has put her heart into her home and we appreciated every detail. Highly recommended!
Nichole
2016-10-11T00:00:00Z
M's home was beautiful! Also, we were late arriving and she was extremely accommodating to our changing schedule. Her introduction to her home and the area was very helpful. We took all of her recommendations. The home was extremely peaceful and the kitchen had everything a person could wish for. Would definitely recommend anyone looking for a peaceful retreat stay here and enjoy the beautiful home and Schoodic Peninsula.
Stephanie
2016-08-14T00:00:00Z
What a wonderful hidden pearl was Marlene's home!! Her place is full of light, nature, art and beautiful details that made our stay fantastic. She was valuable and left us all the resources (in the house and to get around) we needed for a wonderful vacation and exploration of Acaidia national park and her island. Everything was impeccable and beautifully arrabge for us to enjoy (including our dog Mateo!)
Patricia
2016-07-29T00:00:00Z
Marlene was the consummate host. She has an incredible wealth of material on the area, which came in handy. Her home is lovely and a perfect Maine getaway, particularly for those who want to be close to Schoodic. The easy access to Schoodic and Winter Harbor made for a great experience, and Bar Harbor and the other side of Acadia is only a ferry ride or drive away. We will definitely be back to enjoy the peace and quiet of her getaway!
Rory
2016-08-29T00:00:00Z
M's place was great! Plenty of space and so secluded. The sun room was fantastic, we spent most of our time there just relaxing and enjoying the greenery.
Jeffery
2016-06-27T00:00:00Z
We had a great time at M's place - the house was lovely and quiet and M was very accommodating and kind. She had very good info on places to visit during our stay and was easy to communicate with via text. There's a lovely little beach just down the road from the house that we enjoyed visiting and we were well situated to visit points on the Schoodic peninsula and beyond.
Claire
2015-09-25T00:00:00Z
Marlene greeted us enthusiastically and went over the particulars of the house. I also appreciated the advance info sheet she sent via email - very helpful! She pointed us in the direction of some great places to visit, and provided trail maps for hiking. It was a wonderful, comfortable and relaxing visit. While we spent most of our time out of the house, it was a tremendous feeling to come back "home" to such a cozy and comfortable home. Thank you so much for everything, including all the breakfast items! We look forward to visiting again!
Charlene
2016-05-16T00:00:00Z
Art der Unterkunft
Ganze Unterkunft
---
Objekttyp
Haus
---
Unterkunft für
2
---
Schlafzimmer
Gouldsboro, Maine, Vereinigte Staaten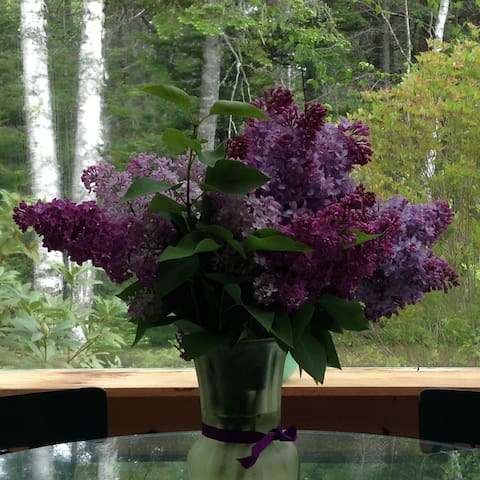 Custom built house on waters cliff edge with spectacular views, sunsets, wildlife, and more. Completely private, come here for a rural retreat of relaxation. Star gazing at night with skylights, ocean front deck, fireplace, bath tub with a view!
Everything about this house is gorgeous! I love the very private location – you cannot see or hear any anything but the birds and the lobster boats. The house is nestled in the woods at the end of the road with clear 180 degree views of the ocean and islands. It is positioned perfectly to take full advantage of the natural light throughout the day. The views from the deck are remarkable at any time of day, but particularly sunset. The architectural design is truly delightful, with high ceilings,a huge fireplace, stained glass windows, and unusual little private spaces. It was such a pleasure to cook because of the spectacular views from the sink, the stove, the stools at the island. The master bedroom with walls of windows on three side and three skylights over the bed was a delightful place to watch the dawn, the sunset or the brilliant stars. The furnishings were so comfortable: the beds, but also the cluster of sofas around the fireplace, and another looking out to sea. We brought our kayaks and launched from a sweet little cove just down the street. Did some hiking and exploring the islands. Such a peaceful spot! Pamela and Peter are terrific hosts.
Margaret
2016-09-02T00:00:00Z
THE BEST MAINE EXPERIENCE YET AND WE HAVE TRAVELLED EXTENSIVELY THROUGHOUT MAINE!!! Filled with anticipation in regards to our South Addison NEW destination, we patiently navigated the roads and followed Pamela & Peter's detailed directions. Thinking this place is way out in the wilderness... Did we make a wrong turn? No.... Pamela and Peter's directions were spot on as we later discovered. Anticipation was building as we meandered our way on dirt roads climbing higher into the beautiful coniferous forest on a dead end road we reach our destination. We were awestruck upon arriving at this beauty of a home, filled with light. A wonderful pebble driveway accented beautifully by perennial flowers. A house in front of a magnificent ocean view with paths to the rocky shore and around the property. Multiple Adirondack Double chairs are hidden amongst the trees in several places waiting to be discovered each capturing its own ocean view. The house sits over 100' above sea level overlooking the ocean with dozens of Lobster Traps. Westerly sunsets were so beautiful and filled the house with light! A nature lovers and star gazers paradise... To fully appreciate this location It must be experienced! We highly recommend the Mullin's very unique and remote destination for a serene and lovely experience to be cherished for a lifetime!! Every detail and every comfort has been taken into consideration. You will not be disappointed! We own 2 homes in Vermont - Shelburne and North Hero and have travelled extensively through Home Exchange, VRBO, Home Away, and AirBNB / This is one of the finest places we have ever resided! Rebecca wanted me to add that she really enjoyed your kitchen & cookbooks & other books and local site sharing. The wildlife is a whole other chapter to experience --- a Bobcat running across the road, a 10 point Buck hauntingly staring at us at the top of the driveway so beautiful in its camouflage we almost missed him.. The next morning we see a large Doe and Fawn from the kitchen window as we prepared our morning coffee. Incredible experience all around and I have yet to experience this in any other sites we have visited. Best wishes Pamela & Peter and thank you both very much for sharing your lovely paradise... Loving Regards, Steven & Rebecca Long(URL HIDDEN)
Steven Dwight
2016-09-05T00:00:00Z
Art der Unterkunft
Ganze Unterkunft
---
Objekttyp
Haus
---
Unterkunft für
4
---
Schlafzimmer
Addison, Maine, Vereinigte Staaten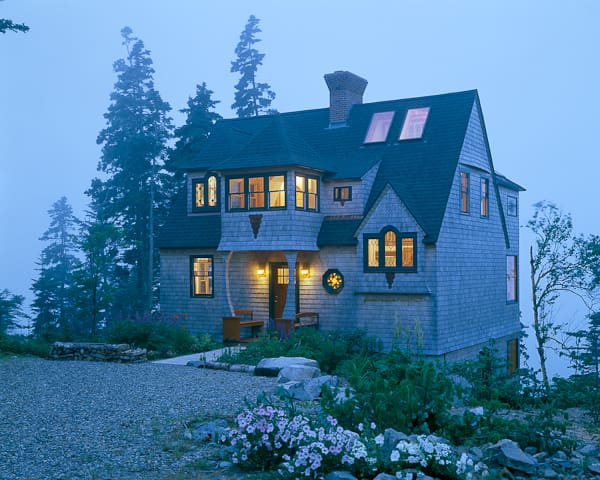 1

–

18

von

72 Ferienhausvermietungen
Gib deine Reisedaten ein, um den aktuellen Preis zu sehen. Es können zusätzliche Gebühren und Steuern anfallen.