Frankie and Jerry are thoughtful, friendly accomodating hosts. My visit to Boise City was great. The space was comfortable and clean. I slept great. I couldn't ask for more.
Mark
2017-02-22T00:00:00Z
Frankie and Jerry are friendly and gracious hosts, and their space is very inviting and comfortable. I would definitely recommend staying at their home!
Sarah
2017-04-08T00:00:00Z
This was a business trip and a welcome site at the end of a long day. The hosts were gracious and accommodating and couldn't do enough for me. I certainly felt at home. The apartment was clean, warm and inviting. I highly recommend staying here.
Thomas
2016-11-02T00:00:00Z
Cimarron Bed and Bath is a hidden gem in Boise City! Frankie and Jerry were quick to respond, kind, and respectful at every stage of our trip to visit Black Mesa, even going so far as to offer us a folder full of information about Cimarron County and Black Mesa. They provided us a lovely and well-maintained half of the duplex they own as our lodging; a very charming home on the inside and out with plentiful decorations, a Keurig, 2 cozy bedrooms, numerous water bottles, and a lovely patio/outside area. I highly recommend Frankie's place to anyone visiting the area!
JOSHUA
2017-03-15T00:00:00Z
Art der Unterkunft
Ganze Unterkunft
---
Objekttyp
Haus
---
Unterkunft für
4
---
Schlafzimmer
Boise City, Oklahoma, Vereinigte Staaten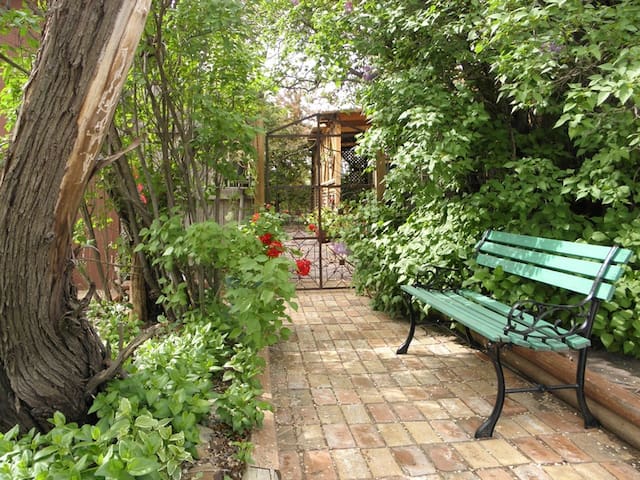 Our house is located in a small town on Hwy 54. A perfect stop on your way to or from interstate 40. You get the entire house as we live across town. Big fenced backyard. No internet or tv. Fully stocked kitchen including spices. Central heat & air.
Two private bedrooms. Room for more guests on air mattresses which can be provided. Please note there is no WiFi or tv.
Neighborhood is quiet with friendly folks abounding! The train runs through town about 2 blocks away.
The house was great and our hosts were super accommodating. We'll definitely stay there again!
Cheri
2016-09-09T00:00:00Z
We arrived late at night after a long drive, they had all the lights on for us and the house was cozy and warm. The house was very clean. Adrienne was very responsive to any questions we had. We felt safe in the neighborhood. There's a playground within waking distance and also a resturaunt within a 1/2 mile we walked to as well. If you're passing through Texhoma, we definitely recommend this home.
Lacey
2016-12-30T00:00:00Z
Adrienne is a wonderful communicator, and made sure I got to her home with the assistance of her husband, Tony, after a long day of my gps and phone not working for me. The house is so clean and charming, and I felt completely comfortable there. I had a wonderful night's sleep and had some orange juice Adrienne left for me while I got some work done in the morning before I left. (If I could eat wheat, I would have really enjoyed the delicious-looking cinnamon roll she left for me in the fridge!)
Christina
2016-06-17T00:00:00Z
A little country oasis with warm, sweet generous hosts! Tony and Adrienne's home was a wonderful respite from the road. A great place to unplug from gadgets/social media and relax.
Aaron
2015-11-24T00:00:00Z
Wonderful place to stay!! Beautiful old house, antiques, and back yard. The host left a delicious breakfast and the kitchen was fully stocked! Wished we could have stayed longer. Cold AC, five start towels, and comfortable beds.
Olivia
2016-07-07T00:00:00Z
Our stay was simply warm and wonderful!
Jeanine
2017-01-15T00:00:00Z
Fabulous. Included breakfast. Would definitely stay there again!
Nghia
2016-06-18T00:00:00Z
Tony and Adrienne met me at a convenient location and guided me to their house. They were delightful and helpful. Everything was as advertised. The house was just what I needed at this point in my lengthy car trip. The backyard is beautiful and well kept and was a nice place to just sit and relax, read, and write. Nice safe neighborhood.
Ronald
2016-09-03T00:00:00Z
Art der Unterkunft
Ganze Unterkunft
---
Objekttyp
Haus
---
Unterkunft für
4
---
Schlafzimmer
Texhoma, Oklahoma, Vereinigte Staaten
Bunk House is a modernized part of the Great Plains History complete with Dish Network, WiFi and central heat and AC. Perfect for individuals, large groups and events. We are a NON-host lodging with country hospitality. Price is PER ROOM NOT Full fucilities. Full facilities for all rooms and barn for events is $500.00 plus tax.
(URL HIDDEN) We took what my grandfather built for broom corn workers years and years ago which remained in ruins for years after broom corn production died out. We remodeled and modernized it with central AC, Heat, Dish network and WiFi while conserving the rustic beauty of the Great Plains. Complete with four private rooms (each with it's own theme reflecting on parts of our panhandle history) , community bathrooms (3, one large enough and designed for wheelchairs), country barn, lounge/kitchen, cocktail garden, small wedding venue/park area with small pond, and even space for tents. Perfect for individuals or large groups. 15 beds total (1 Queen, 3 full size, 10 twins and one full size pull out couch). We now also, located 6 miles from from Bunk House on State line road have a 2 story white cottage. Originally ordered from the catalog Sears & Roebuck years ago, Lindsey's Cottage is complete with 3 full size beds, 2 twins and one full size pull out couch. We love sharing the Great Plains with people from all around the world. We are on the flats in the heart of the Great Plains known for its starry skies and beautiful sunsets. Located 20 miles south of Black Mesa and 8 miles Lake Etling. Make the Panhandle of Oklahoma a part of who you are :)
We are in the middle of the Great Plains Country side! Peace and quiet. Sunsets, sunrises and STARS!
Wonderful!!!
Susan
2016-12-01T00:00:00Z
Our family enjoyed Lindsey's bunk house as we were traveling through to New Mexico. It was quite a find being in such a secluded area of Oklahoma and we were thankful to discover it! Our girls enjoyed the playground and swing and it was in a peaceful prairie setting. It was a great stop over for our dog as (URL HIDDEN) much better than a hotel for this area. Thanks so much Lindsey!
dianna
2016-07-24T00:00:00Z
Lindsey and her family made us feel very welcome. Lindsey kept in contact with us as we were on our way, and started a pot of coffee early. Her mother and two of her children came over to greet us later in the morning and told us all about the history of the bunkhouse and kitchen. The kitchen was extensive and included a small common area, all the basics, an ice cold pitcher of lemon water, a treat, lots of historical information, antiques, photographs of the family, a piano... around every corner there was something new to discover. We stayed in the Dust Bowl room, which included lots of antiques and memorabilia about local cowboys and the Oklahoma Dust Bowl. It was a very relaxing stay, and we wouldn't hesitate to stay here again.
Gordon
2016-06-18T00:00:00Z
Though we texted Lindsey quite late she was super relaxed and friendly! She organized everything and was very reliable. The location is wild and nice :) The next morning we even drove around the country with her dad Parker. And a good lunch. For us it was so cool! Thank you so much!
Chris
2016-08-24T00:00:00Z
clean comfy place. best oklahoma hospitality. quiet and relaxing. we will rent this space again!
Alan
2017-03-26T00:00:00Z
Staying at the bunkhouse was a truly remarkable experience. We were on a road trip and this was the perfect place to stop and regroup, rest up and enjoy a good cup of coffee, an amazing sunrise and the wonderful hospitality of this place and it's gracious hosts. I look forward to our next trip!
garrett and courtney
2017-01-01T00:00:00Z
This would be an excellent education experience for a family. All the rooms were cozy and comfortable. The decor spelled the hard times of previous generations and provoked thought of how lavish an existence so many of us in America experience. This has been an edifying experience.
Dennis
2016-12-31T00:00:00Z
Great arrival- friendly, tour, history.
Ron
2016-07-07T00:00:00Z
Art der Unterkunft
Ganze Unterkunft
---
Objekttyp
Andere
---
Unterkunft für
15
---
Schlafzimmer
Wheeless, Oklahoma, Vereinigte Staaten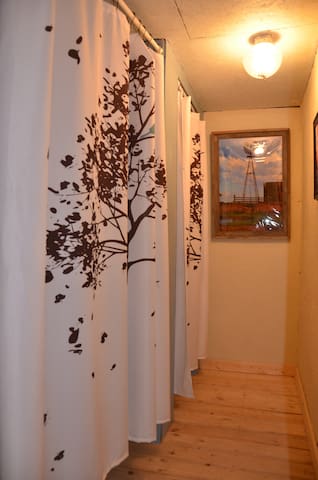 Gib deine Reisedaten ein, um den aktuellen Preis zu sehen. Es können zusätzliche Gebühren und Steuern anfallen.