Zentral gelegen in der malerischen Bergdorf Field, BC. Tolle Basis der kanadischen Rockies und Yoho-Nationalpark zu erkunden. Wir sind ca. 25 Minuten Fahrt von Lake Louise. Die Wohnung verfügt über 1 Schlafzimmer mit einem Doppelbett. Es gibt einen großen Wohnbereich mit einer ausziehbaren Couch für zusätzliche Gäste. Es ist für Selbstversorger. Die Wohnung verfügt über eine voll ausgestattete Küche, Dusche und Bad ausgestattet. Es wird empfohlen, liefert in Golden, Lake Louise, Banff abholen. Es verfügt über einen eigenen Eingang.
The hosts were amazing! We got in a little later than expected but they still took the time to greet us and show us around the house. They were very friendly and made us feel very welcomed.
Tim
2016-09-17T00:00:00Z
The Hummingbird suite is in a quaint neighborhood. Do take advise to bring supplies, as there is really not a market in Field. Paulina left a details note at her front door and then met us to answer a few questions. We enjoyed 2 tasty meals at the Truffle Pig. Enjoyed neighbors gray cat- who wandered into our suite. Nice to have area travel books to browse.
Kim
2016-08-22T00:00:00Z
The suite was very nice and perfectly located for discover the area field. Was a good stay!
Sandra
2016-07-04T00:00:00Z
Lovely place. Great location. Great hosts. What more can you ask for
Helen
2016-09-20T00:00:00Z
Great place to stay in a very nice and calm little town. The suite was very big and had everything we needed and was just a drive away from many of the Banff high lights! Host were very nice and accomodating. Field has a great place to eat called the truffled pig!
Roderik
2016-07-29T00:00:00Z
We met Paulina she is very nice host. She gave us privacy meanwhile she was alway helpful when we needed. We didn't meet Darren which is a little bit pitty but we did recieve his detailed guidance and other useful information. The suite is exactly as described. very clean and comfort. It has everything we need. My wife likes the village very much, quiet and beautiful, recall ours memories when we were in Murren many years ago, a similar village in Switzerland. definitely we would like to recommend to others.
YING
2016-08-04T00:00:00Z
The host canceled this reservation 79 days before arrival. This is an automated posting.
Wally
2016-07-04T00:00:00Z
The Hummingbird Suite is in an adorable neighborhood with awesome views, what made it better was Darren & Paulina's comfortable suite. It was a place we looked forward to going back to after a long day of hike. They suite is well stocked and Darren & Paulina were really happy to provide anything we needed. They were also considerate enough to provide coloring books and movies for our 2yr old. Would love to return sometime soon.
Dipti
2016-09-13T00:00:00Z
Art der Unterkunft
Ganze Unterkunft
---
Objekttyp
Wohnung
---
Unterkunft für
4
---
Schlafzimmer
Field, British Columbia, Kanada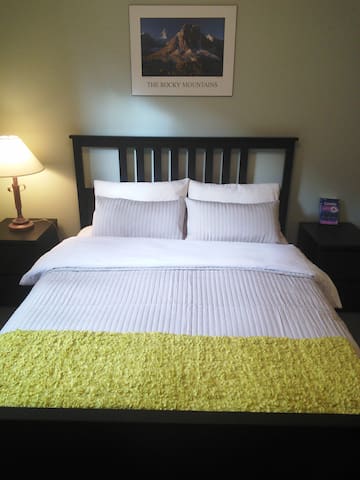 The Old Church Guesthouse ist eine schöne 2-Zimmer-Wohnung unteren Ebene. Es ist voll mit gemütlichen Daunendecken auf den Betten, eine komplette Küche mit voller Größe Elektroherd und Kühlschrank, komfortablen Wohnbereich, eine kleine Bibliothek und vielen Extras ausgestattet.
Im Herzen der kanadischen Rockies. Eine Stunde Fahrt von Banff. Fünfzehn Minuten von Lake Louise. Tolle Basis für Sightseeing, Wandern, Skifahren und Langlaufen. Eine 2-Zimmer geräumig und komfortabel komplett eingerichtete Wohnung mit eigenem Eintritts- 6 Stufen von Garten-Ebene. Voll ausgestattete Küche hat regelmäßige Größe Kühlschrank mit Gefrierfach, und in voller Größe Elektroherd, sowie reichlich Geschirr, Gläser, Besteck, Töpfen und Pfannen für die Gäste ihre eigene Küche zu tun. Ich stelle köstlich lokal gerösteten Kaffee, eine Auswahl an Tees und einige grundlegende Zutaten, aber die Gäste sind verantwortlich für alle ihre eigenen Mahlzeiten. Es wird empfohlen, dass die Gäste vor der Ankunft in Feld bis auf Lebensmittel lagern, weil unser Dorf ein schönes Restaurant und ein großes Café, aber sehr begrenzte Einkaufen. Für weitere detaillierte Informationen über die Pension und der Umgebung können Sie auf meiner Website sehen Old Church Guesthouse betitelt. Ich lebe im Obergeschoss und bin in der Regel zur Verfügung Gäste zu begrüßen und Sie auf den Bereich einzuführen. Das Gästehaus ist zu diesen Preisen von 1. November bis April verfügbar 30. Unterschiedliche Preise für Mai bis Oktober gilt und kann auf der Website eingesehen werden.
Field ist ein winziger abgelegenen Bergdorf, entfernt von der Hektik des beliebten Touristenziel
Tolle Unterkunft mit allem was man braucht. Idylle pur.
Sabrina
2016-06-16T00:00:00Z
A lovely guesthouse in a wonderful town, situated near Lake Louise. It served as a great base to explore the northern part of Banff National Park, as well as the southern tip of Jasper, including the Columbia Ice fields. Clean and comfortable, could not have asked for more! The town is quaint and very relaxing.
Andy
2015-09-08T00:00:00Z
The Old Church Guesthouse is really cozy, calm and relaxing. Hellen is really nice and attentive and the house is fully equipped. We had the pleasure of staying there 3 nights and we would love to return there one day!
ana
2016-08-23T00:00:00Z
The old church guesthouse is a lovely basement suite, totally private and very comfortable. Helen was a wonderful host who answered all our questions - even when we came knocking on her door one morning! Very tidy and had everything we needed, would definitely recommend this place for anyone wanting to visit the area.
Silas & Laura
2013-10-21T00:00:00Z
My husband and I enjoyed our time at the Old Church Guesthouse. It was quite spacious for the two of us and Helen took care of everything for us from offering local travel suggestions and hints to providing towels if we wished to go to the hot springs. Highly recommend visiting the Old Church Guesthouse if you are in the area.
Sarah
2016-10-18T00:00:00Z
It was great place, just like my home. Helen was so kind. If I travel Banff & Yoho area next time, I would like to visit again.
Sunghyun
2016-08-01T00:00:00Z
We had a wonderful stay at Helen's unique guest house. The accommodation was spacious, meeting all the needs of the guests who is there to enjoy the great outdoors. Of particular delight was the opportunity to sit outside and have some downtime after enjoying the wonderful walks in the area. Unfortunately we did not get the chance to meet Helen (being away herself) however she kindly arranged for the local neighbours to look after us. Helen's communication was always timely and supportive. We had a great time and would be happy to return. Enjoy this 5 star accommodation.
Derek
2015-07-14T00:00:00Z
Helen was the perfect host. She made check in very easy for us and was very friendly. The house is spacious and comes equipped with some lovely touches - locally roasted coffee and a vast library of books relating to the Rocky Mountains being highlights! Field is a great location and has quite a fascinating history. It's very close to Lake Louise but we would recommend checking out some of the local hikes to have a more intimate experience with the Rockies!
Sam
2016-09-12T00:00:00Z
Art der Unterkunft
Ganze Unterkunft
---
Objekttyp
Wohnung
---
Unterkunft für
5
---
Schlafzimmer
Field, British Columbia, Kanada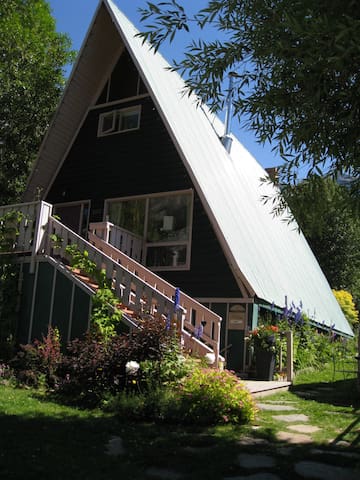 This exquisitely appointed cabin is located in the picturesque village of Field, BC and the perfect "home away from home" from which to explore Yoho and Banff National Parks in the heart of the Canadian Rockies.
This is a private (stand alone) cabin exquisitely decorated and offers a full kitchen, bathroom with laundry, dining and living room areas.
This cabin is up at the edge of the village away from the busier streets of the village and has lovely mountain views from the front deck. You don't want to miss dining out at the famous "Truffle Pigs Bistro & Lounge", 10 minute walk from the cabin.
Art der Unterkunft
Ganze Unterkunft
---
Objekttyp
Almhütte
---
Unterkunft für
2
---
Schlafzimmer
Field, British Columbia, Kanada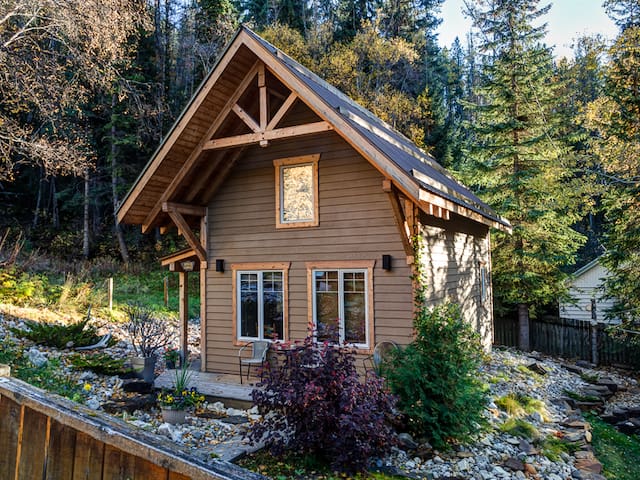 Our rustic log cabin in the middle of the majestic British Columbia Rocky Mountains will make you feel right at home. You'll love your stay here with our stone fireplace, beautiful mountain views, and authentic log cabin feel. My place is good for couples, solo adventurers, families with kids and big groups. Keep in mind, we are in the Rockies and our wifi is spotty. It is most reliable near the head office.
The loft is on the top floor and has a queen, two twin beds and a washroom. The bottom floor has a kitchen, bedroom (with a queen), bathroom, and a living room with a pull out sofa.
We're located 20 minutes from Golden, BC and out in the majestic wildnerness. All the cabins are surrounded by beautiful mountains and a creek flows to the side. Distance to Ski Hills Log House -> Kicking Horse Ski Resort: 37 mins Log House -> Lake Louise Ski Resort: 43 mins Log House -> Sunshine Ski Resort: 1 hour 20 minutes Log House -> Revelstoke Ski Resort: 2 hours 8 minutes Distance to Landmarks Log House -> Golden, BC: 24 minutes Log House -> Field, BC: 26 minutes Log House -> Emerald Lake: 34 minutes Log House -> Lake Louise: 44 minutes Log House -> Banff, AB: 1 hour 18 minutes Log House -> Jasper, AB: 3 hours 41 minutes Log House -> Yoho National Park: 4 minutes (We're right at the edge of it)
La atención ha sido estupenda, atendiendo todas las dudas, la cabaña estaba limpia y caliente cuando llegamos. Ha sido una excelente experiencia que espero poder repetir en invierno para esquiar o en verano para conocer más este precioso país. Luis
Luis
2017-02-03T00:00:00Z
Perfect gate away cabin , we enjoyed a lot! Everything was amazing
EVELYN
2017-01-02T00:00:00Z
Le chalet de Tina is very nice and quiet. If you have questions or some problems Tina will help you. She is available for her guests. Thank you very much for everything. Le chalet de Tina est très beau et tranquille. Si vous avez des questions ou des problèmes, Tina se fera un plaisir de vous aider. Elle est disponible pour ses invités. Merci beaucoup pour tout.
Nathalie
2017-04-07T00:00:00Z
Good location, wonderful surroundings, beautiful scenery. Good experience overall
Kevin Fan
2016-12-26T00:00:00Z
A cute little cabin nestled away from the town of golden. Make sure you pack everything you need for cooking if you plan to do so. I stayed here with my boyfriend and we had a relaxing weekend as there was no new snow. A great place for families or a group of skiers who are on a budget - as there are plenty of beds. Beautiful views and places to go for walks.
Marisa
2017-01-29T00:00:00Z
This cabin was a perfect place to stay after skiing in Golden; it was only about 25 minutes away and perfect accommodations for a group of 8. Tina was a fantastic host and great with communication. I would definitely stay again.
Carlee
2017-02-26T00:00:00Z
Tina was so quick and helpful for us. She was very accommodating and helped us out with different date requests. The property was really quiet and home like. Recommend staying for sure as long as you don't mind a quick drive to Golden!
Aleasha
2017-02-13T00:00:00Z
Chalet super confortable dans un coin tres calme, superbe vue sur la montagne, etoiles à profusion lors d'une nuit claire. A proximité du lac louise et de kicking horse. Qualité supérieure pour le prix
Emilie
2017-01-19T00:00:00Z
Art der Unterkunft
Ganze Unterkunft
---
Objekttyp
Almhütte
---
Unterkunft für
8
---
Schlafzimmer
Golden, British Columbia, Kanada
Looking for an adventure in the Great Canadian Rockies? Come explore our backyard in our authentic, timber log cabin complete with a stone fireplace, majestic views and tranquility. My place is good for families, groups, and wandering souls. We are in the Rockies, so our Wifi is spotty.
Art der Unterkunft
Ganze Unterkunft
---
Objekttyp
Almhütte
---
Unterkunft für
8
---
Schlafzimmer
Golden, British Columbia, Kanada
Gib deine Reisedaten ein, um den aktuellen Preis zu sehen. Es können zusätzliche Gebühren und Steuern anfallen.