Gib dein Check-in-Datum im Format TT.MM.JJJJ ein
Gib dein Check-out-Datum im Format TT.MM.JJJJ ein
Inserate, die du buchen kannst, ohne auf eine Bestätigung des Gastgebers zu warten.
6 Unterkünfte
· Marksville
6 Unterkünfte
· Marksville
Gib deine Reisedaten ein, um den aktuellen Preis zu sehen. Es können zusätzliche Gebühren und Steuern anfallen.
Diesen Juli und August kannst du eine dieser 100 hervorragend bewerteten Unterkünfte aus jeder Preiskategorie ausprobieren, um Sonoma aus der Sicht eines Einheimischen kennenzulernen. Dank 24-Stunden-Check-in, Sofortbuchung sowie einheimischen Weinen und Snacks kannst du dich einfach zurücklehnen und deine Reise geniessen.
This is a 3/br 2/bath property sitting on 0.5 acres overlooking the beautiful Little River near the Spring Bayou Wildlife Management Area. The property has a fishing dock and ample parking for vehicles and boats. If you are looking for a quiet getaway with plenty of good fishing, this place will not disappoint. There are tons of great restaurants nearby and the Paragon Casino is only ten minutes away! Note: The property is located off the beaten path and there are gravel roads on the way.
The cabin is located on Little River with access to the Spring Bayou Wildlife Management Area Guests have complete access to the entire property.
We expect our guests to behave with the civility and trustworthiness of a family friend. Sorry, no smoking. House is not child-proofed! Parents agree to mind their children vigilantly inside (art, antiques, family heirlooms abound!) and outdoors (there are pets & domesticated animals, snakes, stinging insects, and assorted other wild critters out here in the country!).
Art des Zimmers
Ganze Unterkunft
---
Art der Unterkunft
---
Unterkunft für
7
---
Schlafzimmer
3
Marksville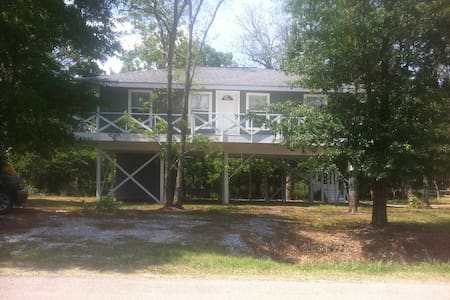 100 yr old farmhouse on the bayou is tastefully decorated with an eclectic collection of original art. Pastoral views from every window. Perfect setting for country getaway, corporate let, retreat or sabbatical, artistic endeavors. Single party of 1-6 guests.
House boasts a wide and welcoming front porch with rockers and porch swings for relaxing, enjoying conversation, listening to birdsong, watching the cows graze, reading a good book, or sipping a morning cup of coffee or happy hour glass of wine. Back patio has vintage chiminea for guest use. Downstairs features a spacious living room with wood-burning fireplace, a formal dining room with piano, a small parlor with giant Scrabble board/chess table/board games/playing cards/tv/CD player, a hall bookcase with a diverse library of books to browse, kitchen (where something's always cooking), and the guest loo. 3 upstairs bedrooms available--2 guests per room--$75 night single occupancy + $20 additional charge for double occupancy, one full bath, tv lounge on landing, one covered parking space, internet access. Preference given to guest(s) on long-term stay, e.g., corporate let or academic on sabbatical. Hosts can suggest nearby places of interest and restaurants. Meals available in-house by previous arrangement.
This fine farmhouse, completed in 1913, faces a historic bayou in rural central Louisiana. It was built on the site of a sugar plantation in the 1800s, and home to Choctaw Indians before that. We are pleased to announce that it is slated to join the National Registry of Historic Places in the Spring of 2016! There is no public transportation on this road, so a car is necessary. Popular area for experienced cyclists, although the road has no shoulder. Drive with care as there are no streetlights. Expect agricultural vehicles and equipment in operation at planting and harvest times. An international airport is an easy half-hour drive from house. Whenever possible, host will help with transportation. House is south of Alexandria and north of Lecompte in central Louisiana, the crossroads into Cajun Country, with easy access to I-49 and Hwy 71. Within easy striking distance of Indian Creek Reservoir, Kisatchie National Forest, Kincaid Lake, LSUA, the Northup Trail, a shooting range, the amenities of Alexandria (museums, symphony, zoo, shops and restaurants).
Staying at Sara's is a must for anybody visiting Louisiana!! On meeting Sara and Harry I instantly knew they we're going to be effortlessly easy to get on with! Sara is very articulate, fun and interesting.. We wish we could have stayed longer.. The house has best of all worlds, easily accessed from the highway and close to towns but set away in the countryside so one can enjoy the peacefulness and sheer beauty of Louisiana nature.. Imagine yourself sitting out on the charming porch with a wine or bourbon soaking up the sunset across the fields.. The house is bursting with southern charm and extremely comfortable, my words can't do it justice so you will just have to check it out for yourself !!..
David
March 2016
I had a wonderful stay at Sara place! The house is just beautiful with a large garden where squirrels play with pecans. The place is quiet, ideal to relax. Sara is a perfect host. With her best friend Deb, we spent a very nice evening around a fire outside. I really enjoyed my stay there.
Emilie
November 2016
Sara and Harry where the perfect SUPER HOSTS, our trip to Louisiana was unplanned and not for pleasure, but Sara made our trip an incredible experience. I'll start with the home, charming is an understatement it was just the wonderful quintessential southern home with the beautiful porch and moss covered trees, sprawling fields and cows, sounds of birds and little creatures as backdrop to this incredible views. Then there's the food she so graciously prepared, the best french toast I've ever had, fresh fruit, yogurt, greens and veggies straight from her garden. She made us the most Amazing pasta and home made corn bread so considerate of my being a vegetarian. I could go on and on but I will just say I highly recommend staying with them. I will definitely be visiting and saying again with her and the kind Harry that gave us such warm welcomes when we would come and go.
Michelle
May 2016
Sarah and Harry were the most excellent hosts; I felt so welcome and relaxed at their beautiful home. Sarah is an excellent conversationalist and cook; it was a pleasure spending time there and I wouldn't hesitate to go back!!
Robert
April 2016
If I could give 6 or 7 stars, I would have done it. Staying at Sara and Harry's is our best memory in Louisiana. She really took care of us she shared thanksgiving day with us or prepared our lunch... Moreover, the house is a dream. Lost in the country, with an outstanding view and bucolic moments with the cows, dog and cats, bayou on the other side of the road... If you have any chance to stay at Sara's, go for it !
marie
November 2016
Sara and her cute dog are amazing hosts. She cooked for us at our first evening and made us feel very welcome und comfortable. The Area is pretty, quiet, a perfect getaway for us After spending a couple of days in busy New Orleans. For us this has been the best airbnb experience - Sara truly is a superhost
Lisa und Martin
October 2016
Sara is a very nice person, and she do all she can for you and make your trip fun. There is not a lot of things to do in Lecompte, but the house is a very nice place to keep calm, with rockin chairs and a beautiful garden. Thank you again Sara ! ;)
camille
September 2016
Sara and Harrys place is the most unique and authentic experiences we've had with Airbnb so far! What a treat! Sara is such a wonderful host and makes you feel like your visiting an old friend although you just met and really makes an effort to make your stay as good as it can possibly be. The house is really an experience in itself with beautiful surroundings, lovely decorated rooms AND of course the veranda which we luckily got to enjoy sippin' some wine in the sunset. If you're doing the Mephis-New Orleans road this place is a MUST! Lots of exiting things to see and do in the area to. We're already longing to go back to Sara and Harry and stay longer next time!
Frida
April 2016
Art des Zimmers
Privatzimmer
---
Art der Unterkunft
---
Unterkunft für
2
---
Schlafzimmer
1
Lecompte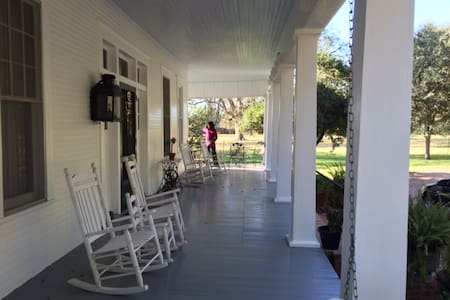 You'll love my place because of the high ceilings and architectural details, the pastoral views from every window, the good food, the peace and quiet, and the eclectic decor. My place is good for couples, solo adventurers, small groups and business travelers. Cyclists, birdwatchers, nature lovers, artists, 'plein air' painters, writers, and history buffs will appreciate this property.
Southern Exposure room has a queen bed, a writing desk overlooking gardens, south pasture with mature pecan trees & cattle, has own lavatory, (shared) bathroom adjacent. Guests may use tv lounge on upstairs landing, front porch, living and dining rooms. Wifi is available but be warned internet is slow as cane molasses... Come here to UNWIND and UNPLUG instead! I will be here to greet you, feed you, help you with any questions.
This is a rural area, so there may be tractors, cropdusters, etc. at work during planting/harvest time. Road is scenic and popular with experienced cyclists (no shoulder). No public transportation. Airport is about 40 min drive from here. There are not many restaurants in the area, but there is a place for good breakfast/lunch, a restaurant that serves lunch/dinner, and a decent Mexican restaurant in a town 15-20 min drive away, all the usual chain restaurants, stores, etc. in Alexandria, also 20 min drive away. Nice farmer's market at organic farm 10 min drive away on Tues/Sat.
Art des Zimmers
Privatzimmer
---
Art der Unterkunft
---
Unterkunft für
2
---
Schlafzimmer
1
Lecompte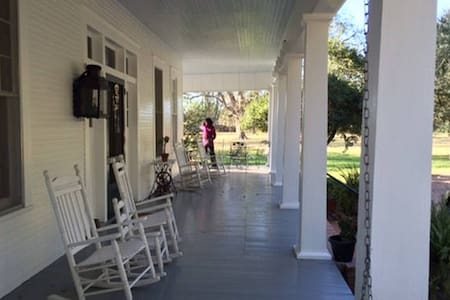 A queen sized sofa bed, 42 inch TV, fireplace, 2 recliners.
Ms. Linda was welcoming and genuinely nice. Her home was neat and clean and availabile to me at the last minute which I appreciate.
Kama
November 2016
As usual my reservation was last minute. Ms. Linda definitely keeps a nice clean house even when there are no guests. Because I literally booked an hour before my arrival and everything was perfect. My boys loved playing spinners (a domino game) before going to bed. Thanks for your true southern hospitality and the boys and I will see you again soon.
Brock
April 2016
Linda's place is perfect. Great place to stay and feel at home. Clean, safe and comfortable. She likes and is a good cook. Come hungry. Her hospitality and home are wonderful.
Brian
September 2016
Linda was a gracious host that went out of her way to make me feel comfortable. Her cooking was outstanding and she was very generous with the use of the kitchen. She even offered the use of her laundry facilities which was an unexpected, and appreciated benefit. There were two other guests staying there, and I enjoyed my discussions and interactions with both of them, making it feel like a small community. This was an unexpected benefit and added to the experience. Linda accurately described the listing as a "shared space" and, in fact, there is some lack of privacy despite the curtains. But it was not a major issue. When I expressed concern about the comfort of a sofa bed, Linda made an air mattress available. As it turned out, the sofa bed worked better, but the effort was appreciated. Linda's religion is important to her and anyone who is a Christian will feel especially comfortable.
Steven
April 2016
Linda was a very good host. This was my first Airbnb stay and she made it memorable. The house is very clean. She prepared a wonderful southern breakfast for my sister and I. It was like going to visit a family member/parent. We shared the sofa bed and it was comfortable. The air was just right, not too cold nor too hot. A very gracious host, however, if you don't like cats, this would be the only reason not to stay at Linda's place. I will definitely go back, I enjoyed the stay in spite of the cat. Everything was wonderful, so welcoming!!!
Mathilda
September 2016
It was very nice to stay at Linda's. She is very warm welcomming. The dinner was perfect so was the talk. She gave me more than I needed and make me confortable right away. She even found me medication for my cold!
Solvejg
October 2016
This place is awesome! Ms. Linda welcomes (URL HIDDEN) on you, and even feeds you! Her house is homey and cozy, and she genuinely cares about her guests. The house is immaculate, and the accommodations are great. I stayed on the pullout, and it was still very comfortable. Will definitely stay there again when in Alec. True southern hospitality. If you're in town on business or pleasure, stay here! Much better than a hotel.
Malerie
December 2016
Located in the suburbs of Alexandria, for us it was ideal, to explore the national parks around the town. Linda is very sweet friendly and very much likes to take care of you. Her home cooked breakfast/supper are delicious and healthy, we enjoyed them immensely after our walks. The bed is in the living room, but when you are staying, it is considered your room. There's no door, but a privacy curtain, which was fine for us. The sofabed started to have a little bit of trouble getting out of the couch, and is not the best bed in the world, but was all right for a couple of nights.
Roeska
November 2015
Art des Zimmers
Gemeinsames Zimmer
---
Art der Unterkunft
---
Unterkunft für
2
---
Schlafzimmer
1
Alexandria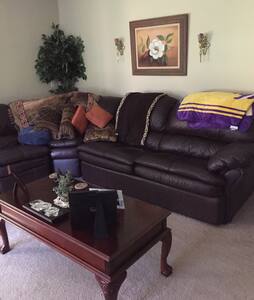 This fresh, modern house offers 1 - 2BR that comfortable sleeps 4 with one full shared bath. Located in a quiet neighborhood on Bringhurst City Park. Enjoy the walking trail 20 ft from the front door, free golf course, and Alexandria zoo!
The bedroom sleeps 2 people in a Queen bed. Also, the room is equipped with a new 32" SmartTv with access to Netflix and Hulu! *If more than 2 guests, I also have a second room available with a full sized futon. It is my small home theatre room so in the second room there is only a 55" tv available to use but no closet to hang clothes! I rent out my personal bedroom when I am not home. The price will increase from $50 to $70/nt when that is the case as you are getting the entire home! :) * There is a $10 per person charge for every additional guest after 2. Access to the full bathroom including fresh towels, washcloths, and bath soaps. Access to Internet, Netflix, front porch, parking, and home theatre room. I am a very busy person so won't be able to communicate much with guests as I am in and out a good bit. However, am always carrying my phone if guests have questions or concerns throughout their stay! :)
The walking trail! It's wonderful to be able to step off my front porch and take a stroll down the neighborhood. You can even stop to say hi to the lions at the zoo next door! There is a bus stop a short walk away at the end of the neighborhood. Major stores and the mall is bike ride away if you are one who likes to bike. Please remove hair from tub upon leaving the bathroom. The tap water does not taste good in town. I have filtered water in the fridge guests are welcome to!
Had a business meeting in Alexandria. My meeting ran late and I left early the next morning before she was up, so I never met Victoria, but she was on the case! Place was exactly as described, easy to find and Victoria's logistics were perfect. Neighborhood looks nice. I look forward to returning when I have more time.
Jack
December 2016
home sweet home. i really appreciate to stay (even only one night) into Victoria's home. Clean, nice furnitures and the district is very quiet
yannick
June 2016
It was very warm, inviting, and charming. It felt like home, and it is an easy drive to all of the major Alexandria amenities. If I ever traveled through the area again, I would definitely choose to stay here!
Kimberly
July 2016
Such a charming home and host!!! Had a great experience!!
Sarah
March 2016
Sweet little house in a really quiet safe neighborhood and located quite close to shopping and the downtown art district. Victoria is a busy person yet still had time to visit a tad. Comfortable accommodations.. a nice place to stay.
Judith
November 2016
Beautiful home and Victoria was very kind and hospitable.
Amy
August 2016
Our stay was great! Lovely location near the zoo!
Jim
June 2016
Love the hospitality and home environment
CHANTELL
June 2016
Art des Zimmers
Privatzimmer
---
Art der Unterkunft
---
Unterkunft für
4
---
Schlafzimmer
1
Alexandria
Nice comfortable home near mall, zoo, Kent House Plantation, restaurants, and festivals. Close to major highways and interstates.
Another great stay at Ms. Linda's house. And once again exceeded my expectations. She had a home cooked meal awaiting me on my late arrival. Check her out on your stay in Cenla (central Louisiana).
Brock
May 2016
Linda made us feel very welcome. She was a most accommodating host and her cooking was excellent.
Greg
September 2015
My hostess made me feel very welcome and appreciated that I was there, which was GREAT because I really appreciated her and her beautiful room and home. I feel safe, secure and supported, not knowing how to get around. She was informative but also kind and caring. I felt like I knew her for years. Such a blessing to find her and this location. The food was also GREAT. What a cook! I was thoroughly satisfied and happy. It was perfect for me. I hated to leave! Thank you so much!
Wanda
October 2016
Linda is very kind and considerate! She gives new meaning to home away from home! She makes herself and her home a place that feels safe and welcoming! Rather visiting overnight or over many nights I recommend her home as it is truly that, "home". It is very clean and pleasant! And she is a great cook! If you're visiting or working it is close to everything!
sharon
June 2016
Mrs. Linda is a true sweetheart!!! Such a lovely kind precious lady... This will definately be my home away from home in Alexandria... She went over and beyond to make my stay perfect! She was such a blessing to me!
Janell
October 2016
What a wonderful stay & I loved this bed! It was so comfy! Linda is a gracious host & was kind enough to let me use her umbrella. There was a friendly cat outside when I arrived, and Linda shared her delicious Turkey, cornbread stuffing & sweet potatoe casserole with me. Will stay here again next time I come through
Bree
November 2016
It was comfortable, clean, safe, host cooked one meal everyday, enjoyed my time beingMs.Linda guest.
CHANTELL
April 2016
Linda is a great host and a better cook. Her home is very comfortable and inviting. I really enjoyed my stay.
Dwayne
December 2015
Art des Zimmers
Privatzimmer
---
Art der Unterkunft
---
Unterkunft für
2
---
Schlafzimmer
2
Alexandria