Verbringen Sie Ihren Aufenthalt mit Vinh & Stuart (ausgezeichnet mit einem von Australiens Top-Gastgeber von Airbnb CEO Brian Chesky & Aktionär Ashton Kutcher. Wir sind Sydney # 1 Gastgeber zu reviewed). Finden Sie heraus, warum wir haben mehr als 500-mal positiv bewertet. Bitte lesen Sie unser Angebot zuerst (hint hint) Wir akzeptieren keine Reservierungen von Menschen ohne verifizierten Profil. Und bitte eine Reservierungs-Anfrage nicht machen, bevor wir Nachrichten ausgetauscht haben. Wir sind daran interessiert, 1. chatten und sicherstellen, dass wir Ihnen ein "Fünf-Sterne-Hotel" bieten
Bitte sagen hallo und Mitteilung uns * BEFORE * Sie Ihre Reservierungsanfrage machen ... Es wird Geschwindigkeit helfen, die Dinge auf und glatte Dinge ... Bitte lesen Sie unsere Liste. Es wird eine bestätigte Reservierung so viel einfacher bekommen :) Siehe unten (hint hint) - G'Day von Vinh & Stuart in Sydney! Dank für das Kommen unserer Liste zu überprüfen :) Wir haben eine andere btw ... http://www.airbnb.com/rooms/73639 wenn dieser nicht verfügbar "Sydney City Home mit Blick auf den Hafen" ist; unsere Gästezimmer im Dachgeschoss. Wir sind ziemlich entspannt Gastgeber, und als Sydney # 1 Gastgeber spielen wir eine aktive Rolle in der Airbnb-Community, aber wir schätzen voll mit jemandem bleiben andere, in ihrer Heimat zu Hause, ist nicht für jeden-one. Wir bekommen es, unser Platz nicht jedermanns Sache ist. So werden wir nicht beleidigt, wenn Sie diesen Eintrag verlassen (es gibt viele andere große Airbnb Angebote von zur Auswahl, keine gehosteten Erfahrung bieten). Als wir unter den ersten Airbnb'ers in Australien (Reisende + Gastgeber) waren haben wir ganz ein umfangreiches Profil bezogen auf alle Gäste Fragen haben wir im Laufe der Jahre beantwortet entwickelt. Durch das Lesen der Beschreibung bis zum Ende (hint hint) und die "Hausordnung", bedeutet, dass Sie alle wichtigen Informationen, die Sie machen müssen finden, um Ihre Sydney Airbnb ein fantastisches bleiben. Sie können uns eine Nachricht senden mit jeder Frage, die Sie über uns, unsere Heimat, Pyrmont, Sydney oder Airbnb ... Wir freuen uns von Ihnen zu hören! : D Das ist kein Geschäft oder ein Hotel. Wir sind lässig Airbnb Gastgeber, nicht Hoteliers. Das ist unsere Familie zu Hause. Wir leben hier. Sie sind nicht eine leere Wohnung anmieten. Dies ist kein "Unter let. Und wir haben noch ein Team von Träger warten auf Ihre Taschen nehmen zu jeder Zeit des Tages oder der Nacht. Unser "Check-in" / "Ankunftszeit" / "Bag Drop" ist alles das Gleiche. Ihr Zimmer: * Private Schlafzimmer (mit einer verschließbaren Tür) * Queensize-Bett * Alle Bettwäsche, Kissen, Decken, Handtücher, etc, zur Verfügung gestellt zu * Voll klimatisiert * W-lan Leichtes Frühstück (Müsli, Obst, Toast) enthalten: * Breakfasty Sachen und Leckereien * Saisonfrüchte * Toastbrot * Gesamt Zugang zu "Seinfeld Schrank" * Alle Vegemite Sie können handhaben * Tee & Kaffee - Wir Espresso Unholde, sprechen Sie uns nicht die Schuld, wenn Sie unseren Platz komplett verdrahtet, oder süchtig nach einzelnem Ursprung verlassen; p Gäste-WC (gemeinsam): * Dusche mit Sofort (Volldruck) Warmwasser * Fön * Handtücher inklusive Ihr Sydney Home: * Traumhaftem Blick auf den Hafen von Sydney, White Bay und Glebe Insel * Drei Ebene Reihenendhaus * Nur 2 Minuten zu Fuß vom Zentrum von Pyrmont * Nur wenige Minuten zu Fuß von allem, was Sydney Angebote * In der Nähe zum Flughafen und alle öffentlichen Verkehrsmittel * Ruhige Straße * Außendeck mit Sitzgelegenheiten und Blick aufs Wasser * Voll klimatisiert * Free WiFi im ganzen Haus Ein paar Dinge, die Sie tun müssen wissen, bevor Sie buchen: -> Steile Treppe - Da das Haus auf drei Ebenen ist, und die Treppen sind steil, würden wir nicht die Eigenschaft für Leute empfehlen, die mit vielen Gepäck reisen, Menschen mit allen möglichen Fragen der Mobilität oder für Kinder. -> TALK MIT US ZUERST - Bitte senden Sie uns eine Nachricht und haben einen Chat mit uns, bevor Sie Ihre Reservierungsanfrage machen -> Auf den Kalender GENAU - Bitte nur eine Reservierungsanfrage für die genaue machen (und vollständig) Termine, die Sie benötigen. Sie können den Kalender auf unserer Liste nutzen, um unsere Verfügbarkeit von Monat zu Monat zu sehen. Wenn die Daten, die Sie benötigen, sind nicht als verfügbar zeigt in diesem Kalender, ist es, weil wir für diese Tage ausgebucht sind ... Es tut uns leid :( -> STIMMEN Ankunft Mal, bevor Sie eine Reservierungsanfrage - Guest Ankunftszeit 06.00 ist. Bitte beachten Sie die "Andere Dinge zu beachten", um weitere Informationen zu Ankunftszeiten / Check in / bag Drop Details usw. Mitteilung wir zuerst über Ihre beabsichtigte Ankunftszeit, bevor Sie eine Reservierungsanfrage zu machen. -> über ein bestätigtes PROFILE - Wir sind viel wahrscheinlicher, Anfragen akzeptieren von Airbnb'ers mit Profilen, Freunden und Empfehlungen, etc. In der gleichen Art und Weise Sie fühlen sich wohler mehr über die Menschen wissen, dass Sie mit bleiben wollen, wir tun auch. Und ein Profilbild einer Katze schneiden Sie es nicht wirklich entweder ... STELLEN SIE BITTE - sprechen Sie uns einfach eine Nachricht senden, wenn Sie irgendwelche Fragen haben über bei uns bleiben, oder besuchen Sydney. FIVE STAR STAY - Jetzt ist hier das wichtigste Bit: ** Bitte benutzen Sie die Codewörter; "Fünf-Sterne-Hotel", wenn Sie Mitteilung, um uns über Ihre Reservierung - gerade diese Worte in Ihre Nachricht an uns fallen. Es lässt uns wissen, haben Sie diese Informationen gelesen und sind für eine bereit fantastischen Fünf-Sterne gehosteten Erfahrung mit uns in unserem Haus Sydney City. Kann nicht warten, um Sie zu treffen! Prost, Vinh & Stuart PS Gut gemacht bis hierher zum Lesen! Die meisten Menschen nicht :( Sorry, das ist so lang, aber wir wissen, dass wir jetzt alle Ihre Fragen beantwortet haben. Und denken Sie daran, die Codewörter zu verwenden; "Fünf-Sterne-Hotel" in Ihrer Nachricht.
Pyrmont ist ein innerstädtischen Dorf von Sydney, nur etwa 2 km vom Sydney CBD (Central Business District) / Kern, direkt neben Darling Harbour und Chinatown. https://www.airbnb.com.au/locations/sydney/pyrmont Pyrmont hat eine aufgeschlossene Community mit einer innerstädtischen Atmosphäre. Pyrmont ist nur ca. 2 km (10 bis 15 Minuten zu Fuß) vom Zentrum von Sydney mit einem umfangreichen Angebot an Restaurants, Weinbars und Pubs. Es gibt einige ernsthaft gute Baristas und Cafés direkt in der Nähe unseres Hauses (Go und sagen hallo zu Damien & Tim in Bar Zini - es ist eine unserer lokalen Faves). Es gibt fünf Sterne feinen Restaurants bis hin zu fettig-Löffel Imbissbuden mit einigen von Australiens besten Restaurants Restaurants in der Nähe. * Darling Harbour und Cockle Bay * Messe- und Kongresszentren * Sydney Fish Markets * Pyrama Point Park * Jones Bay Wharf * Der Stern (Casino) mit Lebensmittelhallen, Bars, und das Lyric Theater * Powerhouse Museum * National Maritime Museum Auch (zurück auf das Essen - ein Thema bemerken?): * Zwei Lebensmittelgeschäft / Supermärkte in einem leicht zu Fuß * Auch ein großer Weinhändler (und handwerkliche Biere) am Ende unserer Straße * Fantastische deli Signorelli Gastronomia um die Ecke * Lebensmittelgeschäfte, Lebensmittelgeschäft, und Supermärkte * Pyrmont Growers Markt 1. Samstag monatlich; Bauernhof direkt und Handwerker foodies. Pyrmont war einst ein blühendes Industrie am Wasser / Arbeitshafengebiet mit Schiffsbau, Fabriken und Wolle-Läden. Im Laufe der letzten zehn Jahre ein erheblicher Zustrom neuer Bewohner und Gewerbe / Wohnbebauung dort gewesen ist, dass das Gebiet in eine trendige Mischung aus Innenstadtbewohner und kommerzielle Hauptquartiere umgewandelt hat. Zum Beispiel Goo gle ihr Büro in Sydney hat "gleplex Goo", die nur auf dem Weg, wie Fairfax Media, NOKIA, und die Seven Network (TV). Media Production Häuser, Boutique-Kabel-TV, usw. Die UTS (Technische Universität) Campus, die Ultimo Hauptsitz des ABC (Australien National Broadcaster), das Sydney Convention Center und das Sydney Entertainment Centre, sind alle zu Fuß erreichbar. Sydney University ist etwa 20 Minuten zu Fuß entfernt (nur 10 Minuten in einem Taxi oder Bus). Iss, trink und sei fröhlich: Als Ex-Gastronomen würden wir mehr als glücklich, Sie in der richtigen Richtung für ein gutes Essen in Sydney zu zeigen. Und es gibt viel zu vom Fass. Sie können nicht mehr als ein Block in jede Richtung gehen, ohne in der Frontleiste eines lokalen Pubs zu Fuß oder eine Weinbar, oder ein großes Café oder Restaurant ... Um Ihnen eine Idee, gibt es 9 von Sydney Top 10 Restaurants bequem zu Fuß erreichbar: * Rockpool * Momofuku Seiobo * Quay * Sepia * Europäische Sommerzeit * Rockpool Bar & Grill * Tetsuyas * Bentley * The Bridge Zimmer Und es gibt viele lokale Farbe und großen Geschmack was auch immer Ihre Preisklasse oder kulinarischen Favoriten. Mit einer vollständigen Palette von Cafés und Restaurants dazwischen, bis zum billig und fröhlich Harrys Cafe de Wheels (eine späte Nacht Sydney Institution), Nudel-König, und alle lebendigen Angebote von Chinatown gibt es kein Ende der Optionen ... Moderne Australian , Persisch, Goan, Japanisch, Indonesisch, Malaiisch, Italienisch, indisch ... an unserer Tür All Muss die (unsere lokale Faves) in Pyrmont gehören: * Bar Zini * Gallon * Blue Eye Drachen * Le Trader * Social Brew * Hergestellt in Italien * Vrindavan Indian Restaurant * Hamachi-Ya * Kura * Hannah Pies * Pioik Bäckerei * Fliegender Fisch * Signorelli Gastronomia * Der Lehrling * Brio * Yuzu * Sokyo * Persische Zimmer * BLACK von Ezzard * Cafe Morso * Kleiner Mönch Auf die Idee kommen? (Und wir haben getroffen Chinatown noch nicht einmal!) Pyrmont ist sehr nahe am Zentrum der Stadt Sydney und die anderen Innenstadt Dörfern: * Ein einfacher 10 Minuten zu Fuß in die Innenstadt * Shopping: QVB, TGV, etc ... "Lacroix Sweetie Lacroix" * Circular Quay, Sydney Opera House und Bridge * King Street Wharf * Museum of Contemporary Art * Art Gallery of New South Wales * Sydney Museum * Hyde Park * Botanische Gärten * Chinatown, Paddys Markets, und die chinesischen Gärten * Surry Hills * Paddington * Die historische Rocks * Kings Cross * CarriageWorks Famers Markets @ Eveleigh jeden Samstag * Pyrmont Farmer Markets 1. Samstag des Monats
Wir waren das erste Mal mit AirBnb unterwegs, aber wir glauben nicht, dass es einen viel besser antreffen kann als bei Vinh und Stuart. Die zwei waren sehr nett, unkompliziert, immer hilfsbereit, und wir haben uns super mit ihnen unterhalten. Das Haus ist in einer spitzen Lage, mit direktem Blick auf's Wasser von der schönen Terasse, und von oben bis unten sauber und schön eingerichtet. Man kann von dort aus alles super erreichen, mit Bus, Bahn, Fähre oder sogar zu Fuß. Das kleine Wunder aus Fell, der liebe Hund Kenji hat uns auch begeistert... Thank you Vinh and Stuart for this great and unforgettable stay at your home! We'll keep in touch!
Verena
2012-10-02T00:00:00Z
Mal auf Deutsch: Der Aufenthalt bei den beiden war insgesamt sehr harmonisch, wir freuten uns vor allem an dem Blick von der kleinen Terasse auf das Wasser. Die Küche ist - de facto - nicht für die Nutzung durch andere gedacht. Aber ansonsten war alles zu unserer Zufriedenheit.
Dirk
2011-11-17T00:00:00Z
What a wonderful start for our australien holidays. We felt very relaxed after the long journey. A nice sweet house near the harhour, quiet and near all you need for your trip. Vinh and Stuart were fantastic hosts, their dog very lovely! Ein wunderbarer Start fuer jeden Sydney-Trip. Wundervoll, geschmackvoll eingerichtetes Haeuschen nahe Darling Habour, sehr ruhig. Man erreicht alles sehr gut zu Fuss oder mit der Tram. Die beiden Gastgeber Vinh und Stuart (und ihr suesser Hund) sind sehr freundlich und hilfsbereit. Sehr zu empfehlen!!
Norbert
2012-12-19T00:00:00Z
Die Unterkunft ist so wie beschrieben. Es hat alles sehr gut geklappt.Vinh und Stuart sind sehr gute Gastgeber. Die Wohnung liegt sehr zentral in Sydney. Alles sehr ordentlich und sauber. Auf jeden Fall weiter zu empfehlen. Grüße Cornelia.
cornelia
2014-01-03T00:00:00Z
Für mich und meine erwachsene Tochter war es die erste Reise mit Airbnb wir waren sehr positiv überrascht es hat alles wunderbar geklappt. Vinh und Stuart sind überhaupt sehr nett und hilfsbereit wir haben uns in ihrem wunderbaren Heim sehr wohlgefühlt. Die Wohnung liegt zentral und ist ein guter Ausgangsort für Unternehmungen rund um Darling Harbour auch der Bus ins Stadtzentrum und zu den Fähren ist direkt vor der Haustür. Wir vermissen jetzt schon den herrlichen Ausblick von der Terrasse auf den Hafen.
Renate
2013-11-11T00:00:00Z
Vinh & Stuart's (and Kenji's!) home is excellent! The location of the house is just perfect for a walk into the city! Very convenient! Their home is really beautiful, neat and tidy. Just behind their home is Prymont Point Park, and it has such a beautiful skyline- you can see the Harbour Bridge! The hosts were very welcoming and warm, giving lots of help prior and during the stay. Thank you for everything!
Durrah
2011-10-07T00:00:00Z
My vacation in Sydney was a very memorable one. As with any time away from home, accomodation is a huge part of the overall experience. Vinh and Stuart have a great thing going and seem to have a really good handle on providing safe and comfortable lodging to their tourist guests. Their seemed to be no gap between the host and guest. It was one happy family and I especially enjoyed the Pyrmont neighbourhood. I'd surely be a repeat guest. Shane Doucette, Nova Scotia, Canada
Shane
2011-03-16T00:00:00Z
Vinh and stuarts place was absolutly lovely and we had a great stay. The room was comfortable and the house was neat and tidy. They were very helpful and kind and we would recomend their place to other travelers.
Lauren and Ash
2015-04-06T00:00:00Z
Art der Unterkunft
Privatzimmer
---
Objekttyp
Haus
---
Unterkunft für
2
---
Schlafzimmer
Pyrmont, New South Wales, Australien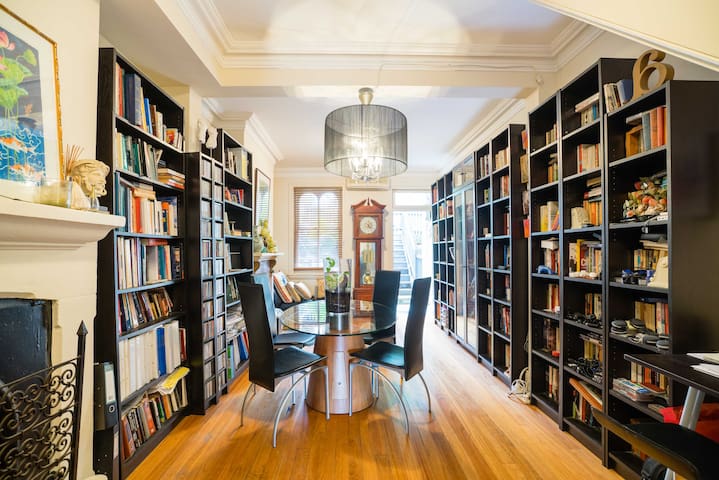 A comfortable private room in a spacious 3-bedroom top-floor apartment in the historic Rocks + FREE PARKING onsite. Sweeping views over Circular Quay, the Opera House & City skyline. Lots of Sydney's best destinations only a short walk away.
Walking distance to: Opera House 12 min. The heart of central Sydney 6 min. Stairs onto the Harbour Bridge 1 min. Museum of Contemporary Art 3 min. 100s of clubs, pubs, restaurants & cafes within 10 min radius. Botanic Gardens and Harbour foreshore walks 12 min. Circular Quay 5min for ferries, buses & trains for fast access to the rest of Sydney. Apartment has modern furnishings, art works and decorations. Living space has fireplace and full entertainment system. Floor to ceiling sliding glass doors between living space and balcony provides 180 degree views and makes this apartment feel even bigger than it already is. Balcony is 17m wide with outdoor setting and BBQ. Modern fully equipped kitchen & laundry. All the basic kitchen needs are provided, including tea, coffee, milk and sugar etc. There's a 24hr convenience supermarket only 2 min walk away. There are 3 bedrooms in total, one master room which is used by us, and two guest rooms. The room for rent is one of the two guest rooms, accessible from foyer and offers great privacy. It has a queen sized bed, build in wardrobes, a desk and it's own sound system. There are 2 spacious bathrooms each with large showers & spa baths. The one in the master room en-suite is used by us, the second one is the guest bathroom shared by two guest rooms.
Claus und Jessica sind wunderbare Gastgeber. Obwohl beide beruflich sehr eingespannt sind, hatten sie immer Zeit für einen Rat bzw. für ein gutes Gespräch. Ihr Hund ist wohlerzogen: ein ganz lieber Kerl. Das Zimmer waren gemütlich, sehr sauber und gepflegt. Wir haben den wunderbaren Blick auf das Hafengeschehen besonders genossen. Die zentrale Lage mit Blick auf die Oper ist der Hammer. Wir können die Unterkunft bei Claus und Jessica unbedingt weiterempfehlen.
Peter, Edgar
2016-02-06T00:00:00Z
Die Unterkunft entspricht den Bildern und der Blick ist einzigartig!
Rita
2016-05-23T00:00:00Z
Two nights stay here... Claus is nice and helpful. Seaview is Terrific Wonderful! Great location. I love this apartment.
Son
2015-11-29T00:00:00Z
Claus and Jessica's place is absolutely incredible. The proximity to the city cannot get any better and the view is beautiful. I was given a brief overview of the nearby history of the area and recommendations which was very helpful for being a first-timer in Sydney. The room and apartment is clean and quite yet walking distance to transit and plenty of fun things to do within the city. I would definitely stay here again.
Chelsea
2017-02-28T00:00:00Z
Great location in The Rocks. Central for everything and easy access to ferries, trains and trams. Great view from apartment across harbour to Opera House when the daily cruise ships leave. Comfortable bed. Easy to find.
Catriona
2016-11-18T00:00:00Z
Fantastic apartment with a tremendous city view. Jessica and Claus were very pleasant and were helpful with any questions we had. Would highly recommend!
Anna
2016-02-03T00:00:00Z
The location is excellent. The place was very nice. In essence, it was a pleasure to spend time there. There's lots just on the doorstep and the building is secure. Claus was welcoming, as particularly was his house-mate who by chance I had more to do with. I really enjoyed staying there and would have stayed longer except that I had to move somewhere dirt cheap thereafter. It's perfectly good value for where it is, and I would love to stay again sometime. Claus even provided spare ear plugs in the bedroom in case any of the road noise caused a problem, and there's a hottub/bath which is nice (as was feeding some lorrikeets on the balcony). Overall, lovely time, thanks, Claus!
Matt
2014-08-03T00:00:00Z
Everything about this property, Claus and Co., and the entire experience was fantastic. Highly recommend this to anyone looking for a perfect base for a Sydney adventure. The Rocks area is one of the gems of the city, and should not be missed. The property is also perfectly located for an early or late Bridge Climb, as it is a couple of minute walk away. A number of wonderful restaurants are also just a few steps away. We will look to stay here again next time in town.
Jim
2014-11-30T00:00:00Z
Art der Unterkunft
Privatzimmer
---
Objekttyp
Wohnung
---
Unterkunft für
2
---
Schlafzimmer
The Rocks, New South Wales, Australien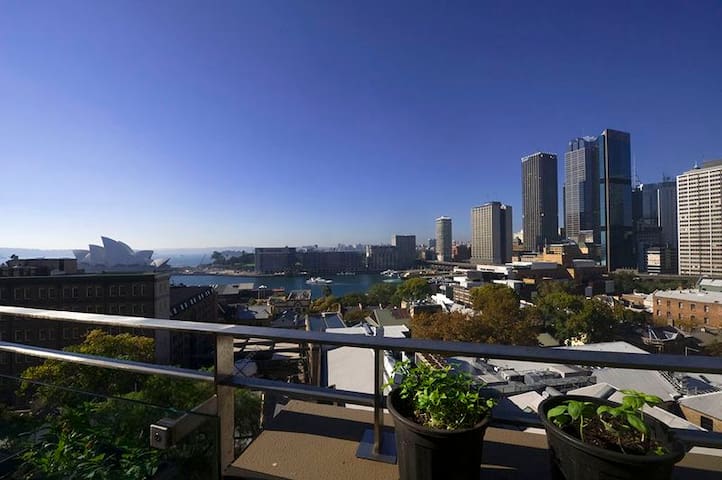 Well done, you have found one of the best locations in Sydney to stay during your visit.
Well done, you have found one of the best locations in Sydney to stay during your visit. Designed and equipped for Airbnb visitors, the apartment is surrounded by walking streets, cafes and restaurants in an attractive village style area. We provide a high-quality bed (picture included), computer and many handy items to enhance your visit. Metro buses & trains are only minutes away. Daily visitor car parking vouchers are available on request. Apartment - Entire home/apt. Located on Corner Orwell St and Llankelly Place, Potts Point (Kings Cross) Sydney, NSW 2011, Australia. Check the street view to understand how great this location is. If this apartment is booked out, then take a look at our other apartment show in the last image. It's a similar style and less than 50 metres away. This furnished holiday apartment is central to Potts Point, which is the best inner-city village area in Sydney. Previous guests consistently review the apartment as well-equipped, perfectly situated, serene, homely and clean. Spacious with a separate living area, this apartment is surrounded by walking streets, cafes, markets, bars, restaurants, deli's, supermarkets, local shops, Saturday organic markets and a cosmopolitan neighbourhood. Well-reputed Room 10 Café is just downstairs. A short walk will get you to Victoria Street, the city centre, Sydney Harbour, Opera House, NSW Art Gallery, Australian Museum, beautiful parks and excellent public transport is minutes away. Our overall aim is to help you enjoy the apartment and surrounding area as much as we do. It has everything you will need for a comfortable stay, and it is professionally cleaned to a high standard for two full hours before each guest. And if there is something we can do to make it more enjoyable, we are only 5 minutes away. Check in and check out times can be flexible with availability, just let us know, and we can work it out :) ★ ★ Key Features ★ ★: LIVING ROOM: - Free UNLIMITED ADSL2+ Internet and WiFi - iMac Computer for video calls, email and the Internet - Free local calls on Land Line Telephone - A mobile phone (just recharge or add your SIM) - Digital LCD TV - DVD player (in TV) and includes many DVDs titles - Conran Dock for iPod, iPhone, Bluetooth & Cable - Light filled windows - Sofa-bed folds down for additional guest. - Extra linen available for 3rd Guest Included for 3 guests. - Sofa Bed use is for a one-time fee of $25 if you book for 2 guests. KITCHEN: - Freshly renovated fully equipped galley - Kettle, tea and coffee - Fridge & Freezer - Stove with 4 burners - Oven - Microwave - Cutlery, utensils, pots, pans, oil, condiments, etc. - Breakfast table BEDROOM: - Comfortable quality queen-size bed - Separate from with door - Quality Linens included and four pillows - Walk through to bathroom - Built in wardrobes BATHROOM: - Full-size bathroom - Full-size bath - Freshly renovated with shower & bath combined - Towels included - Hair dryer - First aid kit LAUNDRY: - Access to Washing Machine and Dryer - Iron - Ironing board - Umbrellas - Phone Chargers - Stationary - Picnic blanket & equipped hamper Just in case you want more details, please read on. ABOUT THE LOCATION: Rich with local history, culture and sophistication, Potts Point is an ideal place to stay or visit. Situated within Sydney City, just a short 20-minute walk to the CBD and a stone's throw from Kings Cross Railway Station, so you can easily catch a train to some of Sydney's beaches major attractions. Sydney Buses, Taxis and Car Share / Hire are also readily available in the immediate vicinity. Daily visitor car parking vouchers are available on request. ☺ PERSONAL SAFETY? We live in the area with our six-year-old daughter, as does many young families these days. Macleay Street has gentrified over the last ten years, and Potts Point is one of the most on-trend and affluent areas of Sydney. The area is highly populated and using simple common sense it's easy to stay safe. CAR SHARE IS AVAILABLE! Forget car rentals. Highly recommended and right outside the front door are two "GoGet" car-share "pods" and there are more than 20 GoGet cars within a two-minute walk. No need to worry about parking when you get back to the apartment if you sign up for these share cars - parking is free! Foreign licences are accepted, we will give you the address for the information pack and activation card. You should register before you leave home. Search for GoGet car share Sydney. Look for the FAQs. ASK US FOR OUR EXCLUSIVE PROMO CODE TO SAVE THE $50 JOINING FEE! EATING OUT? Dozens of restaurants, cafes and bars are on your doorstep. Plenty is happening in the area, and some of Sydney's best restaurants are a short walk (Otto - at the Finger Wharf, or Macleay Street Bistro, down the road, just two examples). One of Sydney's best new cafes (Room 10 - Voted in SMH Good Cafe Guide) is 10m from your door, and there are loads of great places to eat and drink nearby. Wilbur's Place (100m) and Bourke Street Bakery (200m) are just around the corner. You're also just a short walk to the Italian hub of Stanley Street; a 20 min walk into the city, via the Domain and Hyde Park; a 20-minute walk (or less) to trendy Surry Hills. I'll leave you a list of my favourite eating spots on check in. COOKING IN? The apartment is 100 metres from the excellent Harris Farm supermarket (or there's an even bigger supermarket within 200 metres), and there's a Farmers' Market every Saturday only 80m walk away. I'll also leave the kitchen all set up with oil, vinegar, etc. so you can just focus on the main ingredients. There's even a high-end caterer - "Sides & Main" - on your street, selling gourmet meals from their shop-front, so if you are too lazy to cook but want to eat in. Too easy. NIGHTLIFE? Everyone knows neighbouring Kings Cross is famous for nightlife, but you may NOT know that its areas (Potts Point, Darlinghurst, Woollomoolloo and East Sydney) include some of Sydney's best areas to eat and drink in, all within a 5-minute walk. There are lots of small hip bars in the area - including on fabulous Llankelly Place, just near your building. You can also walk 10 minutes to Oxford Street clubs, or just 20 minutes to the centre of Sydney (Rocks, Circular Quay, etc.). I'll give you plenty of tips on arrival. If you like your nightlife more serene Govindas lounge cinema is about 5 minutes up the road, the Old Fitzroy Pub (so much character!) has a cheap theatre attached, and a great vibe. There are also numerous other local theatres and cinemas within walking distance. (I'll leave you a few suggestions for all of this on check in). SIGHTSEEING? Walk to Hyde Park or the Botanic Gardens; the Opera House (probably 30 minutes, via Hyde Park and the Botanic Gardens); or short bus/train to Bondi Beach or other eastern suburbs beaches. Potts Point is in Sydney's centre but has easy access to beaches, the famous Bondi-Bronte walk, and Sydney Harbour (I'll leave you tips with my favourite picnic spots and nearby walks). WORKING? Walk into the city, so easy! Potts Point is walking distance to George Street and the main centre of Sydney. The apartment is also about 15 minutes walk UNSW's College of Fine Arts on Oxford Street, a quick bus to UNSW, easy commute to The University of Sydney. The apartment is a 10-minute walk to St Vincents' Hospital. There's unlimited wireless internet in the apartment so getting online is no problem. GYM'S, YOGA & PILATES? The apartment is located on the same street as P.E. Dept Gym and Fitness First is 5 minutes away. There are also a few boutique Yoga and Pilates classes in the local area. Just tell us what you want to do, and we will advise you on some of the options. PLEASE NOTE: The Potts Point apartment IS up three levels of stairs. That's 60 steps in total folks. No problem for healthy adults (whoever checks you in will be happy to assist you with bags), but just letting you know... Washing machine and dryer one level up in the building (coin operated). Plus I've installed a great drying rack in the bathroom in case you want to handwash anything. Yes, there IS a hairdryer! iMac Computer is provided with ADSL2+ WiFi internet, of course! Also unlimited free local calls available on the land-line telephone. If you require extra bedding for the sofa bed and you are not paying for a third guest, there is a one-time $25 surcharge for the additional laundry charges we incur. One-time and not per night. An Infant cot is also available for a one-time $25 fee. We ask guests to leave $25 on the table for our cleaners who manages the laundry services. The extra bedding set for the 3rd guest comprises of 1 x flat sheet + 1 x fitted sheet + 1 duvet cover + 1 x duvet + 2 x pillow covers and pillows. There are also a couple of soft blankets to put under and over the bedding for extra comfort. The location is superb, but the Kings Cross area IS busy on a Friday/Saturday night. This is an action-packed part of town; one reason it's great to stay here. While the apartment itself is quiet, and I doubt you'll ever hear the neighbours, you might hear some noise from the street at night on the weekends. I think the location is totally worth it, but forewarned is forearmed, so they say! Cars - Parking is available nearby but is a hassle, and it's expensive. Daily visitor car parking vouchers are available on request. Car rental locations are close by and GoGet car share is easy and available close by. Locals walk everywhere or use the buses and trains as the location is central and easy to navigate. If you have a car, I'll give you tips on where to park long-term, and it's less than 5 minutes walk away. Kings Cross train station is only 300m walk away from the apartment. There are windows, but sorry, no view. Although this place is so close to the city you can see the Harbour Bridge from the laundry room (see, washing IS worthwhile), and Centerpoint tower from Orwell Street outside. However you don't need them through a window - they're just walking distance away!
Rich with history, culture and sophistication, Potts Point is an ideal place to stay or visit for those who want to enjoy the picturesque surroundings of a bygone era and still be close to everything Sydney has to offer. Potts Point situated within Sydney City is just a short 20-minute walk to the CBD and a stone's throw from Kings Cross Railway Station, so you can easily catch a train to some of Sydney's major attractions. Sydney Buses, Taxis and Car Hire are also readily available in the immediate vicinity. As for dining out, Victoria St, and in particular Macleay St, are dotted with a range of restaurants to suit all tastes. Kings Cross, Darlinghurst Rd offers a countless number of nightclubs, bars and theatres for those who enjoy the nightlife. Or for the more subdued there are plenty of parks, museums and harbour side charm in the neighbouring suburbs.
Die Wohnung ist super möbiliert und eine perfekte Dokumentation von Charlotte lag bereit für die Gäste. Charlotte hat an alles gedacht, Handtücher, Tee, Adapter, und vieles mehr. Die Lage der Wohnung ist sehr zentral, mit Bus, Zug oder zu Fuss erreicht man alles. Charlotte und Chris waren immer hilfsbereit. Man kann sich glücklich schätzen, solch eine super Wohnung zu mieten. Vielen Dank, Sabine und Christoph
Sabine
2014-12-06T00:00:00Z
Die Wohnung von Charlotte ist ein idealer Ausgangspunkt um Sydney zu entdecken. Die Wohnung liegt super zentral in einem lebendigen Quartier mit vielen kleinen Restaurant und Café. Wir verbrachten 4 Tage in der Wohnung und fühlten uns sehr wohl. Charlotte versorgt einem bereits im Vorfeld mit vielen hilfreichen Infos und Tipps. Charlotte war während unseres Aufenthalts nicht in der Stadt organisierte die Schlüsselübergabe aber perfekt und erkundigte sich auch immer wieder per Mail ob alles gut läuft. Die Wohnung ist gut ausgestattet (Küchengeräte, Föhn, TV, PC etc.) und entspricht genau den Fotos. Wir können die Wohnung nur weiterempfehlen.
Sara
2015-04-14T00:00:00Z
Man spürt, dass Charlotte und Chris ihren Gästen ihr altes Wohnviertel, mit seiner lebendigen Kaffeehaus- und Restaurantkultur, näher bringen wollen. Dies fängt schon mit der Schlüsselübergabe im angesagten aber winzigen Café Room 10 an und setzt sich mit den sehr ausführlichen und persönlichen Infos fort. Die Tipps von Chris und die Infomappe waren wirklich sehr hilfreich. Die Nähe zu den vielen Restaurants und Cafés hat ihren Preis, am Wochenende kann es auch etwas lauter werden. Die Beschreibung der Wohnung war zutreffend. Ein besonderes Plus sind die vielen zur Verfügung gestellten Extras wie Picknickdecke, Auswahl an Gewürzen, Kaffee, Tee und Lebensmitteln, Waschmittel usw. Wir haben uns in der Nachbarschaft immer sicher gefühlt. Einkaufsmöglichkeiten sowie Öffis sind schnell und leicht erreichbar, man kann aber durchaus auch zu Fuß zu allen Sehenswürdigkeiten gelangen.
Hanzi
2014-10-28T00:00:00Z
Fantastic little place in a great location surrounded by food, drink and great times. Charlotte and Chris have thought of everything as hosts and the numerous small touches were a treat. Be back soon
Thomas
2014-12-08T00:00:00Z
Charlotte's followup contact was fantastic - frequent emails and flexible meeting arrangements to get the keys etc! Although I know the area already, if you were a complete stranger to Sydney and Potts Point you would have no worries on arrival - excellent directions from the airport to the meeting place. The apartment was excellent and very well equipped. Great location, lots of light and very comfortable. You really just need your clothes, Charlotte has thought of everything you would need for your stay- very impressed for our very first Airbnb experience. Thanks.
rick
2014-06-20T00:00:00Z
What a great spot to stay. For those looking for a well appointed, stylish apartment in Sydney look no further... This beautiful apartment is in walking distance to the city, Darling harbour, opera house and Kings cross Charlotte's attention to detail allows you to make the most of your visit, offering great hints and tips about the local area which is full of hidden gems. As a first time Airbnb experience it was 10/10 no more hotels for me Thanks again Rob
Rob
2015-07-08T00:00:00Z
We really loved this apartment and Charlotte is an amazing host. We know where we stay next time in Sydney! Quick to reply and very helpful. 100% professional! We were three adults staying three nights. Full kitchen, tv with cable tv, a queen size bed in bedroom and a sofa bed in the living room. The location is walking distance to everything. Nearby are several bars, restaurants, supermarket, 24 hour convince store and more! Hop on hop off bus stop 50 meters from apartment. highly recommended!
Joern
2016-06-27T00:00:00Z
This appartment was perfect for us, we stayed there with our 4 years old son. It was clean and very comfortable and the location is just great. We met Chris for the keys and he was very friendly and helpful with many tips for the appartment as well as for the surroundings. We would definetely stay there again!
Sascha
2014-01-11T00:00:00Z
Art der Unterkunft
Ganze Unterkunft
---
Objekttyp
Wohnung
---
Unterkunft für
3
---
Schlafzimmer
Sydney, New South Wales, Australien
Our newly renovated one bedroom suite has its own private rear deck and separate access. We are in a fantastic Balmain location in a quiet little street, just 2 minutes walk from famous Darling St. Very close to Harbour Ferries & city bus stops. Non smoking. Temporary Visitors Parking Permit available.
Beautiful, private room with newly renovated bathroom and off street parking available. Separate street access ensuring full autonomy for guests without interacting with the Hosts. No kitchen, however a Bar fridge, Nespresso Machine, Toaster and Kettle are included.
Harbour walks and views minutes from the house Beautiful scenery Beautiful parks abound Lots of restaurants and cafes only minutes walk away Great shopping of all sorts and a big Supermarket minutes away
Alles wunderbar, auch die Nähe der Fähre und der Cafés und Restaurants.
Heike
2015-12-02T00:00:00Z
Wir haben 4 Tage und 3 Nächte in der Unterkunft verbracht und waren super zufrieden. Besonders die überdachte Terrasse ist für einen gemütlichen aber super. Das Bad und das Zimmer sind sehr schön, außerdem besteht die Möglichkeit zu waschen. Das Wohngebiet ist sehr ruhig und schon. Einkaufsmöglichkeiten, sowie die Fähre in die Innenstadt von Sydney sind in wenigen Minuten zu Fuß zu erreichen.
Fabian
2017-02-11T00:00:00Z
Beautiful home, had everything we needed for our trip to Sydney, including brochures on transport and things to do. Lovely hosts, very impressed with our first Airbnb stay :)
Caitlin
2016-10-04T00:00:00Z
We were made very welcome - beer and fruit a selection of twas and a nespresso type coffee machine. Had the weather been better we would have made more use of the external seating area in the evenings. We had small problem in the bathroom which was sorted out quickly and effectively with no fuss. A great location to explore the City from - different ferry routs to and from Balmain plus buses. Plenty of pubs/shops/restaurant within short walking distance.
Karen
2016-08-26T00:00:00Z
Very comfortable and just like the description. Thoughtful extras like drinks, fruit and toothpaste supplied.
Lynn
2015-08-03T00:00:00Z
Lindsey and Minny were the perfect hosts, their place is newly renovated and private , it compares with the best guest houses. Short walk from the Balmain ferry wharf for a short hop to Circular Quay and the city. The accommodation and hosts set my standard for top notch Airbnb rating.
John
2015-10-28T00:00:00Z
Beautiful private sanctuary that has everything you need for a homely place to stay in Sydney. Close to public transport and great hosts who go above and beyond. Highly recommended!
Carlee
2016-01-22T00:00:00Z
This space was so unique and cool. We wished we could've stayed a few more days! Loved the back, open lounging area. It's also super convenient to such a cool area in Sydney-tons of restaurants, coffee shops, beautiful homes and the harbor. We loved having private access to the space. Thanks and we're keeping it on our radar to come back one day!
Donnell
2016-03-10T00:00:00Z
Art der Unterkunft
Privatzimmer
---
Objekttyp
Haus
---
Unterkunft für
2
---
Schlafzimmer
Balmain, New South Wales, Australien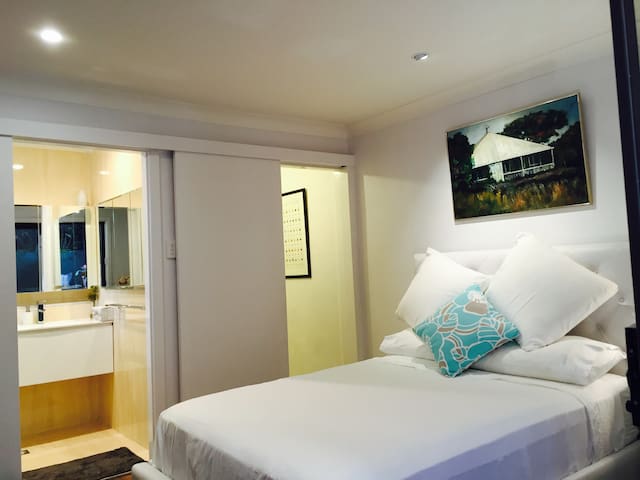 Enjoying spectacular views of the iconic Sydney Opera House and harbour. Kirribilli water views is close to the CBD and a stroll to the harbour. Includes all mod cons, unlimited wifi & pay TV. The perfect pied-à-terre for a stay in Sydney: whether you're travelling for business or pleasure.
Our apartment is luxuriously appointed with modern amenities, spectacular views and unrivalled convenience. Located just a short stroll from Kirribilli village, the Sydney Harbour Bridge and all forms of public transport you will not find a better location. The living area offers sweeping views over Sydney harbour and the Opera House. The kitchen and bathroom are modern and Wifi and pay TV are included for free with your stay.
Kirribilli is a very cute little suburb located on a waterfront of iconic Sydney harbour. The local village has everything you'll need: cafes, a grocery store, restaurants etc. Guests will love to take the ferry to see the sights of Sydney or to take a stroll to the park that overlooks the harbour in Milson's Point.
Für uns war es die erste Airbnb Erfahrung und wir waren vollauf zufrieden. Hannah hat uns vorgängig via eMail kontaktiert und Infos zur Schlüsselübernahme mitgeteilt. Dies hat bestens geklappt und war sehr einfach. Das Apartment hat unseren Erwartungen und Vorstellungen entsprochen und wir fühlten uns sofort wohl und wie zu Hause. Es ist zweckmässig eingerichtet und hat alle erforderlichen Einrichtungen/Geräte (Küche, Waschmaschine und TV) die auch tadellos funktionierten. Hannah hat uns auch ein Handy mit einer limitierten Gesprächsdauer hinterlegt, damit wir für Inlandtelefonate nicht unser CH-Handy gebrauchen müssen. Die Wohnung war sauber und aufgeräumt. Alles passte bestens. Die Lage des Apartments ist ein grosses Plus. Man hat einen traumhaften Blick auf die Oper und kann auf dem Balkon gemütliche Momente verbringen. Zudem ist die Harbour Bridge / Bahn / Bus / Ferry in wenigen Minuten erreichbar. Über die Harbour Bridge ist es ein Katzensprung zu den Rocks und das Zentrum von Sydney ist zu Fuss gut erreichbar (man hat gleich noch etwas Sightseeing). Die Umgebung ist lebhaft mit vielen kleinen Restaurants und Cafés und man kann sehr gut essen; der Thailänder ist dabei zu empfehlen. Einkaufsmöglichkeiten sind ebenfalls vorhanden und in Gehdistanz. Kurzum, wir waren sehr zufrieden und können Kirribilli nur empfehlen. Hannah ist gut zu erreichen, aufmerksam und eine gute Gastgeberin. Vielen Dank für die schönen Tage in Sydney.
Daniel Jim
2015-08-28T00:00:00Z
Hannahs Apartment hat einen fantastischen Ausblick, der seines gleichen sucht. Frühstück und Abendessen haben wir regelmäßig auf dem Balkon genossen. Das Apartment selbst ist gut ausgestattet und es hat an nichts gefehlt. Hannah ist eine sehr gute Gastgeberin und hat auf Fragen sehr schnell geantwortet. Da wir mit unserer 8 Monate alten Tochter unterwegs waren, hat Hannah ein Babybett bereitgestellt. Wir würden bei einem weiteren Besuch in Sydney sicher wieder Hannahs Apartment wählen.
Nils
2016-03-10T00:00:00Z
Wonderful wonderful wonderful! Hannah is so so thoughtful and helpful! The location of the house is perfect! Near ferry and train station, and the balcony is awesome!!! I can see the opera house through the balcony in the morning, at noon, at night, any minute I want! The coffee machine in the kitchen is definitely a plus! In one sentence, Hannah you should raise the rental for such a good location apartment!!! Linli
linli
2014-08-20T00:00:00Z
Nice outlook towards the opera house, lots of restaurants and public transport nearby. Hannah responded to all my questions within minutes. I can recommend this apartment.
Michael
2017-03-16T00:00:00Z
We chose this apartment because of the views, but it is so much more! It is small, and there were 2 adults and three kids, but we managed perfectly. The kids shared the sofa bed, and we had the bedroom. The kitchen is small but has nice appliances, and I was able to cook eggs and toast in the mornings easily. It is very close to all the shops, restaurants, and grocers in Kirribilli. The Milsons Point train station is a very short walk, also. We chose to walk across the bridge everyday as there is easy access, but we did use the station when going out to the blue mountains. A great location in a quiet neighborhood!
Karena
2016-09-30T00:00:00Z
We were attracted to this property for the view which didn't disappoint. It was our first time in Sydney and the apartment is in such a great location to take in the views of the Opera House and Harbour. Very easy to get around with such close proximity to the ferry at Milsons Point. The local neighbourhood is a lovely quiet-ish area but has plenty of restaurants and cafes etc if you do want to stay local. The apartment is small but very comfortable and clean and had everything you need. Hannah is an excellent host and was very helpful from the start providing us with lots of information on how to get around. Throughout the process she was very prompt with her communication which was appreciated. She also was happy to go above and beyond by providing us with a travel cot for our little one and provided useful extras in the apartment such as basic food, nespresso and very handily a mobile phone with credit which was useful when visiting from abroad for calling cabs and take away etc. All in all we really enjoyed our trip and thanks to Hannah for making it all so easy!
Jemimah
2016-09-13T00:00:00Z
We very much enjoyed our brief stay in Hannah's apartment. It is ideally located to see the sights of Sydney, very clean very well equipped. Great views from the balcony including a friendly cockatoo! Hannah couldn't have been more helpful.
Libby
2016-02-05T00:00:00Z
Perfect location, free wireless! Hannah's enthusiasm I like home, strongly recommended! Is the best night I this trip to Australia.
忠浩
2016-02-08T00:00:00Z
Art der Unterkunft
Ganze Unterkunft
---
Objekttyp
Wohnung
---
Unterkunft für
4
---
Schlafzimmer
Kirribilli, New South Wales, Australien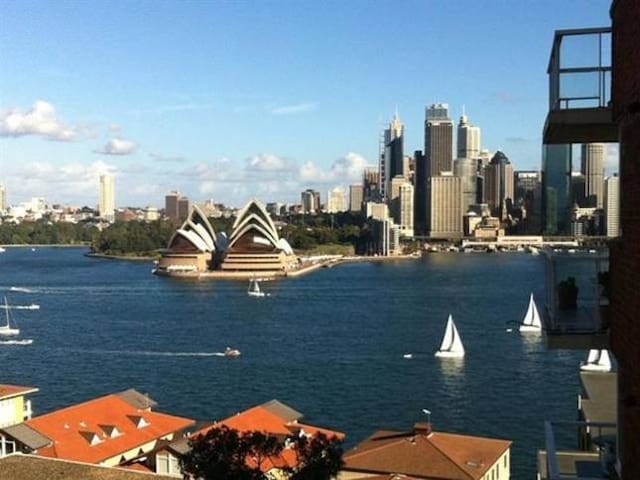 Ein umgebautes Lagerhaus, das im New Yorker Stil Wohnung verfügt über viel Platz und Sonnenlicht. Das Hotel befindet sich in der Nähe von Geschäften, Bars, Restaurants, Galerien, Museen und den Botanischen Garten, und doch versteckt in einem schönen ruhigen Ort. Weibliche Gäste nur (sorry!)
A bright and sunny apartment with two levels. Featuring a very spacious open plan living area flowing to a lovely courtyard. Polished timber floors, modern kitchen with dishwasher, and internal laundry with second toilet. Situated in a great location not far from William Street and the CBD.
Das Beste an in Woolloomooloo lebt mit alles in der Nähe. Einkaufsmöglichkeiten, Restaurants, Bars, Unterhaltung, die schöne Botanische Garten (ideal für Picknicks oder Joggen), den Hafen, den öffentlichen Personennahverkehr und eine schnelle und einfache Weg zu vielen Stränden. Es gibt auch einen Supermarkt in 2 Minuten von meiner Wohnung.
As everyone already said in English, here is a German version: Janine's Wohnung ist super gelegen, in der Nähe vom Opernhaus, dem Botanischen Garten und einfach zu Fuß von der U-Bahn zu erreichen. Mit kleinen Restaurants und Pubs umgeben kann man der touristischen Innenstadt entfliehen und entspannt den Abend geniessen. Janine ist sehr freundlich und gibt gerne Auskunft, die Wohnung ist ruhig, hell und sauber. Ich würde auf jeden Fall wieder bei Janine übernachten. Sehr zu empfehlen!
Nadine
2016-05-17T00:00:00Z
Super zentrale Unterkunft und für Sydney sehr preiswert!
Kathrin
2017-01-02T00:00:00Z
The location of the place is really wonderful, Domain and botanic garden in 5 minutes, the City in ten. Nice bars and restaurants near you and two minutes to the supermarket. Janine is very nice and helpful with any questions about Sidney. Her cat is absolutely to love. On the other side I was not so happy with the room. It is very small and under the roof, only with a Velux - window to open. So there is no protection against moskitos, if you open it. There is a kind of cool-downer fan, but no real air conditioning. O.k. I was there in the hottest time of summer and I stayed for 16 days. In other cases perhaps a good choice.
Stephanie
2015-01-25T00:00:00Z
Great stay! I was only there briefly but the room was clean and comfortable and Janine very friendly and welcoming. I would definitely stay again.
Rayna
2014-10-09T00:00:00Z
All the reviews have said it all : how cosy and convenient the place is , and to top it all, how lovely and helpful Janine is as a host and also a friend :-) it's my first solo trip as a well as my very first Airbnb experience, it just couldn't get any better! Thanks for everything :-)
Cassandra
2016-05-09T00:00:00Z
I enjoyed staying at Janine's place. It was close to everything! Janine was a lovely person :)
Cherifa
2015-11-21T00:00:00Z
I had the most pleasant and wonderful stay at Janine's apartment in Woolloomooloo. The neighborhood is close to the city, yet more cozy and quiet than inner Sydney. The apartment is lovely and offers everything you need for a homely stay. But most importantly, Janine is the sweetest, most caring person I've stayed with in AirB&B and I strongly recommend her to anyone considering a stay in Sydney - although I would prefer to keep her to myself ;)
Silke
2014-07-28T00:00:00Z
Janine was a great host. Check in was easy and i was able to get into the Apartment early in the morning. The Apartment is in a briliant location - easy to get into the City by a short walk. The bed was very comfortable and there was enough space to place all my stuff. I would highly recommend staying with janine.
Susi
2015-11-09T00:00:00Z
Art der Unterkunft
Privatzimmer
---
Objekttyp
Wohnung
---
Unterkunft für
1
---
Schlafzimmer
Woolloomooloo, New South Wales, Australien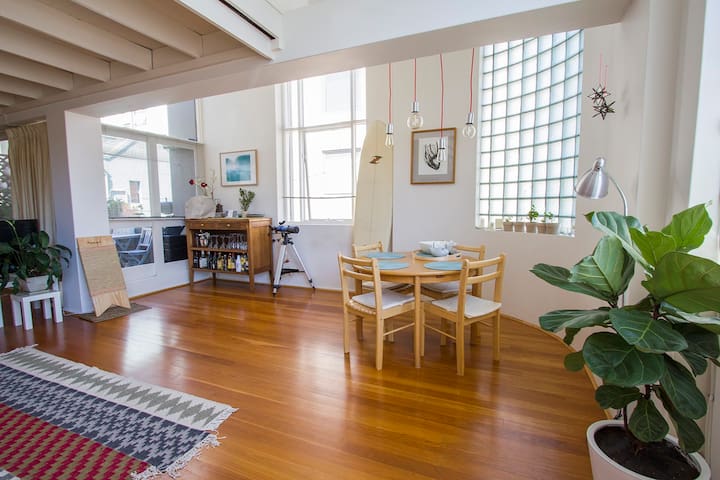 Private room in a 2-bedroom apartment located walking distance from North Sydney & Kirribilli NS is a central business & commercial district on Lower North Shore. Kirribilli, a Harbour side suburb & one of the city's most established & affluent neighborhoods in Sydney. The room is furnished with a queen size bed, built-in wardrobe, bedside table, lamp & an armchair with plenty of hanging space and natural light. Pillows, linen, towels and blankets, fan and heater are provided for your comfort.
My apartment is one of four in the building block. It was built over 100 years ago as one house but was converted into a 4 unit block. It is situated in the ground floor though accessed by a set of steps. The unit has a Victorian style setting and its still in its former style. Every door and window is secured by Crimsafe screens however North Shore is a very safe area, even safe to scroll at night.
Kirribilli General Market features approximately 120 outside stalls of new, second hand fashion and accessories, antiques and collectibles, bric-a-brac and homewares. With live entertainment, fabulous food, the best harbour views and great access to public transport, you will love Kirribilli Markets! Milsons Point is buzzing with cafes, restaurants, activities in the Parks ~ just a few minutes stroll and you can get a take-away meal or dine in one of the many restaurant, with the most spectacular harbour views Sydney has to offer! . You can decide to walk along the board walk to Lavender Bay watch people fishing along the way or catch a ferry at the Luna Park to the IMAX theatre, Darling Harbour, Balmain or the Opera House in Circular Quay. You can stroll along the spectacular Harbour Bridge, 20 minutes and you step into The Rocks! At the corner of High Street, there is a corner shop that sells all the essentials.
Helene was very friendly and helpful, facilities were great and the location suited me fine(close to train)
barry
2016-10-11T00:00:00Z
you have to visit her if you want to enjoy your trip at Sydney. I felt like home
Tulio
2017-01-08T00:00:00Z
The host canceled this reservation 4 days before arrival. This is an automated posting.
Claire
2016-06-15T00:00:00Z
Helene is an amazing host and goes out of her way to help you in anyway you need. The room was very comfortable and Helene made sure that i was warm throughout my stay. I am very happy to made friends with such a beautiful person. She is an amazing host.
Gurpreet Kaur
2016-07-03T00:00:00Z
Helene has been the most lovely host and for someone who just moved to Sydney it was great to have such a warm and friendly introduction into Australia.
Paul
2016-06-05T00:00:00Z
Helene was a very welcoming hostess and a great introduction for my first time using Airbnb. From pre-arrival, she supplied me with detailed instructions, to making sure I had everything to make my stay go smoothly while I was there, and upon leaving also. The room was very spacious and comfortable, with the apartment situated in a ideal spot in North Sydney. It was a fantastic experience.
Hermine
2016-09-27T00:00:00Z
Thank you Helene for the warm welcome, the house is clean and accessible.I highly recommend this place.
Loisa
2016-11-28T00:00:00Z
Very friendly and helpful host. Helene made me feel very comfortable for my 2 nights stay.
Cindy
2016-11-07T00:00:00Z
Art der Unterkunft
Privatzimmer
---
Objekttyp
Wohnung
---
Unterkunft für
1
---
Schlafzimmer
North Sydney, New South Wales, Australien
This apartment is in a fantastic location with easy access to shops, public transport (train, ferry and bus). It is just a 20 minute walk to the city or a five minute train ride. It provides easy access to everything Sydney has to offer!
There are two large bedrooms - one fitted with a queen sized bed and a double bed. Children's bed⁄cot optional One bathroom Kitchen with all appliances - cookware, juicer, blender The lounge is a fold out sofa to another double bed The apartment will comfortably sleep six adults. There is one queen size bed in one room, one double bed in the other bedroom and a double fold out sofa bed in the lounge room. Wifi Internet provided Parking is on street, but the location is 5 minutes to ferry, train, and bus. There is a school zone close by if you need unrestricted parking on weekends. Please note there is no TV - however a laptop can be provided upon request.
The neighborhood is quiet yet there is a nice buzz from the local cafes and restaurants. The street leads directly to the Harbour Bridge and you can walk to the water in just five minutes.
Excellent quiet location near Sydney CBD, across Sydney Harbour Bridge. Lovely place in quiet neighbourhood.
Barry
2016-05-24T00:00:00Z
Bardzo fajne mieszkanie, może nie najnowocześniejsze, ale za to zlokalizowane bardzo blisko stacji kolejowej. Piechotą do centrum jest ok. 30 minut także też nie najgorzej. Samo mieszkanie dla 4 osób - przy większej liczbie robi się tłoczno i jedna para musi spać w salonie. Okolica cicha i spokojna, ogólnie bardzo polecam!
Adam
2016-05-16T00:00:00Z
great location
YU
2017-03-12T00:00:00Z
What a great place to stay in Sydney! Admittedly I was there for business but I would happily stay if I was exploring Sydney. Soooo quiet (I think I heard more crickets and birds than the bridge that was less than 300m away) and close to everything. It was great. Highly recommended!
Martin
2016-03-18T00:00:00Z
Great experience. Highly recommended. Beautiful and cosy place close to city. We stayed for three nights and all of us had a great time. Sandra has been a very helpful and great host.
Chetan
2017-01-08T00:00:00Z
The host canceled this reservation 3 days before arrival. This is an automated posting.
Jasna
2015-09-14T00:00:00Z
If you are looking for a nice and quiet family getaway, this is the place for you.
Fred
2016-11-28T00:00:00Z
A wonderful location for a Sydney city break. Well equipped clean comfortable apartment. Sandra was most welcoming and always replied quickly to our questions. Highly recommend this listing.
Marie
2016-01-05T00:00:00Z
Art der Unterkunft
Ganze Unterkunft
---
Objekttyp
Wohnung
---
Unterkunft für
6
---
Schlafzimmer
Kirribilli, New South Wales, Australien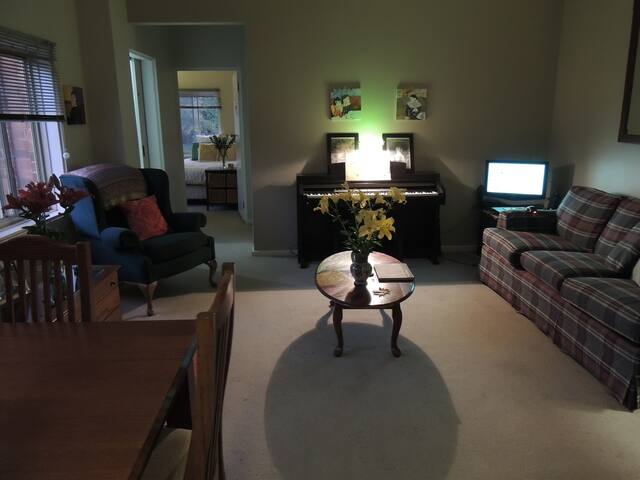 Our home is in a quiet, friendly, culturally rich suburb 5km from the centre of Sydney. It a short walk to Lilyfield Station. We're a 20min ride from trendy Newtown and Glebe, 10min walk from gorgeous parks and harbour views. You will have a charming room with double bed and built in wardrobes. Everything else is shared, and we'd love for you to feel at home with us. Look forward to meeting you!
Both Shane and Anna are so welcoming- made the arrival and leaving easier for us, had a nice fruit basket and tea and coffee... we felt comfortable chilling in the lounge or crashing out in our room, made us feel at home, we will have to keep in touch! The house is spacious, bed was comfy...easy to get into the city. Worked out well for us, we would re-visit again for sure.
Georgia
2016-09-27T00:00:00Z
Shane est un hôte super qui prend le temps de discuter avec vous. Sa maison est dans un quartier très calme et à proximité des transports en commun pour aller dans le centre de Sydney. Encore merci à lui pour son accueil, sa gentillesse et son aide.
Pierre-Alexandre
2016-10-08T00:00:00Z
Art der Unterkunft
Privatzimmer
---
Objekttyp
Haus
---
Unterkunft für
2
---
Schlafzimmer
Lilyfield, New South Wales, Australien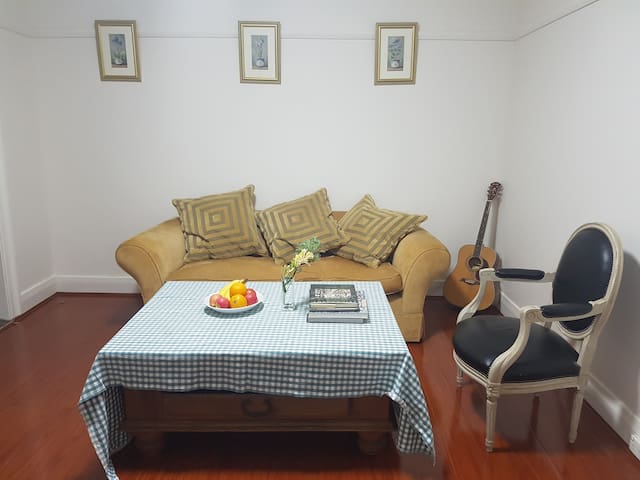 One bedroom apartment on Kirribilli waterfront, with views over the park and Sydney Harbour Bridge. Modern apartment with fully equipped kitchen. A ten minute walk to Kirribilli Train station, which is one stop the city.
Comfortable and bright space with picturesque water and harbour views
Kirribilli has some great cafes, waterfront walks and of course Luna Park!
great location and stunning views. convenient Public transport and walk distance to CBD. definitely recommended to travelers.
Scarlett
2016-12-24T00:00:00Z
We stayed Olivia's place over the weekend and it was cozy and clean. Free street parking over the weekend, some local restaurants for brunch and bars are close to walk. Enjoy the nightview of habour bridge and opera house with only few walk outside was wicked. Super close to city, we took Uber near Munich brauhaus to apart and it costs only AUD$13. Thank you for your welcome Olivia.
David
2016-05-24T00:00:00Z
The apartment was great, exactly what I was looking for. It was clean and was a prefect match of what I have seen on the pictures. Olivia was for a great help
Rachid
2016-05-26T00:00:00Z
경치가 매우 좋고 키친이 잘 되어있어서 요리해먹기도 편합니다. 다시 시드니에 온다면 또 묵고싶은 숙소에요.
Seol
2016-12-14T00:00:00Z
My family (husband, 2yr old son and myself) recently stayed at Olivia's apartment for 4 nights. This was a beautiful apartment and such a perfect location. And the view is amazing. We didn't get to meet Olivia but she was most helpful before and during our stay. The apartment is a short stroll to either the ferry or the train station which takes you straight into the city, and Kirribilli has many cafe's and restaurants. I would highly recommend this apartment to anyone and we hope to stay again.
Hayley
2016-05-30T00:00:00Z
Perfect location for visiting all the famous Sydney spots using mostly ferries and transport, friendly locals and Olivia was very good and made arrival/departure easy with stable times.
clive
2016-12-27T00:00:00Z
It is a really nice apartment…Great location…We will come back in future…
Yang
2016-12-05T00:00:00Z
Olivia's place is fantastic for a trip to Sydney! You're literally 20 steps from the front door to the best view in the city! Olivia was so helpful and she couldn't have made things any easier. Kiribilli is a great spot with nice cafes and restaurants. The ferry is a fun trip into the city but there are other options too. The apartment is great, perfect for a couple, any more than that might be difficult but fine for a short stay. Would definitely recommend.
Elliot
2016-12-14T00:00:00Z
Art der Unterkunft
Ganze Unterkunft
---
Objekttyp
Wohnung
---
Unterkunft für
3
---
Schlafzimmer
Kirribilli, New South Wales, Australien
It's a beautiful room with a king single bed which is perfect for solo traveller looking to stay 10 mins away from the famous Sydney CBD . The bathroom and kitchen is shared and the lounge can be used whenever one feels like ! The major highlight is that the place is so well connected to CBD and is just a bus or ferry ride to circular quay , the famous Harbour Bridge or the architectural marvel Opera House .
Tara and Amit are really lovely welcoming people, and their flat is a quiet residential street close to a bus stop that will take you right into the city centre. The flat and bed were comfortable and I slept very soundly!
James
2017-04-08T00:00:00Z
Tara and Amit are, by far, the loveliest hosts I've ever had the pleasure of staying with. Very friendly, easy to talk to, and informative, and you can tell that they really enjoy hosting people. Tara even made me breakfast every day, something that made a huge impact on me as I am new to the city and have just started a new job. 10/10, and I hope to stay friends with them as well.
Peter John
2017-01-17T00:00:00Z
Tara and Amit were so friendly and helpful, great place to stay
Petra
2017-02-21T00:00:00Z
Ahmad and Tara are wonderful people, very hospitable and made me feel welcome. Their home is tidy and well presented. A great place to stay.
Ian
2017-02-09T00:00:00Z
Clean cozy unit, close to public transport and great company during the stay.
Ajay
2017-04-06T00:00:00Z
I had a lovely stay, Tara is very welcoming and accommodating. The flat is very clean and tidy too. Nice that there is breakfast offered too! It is very easy to travel around, there is a bus or you can walk to the station, it's a nice walk. Overall great stay.
Elysia
2017-03-26T00:00:00Z
Basic room uncomfortable sofa bed would only recommend for one night stay
Rachel
2017-01-09T00:00:00Z
Great place for a quiet and lovely stay ! Nice residential neighbourhood but still very close to CBD (10-15 min bus ride). Tara and Amit are very friendly, open to all kinds of conversations and are eager to help you get set up upon arrival. All in all, they make you feel right at home, which is great when trying to regroup from the jetlag. I highly recommend a stay in their 'quaint little room'.
Guillaume
2017-04-02T00:00:00Z
Art der Unterkunft
Privatzimmer
---
Objekttyp
Wohnung
---
Unterkunft für
1
---
Schlafzimmer
Neutral Bay, New South Wales, Australien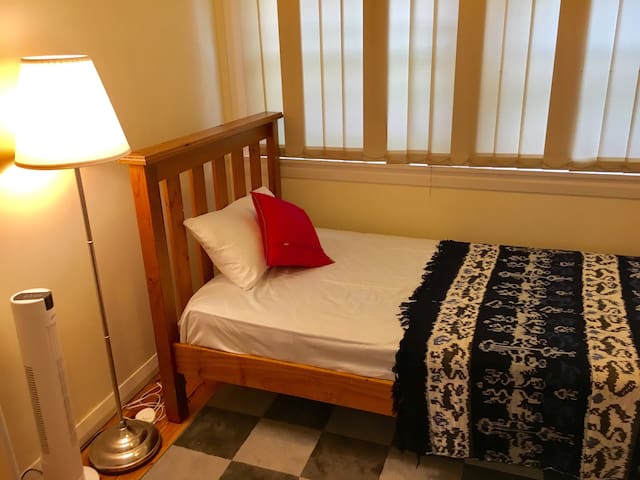 Cozy studio with private outdoor deck and separate entrance. Conveniently walk to train station, bus, shops and cafes. Fully furnished with modern furnishings, including a microwave, fridge and kettle. Free wifi internet, bottle water, fruits, coffee n tea. Fresh linen and towel provided.
It's superbly quite yet minutes from vibrant North Sydney CBD. ACU University is right next door. High quality furnitures are used throughout the studio apartment. The housekeeping is done to commercial standard. We change all linens and pillowcases every time after our guest depart.
A buzzing hub of commerce, culture and creativity. Socialites aren't far behind with wine bars, upmarket hotels and local favorites.
Patricia's place was a really well located, clean and comfortable studio. The check in and out process was simple and quick. It is the perfect place to explore Sydney from with close proximity to North Sydney train station or if you're feeling more energetic then you can walk across the harbour bridge and into the cbd in about 30-40mins. The additional touches of complimentary snacks, drinks and tea/coffee made the stay really pleasant. I thoroughly recommend!
Susie
2016-10-28T00:00:00Z
I can not thank you enough for making my first trip to Sydney so welcoming and simple. Patricia helped me with directions from the airport and things to do while being there. Not to mention the place was so tidy and came with a few snacks and drinks to help get out of bed each morning! Location wise was approx 5 mins walk to the train station, local food courts, gyms and a nice walk down to the lookout where you can have absorb the views of the harbour! I would definitely recommend this cozy studio to family and friends!
Aizi
2015-10-19T00:00:00Z
Patricia was a wonderful host, she provided us with the step-by-step directions to get to her place. She went the extra mile to guide us to a church on Sunday morning. She gave us a fruit platter which really helped to feed my hungry tummy. The place was clean and comfortable for two, there is sufficient hot water for a good 20min bath which I really enjoyed. Had 8 nights of great sleep and waking up to the wonderful chirping bird, it is peaceful estate and it felt really safe walking home from North Sydney Station. Thank you once again for making our stay such a memorable one. With love, Daniel
Daniel
2015-12-13T00:00:00Z
Patricia has been a helpful and welcoming host during our stay. The studio is clean and well equipped, you will find everything you need here for a lovely trip. We felt safe walking around in the neighborhood and it is also close to train station and bus stops. You get a huge bonus that the studio locates a short walk from Blue Point which you'll get a fantastic view of the Sydney bridge plus the Opera House. Patricia has always been prompt for replies and sweet-hearted. Thank you Patricia again for the sweet card and snacks!
Gillian
2016-05-30T00:00:00Z
Absolutely amazing hospitality - Patricia was easily contactable, very responsive and a great host! Our guest was very comfortable and well looked after, he had everything he needed for his stay. Highly recommended!
Holly
2016-07-31T00:00:00Z
This was a great location to stay and instructions were clear. It was very clean and well presented. I would not hesitate recommending this to others.
Matt
2016-05-16T00:00:00Z
My host made me most welcome. The location of the accom was wonderful for me with coming to do a course in Kirribilli. The walk to and from each day was lovely. I was very close to public transport links and cafes and shops so perfect for travelling.
Jane
2016-09-29T00:00:00Z
Lovely apartment, Patricia was very accommodating around my check in time. Great place to stay for a short trip to North Sydney!
Daniel
2016-06-17T00:00:00Z
Art der Unterkunft
Ganze Unterkunft
---
Objekttyp
Wohnung
---
Unterkunft für
2
---
Schlafzimmer
North Sydney, New South Wales, Australien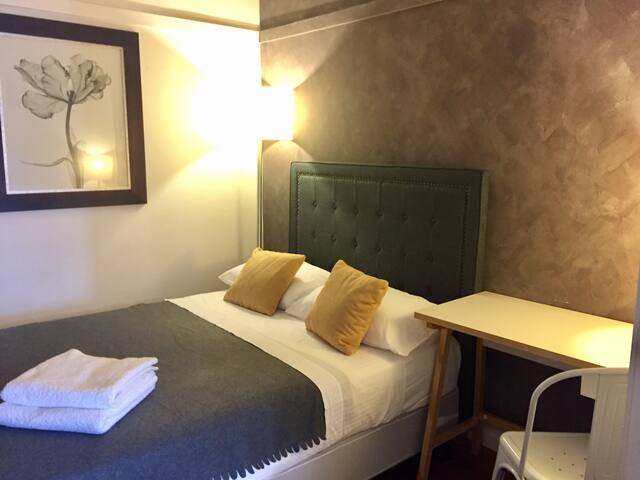 Spacious ensuite bedroom with queen sized bed. Open living/dining area and a spectacular view looking across the Sydney Harbour. Great for couples, solo travelers, business people and anyone who wants a great room in a great location! This is a private room listing with your own bathroom (bath and shower) and toilet Close to the waterfront , Luna Park and Olympic Pool. It is a very good central location and easy to access different types of transport.
Mit dem Luxus von Raum und herrlicher Aussicht, diese Wohnung ist sicherlich ein Wunder. Egal, ob Sie aus dem Ausland oder etwas mehr als für einen Besuch aus dem eigenen Land unterwegs sind, werden Sie sich wie zu Hause fühlen. Mein Vater wird bieten große Gastfreundschaft auf der großen Wohnung. Sie werden Ihr eigenes geräumiges Zimmer mit eigenem Bad und das Zimmer wird sauber sein, mit frischen Bettwäsche und Handtücher. Es wird auch zur Verfügung gestellt Shampoo und Körper zu waschen sein. Zwar gibt es keinen Schreibtisch / Arbeitsbereich im Schlafzimmer selbst ist, gibt es einen Wohn- / Essbereich für Ihre Bedürfnisse mit kostenlosen drahtlosen WiFi für Sie zu nutzen. Wenn es etwas gibt, was Sie brauchen um Ihren Aufenthalt noch komfortabler und angenehmer zu machen, lassen Sie es mich oder mein Vater wissen und wir werden sehr glücklich sein, zu helfen Ihnen, Ihre Anforderungen zu erfüllen.
Milsons Point ist eine großartige Lage im unteren Teil von Sydney, North Shore. Es ist eine große zentrale Lage und die Gegend ist sehr sicher und familienfreundlich. Es gibt alles, was man direkt vor der Tür brauchen! Wir haben den öffentlichen Verkehrsmitteln, Geschäften, Restaurants und Cafés nur einen kurzen Spaziergang entfernt. Ebenfalls nur einen Steinwurf entfernt liegt die berühmte Luna Park! Dies ist die perfekte Basis, um Sydney zu erkunden, in unmittelbarer Sydney CBD so nicht so viel los, aber sehr leicht zu erreichen.
Thoroughly enjoyed my relaxing stay in this beautiful appartment conveniently close to the CBD and transport. The appartment is well-appointed and clean. The hosts Richard and Alex are very organised and managed my stay very well.
Eric
2016-12-07T00:00:00Z
Alex's apartment was lovely, just as shown in the photos but the view from the balcony is even more spectacular in person! Even though the location is outside the city, it's very convenient by train and even more fun, by ferry! The bedroom has its own bathroom (didn't notice that in the ad)! Richard made me feel very comfortable and helped in many ways to solve my problems (directions, tips, plugs, using microwave). I most highly recommend this apartment and consider it one of the best Airbnb experiences I have had!
Marcia
2017-03-28T00:00:00Z
Great location, views and apartment!
Vikram
2017-01-01T00:00:00Z
Very clean, a super comfortable bed, great view, and a fantastic location if you want to use the water ferry's or train. Rich was a very nice host. AC had to be turned down to keep the bedroom cool, while the living room would be chilly; Rich seemed to not have a problem with this, so I hope we did not freeze him, as he seemed to not need the AC, not turning it on until we got there. Would recommend.
Sean
2017-01-13T00:00:00Z
The flat is situated with a wonderful view of the harbor. The public transportation is very easy and close (ferry and train). Richard (Alex's father) gave us useful information and was very cooperative with our needs. The near neighborhood Kiribili is wonderful with lots of cafes and a loveky sunday market.
Dalia
2017-02-11T00:00:00Z
We really enjoyed our stay at this high rise apartment overlooking the beautiful Sydney Harbour and Luna Park. It is in a central location, one train stop away from the city centre. There are a lot of nice restaurants nearby. Rich is a great host who keeps the apartment very clean. The extra bonus was colorful rainbow lorikeets at the balcony each morning.
Yang J.
2017-03-16T00:00:00Z
So many good things to say. Fist of all, the location was absolutely perfect as it was just minutes away from walking around the Sydney harbor where you could see the Sydney Bridge and Opera House! In addition, it is right next to a train station and ferry stop which is the best way to get around (public transportation in Sydney is extremely safe and clean). The view from the apartment was stunning, and most importantly the place was clean which is very important to me. Rich our host, was so kind, welcoming, and accommodating; we barely saw him the entire time and we really felt at home during our stay. Overall, I highly recommend you stay here! You won't regret it! Thank you so much Rich and Alex, we know where to stay when we come back to Sydney. :)
Tannaz
2016-12-20T00:00:00Z
We truly enjoyed our time at the apartment. Rich is a great host who keeps the place very clean and tidy and made us feel very welcome. The view from the balcony is stunning. The apartment is in short walking distance to train and ferry. We thoroughly enjoyed our stay and would definitely come back.
Angela
2017-04-02T00:00:00Z
Art der Unterkunft
Privatzimmer
---
Objekttyp
Wohnung
---
Unterkunft für
2
---
Schlafzimmer
Milsons Point, New South Wales, Australien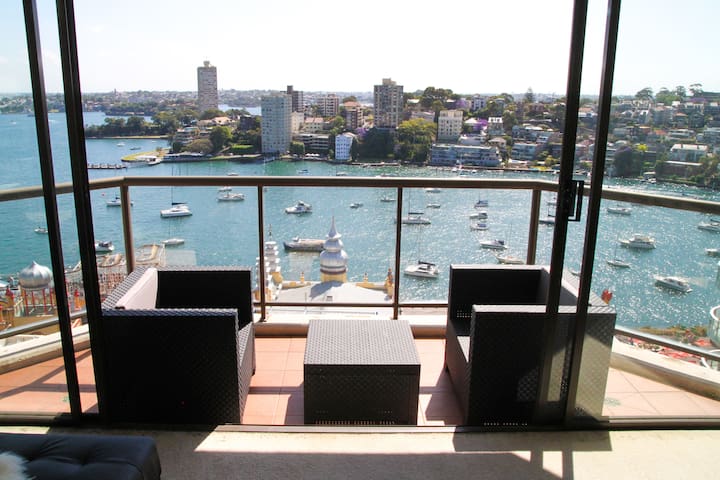 One bedroom is available in the heart of North Sydney in a three bedroom apartment. Convenient location next to the bus stop, 20 minutes to CBD by bus and 10 minutes by walk to North Sydney train station. Shops and cafes are around so you won't be bored. Females only.
Coles and Aldi are close. House has a pizza shop and a convenient store downstairs.
Really convenient location with heaps of public transport nearby. The place was immaculate and well organised whilst still having a great homey feel to it. The residents were so friendly and helpful. Definitely a place I will consider staying again on my next visit to Sydney.
Erica
2016-10-03T00:00:00Z
The room was perfect! It's clean and a very comfy bed. Anastasiia's home is very neat and clean and the kitchen is well equipped. Housemates are friendly and helpful. Location is perfect, just a few stops after the Sydney Harbour Bridge. I enjoyed my stay!
Shamalah
2016-09-15T00:00:00Z
The (SENSITIVE CONTENTS HIDDEN) were kind and helped me a lot during my stay. The room was clean and tidy.
Yasue
2016-02-12T00:00:00Z
I stayed at Anastasiia's place for 6 days in January 2016 and I had a really lovely stay. Anastasiia and her housemate were very friendly, welcoming and accommodating. They took the time to work out check in/out times that suited me, showed me around the apartment and made sure I felt comfortable and at home. The place was very clean and well looked after, and quiet despite the great location. I loved exploring the area - there are lots of nice cafes and shopping nearby.
Amy
2016-01-09T00:00:00Z
Large apartment and nice bedroom. All was very clean. Great location, safe and really close to North Sydney train station and several shops. The housemate of the host was very friendly and welcoming. I'd like to stay again here if I came to Sydney. Absolutely Recommended.
nadia
2016-09-27T00:00:00Z
Art der Unterkunft
Privatzimmer
---
Objekttyp
Wohnung
---
Unterkunft für
1
---
Schlafzimmer
North Sydney, New South Wales, Australien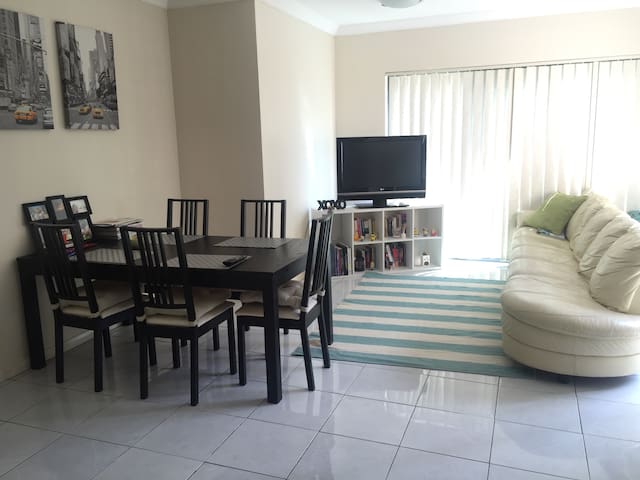 Hey , my name is Samuel. You are very welcome to come and see the place and I'm sure you will love it! The room is large and airy with a massive wardrobe. The house is a modern and spacious three bedroom home directly opposite the harbour bridge and opera house.
Here is detailed info about how to get from the airport etc etc... The address is 5/122 Kirribilli Avenue, Kirribilli. If you're coming from the airport, just jump on the train at the airport and get of at circular quay and you can take the ferry from Wharf 4 to Kirribilli wharf. It's about a 3 hundred meter walk from there. If your plane arrives after 7pm ( ferry will be closed ), take train to Central station and then change to Milsons Point station and walk from there or ask me to pick you up in my car if your luggage is really heavy.
Right in the middle of Luna Park, Harbour Bridge, Opera House, Wendy Whitey Park and beautiful walkways along the water. Very beautiful neighbourhood and 3 minutes ferry from busy CBD. There are some good places to eat close by too.
Sam is a lovely guy and very relaxed and accomodating. His place is nice and simple and he has guitars which i enjoyed playing immensely. Great value for money!
Stephen
2016-11-21T00:00:00Z
Stayed there for three nights and loved the place: very good connection to the public transport - by ferry just a few minutes to the Opera House and the city centre. Kirribilli is a lovely and quiet suburb. The flat is tidy, the rooms are cozy with a shared kitchen and bathroom. Perfect for exploring the city.
Andrea
2016-09-28T00:00:00Z
Great place!! Awesome views in the area. Just a great place
Mark
2016-10-23T00:00:00Z
Good value for money
Walter
2016-09-02T00:00:00Z
Sam's place was very convenient as a tourist. 5 minutes to the ferry, 10 to the train. Great place to stay for seeing the sights.
Jackey
2016-11-14T00:00:00Z
I enjoyed my stay at Samuel's place. The location is great if your after touristy stuff. It's directly across from the Sydney Opera House so you can get some really cool photographs of that, the bridge and Governor house as its along the same street! Samuel has a no frills space so don't go there expecting concierge/maid service. It's a lived in environment which immediately breaks the ice. It's an older home but just as good as any other. Oh and there's quite a few steps to get to the house so keep that in mind. I was out for most of the trip but when at the house I pretty much had it to myself as Samuel and his housemate both have busy schedules. There are cool cafes nearby also and if you ever want to walk the bridge, the path starts right where you catch the train! Oh and the bed was comfy. Thanks for having me Samuel!
Gwendolene
2016-08-17T00:00:00Z
Samuel was warm and welcoming from the start. The house and room were comfortable and convenient to get to the city. Beautiful views around the area.
ROYSTON
2016-06-01T00:00:00Z
Very nice experience spanning an entire week in Sam's apartment with stunning view over the harbour bridge from the bedroom and the entire CBD panorama from the balcony. Great talking to Sam about travel experience and life in Sydney. Kirribilli is a fantastic area and his place made the stay unforgettable
Gunnar
2016-05-17T00:00:00Z
Art der Unterkunft
Privatzimmer
---
Objekttyp
Wohnung
---
Unterkunft für
1
---
Schlafzimmer
Kirribilli, New South Wales, Australien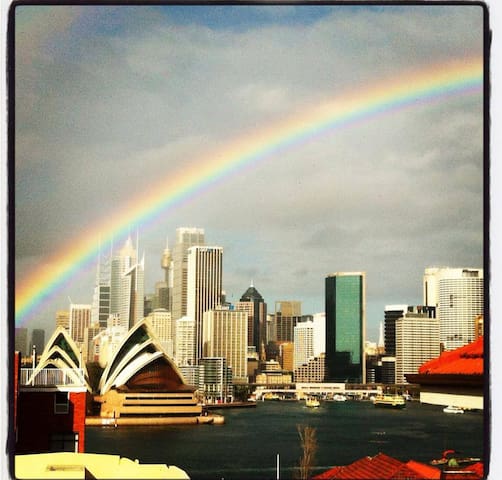 Waterfront luxury executive apartment on beautiful Sydney Harbour 270 degree sweeping panoramic water views - views from every room Light, spacious and sunny Very close to Mosman's cafes, restaurants and boutique shops Buses and ferry on your doorstep Walk to world-famous Taronga Zoo and Balmoral Beach I welcome travellers from all walks of life
Sehr geräumige 1-Zimmer-Wohnung bietet Platz für bis zu 2 Erwachsene Queen-Size-Bett, ägyptischen Luxuslaken aus Baumwolle Große offene Wohn- und Essbereich Moderne Küche, kostenloses Frühstück Moderne Badezimmer, Designer-Toilettenartikel Interne Waschküche mit Waschmaschine und Trockner Privater Balkon mit Mahlzeiten im Freien Einstellungen Serviced Aufzug, Vor-Ort dachte Parkraum Die Wohnung ist ausgestattet mit: • SMART Ultra High Definition-LED-TV • Kostenlose schnelle Geschwindigkeit WIFI • Kostenlose Netflix • europäische Geräte Großes Schlafzimmer mit Blick auf den Hafen • Queen-Bett mit bequemen Matratze unterstütz • Bettwäsche, Kissen (weich bis hart), Bettdecke und Decken • Bademantel, neue Hausschuhe für jeden Gast • Radio / Wecker, Nachttische, Lampen • Großer Kleiderschrank mit Kleiderbügeln und Tie Rack • Kommode und 2 große Koffer Racks • Ganzkörperspiegel MODERN BAD • Haartrockner • Luxus-Designer-Toilettenartikel • Bad, Gesicht und Handtücher, Badetücher • beheizte Handtuchhalter Wohnbereich mit Blick auf den Hafen SPEKTAKULÄRE • Großer Bildschirm SMART TV • Soundsystem und Lautsprecher • 3-Sitzer-Designersofas, bequemen Kissen • Couchtische und Seitenlampe • Komfort wirft und Heizung • Teppich Großer Essbereich NEBEN • Marmor Esstisch und Stühle • Schreibtisch • Stehlampe Küche mit modernen europäischen Geräten ausgestattet • Pantry und Kühlschrank mit kostenfreien Leckereien • Backofen, Mikrowelle, Induktionskochfeld • 2-Kühlschrank mit Wasser / Eis-Spender • Geschirrspüler und Reinigungsmittel • Espresso-Kaffeemaschine, Kaffee Plunger • Wasserkocher und Toaster • Geschirr, Besteck, Töpfe, Pfannen und Kochutensilien MODERN LAUNDRY • Miele Reinigungs- und Waschmittel • Miele Wäschetrockner und Open-Air-Trockner • Bügeleisen, Bügelbrett und Wäschekorb sonnigen Balkon • Essen im Freien Einstellung, Couchtisch, Stühle • Wandleuchten für den Sonnenuntergang Abendessen SICHERHEIT ENTRY HALL • Video-Sprechanlage • Regenschirme • Picknickkorb, Grillkochutensilien für die Verwendung in den Außenbereich Essbereich PLUS FABULOUS HARBOURSIDE POOL und Essen im Freien • 2 Grill Essbereiche in einem üppigen Garten mit Blick auf große Hafenpool
Wo sind wir? Die Wohnung befindet sich auf, was die beste Straße in Mosman gestimmt, die auf der North Shore von Sydney ist. Es ist weniger als 10 km oder eine 15-minütige Fahrt mit der Fähre entfernt, von der Stadt. Es befindet sich in einer der malerischsten perfekt, aber dennoch ruhig, Orte in der Vorstadt, von dem Sie Sehenswürdigkeiten Sydneys wichtigsten Sehenswürdigkeiten zu erkunden, die in der Nähe weltberühmten Taronga Zoo inklusive. In der Tat ist es so nah, dass man manchmal werden die Klänge der Löwen und Schimpansen hören! Viele Cafés, up-market Restaurants, Boutique Designer-Shops, Delis und frischen Produkten Läden nennen Mosman nach Hause. Ich kann mit Empfehlungen helfen. Dank seiner Lage direkt am Hafen, ist es ein idealer Ausgangspunkt für gemütliche Spaziergänge entlang einer der vielen malerischen Küstenwegen. Oder für die Abenteurer, versuchen, eine wasserbasierte Aktivitäten wie Segeln, Kajak fahren oder Schwimmen an den Stränden, wie Balmoral. Orte zu besuchen und Dinge in Mosman zu tun: • Taronga Zoo • Große Auswahl an Boutique Designer-Shops • Preisgekrönte Restaurants, sowie mehr als 40 Cafés • Lokale Märkte (Mosman und Kirribilli) • Historische Cremorne Orpheum Cinema • Strände, wie Sirius Cove (ganz in der Nähe) und Balmoral Beach (weniger als 3 km entfernt) • Küstenwanderungen und Buschpfaden In der Stadt (15 Minuten mit der Fähre entfernt): • World Tower und Australien Platz • Chinatown und Market City • Pitt St Mall • Queen Victoria Building (Geschäfte und Cafés) • The Strand Arcade • Cockle Bay Wharf in Darling Harbour • Sydney Tower Eye • Dr. Chau Chak Flügel Gebäude • SEA LIFE Sydney Aquarium • Der Star Casino und Barangaroo, Darling Harbour • Die Royal Botanic Gardens • Hyde Park und der Cenotaph • Cadmans Cottage • Zollamt • Fort Denison • Die Steine • Sydney Hafenbrücke • Opernhaus in Sydney
Lovely place that is made all the better by a wonderful host.
Julie
2017-01-21T00:00:00Z
We thoroughly enjoyed our stay here. The apartment is beautiful with spectacular harbour views and we especially appreciated Fiona's attention to detail including a well-stocked kitchen, food in the fridge, a welcome bottle of wine and more. It was a pleasure to meet Fiona and she provided us with lots of helpful information. There is easy access to the ferry and buses but you can walk to the shops and cafes in Mosman and we even walked to the beach. It's a beautiful area to explore on foot. We would highly recommend this Airbnb.
Janice
2017-03-08T00:00:00Z
This is our second time in Fiona's beautiful apartment, and it was even better than last time. We specifically wanted to enjoy Australia Day on the harbour, and you couldn't wish for a better vantage point with two cruise ships moored close buy and heaps of music and festivities on the water during the day, including the spectacular airforce jet flyover at midday - directly in front if the apartment - wow!!! The evening fireworks were also great. We didn't need a car for our weeks visit as public transport to the heart of the city ( via the ferry) or local Mosman shops ( via bus every 30 min)is so convenient. We loved cooking our meals most nights in Fiona's lovely wel equipped kitchen, as well as enjoying a few of the local restaurants, who will deliver to your door if you wish. As it was warmer than our last visit, we even got to enjoy a swim in the heritage pool on site, which is tidal from the harbour. What a great experience. We also spent a lovely day swimming at the local Balmoral Beach, which was fantastic fun when we met our nephew and his 1, 3 and 5 year old children - all very tired at the end of day.... time for my husband and I to retire to some jazz music and a glass of wine on the balcony and take in the relaxing ambience over the harbour at our aparatment I miss it already!!! Thanks Fiona - hope to be back later this year.
Robyn
2017-01-31T00:00:00Z
This was a marvellously appointed and spacious apartment with lots of little extras provided by Fiona, the most perfect and gracious of hosts. The apartment is right on the water and has breathtaking views. There is also a private door straight down to the ferry, which runs regularly. My girlfriend also said the tidal pool at the bottom of the section (and next to the wonderful BBQ area) was the best pool she had ever swum in! This is definitely now our first choice of accommodation in Sydney and simply can't be faulted.
Phillip
2017-02-12T00:00:00Z
This apartment is super and has everything you would need. Fiona is a excellent host her warm welcome and info packs made us feel at home very quickly. After the long flight from LA, the views from the apartment made it easy to get over the jetlag. The ferry service from the bottom of the flats made our trip very special, the steps on the way back up were quite tough after a long day sightseeing. The car parking was also a big bonus, although we only used car on a couple of days out of our week stay. Would highly recommend Fiona's apartment for a stay in Sydney.
Patrick
2017-02-28T00:00:00Z
The views across Sydney Harbour are SPECTACULAR!!! We loved staying in this fresh attractive well appointed apartment, and felt both at home and pampered with all the extras (soft white gowns, goodies in fridge etc)
Liz
2017-01-06T00:00:00Z
Thankyou Fiona your apartment was amazing And it was fantastic that you picked me up at the ferry on arrival/departure for luggage help and to show me around the area. The location is amazing and safe. Easy to get to city by ferry at your doorstep. So nice to watch the world go by with those amazing views. Have already recommended to everyone. I will come again.
Terri
2016-11-28T00:00:00Z
Came here to write and it was inspiring and due to the fantastic views distracting in equal measure. A host who (URL HIDDEN) apartment with class
Richard
2017-03-22T00:00:00Z
Art der Unterkunft
Ganze Unterkunft
---
Objekttyp
Wohnung
---
Unterkunft für
2
---
Schlafzimmer
Mosman, New South Wales, Australien
Vivid Festival, Perfect location, Views to Opera House & Bridge from the lounge. Single bed in a small room. A 4 min walk to Milson Point ferry/train station or walk over the bridge. Every cuisine you can think of is at your doorstep inc Pizza bar, Seafood, Pub, Bottle shop, Italian, Thai, Japanese, Burger bar, Gelati bar. Kirribilli Sailing Club 5 mins walk right on the water deck with great food. No cleaning fee and breakfast included.
Nice apartment with a King Single bed available in 1 small bedroom. The room is nicely decorated with Sealy mattress and all new bedding. Your bedroom is not near the other bedroom so you will not be disturbed during the night and you are close to the bathroom and kitchen. The sun warms up the room during the day with windows to let fresh air in. 2 large wardrobes with shelving. Bedside table with table lamp. It is a shared bathroom with shower & bath. You have full use of kitchen facilities and washing machine. Lounge with 2 lounges and dining room table. Walk outside to the park looking at the beautiful view of the Sydney Opera House, Sydney Harbour Bridge. Only 2 minutes walk to lots of different restaurants/cafes e.g Thai, Italian, Burger bar, Gelati bar, Seafood, wine bars, Supermarkets, and cafes all at your doorstep and all at affordable prices. The Sailing club is only a 5 minute walk with great food and views, live music. Enjoy a day out on the spectator boat. The Kirribilli club also 5 min away with great views and good value food. It's only 5 minutes by train, 10 minutes by ferry or a 15 minute walk across the Sydney Harbour Bridge to the heart of Sydney. Ideal for a single wanting a comfortable central location to explore Sydney or for short business stays. It's only 1 train stop to the City and North Sydney business districts. Luna Park and the North Sydney Olympic Pool are only 3 minutes away. No cleaning fee charged and breakfast included.
Kirribilli is a perfect central location with a village atmosphere. It is ideal for travellers wanting to explore Sydney. It is a very safe suburb, with many cafes, restaurants and bars within a 2 minute walk. It is has a great village atmosphere and markets on the weekends. The apartment is across from Bradfield Park with amazing views to the City. You can easily walk into the city across the harbour bridge (15 mins), catch the train (one station - 3 mins) or else catch the ferry. There is a sailing club 5 mins walk away with great views on the deck to the harbour and great cheap food. The Kirribilli club also 5 mins away with great views, cheap food and courtesy bus to take you home.
Karen ist eine sehr hilfsbereite, freundliche, offene Gastgeberin. Das einchecken bei ihr lief super easy. Das Zimmer ist klein aber mit allem ausgestattet was man so braucht. Die Wohnung ist sehr sauber. Man kann alles benutzen was man braucht. Am besten hat mir die Lage gefallen. Direkt gegenüber der Oper und 3 min zur Bahn. Ich bin sehr oft über die Brücke Richtung Innenstadt gelaufen. In der Nachbarschaft gibt es eine Menge kleiner Restaurants in denen man gut essen und nett sitzen kann. Mir hat meine Zeit bei Karen sehr gut gefallen. Ich würde auf jeden Fall wieder bei ihr wohnen.
Theresa
2016-10-03T00:00:00Z
Karen was very accomodating despite me keeping her up due to a late flight in and a taxi driver parking me up near her place rather than at her place. Her place was perfect, right near the harbour bridge and close to everything via train or ferry or walk. She had the room decked out with great amenities like hair dryers, cotton buds extra blankies etc, very tastefully decked out. Would definately recommend.
Margherita
2016-09-11T00:00:00Z
This was the best Airbnb experience I've had. The listing and location were perfect - next time I visit Sydney, I will definitely try to stay here again. I love traveling via ferry, so this was ideal location for commuting across the harbor every day.
John
2016-10-10T00:00:00Z
Lovely homely place, great location. Karen goes out of her way to help. Enjoyed my stay thoroughly.
Leena
2016-11-07T00:00:00Z
This was my first AirBnB stay and everything about it was outstanding!! Karen is a wonderful host and provided much local information to meet my travel and entertainment needs. The property was immaculate and in a prime location. It certainly added to a memorable birthday in Sydney.
Tania
2016-10-18T00:00:00Z
Karen was a happy, easy to talk to hostess, who was supportive when contacted. The location is very good, close to town, yet across the harbour, so a nice quiet place to stay. If I stay again I will use the ferry as the flat is only 5 minutes from the pier!
Susan
2016-06-03T00:00:00Z
This was my first Airbnb experience and Karen made it a pleasure. No more hotels for me!
James
2016-08-07T00:00:00Z
Karen was a very helpful host. I didn't see much of her as she was out for the weekend, but she greeted me on arrival, showed me around the apartment, and was very helpful in giving tips on travel within the city. The room was clean and set up with everything you might need for a few night stay and the bed was super comfortable. Thanks for everything Karen!
Jordan
2016-05-31T00:00:00Z
Art der Unterkunft
Privatzimmer
---
Objekttyp
Wohnung
---
Unterkunft für
1
---
Schlafzimmer
Kirribilli, New South Wales, Australien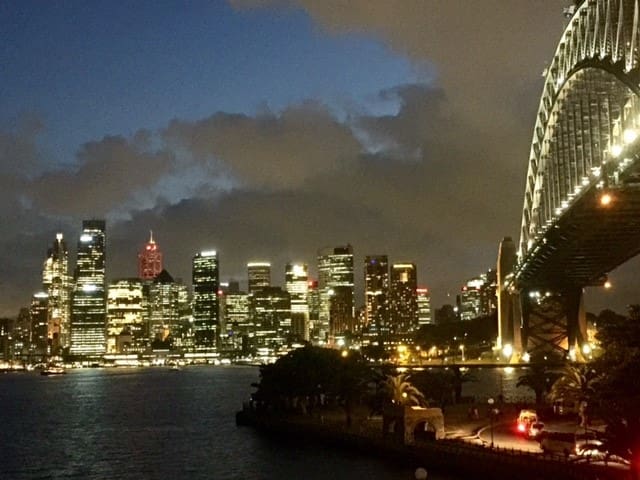 Very modern clean and airy apartment including a great balcony area with seating to catch the morning rays over breakfast. I live in a great location, close to both North Sydney, Neutral Bay, Kirribilli and Milsons Point. There is plenty of public transport and amenities close on hand for you to explore.
Your bedroom is a good size bedroom with double bed, very light and breezy and includes access to your own large modern bathroom just next door to your room. The flat is located in a secure building, with secure underground parking should you wish to drive here.
An unforgettable stay, Linzi has power of affinity and hearty, talkative, nice lovely person. A well equipped kitchen, dining tables and seating areas to relax after hard days activities. I could get my laundry washed up too, extra plus for that. Linzi are great and very welcoming hosts. The room is nice, the bed comfortable and everything very clean. The restroom is newly renovated and the shower flows likes a waterfall, just loved it. I definitely recommend this place and wished I could have stayed longer.
Christian
2017-02-19T00:00:00Z
Art der Unterkunft
Privatzimmer
---
Objekttyp
Wohnung
---
Unterkunft für
2
---
Schlafzimmer
Neutral Bay, New South Wales, Australien
North Sydney - Airbnb
:
Durchschnittlich

4.9

von

5

Sternen aus

1779

Gäste-Bewertungen
1

–

18

von

+ 300 Unterkünfte
Gib deine Reisedaten ein, um den aktuellen Preis zu sehen. Es können zusätzliche Gebühren und Steuern anfallen.