19 Ferienhausvermietungen
The Tiny Lake House has a maximum capacity of 4-6. This is green eco friendly and holistic living space with minimal electricity needs; it has electricity for the refrigerator, TV, lights and fansSuttons Bay, Michigan with its own lake frontage, 200 ft private beach. This is a very historic and the most beautiful bay in Michigan. Guest agrees to contract terms posted in House Manual and electronic signature.
NO PETS. Sorry, trying to keep it available to people who are allergic to animals. The Tiny Lake House has a maximum capacity of 4-6, no more people than six; infants and children are counted as people - those little buggers create more paper trash than a printing press. Supervise your small kids here, they are not permitted in the loft due to the ladder hazard. Cleaning Dislosure. Honesty in advertising is what we live by. I hire my adult children and one additional nonbiological son to clean. I force them to use great cleaning products and technics, I encourage them, then threaten them with cooked spagetti whip beatings to do it right. And then I inspect it, but my cleaning standards myself are not that good to be honest. So what I'm saying is, if you show up and see something you dont like, let me know and I will have them reclean it. Dont go away mad and give us low cleaning reviews because I would rather give you some money back for cleaning. Last, if you are a cleaning freak or are used to the Hilton then DONT RENT HERE because this jewel isnt a good match for you! This is green holistic living with minimal electricity; our electricity is generated from our captive Elves. They generally work enough enough to power the refrigerator, lights, fans, TV and computer needs. NO PETS are allowed and dont ask me again please because it hurts my feelins. The Tiny Lake House is on the north end of Suttons Bay, Michigan with its own 200ft private beach. It is rustic and the walls are built with repurposed dock wood from four Michigan lakes which are Spider Lake, Bass Lake,Walloon Lake and Lake Michigan. Ernest Hemmingway carved his initials on one of the dock boards. There is a stone fire ring built by us, we swam around and retrieved 10-200 pound stones to make an ancient look alike fire ring on the beach, so cool, romantic, looking up at the Milky way! It is 12x16 with a 12x12 loft with a master carpenter made wood ladder to the loft for sleeping and it is very private, surrounded by native vegetation and Lilacs. There is a small 4x2 ft. refrigerator,TV, no cable or internet, a sink, a solar shower, a high quality Webber Genesis propane grill and a Porto potty as the bathroom. The floor is made of Endure Laminate. it is fully trimmed and insulated with four windows and two doors. There is a large covered front deck 12x12. There is an 8x12 uncovered deck on the rear. There is a small space heater. There is NO air conditioning which isn't needed because there are fans and Lake Michigan keeps it cool. To get up into the Loft you climb a ladder; this is not for disabled or small children. In the loft, there is a futon and a twin bed for two. There is an enclosed solar shower. Solar showers work very well. When it is cloudy, not so well so then it's time to shower on a cloudy cold day either take a col shower or heat up a pan of water on the grill. Good news is that solar showers have NO carbon footprint, no pollution. The main floor has one pullout,one couch, comfy chair, table, four chairs, refrigerator, water dispenser and cabinet, it has everything you need. Bring your tablets the TV has limited channels and a DVD player. bring cards and board games or turn on Pandora. You can use for free the two lie on top paddles boards and double Ocean Kayak at your own risk! The Knot just a bar and restaurant is 400 ft. away with a small country store, U.S. post office, Leelanau wine tasting stores, famous General Custer house 4 doors down and an art gallery. Leelanau Peninsula is famous for the Sleeping Bear dunes, small quaint fishing towns like Leeland, Northport, museum, the Lighthouse, endless beaches, crystal clear blue water, Glenn Harbor and Traverse City is only 25 minutes away. It a very quiet neighborhood and perfect for small families and romantic couple. We will meet you and get you oriented. Parking for no more than three cars in driveway, not on grass at Tiny Lake House. Please park on the driveway. You have 2 acres of open and wooded area with awesome beach. Safety Disclosure. Like any Michigan woods, if you roll around in the hedges you might find some poison ivy. We recommend walking down the 120 foot wide grassy path that is free of poison ivy to the lake. Wear shoes, supervise your children to wear shoes, supervise your kids at all times and avoid pointy things like sharp sticks or sharp stones or a nail that can hurt you if you don't wear shoes. Swim and boat at your own risk. Look out for blood sucking aliens who find humans delicious when washed clean in the lake. Beware of any escaped lions from the Detroit zoo, it could happen and don't piss off or make fun of the local population of Yettis - they will seriously swat you like a ping pong ball. If you are a helicopter parent we suggest the Grand Traverse Resort or someplace in Chicago or the Ritz Carton in New York.
This area is world famous for its beauty, sand beaches and is a destination for summer. Its the Martha's Vineyard of the Carribean North. Most folks are summer residents and everyone is friendly and waves at you. The building in town are the only 6 buildings still in their original period state since the mid 1800s. I found a silver spoon from the 1800s in the back area of Tiny home. Petoskey stones and agates can be found on the beach.
Ray was responsive before, during, and after our stay and the TLH and location were as advertised. The lake is sandy bottom and crystal clear. He welcomed us on our first day, stopped in with bottles of cold water and cookies when we addressed a small issue (via text), and stopped in on our last day to say goodbye. We took full advantage of the 200' of private beach (which we had all to ourselves all week), free kayaks and paddleboards. His list of rules may seem a bit extensive, but are in my opinion, just commonsensical and common courtesy that would be followed by most Airbnb members. Quaint small towns within a "few" minutes drive with Michigan cherry and apricot orchards and wineries galore. I do recommend the TLH to others.
Joe
2016-08-05T00:00:00Z
We had an amazing time during our stay. How can you complain with the lake in your backyard? Ray was an excellent host and he was very accommodating. We very much enjoyed using the kayaks and paddle boards they had available for us. The tiny lake house was absolutely adorable and enjoyable! We actually really liked the solar shower (woo for glamping). Omena is a really nice place which is right by Northport and right down the road from Traverse City. We also went to Sleeping Bear Dunes on our trip and the scenery is breath taking. All-in-all, this is a great place to get away (especially if you are city people) and take in the wilderness. P.S. Don't forget to check out the stars at night! They are crystal clear and breathtaking.
Nicole
2016-08-18T00:00:00Z
Let's be very clear I was putting my neck out on this one after a previous request fell through. Although my wife and I are enamored with the tiny house movement she wasn't too keen on staying in a place without indoor plumbing. In fact, she was certain she would be miserable. Well, what actually happened was quite the opposite. We had a great time! It's such a relaxing and beautiful location you can't help but enjoy yourself. This is a charming, but basic shed and Ray is a perfect host. When I asked about a place to have a fire at night, he swam in the bay to get rocks to make a fire pit. He greeted us the first morning with coffee and breakfast burritos. How can you beat that!? If you are ok with basic accommodations (you should spend most time outdoors at the beach and out exploring the amazing region anyways) then you will enjoy this experience.
Andy
2016-09-05T00:00:00Z
Quiet welcoming, pleasant willing to do what we neeed
Jill
2016-08-26T00:00:00Z
Ray welcomed us when we arrived and took us down to the tiny house. The house is a couple hundred feet from the beach. Lake Michigan is beautiful and clean. You can't beat the Leelanau Penisula in the summertime. There's a nice restaurant in easy walking distance. The house itself is what it says -- a tiny house. You'll enjoy yourselves as long as you weren't expecting a jumbo house.
Neil
2016-08-09T00:00:00Z
Art der Unterkunft
Ganze Unterkunft
---
Objekttyp
Haus
---
Unterkunft für
6
---
Schlafzimmer
Omena, Michigan, Vereinigte Staaten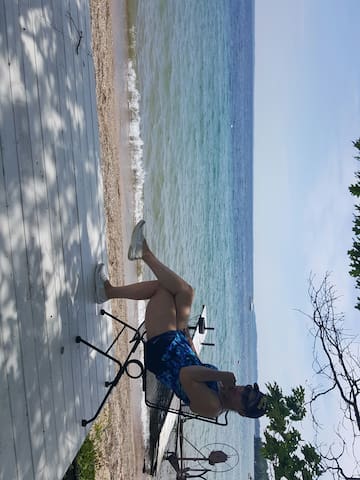 This Little House has a remarkably BIG presence, designed to take advantage of the private views of forests and meadow. It has a roomy loft with plenty of headroom and a queen sized genuine Temper-pedic mattress. The bathroom has a full sized tile shower. Kitchen is supplied with fridge, convection oven, electric tea kettle, French Press. The living room has comfortable seating stocked with books and games. A small table seats two for dining. There is a smart TV with ROKU and Netflix
The Little House sits high on a knoll overlooking a 4 acre meadow and lots of forest. It is nested between shade trees. My home and another cabin are on the property. Sharing 8 acres, gives all three residences privacy and a sense of the wild, while still being just 1/4 mile from M22 the main highway to all of the area's attractions. The bedroom is more spacious than most Tiny Houses but it is in a loft, so families with children need to take safety into account. There is parking next to Little House, but it may not be navigable in winter so a hike of about 300 feet from the plowed parking space will be necessary. Be aware that my dogs' yard is about 100 feet from the Little House. They are fenced in and will bark a few times to greet you (or if they see the deer, turkeys or squirrels), but are fenced in and will not disturb you. Hurry! There are very few rentals available in central Leelanau County. Here are just a few local destinations starting from nearest first: Leelanau Sands Casino, Eewaing Native American Museum, Silver Leaf Winery, Raftshol's Vineyards, Tandem Ciders, Corky's Bistro, Tamarack Gallery, Knot Just a Bar, Blustone Winery, Parallel 45 Winery, Bay Theater, Will Case Jewelry, Eddie's Village Inn, Martha's Table, Wines and Vines Restaurant, Ciccone Winery, Shady Lane Winery, L Mawby Sparkling Wines, Dick's Pour House, The Happy Hour, Historic Fishtown, Blue Boat Coffee, Carlson's Fisheries, The Dam Candy Store, The Cheese Shop, Leelanau Cheese, Nature's Gems Petoskey Stones, The Blue Bird, Sleeping Bear Dunes, Blu, M22 Store, Fusion and about 20 more wineries!
We are so lucky to be in beautiful Leelanau County. My eight acre property is secluded ( you cannot see any of my neighbors once on the property) yet close to the main highway. I live just above the Tribal Land, in a mixed neighborhood of farmhouses, modular, mobile homes and cottages. My neighbors are tidy, quiet and friendly. It is a VERY safe community, the EMT, fire station and police are nearby. Once a year, there is a community pick-up of large discarded items, and these are on the curb, making the neighborhood look distressed. Please excuse this once-a-year blight. Sound does carry, so I hope my guests take thin into consideration when using the outdoors.
We loved the tiny home! It is so cute and was a great stay for us and our dogs! We actually lost electricity because of a bad winter storm and Pam made sure we had extra blankets and were well taken care of. We loved the tiny home and definitely will be back again soon!
Amy
2016-11-20T00:00:00Z
We had such a great time at the tiny house! It was just enough space for two people and very cozy during the winter. Pamela was a wonderful host and even left two pairs of snowshoes outside for us to explore the area - an excellent plus. We loved our stay and would definitely come back.
Anna
2017-01-15T00:00:00Z
My partner and I wished to stay in a tiny house to experience what it was like. We really enjoyed / learned a lot from our 2 day stay. The area is nice, and Traverse City is a short drive away. Definitely recommend staying here if you are interested in experiencing a tiny house first hand.
Matthew
2017-03-26T00:00:00Z
Perfect for a quiet up north getaway- the tiny house was charming and fully stocked with everything we needed. The pup loved the walks in the woods and we loved the quiet, relaxing area- secluded and private but close enough to suttons bay for food and supplies. 10/10 would stay again
Sampson
2017-03-24T00:00:00Z
Pamela contacted us as soon as we arrived and made us fee very welcome. The land/ property is beautiful and the Tiny House is simple and cozy and quaint.
Patrick
2017-01-01T00:00:00Z
The tiny house provided a great extended weekend getaway. Perfectly adequate to function in and to relax in when needed. The interior is very nice and clean. If you're looking for something different in Michigan's wine country this is a place to try. Pamela was a great host and catered to our needs well, example being a last minute scheduling conflict for our original reservation. She happily changed my reservation to a week a later.
Nicasio
2017-01-29T00:00:00Z
Our first time staying in a tiny house and it was so fun! Definitely looking forward to coming back another time!
morgan
2017-02-05T00:00:00Z
Pamela was especially helpful when planning our trip and switching the dates of travel for us. The tiny house met our needs perfectly and the view of the woods all around made for a very pleasant night away.
Alyssa
2016-12-30T00:00:00Z
Art der Unterkunft
Ganze Unterkunft
---
Objekttyp
Haus
---
Unterkunft für
2
---
Schlafzimmer
Suttons Bay, Michigan, Vereinigte Staaten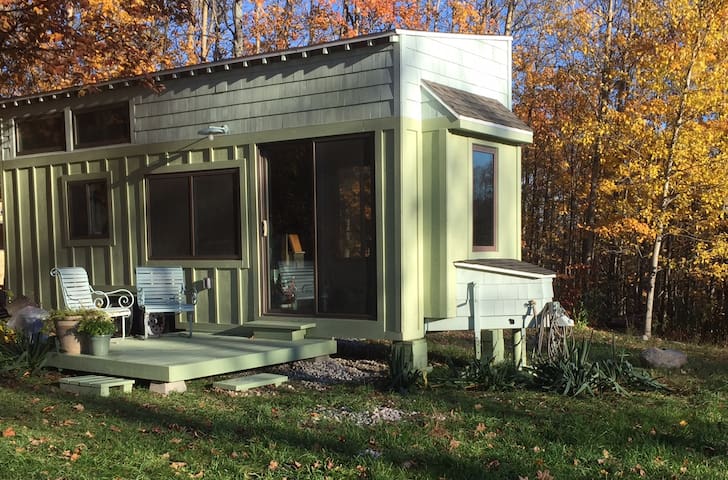 The Suttons Bay Farm House (private room rental) is three miles from Downtown Suttons Bay. It is nestled between Suttons Bay & West Traverse Bay and is within walking distances to two secluded beaches. This is the perfect house to enjoy a relaxing weekend. Our Farm house is a new build and very cozy. We are close to all of the best Leelanau County Wineries, Breweries, top Restaurants, T.A.R.T. Biking Trail, parks and Beautiful hikes.
My house is very cozy and with the comfy beds you are sure to get a perfect nights sleep. The house has a large front porch perfect for enjoying a cocktail or cup of coffee. We have a huge front and back yard perfect for games or for kids to run around. My house is 1 block from a secluded beach. I also have a paddle board and bikes that you are welcome to use at your leisure. I occupy the master suite which is located on the Main level. My guests will have a private upstairs which has two bed rooms a private bathroom and a private living area.
Quiet Neighborhood close to a secluded neighborhood beach.
Claudia's place is in a lovely secluded area on the peninsula of Sutton Bay, but minutes from town. We had a very comfortable room with a sitting area plus a private bathroom second floor. All very clean, fresh, new. She was friendly & available for assistance, but in no way intrusive. We were offered coffee & some refreshments for breakfast. I would definitely recommend this home.
Debra
2017-02-12T00:00:00Z
What a lovely and comfy space! Staying at Claudia's felt like we were in a home away from home. We even got coffee and muffins in the morning:) the home is off a beautiful drive at the tip of suttons bay! Definitely reccomend staying here!
Olivia
2017-02-28T00:00:00Z
This place is amazing! Everything feels brand new, couldn't be cleaner, the bed is so comfortable! Claudia is lovely. She is warm and welcoming and makes you feel like you are at home. Don't blow money on a hotel, stay with Claudia.
Courtney
2017-01-22T00:00:00Z
Charming and immaculate. The perfect remote location, yet close to TC and long walking distance to SB. Next time, we will have a picnic on the beach. The orchards are beautiful, even at end of winter. The changing seasons must be stunning. Hard to decide when to return.
Francesca
2017-04-02T00:00:00Z
Art der Unterkunft
Privatzimmer
---
Objekttyp
Haus
---
Unterkunft für
4
---
Schlafzimmer
Suttons Bay, Michigan, Vereinigte Staaten
My place is close to family-friendly activities, Nature, Public Beaches, Seasonal Festivals.. You'll love my place because of the coziness, the location, the peace and quiet. My place is good for couples, solo adventurers, business travelers, families (with kids), and big groups.
Typical Booking is 7 day minimum Mon to Mon or Sat to Sat. However for 2017 Summer season and during off seasons I may consider other arrangements as well. I will charge more per day if the 7 day minimum is not met. Please feel free to ask. This location is IDEAL for Wedding Guests because we Are Very Close to Several Popular Wedding Venues, Northport, Omena, Suttons Bay, Leland, Lake Leelanau, or even Traverse City. Typical Booking is a 7 day min. Check in time is at 4 pm to the following week 9 am check out. This is a big, spacious, light , bright, cozy, comfortable and durable property. It's a Casual, large group, family and friends kind of place. It's been a great home for us with a large family, friends and relatives. It's a great place to entertain. There are 5 bedrooms 1.5 bath, the home is located in a very private setting. Sleeps 10 in beds and possibly up to 14. All of the pictures shown on this page were photographed by the homeowner. Just some examples of the Beautiful locations within 30 mins time traveling by car. Travel just six miles to the north and you are in lovely Northport which is becoming The New Destination Wedding Venue, Events are being booked all around the Area. . . Northport has several Locations for Weddings and Events. We are just minutes from ALL of them and would make a great rental for Wedding Parties / Families. Don't spend time Commuting 30 minutes one way, to Traverse City for a Hotel...Stay Local just 10 minutes away in our Vacation Rental and Spend your Time Visiting with Family and Friends instead. We are located in between Omena and Leelanau Sands Casino. Lovely Northport is 6 miles north and Suttons Bay is 5 miles south. Take time to enjoy the charming Village life and flare in any of our Local small towns, including Northport's Friday Night Music in the Park. Fridays Farmer's Market at the Marina. Visit Suttons Bay, Traverse City, Historic Fishtown in Leland, and head on down to Sleeping Bear Dunes National Lakeshore, which was voted the most beautiful place in America 2012. Try the Sand Dune Climb, bike trail, scenic drive, or shopping in Glen Arbor and Empire. There are boundless activities locally depending on time of year that you visit. Wedding venues, national and local festivals, National Cherry Festival, Traverse City Film Festival, local wine festivals just to name a few. Parades, Fourth of July celebrations, bonfires, Star Gazing, Sky Watching, Sunrises and Sunsets, fireworks displays, conservancy land, state and federal parks, bike trails, swimming, golf, kayaking, hiking, fishing, tennis, sailing, water skiing, beach-combing, cinemas, gambling casinos, winery tours (so many around the county and grand traverse and old mission region) antiquing, groceries, atm/bank , shopping, boating, public beaches, world class dining, celebrities, rest and relaxation in Leelanau county. There's so much More, I hope you come and discover what Leelanau County means to you. Keywords: Very Close to Willowbrook Mill, Cherry Basket Farms/Epicure Catering and Crooked Tree Ranch. Hot Tub, Kid, Bon Fire Pit, Group, Large groups of people, Rental, VRBO 454498, Northport, Suttons Bay, Leland, Omena, Weddings, Wine Tours, Michigan, Beach, Vacation, Leelanau, Close to M-22, Very Private, Sorry No Pets ATTENTION: Northport Creek Golf and Tucker's Boutique Bowling....Yes right in Northport, MI 8 minutes away... Fun Fun FUN !!!
Art der Unterkunft
Ganze Unterkunft
---
Objekttyp
Haus
---
Unterkunft für
12
---
Schlafzimmer
Suttons Bay, Michigan, Vereinigte Staaten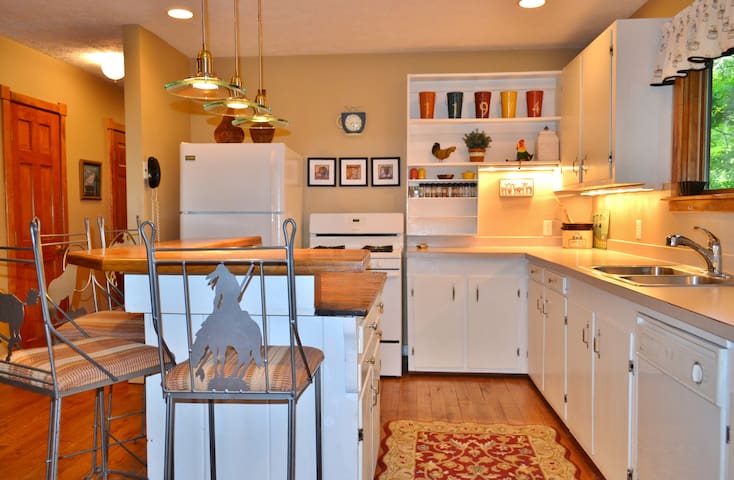 Next to a cherry orchard, this 1900s farmhouse sits on 20 rolling acres in the heart of the Leelanau Peninsula, close to the famously beautiful beaches, small towns and activities. Perfect for gatherings with plenty of idyllic outdoor space.
Adjacent to a magnificent cherry orchard and surrounded by herb and flower gardens, this country farmhouse is central to the Leelanau Peninsula's vast and legendary vacation offerings -- beaches, towns, farmer's markets, farms, kayaking, hiking. On 20 rolling acres, the five-bedroom farmhouse, with three separate, well-designed living areas, is a haven for large groups of family or friends looking for a relaxing, rural home base, quietly tucked away from it all. Dine under 100-year-old trees, take a nap in the hammock, or spend all evening in one of the many rocking chairs lining the wrap-around front porch with views that stretch across farmland, orchard and tall meadow grasses. With so much space to run, play, roam, explore, pick apples, climb trees, catch fireflies, this magical country spot is a dream for families with children -- well-tested by my very own. Downtown Suttons Bay is just five minutes away, and Tandem Ciders and the Nine Bean Rows Bakery are also within a five-minute drive. BEDROOMS // 1 // There is a downstairs master bedroom with a king bed and an adjoining bathroom with shower. 2 // Queen bed with soft, heavy sheets and a vintage bedspread, a wool blanket from a Michigan sheep farm, and the most lovely light. 3 // Twin beds with down comforters, organic sheets and handmade quilts from Fait La Force. Extra room for playing and reading. Magnificent views of the fields. 4 + 5 // Queen bed suite with an adjoining, separate bedroom with two additional twin beds. Organic, comfortable linens. KITCHEN // Simple, well-stocked kitchen with sharp knives, plenty of dinnerware, cloth napkins, and pots and pans. The window view over the farmhouse sink is glorious. WRAP-AROUND FRONT PORCH // In authentic farmhouse spirit, the spacious wrap-around front porch is filled with rocking chairs, wicker furniture and a porch swing. OUTDOORS // Birch woods, fruit trees, neighboring cherry orchards, great foraging and a help-yourself kitchen garden. Tree swing, rolling hills, tall grasses, wildflowers. Vegetable and herb gardens. There's an outdoor table and seating area within close proximity to the kitchen door, under a canopy of trees. LIBRARY // The library is full of books dedicated to gardening, poetry, handcraft and fiction. There's also a magical selection of children's books. You are welcome to read books while you are there, but please leave them for everyone to enjoy. GROUPS // The property and space is an ideal location for events, small gatherings and workshops. Large weddings are not permitted.
My husband and I (and now, our three children) have been visiting the Leelanau Peninsula every season for nearly a decade. I have also written about the area for Martha Stewart Living and would be happy to share my regular haunts, from favorite farmstands and farmer's markets to the best croissants and locally-made hard apple cider in town. Excerpt: "On the Leelanau Peninsula -- a 30-mile spit of land jutting northeast into Lake Michigan -- the days feel longer, the fish tastes fresher, and the food lovers are still blessedly unpretentious. The white-sand beaches of Sleeping Bear Dunes National Lakeshore are legendary, featuring powdery dunes, some more than 200 feet high."
My family and I just spent Christmas there and everything was absolutely perfect! The farmhouse is a gorgeous place and exceeded our expectations. It was very warm and cozy. Meghan provided us with excellent recommendations for dining and sightseeing. The drive to sleeping bear dunes was totally worth it! I can imagine the property is stunning in the summer, but we also loved looking at the snow covered orchards. Every detail of the house was beautiful. I highly recommend staying there!
Maria
2016-12-27T00:00:00Z
We stayed at the farm two nights. Meghan was flexible and allowed us to check in early since we were hosting a rehearsal dinner for 21 people. The large kitchen and dining area was ideal for the event. While the kitchen is well equipped, we rented our own dishes, flatware and glasses, and the event went off without a hitch. The farm is rustic and historic and we frankly like that. The setting is beautiful with an historic barn and long driveway.
David
2015-09-14T00:00:00Z
Absolutely beautiful spot, couldn't have asked for a more lovely place to experience Leelanau. Meghan was a wonderful host. Very clear communication and provides everything you need at the place.
Lindsay
2015-10-19T00:00:00Z
The farmhouse is quiet and cozy in the winter. We loved cooking up our big meals in the well equipped kitchen. We had fun exploring the dunes off season.
sandi
2017-02-20T00:00:00Z
We absolutely loved Meghan's house! We were charmed from the moment we walked in and saw the amazingly decorated sun porch. Meghan sent us a list of area recommendations (not that we needed it - we could find the wineries!). The house easily accommodated the 4 of us, and could have held more. She was easily contacted when we needed to and took care of us so well. We are thinking of making this a yearly trip - thanks!!!
Cheryl
2015-09-21T00:00:00Z
Our stay at Meghan's place was absolutely delightful. We found everything we needed at the house, and Meghan's recommendations for local eats and activities were also very helpful. It was so serene and quiet, but also very practical and comfortable. We were able to comfortably sleep 10 people. Each room was charming and unique, and there were so many subtle details about the home that we loved. We will definitely stay there again if we are back up north!
Michael
2016-01-03T00:00:00Z
Excellent place in the perfect location almost exactly between Suttons Bay and Northport. If you're traveling to the leelanau peninsula in a group, Meghan's farm house is hands down way more comfortable and fun than trying to put everyone up in hotel rooms. Meghan is also a very friendly and helpful host; sad we only got to speak to her on the phone!
Ryan
2015-09-28T00:00:00Z
It was a beautiful place to stay for the weekend. The place was wonderfully set up for our arrival, so thoughtfully decorated and well cleaned and stocked. There were many beautiful and thoughtful accents throughout the home. It was really the perfect place for the weekend, and could have comfortably slept 10 people!
Blair
2015-09-07T00:00:00Z
Art der Unterkunft
Ganze Unterkunft
---
Objekttyp
Haus
---
Unterkunft für
10
---
Schlafzimmer
Suttons Bay, Michigan, Vereinigte Staaten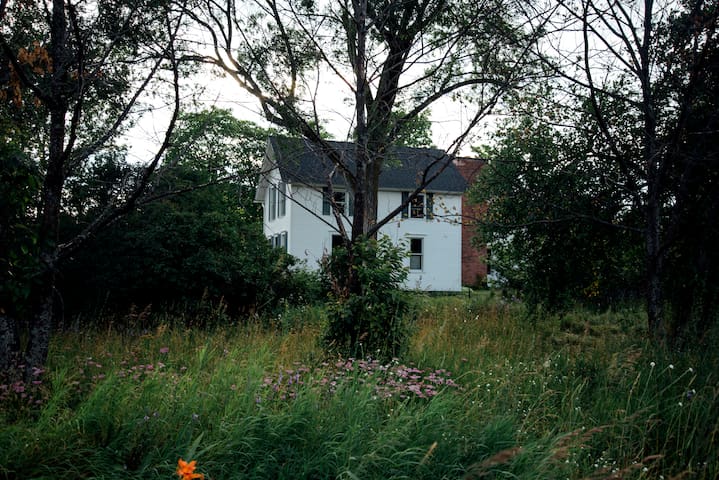 The ground floor studio is part of our house but has a separate outside entrance. Private path & 2 minute walk to "downtown" Omena & public beach. Open seasonal only June through mid Oct. Holiday weekends require 3 nights stay.
We resided in Nairobi, Kenya for 14 years and our decor exhibits a flavour of East Africa. Kitchen includes mini fridge, microwave, toaster oven, drip style coffee maker, coffee grinder , electric kettle, dishes, utensils, - no stove top or oven, all linens but take along your own beach towels please. Private patio for your use as well as the back yard.
Our unit is only a 1/2 block walk to downtown Omena - the beautiful winery of Leelanau Cellars, Tamarack Gallery featuring Michigan artists, Knot Just A Bar, Omena Public Beach, Omena Country Store, US Post Office and the Omena Historical Museum. Or head up the road 2 miles to the Indian Village of Pshawbestown and the casino or take in the once a summer traditional Pow Wow. A 10 minute drive takes you to either Suttons Bay or Northport.
Ein wunderbarer Garten mit Zugang zum See. Gemütliches Appartement.
Margret
2016-07-16T00:00:00Z
We loved everything about the two nights we spent in Omena. Keith and Georgie were very gracious hosts, and their home is a relaxing oasis. The space is large and quiet. We slept both nights with the windows open in the middle of summer, as the nights got quite cool and breezy (so no A/C was not a problem at all). The bed was by far the most comfortable we had on our trip! The sitting area also provides a great space to lounge during the day. Probably the best part of the location is the 90 second walk to a small beach on Omena Bay. We discovered the path by accident but then used it several times to take a dip in the beautiful waters of the Bay (off Lake Michigan). The small path to the beach also makes it a quick walk into the very small town of Omena - one restaurant and a general store, so basics only, but perfect if you're looking for a relaxing couple of days. Omena is also a short drive (30-45 mins) from Traverse City, wineries on the Leelenau Peninsula, and parts of the Lake Michigan lakeshore including Sleeping Bear Dunes. If you're looking for more than is available in Omena, it's easy to find. Keith and Georgie were also lovely hosts. They left us to ourselves but were very attentive on arrival and departure and offered whatever other assistance we needed. We would recommend their home to anyone looking for a very relaxing stay in a beautiful part of Michigan!
Jefferson
2016-08-18T00:00:00Z
My sister and I stayed here for a weekend and thoroughly enjoyed it. It's in a great spot within walking distance from the little town of Omena. The space is just as pictured. Very comfortable and cozy with lots of big windows. Keith and Georgie were great hosts.....you can tell they really try to add little touches to make guests feel extra special. We would definitely stay here again! It was a great find!
Michelle
2016-06-13T00:00:00Z
Georgia & Keith were wonderful hosts! They greeted us upon our arrival and were very helpful in telling us about the apartment and area activities. The apartment is very charming and comfortable! The weather was quite cold and rainy and Georgie provided an extra comforter. We highly recommend staying with Georgie and Keith! We look forward to coming back soon! Carey and Fred Idema. Douglas, MI
carey
2016-09-12T00:00:00Z
A great place to stay. The host's direction were helpful, they had great communication, and were always available and responsive. The place was clean and inviting, and perfect for a getaway to relax. The location between Northport and Traverse City was great and easy to find. Short stroll to Omena beach and close to M22. Would highly recommend.
Mark
2016-09-19T00:00:00Z
A beautiful beautiful beautiful little suite. We especially loved the floor-to-ceiling windows opening out into the yard and the trees. And Georgie and Kieth were warm and dedicated hosts. After we checked out, Georgie found that we'd left a jacket in the closet, and she tracked us down at breakfast in Northport 15 miles away to return it to us!
Catherine
2015-10-12T00:00:00Z
Keith and Georgie were so helpful! We booked their listing for our wedding DJ, and he loved the apartment. They were friendly and helped us find other local listings as well.
Daniel
2016-07-25T00:00:00Z
We really enjoyed the setting and accommodations. Keith and Georgie are very considerate and helpful hosts. Omena is a lovely town and we look forward to coming back.
Kim
2016-10-16T00:00:00Z
Art der Unterkunft
Ganze Unterkunft
---
Objekttyp
Haus
---
Unterkunft für
2
---
Schlafzimmer
Northport, Michigan, Vereinigte Staaten
My place is close to parks, great views, restaurants and dining, the beach, movie theater, hiking, ski resorts, bars, library, shopping and wineries . You'll love my place because of the comfy bed, the coziness, the location to all the wonderful sites of Leelanau County. My place is good for couples, solo adventurers, business travelers, and families (with kids).
The downstairs has a beautiful full kitchen, master bedroom, master bathroom, study, living room and 1/2 bathroom. The upstairs includes two bedrooms ( 1 Queen & 2 Twins) and a bathroom with a shower/bath. The house has a two car garage, available for parking. We have a beautiful front and back yard perfect for cooking out and playing games.
Art der Unterkunft
Ganze Unterkunft
---
Objekttyp
Haus
---
Unterkunft für
10
---
Schlafzimmer
Suttons Bay, Michigan, Vereinigte Staaten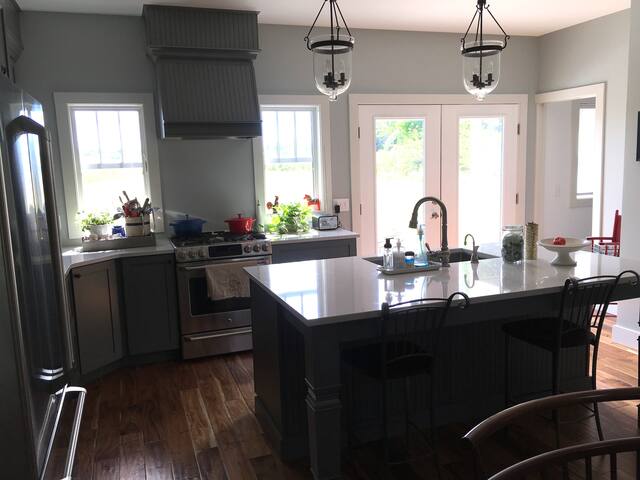 Our place is a 5 min walk to downtown Northport & beach. We're a few miles from Leelanau State Park & Lighthouse. Suttons Bay & Leland are 15 mins. Traverse is about 40 mins. Northport offers restaurants, bowling, a brewery w/ a food truck, marina, beach, park, and shopping! You'll love my place because of of the location, the space, the simplicity, and the privacy. You have a fridge & microwave. Couples, solo adventurers, business travelers, and families (with kids) are all welcome!
We had a great time this past weekend staying at this house. It was very clean and Jessica did a great job making sure that we easily had the keys on arrival, etc. The location was excellent! Thanks so much!
Liz
2016-10-22T00:00:00Z
Jessica and Mitch were awesome! They were there to greet me, and recommended going to the Concert in the Park (which I was thrilled to find out went until 10!). Their home is just a couple of blocks from downtown. Northport is so pretty! A couple of bars/restaurants, shopping, water... Loved it! Great idea for breakfast in the morning. Loved The Redheads!!
Michelle
2016-07-24T00:00:00Z
Jessica is a friendly and helpful host. This area is just a block or 2 away from the hub-bub of Northport.
Lillian
2016-10-16T00:00:00Z
Jessica and Mitch were great hosts and the place was just what we were looking for. Fantastic location, quiet and close to downtown (we were able to walk it in about five minutes). Highly recommended.
Brian
2016-09-25T00:00:00Z
Our host was very friendly and helpful! She texted us directions and details about when she would be easily reachable and made the whole process smooth!
Hannah
2016-09-12T00:00:00Z
I really enjoyed the Hernandez Hideaway and Northern Michigan! I was in the area for a family reunion in Lake Leelanau and it was my first time in that part of Michigan – so beautiful. The location was great, being a quick 20 minutes from the family festivities, but also close to many seriously adorable towns, restaurants, wineries, farm markets, parks and of course the lakes. Mitch and Jessica were helpful and friendly hosts. The room was spacious, very clean and comfortably decorated, essentially a private suite. I didn't want to leave and I look forward to coming back.
Jeri
2016-08-08T00:00:00Z
Stayed here for a few nights both for work and for fun. Jessica and Mitch made it a point to meet me as I arrived and show me the home. It's large and spacious, although the room I stayed in was more or less its own little suite so I didn't really spend time in the rest of the house. Hosts were lovely, I even got to meet some family members who came by and everyone made me feel welcome and offered food and sightseeing suggestions. It's right by the shops/food/etc in Northport so it's a beautiful home base as you explore the Leelanau Peninsula. Thanks Jessica and Mitch!
Lucy
2016-07-18T00:00:00Z
The space was perfect. Like a private suite right inside of the back door. Very comfortable bed and nice shower. Plenty of room. Jessica was very nice and welcoming.
Kyle
2016-08-28T00:00:00Z
Art der Unterkunft
Privatzimmer
---
Objekttyp
Haus
---
Unterkunft für
3
---
Schlafzimmer
Northport, Michigan, Vereinigte Staaten
A 1900's farmhouse fully updated with modern amenities. Centrally located near quaint towns, beaches, wineries and hiking. Described as a great gathering spot in any season with a kitchen and outdoor space ready to entertain family and friends.
This is a modern house in an old frame, all of the modern amenities with the character of a 100 year old farmstead. Home includes a chefs kitchen, front load washer and dryer, a sauna with a rain shower, radiant floor heat, high speed internet with wifi and three bedrooms with queen beds and private bathrooms. Very peaceful, quiet and private. Fully equipped kitchen includes convection oven, gas cooktop with downdraft, subzero fridgerator/freezer, dishwasher, two stainless steel sinks and all items to create a meal for family and friends. Three bedrooms include queen beds and full baths, main floor bath includes a sauna shower, master bath includes a claw foot tub, third bath has a euro style shower. High thread count white cotton sheets are included in each room. White hotel towels are provided in each bathroom. Two heavy white hotel style bath robes are available in each second floor room. Lower level entertainment room includes comfy seating, a flat screen television, DVD player and an Apple TV. Outdoor living includes vegetable gardens, free range chickens, outdoor kitchen, farm table dining with seating for 12, outdoor fireplace, a hammock under the large chestnut tree behind the house and a view of the islands from the crest of the hill. Check out a recent review of the house at DesignTripper. Local attractions include beaches with incredibly clear water and three marinas with 5 miles. Restaurants nearby including the Happy Hour less than a mile away, quaint small towns including historic Fishtown in Leland. Enjoy days at local wineries, award winning cheese makers, farm markets, beaches, boating, fishing, and much more. The house is yours during your stay, enjoy and relax. Text and AirBnB messaging is preferred. Instagram, hashtag your photos to modernfarmhaus
This house was so perfect! We walked in and everything was set for us, including robes for all the guest! Such a cute little treat! It was really better than we all expected. We defiantly will be looking into using this house again, the privacy was great, the view was amazing, and the clean, modern house was spacious and clean!
Morgan
2016-03-20T00:00:00Z
What a magical week that my family and I spent at the farm. My daughters (3 & 5) woke up each morning to 'check on the chickens,' and delighted in the open space and garden. The house was immaculate, with smart and warm touches throughout. We had easy access to Traverse City, Sleeping Bear, and up to Northport. Sean was/is a consummate professional host, and did not leave anything unattended. His attention and style speaks volumes, and as such, has raised the bar for all other vacation spots. If every vacation home was this fantastic, we would all run away from our everyday lives. Thank you Sean!!!
Chantal
2014-08-30T00:00:00Z
As always the Farmhouse was fabulous for our small group of friends to relax and get away (without getting too far away).
Josh
2017-02-27T00:00:00Z
We just had an amazing wintry trip to Northport, MI! This modern farmhouse was so cozy, and charming, but also well-equipped and comfortable, with lots of modern conveniences. Sean was super easy to reach, and very communicative, and check-in could not have been easier. I've never seen such a well-equipped kitchen in an airbnb or rental house- there was even a pasta maker! This house gave us great family memories in northern MI, and we were lucky enough to witness the first snows of the season!
Karyn
2016-12-11T00:00:00Z
The farmhouse was simply beautiful, with the perfect combination of rustic charm and modern amenities and furnishings. The location is perfect for some wine tasting and exploring the area, with easy access to downtown Northport and Sutton's Bay for cute shops and dining. Sean has everything very organized and makes you feel right at home. Great place to stay in the winter or summer. Had a great time, would definitely stay again!
Gemma
2017-01-22T00:00:00Z
This was my second time back and as always it was wonderful. Sean even checked in to make sure we got settled in. We will definitely be back again!
Sara
2014-11-23T00:00:00Z
My husband and I made a trip with our dog, from Chicago to Sean's home. The drive alone as you approach the home puts you in a state of relaxation, but upon arriving into the driveway, you will fall in love immediately. Inside the home is set perfectly for a couple, or group of friends to getaway for a few days. Being at the home and exploring the surrounding areas met every expectation we had for our getaway. Simply put, it was perfection and we can't thank Sean enough for opening his home to us. We can not wait to come back and can guarantee you will not be disappointed staying here!
Katie
2016-10-25T00:00:00Z
Sean was instantaneous in his booking and response to any questions. The house was a beautifully conceived renovated farmhouse with creative tasteful choices though out. Would love to see it in the summer, but being snowbound in the country with a wood stove and a sauna was still great. Wonderful stay and great host!
Gene & Margie
2015-02-18T00:00:00Z
Art der Unterkunft
Ganze Unterkunft
---
Objekttyp
Haus
---
Unterkunft für
6
---
Schlafzimmer
Northport, Michigan, Vereinigte Staaten
Amazing vacation spot. Modern architectural style. Wooded private 10 acre lot. 2 miles from Lake MI beach access View of Lake MI on property with trails for hiking Built in 2015 4 mi. from downtown Northport On Instagram at #northportmodernbarn 8 person hot tub available in Spring 2017.
Arriving in the spring (2017), there will be an 8 person hot tub on the back deck.
Great first experience with using air bnb.
Jessica
2016-10-17T00:00:00Z
Tiffany's space is perfect. We had a group of 8 and all agreed that we never felt on top of each other at all. The photos of the location do not reflect how beautiful and spacious it truly is. The modern barn house is a unique design that lets in beautiful light and views to truly enjoy getting away. The kitchen is fully stocked with anything and everything that you might need to cook with - which our group thoroughly enjoyed doing. Even a marshmallow roasting poker for s'mores was available. The big kitchen table allowed for group meals and lots of games to be played. The home is secluded enough to enjoy the outdoors, but also close drive to Northport and Sutton's Bay for day trips, and within walking distance to get to the beach. We enjoyed local spots like Tandem Ciders and Hop Lot, and then could come back and settle in for a cozy night. For us, it was the perfect location to getaway. And the best part is we could have our four-legged friend in tow to really make it feel like a home away from home. Our group could not stop raving about the cabin and how we cannot wait to return. We were able to make some great memories here. Thanks, Tiffany for being a WONDERFULLY prepared and communicative host so we could relax and enjoy to the fullest!
Meaghan
2017-01-02T00:00:00Z
We had a wonderful weekend at Tiffany's place! We were looking for something off the beaten path where we could take our dogs hiking, enjoy the beautiful local scenery and visit a few wineries. This was the perfect spot. Everything was clean, communication was great and overall the barn house was exactly what we were looking for. We are already excited to get back up during the summer! Would definitely recommend!
Ellen
2017-02-26T00:00:00Z
I think the constant communication made us feel so well taken care of. Instead of strangers, we were extended family. You don't meet people like Tiffany very often. Just the kindest person. Her home was as bright and cheery as she was. The attention to detail was an unexpected surprise. All the decorative touches worked together with the rustic setting. It was like staying in a Pottery Barn show room! The kitchen was completely stocked and ready for any cooking that we needed to do. There wasn't anything she didn't think of. The beds were hands down the most comfortable beds I have ever slept in. Best Airbnb experience I have ever had!
Carol
2016-12-22T00:00:00Z
We had a wonderful stay! Spent 8 nights at the modern barn, it is conveniently located to all our favorite spots. Visited the beach at least once if not twice everyday. Frequented all the usual stops in the local towns near by. The home was comfortable and clean, hope to be back again someday!
Megghan
2016-09-18T00:00:00Z
Wonderful location great rental! Tiffany was quick with communication and defiantly wants you to enjoy your stay. Minimalist but very comfortable. We had 2 in our party so we did not require much. Beautiful grounds! Great location! I see it getting better and better for renters as this is a fairly new listing! Tiffany is very accommodating! We loved the pumpkins on the coffee table adding a quant touch to the fall decor! It was a lovely weekend in Northport! Enjoy if you rent we did!
Cheryl
2016-10-24T00:00:00Z
Tiffany's place is ideal in every way for anyone looking to stay on the Leelanau Peninsula. Great location and a very beautiful house. We were very comfortable the entire time and we had everything that we needed. We will 100% be booking again. Thanks Tiffany!
Thaddeus
2016-09-20T00:00:00Z
The barn is great!! The overall experience was great as well. We ran into a fee minor problems but Tiffany addressed them promptly. The a/c stopped working, she sent a repair man put immediately. The ice cube maker in the fridge had not been connected yet so just a warning in advance you may want to grab a bag of ice for your drinks and such on the way. The boys loved climbing on the stack of tree logs behind the cabin! The WiFi and Netflix never worked for us but hey you go up north to disconnect. My only complaint would be that I wish the area around the fire pit was cleaned up a bit more it was not very comfortable to sit around the fire in the over grown flowers (which were beautiful). Be sure to bring your chairs as therected is not outdoor seating aside from some tree stumps. I also wished there would've been a picnic table for eating outside, but however since this is a newer property they plan to add a patio in the future. As for location it's great! Short drive to the beach, and northport is a great town!! I however do not recommend the Tom's market in town near the bay. Not very clean no good prodcue and very over priced. The grocery store in the opposite direction towards vans beach (which is the same distance away) was much nicer!! Wish I would've found it before I spent the money we did at Tom's. But hey you live you learn! We all lover the barn and Tiffany was great to work with! Our only disappointment was the lack of open area for the kids to play outside. There's plenty of space just no where really to throw a ball, fly a kite etc. But I will say we would definitely stay there again!!!
Kacie
2016-08-05T00:00:00Z
Art der Unterkunft
Ganze Unterkunft
---
Objekttyp
Haus
---
Unterkunft für
8
---
Schlafzimmer
Northport, Michigan, Vereinigte Staaten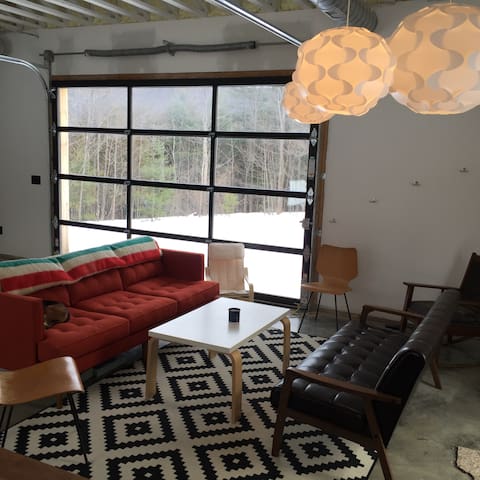 Omena farmhouse with mid-century furniture abuts a gorgeous orchard. 3 acre lot & playfield. 1/2 mile to Omena bay, beach, restaurant, gallery, winery. Perfect combination of privacy and access. Sun-filled home with private master suite and bath.
This Omena farmhouse is a quick half-mile walk down a wooded country lane to the beach, Knot Just a Bar, Leelanau Cellars winery, and all that downtown Omena has to offer. The house itself sits on nearly private road with just one neighbor. It is nestled into the woods on one side, and apple and cherry orchards on the others. Depending on the time of year, you'll see wild turkeys, deer, black squirrels and a wide variety of birds. The vibe is Edenic. Our lot is 3 acres, with a gigantic mowed play field, patio, grill and terrific outdoor space for croquet, cross country skiing, volleyball, frisbee, etc. As the photos display, it is a classic farmhouse, updated with modern amenities. The master suite features a large bedroom with queen sized bed and bathroom with shower and laundry. It is on the first floor. The other 3 bedrooms are on the second floor. We love the house and want you to enjoy it as much as we do.
Omena is a tiny, beautiful town between the small towns of Suttons Bay and Northport. Both of those towns are a short drive from our place. Omena Bay is among the most gorgeous sites in all of Leelanau County. The walk around Omena Point Road is idyllic. We're within close driving distance to the many amazing things Leelanau County has to offer. From the charm of Fishtown and Northport, the restaurants of Suttons Bay and the jaw-dropping beauty of Empire and Sleeping Bear Dunes, it is all close at hand. We're happy to suggest our favorite hikes, hidden beaches, bars, restaurants, family spots, etc.
We were welcomed to the home with a bottle of wine and note card with my name on it so I knew it was a gift to me. The house "felt like home". It was very inviting. The large dining table was great. It enabled us to all sit together and eat. The location was great. We really enjoyed the area. We would recommend the home without reservation. It was very nice.
Sue
2016-06-20T00:00:00Z
The house was larger than we expected which was an awesome little surprise. The location is very quite and while it is a drive to most area attractions the drive is well worth it as the scenery is beautiful.
Jason
2016-09-06T00:00:00Z
Our family of 7, including our newborn son, stayed a week over the 4th of July holiday. The house was spacious and clean, well stocked with everything you could possibly need. Very comfortable accommodations and lots of games, TV, radio for entertainment. A perfect home away from home in a gorgeous setting with cherry orchards surrounding the house and the lake right up the road. It is close distance to all of the best Leelanau Peninsula attractions. Matt even left a welcome card and nice bottle of wine waiting for us when we got there. Great place for a great vacation, highly recommend renting.
Stephany
2016-07-10T00:00:00Z
Absolutely wonderful experience from the start! Matt kept us informed of everything we needed to find the house and enjoy our stay. The house was beautiful and is set in a peaceful area. The beds were comfortable and though the evenings were starting to get chilly, the house was warm and cozy. Lots of space for a big family and the view out the back of the house is great. The kitchen is spacious and the dining room table is roomy enough for large groups. Our group of seven never felt crowded. I would really recommend a walk around the property, especially mid-October when the trees are turning, you will not regret it. Don't think twice, this was a fantastic place to stay!
Joe
2016-10-24T00:00:00Z
My husband, our friend, and our dog all stayed at Matt and Kelli's farmhouse for four nights. We had an incredible stay. Matt was easy to communicate with and was sweet enough to have a bottle of wine waiting for us upon our arrival. The farmhouse was perfect! The interior was even better than the photographs, but my favorite part was Matt and Kelli's yard. The deck was large, and we spent quite a bit of our time outside. We also spent time walking the grounds while bird watching. We would love to return!
Ifigenia
2016-06-17T00:00:00Z
Our stay at the beautiful farmhouse was everything we hoped it would be. Tucked away on a dead end street and right near an orchard made it super relaxing and beautiful. The decor of the house is thoughtful and unique and as a designer I appreciated every small touch. Our family would definitely stay here again!
Christina
2016-09-23T00:00:00Z
We loved staying at this farmhouse and it had everything we needed. Matt and his wife graciously gifted us with a bottle of wine and wished us luck on our marathon. The house was really clean and it's in a great location and not far away from a lot of great spots.
Chad
2016-05-30T00:00:00Z
Very nice farmhouse on an apple orchard. Quiet neighborhood, great place to relax. We did have an issue with the heat but Matt sent someone to fix it the next morning. We would stay here again if we are in the area.
Timothy
2016-09-27T00:00:00Z
Art der Unterkunft
Ganze Unterkunft
---
Objekttyp
Haus
---
Unterkunft für
8
---
Schlafzimmer
Northport, Michigan, Vereinigte Staaten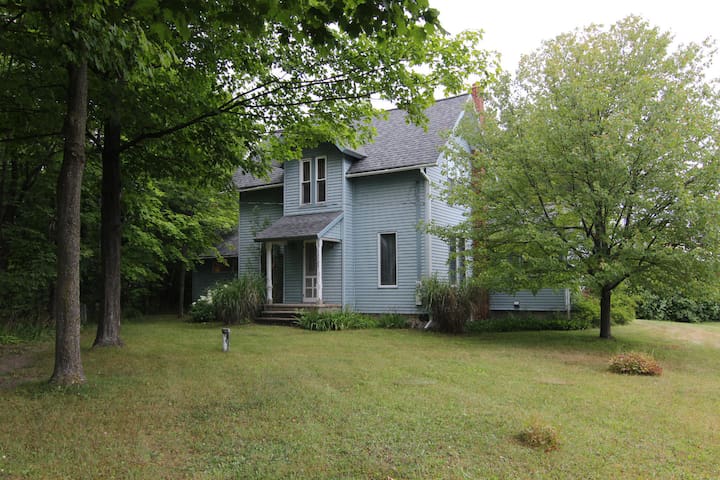 Ahhhh... relax .. Clean modern guestroom 1 mile from Northport. Huge super soft king bed. Premium bedding & towels. TV, fridge, AC, WIFI, all you can eat breakfast buffet . Shared bathroom. Lovely morning sunrises in dining room, Outside decks for relaxing. Great local beaches, great hiking trails & shopping. Knowledgeable friendly hosts. Local trail maps in room. LGBTQ & 420 friendly.
OPEN ALL YEAR. Fun friendly place to stay with (real) people. The perfect 1 or 2 night stay. The perfect mix of everything you are looking for. The perfect big soft bed for big time relaxing. Friendly relaxing breakfast buffet with great view. All you can eat. Freedom to come & go as you please. 24 hour check in. Daily maid service avail w/ tip for host. Welcome friend, to Apricot Ascension Room w/breakfast ! For Nice/kind /Cool people.... who love the friendly and fascinating airbnb experience. Laid back atmosphere. LGBTQ friendly. 420 friendly. Super yummy breakfast.! Special requests welcome. Share your recipes. Special birthday & anniversary treats. Just ask. Host will warmly check you in 24/7 Call 5 or 10 minutes prior to arrival (PHONE NUMBER HIDDEN) Late check in ok -- -- tip host please . Hosts are cool nice people, down to earth, real. You can relax and be yourself here. Daily maid service available w/ tip for host. Huge king bed, extra soft over padded. Premium linens , big jumbo soft pillows. Perfect even for the tallest guest. Big soft premium bath towels. Premium white towels in room. More towels in bathroom Beach towels available. Daily maid service avail w/ tip for host. Premium Dish TV. Perfect size fridge. Awesome air conditioning, Wonderful big bright sunlit windows. Convenient work desk, Large full size nice closet. Great little library in room. Daily maid service avail w/ tip for host. Shares bathroom with Blueberry Bliss. This room comes with free breakfast buffet opening at 7am. You may help yourself ... anytime. Beautiful morning sunrises in dining room. ... Sit on nice (EAST) facing deck. Just outside the dining room. Amazing sunrises over grand traverse bay ! Many songbirds sing for you each morning. ... Sit on nice (WEST ) facing deck. Cool relaxing fresh, relaxing country air. Perfect star gazing ... Come and go as you please No curfew. Enjoy great local beaches. Enjoy great hiking trails & shopping. Enjoy local tips from knowledgeable friendly hosts. .... Please NO eating in the room ! Drink only clear liquids in room. Do NOT stain white bedding ! You will be charged replacement cost for stained items. You may drink (clear) liquids in room All stains will result in reimbursement charges to guest ! Comforters 300 dollars. Towels 45 dollars apiece Washcloths 18 dollars apiece. ..... Do NOT place luggage on white bed ! Please use closet for all luggage. Shoes OFF at home entry door PLEASE. ... Do NOT roll bags thru lawn No dirt , grass etc. Do NOT put luggage on bed. All stains to bedding will result in cleaning charges. If stain cannot be removed -- replacement cost will be charged. _________________________ You are welcome to go out and drink at the local bars -- but you are not welcome to bring people back ...( to this home ) ... with you. Especially late at night. located one mile south of Northport Michigan On Casperson road. 11560 E. Casperson Rd. Sign at driveway says Wildflower lane. Sign at driveway says Airbnb. No pets. No kids. Adults only......... nice/cool adults only. Same property as Blueberry Room , Windsong , View-ta-ful & Serenity. Use this link for local hiking trail map from leelanau conservancy---- they are really nice hiking trails !! (URL HIDDEN) Click here to rent kyaks/bikes/paddleboards North Shore Outfitters -- they will deliver rentals to your destination lake/river etc (URL HIDDEN) Pizza Take out at corner gas station downtown Northport is pretty good .............Ice cream window at tribune cafe across from post office is super good .....Bowling , arcade, bar and restaurant at Tuckers......downtown northport one mile away.......free farmers market friday mornings......and Free music at marina every friday night. There is also a really great little brewery downtown Northport with a fabulous food truck .....called earth wind and fryer -- chic hippy food with a flair for creativity and all organically wonderful !! Tuckers downtown Northport has a cool bowling alley - arcade and bar and restaurant too ..... sometimes a band Best dinner town is Garage bar and grill - downtown Northport. Destination address.....11560 E. Casperson Rd.....Driveway sign says "" Wildflower lane"".......Northport Michigan (PHONE NUMBER HIDDEN)....Follow airbnb signs from M22.........Follow airbnb signs from M22 This rental is located in a nice house but also a working company !! We are Leelanau Tree Service..........We have logs and logging equipment around the property. ... This will (( not )) affect your stay at all. Just be cool.......and........expect to see logs when you pull up to the house and please dont complain about them. Normal check in is 4pm to 6pm . Late check ins ok yes allowed.. ........tip for host ! The later the arrival......the larger the tip ! Call 5 minutes prior to arrival.......Repeat.....(( call )) 5 or 10 minutes prior to arrival. Host will meet you in the driveway......show you where to park and bring you to your rental.........ShaSha..(URL HIDDEN) nice ...... and we will be super cool to you. 4 wheel drive needed for winter months Be nice and think if you were letting strangers into your home .... how would you want them to behave ? Be (URL HIDDEN) real.... and be clean .......and we will be thrilled to have you.....and spoil you in any way we can think of ! Thank you for your interest. We will be honored to have you in our home. We want your stay with us to be special. We want you to feel special while you stay here. Thank you for choosing us ! . Very popular -- Local wine tour bus To reserve your Leelanau wine tour today call (PHONE NUMBER HIDDEN).
Beautiful country setting ..... Best -- coolest Airbnb in Northport !..... LGBTQ & 420 friendly..... Easy to find.....1 mile from Northport Michigan..... Only one block off M22 on Casperson Road...... Airbnb sign at M22 & Casperson Road...... Airbnb sign also at driveway entrance........... Airbnb sign also 1/2 way up driveway. Great local restaurants / shopping / wine tours To reserve your Leelanau wine tour today call (PHONE NUMBER HIDDEN). BEST AIRBNB IN NORTHPORT !..... Coolest nicest people.......coolest nicest hosts....... Only nice cool people........ Join hosts for awesome boating...... One big boat for fishing. ..... One big fancier boat for cruising/festivals/play...... Adults only..... nice cool adults only. We want your stay with us to be special. We want you to feel special while you stay here. Thank you for choosing us ! Special requests welcome.
Sha Sha was very welcoming and talkative, gaving us all the infromations we need to visit the area and help us to plan our visit... It's a pity that we stand a single night we would have realy enjoyed to stay more! The house and all northport zone is an absolute beauty! We definitely recomand that place!
Maxime
2016-08-17T00:00:00Z
Sha Sha was a great host, showed us where to park and met us after we called 10 mins before arriving. The house is part of a lumber company and has pear trees, chickens, and a sweet old dog. Great vibe. Be prepared to share space with different kinds of people as she lives there and rents out multiple rooms, camp sites, and RVs. Deer and rifle decor. Cute breakfast set up. Sha Sha was very sweet and accommodating. I would totally stay again bearing in mind to be 420 friendly and ok interacting with all sorts of different kinds of people.
Dana
2016-09-05T00:00:00Z
We loved our stay up in Northport with Sha Sha. The room was lovely and very well taken care of. You can tell that Sha Sha takes great pride and care not only in her home but how she treats her guest. If you are looking to spend a great weekend up north look no further!
Spencer
2016-10-02T00:00:00Z
Sara is very accommodation helpful and welcoming.. the location was great and about 5 min drive from Northport city and sit out of the house over looks the bay. Perfect if you wish to explore Northport and the surrounds. Peterson park which is close by has great sunset views .. The room was very clean and breakfast was functional and neat coffee fruits yogurt and pastries .. Thanks a lot for making me feel at home .. Sara and Charles.. ! Looking forward to staying with you guys sometime soon..
Rejil
2016-07-20T00:00:00Z
We really loved our stay with Sara. The room was clean, comfortable and exactly what we needed for our weekend in Leelanau. Sara was a great hostess, very friendly and laid back, and we felt right at home. The property is centrally located very near Northport, with a short drive down scenic M-22 to Suttons Bay and Traverse City. Views of the bay from the house are beautiful. I would highly recommend anyone wanting clean, comfortable and affordable accommodations in the area should definitely book with Sara. We loved our stay, and will certainly be back the next time we head up to Leelanau. Thanks again Sara!
Dustin
2016-10-09T00:00:00Z
Sha Sha was very welcoming. She had extra toiletries for our use and extra towels for the beach, very thoughtful. The room was very homey and had everything that we needed with an exception of a mirror in the bedroom. Her home was easy to find. If you are looking for a home that is landscaped this is not for you. If you can overlook the family log business on the outside of the home this reasonably priced bedroom will work for you. Sha Sha had coffee and a light breakfast ready at 7:00 for us. Thank you for opening up your home.
Marianne
2016-07-07T00:00:00Z
Sha Sha was a fantastic host! My boyfriend and I were looking for a stress free and quiet getaway for the weekend, and Sha Sha helped provide all that. The room was spotless, we had towels, and she had basic amenities in case we forgot to pack anything. She even offered us both beach towels to take to the beach with us! She gave us suggestions of places to eat and visit as well. I will definitely be coming back if I ever need another private getaway.
My-Loc
2016-07-05T00:00:00Z
Sha Sha, We had a tremendous time while in Northport, and really enjoyed staying at your place! The bed was so comfortable, and the space very comfortable and relaxed. The coffee/breakfast bar was a wonderful perk, and the view amazing! We will definitely be back!
Patti
2016-07-17T00:00:00Z
Art der Unterkunft
Privatzimmer
---
Objekttyp
Haus
---
Unterkunft für
2
---
Schlafzimmer
Northport, Michigan, Vereinigte Staaten
We are finally putting the finishing touches on the remodel of our century old family farmhouse! We are a working cherry farm located just off scenic M-22 in beautiful Leelanau County, just 2 miles south of downtown Northport. We are close to parks, beaches, marinas, lighthouses, state parks, wineries, microbreweries, bowling, golf course, casino and art galleries. Friday night music in the park, farmers markets and MUCH more! A great place for couples and families (with kids).
Such an amazing stay! Their recently remodeled home is cozy and comfortable. We came with a group of 7 and there was plenty of space and comfort for all. We can't wait to go back! Caryn made sure the home was open upon arrival and greeted us shortly after we arrived. They live close by if we needed anything, which we didn't. Beautiful home with all the conveniences of a home away from home, and a stunning setting. We'll be back! :)
Brandi
2016-10-23T00:00:00Z
This is a GREAT place to stay in Leelanau County! Gary and Caryn are great hosts - they were in touch with me almost as soon as I had booked and stayed in touch throughout the entire process. They were thoughtful enough to let me know about alternate routes to the house because of a car show that was happening in that area at the time, and they made checking in super easy! Gary was kind enough to swing by one morning to make sure we were comfortable with everything and he was a big help with some suggestions about getting around in the area. The house itself was amazing - in fact, the pictures on the site probably don't do it justice. Every room is spacious and well furnished - there's a lot of charm in this house as it's an older place with some newer fixings. All of the bathrooms looked freshly remodeled and everything worked great - in fact, it was really nice because we had 4 people in the house so the 2.5 bathrooms was a big plus! The kitchen is really big - it was one of my favorite parts of the house because there was a lot of room for all of us to hang out and relax while we made stuff to eat - it was fully stocked, too, so no need to bring any kitchenware or anything! We were in town for a wedding and we had everything we needed, right down to a sewing kit and some buttons (which saved the day, actually)! The location was really nice for us because the reception for the wedding was at Aurora Cellars, which was only 10 or 15 minutes away from the house. There's a cherry farm not too far away from the house, as well, and it's a pretty beautiful site if you have the time to explore. Another great part of the location is that you're only 5 minutes away from downtown Northport, which was really cool - lots of cool shops including a really nice bakery, lots of coffee stops, a big market, and a handful of breweries. Long story short: we're definitely going back and renting from Gary and Caryn again. I'm already talking to my family about all of us renting out the house next year for a much longer stay. Great house, great hosts, great time!
Phil
2016-09-18T00:00:00Z
The host canceled this reservation 376 days before arrival. This is an automated posting.
Tracy
2016-07-23T00:00:00Z
Like previous reviews said, the pictures did not do it justice. We absolutely loved our stay here. Gary and Caryn were extremely nice, responsive, and welcoming. They offered to greet us in person and show us around, however we got in late so Gary stopped by the next day to check if we needed anything. They went the extra mile with brochures letting us know places to go and see and personalized notes welcoming us. The house and grounds are beautiful, clean, and conveniently close to downtown Northport. Highly recommended and we will definitely be back to stay again!
Carolyn
2016-10-17T00:00:00Z
We had a great stay at Gary and Caryn's beautiful house! The place is spacious and well-decorated. The host provided everything we might have needed. We loved the indoor fireplace, the hammock in the back yard and the nice and clean kitchen. We met Gary on our arrival and he showed us around the house and gave us suggestions about places to go and things to do. There was also a good collection of travel information and brochures in the house, which we found very helpful. Thanks Gary and Caryn again for having us, and for the local wine and cheese!!
Yundi
2016-09-06T00:00:00Z
Art der Unterkunft
Ganze Unterkunft
---
Objekttyp
Haus
---
Unterkunft für
8
---
Schlafzimmer
Northport, Michigan, Vereinigte Staaten
My place is close to The Beach, Wineries, Small Towns You'll love my place because of Open living areas, French doors in bedrooms to the outside, high ceilings, great lighting, lots of room to hike around property, garden and farm animals. My place is good for couples, families (with kids), and big groups.
Master Bedroom has a jacuzzi bath, rain shower, double vanity, Walk In Closet, large area with TV and chair
You can walk to Greenbird Organic Winery.
Art der Unterkunft
Ganze Unterkunft
---
Objekttyp
Haus
---
Unterkunft für
12
---
Schlafzimmer
Northport, Michigan, Vereinigte Staaten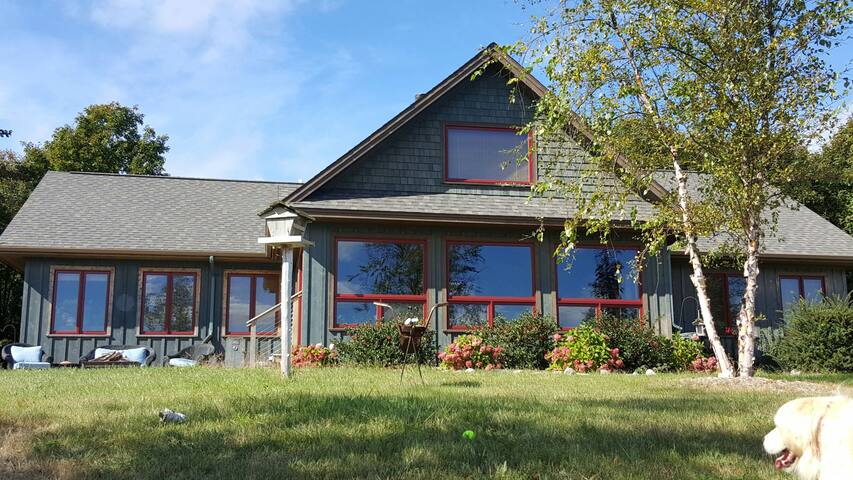 Wake up to the sun streaming through sparkling 2-story windows looking out at Lake MI, 50 yds from the large deck and screened porch. Enjoy the open, spacious Great Room adjoining a fully equipped kitchen surrounded by 2 acres of hardwood forest
An all season house, this comfortable, open space allows you to enjoy the mood of each season, seen through the changes in the lake and the changing foliage of the surrounding forest. In the summer, enjoy dining alfresco on the porch. In winter, keep yourself cozy in the 2-story Great Room.
We love to take our daily walk on the four-mile county road with little traffic and kayak over to Omena Beach. Great shopping and dining is plentiful in historic tourist towns of Leland, Northport, Suttons Bay. Easy driving distance to Sleeping Bear Dunes National Lakeshore which Good Morning America listed as one of the most beautiful places in America. Forty minute drive to Traverse City airport with access to all major hubs. We're in the heart of what is emerging as one of the finest wine-making regions in the mid-US. with dozens of wineries open for tasting. Shop at the weekly farmers' markets that feature the bounty of Leelanau County. Some guests enjoy the proximity to challenging golf courses.
Can't say enough great things about this place! It was a blissful two weeks with family and everyone from our baby to the grandparents enjoyed the peace and beauty of Lake Michigan. Great for swimming and cooking out! We also enjoyed excursions into Suttons Bay, Northport and Traverse City. One thing to note: wifi here is not reliable (which is known upfront) so I brought a mobile hotspot because I (sadly) had to do work. If you need to do work, definitely do the same! We'd stay again in a heartbeat; Lucinda is a warm and wonderful host!
Leslie
2016-08-22T00:00:00Z
The house is in a great setting surrounded by woods with a great view of the water. The house was clean and was stocked with all of the items needed cooking, hanging out and entertainment needs. Communication with owner when we had a very small issue was prompt, friendly and quickly resolved the issue.
Kurt
2016-04-06T00:00:00Z
We had a wonderful stay at the house on Omena Point! It was so inviting and the view from the deck is beautiful! All that stayed at the cottage couldnt not stop saying how we would love to come back. Between the wonderful home, scenery and a host who anwsered any question I had. We would stay at this home again in a heart beat!
Jeni
2014-10-20T00:00:00Z
The house and the beach were just amazing! We loved it! You will definitely want to use the outdoor fire pit for roasting marshmallows and stargazing!
Debra
2015-09-14T00:00:00Z
Thank you Lucinda for an awesome experience! The house was well prepared for myself and the guests included. I only wish we could go back during the summer months to experience the Traverse City Bay! I would definitely recommend this place to a family looking for a remote destination with peace and quiet and great views.
Pat
2015-02-23T00:00:00Z
We had an amazing time at this beautiful home! They had plenty of outdoor chairs for the beach and the beds were super comfortable. Eating breakfast on the screened in porch was a great way to wake up in the morning. The house was super clean and close to everything we wanted to do and the neighbors were super quiet. We barley saw another living soul on the grounds. I do advise bringing a beach cup or plastic for your drinks, because all they have are glad. Also there was an issue with the hot tub but the owner had someone out that day to fix it. They were super responsive and kind to our requests. The house does not have a microwave so be aware of that. Overall we loved loved loved this oasis and would love to come back again!
brooke
2015-07-24T00:00:00Z
What an incredible setting! While we didn't wake up early enough to fully appreciate the sun rising over Grand Traverse Bay, the tranquility and seclusion could not be beat. The owners supply water shoes, making wading/swimming into the somewhat rocky ("shelly"?) waters possible. The kayaks were not available for us, which was a major disappointment, but we did make good use of the canoe. The house is in great shape and was a perfect layout for us, lots of space, good size rooms, etc. Advice if you're looking here, just to be aware of: The wildlife was fantastic (was out for a job and a deer sprang across the road in front of me, saw a family of baby deer grazing, beautiful birds), though the bugs (late June) were pretty over-bearing particularly in the early evening. We ended up driving a fair amount each day to get to the activities we wanted to take advantage of (Sleeping Bear Dunes state park -- 50 minutes away; Interlochen -- 50 minutes away) though there were some closer activities that just didn't fit so well with our family (antiques, Indian casino, etc.).
Jacob
2015-06-24T00:00:00Z
My friends and I really like the house. It is the best for fall break long weekend. I have stayed here twice. The view is so great since it is right at the lake and the house is nice & clean. All the facilities are well-functioned. We have a great time playing some music and BBQ while watching the Saturday college football. I will definitely recommend you to stay if you are planning a trip around traverse city.
IC
2015-10-19T00:00:00Z
Art der Unterkunft
Ganze Unterkunft
---
Objekttyp
Haus
---
Unterkunft für
8
---
Schlafzimmer
Northport, Michigan, Vereinigte Staaten
Our place is close to breathtaking Sleeping Bear Dunes National Lakeshore, amazing hiking/biking trails, great sightseeing trips to nearby Leland/Fishtown, historic Northport and unique Suttons Bay, while taking time to shop, eat, and visit wineries/brewries on the way..
Spacious log home offers comfort, beauty and a variety of things to do. Relax in our sun room while reading one of our many books, swing while taking in the great outdoors and view of Grand Traverse Bay, enjoy a hike, bike or kayak outing. If you are looking for beauty, tranquility and peace you will love Lodge on Omena Point.
Art der Unterkunft
Privatzimmer
---
Objekttyp
Haus
---
Unterkunft für
4
---
Schlafzimmer
Northport, Michigan, Vereinigte Staaten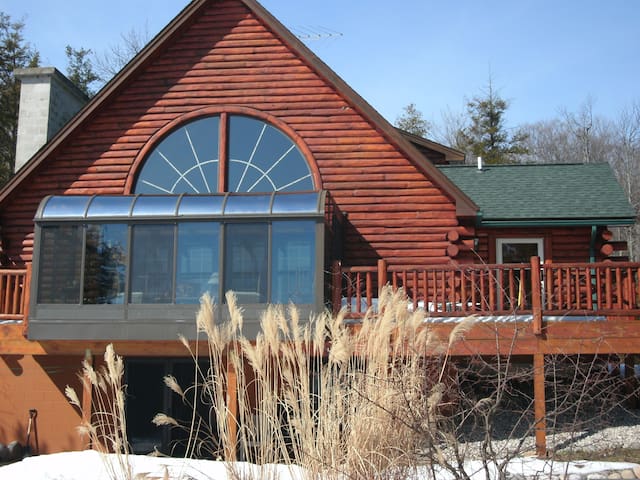 Our place is close to breathtaking Sleeping Bear Dunes National Lakeshore, amazing hiking/biking trails, great sightseeing trips to nearby Leland/Fishtown, historic Northport and unique Suttons Bay, while taking time to shop, eat, and wine/beer taste along the way...
Large, beautiful log home on Grand Traverse Bay.
Beautiful, peaceful and serene setting.
Art der Unterkunft
Privatzimmer
---
Objekttyp
Haus
---
Unterkunft für
4
---
Schlafzimmer
Northport, Michigan, Vereinigte Staaten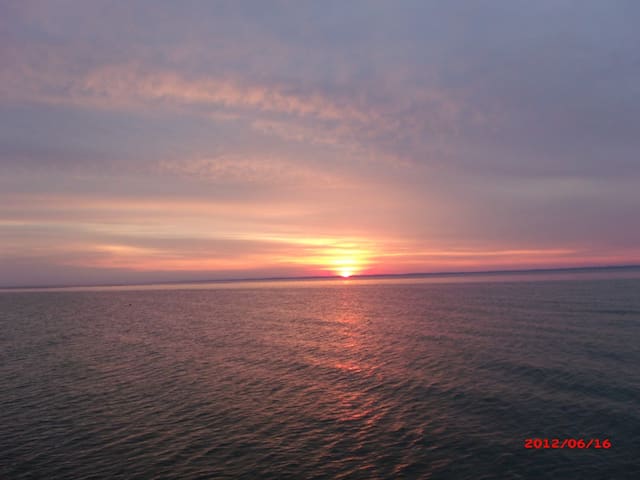 New rental is decorated in white decor .... Pleasant white suite offers .... easy entry ground level unit ..... accented with bits of bright happy color. 2 over padded soft twin beds , large white couch can accommodate one extra guest. One large room - no separate bedrooms. Common space for all guests in one clean white room. Fridge. Microwave. Dining table. Premium tv , WIFI , Private bathroom. Billiard table in entry room. Come and go as you please. No curfew. 1 mi. to Northport.
Welcome Friend ... to this white suite for 2 in beautiful Northport Michigan . Enjoy this private entry level suite. 420 & LGBTQ friendly. 2 super soft twin beds and oversize couch. Designed for 2 but will allow 3. No (URL HIDDEN) common area. Tv, fridge , microwave , coffee maker with coffee. Wifi, AC , heat , private full bath , pool table. Great local hiking trail guide book. OPEN ALL YEAR. Welcome airbnb friends! Shoes off at entry door.
The neighborhood is an upscale agriculture and shoreline proud community with several spectacular beaches , trails , and free spaces maintained by state and federal. Beautiful Northport Michigan offers several very nice restaurants - bowling alley - brew pub - donut shop - marina - art galleries - kayak / paddle board rental shop - and much more ! The Grand Traverse Lighthouse is the oldest lighthouse in Michigan.
Art der Unterkunft
Privatzimmer
---
Objekttyp
Haus
---
Unterkunft für
3
---
Schlafzimmer
Northport, Michigan, Vereinigte Staaten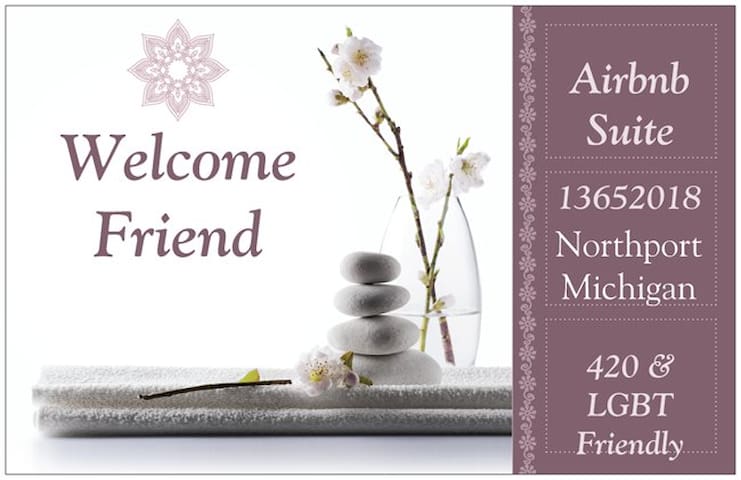 1

–

18

von

19 Ferienhausvermietungen
Gib deine Reisedaten ein, um den aktuellen Preis zu sehen. Es können zusätzliche Gebühren und Steuern anfallen.