Overlooking the Tallwoods Village 18 hole Golf Course, our guest accommodation is an independent apartment comprising a bedroom with a queen size bed, an ensuite and a sitting room/kitchenette, with access to an enclosed garden.
We are situated overlooking the Tallwoods Village 18 hole golf course, stretching down across the forests to the west and the coastline to the south to Forster-Tuncurry. By car, it is 2 mins to the golf club; 5 mins to Hallidays Point Tavern and shopping centre which comprises a post office, library, supermarket, chemist, hairdresser and cafes; 5 mins to beautiful Blackhead Beach, which has lifeguard patrols on duty until 26 January from 9am-5pm and from 27 January to 25 April 2016 on Saturdays and Sundays from 9am-1pm, free BBQs, toilets and outdoor showers, and to the Blackhead Bowls Club; 6 mins to Nine Mile Beach (no lifeguard patrols) with access to the beach by 4WD; 20 mins to Forster-Tuncurry which boasts beautiful beaches, surfing, shopping, cafes, restaurants, walking trails etc (the list goes on); 20 mins to Taree, wellknown for its arts centre and entertainment venue on the beautiful Manning River; and also within easy distance are Ellenborough Falls, beautiful Gloucester, and the small townships of Nabiac, Wingham and Tinonee, to name but a few.
Tallwoods Village Golf Course; Hallidays Point village shopping centre with Foodworks, cafes, chemist, real estate agents, post office, library & salon; Blackhead Bowls Club,;Hallidays Point Tavern; Blackhead Beach with swimming pools for adults and children: Redhead & Diamond Head beaches; Nine Mile Beach stretching down to Forster-Tuncurry - 4WD and horseriding permitted; the Lakes area; Ellenborough Falls and Taree and surrounding areas.
Mary and Whady were wonderful and caring hosts. They'd thought of every little detail to make our stay as comfortable as it could be. I would highly recommend staying with them.
Ashvini
2017-01-23T00:00:00Z
Mary's granny flat was modern, clean, comfortable and warm in the winter. She and her husband were very helpful and guiding us for our trip and gave us a full itinerary for the next day! The breakfast and kitchen was great and had everything we needed. We wish we could have spent a few more days at Mary's instead of one night. It was a great stay! p.s. we miss Herman (cute little dog) too!
Joanne
2016-06-09T00:00:00Z
Spotlessly clean and charming hosts.
Fred
2016-07-15T00:00:00Z
Fantastic mountains retreat, a close drive to beautiful beaches! Highly recommend
Genevieve
2017-01-02T00:00:00Z
The experience with Mary was fantastic from booking until we left the property. Mary was very informative and helpful and the accommodation was spot on. The room was very clean, modern and cosy. Look forward to staying again and having a coffee. Thanks Mary!
Sara
2016-09-29T00:00:00Z
A lovely room as the photos on the ad, clean, private and comfy. The host is wonderful as well. We are on the road trip to Wollongong and had to do super late check in and Mary welcoming us by herself. Thanks a lot for that. Hope to see you next time.
Carissa A
2017-01-23T00:00:00Z
Lovely hosts and the apartment was perfect for our night in Tallwoods Village. The local pub also had great food if you're looking for a meal.
Lori
2016-09-02T00:00:00Z
Wow! what an amazing find. My husband and I had the best stay at Mary's place in Tallwoods. It had everything we could have hoped for; our own apartment, great location, s(PHONE NUMBER HIDDEN) clean, well styled, private and just what we needed in regards to breakfast. The price was very good as well. Mary even invited us up for dinner, which was wonderful. Really enjoyed Mary's and her partner's company. They are very generous and have a great outlook on life - refreshing and inspiring. Would love to visit again as our time permits.
Kim and Susan
2017-03-11T00:00:00Z
Art der Unterkunft
Ganze Unterkunft
---
Objekttyp
Bed & Breakfast
---
Unterkunft für
2
---
Schlafzimmer
Tallwoods Village, New South Wales, Australien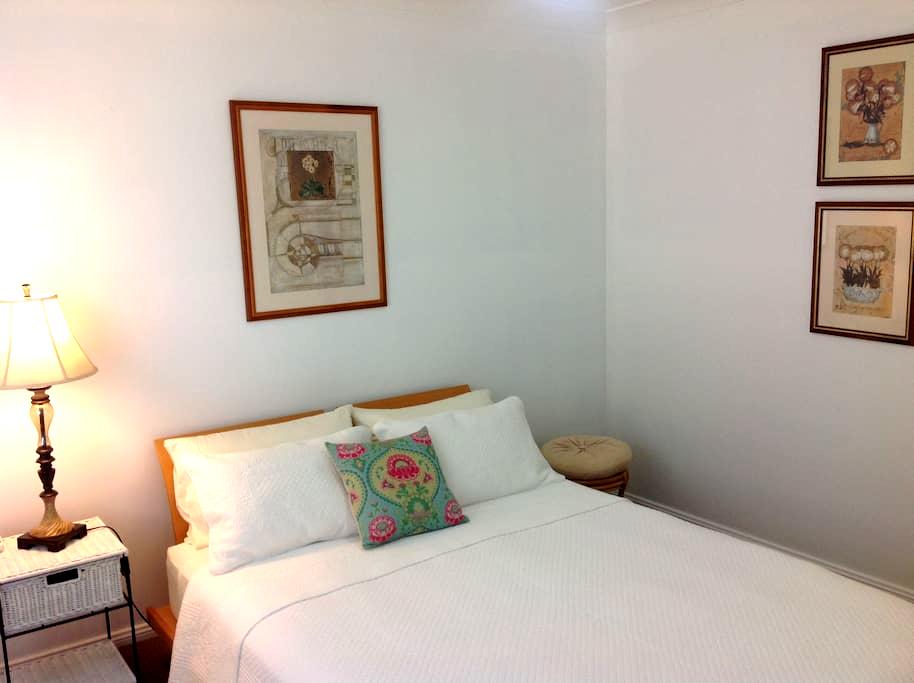 This is a large house, set in high hill enjoying distant ocean breezes. We live in the upstairs and provide the downstairs self contained accommodation to guests. There are two rooms (2 single beds and 1 queen size bed) and a bath room. 아래 층에 방 두개, 욕실 그리고 간이 부엌이 있어 독립적으로 지낼실 수 있습니다.
Great location. Spectacular views. Suite is large and clean. Wonderful place.
Donnelly
2016-10-14T00:00:00Z
I had a lovely stay at Kang's place. The apartment was incredibly comfortable with everything I needed. There is a really nice attention to detail throughout the place, which is a nice touch. Very beautiful location and very close to the beaches. I really recommend it.
Kate
2017-03-24T00:00:00Z
The house is so beautiful, comfortable and spacious, the view from the house is amazing - serene and relaxing, highly recommended place to stay for a holiday.
Karen
2017-01-21T00:00:00Z
Great place with amazing views. Very clean too!
Shilpa
2017-01-10T00:00:00Z
너무나 멋진곳. 너무나 친절한 host. 꼭 다시오고 싶은 곳입니다.
Hyuncheol
2017-02-09T00:00:00Z
The views are magic. It's like you've been transported into a fairy tale. Look around: wild frothing sea licks beach forest. Green hills billow like waves across the horizon. Salt in the air. Birds chatter.
Trevor
2017-03-07T00:00:00Z
Superb views and location. Could see the stars from the bed, peaceful and beautiful setting. Comfortable, clean and spacious for 2 people. Recommend it and will be back
Noella
2016-12-04T00:00:00Z
The view from Kang's apartment is stunning. They were very friendly helpful upon our arrival! Would recommend to anyone.
frauke
2017-02-18T00:00:00Z
Art der Unterkunft
Ganze Unterkunft
---
Objekttyp
Andere
---
Unterkunft für
4
---
Schlafzimmer
Tallwoods Village, New South Wales, Australien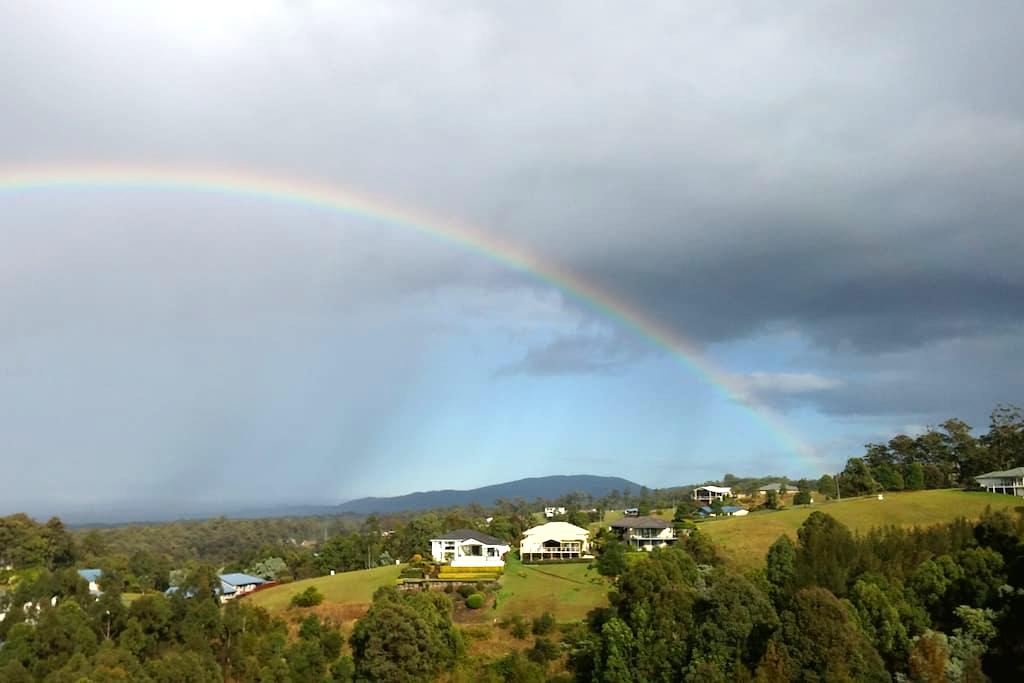 This private room is separate from main house and opens into sunny courtyard. It is located in a complex which adjoins the golf course. It is very quiet, guests have use of swimming pool and tennis court. Blackhead beach and shops are 5 minutes away.
This comfortable room has queen size bed,en suite bathroom with separate toilet,small table and chairs, TV, fridge, microwave, crockery, cutlery etc. Tea and coffee provided. A continental breakfast is provided for the first nights accommodation if requested. Car space is also available.
Tallwoods Village is is located on the mid north coast just 3 hours north of Sydney, 5 minutes from Hallidays Point and 20 minutes from both Forster/Tuncurry and Taree. Both these locations not only offer great golf courses but are holiday destinations with beaches, bush walks and a wide variety of shopping outlets.
Great stay, great host!
Rebecca
2017-03-26T00:00:00Z
Thanks Lyndy, you were such a lovely host. We felt really welcome and so comfortable in your casita
Bev
2016-09-23T00:00:00Z
Great bedroom with ensuite in a really nice and quiet location. Room is outside main house. Perfect for golfers as this is within the golf course and closest beaches a 5 minute drive
Rui
2017-04-01T00:00:00Z
Clean lovely room with breakfast prepared, good experience! Will not hesitate to book again if need!
Will
2016-07-22T00:00:00Z
Excellent facilities in a very quiet suburb. Quiet except the frogs and cicadas. Great communications. Even when I drove straight past it. Just be aware that the only pub for miles closes the bistro early at 8pm.
Tom
2016-10-11T00:00:00Z
The villa was so clean and tidy, and the bed was really comfortable! Lyndy was a great host and it was perfect for our little stopover.
Natalie
2016-11-12T00:00:00Z
Lovely quiet area with fresh, clean accommodation. Lyndy was friendly and the seperate entrance gave us complete privacy.
Terri
2016-11-19T00:00:00Z
Lyndy's place was clean, well organised, quiet and comfortable bed
Graeme
2016-10-07T00:00:00Z
Art der Unterkunft
Privatzimmer
---
Objekttyp
Villa
---
Unterkunft für
2
---
Schlafzimmer
Tallwoods Village, New South Wales, Australien
My place is close to Golf course and club house at door step. Including an indoor heated swimming pool(with extra charge for heating). Beaches and shopping.. You'll love my place because of Everything is at your doorstep. Great for a family holiday or week end with friends.. My place is good for couples and families.
Beautiful open plan home. Access to golf course and club house. 5 minutes to Blackhead beach. Blackhead tavern 3 minutes drive.
Quiet neighborhood, golf cart track at backdoor great for morning walks. 30 metres to golf club and Bunker restaurant. Beaches and supermarket close . Forster 15kms away.
Lovely host, beautiful luxurious home with great views of golf course. Kids enjoyed indoor pool. Highly recommend.
Sandy
2017-01-29T00:00:00Z
Great! Nice and clean. The host is very nice as well.
Karol
2016-10-03T00:00:00Z
Great place and awesome host! Everything as is described, and a great space to spend time with family.
Te Aorewa
2017-02-12T00:00:00Z
We had a lovely family get away here and would definitely go again, the children loved the indoor pool and the location was so peaceful. Our host Michele and her mother were both very accomodating and a pleasure to deal with. Highly recommend
Tess
2017-03-08T00:00:00Z
If you love golf, this is the perfect place as the golf course is your backyard. Very confortable home with indoor swimming pool and also very peaceful. The beach is also close by. If you are looking for a bit of a retreat away from noise and near nature, this is a great location with lovely walks nearby.
Alice
2017-01-11T00:00:00Z
The accomodation was accurately described by the host. We loved the indoor pool and the outdoor area that overlooked golf course. The kitchen is fully equipped for those that like to cook. We will certainly look at coming here again as the host makes you feel you are part of the family without interfering.
Paul
2017-01-02T00:00:00Z
Great place for a family to have a quiet weekend away. Kids love the indoor pool.
Rebecca
2017-03-25T00:00:00Z
Michele made our family feel very welcome and she was helpful showing us around the house. The neighborhood was quiet. The house is right on the golf course. Indoor pool and BBQ area were excellent. This is an amazing home and we'll worth it for the cost.
NIcholas
2017-01-04T00:00:00Z
Art der Unterkunft
Ganze Unterkunft
---
Objekttyp
Haus
---
Unterkunft für
6
---
Schlafzimmer
Tallwoods Village, New South Wales, Australien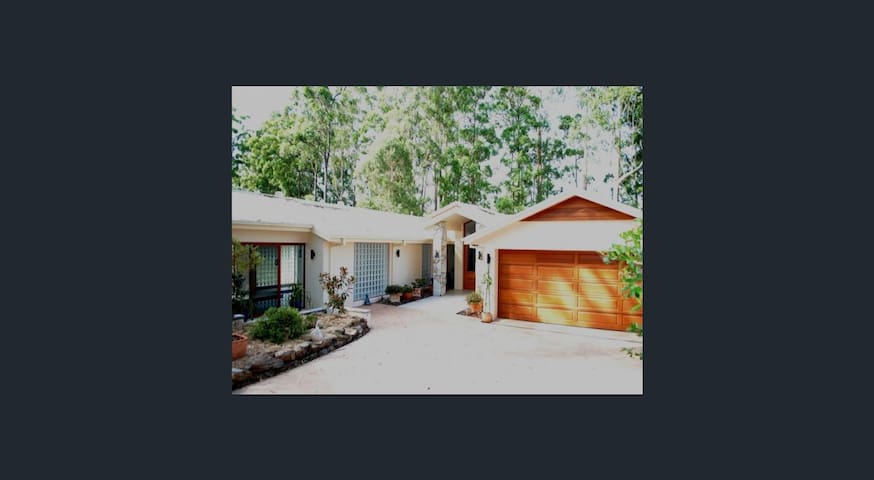 open airy and light makes for a pleasant stay!... come,relax and enjoy.....
Art der Unterkunft
Privatzimmer
---
Objekttyp
Haus
---
Unterkunft für
2
---
Schlafzimmer
Tallwoods Village, New South Wales, Australien
Located 15 mins from Forster & Taree, this peaceful property overlooks the 17th green of the Tallwoods Championship Golf Course. Surf and pools at fabulous Blackhead & Diamond Beaches are only 3 minutes away. Golf....Surf....Relax....Revive!!!
This is truly a lovely large home, set in the gum trees enjoying distant ocean breezes with the sound of birds. I live in the upstairs and love to provide the downstairs self contained, roomy accommodation with large balcony to guests. This property is great for golf, beach or relaxing getaway holidays.
The location is in a very quiet cul-de-sac with beautiful views, homes and surroundings. Not only are you able to look at the golf course but from the bottom of the yard you can join the many walking options around the course perimeter and other areas.
Lloyd is a wonderful host who took care of all our needs and requirements. The space feels quite personal and Lloyd is always around if you want to have a chat or need suggestions. No doubt, the outdoor balcony and the views from windows are an absolute delight. We loved waking up to the sounds of Kookaburras in the morning and the lush golf greens and fairways. The place is quite close to Blackhead beach and the gorgeous Pacific Palms beaches are a half an hour drive away. We really enjoyed our stay and socialising with Lloyd who is a kind and considerate host.
Aditi
2016-12-29T00:00:00Z
Lloyd was a great host very friendly and helpful, the accommodation was as described and depicted on airbnb. We highly recommend booking a stay!
Stacey
2017-01-03T00:00:00Z
Lloyd was so welcoming and made us feel at home. Definetly one of the best neighbourhoods in the area, really nice big homes. Very safe and good for long walks. Clean modern space to stay with a great deck over-looking the golf course and close to beaches and activities. Nothing bad to say, had a great stay.
Hayley
2015-12-30T00:00:00Z
We had a terrific time at Lloyd's lovely retreat. He was very friendly and welcoming, made us feel at home and let us know where we could find a few local bites to eat. He is well familiar with the area. The bottom floor of the house stayed cool in the heat of the day, the outlook over the valley and golf course was so serene and the back deck was a great place to chill out, read a book or ponder life - I am definitely recommending it to friends and family and hope to bring people along to enjoy the second bedroom next time!
Belinda
2015-10-06T00:00:00Z
We had a great week at Lloyd's beautiful & clean apartment. We enjoyed the great golf course 100m from Lloyds house away, and the marvelous beaches (less than 5 min by car). Lloyd is a very kind and helpful host, benchmark for AirBNB and our 100% recommendation.
Renate
2015-11-27T00:00:00Z
Lloyd met us and showed us around, the apartment was just as he described. The neighborhood was quiet and peaceful with a view of and direct access to the golf course. It was lovely to come back to a nice deck and relax after a day at the beach.
Kim
2016-01-05T00:00:00Z
Lloyd met me at the designated time and gave me the rundown on the premises. The accommodation was excellent as was the host. After the initial meeting Lloyd left us completely alone - which was exactly what we wanted.
scott
2015-12-25T00:00:00Z
We had a very good time at Llyods place. A cul de sac location, just a minutes drive to Blackhead and Diamond beach. There were all the amenities needed and a verandah with the view of 17th hole of the golf course. Wake up with the sound of bord every morning. We would recommend the place to anyone who loves golf, surf and beaches. We would visit the place again in near future.
Subarna
2014-12-31T00:00:00Z
Art der Unterkunft
Ganze Unterkunft
---
Objekttyp
Wohnung
---
Unterkunft für
4
---
Schlafzimmer
Tallwoods Village, New South Wales, Australien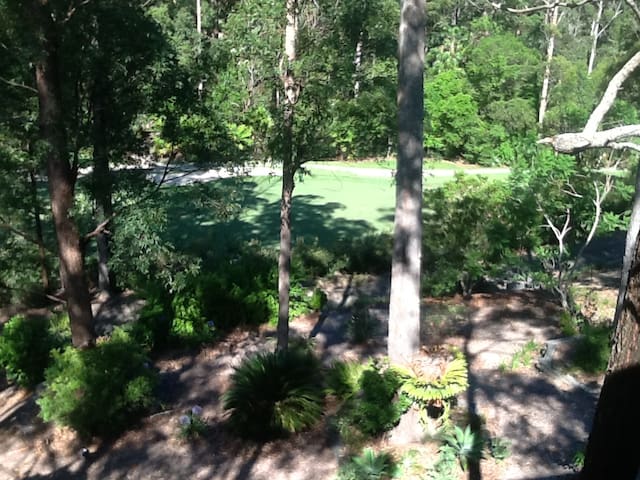 Enjoy the panoramic views of Forster, Cape Hawke & Hinterland,or a game of golf at Tallwoods Award Winning Golf Course. Everyone guest is welcome to relax and enjoy a peaceful stay in our beautiful accommodation on the Mid North Coast.
Bed & Breakfast with two bedrooms upstairs each accommodate 2 guests with king size beds/ or twin singles, whilst a ground floor bedroom accommodates 2 guests with a queen size bed. Priced individually.
Art der Unterkunft
Privatzimmer
---
Objekttyp
Bed & Breakfast
---
Unterkunft für
2
---
Schlafzimmer
Tallwoods Village, New South Wales, Australien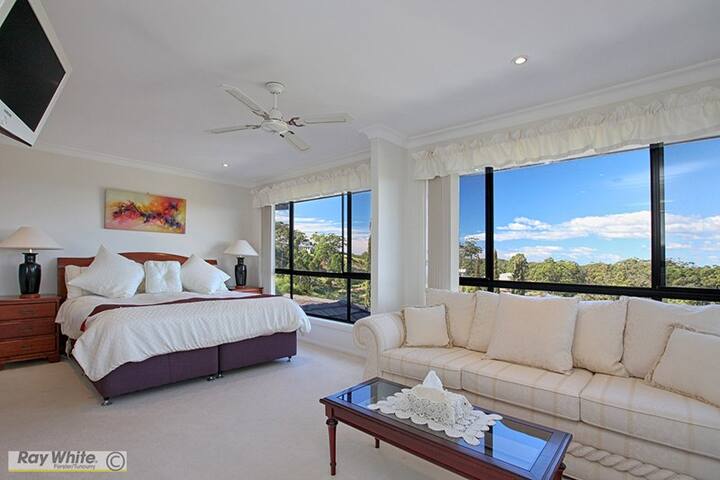 Our house is spacious and welcoming, surrounded by greenery and short distance to tavern that serves rich assortment of tasty meals and Blackhead bowling club, 5 beaches including a naturalist beach surround our area which often are great for sighting whales and dolphins, general use salt water pool and tennis court outback plus golf course across road at the end of driveway . we are also surrounded by a rich assortment of Cafes and restaurants, one is called Green room in Nabiac, 10 mins away.
Our home is a delight to live in its luxurious, spacious and very welcoming, the views from our very large L shaped balcony are spectacular and the lovely tropical breeze that is filtered by the tall trees surrounding us is very soothing.
With a fifteen minute drive to either Forster-Tuncurry or direction Taree and one hour drive to Port Macquarie your offered a massive array of fine restaurants and good cafes ,Nabiac (12 min away) has some fine cafes, The Green room (one of our favorites ). Nature walks ,beaches and wilderness parks, surrounding us making this place one of the most scenic ,leisurly areas. Club Forster has a free night club every Friday and Saturday night, relaxing lounge and bar , Thai restaurant it also supplies a courtesy bus. Another fine place for a meal/coffee is Tuncurry beach bowling club which also offer a courtesy bus . Fine beaches and well shaded parks are dotted throughout Forster-Tuncurry. Beach- bums café (on Forster's main beach is my favourite place to enjoy a beach view while enjoying a coffee and a healthy brekkie or snack! the local tavern which has superb meals is down blackhead road towards black beach, also supplies a courtesy bus!
Sunshine Haven doesn't disappoint! Ann-Maree and Rocco are friendly, generous and thoughtful hosts who made us feel very welcome in their home. We felt free to use their facilities and come and go as we pleased. The accommodation is private, spacious and very comfortable. The neighbourhood is quiet and within an easy drive of Halliday's Point and beach, Blackhead, and Forster-Tuncurry. We'd be very happy to stay with them again!
Diana
2016-06-28T00:00:00Z
Ann-Maree and Rocco were very nice upon meeting me and assisting with things around. The house is clean and very classy. Perfect spot to get away from big town's noise!
Yury
2017-01-26T00:00:00Z
Art der Unterkunft
Privatzimmer
---
Objekttyp
Haus
---
Unterkunft für
2
---
Schlafzimmer
Tallwoods Village, New South Wales, Australien
Beautiful, spacious vacation house w ocean & country views, sea breezes & a buggy ride to Tallwoods Retreat & Championship Golf Course (par 71) Sheltered lagoon at Blackhead Beach 5 min drive. 4 bdrms 2 ensuites, 2 levels, great floorplan.
Perfect for couples, families or a group of friends for a get together. Lots to see & do and perfect to just relax. 15 min drive to Forster/Tuncurry, 15 min drive to Taree, 30 min drive to Port Macquarie. Golf, fishing, sightseeing, bush trails, shopping, (URL HIDDEN) all here for you.
Peaceful, pristine air, sea breezes, accessible to shopping, beaches, golf, sight seeing, joy flights, restaurants etc.
Upon arrival we discovered the house was beautiful and HUGE. Seemed brand new, very clean, lots of space, and of course the views across the coast were stunning. 10 minute drive to blackhead shops and black head beach (patrolled beach, large and very pretty). Some restaurants in black head, and a few spas in the area which was great! 20 minutes to Forester which has major shopping centres, restaurants, rockpool to swim, boat hire, and small beachside shops. Patio area and outdoor table was big enough to sit 7-8 people for outdoor dinner and board games. Watching the sunset from the height of tallow's village was very cool! and should not be missed. Was great for a few couples to get away or a family. The boys enjoy golf game as well down the street! The weather was particularly warm and house heats up quickly, after sunset, opening all windows to allow a cross breeze helped! Suzanne was quite helpful. We had a delightful stay!
Ashley
2015-01-04T00:00:00Z
Suzanne was very welcoming and helpful as a host. We very much enjoyed our stay, it was perfect for a quiet getaway and the view was stunning! The description of the house was accurate - very spacious and comfortable.
Christine
2015-10-07T00:00:00Z
Spectacular views, amazing house and very comfortable. Everything in the house was in immaculate condition and the kids had a really great time. It was one of our best mini vacations. thanks you Suzanne.
Amit
2016-03-29T00:00:00Z
Suzanne was very helpful in the lead up to the trip providing answers to any questions we had. The house is even better in person than the photos show, and the location is great for visiting the surrounding areas and beaches.
Adam
2016-01-03T00:00:00Z
Suzanne was a great host, really helpful with useful information prior to our trip and answered all our questions promptly. The house is very large and modern and is actually nicer than what the photos showed. The kitchen was very well equipped for our group to cook everyday and the welcome hamper was a thoughtful touch. Location was convenient too, short drive to local shops/cafes, 5 minutes to the beach and about 15 minutes to Forster/Tuncurry. Would highly recommend
Anthony
2015-12-30T00:00:00Z
Art der Unterkunft
Ganze Unterkunft
---
Objekttyp
Haus
---
Unterkunft für
9
---
Schlafzimmer
Tallwoods Village, New South Wales, Australien
Cape View manor is a quality Bed & Breakfast with 3 double rooms, with stunning views of Cape Hawke, Forster/Tuncurry and hinterland, situated with Tallwoods Golf Course Estate, an international standard Golf Course. Just 5 minutes to beaches, restaurants and shops, in an area of natural beauty with lots to see and do.
Art der Unterkunft
Privatzimmer
---
Objekttyp
Bed & Breakfast
---
Unterkunft für
2
---
Schlafzimmer
Tallwoods Village, New South Wales, Australien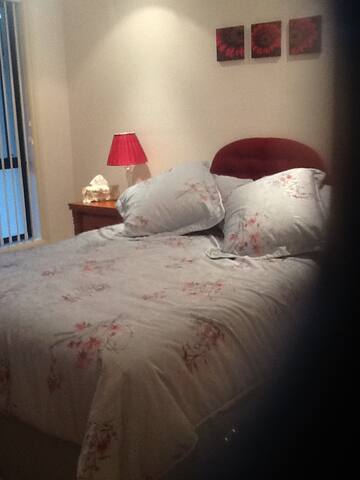 The apartment is approximately 10 minutes walk, or very short drive, to Black Head beach whichis patrolled in the warmer months. A lovely children's playground, shaded picnic areas and bbq's are just off the beach. A shopping village and modern tavern with excellent meals are within a short walk. The apartment does not have Wi-Fi, however free Wi-Fi is available at the library in the shopping village. Tallwoods Golf Course is 5 minutes drive. Do come and visit.
Simple breakfast provisions are supplied for first morning. The kitchenette has an electric frying pan, microwave, rice cooker, slow cooker, four slice toaster and an electric jug. Sleeping consists of a queen bed, two single beds, one sofa bed and a portable cot. No washing machine or dryer, but if required I will provide a washing service for a small fee. Wi-Fi is not available in the apartment, however there is free Wi-Fi at the local library at the shopping village, less than 1km from the apartment.
Very quiet area at the end of a short cul-de-sac.
This was a great stop. Beautiful, clean brand new suite and the town was fantastic. We caught the Sunday market which was a real treat and the beach was phenomenal.
Katherine
2016-12-04T00:00:00Z
退休老夫妇的房子。善良的夫妇和干净的房间。性价比不错。周围开车10分钟可到超市以及漂亮的海滩,而且人特别少。
Renzhe
2017-01-24T00:00:00Z
Clare was a very welcoming and accommodating host who provided us with a very enjoyable stay. Thank you Clare!
Nathan
2017-01-20T00:00:00Z
Clare recommended the Tavern this was a pleasant evening and a nice meal, good idea to eat there early on Friday as it was very busy
Victoria
2017-02-25T00:00:00Z
The apartment is brand new and immaculately clean, and Clare goes the extra mile in leaving breakfast snacks, shampoo and dvds, all which make life on the road more comfortable.
Sophia
2017-02-04T00:00:00Z
The Best! The Cleanest! Comfortable and fully equiped airbnb that we have ever stayed in. What a surprise. We had the best time here! Clare went above and beyond to make our stay very comfortable and really special. The apartment is very private, exceptionally clean and well fit out to make you feel like you are in a beautiful apartment / home by the sea. The location is very convenient and perfect for a tranquil NSW coast beach holiday or a relaxing stop over between Brisbane and Sydney as we used it for on this occasion.
Damienn
2016-11-16T00:00:00Z
The host canceled this reservation 71 days before arrival. This is an automated posting.
Tom
2016-10-13T00:00:00Z
Lovely place and location. One thing I had to be conscious about was for my children to keep the noise levels down, as the hosts were only one wall away from us. Other than that, we loved the brand new amenities and th close proximity to the beach, play ground and easy/ child friendly pub meals :-)
Flavia
2017-01-03T00:00:00Z
Art der Unterkunft
Ganze Unterkunft
---
Objekttyp
Haus
---
Unterkunft für
6
---
Schlafzimmer
Black Head, New South Wales, Australien
Ocean Dreaming offers 2 one bedroom, self contained apartments, located 150 metres from award winning Black Head Beach, and right next door to a coastal rainforest reserve with fascinating bird life. Ideal for couples, will sleep up to four.
Enjoy a beautiful Australian surf beach as well as a delightful coastal rainforest reserve - one minute's stroll to both! Relax in your own comfortable, well equipped, self contained space, knowing your hosts are nearby if you need anything. Please note there is a $20 surcharge for 'one night only' bookings, and during the Christmas/New Year period we only take minimum one week bookings as that is such a busy period for us. Sorry for any inconvenience!
We love sharing this beautiful place - the beach, the rainforest, the rich birdlife - with our guests!
Das Appartement ist sehr geräumig und wohnlich eingerichtet, die Küche ist sehr gut ausgestattet, der kleine Garten sehr gepflegt. Es gibt einen großen Gasgrill auf der Terrasse, den wir gerne benutzt haben, und frische Kräuter und Salat konnten wir im Garten ernten.Die Lage am Ende einer absolut ruhigen Straße war besonders schön, weil man in nur wenigen Gehminuten den Strand erreicht. Einkaufsmöglichkeiten gibt es im Nachbarort, mit dem Auto sehr schnell erreichbar. Die Gastgeber sind sehr herzlich, unkompliziert und hilfsbereit, wir würden jederzeit gerne wieder Urlaubstage in "Ocean Dreaming" verbringen.
Dr. Helmut
2015-02-11T00:00:00Z
Lovely and quiet accommodation located with a stones throw of the beach. Alan and Helen were very welcoming when we arrived. We were able to have our 2 puppies with us which was great. Thanks Alan & Helen.
Simon & Elle
2015-12-01T00:00:00Z
Ocean Dreaming was such a perfectly amazing experience! Our hosts, Alan and Helen were warm, friendly, very accommodating to our needs and welcomed us from our arrival! They provided us with knowledge and tips of the local area and went above and beyond to make our stay memorable! The beach was only a minutes walk, and the fire flies were a natural wonder to see! Ocean dreaming provided us with the most magnificent long weekend! Hope to return soon!
Michael
2014-10-07T00:00:00Z
So relaxing and welcoming. Clean and comfortable. Thanks Helen and Alan for being such considerate hosts. Excellent communication too.
Graham
2015-12-20T00:00:00Z
Lovely stay in Hallidays point, Alan and his wife were very friendly and helpful, and made our stay a very enjoyable one. Close to the beach and lovely walks, and the wild koala in the trees behind the property was added bonus!
Laura
2016-01-23T00:00:00Z
We arrived at Ocean Dreaming late afternoon after a full days driving. Helen welcomed us and we were delighted with the short walk to a beautiful beach not 5 minutes away (Redhead beach). The accommodation was clean and everyone had their own bed (can be a challenge sometimes with 2 boys as some places only offer 2 beds for 4 people...). Ian and Helen were both lovely and have a terrific location and property, with a beautiful garden too. It was a shame we had to leave first thing the next day for more driving!
Rob
2015-01-18T00:00:00Z
We spent 2 days at Ocean Dreaming to break up our trip home to Sydney from Byron Bay and what a beautiful mini-break it was. The apartment is well-equipped with everything we needed, including a washing machine which we made good use of on the first day. The Purschs were wonderful hosts, easy to communicate with and full of local knowledge, pointing us in the direction of a good coffee. The best part was being so close to the beach, just being able to run down with the kids in the morning for a dip. We'll be back.
Michelle
2015-01-20T00:00:00Z
Lovely comfy place. We were made to feel very welcome. Alan and Helen were lovely people. The location was perfect, close to the beach and bushland and peacefully quiet. Eating breakfast and looking into the well maintained gardens and watching the birds feed and bath in the morning was a highlight.
Honi
2017-01-09T00:00:00Z
Art der Unterkunft
Ganze Unterkunft
---
Objekttyp
Wohnung
---
Unterkunft für
4
---
Schlafzimmer
Hallidays Point, New South Wales, Australien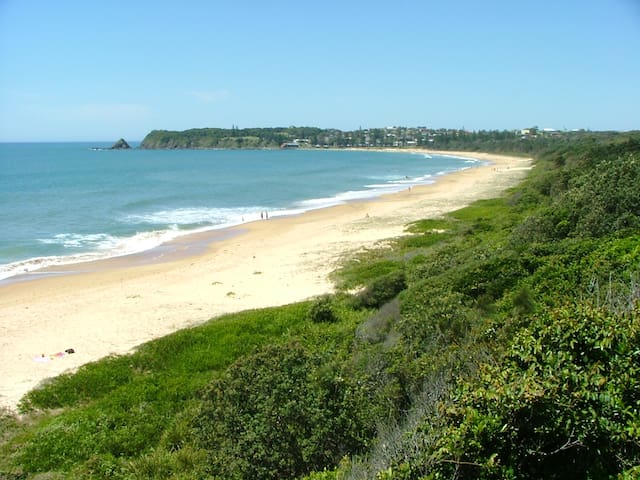 Our place is near to Black Head beach and ocean pool. Tallwoods golf course is 3 kms away and a bowling club & tennis courts not far. A supermarket, library, pharmacy, bakery, coffee shops and tavern/restaurants are also close. You'll love my place because it is situated on 2 acres of lovely gardens, and has a dam with birdlife. Walk or drive to shops and beaches. If you are looking for a peaceful stay - this is it! It would not suit visitors with very young children due to the dam.
A quiet "Haven" with a peaceful setting. The sound of surf and birds abound. There are 2 bedrooms, 1 bathroom with separate WC and lounge/dining kitchen for your exclusive use. There is an outdoor undercover area exclusively for guests with views of the garden.
We are on the mid north coast of new south wales - 3 hours from Sydney by car. The towns of Forster/Tuncurry and Taree are approx. 20 mins drive where there are cinemas, stores, clubs etc. There is a rainforest walk near to the beach, a whale-watching platform on the headland and easy access to beach walks. There are many locations to explore in this area and we have information brochures available for our guests detailing things to see and do.
It was very clean and comfortable and perfect for our group pf three. We could walk to the beach and dinner and back, the outdoor shower was an excellent idea and the hosts were very welcoming and were proud of their area. We recommend highly and will be back.
ann
2017-01-17T00:00:00Z
A friend and I stayed for a week and Lynne and Ron were lovely hosts! Their place is self contained, spacious and tidy- it was perfect for a week of chilling out. Close to some great beaches we had a wonderful time exploring the area! Lynne and Ron had great suggestions and information about the local area. Thank you for hosting us in your lovely home!
Kathleen
2017-01-12T00:00:00Z
Lynne's place is the gold standard for air Bnb comfort. Immaculate, quiet, in a beautiful garden setting. 25 mins walk to one of the most delightful beaches on the north coast - 5 mins by car. Highly recommended.
Max
2017-01-19T00:00:00Z
Absolutely beautiful location. Quiet, modern, immaculate, well equipped. Passionate hosts who care about your stay. We walked via Redhead Road to the beach, then enjoyed a wine (only $4 a glass) at the life saving club house on Blackhead beach. Such great ambiance. Loved an early morning swim in the salt water pool. Awesome stay. We will return!!
Julie
2017-01-06T00:00:00Z
Lovely people, lovely accomodation. Close to beaches. Quiet, spacious and very comfortable. Thanks Lynne and Ron.
Dihttps://www.airbnb.com.au/account
2017-01-21T00:00:00Z
We were extremely pleased with her room and facilities. She really enjoyed the peace and tranquillity, the sounds of the ocean and the beautiful gardens. Great hosts and very generous and welcoming.
Justine
2017-03-13T00:00:00Z
Beautiful apartment in a scenic area. Lynne & Ron are wonderful host and were very helpful. Great place for a stopover between Canberra to Brisbane & vice versa. Awesome space with very comfortable beds and large living area with required necessary amenities. The place is exactly as described. Modern, Clean & Tidy.
Abhishek
2017-01-06T00:00:00Z
Great space with 2 comfortable beds and large living area with good amenities. Lynne was good at communicating and was very helpful.
James
2017-01-04T00:00:00Z
Art der Unterkunft
Ganze Unterkunft
---
Objekttyp
Wohnung
---
Unterkunft für
4
---
Schlafzimmer
Hallidays Point, New South Wales, Australien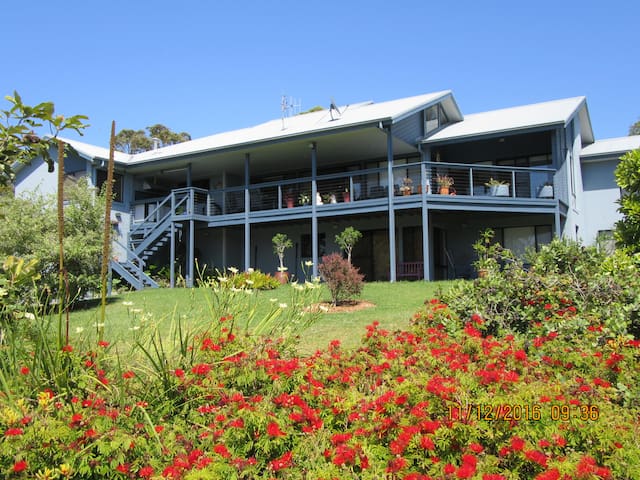 Luxury on the headland overlooking the expansive, golden Diamond Beach, a lovely 500m stroll through a lush reserve to get there. Just 2km to Blackhead that has a patrolled beach, supermarket, chemist and more. The Tallwoods golf course is only a 5 mins drive. Enjoy the luxurious tranquility with the soothing sound of the ocean. Use the 25m lap pool for serious exercise or just a relaxing cool off. Cook your meal on the Weber barbecue and relax on the balcony enjoying the stunning view!
This is a luxurious, large, modern house in a beautiful, tranquil setting with stunning views over the expansive, golden sands of Diamond Beach. Your self contained section at the bottom of the house has a large balcony running along the length of the 25m lap pool. There are two large bedrooms both with sliding doors onto the balcony. The main bedroom has a queen bed, whilst the 2nd bedroom has a double bed with a single bunk bed above. The living area has triple sliding doors to open it up onto the balcony and has a wonderful view across the reserve to the beach. In addition to the well equipped kitchen , there is a Weber BBQ on the balcony. There is a large laundry that is shared with the top half of the house. The kitchen contains a small fridge but there is a large fridge in the laundry also, for your use.
The house is set in the new "Seascape" development. It is a very peaceful, friendly neighbourhood. Blackhead Village is a 5 mins drive and includes a supermarket, liquor shop, bakery, cafe, chemist and a library. There are further shops at Diamond Beach Village. Blackhead has a patrolled beach also plus Diamond Beach is now patrolled in the height of summer.
Lorraine's place was delightful! Clean, well sized, airy and comfortable. The pool was amazing on the hot days. We had frequent barbecues by the pool which was quite relaxing. And what a view!! Lorraine was wonderful throughout our stay and very welcoming. We had our privacy but didn't need it as we enjoyed spending time with Lorraine and Buffy! We all had a great time, including my 22 month old who had lots of fun. Thank you Lorraine
Sadaf
2017-02-04T00:00:00Z
Great views and great 25m lap pool. Comfortable place. Friendly and helpful host, thanks Lorraine!
Deborah
2017-01-27T00:00:00Z
Every year my son and I take a week away - always somewhere north. I booked Lorraine's 2 bedroom unit which opens out onto the swimming pool and deck with sweeping views over Diamond Beach to Crowdy Head. The unit was airy and cool - spacious living areas and bedrooms. Lovely bathroom and modern kitchen. red Head is between Diamond and Black Head beaches - both patrolled. Diamond beach is accessible from the house via stairs. It is a short drive to Forster for stand up paddleboarding on wallis lake. Black Head has a good supermarket and butchers - also 2 newly surfaced tennis courts! It is quiet and serene as well as offering gorgeous beaches, water sports and a 25m lap pool to return each afternoon to!! We loved that pool!! Perfect recharge holiday spot.
Caryn
2017-01-13T00:00:00Z
Lorraine was lovely very accommodating and friendly. Views were stunning short walk to the beach just beautiful
Alysia
2017-03-25T00:00:00Z
We had a great trip to Red Head, Lorraine our host was lovely, 25m lap pool was a welcome retreat in the hottest part of the day. The house was well set out to take in the view of diamond beach. Bedrooms were large and airy with nice bedding and ample storage. The kitchen had everything you need to prepare dinner and a WebberQ too. You could choose to sit inside or out side for meals with a lovely outdoor table. Comfy couch inside and TV area. Easy access to the house, and a short walk to the beach, Lorraine even has spare beach towels if you need.
Kate
2016-12-30T00:00:00Z
Lorraine's place is beautiful with a fantastic view.
Omar
2017-02-25T00:00:00Z
We had such relaxing time at Lorraine's property. The view is beautiful as is the pool and outdoor area. Very clean and quiet. Lorraine is really helpful and available for anything you need, communication was very easy. Highly recommend this property.
Adelle
2017-03-04T00:00:00Z
Lorraine's place is absolutely fantastic. The view is unbeatable and the house and area create the most relaxing ambiance. The beach is a short 5 minute walk from the house and the pool offers a great place to swim and relax in wonderful privacy. Lorraine is a great host, very friendly and helpful. All in all we had a very pleasant and relaxing time whilst staying here.
Bianca
2017-02-22T00:00:00Z
Art der Unterkunft
Ganze Unterkunft
---
Objekttyp
Andere
---
Unterkunft für
5
---
Schlafzimmer
Red Head, New South Wales, Australien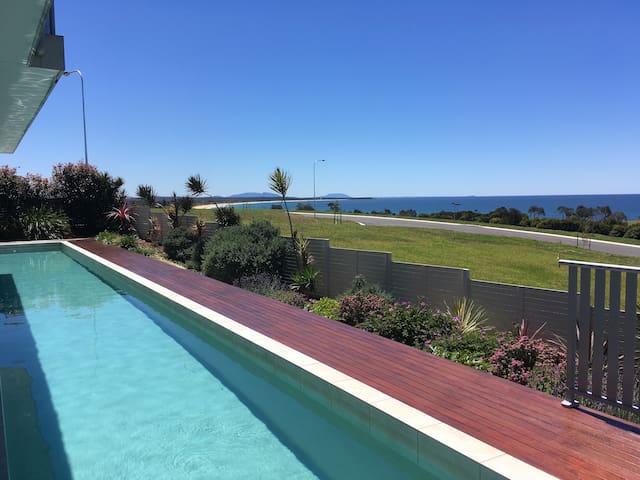 This listing is for two people, in one queen bedroom, plus bathroom, lounge & TV room. If you require accommodation for up to 4 people we can arrange a second queen bedroom at half the listed price. To arrange a stay for 3-4 people please book this listing & send us a message advising you require the second bedroom and we will send you confirmation of the special price which will be one and a half times this listing price for up to 4 people (A third bedroom can also be arranged as needed).
You have use of half this modern and clean home located on 7 acres including exclusive use of a queen bedroom with ceiling fan and wardrobe, lounge room, toilet and bathroom with shower, huge TV room, very basic kitchenette (tea & coffee & toaster & microwave, bar fridge, no cooking facilities). A second queen bedroom & a third mattress in the lounge room can also be arranged to sleep up to 5 people. Note that if you are booking as a single or a couple then no other bookings will be taken so you will have exclusive use of the rooms listed above. We are located three hours drive North of Sydney & one hour South of Port Macquarie. a short 6 minute drive to Blackhead / Diamond beaches, 15 minutes to Forster/Tuncurry, 20 minutes to Taree, 10 minutes from the M1 / Pacific Highway. We are not a working farm, but have goats, chickens, pigs & ducks roaming in nearby paddocks that you may wish to interact with. Not an animal lover? That's OK, there is plenty more to do. Explore the beautiful Manning Valley & Great Lakes area while you are here. Our internet is slow and unreliable, and so although we can give you a wi-fi password you should only expect a basic service. Note that we have pet dogs & cats so if you are allergic to animals this stay may not suit you. The cats share our home but not your rooms!
Plenty of things to do and see. Forster is a fishing mecca so you can fish on the lake, hire a houseboat or pontoon for the day and explore Wallis Lake and the rivers and meet the dolphins, take a deep sea fishing charter. Whale watching is popular in the second half of the year. There are many beautiful secluded beaches (and patrolled beaches during school holidays) up and down the coast. Get a permit and go four wheel driving and beach fishing along Tuncurry beach. Cafes, shops, supermarkets and restaurants in Forster & Tuncurry & Taree & Harrington & Blackhead. Explore the Manning Valley with lots of scenic country & rural stops, small towns, and bushwalks. Ellenborogh Falls or the township of Gloucester are great day trips under an hour away. Spend a day shopping and sightseeing in Port Macquarie one hour away.
In Tony's defense, we had arrived after check in, but we contacted him and never heard back that this would be a problem. We were needed to checkout by 730 am, and no wifi or phone service to reach him for questions after check in.
Jennifer
2017-03-27T00:00:00Z
Nice house with lots of private space and lovely cats! Nice countryside location but close to beach and small town. Overall a nice stay
FX
2017-03-26T00:00:00Z
Art der Unterkunft
Privatzimmer
---
Objekttyp
Haus
---
Unterkunft für
4
---
Schlafzimmer
Hallidays Point, New South Wales, Australien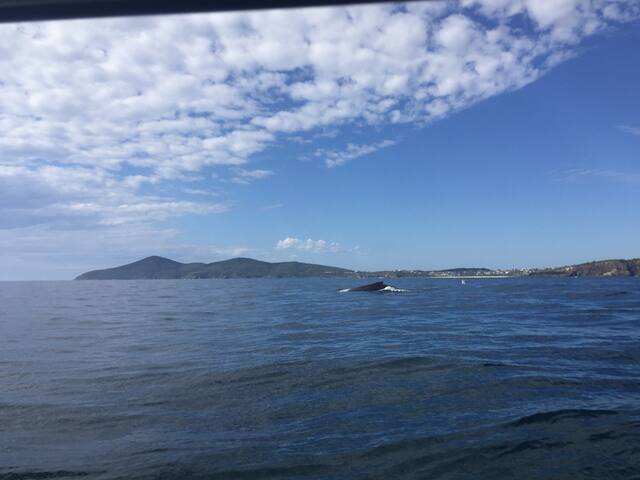 This self-contained loft house overlooks ponds alive with birds. It is located in a quiet seaside village with picturesque beaches, lagoons and rainforest walks all within walking distance. Two level accommodation consists of family room with kitchenette, outdoor breeze way and shared bathroom, then upstairs, one large bedroom, ensuite and a private sun deck. The bed combo is one queen and one king single. There is also a single bed downstairs in the family room. All linen and towels are provided. Free wifi internet access is provided at the house on request. The means to prepare your own light breakfast with tea and coffee is provided and special dietary requests welcomed. Guests can self-cater using the barbeque and kitchenette. Excellent meals can be had within the village at the Tavern and the local bowling club. There are more dining options within a short drive. The local shops comprise a supermarket, chemist, bakery, cafe, post office, library, day spa, hairdresser and Lions Op Shop. There is also a free wifi hotspot at the local library. Surf and swim at a patrolled beach or do laps in the ocean baths. Chill out with a book or play a board game. Take an artistic break! Art tuition and supplies are available at a reasonable cost. There is plenty to do.
Hallidays Point is such a beautiful area that I feel very lucky to live here and to have the opportunity to share this experience with others. First, I love the sense of community, the people and their warmth, from the long time residents to more recent arrivals like myself. I love discovering people who were born in the area and learning their stories. Early morning beach walks are the most rewarding.
Sandy was there to welcome us. We arrived earlier than we thought and it was no problem to use the loft. A nice place to stay and the little loft has everything you need. Healthy breaky was provided. Birds come to the garden. Very good location to shops and beaches. Sandy gave us good ideas what to do. Lovely and warm place.
Andrea
2016-03-25T00:00:00Z
Sandy was terrific to deal with and house was welcoming with comfy furnishings. Only question I would have is regarding necessity to hire TV but then again a lack of TV may be a good thing???!!!
Dallas
2015-11-18T00:00:00Z
Sandy's house is exactly what has made a B&B so successful. It is clean and in an amazing location and on top of that Sandy is very welcoming friendly and generous we highly recommend visiting Sandy.
Kieren
2015-12-11T00:00:00Z
We loved our short but sweet stay here! Sandy was welcoming and helpful but not at all obtrusive. The house was impeccably clean with modern but homely decor. We definitely hope to be back in the near future and I've already recommended that three different people I know make a trip here! A little gem - thanks Sandy!
Scarlett
2014-04-15T00:00:00Z
A lovely place, bright and colourful and very clean. Sandy was a lovely host and great with our kids. We stayed at Christmas and were delighted to have Sandy playing us some Christmas carols on her 1900s concertina (on request!). Also unusual to find the shops just a few minutes walk away.
Naomi
2014-12-27T00:00:00Z
We had a great time staying with Sandy. She was friendly and very accommodating fitting in with our needs. Her place was very comfortable and clean. We'd gladly stay again. It was a real retreat in a very beautiful place.
Sarah
2014-05-26T00:00:00Z
Sandy greeted us warmly. The loft is lovely, very quiet, perfect place to chill.
Claire
2015-03-06T00:00:00Z
Lovely self contained cottage with all the amenities. Close to shops and walk to the beautiful black head beach. Sandy was a wonderful host and went out of her way to provide lots of toys and books for our daughter. All round great experience would love yo have stayed longer!
John
2015-12-18T00:00:00Z
Art der Unterkunft
Ganze Unterkunft
---
Objekttyp
Bed & Breakfast
---
Unterkunft für
4
---
Schlafzimmer
Black Head, New South Wales, Australien
Unser Brand New 2 Schlafzimmer voll umluftunabhängige Wohnung liegt inmitten der ruhigen und natürlichen ländlichen gesetzt umgibt, nur wenige Minuten zu den schönen Stränden entfernt. Nähe Geschäfte, Tavern & Bowling Club. Nur 15 Minuten Fahrt zum Forster / Tuncurry. Genügend Parkplätze und Raum für Ihr Boot / Anhänger. Minute Aufenthalt von 2 Nächten.
Our Retreat is set on 2 acres of rural land. Very peaceful. As you approach the property on your left you have the beautiful ocean view coast on your right. The open plan apartment is brand new and is fully equipped with everything you need for your relaxing getaway.
Sie sind auf Fläche gesetzt, so dass Sie nicht, dass Sie Nachbarn in der Nähe haben, wird es wissen.
The apartment overlooks beautiful bushland, is close to many beaches and national parks, which are great for surfing, fishing FWDing, etc. The apartment offered everything we needed and more (great location, privacy, comfort etc). I stayed there for a week with my husband, to escape the city and relax. We will definitely be back, this apartment is a little gem!
Jasminne
2016-12-29T00:00:00Z
Nice and relaxing place, close to beach. Have everything we need.
Eric
2017-01-19T00:00:00Z
A great place to stay The Hosts were very nice and easy to approach and the accomodation was very clean The little chocolates they left for us was a lovely touch
Joanne
2017-01-16T00:00:00Z
On arrival we felt very welcome. The kids loved the colouring books and the snacks. Cold drinks in the fridge. The description in the ad was accurate and the location was nice and peaceful. Very thoughtful hosts.
Eddie
2017-01-05T00:00:00Z
Art der Unterkunft
Ganze Unterkunft
---
Objekttyp
Wohnung
---
Unterkunft für
4
---
Schlafzimmer
Diamond Beach, New South Wales, Australien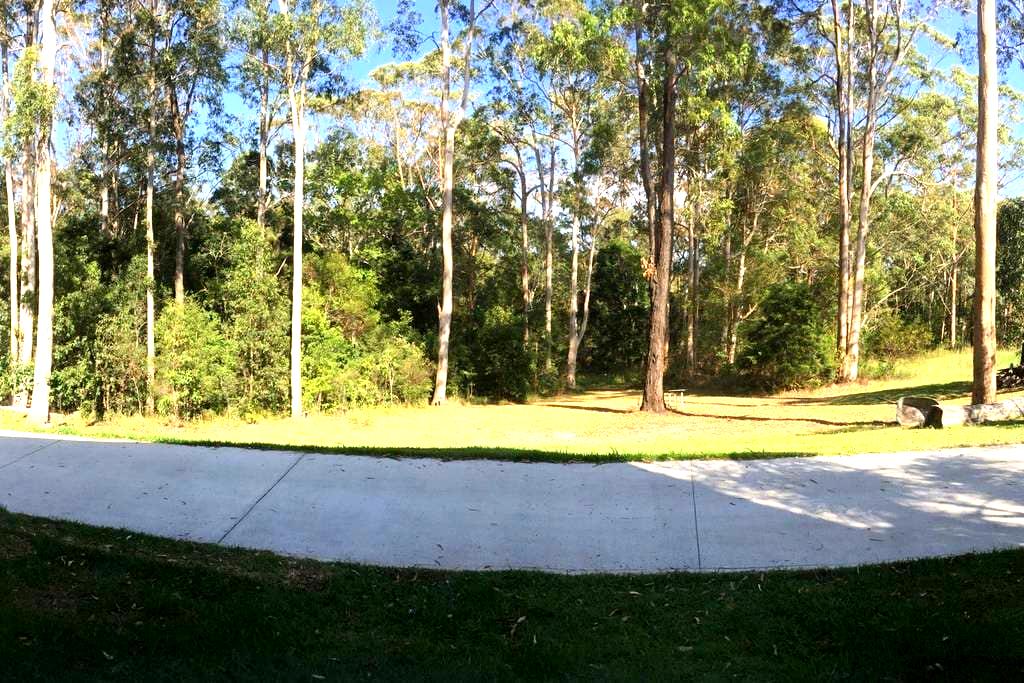 This holiday home is an architecturally designed treat. From the moment you walk in you will be surrounded by luxury. Absolute beach frontage allows you to walk straight out the back on to Diamond Beach. Magnificent views from the 2nd storey patio
After having a refreshing swim relax in the sauna. Fully appointed with microwave, dishwasher, washing machine, dryer, push bikes, boogy boards, surf board, golf clubs, games, books and assorted cd's just to name a few. Check out our video on utube - search Black Diamond Beach House Diamond Beach
Just around the corner from shops including pizza bar, takeway/cafe/ hair dresser, beauty salon and gift shop A short drive to Tallwoods golf course, small shopping centre with supermarket, butcher, post office, hairdresser; cafe's, Blackhead tavern and Blackhead bowling club. The tavern and club both provide courtesy bus services. Only 20minutes from Forster Tuncurry where you can avail yourself of more bowling clubs, Tuncurry and Forster Golf Clubs along with numerous cafe's and restaurants.
We had a wonderful stay at Jenny's house! Everything was perfect. We arrived late on Friday and the house was warm for us. You'll find everything you need there! The beach, the terrace, the view on the ocean the stove which makes the ambiance of the living room so cosy, the pool table, bbq... Beds are really comfy, kitchen is fully furnished and the house is just splendid! We had a wonderful week end with our friends and it was hard to leave on Monday. Jenny was a perfect host. Present and available whenever we needed without being intrusive at all!
Sebastien
2016-06-14T00:00:00Z
Fantastic host and a fantastic location. The house was well presented and suited 3 families and school age children well The private access to the beach was the highlight for us as it was safe and secure for the kids and it allowed us to have a wonderful time
Prince
2016-01-04T00:00:00Z
The house is beautifully looked after, clean & as new. It's a perfect holiday house for us to have our little break. Located right in front of a gorgeous quiet beach & cafe. Jenny is excellent, she made us feel very comfortable like we are at our own home. We wish we could've stay longer. We will come back for sure & highly recommend it to our family & friends.
Helena
2016-12-31T00:00:00Z
We spent a wonderful week here, the first Christmas our family has spent all together in seven years. The house was perfect for our needs, well equipped with a large galley kitchen and plenty of room for relaxation. Lots of activities were available from the sauna, a pool table and wonderful pinball machine, to board games and books. The location is just superb with direct access to the beach which is patrolled by lifeguards between 9am-5pm. Jenny and Geoff were quick to respond when we had a problem and had an electrician attend on Christmas Day - very much appreciated.
Anne
2016-12-29T00:00:00Z
Private, quiet, very clean and amazing views, couldn't be closer to the beach. Home is well appointed, great big kitchen and stocked with everything you need. Has great amenities including games room which was a big hit with the kids. Walking distance to local shops and short drive to local tavern / bowls club. We had a great stay!
Peter
2017-01-12T00:00:00Z
Great house, perfect location and thanks to Jenny for her kindness and precious tips!
Philippe
2017-03-04T00:00:00Z
Welcome Accurate description
Gary
2016-11-22T00:00:00Z
We have just enjoyed a fantastic few days at Black Diamond .Jenny met us on arrival and showed us through her amazing, comfortable house with views over the beach.The house was clean and had everything we needed for us and the kids - sun chairs ,body boards ,board games,table tennis ,bikes ,towels etc .Jenny helped us promptly when we were unable to work the oven and was kind enough to offer to come over ...we figured it out .It was not the best weather when we were staying , however the views over the sea and the crashing ocean was fantastic and the kids could surf so everyone was happy.Thank you Jenny we will definitely be back .
Donna
2016-01-07T00:00:00Z
Art der Unterkunft
Ganze Unterkunft
---
Objekttyp
Haus
---
Unterkunft für
8
---
Schlafzimmer
Diamond Beach, New South Wales, Australien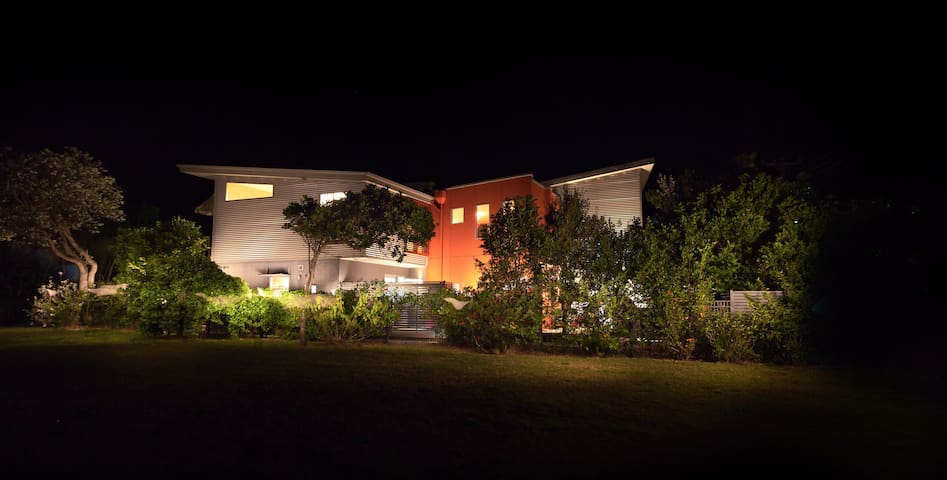 1

–

18

von

35 Unterkünfte
Gib deine Reisedaten ein, um den aktuellen Preis zu sehen. Es können zusätzliche Gebühren und Steuern anfallen.