This is Cabana 3 at Top O' Tobago. It is one of 3 cabanas located on the side of a hill overlooking Tobago's SW coast. At the crest of the hill is a main villa, and a swimming pool which is accessible to all the residents. The buildings are set among 6 acres of tropical gardens with numerous walking paths. One of the best snorkeling beaches on the island is a 5 minute walk away. The cabana can accommodate 2 adults and 2 children. Our manager, Silja lives onsite and is available to help you.
The quality of Top O' Tobago's surroundings.... the views, the gardens, and the birds have all been noted by our guests. It has resulted in our receipt of a Trip Advisor Certificate of Excellence for the last 4 years Each cabana is a studio apartment with an attached dining gazebo in an outdoor garden. There is a king sized bed which can be divided into 2 singles, and 2 sofa beds which are convertible to single beds in a sitting area. There is also a fully equipped kitchenette and bathroom.
From Top O' Tobago, you can walk to Arnos Vale Bay, one of the best snorkeling beaches on the island in 7 minutes. In a few minutes, you can also walk to the start of the Mot Mot Trail, a 10 km unpaved road that goes close to the western coastline. Top O' Tobago is also within a 10 to 20 minute drive of the numerous beaches, restaurants, shopping facilities and other tourist amenities of Southern Tobago.You can also walk to the town of Plymouth in 15 minutes. Here you can get basic groceries and there are a few local restaurants.
Fantastic place!
Niclas
2017-02-23T00:00:00Z
Silja is a wonderful and helpful host. Top of Tobago is s true paradise.
Tara
2015-04-10T00:00:00Z
A beautiful stay in a beautiful location. The property owners were warm, welcoming, and unfailingly helpful. You can't beat the views from the poolside patio. And the snorkeling at the beach just a short walk from the villa was out of this world. I wish we were able to stay longer. If you've got a rental car, the drive to Pigeon Point/Store Bay isn't far, but I could just as easily imagine skipping the rental car and staying the whole time at the villa, bringing groceries, snorkeling during each morning, reading by the pool in the afternoon, and drinking wine on the patio in the evenings.
Martine
2015-01-03T00:00:00Z
Silja the onsite manager and the staff were as welcoming and personable as we expected, you see we had stayed there before. We found that air conditioning was installed in the rooms and this was welcome as the island was quite humid during this stay. Moreover, despite the national concern over mosquitoes, we experienced none, despite being nestled within a 2 acre fruit orchard. The wired screens that are skillfully and seamlessly built into windows and doors easily kept out unwanted six legged pests. We enjoyed and loved the peace, tranquility and relaxation afforded to guests by the beautiful hilltop location overlooking the Caribbean Sea.
Edward L
2016-09-07T00:00:00Z
I booked this place at the very last minute, and I'm very glad I did. The place is extremely beautiful and very relaxing. It all started when the lovely Silja met me at the airport. I had no idea the airport pick up was part of the deal, and I'm glad it was. When I arrived, the place is on top of a hill, surrounded by flowers and trees. It's truly a breathtaking view! The beach is a 5 minute walk from the place - but be aware the hill getting down to the main road is pretty steep. Plus, you have to be mindful of the small path that leads to the beach. And be careful because it can be muddy after a rain storm. The villa itself was clean. There was a kitchen with a very cold freezer that kept ice and adult beverage cool. There are pots, pans, plates, and silverware, so you can cook if you choose. Plus Silja was kind enough to drive us to the market to get groceries and food. Oddly enough, it is very cool at night with the breeze. There are many fans throughout the place, so it was never uncomfortably hot at night. The place also has snorkeling equipment, DVDs, books, and bikes. So there is plenty to keep you busy if you ever get bored. Silja was the best hostess, and the place was exactly what I needed to relax!
Bryan
2014-10-03T00:00:00Z
Top o Tobago is fantastic! We intended to stay for a week and then move on to another location on the island but we loved Top o Tobago so much we couldn't bare to leave and decided to extend our stay for the remaining 4 nights of our holiday. Thank you Derek and Camille for being such warm, welcoming hosts and to Silja, Susan and all the staff for making our stay so special. The stunning hilltop setting and grounds provides for the ultimate in tranquility and relaxation. We thoroughly recommend anyone visiting to take a cabana, stock up on supplies and enjoy the peace, quiet and beauty at Top o Tobago!
James
2013-01-06T00:00:00Z
This was certainly one of the most beautiful airbnb's we've ever stayed in. The view of the bay from the pool deck was breathtaking. The sunsets are a must see everyday. Host Silja was incredibly helpful - offered to pick us up at the airport, although we had rented a car, so did not need to take her up on this. Communication was fabulous from the get go with Silja answering questions quickly before and after we booked. Staff were all lovely and owners Derek and Camille were very kind, offering great advice on their favorite beaches for walking. There was literally a book provided in our cabana describing everything you might possibly want to know from where to buy groceries to sights to see to how to call the neighbors and have a fresh organic salad delivered! Loved having our own patio to relax and eat meals on. Kitchen was stocked with necessary cooking items to make pretty much any meal. Beach chairs and coolers were available to borrow. So grateful to have had the chance to stay here. We would happily stay here again!
Susan
2017-03-19T00:00:00Z
It was fine, it was a bit pricey for what you got. The pictures seem to show a bigger room. And the pool was being shared by other guests and the host family. I never actually got to enjoy the pool, because the host family always seem to be around the pool :(. For the price I figure there would be AC, it wasn't provided. I got bitten too many times by mosquitos, no nets. She was nice to bring pick us up from the airport. Which was very nice of her, especially at the time we arrived. I would probably not recommend the place, truthfully. I could get a room at a hotel--the Magdalena for example for about the same price, with a lot more amenities. It was my fault, I didn't have a lot of time to search, even outside of airbnb.
Arielle
2015-10-19T00:00:00Z
Art der Unterkunft
Ganze Unterkunft
---
Objekttyp
Wohnung
---
Unterkunft für
4
---
Schlafzimmer
Black Rock, Tobago, Trinidad und Tobago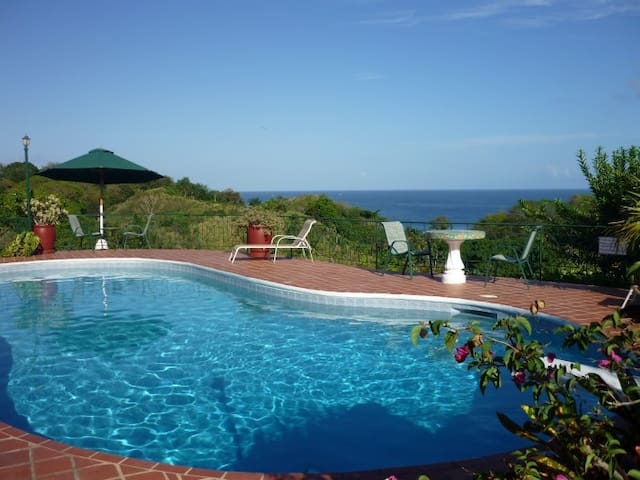 Simple air conditioned studio apartment with an outside covered wood patio overlooking the atlantic ocean. Refrigerator, microwave, teakettle, toaster oven, electric two burner stove and an outdoor counter with sink for light breakfast and snacks.
It is a basic but comfortable space with a magnificent view, with optional amenities which can make your stay all the more special.
The apartment is a 20 minute slow walk to upper Scarborough (town) and a 10 minute walk to Bacolet beach. Town has all the conveniences of grocery stores, pharmacy, and local markets etc. Once in town buses, taxis and shared cars can be readily found.
Art der Unterkunft
Ganze Unterkunft
---
Objekttyp
Wohnung
---
Unterkunft für
2
---
Schlafzimmer
Scarborough, Tobago, Trinidad und Tobago
My place is good for couples, solo adventurers, business travelers, and families (with kids).
Noris was an excellent and very accommodating host. He is great with communication and the place is very conveniently located and just as advertised!
Keliney
2017-04-01T00:00:00Z
Art der Unterkunft
Ganze Unterkunft
---
Objekttyp
Wohnung
---
Unterkunft für
4
---
Schlafzimmer
Bon Accord, Western Tobago, Trinidad und Tobago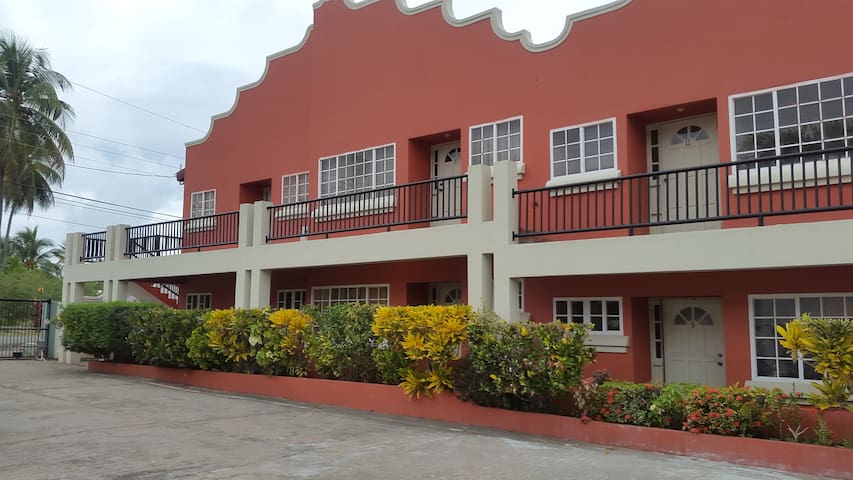 Less than 5 minutes walk to the beach and the main hub of activity in Crown Point. Self contained, air conditioned budget accommodation with en suite bathroom, fridge and some breakfast amenities.
There are mini marts and fruit stalls close by. There are many cafes and restaurants within walking distance as well as a variety of entertainment for the family: beaches, water sports, diving etc
Great location and easy going
Lyndon
2017-02-21T00:00:00Z
Everything at Bananaquit Apartments was really good. We had some problems with the water heater, but they were solved instantaneously right after we mentioned it. The lady at the reception desk was very nice and also the contact with Rachel was good. The location is great - it's only metres away from Store Bay Beach and the airport and despite the vivid night life inside it was still very quiet. The yard is wonderful for a nice breakfast among birds :) Thanks a lot for this accomodation!
Krzysztof
2016-11-14T00:00:00Z
great place, great location and a great host!
Keelan
2016-09-03T00:00:00Z
This is such a great spot. It's very central; close to shops, restaurants and walking distance to Store Bay and Pigeon Point. Rachel is a lovely host.
Emily
2017-01-17T00:00:00Z
Very cosy appartment with a beautiful garden just outside the door. The pool was also nice. We had a few issues with the kitchen accessories but the the staff was very helpful and solved everything! Walking distance from the airport. We stayed with our 5 month old daughter and it was no problems at all! Close to the beach, car rentals, restaurants and mini markets.
Anders
2016-03-18T00:00:00Z
Although I didn't see Rachael much during my stay the apartment was a cosy, quiet retreat which is what I was looking for. Walking distance to the airport. I'll come again.
Mark
2016-02-23T00:00:00Z
Atentos a mi llegada, conectados por (SENSITIVE CONTENTS HIDDEN) en caso de cualquier requerimiento. Todo en orden y muy bonito lugar, a 5 minutos del aeropuerto y 5 de la playa.
Pedro
2016-09-13T00:00:00Z
Art der Unterkunft
Privatzimmer
---
Objekttyp
Wohnung
---
Unterkunft für
2
---
Schlafzimmer
TT, Trinidad und Tobago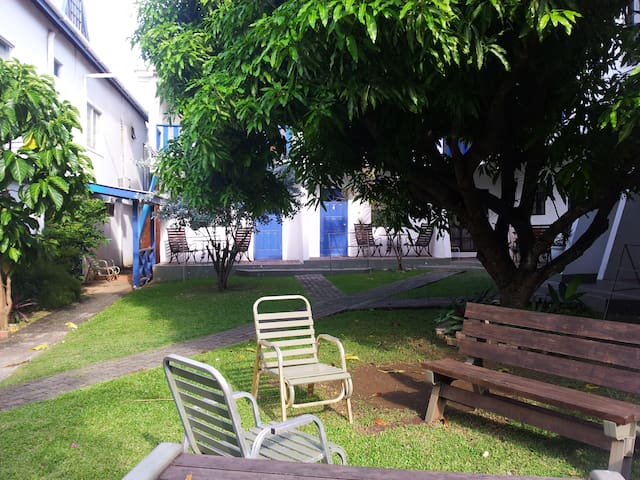 Mein Platz am westlichen Ende von Tobago der Nähe des Flughafens und lokale Strände über 5 Minuten Fahrt entfernt, 15 Minuten zu Fuß. Die Wohnung ist eingerichtet und besteht aus 2 Doppelzimmer mit Klimaanlage, die ein Maximum von 4, Bad und offene Wohnbereich schläft. Die Küche ist komplett ausgestattet für Selbstversorger mit WLAN und Kabel-TV. Wakeup zu den Klängen von Hähnen krähen und Singvögel. Mein Platz ist gut für Paare, Solo-Abenteurer, Geschäftsreisende und Familien (mit Kindern).
When you staying here, it just feel like home. De is such a warm and extrem friendly person. He picked me up from the Airport, and helped me with everything I needed. He even lent me his bike to be quicker. The rooms are very clean und compfy. Aircondition in the bedroom, a nice bath, a flat ion, TV, Wifi, a big kitchen, really everything you need, mayby even more. For me it was perfect.
Daniel
2017-02-26T00:00:00Z
The place is clean, quiet and serene. The apartment is spacious and provided with basic amenities. De was nice enough to pick us up from the airport. Our only issue was the transportation as we did not rent a vehicle. It is easy to get taxis to drop you to the apartment but it is about a 25 minute walk to Storebay since you don't always get taxis leaving the apartment. De was able to give us a ride a few times and that was very helpful.
Serra
2017-03-16T00:00:00Z
De is a great host! Very friendly and accommodating, the place has everything you would need for a good stay, fully equipped kitchen, ample room indoor and outdoors. De met me at the airport at a very odd time 1:30 am and even allowed me to use his bicycle for my stay. I stayed in a couple of places over the years in Tobago but De's place is at the top of my list now!
Kurt
2017-03-11T00:00:00Z
De is such a good person! He is truely genuine and caring. Picked me up from the ferry and was still waiting for me even when the ferry was 1,5 hour later than planned. He organised a rental car for me, which was a great help! The house has all you need: lots of space, well equipped kitchen, very clean and good location. I loved my stay here and would stay in De's place again when I come back :)
Marleen
2017-03-06T00:00:00Z
Thoroughly enjoyed the stay, the place was clean and looked just like the pictures. De was very accommodating with the checkout time as we had delays to leave the island.
Isaiah
2017-03-19T00:00:00Z
De was very friendly and helpfull,he picked us up from the airport, he is such a nice person. The places is big, clean and has a well equiped kitchen. Totally recomended!!
Tatiana & Nicolas
2017-03-22T00:00:00Z
The place is great and so is the host. De was extremely accommodating. Communication was perfect. He was extremely helpful. I can go on and on about the host but his place was great as great. Very comfortable and spacious place and a very quiet and safe neighborhood right near the beach. Very clean. Has everything you need. The pictures do not do the place justice. It's bigger than it looks online. Check availability for De's place asap if you're going to Tobago.
Daniel
2017-03-30T00:00:00Z
Art der Unterkunft
Ganze Unterkunft
---
Objekttyp
Wohnung
---
Unterkunft für
4
---
Schlafzimmer
Crown Point, Trinidad und Tobago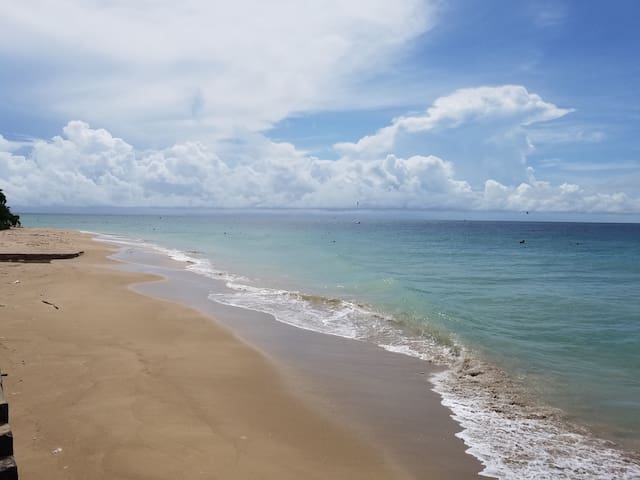 Mein Platz ist nur wenige Gehminuten vom Flughafen, Nachtleben, familienfreundliche Aktivitäten und Strand (Store Bay) eines von Tobago beliebtesten ist nur eine Treppe entfernt. Es ist ein Hotel, Restaurant, Pool-Bar und Pool nur wenige Schritte von Ihrer Wohnung entfernt. Sie werden meinen Platz wegen der großen Außenanlage, das Ambiente und 24/7 Sicherheit lieben. Mein Platz ist gut für Paare, Solo-Abenteurer, Geschäftsreisende und Familien (mit Kindern).
Art der Unterkunft
Ganze Unterkunft
---
Objekttyp
Wohnung
---
Unterkunft für
4
---
Schlafzimmer
Crown Point, Western Tobago, Trinidad und Tobago
We are perfectly located 5 minutes away from the Ferry Terminal (in the Island's Capital) and 15 minutes from the International Airport. Beaches, restaurants, bars and nightlife are all only a short distance away. You'll love our place which we refer to as our Sanctuary, because of the coziness and the location which is peaceful and away from the hustle and bustle. Our place is good for couples, solo adventurers, and families wanting to enjoy island life. Drop us a line and we'll see you soon!
1 von 2 Schlafzimmern, einer 2-Zimmer-Selbstversorger-Apartment mit eigenem Eingang und Ausgang. Während ruhig, friedlich, privat, unabhängig und ordentlich zu sichern es nicht ruhig ist, so kann man nicht isoliert sind.
Die Nachbarschaft ist eine ruhige und friedliche Vorort 5 Minuten von der Hauptstadt der Insel.
I totally enjoyed my time with Marvin! He picked me up from the ferry and open towards all requests and questions I had. Marvin was the best host I could have hoped for! He was really welcoming, told me a lot about Tobago and made me feel like being home within a few minutes... The nice and cozy flat is just a few minutes away from the biggest towns in Tobago and is easily reachable with public transportation. Signal Hill itself is a quiet town that will provide you with everything you need for your stay. I truly enjoyed my time there and highly recommend to book with Marvin if you want to explore Tobago!
Leonard
2017-03-13T00:00:00Z
Marvin is a great host! He and his wife picked me up from the airport. Marvin was also near the phone to answer any calls or concerns that I had. The place is great for young travelers willing to save money and come back to a safe place to sleep.
Deonte
2017-03-06T00:00:00Z
Marvin's space was simple, peaceful and quiet. Just as advertised. Marvin and his wife are so warm, pleasant and humorous. They explained rules of the house and very clearly.
Tiffany
2017-03-03T00:00:00Z
Hello Fellow Travelers, I had the pleasure of meeting and staying at Marvin's place. He is responsive and went above and beyond to ensure my vacation was memorable. Can't thank him enough for allowing me to be his guest. Thanks Marvin
glen
2017-04-08T00:00:00Z
Right off the bat, Marvin was friendly and welcoming. His place was clean and comfortable. The location was great, we easily caught taxis into Scarborough and from there we could get all over the island. Marvin was kind enough to not only pick us up form the ferry, but drive us to Scarborough another time and then again to bring us back to the ferry at 5am. He felt more like a friend than a host and we hope to see him again in the future. Highly recommend staying with Marvin.
Rika
2017-04-04T00:00:00Z
Art der Unterkunft
Privatzimmer
---
Objekttyp
Wohnung
---
Unterkunft für
2
---
Schlafzimmer
Signal Hill, Western Tobago, Trinidad und Tobago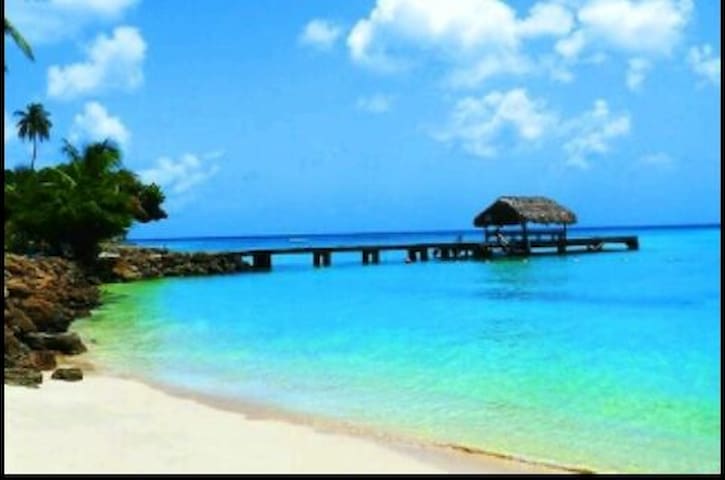 Carolina Point Resort is close to Airport, Parks, Restaurants and dining, Great Views, Beaches. You'll love Carolina Point because of proximity to everything - the outdoors space, the ambiance, the neighborhood, Night Life. Carolina Point Resort is good for couples, solo adventurers, business travelers, and families (with kids under6 stay is free). Free Airport Pick-up and Drop-off Bicycles available Jet Ski rides available Tours can be arrange for the following: Reef Tours Rain Forest Tours
This is an End Unit apartment which has 2 extra windows overlooking the yard and back yard as well as a view of the ocean at the end of the back yard * Studio Apartment size 18 x 25, with Garden View and sea view * Air Condition * Large shared patio with furniture * Comfy Queen Bed * Futon Sofa Bed (Extra Linen and Pillows Provided) * TV - 32 inch Smart TV * Cable TV * WiFi- 3 to choose from * Clock radio * Reading lamps * Full bathroom (hot/cold shower - sink - toilet) - hand soap - toilet tissue * Cleaning supplies * Closet with shelves - hangers * Towels * Kitchenette (fridge, coffee maker, microwave, * Kettle, Toaster, dinner ware and cutlery) * Disabled access - ramp for wheel chair and large door ways * BBQ Grill * Security cameras throughout the property * Weekly apartment cleaning * Private entrance
You are staying in the Heart of the Action at Crown Point. The large yard is backed onto the Caribbean Sea after a trek among the ancient trees that surrounding Carolina Point Resort. Pigeon is a short walk away. yet you can enjoy Swallows Beach just steps away from your apartment. Water Sports nearby: * Kite surfing * Paddle Board * Wind surfin(URL HIDDEN)and more
Excellent value and location. Just far enough from town to be quiet yet quick walk to restaurants and beach. Beautifully furnished studio, spotlessly clean. Host very accommodating on arrival and departure transportation and in helpful us decide what to do next for fun.
Julie
2016-10-24T00:00:00Z
My mother and I stayed at the wonderful Carolina Resort. The guest house was lovely, everything was clean and bright, a lovely veranda to drink coffee in the morning surrounded by delightful gardens. Alex picked us up at the airport, he was such a nice guy and great host for the guest house. He arranged our trips including glass bottom boat and tour of the island. Mum and I thoroughly enjoyed our stay. We'll be back, Molly and Jen
Muli
2017-02-23T00:00:00Z
Carolina Point is amazing! It's close to great restaurants, night life, beaches, etc. The bed is extremely comfortable and the room was clean. It's quiet and we slept like we were in our own home. Alex is extremely helpful and very personable. When we come back to Tobago we will definitely stay here again!
Nicole
2017-02-10T00:00:00Z
I loved the modern bathrooms, feels like I am in a 5 star apartment, GREAT LOCATION!!! perfect walking distance to both food and beach, great outdoor living area, tree swings, bbqs, patio chairs and decor is beautiful....
Sarah
2017-03-05T00:00:00Z
This new, comfy and modern space is perfectly located right off the main road to some of the best beaches, popular restaurants and bars on the island - all walking distance away! The photos don't do the space justice as the room is divine with all the amenities you need, a luxurious big bed and views of the garden right outside your window. Ace is very friendly but also completely respects your privacy. Will come again!
Chantelle
2017-04-03T00:00:00Z
Alex was an awesome host. It was a tremendous pleasure staying with him. My wife and I stayed there for 4 days after carnival 2017. The place we stayed looked like a brand new studio apartment with all the necessary amenities. Alex was always present when we needed him and very courteous in offering to drive us anywhere we wanted. He gave us several suggestions for restaurants, lounges and tours. Alex is located in an ideal location, 2 mins from an amazing night life on the strip, 10 minute walk to pigeon point beach, and several other venues. I absolutely recommend staying with him. It will be a stay you won't forget. Looking forward to staying with Alex again in the near future.
Mackendy
2017-03-04T00:00:00Z
My wife and I were looking for a cosy place near the sea and as close to the national park "pigeon point" as possible. Since I am an enthusiastic kite-surfer it was very important to have a short distance to the kitesurf spot. It turned out as the perfect location for all of that and it was even much better than expected! Carolina point is not only the closest location to pigeon point, the place is just perfect. The accommodation is built on a huge property with a very green and cherished garden with a lot of native plants and massive trees. Any concerns about safety in crown point turned out to be absolute nonsense. This place feels like a home - we felt exceptionally well and safe. The rooms are new and clean and the king size bed is very comfortable. There is a good restaurant (coco cafe) right about 300 meters to the location and all the other restaurants and bars are within 3-5 minutes of a slow walk. (We can recommend Jade Monkeys and Dillons – The Backyard Cafe). Alex and Cheryl are really awesome hosts! They treated us as friends and shared a lot of useful tips with us. They have a big heart, and like to share their experience. We have been very lucky to share some great time with them at awesome spots. They also have some bicycles to rent which turned out to be very useful. I can just highly recommend this place – not only perfect for kite-boarders. If we ever come to Tobago again, this is definitely the place to stay! Thank you from Thomas & Andrea
Thomas
2017-01-14T00:00:00Z
Location, comfort, excellent value. Carolina point is a place to stay if you are going to Crown point. Within a 2 minutes walk to Cable Beach ( awesome sunsets) and around 15 mins walk to pigeon point made this guesthouse a right choice. It has so many food options around: Italian, local food, Roti, middle eastern, only few minutes walk. You don't need any taxi to go around and it is very safe in there. The garden and the terrace is amazing and the place is very clean. The room was very comfortable and I was impress with the quality of the room specially the mattress. The information of the room is very accurate. The host was very welcome and he was in the airport waiting for us, he provide information about Tobago and things to do. He was also available during our stay to answer some of our questions. I highly recommend Carolina Point.
Mileidys
2017-03-13T00:00:00Z
Art der Unterkunft
Privatzimmer
---
Objekttyp
Wohnung
---
Unterkunft für
3
---
Schlafzimmer
Crown Point, Western Tobago, Trinidad und Tobago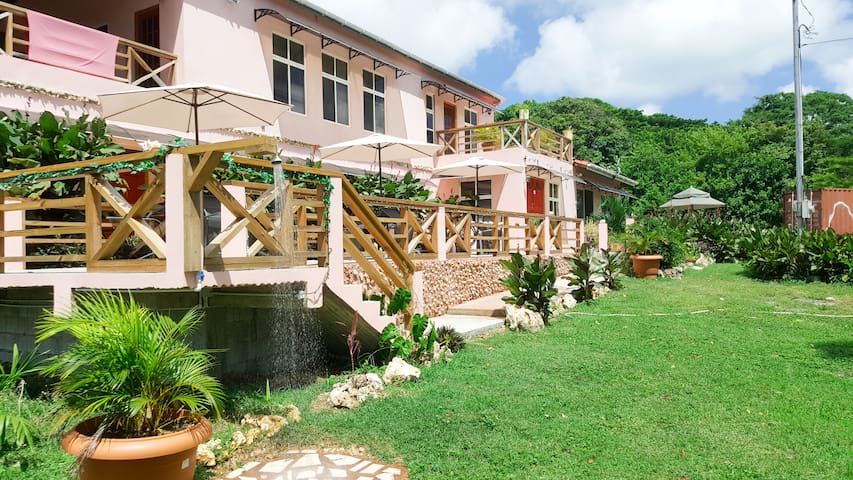 Two bedroom apartment, one bathroom, modern kitchen, sattelite TV, free WIFI, private pool, barbecue, 10mins from Crown Point airport and Pigeon Point beach, Mount Irvine's PGA Golf Course 5mins. Vehicle can be arranged.
Lovely & convenient place. Would stay there again.
Ria
2016-01-05T00:00:00Z
Great place. Lovely and spacious, beautiful garden, terrace and pool. Easy walk to shops and easy location to pick up taxi to the beach (10 minute taxi to Pidgeon Point). The apartment is well stocked for eating in, and the rooms all have AC. Easy communication with Andre and although we didn't meet him, the people he linked us in with were all lovely and welcoming. Would recommend this place to stay so long as you don't want to be right on the beach.
Fiona
2015-07-27T00:00:00Z
We were met at the property by Jean, who looks after the place. She was very friendly, helpful and informative. Our car hire was arranged via Andre too. Very efficient delivery service, and drop off at the airport. The property was as described, comfortable and clean, with a lovely pool. We would definitely recommend this property to someone needing a relaxing, quiet place to stay in Tobago.
Jane
2016-02-14T00:00:00Z
Andre made our stay amazing he was very accommodating. He helped us with what ever we needed. His liaison jean was also very helpful, the house is amazing. One of the best places to stay.
Michael
2016-03-10T00:00:00Z
The accommodation provided by Andre was mush more spacious, comfortable and well furnished that what I expected. I would recommend this facility to a friend. Points to note: there is a large (but apparently friendly) dog on the premises, so you may need to agree in advance if you want the dog to be secured. Also, the parking is on the street, but the area appears safe. I felt comfortable leaving my vehicle there.
Shivanan
2015-07-17T00:00:00Z
Andre's property manager Jean was nice. I arrived later than I'd planned and she was accommodating in adjusting her schedule. She gave me a tour of the property and explained where everything was. The property was a spacious 2 bedroom with living, dining and fully set up kitchen. Was very comfortable for my group of 3 or a larger family. The AC and wifi worked great throughout. It's a little ways off the main Street but taxis to and from Crown Point are cheap.
Dean
2016-04-26T00:00:00Z
Excellent experience. We had a small issue in order to enter in the house because nobody was there at the time I arranged the check in and the lady came 45 minutes late, but on the other hand she allowed us to do a late check out for the inconvenience, very profesional. The house is what you see on the photos, good beds, clean, tidy, nice kitchen, etc.
Pedro
2016-02-22T00:00:00Z
Our stay at Andre's place was fantastic. We were met by Andre's mom with the keys. She was really pleasant and made us feel welcomed. Unfortunately she had to leave the same day that we arrived, so our interaction with her was very limited. The apartment was exactly as advertised. Clean spacious rooms, beautiful garden area and lovely pool. We were fortunate to have the pool all to ourselves, much to the delight of my daughters. All amenities functioned perfectly. The neighbourhood was very quiet and safe. We were sorry however that we did not rent a car, since we had to walk a good distance to get a taxi to the main eating area. Three days were definitely not enough for this lovely experience !!!
Cathyann
2015-12-14T00:00:00Z
Art der Unterkunft
Ganze Unterkunft
---
Objekttyp
Wohnung
---
Unterkunft für
4
---
Schlafzimmer
Canaan, Western Tobago, Trinidad und Tobago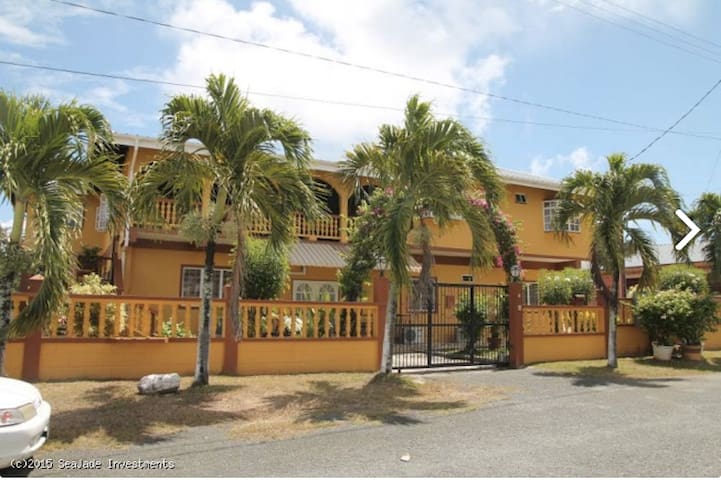 Lillibets 4 Wohnungen sind sehr nahe am Strand, Restaurants und hat eine tolle Aussicht. Die Menschen genießen die Vogelwelt. Entspannen Sie sich und genießen Sie frisch zubereitete Speisen auf dem Balkon, während die schöne Aussicht auf die Bucht zu beobachten, das Meer, die Fischerboote, die Palmen und die Pracht des regen Wald. Lillibets ist ideal für diejenigen, die weg von allem und doch innerhalb Meter des Meeres bekommen möchten.
Frieden und Ruhe ist Ihr, während Raum, die entweder auf dem großen Balkon zu entspannen oder in unserem größer als die üblichen Wohnungen. Von der Wohnung aus können Sie einen Spaziergang zum Strand; haben eine Auswahl an Restaurants. Wenn Sie auf den regen Wald gehen, um mehr abenteuerlich möchten, gehen Sie Schnorcheln Buch Tauchen eine Tour rund um die Insel nehmen oder Ausflug mit dem Boot zu Niemandsland nehmen.
Unser Dorf ist ein kleines Arbeitsfischerdorf. Es gibt mehrere kleine lokale Restaurants und kleine Geschäfte für die Grundversorgung. Die lokalen Bars haben lokale Unterhaltung an einigen Tagen in der Woche einschließlich Trommel Nacht und Pan-Nacht. Während Feste und lokale Feiertage sie mögen zum Beispiel zur Partei die Fischer ein Festival, wo lokale Lebensmittel, die von den Menschen des Dorfes vorbereitet. Qualifizierte lokale Führer können Sie sich auf Ausflüge in den Regenwald oder auf einer Insel Tour, Bootsfahrten sind eine sehr beliebte Aktivität in den lokalen Fischerboote nehmen; Piroge. Schnorcheln und Tauchen ist eine der besten auf der Insel. Eine meiner Lieblingsbeschäftigungen sitzt einfach auf dem Balkon die herrliche Vogelwelt zu beobachten.
Liz and Tom are a super friendly couple! Their guesthouse is spacious and beautifully located right in little bay! I'll be back to the charming town of Castara soon!
Dina
2017-01-23T00:00:00Z
The host canceled this reservation 33 days before arrival. This is an automated posting.
Pi
2017-01-21T00:00:00Z
We've spent 6 nights at lillibets (though, we just planned on staying for 2 nights). the apartment has a lovely terrace and is very spacious and clean. The hosts are very welcoming. we can highly recommend a stay at lillibets!
Stefan
2017-01-13T00:00:00Z
Nous avons été très bien accueilli par Liz et Tom dès notre arrivée. Ce sont deux hôtes bienveillants, très sympathiques et disponibles pour toutes questions ou renseignements. Le logement de Liz et Tom est à l'image de leur présentation. Il est très bien situé avec une vue magnifique sur la plage de Castara. L'appartement est très propre et très fonctionnel. Nous recommandons vivement cette adresse et y retournerons lors d'un prochain séjour à Tobago. Merci beaucoup !!
Amélie
2016-12-30T00:00:00Z
I can honestly say that we had the most amazing time staying in castara in the Lillibets suite. Tom and Liz were absolutely amazing! They ensured that our stay was superb. Every morning we woke up to paradise. If we could have stayed longer we would have! Until next time :)
Sam
2017-01-09T00:00:00Z
Nice experience: Liz/Thomas are very excellent host, they helped me a lot with a trouble I had with the car rental, they gave me all the informations needed and gave me tkts for the bus also! The house is very simple and basic, but has all you need. The view from the apartment is simply superb, and a lot of colorful birds come every day to visit the tourists. Simply enchanting! I highly recommend this accommodation to nature lovers
Claudio
2017-02-23T00:00:00Z
Thomas and Liz were absolutely amazing hosts. They were welcoming, kind, helpful, and were there for my every need. The place that they run is wonderful, located right on Castara Bay. Every night kicking back on the porch watching the waves roll in over a few Caribs was perfect. Highly recommend these hosts and their place for a relaxing vacation in an incredible country. Don't forget to ask for Roachee, he lives nearby and can help you with snorkeling or rainforest tours! He's awesome!
Daniel
2017-03-09T00:00:00Z
Thomas and Liz are great hosts, excellent communication. The place we rented has amazing view and is a very short walk away from a really nice beach. We really enjoyed our stay there and had all we needed ... Comfortable bed, warm shower, internet, kitchen ... We would definitely come back. Thank you very much Liz and Thomas.
monika
2017-03-06T00:00:00Z
Art der Unterkunft
Ganze Unterkunft
---
Objekttyp
Wohnung
---
Unterkunft für
4
---
Schlafzimmer
Castara, Western Tobago, Trinidad und Tobago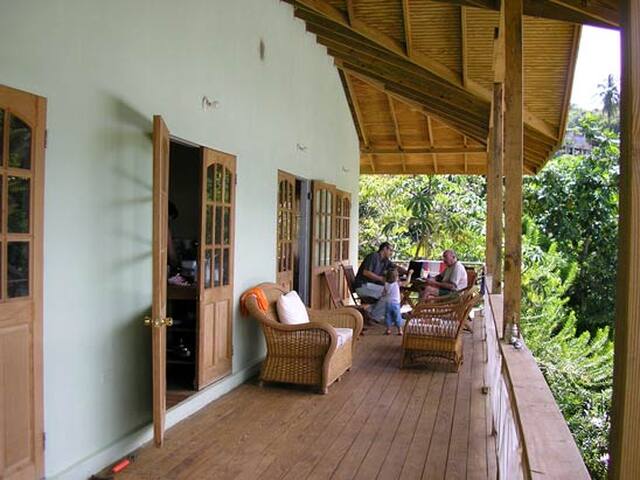 This is an unique apartment with an intriguing interior. It is very airy surrounded by colorful gardens. Grafton Beach is only a short walk away. The sunsets over the Caribbean Sea are legendary. You will be welcomed and made most comfortable.
steps fron the famous grafton beach on the carbbean side
there is no neiborhood, fare away
Wir fanden eine landestypische Unterkunft vor umgeben von viel grün. Die Nähe zum schönen Strand, er war bequem zu Fuß zu erreichen sowie Bar und Restaurant hat uns gut gefallen
Rainer
2016-11-05T00:00:00Z
Tolle Gastgeberin, perfekt ausgestattete und großzügige Wohnung, schöne Aussicht...perfekt für einen Urlaub auf Tobago. Sehr zu Empfehlen!
Sascha
2017-04-02T00:00:00Z
Wunderbare Lage. Gut zu erreichen. Toller langer Sandstrand, nur wenige Gehminuten entfernt mit hoher Chance, Schildkröten beobachten zu können. Sagenhaftes Apartment, wo es ständig etwas Neues zu entdecken gibt und das zudem über die Maßen hinaus sehr gut ausgestattet ist. Und - nebst außerordentlicher Gastfreundschaft und immer einen coolen Spruch parat, wahrscheinlich eine der bemerkenswertesten Frauen, die wir kennenlernen durften. Vielen Dank, Inga, für diesen unvergleichlichen Aufenthalt!
Flo
2016-05-13T00:00:00Z
Wow! Was für ein tolles Apartment: ein großes Gesamtkunstwerk. Inga, die ja Künstlerin ist, hat unendlich viele originelle Ideen, umgesetzt mit viel Geschmack und Liebe zum Detail. Muss man gesehen haben. Sehr zum Wohlfühlen. Dazu ist das Apartment geräumig und sehr gut ausgestattet, besonders die Küche. Inga ist ein kommunikativer und geselliger Mensch, außerdem sehr hilfsbereit. Es war ein Vergnügen, sich mit ihr zu unterhalten. Hund Paloma ist ebenfalls liebenswert. Die Lage der Wohnung ist sehr gut. Traumstrand ganz in der Nähe (3 Minuten zu Fuß). An den Felsen rechts vom Strand lässt sich super schnorcheln. Wir haben bestimmt hunderte Fische gesehen. Alles in allem: Ein echtes Erlebnis! :-)
Emmo
2016-05-31T00:00:00Z
Inga! What can I say! The photos of the house are on point. The house is stunning. Inga is a beautiful human being, so accommodating. She made my boyfriends extra special by helping me organize a sunset dinner. Words cannot express our gratitude to her and Paloma--her dog. We love you and thank you for everything. We almost missed our flight and Inga was willing to take us in. She showed concern and care like family does. We love you Inga!
Nerissa
2015-04-13T00:00:00Z
After reading some of the previous reviews, I braced myself for 10 days of crime and cold showers. So it was an enormously pleasant experience to find that there was an ENDLESS supply of hot water to shower comfortably in the apartment; sometimes 3 and 4 times a day, and a massive bonus to find there was also two bathrooms. As for crime, Inga has lived there for years and many locals know her well; I experienced no crime during my stay. Just beautifully, friendly, pleasant Tobagonians willing to help me to get to see anything I wanted on the island, giving me advice on their favourite beaches, the best walks locally, how to visit the Rain Forest, and to party at Sunday School. Inga is a supremely inspirational and vibrant person; busy with her extraordinary work as an artist during the days. She's an amazing person to spend time with if the chance arises; and was incredibly helpful, when I missed my flight and arrived days later and in the night. She thoughtfully kept in good contact with me, prepared a meal for me and breakfast for the next day; knowing that I would need this after such a long journey from England and then Trinidad. Paloma is a lovely friendly dog too. The apartment is far better than the photo's show. I had the beautifully spacious place to myself; it was spotlessly clean, wifi, and with everything I could possibly need for a home from home experience. Inga provided everything, fresh towels, bedding, toilet rolls, all of which added to my wholesome bnb experience. She went above an beyond in showing me the way to catch a local taxi and to the local supermarkets. When I wasn't enjoying the beautiful views from either one of the TWO terraces; I was delighted to find that I was just a 7-10 minute walk from the Black Rock Beach. Inga's place is a wonderful holiday home, especially in rain season; as it's situated in nature and is lusciously green and colourful. I'd definitely go in the summertime too, as it's in a peaceful environment. Inga is a fabulous host, I would definitely stay there again and have already recommended her place to many of my friends and family. Thanks for a wonderful experience Igna!
Nadine
2016-10-11T00:00:00Z
We already submitted a review, please see our prior submission. Great stay!! So lucky to have found this place!! :)
Aileen
2014-12-27T00:00:00Z
Inga was a fantastic host and her home is beautiful and airy! Inga's home is surrounded by greenery and has a lovely view of the sunset from both porches. The home is about a five minute walk from a great beach that is never crowded. Inga was always willing to offer recommendations and answer questions but was also very hands off. Paloma was a welcome sight on many days and is a very sweet dog! The apartment is great and has everything you need. Inga helped us flag down a car when our taxi to the airport never showed up. Highly recommended!
Alfia
2015-05-21T00:00:00Z
Art der Unterkunft
Ganze Unterkunft
---
Objekttyp
Wohnung
---
Unterkunft für
6
---
Schlafzimmer
Blackrock, trinidad tobago, Trinidad und Tobago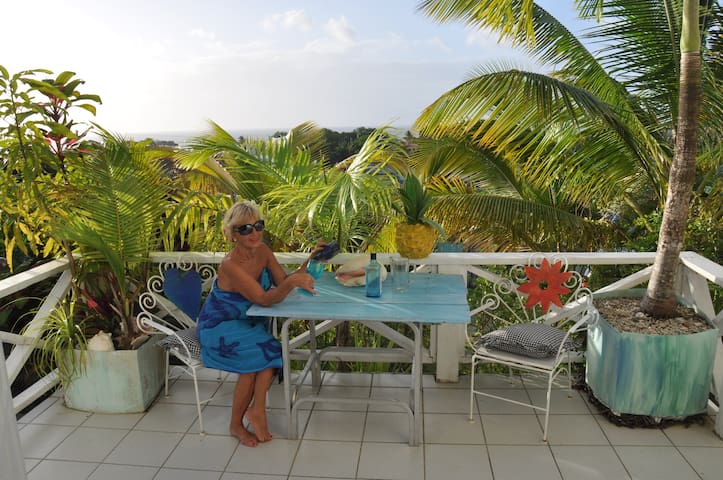 Tobago bedeutet Karibik und Erholung pur! Hier finden Sie was das alltagsgestresste Herzbegehrt, nur keine Bettenburgen, Touristenschwärme und organisierte Massenbelustigung. Auf Grund unserer Lage bekommen Sie schnell Kontakt zur freundlichen Bevölkerung und verbringen Ihren Urlaub nicht als isolierter Tourist. TOBAGO erfüllt ihre karibischen Träume !
Gute Lage in ruhigem Wohnviertel, kurzer Fußweg zu Stränden und Fort Bennet (schön für Sonnenuntergang), sehr schön gestalteter Garten. Die beiden sechseckigen Apartmenthäuser liegen rückwärtig im Garten, man geht zum Holztor des Grundstücks am Haus der Gastgeberin vorbei. Gutes WLAN.
Helmut
2017-03-19T00:00:00Z
Wir haben kurzfristig bei Sonja gebucht, sie hat uns herzlich und unkompliziert empfangen und in einem ihrer hübschen Bungalows untergebracht. Die Unterkunft war sehr gemütlich, sauber, gute Betten, Moskitonetz, in einem schönen Garten und ruhig gelegen. Zum Strand sind es nur ein paar wenige Gehminuten. Wir waren nur 4 Nächte könnten uns gut mal einen längeren Aufenthalt gut vorstellen. Bei Sonja kann man einen schönen Urlaub verbringen. Wenn man noch ein Mietauto hat ist alles perfekt.
Donat
2017-03-23T00:00:00Z
Wonderful host and accommodations in a very peaceful and beautiful place. Loved it!
Rachel
2017-02-08T00:00:00Z
Sonja was an amazing host! The place is very close to a beautiful beach and central to everything. I would highly recommend staying here!
John
2017-03-15T00:00:00Z
Sonja was fantastic! She drove to meet me right off the ferry, and provided continuous contact as I missed the ferry I was supposed to take! The bungalow was a two minute walk to an absolutely beautiful beach. It was near a restaurant, a store and had really everything you need for a relaxing vacation. HIGHLY recommended.
Leanne
2017-03-06T00:00:00Z
While not listed as a 5-star accommodation, it was 5-star to me and very comfortable. The garden is beautiful and peaceful and a short walk to the beach. Sonya is a wonderful and friendly host. I would definitely book with her again.
Robert
2017-02-25T00:00:00Z
Art der Unterkunft
Ganze Unterkunft
---
Objekttyp
Wohnung
---
Unterkunft für
3
---
Schlafzimmer
Black Rock, Western Tobago, Trinidad und Tobago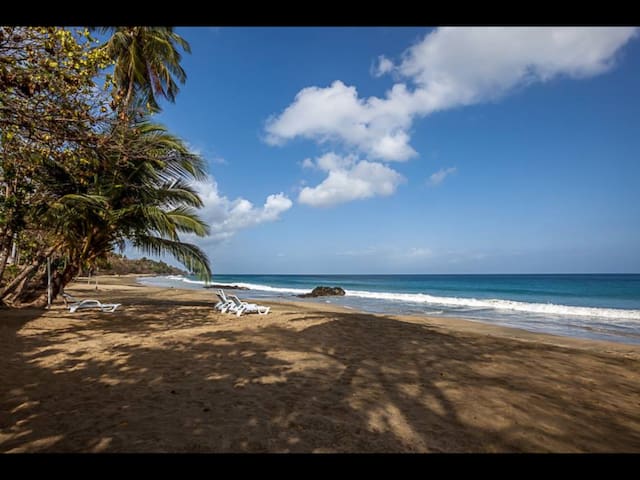 SWEET POINT HÜTTEN haben einen spektakulären Blick. Von denen zwei maximale Einschlafzeit und 1, 2. Alle Wohnungen sind Selbstversorger-Einheiten und sind sehr PRIVATE SCHLAF. Ausgestattet mit allen Küchengeräte, haben Betten Moskitonetze und ALL PATIOS HAT HAMMOCKS
Weil Castara und die Lage der Appartm. einfach malerisch und Rebecca eine tolle Gastgeberin ist, sind wir während unserem Tobago-Aufenthalt 2x bei ihr abgestiegen. Top!!
Romina
2016-12-09T00:00:00Z
Castara is beautiful. Sweet Point has 2 lovely rooms, and a room that is not so nice. Unfortunately - we ended up with the room that was small and a little cramped up.
Saffrey
2016-08-07T00:00:00Z
This is an incredible house perched up on a cliff over looking castara bay. It's far from the airport so you need a car or driver but it's well worth the drive. Rebecca is an amazing cook, the house was clean, cozy and the view was out of this world!! There's a little stairway to take you right down to the beach, amazing snorkeling, kind people, travelers from all over the world. I can't wait to come back!!
Chloe
2017-02-20T00:00:00Z
Me and my friends stayed in sweet cottages for 4 nights. We are overall very happy with our stay, and the view from the house was absolutely amazing!!! When we booked the apartment we didnt realise that there was a gap between the roof and the walls and that all windows didnt have glass in them. This made us feel close to the nature - but it was a bit easy for bugs to get in (sush as cockroaches) and made it noisy at night from dogs and roosters. The wifi also did not work from the apartment. We had some problems writing to Rebecca before our visit, but everything turned out fine! Thank you Rebecca! Castara was wonderful!
Maja
2017-01-03T00:00:00Z
Rebecca is warm and welcoming and her place is gorgeous. Beautiful beach view, lush garden, in the middle of everything - literally metres away from the beach, best restaurants and bars. Also, shes a dynamite cook and made some of the best roti we had on the island. Castara is an amazing little village. You must come here and stay with Rebecca!
Brigitte
2017-01-27T00:00:00Z
Art der Unterkunft
Ganze Unterkunft
---
Objekttyp
Wohnung
---
Unterkunft für
2
---
Schlafzimmer
Castara, Western Tobago, Trinidad und Tobago
Located on the beautiful Island of Tobago in Black Rock. This air conditioned apartment offer a lovely garden, free wi fi and private parking is available on site. Suelynda's Place also includes a terrace. 5 mins. walk from the beach. The nearest airport is Tobago airport, 9km from the property.
Studio apartment. Air condition. Patio with furniture Full bed / Sofa bed (extra linen and pillow provided) TV 32 " flat screen Cable free Wi Fi Full bathroom (hot/cold shower, sink - toilet tissue) Closet with hangers Towels Kitchenette (Fridge, -microwave, toaster - dinner ware & cutlery cooking utensils) Weekly apartment cleaning. It is good for couples, business travellers, single traveller, and families (with kids under 12 stay free) Private entrance Outdoor shower and foot wash for rinsing off sand.
we have beautiful beaches in this neighbourhood.we are also surrounded by friendly neighbors.
Fantastic location right by our favourite beach (Storehaven bay) with beautiful sunsets and amazing waters for swimming. Lovely place, welcoming family. Nice little terrace. Cosy and clean flat with A/C, TV, sofa area, basic kitchen, bathroom and comfy beds. Friendly, safe nabourhood of Black Rock. Would recommend Suelyndas Place to anyone. Little shops fulfilling basic needs nearby. Right by community centre where you can buy cheap bus tickets to Scarborough. 15 mins walk away from Pleasant Prospect with lots of affordable eating opportunities, incl a fruit stand, breakfast shacks and lovely local dinners (Joanna's was great for a take-away dinner on our terrace). Thanks again!
Marie-Louise
2017-02-17T00:00:00Z
Art der Unterkunft
Privatzimmer
---
Objekttyp
Wohnung
---
Unterkunft für
2
---
Schlafzimmer
Black Rock, Western Tobago, Trinidad und Tobago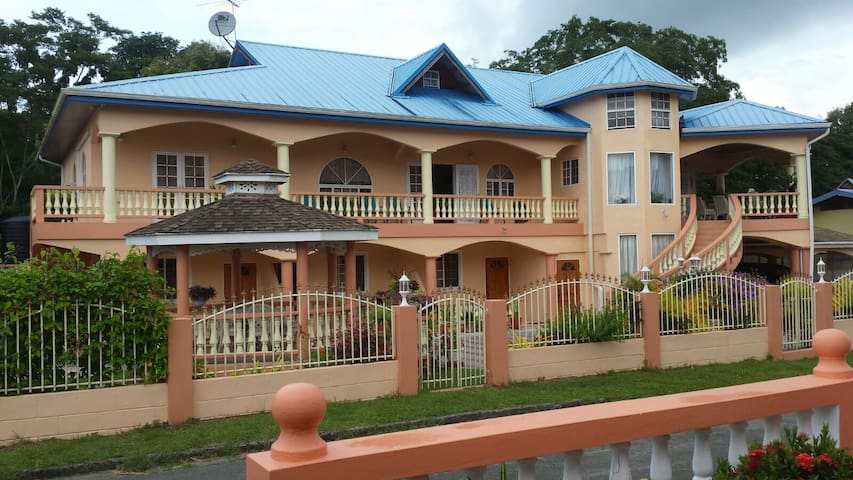 Spacious, nicely furnished 2 bedroom private apartment. Sitting on over an acre of beautiful gardens and a nice pool and pool house, just steps to Grafton Beach on Stone Haven Bay.
If you're a lover of nature but enjoy a touch of elegance, this is THE ideal vacation home. We had a wonderful experience at this guesthouse! It is absolutely gorgeous and very spacious. The property is extremely close to Grafton Beach and some really tasty restaurants. We didn't have the pleasure of meeting Andrew, however Chris was extremely helpful! He even drove us to the local grocery store and made sure we knew all the fun and exciting things to do in Tobago. Overall, we had an amazing experience and we look forward to returning very soon!
Erica
2017-03-05T00:00:00Z
This is a one of a kind place. So close to the beach you can hear the waves. Restaurant and dive shop within easy walking distance. Chris was the perfect host. This truly exceeded my expectations. Next time I come back I'm again I'm staying here.
Matthew
2016-12-07T00:00:00Z
Art der Unterkunft
Ganze Unterkunft
---
Objekttyp
Wohnung
---
Unterkunft für
4
---
Schlafzimmer
Black Rock, Western Tobago, Trinidad und Tobago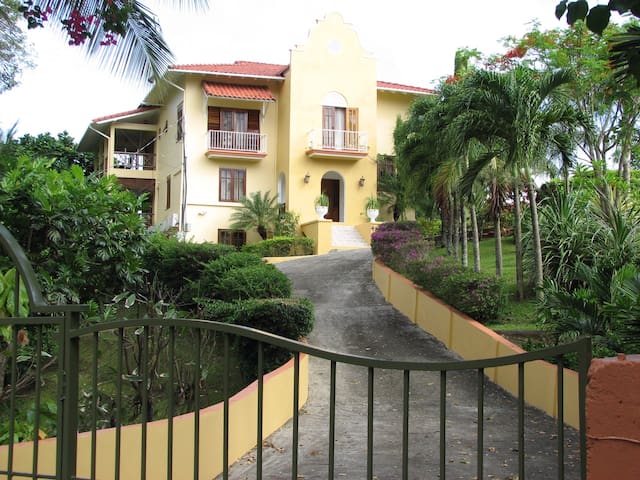 Unsere Ein-Zimmer-Wohnung befindet sich unterhalb Bacolet Haus auf Pool-Ebene in einer ruhigen Wohngegend in einem Obst gefüllt tropischen Garten eingebettet. Es wurde vor kurzem eingerichtet und verfügt über viele handgearbeitete Details von der ansässigen Keramikkünstler.
Wir befinden uns in einer ruhigen Wohngegend.
Hallo Zusammen :-) Meine Frau und Ich haben unsere Flitterwochen auf Trinidat -Tobago verbracht, hatten 4 super Wochen in Helens Haus. Ihre Mutter Veronika ist eine sehr nette und liebe Gastgeberin die uns sehr bei allem mögliche geholfen hat. Mann hat einen schönen blick aufs Meer. Der Pool am Haus ist zur jeder Zeit eine gute Gelegenheit sich abzukühlen . Die Wohnung ist mit allem was man braucht ausgestattet bis auf einen Fernseher den wir aber nicht so sehr vermisst haben. Wir hatten viele nette Stunden zusammen ob beim BBQ das wir gemeinsam machten oder einfach am Abend auf der großen Veranda die Veronika gerne mit uns geteilt hat. Wir durften sogar Freunde mitbringen die mit uns Gegrillt haben . Die Zwei Hunde von Veronika sind uns sehr ans Hertz gewachsen und Wir vermisse sehr wie sie am Großen Eingangstor auf uns warteten wenn wir von unseren Tagestouren zurück gekommen sind.. Wir haben uns die ganze Zeit willkommen und wie Zuhause gefühlt besser kann es nicht sein. Danke Veronika für die schöne Zeit und wenn wir dürfen kommen wir gerne wieder. Bei allem positiven muss Ich Fairerweise sagen das man ohne Auto sehr abhängig ist da es schon zum einkaufen von Lebensmitteln ein gutes Stück ist ! Aber zum Abschluss können wir nur sagen es war eine schöne Zeit auf Tobago . Danke :-) Lin & Mari(URL HIDDEN)
Mario
2017-02-20T00:00:00Z
I went to Tobago one night and I stayed in Bacolet House Apartment. The place is beautiful and it has a very good location. Also everything works perfect (Hot/Cold water, kitchen appliances, internet, swimming pool, and AC). Moreover, the host is always friendly and open to help. I totally recommend this place!
Javier
2016-05-23T00:00:00Z
Fantastic, quiet location with all amenities. Very private and self contained. Hosts were gracious and very helpful with good communication.
Sunita
2017-01-01T00:00:00Z
Veronika was amazing! Very friendly, approachable , easy going, communication was very easy. Finding her place and parking was easy. Place was very safe and clean. Easy to rent a car in Tobago and get around. I highly recommend her place due to location which was central to many beaches. Along with the fact that it was well equipped kitchen. The pool and the view was gorgeous. Thank you Veronika look forward to staying again with you!
Ivonne
2017-03-03T00:00:00Z
Place was beautiful and quiet, and my host was very friendly, location was only a few minutes from shops and beaches, my family and I had a wonderful time.
Duane
2016-12-23T00:00:00Z
Art der Unterkunft
Ganze Unterkunft
---
Objekttyp
Wohnung
---
Unterkunft für
4
---
Schlafzimmer
Scarborough, Western Tobago, Trinidad und Tobago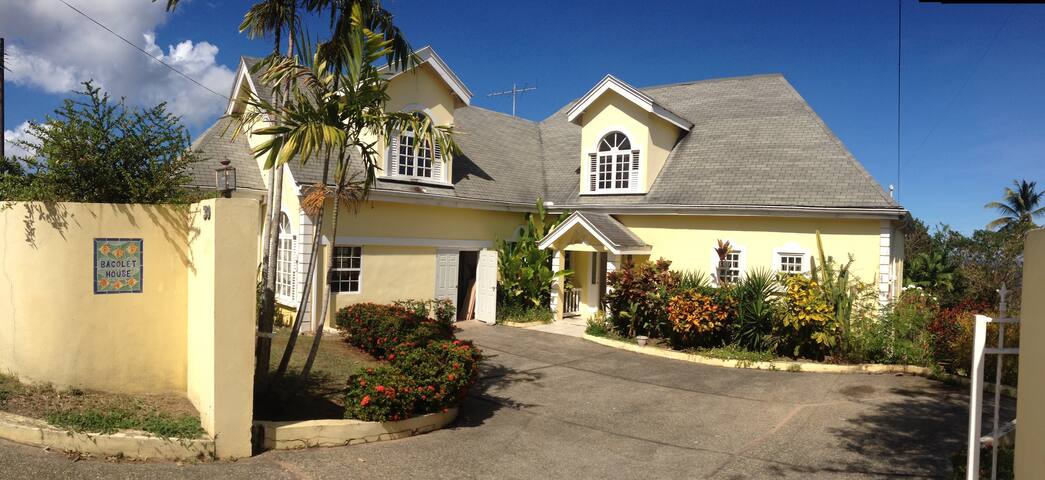 Dimples Apartments offers "Home away from Home" self-contained apartments. Ideally located in a quiet street in Bon Accord, but less than 5 minutes to ANR International Airport and Store Bay Beach. All local amenities are within walking distance. Claire and Liston are on hand to make every stay a memorable one.
It was realy nice. Claire is friendly and helpful. Location is great. Hot water, and a nice kitchen. Beach in walking distance. Thank u and hopefully again!!!!
Alina
2017-03-27T00:00:00Z
Art der Unterkunft
Ganze Unterkunft
---
Objekttyp
Wohnung
---
Unterkunft für
4
---
Schlafzimmer
Bon Accord, Western Tobago, Trinidad und Tobago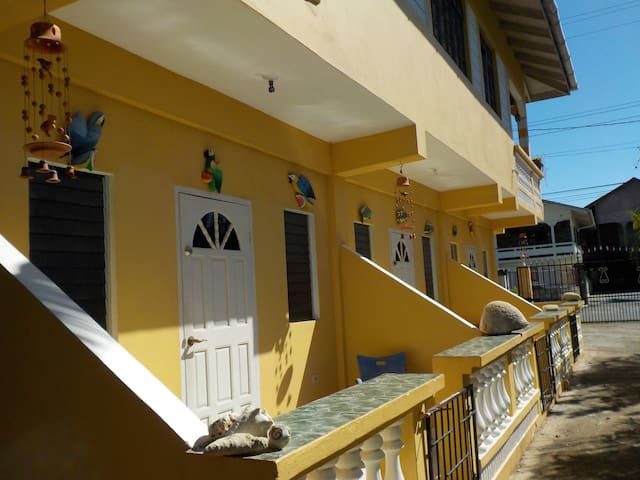 The decoration is based on "beach house" will love. This in front of the sea. Nearby is a mini market, a bar and is only 3 min Scarborough
Art der Unterkunft
Ganze Unterkunft
---
Objekttyp
Wohnung
---
Unterkunft für
4
---
Schlafzimmer
Scarborough, Trinidad und Tobago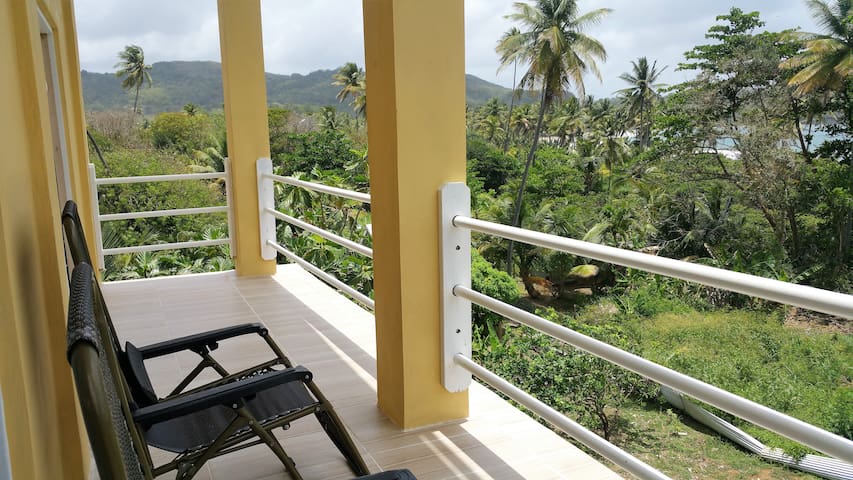 Western Tobago - Airbnb
:
Durchschnittlich

4.68

von

5

Sternen aus

160

Gäste-Bewertungen
Gib deine Reisedaten ein, um den aktuellen Preis zu sehen. Es können zusätzliche Gebühren und Steuern anfallen.